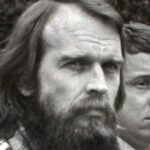 The Messed Up Truth About Cult Leader Ron Lafferty
echo get_the_meta(); ?>
Ron Lafferty was a self-professed prophet who, after being excommunicated from the Mormon church, started a fundamentalist splinter group called School of Prophets with his five brothers, according to True Crime Daily. His brother, Dan, had also been ex-communicated. Both Ron and Dan's religious views were evolving into radicalism, including wanting to go back to the Mormon church's previous practice of polygamy. The church banned plural marriage in 1890, per The Church of Jesus Christ of Latter-Day Saints. It was 1983. 
Dan's daughter, Rebecca Lafferty, who was 7 years old at the time described The School of Prophets to True Crime Daily, saying, "The school of prophets was a cult. I remember them bringing in a pulpit and speaking in our home. It was very hush-hush, and just weird."
The newly formed small group would, naturally, be polygamous, but three of the brothers, including Ron, were already married and those wives were not interested in being co-wives. According to what Rebecca told True Crime Daily, a brother named Allen was married to a woman named Brenda, who was college-educated and outspoken. She had been visiting with the other wives and telling them, "There are options. You have choices," Rebecca said. 
Ron and Dan's wives both ended up leaving the marriages, but Brenda stayed with Allen. Yet she also remained a devout member of the Mormon church, did not agree with her brother-in-laws' religious views, and rejected the idea that Ron was a prophet, according to The Salt Lake Tribune. 
Ron Lafferty said God told him to kill his sister-in-law and niece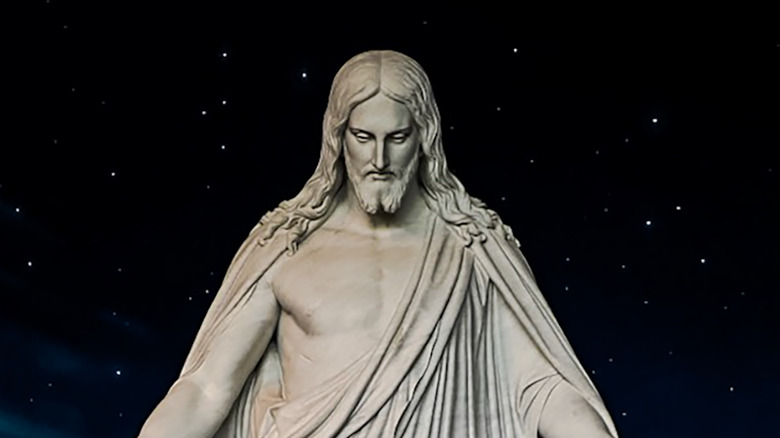 Shutterstock
Mormons believe that God communicates directly with members of the church in what they call revelations. While anyone can get a revelation having to do with their personal situation, revelations having to do with the church only come through prophets, according to The Church of Jesus Christ of Latter-Day Saints. 
In Ron Lafferty's mind, he was a prophet, and his brothers agreed, so when he received what he said was a revelation, his brother's supported him, even if it meant murdering four people, including Brenda along with she and Allen's 15-year-old month daughter, Erica.
He used a pencil to write the revelation on a piece of yellow legal paper, according to the Chicago Tribune. It said, "Thus sayeth the Lord unto my servants the prophets. It is my will and commandment that ye remove the following individuals in order that my work might go forward for they truly have become obstacles in my path and I will not allow my work to be stopped.
"First, thy brother's wife, Brenda, and her baby, then Chloe Low and then Richard Stowe. And it is my will that they be removed in rapid succession and that an example be made of them in order that others might see the fate of those who fight against the true saints of God."
He shared his revelations with his brothers, and they agreed the thing had to be done. Even Allen. 
Ron and Dan Lafferty brutally murdered their brother's wife and child
According to the Chicago Tribune's reporting, Allen testified in court, he would "do it [himself]" if he'd received that same revelation. He also said he hoped Ron was absolutely sure that's what God wanted but decided not to mention it to Brenda saying, "I did not want to worry her."
It was Dan and Ron that went to Brenda and Allen's home on July 24, 1984. According to The Salt Lake Tribune, they beat her, strangled her with a vacuum cord, then slit her throat. Then they sliced the throat of their baby niece, Erica. Per The Salt Lake Tribune, the 15-month-old was murdered because according to court documents Ron believed she would grow up to be "just as despicable as her mother."
All the while two hitchhikers who had similar fundamentalists beliefs as the Lafferty brothers were waiting in the car, The Salt Lake Tribune reported. Next, the group went to continue to fulfill their perceived message from God, but Chloe Low, a friend of Ron's ex-wife, wasn't home. Then they missed the turn to Richard Stowe's house, who Ron held responsible for his excommunication from the church. Instead of killing Low and Stowe, the men went to Nevada. 
The hitchhikers took off to Cheyenne, Wyoming, but were arrested on July 30. Ron and Dan Lafferty were arrested in Reno on August 17, 1984, according to The Salt Lake Tribune. All four men were charged with two counts each of criminal homicide, conspiracy to commit homicide, aggravated burglary.
Brenda was buried holding Erica on her chest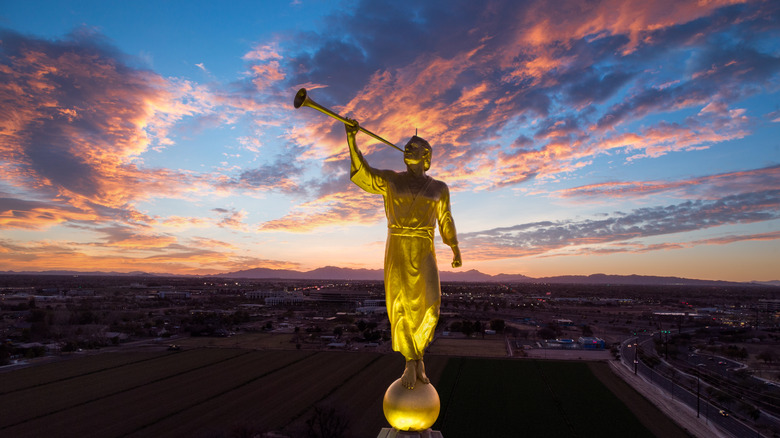 Shutterstock
While awaiting trial, Ron Lafferty attempted suicide by hanging in the Utah County jail. In the meantime, Dan was convicted and sentenced to life in prison, The Salt Lake Tribune reported. Ron's trial was more complicated. Several psychiatrists and psychologists said he had a severe mental illness, but he understood the murders he committed were illegal. 
The two hitchhikers, Charles "Chip" Carnes, Richard "Ricky" Knapp, testified against the Lafferty brothers, saying in court that in the car after the murders Ron pulled a knife out of his boot and said, "I killed her. I killed her. I killed the b****. I can't believe I killed her." Then Carnes said he handed the knife to Ron and said, "Thank you, Brother, for doing the baby because I don't think I had it in me." Dan said. "It was no problem." per The Salt Lake Tribune. 
Ron was sentenced to death, but then that sentence was overturned only to be handed down again after a second trial. However, Ron Lafferty, who was slated to die by firing squad in 2020, died of natural causes at 78 years old in 2019, CBS News reported.
According to what Brenda's father, Jim Wright, a former Bishop in the Mormon Church, told KUTV in 2019, he has visited the graves of his daughter and granddaughter almost every week since they were killed. He said, "They laid Erica on Brenda's chest like she's holding her. I do find comfort here."