The Messed Up Truth About Horror Novelist Bram Stoker
echo get_the_meta(); ?>
Bram Stoker, the author behind "Dracula," went through his own personal horrors as a child. Born in 1847 near Dublin, Ireland, he was one of seven children, according to the Bram Stoker Estate. Stoker was such a sickly kid that he spent his first seven years of his life bedridden and had to endure some of the popular medical treatments of the time, including bloodletting. No one thought that he would live long, given his unknown ailment. Stoker found some comfort in the dark tales of Irish history and myths his mother told him. Even if his body would work properly, his imagination surely did. Stoker spent hours watching the world from his window.
Stoker made a miraculous recovery over the years, and he excelled at athletics while attending Trinity College in Dublin from 1864 to 1870 (via Britannica). Following his father's footsteps, he joined the civil service during his time as a student. Stoker's first book, 1879's "The Duties of Clerks of Petty Sessions in Ireland," drew from his work experience. On the side, however, he wrote theater reviews for free for the Dublin Evening Mail. Through his work as a critic, Stoker befriended actor Sir Henry Irving. He also met the actress Florence Anne Lemon Balcombe, and the pair later married.
Bram Stoker spent much of his life behind the scenes
In 1878, Irving made Bram Stoker an offer that would change the course of his life dramatically. Despite his family's opposition, Stoker took a job with Irving and moved to London. He managed Irving's Lyceum Theatre for more than two decades, and it was there that he met the likes of Sir Arthur Conan Doyle, Mark Twain, and Walt Whitman (via the Bram Stoker Estate). Although his work kept him quite busy, Stoker still found time to write.
On a trip to Whitby, England, in 1890, Stoker found some inspiration for his best-known work. The town's historic abbey and graveyard found their way into "Dracula" as did the story of a strange shipwreck in its harbor (via Time Magazine). The recent shipwreck of the Dmitri captured Stoker's attention. Only a few crew members survived, and the ship had some really weird cargo. For some reason, the boat only had crates of dirt. A mysterious black dog was seen leaving the boat, and it disappeared into the church graveyard. At the advice of a friend, Stoker also looked at a special book at the town's subscription library. From "The Accounts of Principalities of Wallachia and Moldavia," he got the final name for his vampire. "Dracula" is the Wallachian word for devil. Before this, Stoker had been calling the character Count Wampyr.
Dracula was Bram Stoker's only hit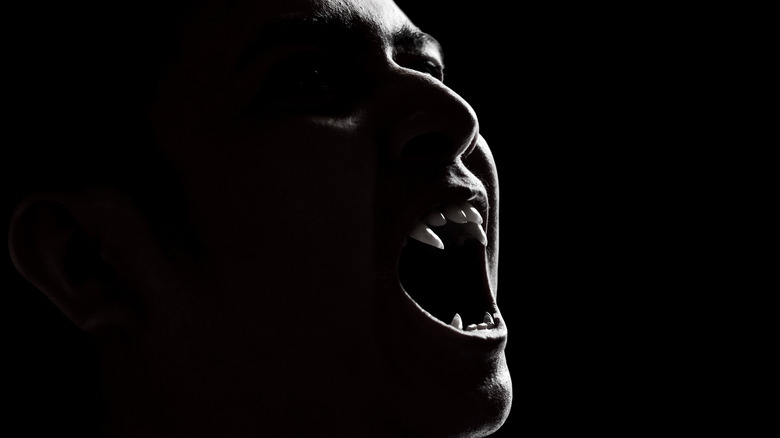 Shutterstock
In 1897, Stoker published his best-known work, "Dracula." This gothic horror novel received mostly warm reviews and became quite popular. Written in the form of letters and journal entries, the story follows the experiences of several people who encounter a vampire from Transylvania. He wrote several more novels, including "The Mystery of the Sea" (1902) and "The Lady of the Shroud" (1909), but none of them could match the success of "Dracula" (via Britannica). In his later years, Stoker experienced some health problems. He had a stroke shortly after the death of Sir Henry Irving in 1905, and he struggled to make ends meet, according to the Oxford University Press. In fact, the Royal Literary Society had to come to his rescue.
Stoker died on April 20, 1912, at his London home. Sources vary on the cause of his death, with some citing exhaustion while others indicate that it was syphilis. News of his death barely made the papers, as the world was focused on the sinking of the Titanic, which happened five days earlier. Stoker was laid to rest at the Golders Green Crematorium in London (via the Bram Stoker Estate). After his death, his widow published a collection of his short stories titled "Dracula's Guest" in 1914. While Stoker has been gone for over a century, his creation, Dracula, remains a compelling character in popular culture to this day, becoming the subject of numerous films and television projects.