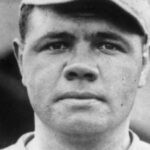 The Most Expensive Sports Trading Cards Ever Sold
echo get_the_meta(); ?>
Remember the thrill of opening a pack of trading cards and finding one with your favorite player on it? Maybe you still have a box of them somewhere collecting dust. Maybe it's time to break out the box and see if there might be some money sitting in that old shoebox, huh? Well, don't get too excited — the chances that you're sitting on an extremely valuable piece of sports memorabilia are pretty small. When cards started being mass-produced and distributed to wide audiences in the 1980s and '90s, the value of the newer cards came way down. But you can dream, can't you? Perhaps you'll be the next person to stumble upon a miniature cardboard gold mine tucked away in an attic. As for the trading cards on this list, they're not illusions but they did make some buyers' and sellers' dreams come true. Come with us on a trip through the world of sports trading cards for a look at some of the most expensive ones ever sold.
The Great One's trading card is … well, great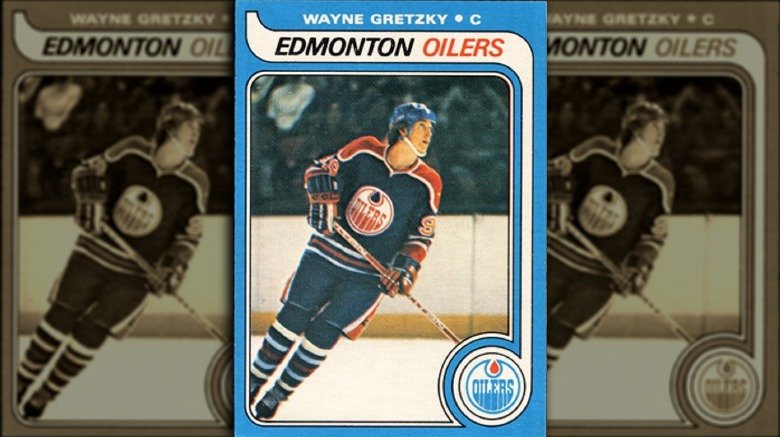 PSA Cards
Is it really any surprise that The Great One would be the greatest one when it comes to trading cards? When you set records that some believe are unbreakable, your trading card is going to be quite in demand. Even after his first NHL season with the Edmonton Oilers, it didn't take long to see that the skinny kid from Brantford, Ontario, had something special. Leading the league in assists and tying for tops in total points as a rookie has that effect on people. So does setting some of the game's most eye-popping statistics while being a 15-time All-Star and winning four Stanley Cups over 20 NHL seasons. In fact, when Gretzky retired in 1999, he owned or shared 61 records in the NHL books. Perhaps the most notable is the total goals scored record, one that he holds by 93 scores over Gordie Howe … and accomplished it in 282 fewer games.
Perhaps all that history had an effect on an anonymous bidder in a 2016 auction who dropped nearly half a million dollars just to get their hands on one of Gretzky's rookie cards, making it easily the most expensive hockey trading card to ever hit the market. Shoot and score!
Long live Clemente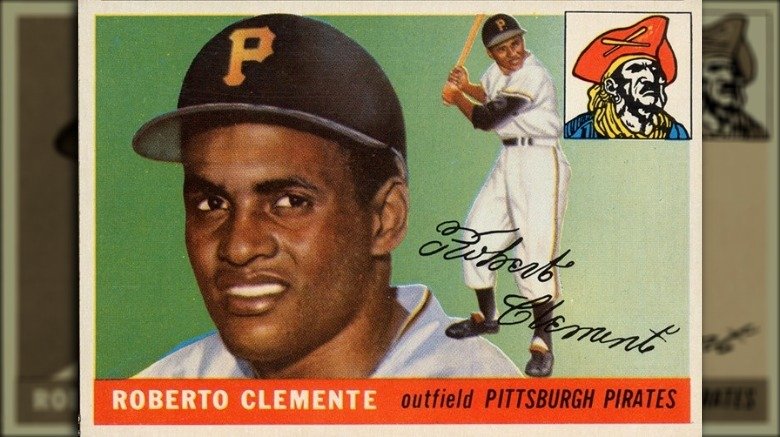 PSA Cards
Roberto Clemente will always be one of Major League Baseball's special stories. As a star for the Pittsburgh Pirates, Clemente was on track to be one of the best the game had ever seen. The Puerto Rico native was in the midst of a run that saw him hit .300 or better in 12 of 13 seasons while collecting 3,000 hits and helping the Pirates win a pair of World Series titles, en route to earning a series Most Valuable Player award in 1971. While his offensive numbers were noteworthy, his ability to throw and run made him one of the best defenders ever to patrol an outfield. However, his life was tragically cut short in 1972 when he died in a plane crash while on his way to deliver emergency supplies to an earthquake-ravaged Nicaragua. Clemente was officially honored by being added to the Hall of Fame the following year through a special election. Through the years, his legacy has endured and his legend has grown. That legend may have hit its zenith when his 1955 Topps rookie card went in a New York auction for $478,000 in 2016. Not bad for a player the Pirates originally acquired for the paltry sum of $4,000.
Lew Alcindor's rookie trading card will cost you some Bucks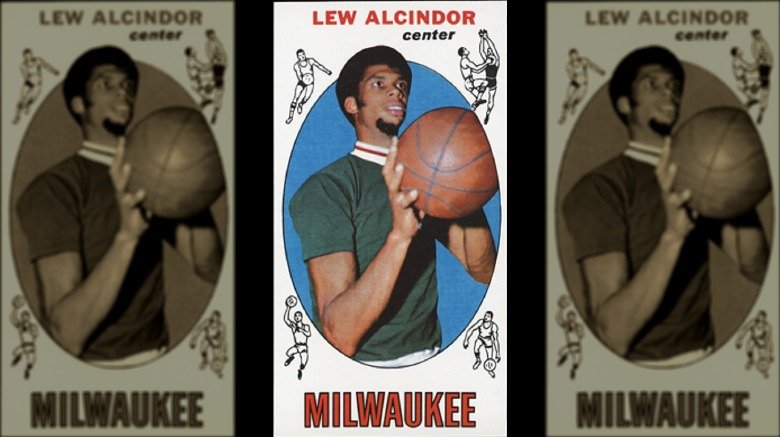 PSA Cards
Nowadays, you might know him as Kareem Abdul-Jabbar, star of the hit comedy Airplane!, culture critic for Time magazine or staff writer for the reboot of Veronica Mars. But once upon a time, he was Kareem Abdul-Jabbar — a six-time NBA champion, six-time NBA MVP, all-time NBA scoring leader, and Basketball Hall of Famer. Even before that, he was Lew Alcindor, one of college basketball's greatest players and a key element in UCLA's still-unmatched run of men's college hoops success. In reality, the legend of the man then known as Ferdinand Lewis Alcindor goes all the way back to ninth grade when he was a star at New York City's Power Memorial high school.
He has been called the greatest basketball star in New York City — no small feat for a town that prides itself on the hoops players it has produced. Even though Abdul-Jabbar is best known for being a star with the Los Angeles Lakers, he began his professional career in Milwaukee with the Bucks. Yet with that resume, it shouldn't be much of a surprise that someone would fork over more than $500,000 for his 1969 rookie trading card with the Bucks. Now just wait until they've seen a few episodes of Veronica Mars — the price might really go through the roof.
Finding Ty Cobb's trading card is just peachy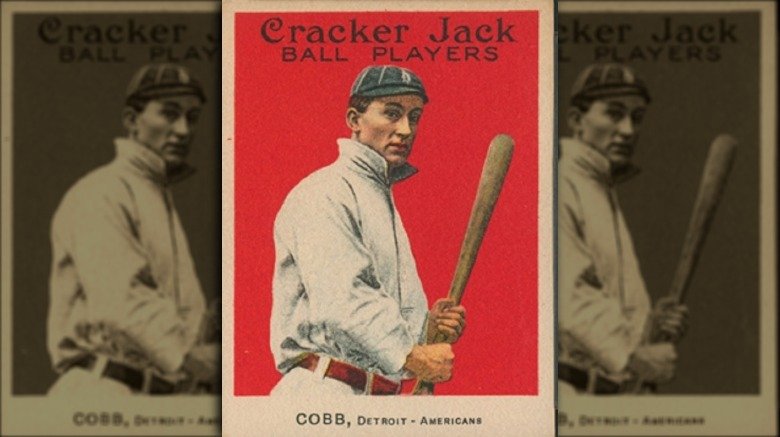 PSA Cards
People had plenty of superlatives when describing the skills of Tyrus Cobb on the baseball field. Generally, those same people weren't nearly as complimentary when talking about Ty Cobb the man. So let's just stick to the baseball part, eh? That's likely what a buyer was thinking in a 2019 auction where Cobb's 1915 Cracker Jack card went for $504,000. After all, it's something special to find a card that old, and it's even more special when it captures a baseball player who hit .316 or better in 23 of his 24 Major League seasons and ended with a still-unmatched .366 career batting average. By the time he ended his career in 1928, Cobb held 43 major league regular season records. His single game total of 16 total bases stood as an American League record until 2012 when the Texas Rangers' Josh Hamilton finally surpassed him.
When the National Baseball Hall of Fame held its first election in 1936, Cobb was one of the five players on the ballot and received the most votes, falling short of unanimity by just four votes. His "Georgia Peach" nickname may have been ironic due to his penchant for starting on-field fights between both his opponents and his teammates, but he was top banana on the field once the umpire shouted "Play ball!"
The Babe in Baltimore is a rare find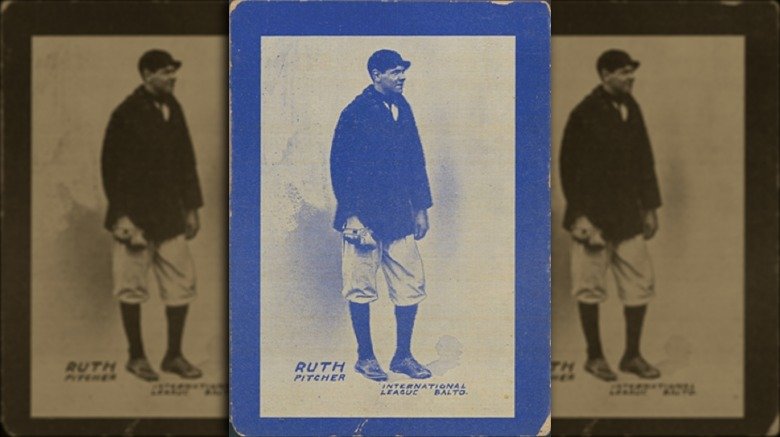 PSA Cards
The Sultan of Swat. The Colossus of Clout. The Babe. And other assorted nicknames you may have learned from watching The Sandlot one too many times. It's hard to argue against Babe Ruth as one of the most famous baseball players (and maybe American athlete) that ever lived. Ruth led or tied for the league lead in home runs 12 different times, and his career power numbers still rank among the game's best all-time. It's no wonder, then, that if you wanted to get your hands on a card featuring Babe Ruth in his minor league uniform, it would cost you a pretty penny.
Long before he went on to become synonymous with the New York Yankees, Ruth began his professional career in his hometown playing for the minor league Baltimore Orioles of the International League. According to Ruth in his autobiography, he was just 19 years old when he joined the club and was signed to a contract after working out for just half an hour. Robert Edwards Auctions brokered a private sale between two parties for an amazing $575,000 in 2012. Yankee Stadium is considered the House that Ruth Built, but whoever sold this card could have another pretty nice one built as well. Thanks, Babe!
All hail the Sultan of Sox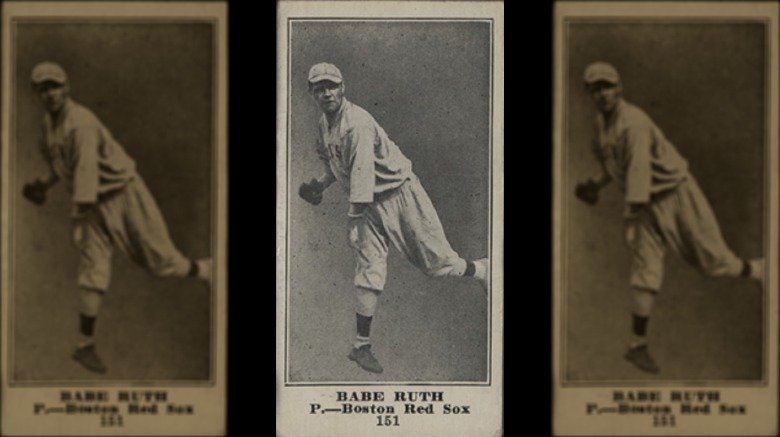 PSA Cards
Here's that Babe Ruth guy again. It's not a big surprise that his rare minor league trading card would fetch big dollars on the open market. Similarly, getting your hands on a Babe Ruth rookie trading card would also set you back quite a bit. What's strange about this card is that it isn't a rookie card of any sort. By 1916, Ruth was in his second full Major League season with the Boston Red Sox. A few years thereafter, Ruth would be sold to the Yankees, kicking off an 86-year championship drought and giving rise to "The Curse of the Bambino." It was frequently rumored that the sale was made so that Red Sox owner Harry Frazee could finance a musical called No, No, Nanette, though that has been debunked since the play opened more than five years after Ruth was sent to New York.
At this point in his career, he was better known as a pitcher than a hitter, registering a league-high nine shutouts and a league-best 1.75 earned run average but hit just three home runs. Nonetheless, a Babe Ruth baseball card is still a thing of sports memorabilia collection beauty. That's probably why one sold for $600,000 in 2017. Icons will always fetch a high price in the collectors' market. Ruth remains no exception.
It's pricey to buy a trading card ticket on the Ryan Express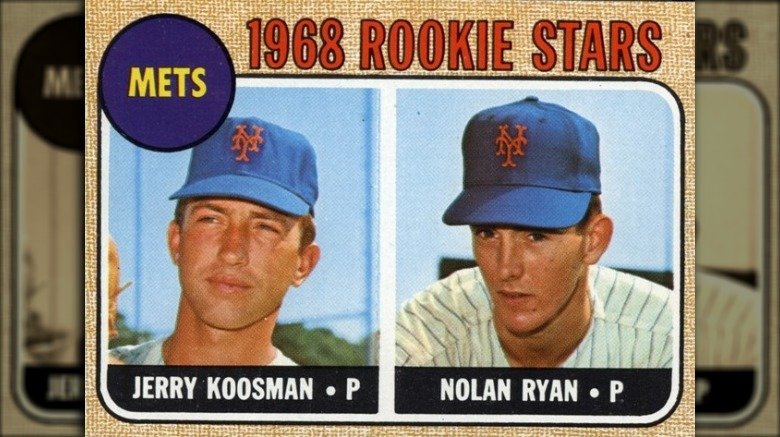 PSA Cards
For nearly three decades, Nolan Ryan was one of Major League Baseball's most feared and celebrated pitchers. (If you think the word "feared" is a little hyperbolic, go ahead and talk to Robin Ventura, who started a fight with Ryan and got thrown in a headlock and repeatedly punched in the face.) The fireballer from Alvin, Texas, still holds the league's all-time record for career strikeouts (5,714) — a mark that isn't likely to be broken anytime soon.
That greatness has collectors clamoring for Ryan's 1969 Topps rookie trading card, the season when the Ryan Express was just pulling out of the station. The irony is that in the early years, it wasn't a sure thing that Ryan was going to be a success. While he was a part of the Amazin' Mets' World Series title run in 1969, the big right-hander struggled with his control. In fact, walks would be a problem for much of his career. But having a fastball that touches 100 mph can be a great eraser for a pitcher who makes occasional mistakes. In 2016, a gem mint edition of the trading card (which features a split image of Ryan alongside fellow 1968 rookie Jerry Koosman) was sold by Heritage Auctions for $612,359. (And it was just the seventh-most expensive piece of American sports memorabilia sold at auction that year!) Nonetheless, if his card is able to fetch those types of prices, maybe he should consider changing his nickname from the Ryan Express to the Money Train.
Shoeless Joe Jackson's trading card will cost an arm and a leg, and your shoes, too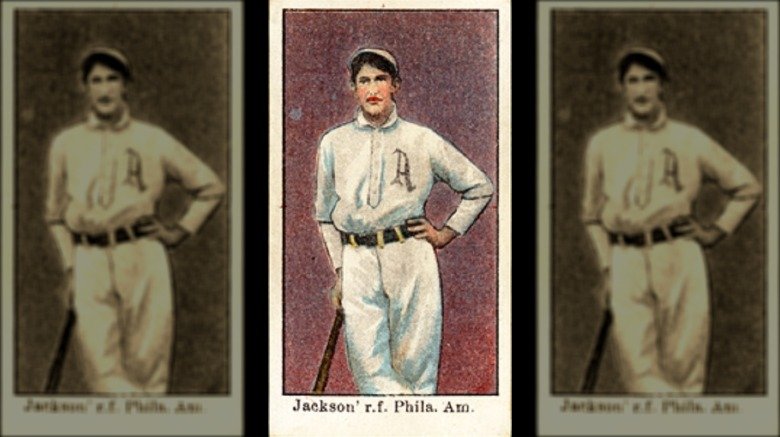 PSA Cards
At this point in history, "Shoeless" Joe Jackson's name is most remembered as being part of the infamous 1919 Black Sox scandal in which eight players were eventually banned from the sport after conspiring to intentionally lose the World Series. While it was a disgrace that took the sport several years to get over, it did give us the excellent 1988 film Eight Men Out starring John Cusack and Charlie Sheen, so that's a silver lining. That unfortunate mark has obscured the career of one of the most talented players in the sport's history. Jackson stole 202 bases in 13 seasons and was a gifted defensive outfielder who also posted a career .356 batting average, thanks to his trusty bat named "Black Betsy." If you need more proof of how good a hitter Jackson was, look no further than Babe Ruth, who called Jackson "the greatest hitter I had ever seen" and patterned his offensive game after the White Sox star.
However, because of his involvement in the game fixing scandal, Jackson was banned from baseball and was not eligible for the Hall of Fame. The Black Sox scandal also created another innovation — the appointment of Kenesaw Mountain Landis as the first commissioner. But it could be both the fame and infamy of Jackson's playing days — as well as the rareness of any trading card bearing his likeness — that led to his 1909 card being sold for $667,149 dollars. Say it is so, Joe.
A pretty nice trading card to have on the Mantle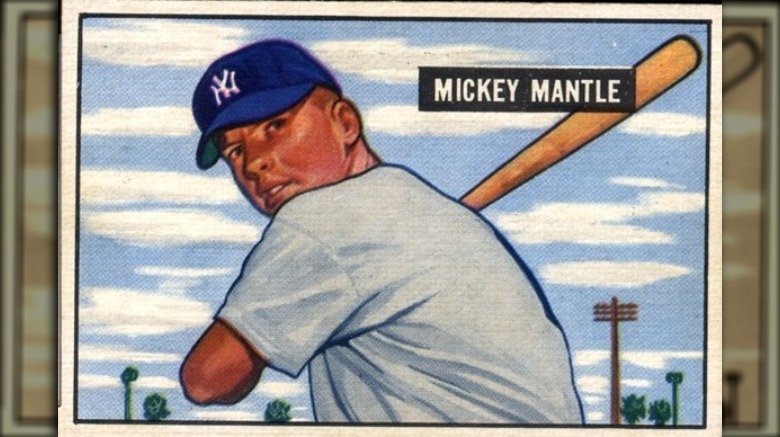 PSA Cards
Mickey Mantle was arguably the greatest switch hitter to ever play the game. He played his entire 18-year career with the New York Yankees, hitting 536 home runs (a career total that still ranks in the top 20 in MLB history) and being one of the key cogs of the Bronx Bombers massive success throughout the 1950s and '60s, playing for seven World Series-winning squads. In addition to his team success, Mantle was a three-time MVP as well as a Gold Glove and Triple Crown winner. Through it all, some believe that Mantle never quite reached his full potential. As a rookie in 1951, he was having an outstanding season with 13 homers and 65 runs batted in over 96 games when an injury prematurely ended his season. He returned a year later to begin a string of 11 straight seasons with 20 or more homers, but people still wonder what might have been. For years, Mantle's 1951 rookie trading card has been considered one of the most valuable cards a collector could land. One particular collector did manage to capture a copy in 2018 for the tidy sum of $750,000 — a mere $50,000 over its estimated value. Sometimes when you gotta have something, you've really gotta have it. Score another one for the Mick.
Another Mick trading card will cost you a mint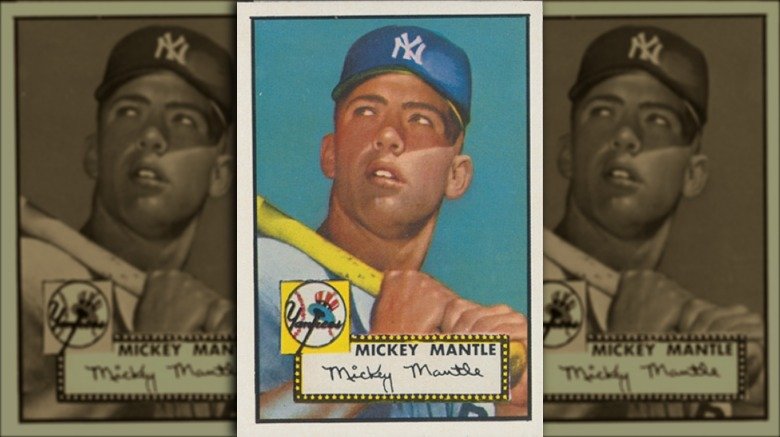 PSA Cards
If a Mickey Mantle rookie trading card could sell for $750,000, just how did Mantle's card from the following year go for so much more? Maybe it's because 1952 ended up being his first full season in the majors after a leg injury that robbed him of nearly 60 games in his rookie campaign? That's still something of a mystery, but what we do know is that in a 2018 auction, a buyer forked over nearly $3 million for the privilege of owning the card. It might have something to do with its condition. The card was rated as a PSA 9 mint. (That's pretty great condition, if you aren't familiar with that scale.) There are just nine total cards known to have a rating of 9 or 10. That makes it pretty special. It might also be because it was the first in a string of 14 consecutive seasons in which Mantle was named to the American League All-Star team.
Also notable is that the card's previous owner is former NFL offensive lineman Evan Mathis, who said he was selling the card to help buy his family a dream home in Tennessee. That might not rank up there with the Super Bowl title Mathis won with the Denver Broncos in 2016, but it's a pretty big score nonetheless.
The holy grail of trading cards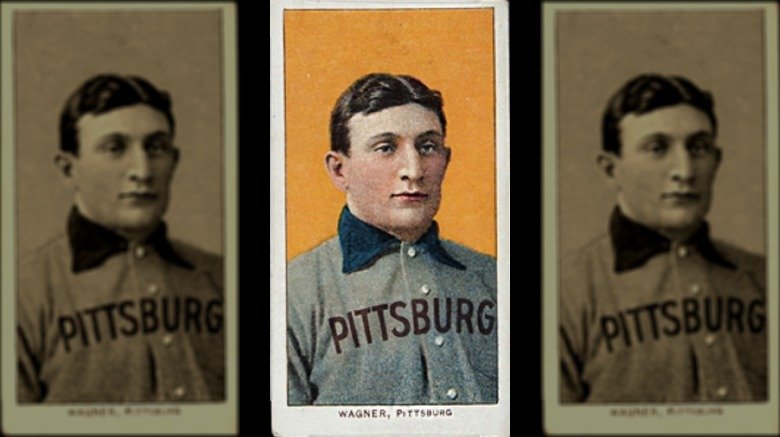 PSA Cards
When it comes to the most coveted of baseball cards in the world, there's no comparison to the 1909 Honus Wagner card that came as part of the T206 set found on packs of tobacco. Honus Wagner was one of Major League Baseball's earliest stars, spending 21 seasons in the league, including 18 with his hometown Pittsburgh Pirates. During that time, he was one of the game's most feared hitters and finished his career with a .328 batting average. But that's just part of the story.
Wagner was as dominant as any baseball player to ever take the field, leading the big leagues in every major offensive category over the early part of the 20th century. To honor his accomplishments, he was one of the first five players inducted into the Baseball Hall of Fame when the museum held its first election in 1936. Also known as the "Jumbo Wagner" because of its size, Wagner's card sold for $2.8 million in 2007. But in 2016, that record would be eclipsed when a buyer, through Goldin Auctions paid $3.12 million for the card, setting a world record that still stands. Today, the card's estimated value has more than doubled, to $7.5 million. It's not hard to imagine another record being set if the card ever makes its way back to auction. Stay tuned.