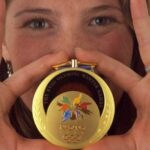 The Olympics: Most Famous Athlete From Every State
echo get_the_meta(); ?>
While it's no secret that Olympic athletes are representing their entire country on the global stage, there's a little more to it with U.S. athletes. They're not just flying the flag of their country, but they're representing their state, too.
And there's nothing like cheering for the athlete capable of almost superhuman feats of strength, skill, and sport when they're from your home state. There's an undeniable sense of pride that comes with cheering on the hometown hero, and when they're on a global stage, that's what the Olympics is all about. 
The Olympic Games started in Greece, sure, but they were banned for somewhere around 1,500 years before being reinstated in the form of the modern games we know and love today. They started on April 6, 1896, and since then, each and every U.S. state has sent one of their own to represent their country. Let's look at the most famous athlete from every state.
Alabama: One of the country's great track stars
Alaska: The state's first medalist