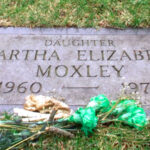 The Tragic Death Of Martha Moxley
echo get_the_meta(); ?>
In her book "The Journalist and the Murderer,"Janet Malcolm makes a compelling analogy for true crime. "It is like looking for proof or disproof of the existence of God in a flower — It all depends on how you read the evidence. If you start out with a presumption of his guilt, you read the documents one way, and another way if you presume his innocence. The material does not 'speak for itself'," she writes. Inevitably, there will be an angle that either adds nuance to or challenges the official narrative of a case. Otherwise there would be no need for the book, documentary, or podcast to be made.
True crime can have a dark side, sensationalizing the perpetrator's actions and erasing the humanity of victims and their families. Rosalie Clark, whose family was murdered in 2014, said she stumbled onto a book about the murder of her family four years later. She was never informed of it. She states, "We're treated as fodder … We're fuel for people's fascination" (via Time). Books, TV shows, and true crime documentaries often bring the victims' families into the spotlight without their consent. However, public interest most often seems to focus mainly on the murderer. 
The murder of Martha Moxley is no different. The numerous articles about her death in 1975 mostly focus on the investigation of the accused, and few column inches have been given to Martha or her family. Here is what happened in the tragic death of Martha Moxley.
Mischief Night 1975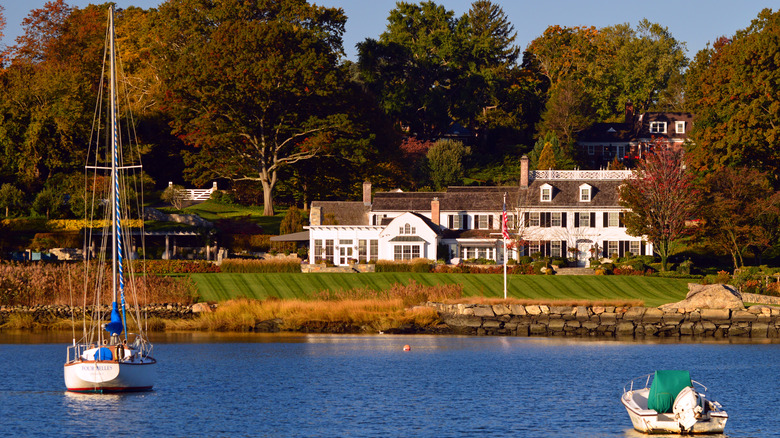 James Kirkikis/Shutterstock
On October 30, 1975, a 15-year-old girl named Martha Moxley was living in Greenwich, Connecticut. She had moved to the exclusive neighborhood of Belle Haven with her family less than two years earlier, from California (via the New York Times). On this evening, Moxley had left her home to go out with friends within the gated neighborhood. In Connecticut (and a handful of other places in New England) October 30 is known as Mischief Night, an annual occasion for kids to wreak havoc and play pranks. The guards of the gated community had been reinforced for the evening in case hijinks got out of line. Moxley and her friends "rang doorbells, scattered toilet paper, sprayed shaving cream into mailboxes and eventually quieted down and dispersed" (via News & Record). 
Moxley, along with a handful of others, ended up at the home of the Skakels, who were related to the famous Kennedy family of Massachusetts. She was last seen with 17‐year‐old friend and neighbor Thomas Skakel (via the New York Times). Around 9:45 p.m., Martha left to go home, just "150 yards away across a sprawling back yard" (via News & Record). Only her murderer would see her alive again.
Halloween 1975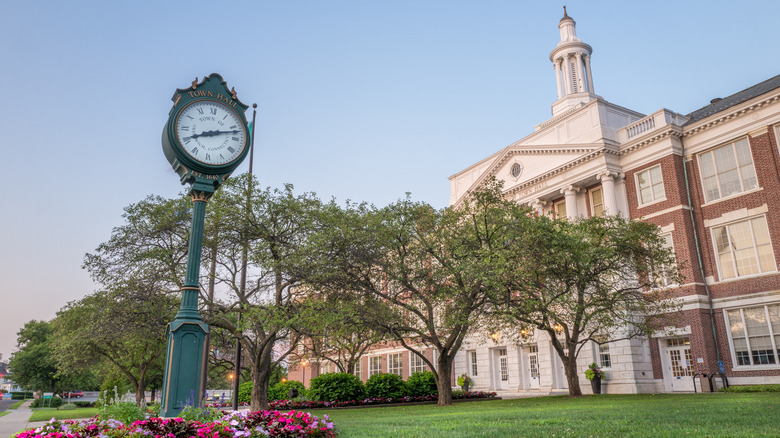 Alexandre CORIC/Shutterstock
David Moxley, Martha's father, was out of town on a business trip, and Dorthy Moxley, Martha's mother, had noticed that Martha had not arrived home as early as expected, but wasn't too concerned. She awoke at around 2 a.m. to find Martha still wasn't home, and then called all of Martha's friends before contacting the police (via the Washington Post). 
No one knew where Martha was. Once the police were alerted by Dorthy, they began a search of the neighborhood and property. Around noon on October 31, Martha's classmate and friend, 15-year-old Sheila McGuire, found Martha's body in a "clump of bushes" on the Moxley residence (via the New York Times). Police discovered that Martha had been battered with a golf club and stabbed with its broken shaft (via the New York Times). 
The local police would later come under scrutiny for how they approached the immediate work of collecting evidence, pinpointing the time of death, and getting a warrant to search the house of the Skakels, where a 6-iron golf club that matched the murder weapon was found. This would only be the beginning of a long and frustrating search for justice for Martha Moxley.
Who was Martha Moxley?
Martha Moxley was 5 feet, 5 inches tall, weighed 120 pounds and had long, blond hair, as described by the New York Times. She was reportedly well liked by the student body of Greenwich High School, who would write a eulogy for her funeral. Rosemary Mein, a family friend of the Moxleys, said, "A year after arriving … she was sports editor of the yearbook, voted girl with the best personality, had gained scholastic honors and had won letters for field hockey and basketball." It is clear that Moxley had a lot of promise. She was popular, involved in various aspects of her school's social scene, and seemed to love life.
Martha's mother, Dorthy, described her daughter as a chatty young woman. "Martha would come home from school and she would come into the kitchen where I was and she would talk and talk and talk … Oh my God, she told me everything that went on," she said. Dorthy has also said that no one ever wants to know about who Martha was, about the Martha "who loved sports and painting and her precious cats named Tiger and Junior," just about the murder (via the Washington Post). Martha had become an object of interest as a victim, rather than as an individual.
What was Martha Moxley's life like?
Belle Haven, which juts out into Long Island Sound, is a gated community, but at the time of Martha Moxley's death, the neighborhood was gated in such a way that residents could possibly avoid the guard posts. However, it was unlikely that strangers would be able to avoid the posts or questioning by the security around the neighborhood (via the New York Times), suggesting that Moxley's murder was committed by someone from the community.
A 2015 report in Greenwich Time explains that while homes in the main parts of Greenwich, Connecticut averaged around $2.7 million dollars, Belle Haven properties could go for around $6.3 million. Even decades earlier, when the Moxley family moved to Belle Haven, this was a high-end, exclusive community.
This was a neighborhood of families with financial assets and with connections, as demonstrated by the Skakel's familial ties to the famous Kennedy family. Martha did not want for much of anything. Her father, David, was head of the New York office of accounting company Touche, Ross & Company, according to the New York Times, and Martha's parents had considered whether the bright girl would have been more challenged in a private school, as reported New York Times. It is clear that her future possibilities were wide open. The world would have been her oyster. 
First suspect: Thomas Skakel
Thomas "Tommy" Skakel is the nephew of Robert F. Kennedy, and for a while he was the lead suspect in the murder of Martha Moxley. CBS News reports that at the time of her death, both 17-year-old Tommy and his 15-year old brother, Michael, had a crush on Moxley. Tommy was also the last person seen with Moxley on October 30, 1975. Detectives found that Tommy and Michael both had emotional issues that led to outbursts, and they both found themselves in academic trouble as well as in trouble with the law after the murder (via the Washington Post). 
However, for many years, no charges were brought against Skakel or anyone else, and Moxley's death remained unsolved. But in the early 1990s, another Kennedy cousin, William Kennedy Smith, was tried on rape charges. His trial led to rumors that he had been at the Skakel home on the night of Moxley's murder. In an effort to clear his family's name, Tommy Skakel's father hired Sutton Associates to reexamine the facts of the Moxley case (via People). Tommy went through various interviews and psychological analyses, which the Sutton Report noted were significant, but not a smoking gun. The report reads:
"Dr. Gramont has presented a series of objective findings which … are somewhat alarming. While Dr. Gramont by no means suggests Tommy is a raging monster on the verge of violent episodes, the diagnosis is still very telling. …it presents a great deal of insight into possible emotional and psychological disabilities that could have contributed to destructive behavior, and from which Tommy may still suffer to this day" (via The Sutton Report).
Second suspect: Kenneth Littleton
Another suspect was Kenneth "Ken" Littleton, a science teacher who had been hired as an in-house tutor for the Skakels just earlier on the day of Martha Moxley's murder. Around the time of the murder, Littleton was watching "The French Connection" on TV. Tommy reportedly joined him for a while (via New York Post). 
Initially, Littleton didn't come under suspicion, but the summer after the murder, his behavior "turned erratic" and he was convicted of burglary and larceny in Nantucket. Greenwich police started to consider him a possible suspect (via the Washington Post). Littleton would blame the trauma of being harassed by local police, who he says were intimidated by the powerful Skakels, for his descent in mental health, according to the New York Post.
The Sutton Report seemed to indicate that Littleton did not match the characteristics of the murderer as described by the Academy Group, made up of ex-FBI agents. The Academy Group stated that the "offender was an unsophisticated teenage male … other characteristics included low self-esteem and explosive temperament … was likely enraged by rejection, and inflicted a stab wound through Martha's neck to ensure her death" (via the Washington Post). This description fit the Skakel brothers much more than Littleton.
The investigation goes cold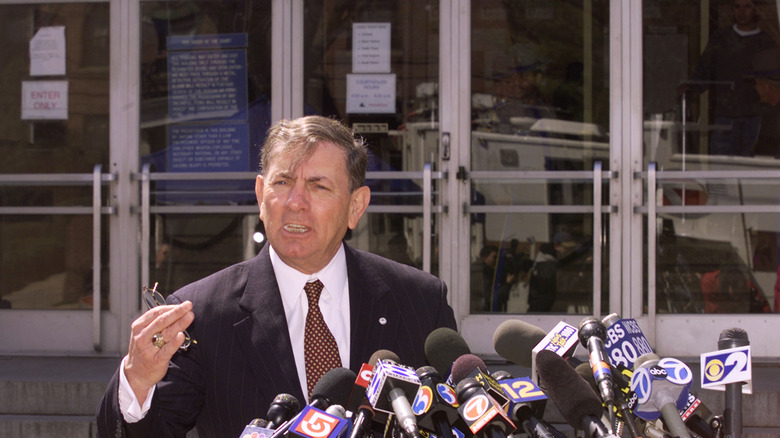 Robert Mecea/Getty Images
By the late 1970s, no arrest had been made for the murder of Martha Moxley. Both Tommy Skakel and Kenneth Littleton had passed lie detector tests, and the case had officially gone cold. However, Michael Skakel was attending the Elan School in Poland Spring, Maine, a private institution that "catered to children with mental health and substance abuse problems." While attending the school, Michael reportedly admitted to killing Moxley during group therapy. The school's owner denied that this confession ever happened (via the New York Times). 
Around the same time, Littleton moved to Canada and met fellow alcoholic Mary Baker. She reported that in 1984, "Littleton had begun identifying himself again as 'Kenneth Kennedy,' and believed that he could cause a tornado or a hurricane by flushing the toilet. He ate money, drank toilet water, left golf clubs at synagogues, and collected JFK matchbooks" (via the Atlantic). Littleton's life after the murder descended into alcohol and substance abuse, as well as the degradation of his mental health. Littleton's father said that Greenwich police had "hounded and ruined" his son, but deputy police chief Thomas G. Keegan (pictured) denied the accusation.
In the early 1980s, crime writer Leonard Levitt was hired by Greenwich Time and The Advocate to investigate the murder of Martha Moxley, but his piece wasn't published until 1991, when it helped relaunch the police investigation into the murder (via Greenwich Time).
Several books are written about the Martha Moxley case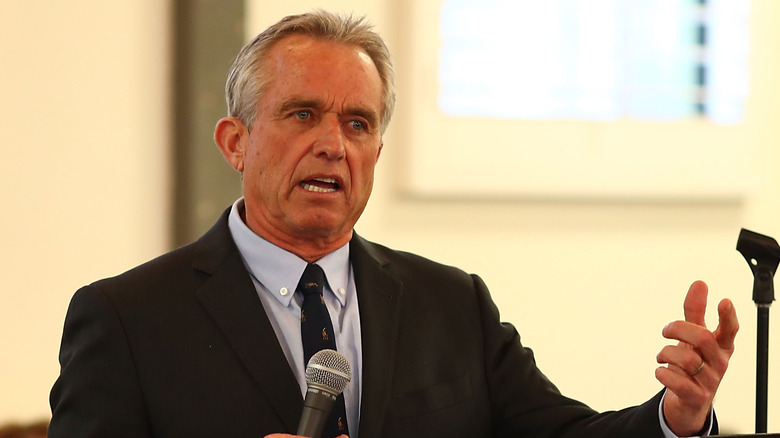 Joe Scarnici/Getty Images
Several books would be written about the Martha Moxley murder, including the 1998 title "Murder in Greenwich" by Mark Fuhrman, an ex-LAPD detective. Fuhrman had gone to Greenwich to do his own investigation into the events of October 30, 1975, much to the chagrin of local police and residents (via the Washington Post).
Dominick Dunne also wrote a novel, "A Season in Purgatory," based on the murder, although he changed several aspects of the case to avoid libel. His novel came under fire from Michael Skakel's cousin, Robert F. Kennedy Jr. (pictured), who said that Dunne pushed the public opinion towards the Skakels being guilty. He stated, "Dunne publicly declared the guilt of the Skakel family when he first heard about the crime, without having looked at a single police report, in 1991" (via New York Magazine). 
Kennedy would go on to write his own book on the case, "Framed: Why Michael Skakel Spent Over a Decade in Prison for a Murder He Didn't Commit," which makes the case in defense of Michael Skakel. 
Final suspect: Michael Skakel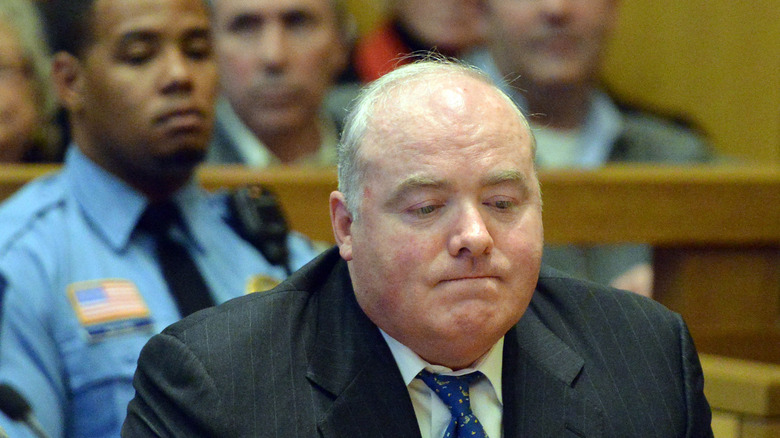 Pool/Getty Images
Both of the Skakel brothers had changed their stories from the day of the murder to the re-investigation of the case by Sutton Associates and police. In 1975, Michael said that he had been at a cousin's house watching TV, then came home at 11:30 p.m. and went to bed, as reported by E Online. But, he later told Sutton Associates that after he returned from his cousin's he "climbed a tree and masturbated outside Moxley's bedroom window. Climbing down, he heard voices and ran home." 
Yet even with these discrepancies and the accusation that Michael had admitted to Moxley's murder while at the Elan School, it would not be until the late 1990s that interest reignited in part by the Greenwich Time article and several books led to prosecutors putting together a one-judge grand jury to re-try the case (via ABC News).
The grand jury ended in December of 1999 after testimony from 40 witnesses (including Kenneth Littleton). On January 18, 2000, an arrest warrant was issued for Michael Skakel (via ABC News). This would be the beginning of a 20-year cycle of appeals, turnovers, and repeals. 
The trial and appeal of Michael Skakel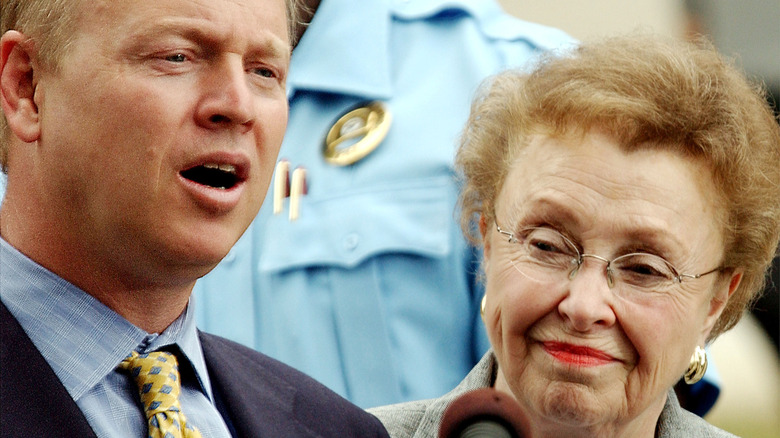 Stephen Chernin/Getty Images
From the time of Michael Skakel's arrest, there were several delays in the beginning of the trial, including discussion of whether Skakel should be tried in juvenile court considering he was a juvenile at the time of the murder and whether proceedings should be open to the media. Judge Maureen Dennis ruled that Skakel should be tried as an adult and ordered the case be transferred to Superior Court (via Greenwich Time). 
The trial eventually began on May 7, 2002 and ended on June 7, when Skakel was convicted of the murder of Martha Moxley and sentenced to 20 years to life in prison. However, that wasn't the end of the legal proceedings.
In 2007, a friend of Michael's, Gitano "Tony" Bryant, would tell an investigator hired by Skakel that "one of his companions that night, Adolph Hasbrouck, was obsessed with Moxley and wanted to 'go caveman' on her, meaning to violently have his way with her." Bryant said that he didn't come out with this information originally because his mother told him that, as a black man, he would have been pegged for the crime (via Hartford Courant). An appeal for a new trial was sent to the Connecticut Supreme Court, where it was denied in a 4-1 decision according to the New York Times.
Michael Skakel is granted a new trial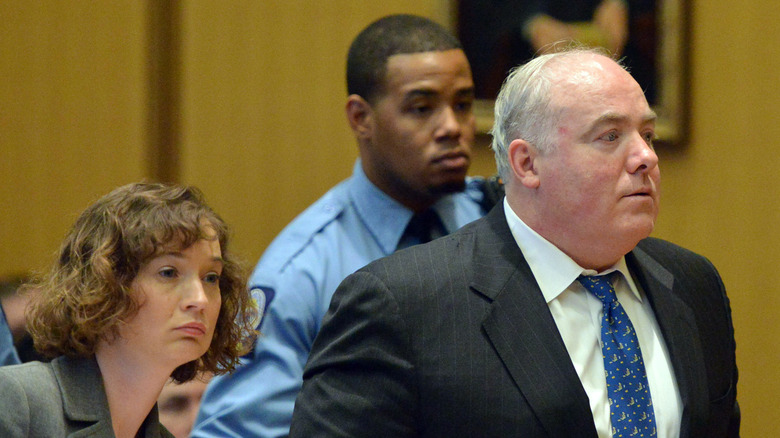 Pool/Getty Images
In 2013, 11 years after his conviction, Judge Thomas Bishop granted a new trial to Michael Skakel, on the grounds that his attorney failed to adequately represent him in the original trial (via CBS New York). Dorthy Moxley responded to the news by saying, "I do believe Michael Skakel killed my daughter. I don't believe there's any doubt in that. … I have not had one bit of doubt. No, absolutely not. It took us 27 years to find and convict him. It wasn't that we rushed to judgement on this." According to CNN, Skakel was released on $1.2 million dollar bail later in 2013.
In December 2016, the Connecticut Supreme Court decided against Michael Skakel and reinstated his sentence in a 4-3 decision that his lawyer had been adequate and that there was "overwhelming" evidence presented by the prosecution (via Hartford Courant).
However, in May 2018, the Connecticut Supreme Court reversed its 2016 decision and vacated Skakel's sentence, saying his lawyer "rendered ineffective assistance" because he didn't allow an alibi in the official record of the case, therefore making an unfair trial. The court said that prosecutors were able to retry Skakel if they so decided (via CNN).
Mischief Night 2020
Spencer Platt/Getty Images
On October 30, 2020, 45 years to the day that Martha Moxley was last seen alive, Chief State's attorney Richard Colangelo told a Superior Court judge that he had decided not to retry Michael Skakel. The state prosecutor entered a nolle in the case, which means that it will go dormant for 13 months, and then prosecutors can try the defendant again. However, this seldom happens in Connecticut courts, according to Allen F. Friedman, a criminal lawyer. According to the Hartford Courant, Colangelo said the "passage of time and the death of prosecution witnesses left the state unable to proceed."
The New York Times reports that Dorthy Moxley said that she still believed in the guilt of Michael Skakel, but had no need for him to serve any more prison time. "I will never forget the day they found him guilty, it gave me all the sense of justice I needed," she said. Yet even after all these years and multiple trials, no one knows with any certainty how the life of Martha Moxley was taken.