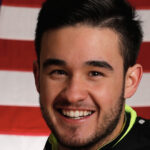 The Untold Truth Of US Olympian Eddy Alvarez
echo get_the_meta(); ?>
Participating in the Olympic Games is an honor for any athlete, and being chosen by your peers to carry your country's flag during the parade of athletes is a welcome distinction. This year, the International Olympic Committee (IOC) is pushing for gender equality in the Games, and one of the changes made in this year's Olympics in Tokyo is the encouragement for countries to have not one, but two — one male and one female — flag bearers at the Opening Ceremony's parade of athletes (per Olympics).
The Olympic athletes chose basketball legend Sue Bird along with baseball star Eddy Alvarez to wave the American flag at the Opening Ceremony, which made Eddy quite emotional. Alvarez comes from a family of Cuban immigrants, and being chosen to represent the United States is living the American Dream. "Being a first-generation Cuban-American, my story represents the American Dream. My family has sacrificed so much for me to have the opportunity to wave this flag proudly," Alvarez said (via New York Post).
Eddy Alvarez's zig-zagging sports career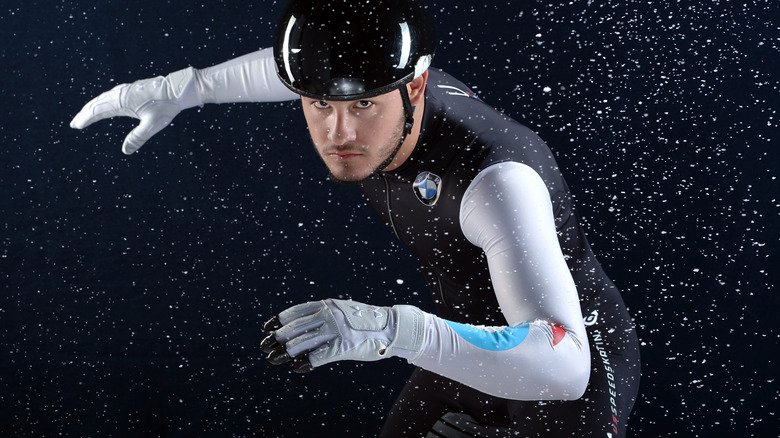 Harry How/Getty Images
Eddy Alvarez is part of the USA Baseball team in the Tokyo Olympics, but his first sport was speedskating. As a young boy, Alvarez would visit a beach in Miami with a skating strip, where he would show off his skating moves. Upon seeing him, two women approached his parents, encouraging them to let their son try speedskating. He did well in the sport and enjoyed it, but he also enjoyed playing baseball. By high school, Eddy felt that he was spread thin between two sports and decided that he should choose a sport to concentrate on and get better at it (via Team USA). "That's when I made my first true, huge, life decision: quitting skating and concentrating on baseball," he said.
However, that was not the end of Eddy's skating career. In 2006, Eddy was watching the Olympic qualifiers when he recognized some of the skaters competing. Those were the same athletes that he used to compete with, and knowing that he beat them before, he realized that he just might have a chance at getting into the Olympics. And so, with a new determination, he returned to skating just so he can tell himself that he tried. At that time, speedskating took priority over baseball.
First Olympic Games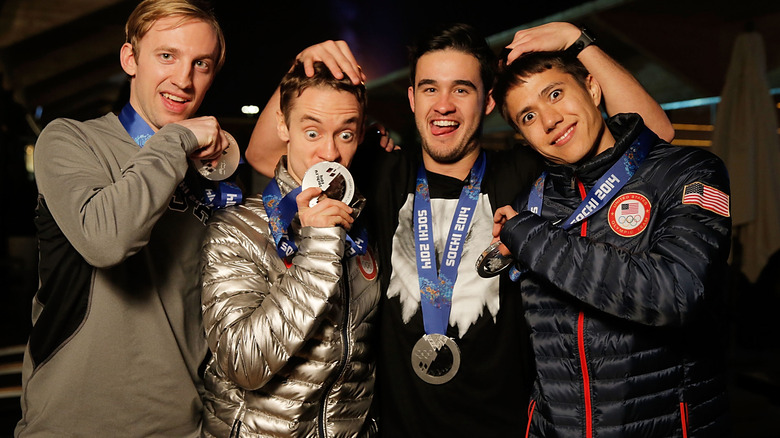 Joe Scarnici/Getty Images
Eddy Alvarez started training in speedskating with the goal of joining the Olympic Games, but he couldn't easily let go of baseball. So, he decided to chase both dreams and train for both skating and baseball, all while attending classes. It might sound like a ridiculous plan to many, but as Alvarez said, "passion trumps logic," and so he gave it his all and eventually qualified for the Olympic Games in 2014, according to Team USA.
In the Sochi Winter Games in 2014, Eddy Alvarez was part of the USA Skating team and participated in four events. His team won the silver medal, losing to the Russians just by a fraction of a second in the 5,000-meter relay. It was a bittersweet moment for Eddy, as he made it to the Olympics, but losing by less than a second was hard to swallow. He recalled that time in an interview with the Miami Herald. "When you're so close to winning, and you have to stand on the podium and listen to someone else's anthem, it leaves just a little bit of that bittersweet feeling," he said.
Competing in both Winter and Summer Olympics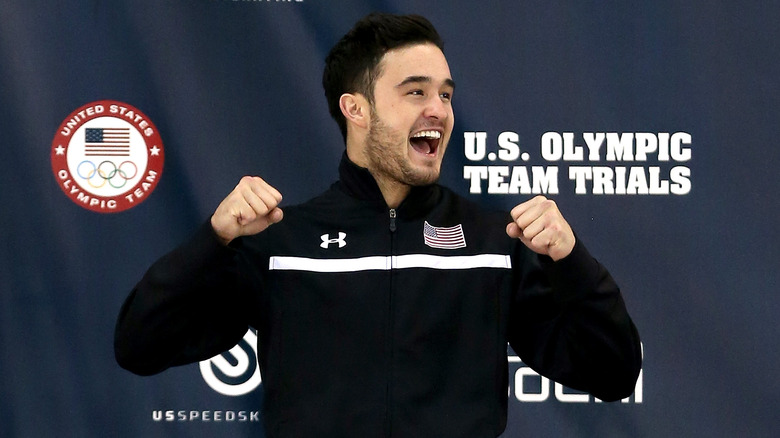 Matthew Stockman/Getty Images
Having made it to this year's Olympics, Eddy Alvarez will be the 11th American to ever participate in both the Winter and Summer Olympic Games. This is a big feat because, in the history of the modern Olympic Games, there have only been 128 athletes from all over the world who have had the opportunity to do so, per Olympics. Furthermore, of those athletes, only five have won medals in both the Winter and Summer Games.
Alvarez will be the only member of the USA team to have prior experience in the Olympics. However, the team's manager, Mike Scioscia, said that what Eddy brings to the team is his leadership skills and not his past experience as an Olympian in the Sochi Games. "His Olympic experience was with skates on, so I don't know how much that translates to what we're doing," Scioscia said, per the Salt Lake Tribune. He also said that Eddy has a good understanding of the Games, which showed in the qualifiers. "In the qualifiers, there was no doubt about what he brought every day," he said.
Eddy's close relationship with his parents
There's no doubt that Eddy Alvarez's parents are proud of their son's achievements. In interviews, Eddy also gives credit to his parents for supporting him while pursuing his dreams. When he was chosen to be the USA's flag bearer, Eddy said, "I owe so much to my parents, to my family, that came over to this country." After the Opening Ceremony, Eddy had a chance to talk to his family, who is watching the Games from Florida. Eddy's father said, "I can't be more proud," referring to seeing his son holding the American flag. "I was going to be strong, but I lost it. I lost it because Eddy, you truly made us proud, baby, like always," his mother said, with tears in her eyes (via People).
When Alvarez made it to the major leagues, it was his parents who first heard the news. Alvarez drove to their home and simply said, "It's happening. We did it." His parents didn't know what was happening at first, but rejoiced with their son once they realized what the excitement was about, per ESPN. Eddy's parents went through everything with him from the beginning, from switching sports, going through different teams, and especially through the tough times such as the knee injury he sustained.
Redemption in Tokyo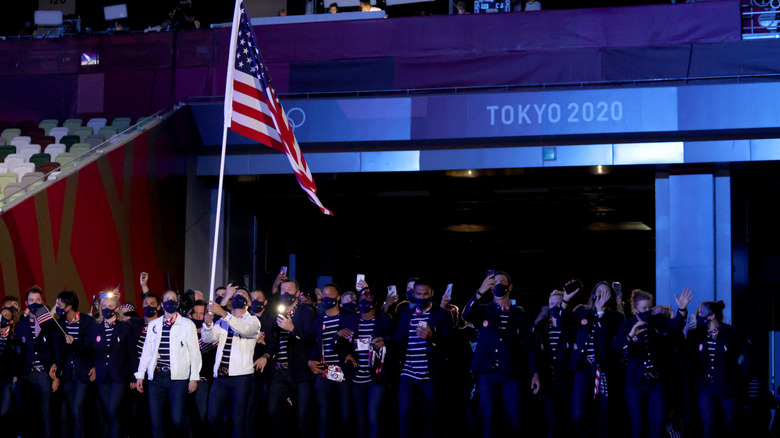 Hannah Mckay – Pool/Getty Images
Eddy Alvarez's Olympic debut at the Sochi Games wasn't exactly what he was going for. He competed in four events and placed in just one event, earning him a silver medal. For the 1,000-meter event, Eddy crashed as a skater tumbled in his way. He didn't get a favorable outcome for the 500-meter event, either, as he stumbled during the first heat and couldn't quite keep up. He was also disqualified from the semifinals of the 1,500-meter event, per Miami Herald.
This time, even though he is competing in a different sport, Eddy Alvarez is determined to redeem himself and bring home a medal, hopefully, a gold one. "This trip is like a second chance. I'm going with this to absolutely leave it on the field," he said. If Alvarez, indeed, goes on to win a medal at the Tokyo Olympics, he will be one of a handful of athletes that have medals for both the Summer and Winter Games.