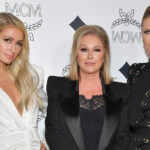 The Tragic Real-Life Story Of The Hilton Family
echo get_the_meta(); ?>
The Hilton name is one of the most recognized in modern American history. Conrad Hilton Sr.'s empire is now just over 100 years old, and while it's now recognized as one of the most successful hotel chains in the world, along with garnering the prize of the best company to work for in 2020, the Hilton family saga is fraught with greed, betrayal, and heartbreaking individual tales of tragedy, both headline-grabbing and secret.
Fortunes never come easily. They can often complicate family dynamics and very easily tear them apart, and the Hiltons are no exception. From Conrad "Nicky" Hilton's whirlwind marriage to Elizabeth Taylor to Paris Hilton's sex tape and arrest, this family has seen their fair share of the not-so-glamorous side of the spotlight. 
On top of all the personal drama, it's not certain that the current heirs to the Hilton dynasty will ever even see much of their great-grandfather's trust fund. 
Conrad Hilton: The beginning of an empire
Hulton Archive/Getty Images
Conrad Hilton was born on December 25, 1887, in the New Mexico Territory. His father was a businessman who taught Conrad the ropes at a young age. According to the Herald Democrat, Conrad's father, a Norwegian immigrant, ran a general store that he converted into a small hotel. As a young man, Conrad was elected to the very first session of the state of New Mexico's House of Representatives when it joined the United States in 1912. 
After serving in the army in World War I, he was able to purchase his first hotel in Cisco, Texas, and would eventually open others throughout the state, including in Dallas. His dreams of a hotel chain were put on hold, however, when the Great Depression hit the country. Hilton went bankrupt and saw many of his hotels close in the 1930s. After managing to expand and build back his hotel business throughout Texas in the early 1940s, he branched out to Los Angeles, and the Hilton Hotel Corporation was officially established in 1946. 
Hilton became known as quite the partier. He was known to drink to excess and to court multiple women at once. His wife, Mary Adelaide Barron Hilton, had some fidelity issues of her own. 
Conrad Hilton's marriage to Zsa Zsa Gabor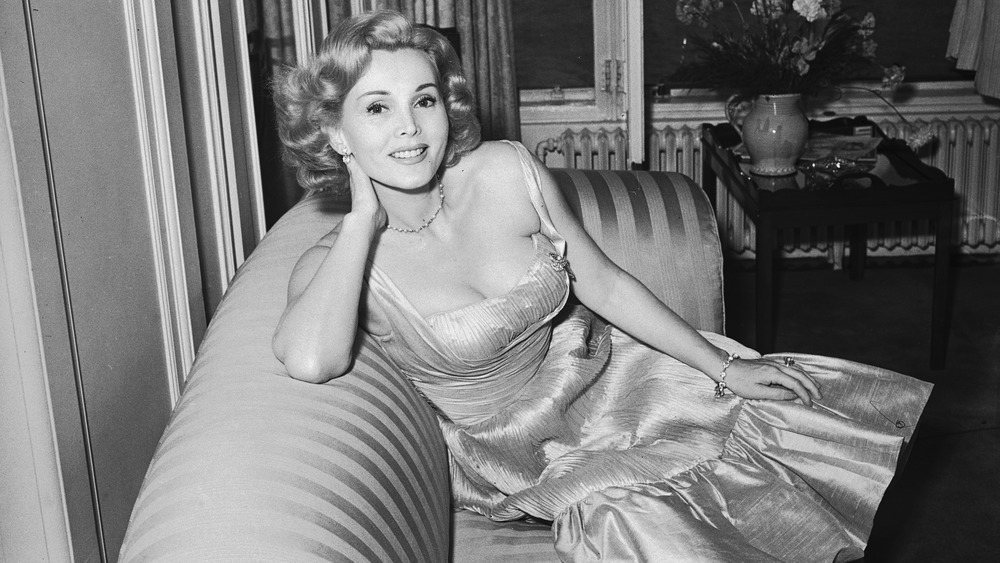 Nixon/Getty Images
Conrad and Mary were married in 1925 and had three sons together, but Mary left him in 1934 for a local football coach she'd been having an affair with. Conrad began socializing with the rich and famous, which is how he met Hungarian beauty queen Zsa Zsa Gabor, whose long list of lovers includes Sean Connery and Richard Burton. The two were married in 1942. 
The glamorous couple were only married for four years. Gabor blamed their failed marriage on Conrad's guilt for divorcing his first wife and remarrying outside the Catholic Church, according to Vanity Fair. In truth, there were multiple reasons why their marriage may have failed, including both Conrad's and Gabor's wandering eyes, Conrad's drug problem, and his temper. Gabor claimed after both her late second husband and her stepson, Conrad "Nicky" Hilton Jr., had died that she and Nicky had embarked upon a fleeting affair. 
Before their divorce, Conrad and Gabor had a daughter, Francesca, who was Gabor's only child. Gabor went on to marry another seven times after Hilton. Sadly, Francesca's life was filled with tragedy, starting from her conception. Gabor claimed that her daughter was the product of marital rape and even sued Francesca later in life. 
Francesca: the forgotten Hilton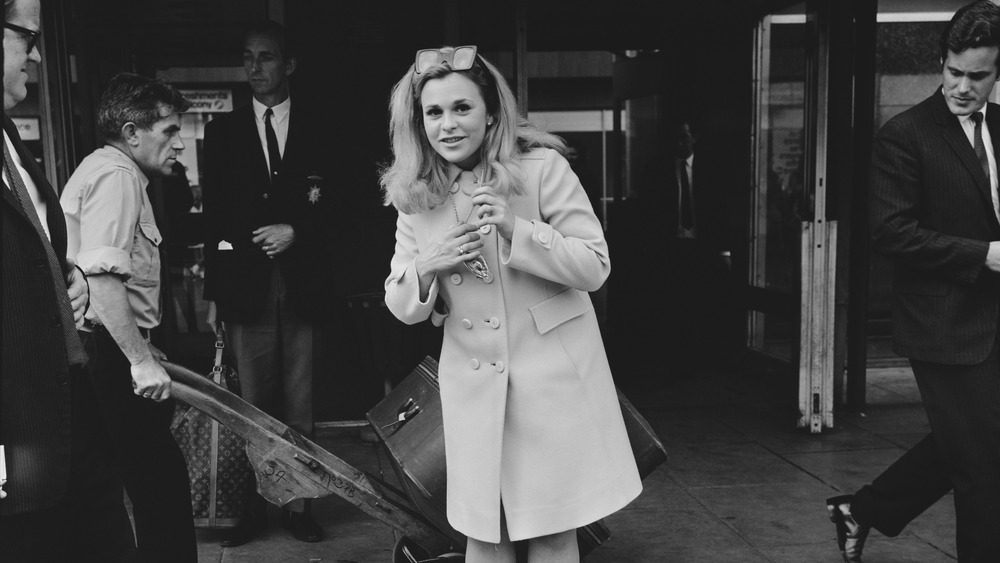 George Stroud/Getty Images
Not only had Francesca Hilton reportedly been the product of rape, according to her own mother, but she was never treated equally by her father and her three stepbrothers. Conrad reportedly initially denied that Francesca was even his daughter, as Zsa Zsa was known for having her share of affairs. 
Francesca's relationship with her mother never improved. In 2005, Gabor and her last husband, Frederic Prinz von Anhalt, accused Francesca of fraud, elder abuse, and intentional infliction of emotional distress. They filed a suit against her in a California court for allegedly attempting to pilfer equity from Gabor's Bel Air mansion. Francesca claimed she had her mother's blessing to refinance the property in order to save it from foreclosure, according to Forbes. The lawsuit was eventually dropped, but the emotional damage endured. Francesca held a deep grudge against both her mother and von Anhalt, telling her publicist that, "My mother wanted to be a princess, so she married an evil queen." 
When Conrad died, he left a mere $100,000 to Francesca. After failed legal attempts to amend the will, Francesca survived on odd jobs until she died of a stroke in 2015 while living in her car at the end of her life. When she died, her family didn't even claim her body at the morgue for ten whole days due to legal wrangling.
Conrad "Nicky" Hilton's marriage to Elizabeth Taylor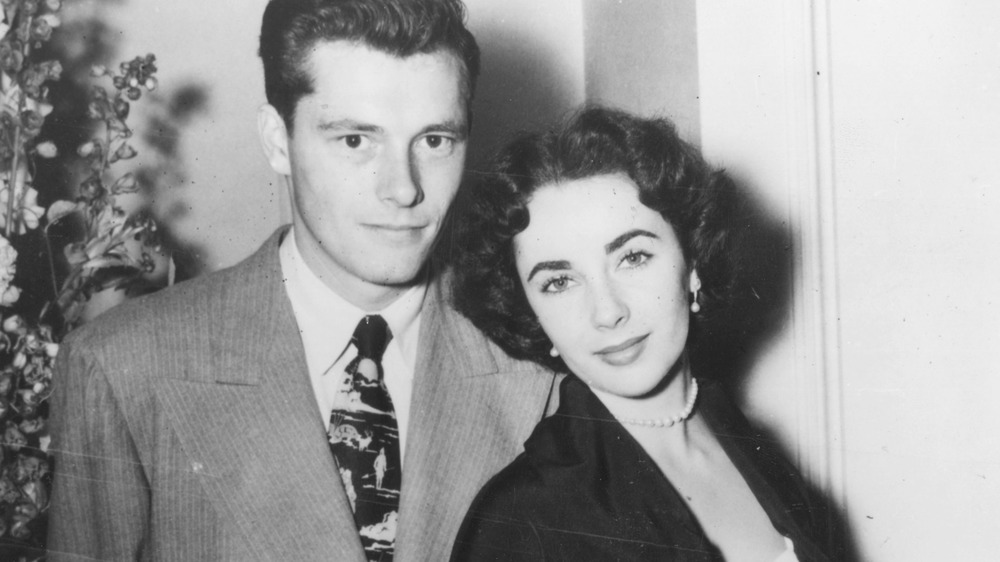 Central Press/Getty Images
In 1950, 18-year-old movie star and style icon Elizabeth Taylor married her first husband of seven. That man was 23-year-old Conrad "Nicky" Hilton Jr., Conrad and Mary's eldest son. The couple threw a heavily publicized marital shindig at the Bel-Air Country Club. On the surface, Liz and Nicky appeared to have a glamorous, fairytale relationship. In reality, it was a nightmare. Taylor claimed that Nicky began drinking on their wedding night and never stopped. He also had problems with gambling, as well as a wandering eye. Like father, like son. 
"The honeymoon in Europe lasted two weeks," Taylor wrote in a 1965 memoir (via CBS News). "I should say the marriage lasted for two weeks. Then came, yours sincerely, disillusionment rude and brutal." After their honeymoon, Taylor left Nicky to stay with her mother. Then-Elizabeth Hilton later told a Santa Monica court that Nicky had been "indifferent to me and used abusive language." She won a divorce on account of mental cruelty, refused any alimony, and changed her name back to Elizabeth Taylor.
The high-profile marriage lasted less than a year. Nicky Hilton married Oklahoma oil heiress Patricia McClintock in 1958, and Liz Taylor married English actor Michael Wilding just a year after her first divorce in 1952. 
The death of the patriarch and Barron Hilton's contestation
When Conrad Hilton Sr. died in 1979, it was assumed that his two surviving sons would receive the bulk of his estate. Conrad "Nicky" Jr. had died at age 42 of cardiac arrest. But the second son, Barron, wasn't satisfied with the will and contested its provisions.
Conrad Sr. was a devout Catholic and put a tremendous focus on philanthropy. In his will, it appeared that "charity, not his children, were to receive the bulk of his multimillion-dollar estate," according to New York Times writer Marcia Chambers. His charity, the Conrad N. Hilton Foundation, would hold control of his hotel empire. "Charity," Conrad said to the foundation's board in his will, "is a supreme virtue, and the great channel through which the mercy of God is passed onto mankind." Barron maintained, however, that under a provision in his father's will, he, and not the Hilton foundation, was entitled to the 27.4-percent block of stock. 
He sued his father's foundation in 1983, claiming he should be legally able to purchase the stock for $165 million. The judge ruled in Barron's favor, but the Catholic Sisters of Conrad's public foundation were not pleased. They also took Barron to court, and the foundation's chief lawyer, Andrew N. Garb, stated that they would be "opposing the Sisters in this litigation." Ouch. 
Barron would ultimately receive control of 34 percent of Hilton's shares and became chairman and CEO of the family business. Take that, nuns. 
Barron Hilton's death and will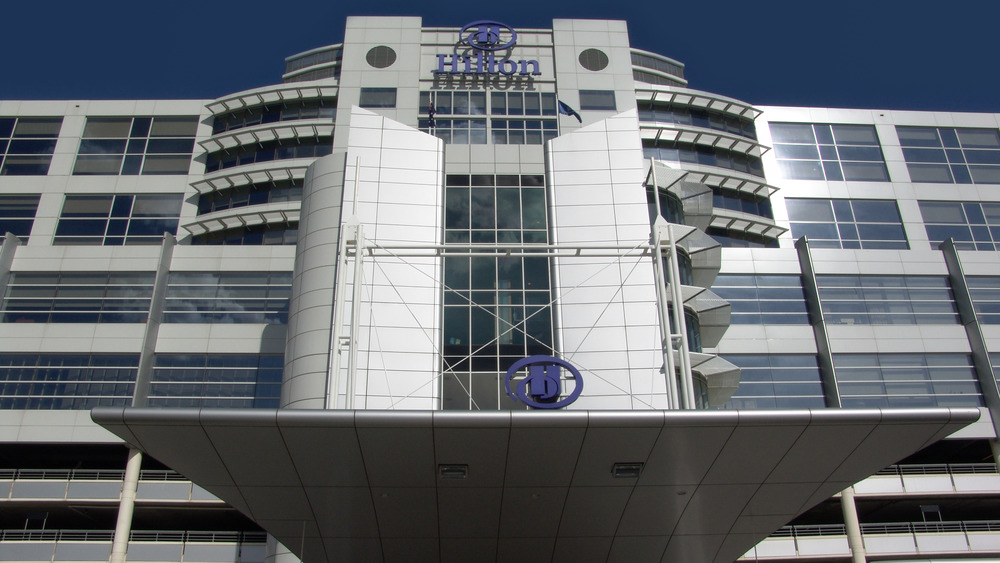 Shutterstock
Barron would continue to act as CEO of Hilton Hotels Corp. for 30 years. He was also the founder of the NFL's Los Angeles Chargers. When he passed away at the age of 91 in 2019, one would think Barron's will would have different priorities than his father's, considering his initial contestation of that big slice of charity pie he successfully took back. 
In 2007, Barron oversaw the sale of Hilton Hotels to the Blackstone Group for $20 billion (the same year his granddaughter, Paris, spent three weeks in the slammer for violating the terms of her probation). But in a controversial move shortly before his death, Barron decided to fulfill his father's original wishes for the Hilton foundation, leaving only three percent of his wealth to his eight children and 15 grandchildren. How much exactly is that wealth? Barron's net worth was $1.25 billion, according to Bloomberg. Upon his death, the Conrad N. Hilton Foundation endowment had accumulated to $6.3 billion. 
The foundation supports projects that provide clean water in Africa, housing for the mentally ill, and education for blind children, among others. 
Kathy Hilton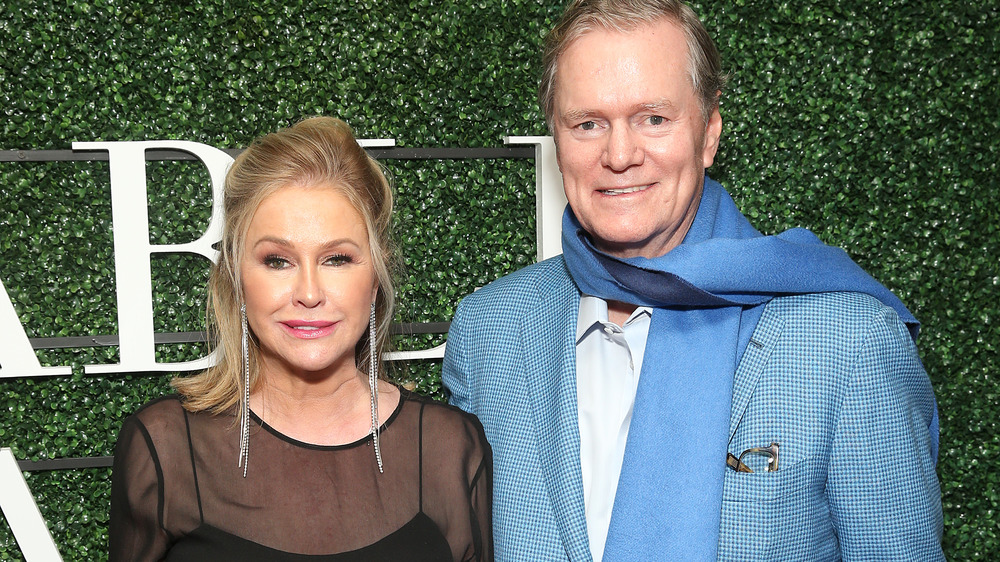 Jesse Grant/Getty Images
Richard Hilton, one of Barron's eight children, married his high school sweetheart, Kathy. The pair became parents to the most infamous modern Hilton children, including Paris Hilton and Conrad Hilton III. 
Kathy's mother, Kathleen Dugan Avanzino Richards Catain Fenton, was allegedly a nightmare. Kathleen, aka 'Big Kathy,' was married four times, and from an early age, she told her daughters to marry rich and have a lot of children, according to Thought Catalog. "My daughters are married to men who have a total net worth of $13 billion," Kathy's mom once boasted. 
In Jerry Oppenheimer's biography, House of Hilton, much tea was spilled about the tempestuous matriarch, including a rumor that she was a Hollywood madam. Sylvia Richards, the widow of one of Big Kathy's ex-husbands, Ken Richards, told Oppenheimer some uncomfortable facts about Kathy's childhood. "Big Kathy told Ken that she wanted Kathy [Hilton] to know all about sex, and how to perform sex, literally, the best way possible," she stated. "So she asked a young man to teach her in his van." 
The 2018 TV show American Woman was loosely based on Big Kathy navigating life as a single mom in the 1970s. Kathy Hilton was also a child actress and appeared in Bewitched and Happy Days. Kathy's half-sisters, Kyle and Kim Richards, star in Bravo TV's The Real Housewives of Beverly Hills. Kathy has recently been announced as a new "friend of the show" for season 11. 
Paris Hilton's tragic teen years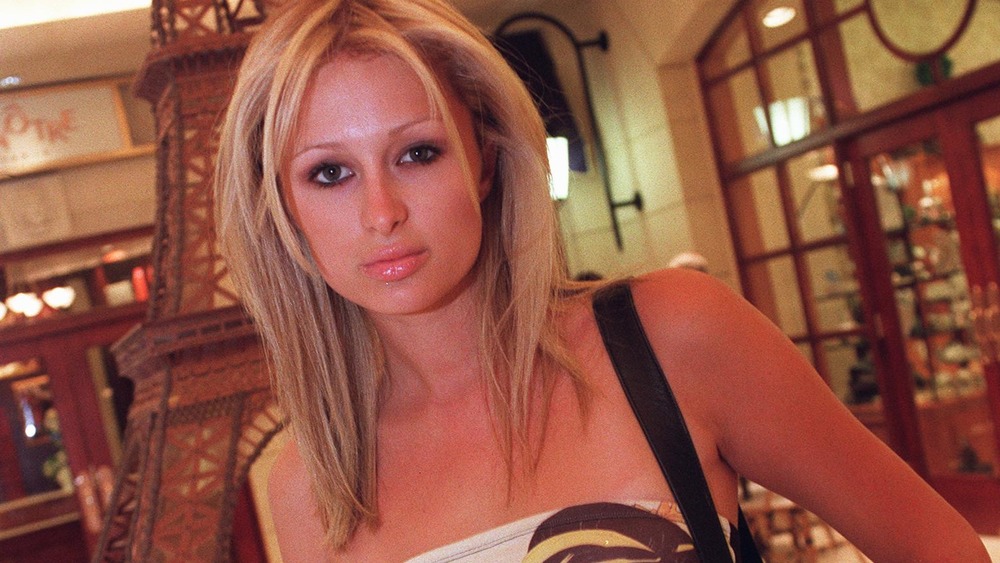 Dan Callister/Getty Images
Paris Hilton has some major skeletons in her closet, and she did some spring cleaning this year when she went on a press junket for her new documentary This is Paris. For the first time, Paris went public about some truly disturbing details concerning her time at Utah's Provo Canyon School in the late '90s. "People might assume everything in my life came easy to me," she told People, "but I want to show the world who I truly am." Paris was sent to the school at 17 after her parents became fed up with her rebellious behavior. 
Paris reveals in the documentary that she suffered mental and emotional abuse at the boarding school. She was even put in solitary confinement as a method of punishment — sometimes for 20 hours per day. When mom Kathy was asked if she was aware of Paris' horrific experience, she looked truly shocked. Paris claims she was threatened with retaliation by the school if she ever told her family what was going on. 
Her sister, Nicky, expressed public support for Paris, saying, "Going through so much trauma and reliving it with the whole world watching is very brave," and that she's proud of Paris for speaking out. "I want these places shut down," Paris said. "I want them to be held accountable." The school has denied her allegations. 
Paris Hilton's problems in early adulthood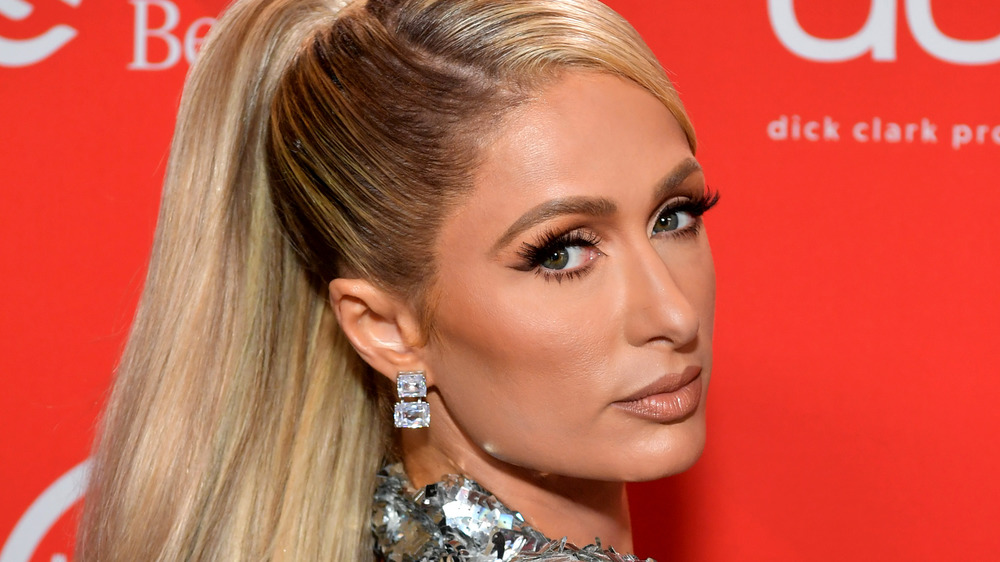 Emma Mcintyre /ama2020/Getty Images
With such a rocky and confusing start in life between privilege and pain, Paris' beginning as a reality star and pop icon was also rocky.
In 2003, a sex tape between Paris and then-boyfriend Rick Salomon made her a target of scrutiny, and she found herself in a string of abusive relationships. When reflecting on those relationships later in life, she believes the abuse she withstood at her boarding school planted the seed. "I was strangled, I was hit, I was grabbed aggressively. I put up with things no one should," she told People (via Yahoo) while promoting her documentary. "I had become so used to [abusive behavior] at Provo, that it made me feel like it was normal."
In 2010, Paris was also arrested for drug possession. While dating Cy Waits, the two were pulled over in Las Vegas. While digging around for "some lip balm," a bag of cocaine fell out of her purse. "I feel that I've been through hell and back. Like what more can people say at this point?" Paris said in an interview with Yahoo Entertainment. 
Conrad Hilton III's delinquency and criminal record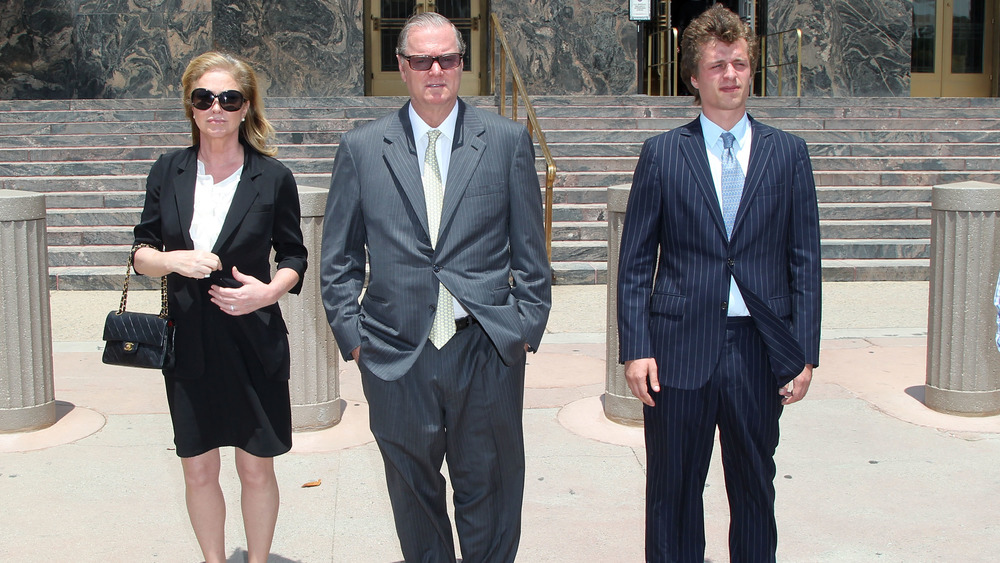 David Buchan/Getty Images
Paris' younger brother, Conrad Hilton III, has been arrested for drug possession, attacking flight attendants, stealing a Bentley from his ex-girlfriend's father, and violating a restraining order against an ex. So it's safe to say he may have Paris beat for problem child of the family. 
During a flight from London to LA in 2015, an unfortunate string of events began when Conrad refused to turn off his cell phone. He was also accused of smoking marijuana on the plane, "making children cry with his profanity-laced tirades," and calling people complaining about his behavior "peasants," according to The Washington Post. "I told all of them I could get all of their jobs taken away in less than thirty seconds," Hilton later stated to the FBI. At one point, he tried to start a fight and took a swing at one of the attendants, luckily missing. Eventually, he was restrained while sleeping. 
Did we mention the time he crashed into a woman's car while driving his father's Range Rover? According to TMZ (via Vanity Fair), witnesses said he "threw a bong out of the window and was covered in vomit." Don't expect a tell-all documentary from him anytime soon. 
The Real Housewives of Beverly Hills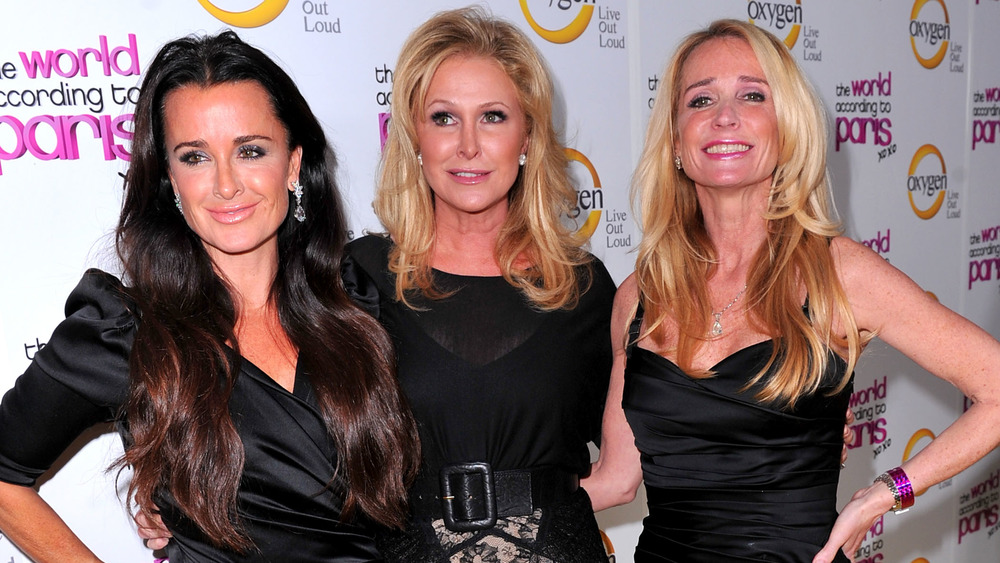 Alberto E. Rodriguez/Getty Images
Kathy Hilton is half-sister to Kyle and Kim Richards, who star on The Real Housewives of Beverly Hills. Kathy will make an appearance in the show's upcoming season, but there is a major rift between Kathy and her husband and Kyle and her husband, Mauricio Umansky, due to some shady real estate backstabbing. When it was revealed on the show that Kyle and Kim weren't invited to Nicky Hilton's wedding, we later found out that it was actually Kyle's husband who wasn't invited. 
Rick Hilton and Mauricio had a falling-out when Rick refused to make him a partner after years of working together. But Rick claimed that he helped Mauricio get his career off the ground, only for Mauricio to set up his own company behind his back. An insider said Mauricio "tried to poach staff" from Rick. 
Luckily, the sisters have patched things up since. People reported that, according to an inside source, Kathy, Kim and Kyle are "finally in a better place." 
The Conrad N. Hilton Foundation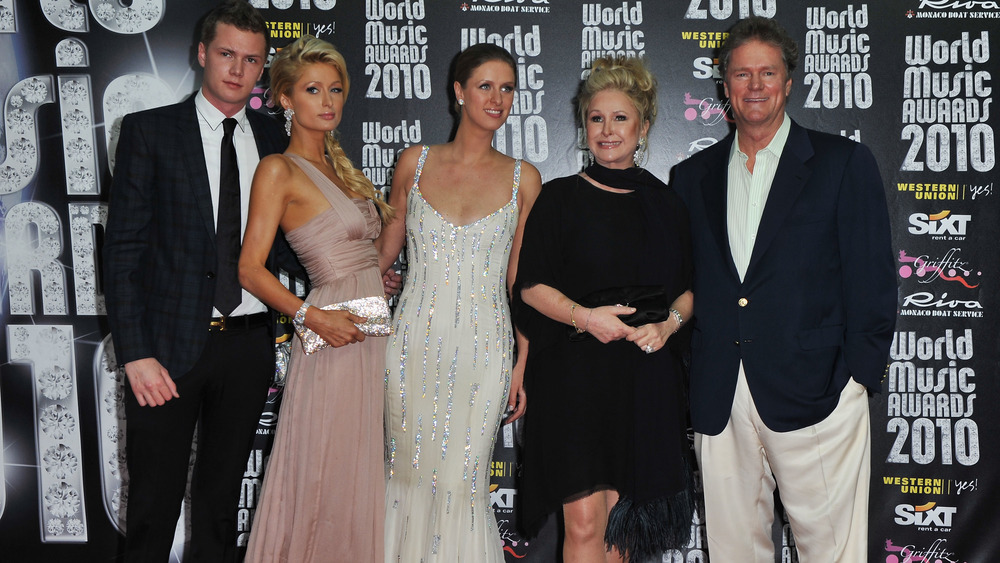 Pascal Le Segretain/Getty Images
Since the Hilton family's beginning, devout Catholic patriarch Conrad vowed to leave the majority of his money behind to his foundation for charitable use. His second son, Barron, followed in his father's footsteps, leaving the modern Hilton family fortune uncertain. 
Will Paris and her siblings ever see a cent of her family's fortune? It remains to be seen. Barron was reportedly "increasingly dismayed" by Paris' public behavior, and House of Hilton author Jerry Oppenheimer said that he "was … extremely embarrassed by how the Hilton name has been sullied by Paris." This was one of the reasons for Barron's decision to give 97 percent of his net worth to the Conrad N. Hilton Foundation. The Hiltons don't let on that it bothers them, however. One of Barron's six sons, Steven Hilton, who heads the foundation, stated, "Speaking for the family as well as the foundation, we are all exceedingly proud and grateful for this extraordinary commitment. "
Paris has made her own fortune through her reality TV career and is reportedly worth $300 million. Nicky has a fashion business, and her net worth is $40 million. But among Barron's eight children, 15 grandchildren, and four great-grandchildren, who knows whether someone will contest the arrangement in the future.