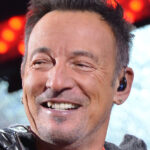 The Truth About Bruce Springsteen And Patti Scialfa's Relationship
echo get_the_meta(); ?>
Bruce Springsteen and Patti Scialfa are two rock 'n' roll icons who've defied the odds by maintaining both career longevity and a marriage spanning three decades. It all started back in a shore town in New Jersey while Springsteen was on the rise as a fast-shredding guitarist and Scialfa was trying to make it as a singer. According to NJ Monthly, the two first met in person at the Stone Pony in Asbury Park, New Jersey after Scialfa performed with a friend's band. After her set, Springsteen approached Scialfa to compliment her singing. However, according to Rolling Stone, their first interaction happened years before when Scialfa inquired about a music ad Springsteen posted in the Asbury Park Press. "He was very sweet on the phone," Scialfa told Rolling Stone. "I was so relieved." When Springsteen found out she was only 15, he told her she should stay in school and wished her luck.
The two would build a friendship, and Scialfa would eventually live out her teenage dream and join Springsteen on tour. While the two had an instant connection, Springsteen had been seeing actress Julianne Phillips, per Wide Open Country. Springsteen and Phillips would marry on May 13, 1985, however, it would not last long. Springsteen's highly demanding touring schedule during the Tunnel of Love Express Tour, along with his budding relationship with Scialfa, would lead to a separation from Phillips. Springsteen and Scialfa would eventually make their relationship known after being spotted at a hotel in Rome together, per Ultimate Classic Rock. Much like June Carter and Johnny Cash, the two would survive a star-crossed relationship and tie the knot. On June 8, 1991, the couple would hold a fairytale-like wedding ceremony in the garden of their Beverly Hills mansion.
Bruce Springsteen and Patti Scialfa's marriage today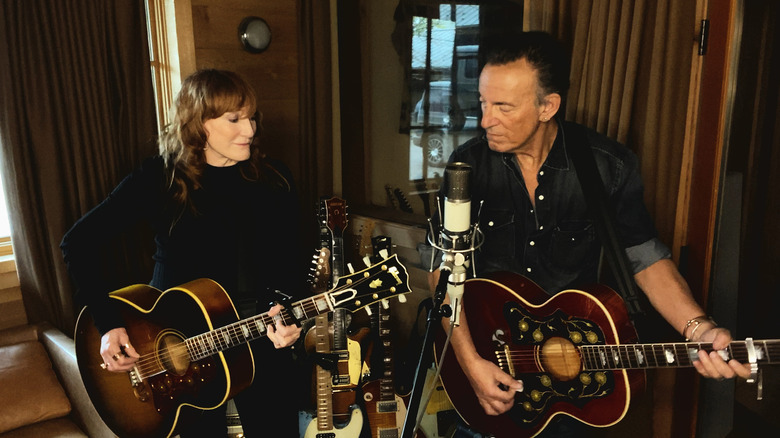 Jersey 4 Jersey/Getty Images
Only a year before marrying, Bruce Springsteen and Patti Scialfa would have their first child, a son named Evan James. After their wedding, they'd welcome two more children, Jessica and Samuel, per Wide Open Country. The E Street couple would eventually move back to New Jersey and keep working together. "We've kind of developed natural boundaries," says Springsteen. "Some places we have a more professional approach, like if I walk into the studio while she's working, I have certain boundaries where if she requests my opinion or asks for my help, I give it on a very professional level. When she comes on stage with the E Street Band she's an E Street band member, and when we walk offstage we're husband and wife." Springsteen would also mention in his memoir, "Born to Run" via Oprah Daily, how they've been there for each other no matter what. Scialfa would be Springsteen's rock during his depression, saying, "By her intelligence and love she showed me that our family was a sign of strength, that we were formidable and could take on and enjoy much of the world."
Springsteen would get through it, and, along with Scialfa would keep making more achievements in their careers. Scialfa would release three solo albums: "Rumble Doll" (1993), "23rd Street Lullaby" (2004), and "Play It As It Lays" (2007), as well as contributing music to a film in 2020 called "Pearl," per Rolling Stone. Both Springsteen and Scialfa would be inducted into the Rock and Roll Hall of Fame: Springsteen in 1999 and Scialfa along with the E Street Band in 2014. Today, the couple has many more projects in the works, including working on new music and getting through quarantine together.