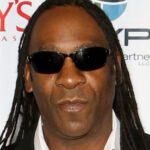 The Untold Truth Of Booker T
echo get_the_meta(); ?>
"Can you dig it, SUCKA?" Thanks to those five words, as well as his in-ring ability, athleticism, charisma, and promo skills, Booker T became a true main-event talent, first in World Championship Wrestling (WCW), then in the WWE. Whether he was teaming up with his brother Stevie Ray in WCW as 10-time tag team champions Harlem Heat, or winning titles on his own, Booker had such a lasting impact that he became one of the few people in WWE history to become a two-time Hall of Famer — first in 2013 as a singles competitor, then in 2019 as part of Harlem Heat, per Bleacher Report. When talking about his lengthy in-ring career, you've also got to consider the few years he spent in TNA in between WWE stints in the late 2000s, but as the same publication pointed out in a separate article, his run with the company now known as Impact Wrestling wasn't quite as noteworthy.
It's been six years since Booker last saw action in a wrestling ring, but even as he focuses most of his attention on his "Hall of Fame" podcast with Brad Gilmore, fans still have fond memories of his matches, feuds, and promos over his two-and-a-half-decade career as an active wrestler. But there are also some things most fans might not know about the former world champion, may they be related to wrestling or his life away from the squared circle. With that said, here is the untold truth of Booker T.
Booker T spent 19 months in prison for armed robbery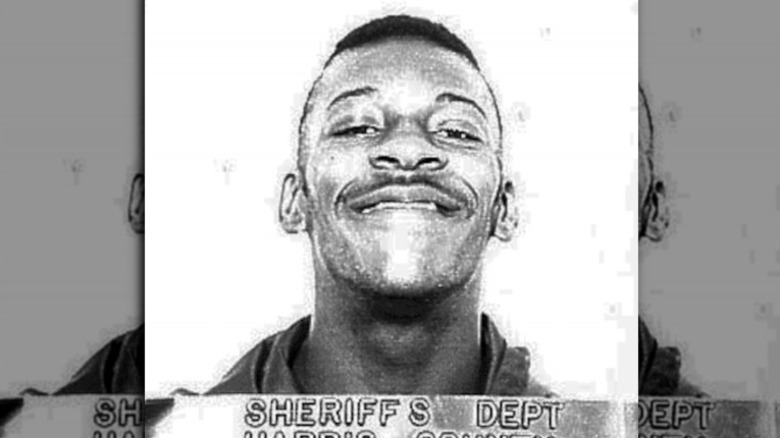 Kypros/Getty Images
As recalled by The Undefeated, Booker Huffman grew up in poverty in Houston, Texas. By the time he was 17, he was a high school dropout and a single father, and he spent the next few years making ends meet through odd jobs, including one at Wendy's. After getting transferred to a different location that was much farther from where he and his brother Lash lived, Booker supplemented his income by selling marijuana on the side. He also started running with a rough crowd, including one friend who worked with him at the same Wendy's location.
Not long after Booker was fired from Wendy's, it was suggested that he and his friends rob the place while wearing their old uniforms. This led to a series of robberies over the first three months of 1987, where they ended up stealing between $400 and $4,000 during each of their 12 heists. Eventually, the so-called "Wendy's bandits" were arrested and incarcerated at the Texas State Penitentiary.
While Booker was given consecutive five-year sentences for armed robbery and aggravated assault, he only ended up serving 19 months due to good behavior. Now a free man, he and Lash started training to become professional wrestlers, an endeavor fueled by their lifelong love for the sport. Once they made their in-ring debut, they adopted the ring names they would use for most of their careers, with Booker simply becoming Booker T and Lash taking on the name Stevie Ray.
Booker T deeply regrets saying a racial slur on live TV
As one-half of Harlem Heat with Stevie Ray, Booker T was initially a mid-card fixture in WCW who sometimes feuded with top-tier talents such as Hulk Hogan. It was during one such feud when he cut an intense promo on live television, delivering a menacing threat to Hogan and punctuating it with the N-word. It has since gone down as one of the most infamous on-air bloopers in wrestling history, and close to three decades later, Booker still regrets the faux pas.
Booker commented on his accidental use of the offending term on a recent episode of his "Hall of Fame" podcast (via WrestleZone), saying that while he doesn't "run away" from what he said, he still wishes he could "take it back." He noted that as a Black man, he grew up casually using the N-word when he was around his peers, but as he became older, he realized that using it as a public figure would set a bad example for young people.
"I was like, 'Oh my God, what am I doing here? Let me back up for a second.'" Booker continued, recalling how he instantly regretted his verbal slip-up. "Because there again, I never wanted those people to see me in that light … So I just felt like I let a lot of people down that looked up to me, and I did not want them to think that was something that was okay."
The embarrassing Booker T gimmick you may have forgotten about
Booker T is arguably best known for being a five-time (repeat: five times) WCW Champion, and WWE fans may also have good memories of the time he became King of the Ring and started calling himself King Booker, complete with fake English accent. Even in recent years, he's showed off these quirky personas in segments with present-day WWE Superstars such as The New Day (via YouTube). But there's one gimmick that Booker probably won't be reprising in the truest sense, and that's his role as "G.I. Bro," the leader of the latter-day WCW stable Misfits in Action.
Per WhatCulture, everyone in the Misfits in Action had goofy, military-themed names, and a few of them were blatant references to the members' ethnicities — aside from Booker becoming G.I. Bro, Chavo Guerrero was repackaged as Lt. Loco. Meanwhile, you had also the already punny Hugh Morrus getting his name tweaked to General Hugh G. Rection (seriously), and Tylene Buck, the faction's lone female member, getting renamed Major Gunns. Puerile as the gimmicks were, the stable miraculously stayed together for about a year before they disbanded, with Booker immediately returning to his previous character and ring name.
To be fair, Booker did go by G.I. Bro before he joined WCW, but as WhatCulture observed, it was an "obvious demotion" for an immensely popular wrestler, who, must we remind you again, was a five-time (you know the drill) world champion for the now-defunct promotion.
Booker T's thoughts on his controversial WrestleMania XIX loss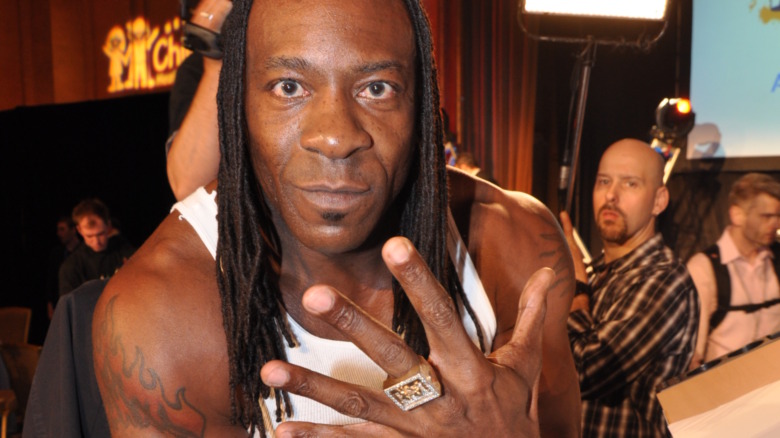 Moses Robinson/Getty Images
After WCW went out of business in 2001, Booker T's next stop was the WWE, and he ended up winning one more world championship to add to the titles he won in WCW. There was, however, one notable time in which he failed to win the gold from the hated heel, and that was at WrestleMania XIX in 2003, where he lost to Triple H in a match for the World Heavyweight Championship. According to Bleacher Report, Triple H made some racially insensitive remarks to Booker in the weeks leading up to their match, remarking during a promo that "somebody like you … doesn't get to be a world champion." And those weren't the only questionable comments made by "The Game" toward Booker as part of his villainous character.
Looking back on the feud almost two decades later, Booker explained on a February 2021 episode of his "Hall of Fame" podcast that he wasn't upset over having to take the loss at WrestleMania XIX. After all, that was an example of how the business works — much like the movies, not every wrestling storyline has a happy ending. "Sometimes when you're watching a movie, sometimes the bad guy wins," Booker said, as quoted by Wrestling Inc. "The movie goes off and the bad guy gets away with the crime. I've never once looked back and said 'man, I should've won that match.""
Booker T had a mostly strained relationship with his oldest son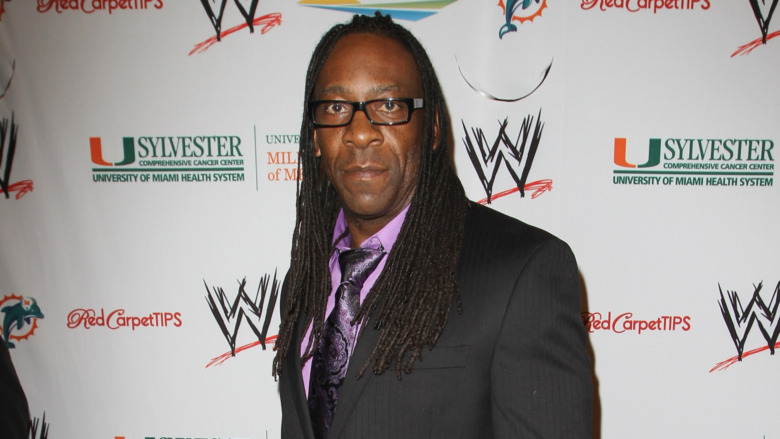 Alexander Tamargo/wwe/Getty Images
Not much is known about Booker T's oldest son, Brandon Huffman. However, multiple sources, including The Sportster, have noted that Booker and Brandon aren't exactly as close to each other as a father and son should be. The wrestler was frequently on the road during his time in WCW and WWE, spending less and less time with his firstborn as his career went from strength to strength. Booker apparently thought that Brandon was "learning more about him through 'WCW Nitro' video games on PlayStation instead of real-life [father-and-son] experiences."
In 2017, Wrestling Forum quoted an article from Crixeo, which detailed Booker and Brandon's strained relationship through the years. Here, Brandon openly discussed his troubled youth, where he sadly followed in his father's footsteps and was sent to jail for aggravated robbery with a deadly weapon. Showing tough love toward his firstborn, Booker refused to post bail and kicked him out of the house after he got out of jail. This had a profound effect on Brandon, who felt that his dad "turned his back" on him. The two Huffman men, however, were on the way to repairing their relationship at the time the article was published.
It seems that Brandon has long gotten over his rebellious phase and become a well-adjusted adult like his dad. As of 2017, he was working in the marketing industry, as noted by The Undefeated.
Booker T will be the focus of the May 9 episode in the "WWE Legends" series from "Biography" on A&E.