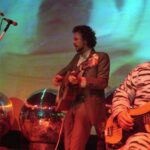 The Untold Truth Of The Flaming Lips
echo get_the_meta(); ?>
The Flaming Lips are truly a singularity among singularities. Birthed within one of the strangest, roughest, and most exciting periods in American music history, the band has gone on to out-weird and out-live most of their contemporaries, cementing themselves as one of rock's most influential and iconic groups in the process. Beginning as a group of outcasts in the suburbs of Oklahoma City — self-releasing music that has alternately been lauded for its uncompromising expressivity and decried for being unlistenable, noisy, and pretentious — the group has since crafted a hefty and formidable catalogue of music, reinventing themselves with every new release in an ultimate flex of versatility and songwriting prowess.
Now firmly a fixture of the alternative music vanguard, and occasional honorary guests to the world of pop-superstardom too, much of The Lips' secrets have been thoroughly exposed several times over. Even frontman Wayne Coyne's bathing habits have been laid bare for all to see. And as a band that has had a cult-following from its earliest beginnings -– inspiring obsessions so intense they would go on to forge life-long partnerships -– it would seem to many as if their decades-long trail of stories had been thoroughly picked over like delicious vaseline slathered toast. Fortunately, that isn't quite the case: Here is the untold truth of The Flaming Lips. 
Their Major Label Deal Almost Went Up in Flames
The Flaming Lips began in Oklahoma City with Wayne Coyne and some friends jamming after work (via AllMusic). Soon becoming an actual band, the group spent the better part of the '80s scraping their unique psych-punk around a largely unreceptive American underground. Then, in 1991, after several albums, hundreds of shows, and a few prank calls to "the person who signed Jane's Addiction," the band was signed to Warner Records, a move pivotal to everything they've accomplished since. But the band nearly killed their future A&R rep the night she scouted them.
It's never been confirmed if the prank calls ever reached Roberta Petersen (who did in fact sign Jane's Addiction), but in 1990, she flew to Oklahoma to see them perform. By then, the band had already begun experimenting with their legendary stage shows, using a trick involving alcohol, fire, and an upside-down cymbal. That night, things went south after a member set himself and half the stage aflame, threatening Petersen and the other 300 or so audience attendants. Petersen at least was willing to die, recounting for the 2006 Flaming Lips biography "Staring at Sound: The True Story of Oklahoma's Fabulous Flaming Lips": "I thought the place was going to burn down — but I also thought, 'This is a band I've got to have. If there's a fire, I'm gonna die here, but that's okay. I just wanna die with this band.'"
The Band's Creative Director Got his Start Selling Bootleg Merch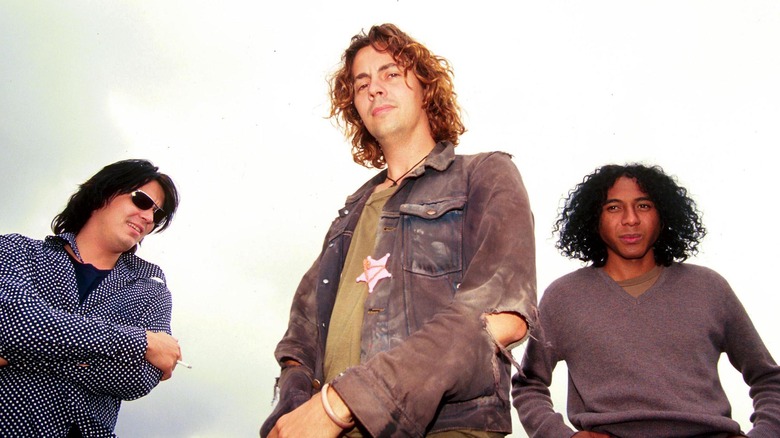 Brian Rasic/Getty Images
George Salisbury has been an unofficial band member since before they were The Flaming Lips: "I met Wayne a long, long time ago in the 1980s. He was playing a show here in Oklahoma City at a place called The Blue Note and the band was under a different name then — I think it was The Chrome Leeches," Salisbury recounted in an interview with Medium. Now a respected director, having worked with Nathaniel Rateliff and Amanda Palmer among others, Salisbury's career began with bootlegged t-shirts and an offer Wayne Coyne couldn't refuse.
After becoming his first super fan, Salisbury reworked some of Coyne's artwork to produce some shirts he then asked to sell at an early show. Fresh out of their own merch, the band gave Salisbury the okay in exchange for half the profits. Salisbury continued producing shirts for the band until mainstream success dramatically ramped up demand in 1993, necessitating bigger production runs. Desperate to continue working with the band, Salisbury once again made a bold move and released the band's first unofficial album, once again simply showing up to a show with a box and an enterprising proposition. Impressed with his dedication, Coyne promoted Salisbury to poster design, then album artwork, and the two have been co-responsible for all of the group's aesthetic decisions ever since.
The Flaming Lips helped launch the career of Mercury Rev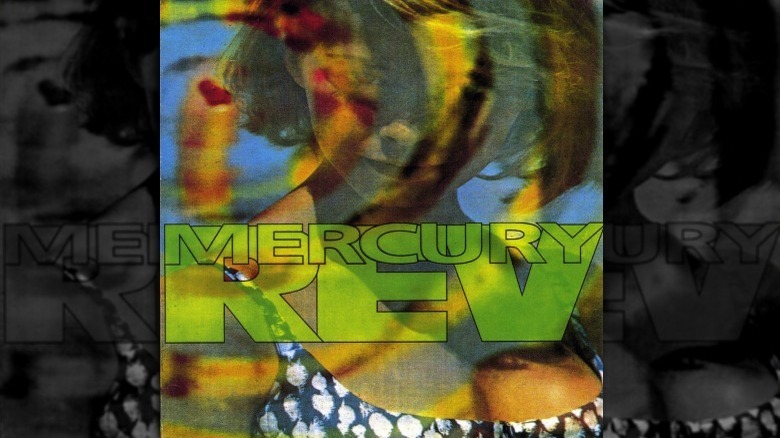 Columbia Records
When a group is helmed by someone like Wayne Coyne, it's easy to assume they function more like a consensual dictatorship than a band. But while Coyne certainly has his faults, he's also the first to admit his band is nothing if not the sum of their individual members and friends. In a 2018 Rolling Stone Interview, Coyne expressed a particular indebtedness towards Jonathan Donahue, frontman of Mercury Rev.
Like George Salisbury, Donahue was a fan of the band who wanted to help out. That meant first running sound for them before becoming their second guitarist, then engineering the demos for what would eventually become "In a Priest Driven Ambulance." That album would later be recorded at SUNY Fredonia in upstate New York, made possible through a friendship between Donahue and Dave Fridmann who worked for the university. During those sessions, while The Flaming Lips took the day shift (except on "There You Are," allegedly recorded in the middle of the night on an empty freeway), Donahue took the night shift to record Mercury Rev's debut, "Yerself is Steam."
Between "In a Priest Driven Ambulance" and its follow up (also featuring Donahue, as per AllMusic), Mercury Rev blew-up overnight, initiating a bidding war that ultimately ended in a short contract with Columbia Records. In the aftermath, Donahue amicably split with Coyne and company, but his short stint with them left an impression lasting well into the present.
The Flaming Lips' engineer was arrested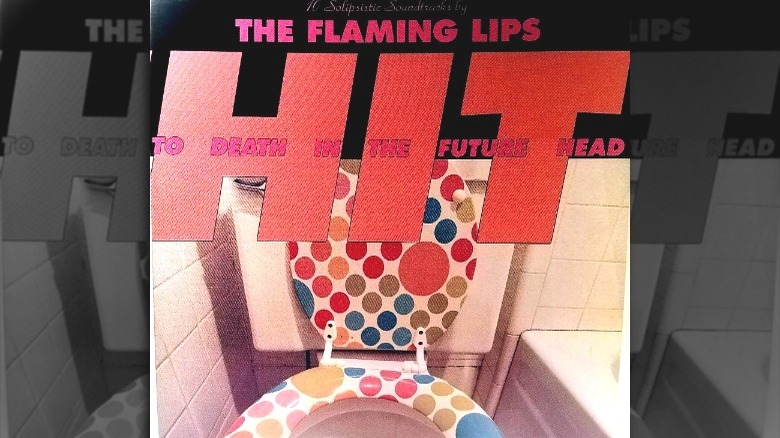 Warner Records
Dave Fridmann, introduced to the band through Jonathan Donahue, has produced every Flaming Lips album since 1990, with the notable exception of "Transmissions From the Satellite Heart." That album, long lauded as one of their best, blending tripped-out fuzzy noise with a more overtly pop sensibility that would come to dominate their mid-career sound, was produced by friend and collaborator of Fridmann, Keith Cleversley. Prior to that, however, Cleversley and an anonymous police tip-off nearly tanked the sessions for the band's first Warner release.
One sunny morning while Cleversley was enjoying the grounds of the converted dairy farm where "Hit to Death in the Future Head" was being tracked, he was approached by two police officers and taken into custody for involvement in a bi-state drug ring. "They literally thought I was the kingpin drug lord of New York and Pennsylvania," Cleversley recalls in "Staring at Sound." Charges were later dropped due to the informant disappearing, but not before giving a rather dramatic conclusion to an already tense session. In a 2007 entry on his personal website, Cleversley recounts the incident in vivid detail, concluding that despite being a largely terrifying and uncomfortable situation, he's ultimately thankful to everyone involved (including the heavy-handed cops and his secret accuser) for bestowing him the gift of "a lifetime of perspective."
They Once Formed a Supergroup with Kesha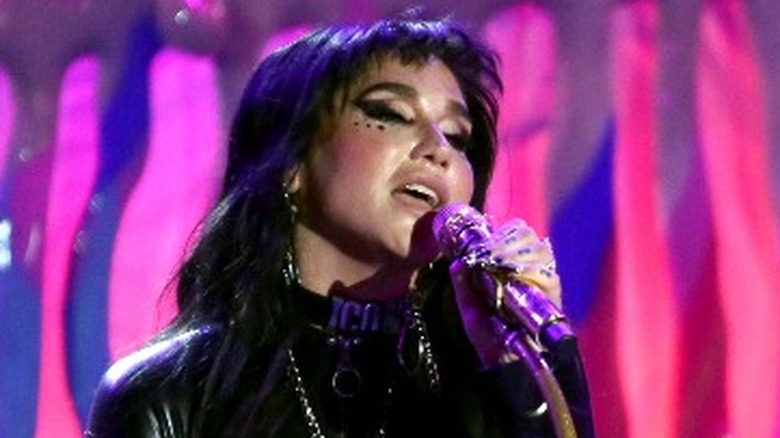 Tommaso Boddi/Getty
A well known aspect of The Flaming Lips, endearing fans towards them since the beginning, is their unabashed strangeness. Over the years, they've also attracted a number of celebrity fans, leading to some otherwise unlikely collaborations with A-list pop stars. 2012's Record Store Day release, "The Flaming Lips and Heady Fwends," is an album comprised entirely of said collaborations. Featuring guest appearances from such diverse artists as noise-rock legends, Lightning Bolt, and alt-R&B goddess, Erykah Badu, the album also marked the first time the band would collaborate with kindred–weirdo, Kesha.
Following "Heady Fwends," Wane Coyne and Kesha reportedly began recording together, and in a 2013 Ask Me Anything session on Reddit Coyne spilled that they'd soon be releasing a collaborative album titled "Lip$ha." Coyne continued to plug the collab tweeting in September: "Yesssss!! Lip$ha is happenin!!" Two months later, the album was called off without explanation. 
Nearly a year later, fans were given something of an explanation when news of Kesha's lawsuit against collaborator Dr. Luke exploded into national headlines; days later, Coyne confirmed in a radio.com interview (via NME) that Kesha's contract with Dr. Luke was the reason behind the album's sudden shelving. To date, "Past Lives," released on the deluxe edition of Kesha's sophomore album, "Warrior," is the only song from the "Lip$ha" sessions to see the light of day (save a few unconfirmed leaks). In 2016, Coyne expressed on his Instagram a willingness to leak the album in its entirety, which has also yet to happen.
Wayne Coyne Once Started a One-Way Feud with Beck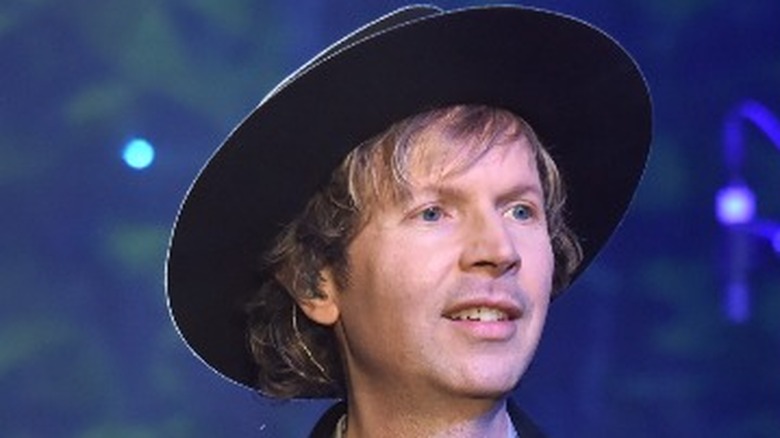 Lester Cohen/Getty Images
It's clear that The Flaming Lips story is one of collaborating with friends. In 2002, coming off the high of successive releases "The Soft Bulletin" and "Yoshimi Battles the Pink Robots," Beck announced that he'd hired The Flaming Lips to be the backing band to tour his latest release, "Sea Change" (via Pop Matters). As mutual fans of each other, it's no surprise that the tour was a major success, receiving rave reviews up to the point it had to be prematurely ended due to Beck catching food poisoning.
Then, in March of the following year, in an interview with Esquire, Wayne Coyne candidly dug in to Beck, describing him as self-serious and image-obsessed. Doubling down in a Guardian interview that same year, Coyne described Beck as "prissy" and fake. More than a decade later, Beck finally responded to Coyne's criticisms in an interview with Mojo Magazine (via Gigwise), claiming he had video footage of the band expressing their gratitude and admiration shortly following the end of the tour, and claiming the whole incident sent him into a years-long spiral of doubt around the sincerity of others. Coyne and Beck have since made amends, with Coyne reportedly offering Beck a free shot at literally kicking his butt.
Justin Timberlake Once Played Bass for the Band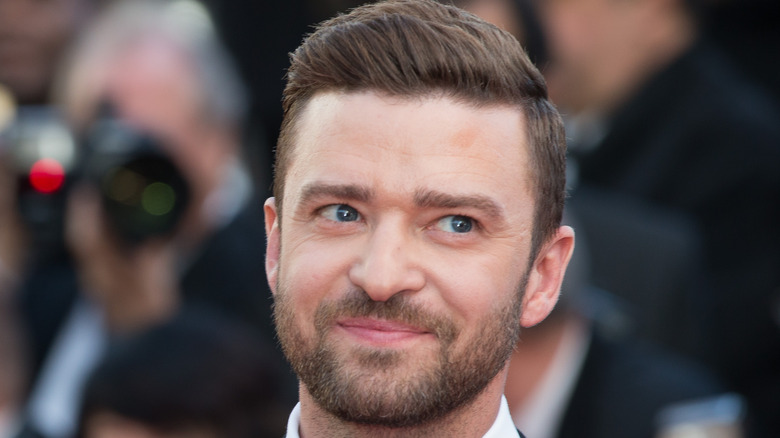 magicinfoto/Shutterstock
Throughout the 2010s, Wayne Coyne continued adding to his motley roster of collaborators, rounding it all out with a feature by Mick Jones, lead guitarist and co-lead vocalist of The Clash, on 2019's "The King's Mouth." However, long before becoming a favorite artists' artist, they had an unplanned guest perform with them on BBC's long-celebrated Top of the Pops.
According to Rolling Stone, Justin Timberlake and Coyne met while waiting for separate interviews at the same London radio station. The two got to talking, as Timberlake is a big fan, so naturally Coyne invited him to join them for a live tape performance later that week. Marking The Flaming Lips' first brush with music royalty (though they'd previously also been joined by Ted Dansen), audiences on both sides of the Atlantic were stunned when an anonymous plush dolphin removed its head to reveal an actual pop-star inside. 
For Lips fans, the stunt simply added a new dimension to the band's care-free persona. For Timberlake however, hot off his first foray into being a serious solo artist (via BBC music), the move was a first step in showing listeners he also had a hip and fun side. And though his instrument was reportedly unplugged for the performance, Timberlake was still committed enough to not only spend the week studying his part but also give himself blood-blisters during the actual taping.
Zaireeka Was Inspired by Parking Lot Noise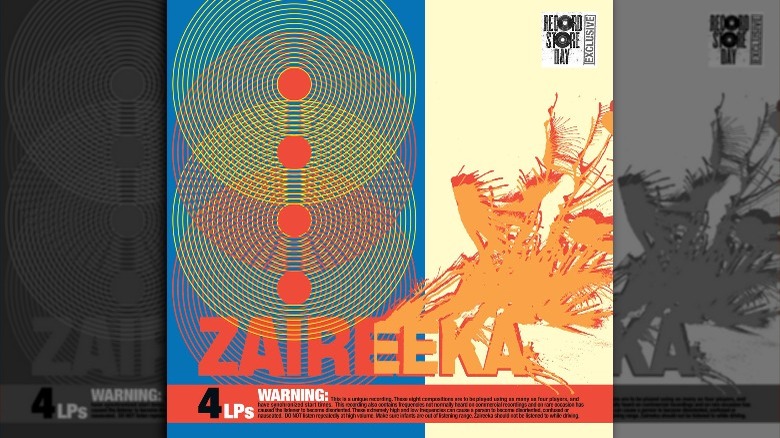 Warner Records
On notable occasions, the group has staged experiments that could easily be classified as genuine sound-art, alongside notable works like Luigi Russolo's "Intonarumori" and Steve Reich's tape experiments. 1997's "Zaireeka" might even be the only mass-produced example of such — if not the first produced by a major label. 
A precursor to the band's later surround sound releases, "Zaireeka" came on four CDs to be played by four stereo systems (for a total of eight output channels — more than what most films utilize) synchronized by four friends pressing play at the same time (as reviewed by CNET). What interested the band, apart from forced communal listening, was the fact that each play-through would be somewhat out of sync, and therefore wholly unique. Instructions even encouraged omitting discs to further tailor the listening experience. 
But the prelude to "Zaireeka" was even more interesting. The story as reported by Jukee is that the idea came to Wayne Coyne around the time the band was starting to get big: Leaving one night after a show, he was struck by the sound of the band's music being broadcast by an entire parking lot full of cars. Soon after, the band began staging "Parking Lot Experiments," passing out cassettes to first Oklahoma City locals, then SXSW patrons who would then broadcast the tape's contents from their own cars as Coyne conducted them. Video of the performances are readily available online, but like most sound-art they don't quite do the work justice.
Followed By a Similar Experiment Using Boomboxes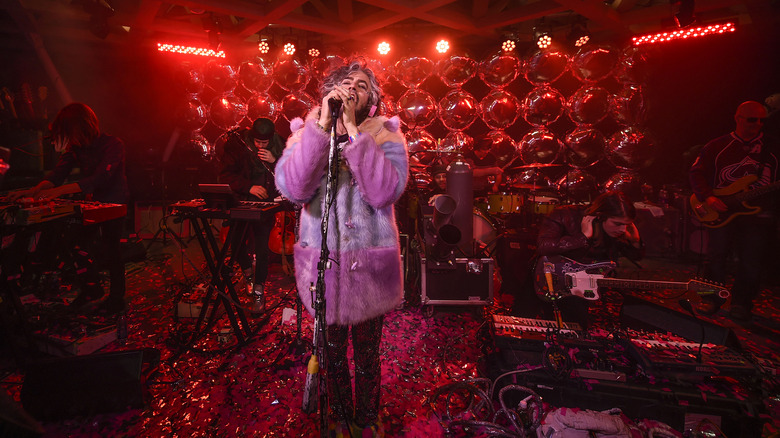 Riccardo S. Savi/Getty Images
Following "Zaireeka" and the '96-'97 parking lot experiments which inspired it, The Flaming Lips set out to take their unique, if not cumbersome, creation on the road in 1998. While this could've easily meant something relatively simple like hiring extra performers to double, quadruple, or octuple their sound (a move orchestras have made work for centuries), the band instead opted to continue chasing the thread of unconventional performance and listening in what later became known as "The Boombox Experiments" (via Chicago Reader).
Similar to both "Zaireeka" and the "Parking Lot Experiments," "The Boombox Experiments" were based on a series of one-off cassette tapes, made specifically for the tour. As Wayne Coyne told NME that year, the band was once again interested in elements of chance and audience participation. Therefore, handpicked and armed with crudely modified boom boxes, the band's fans once again became their musical instruments. While the tour was largely comprised of tunes based on those released on "Zaireeka," in a bid to up the ante of unpredictability and spontaneity Coyne also included a few tapes and tape-combinations that neither he nor the band had heard before their first sound test, as bandmate Steven Drozd reported to MTV. While never repeated since, the tour and its few shows were heralded as a success by band, fans, and critics alike, and remain one of the most interesting creative endeavors the band has ever embarked on.
Yoshimi Battles the Pink Robots was Turned Into a Musical
Just after 1999's "The Soft Bulletin," "Yoshimi Battles the Pink Robots" is widely regarded as the best Flaming Lips album, even decades after it was originally released. So admired is the 2002 release — part of which tells the story of a woman named Yoshimi who saves the world from evil robots (as per the lyrics via Genius.com) — that a few years after the album's release the band was approached by Tony Award-winning director/producer Des McAnuff to stage a Broadway musical based on the album.
Announced in 2007 by Entertainment Weekly, the show would spend the next five years in development, during which time writer/director Aron Sorkin would join and leave the project. "Yoshimi Battles the Pink Robots" finally premiered at San Diego's La Jolla Playhouse on November 6, 2012. Featuring music from "Yoshimi," as well as "The Soft Bulletin" and 2006's "At War With the Mystics," the play received positive reviews from those who went out of their way to experience it. In addition to simply resulting in a compelling story well served by its theatrical re-formatting, other praises for the show included its use of multimedia work — something which at the time still hadn't been fully embraced by the theater community. Playbill soon reported that plans were in the works to bring the show to Broadway, though for whatever reason they ultimately fell through, and the hit show has yet to be staged again.
The Band was Featured on Beverly Hills 90210
From working-class kids in a rough part of Oklahoma City (via HuffPost) to one of the world's best known alternative-rock groups, The Flaming Lips have followed an unlikely, if not archetypically, American career trajectory, to say the least. Yet, even amidst such notable highlights as playing backup band to both Beck and Miley Cyrus, producing an independent science fiction film, and releasing an LP that contained Kesha's actual blood, one of their odder moments remains the time they were briefly featured on an episode of "Beverly Hills 90210."
"She Don't Use Jelly" became the band's first (and only) major radio hit thanks to, as reported by Entertainment Weekly, their 1994 performance at Lollapalooza. After charting, the song soon attracted the attention of 90210's producers, and the band was invited to perform on an episode for season five. Year later, in an interview with Yahoo, Wayne Coyne expressed disbelief that the episode ever even made it to air, stating, "We saw them saying lines, and they would do them five or six times, and everybody at the end of the badly done — from our perception, anyway — takes, everybody'd kinda be like, 'Yeah, whatever.'" For whatever it's worth, critics and fans still consider it a decent episode, even if the band's inclusion doesn't stand out as noteworthy enough to even mention.
Wayne Coyne Has Complicated Opinions on Drugs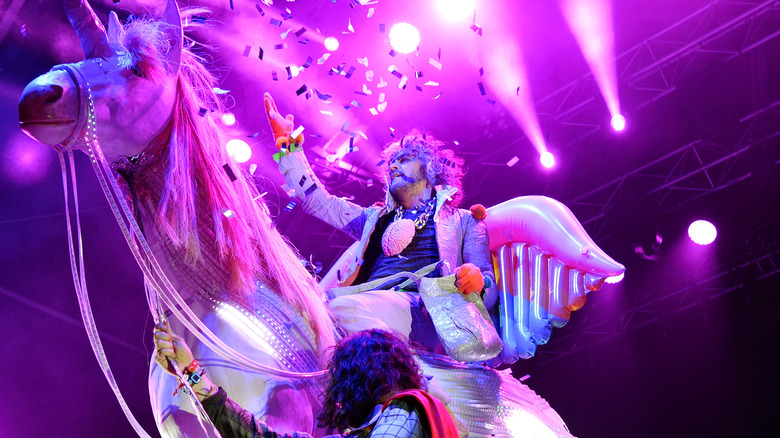 Christian Bertrand/Shutterstock
"I never liked drugs. They scared me. I just really love my senses too much" seems at odds coming from someone who's made their living penning concept albums where the giant head of a benevolent king becomes host to a utopian society (the narrative behind 2019's "King's Mouth," as per Pitchfork). Yet, in a 2006 Rolling Stone interview, Wayne Coyne said exactly that. Leading up to 2020's "American Head," featuring songs such as "At the Movies on Quaaludes" and "Mother I've Taken LSD," Coyne later reiterated his stance describing how he and bandmate Steven Drozd grew up seeing the devastating toll drugs can take, each having watched many of their brothers' friends die of overdoses and intoxicated driving.
However, Coyne's anti-drug stance is nothing if not somewhat fluid. In a 2013 interview with The Quietus discussing the band's relationship with drugs (an understandably frequent topic for them), he admitted to recreationally doing cocaine, MDMA, and psilocybin mushrooms. In the past, he's also alluded to having something of an alcohol habit. Overall, after retreading the topic time and again, the overarching theme seems to be "it's complicated," a rare and honest take in business that has thrived on glamorizing party lifestyles, or occasionally taking hardline stances against them.