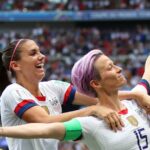 The Untold Truth Of The U.S. Women's National Soccer Team
echo get_the_meta(); ?>
On July 7, 2019, it happened again: The U.S. women's national soccer team delighted its fans and thumbed its nose at the naysayers by winning their fourth World Cup in a feat of rarely seen sports dominance. Over the course of the tournament, they managed to generate headlines, feud with the president of the United States, draw criticism, and, of course, win it all. Over a month, the team captured match after match and heart after heart until they reached a point where, as CBS News reports, the USWNT shirt is now Nike's best-selling soccer shirt ever.
This sort of wide-eyed global attention toward women's soccer is virtually unprecedented, and as luck would have it, so is the team that has been generating all the hype. For years, the USWNT has worked hard to be in the limelight, and has no intention of stopping until it reaches even higher plateaus. What made them so talented and tenacious? What fuels their complete dominance of the soccer pitch and the public eye? Let's take a closer look at the U.S. women's national soccer team.
USWNT's humble origins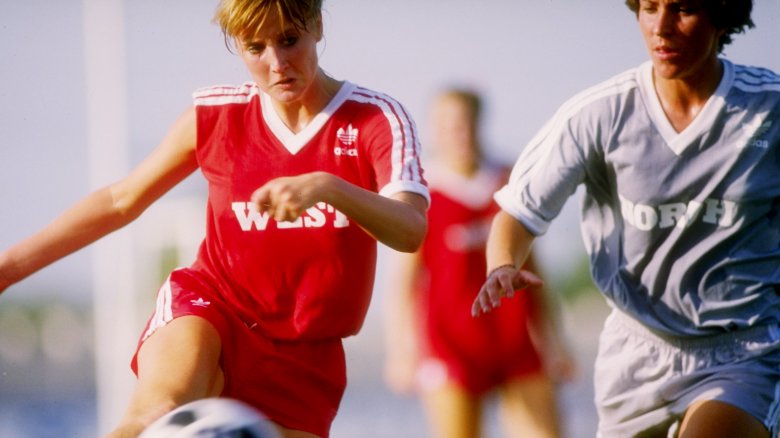 Tony Duffy/Getty Images
As Sports Illustrated tells us, the U.S. women's national soccer team was built from the ground up in 1985 when the U.S. Soccer Federation received an invitation to Mundialito, an informal women's tournament in Italy. (The FIFA Women's World Cup wasn't a thing back then.) Seventeen collegiate players received a surprise letter to attend team tryouts, and the conditions were roughly what you'd expect for an era when the country saw women playing international football as such a curiosity that they hadn't even put together a proper team before. So the first USWNT trained next to a cheerleading camp. They wore secondhand men's uniforms. Their trainer was a grumpy Irish-born college coach who understood where they were heading but had his hands full with the rowdy girls.
It's easy to think all this sounds like an inspirational movie where this ragtag team of younglings goes on to beat a bunch of vastly superior European teams with their American grit and Mom's apple pie. Reality, however, was another matter. Experienced, physical teams from Denmark, Italy, and England mercilessly roughed up the inexperienced USWNT, who walked away with two losses, one tie, and presumably quite a few bruises. The U.S. women's team would flame out of each of the four tournaments they took part in during the 1980s. Still, they were learning, and slowly, they were getting better. A lot better.
USWNT bench depth came through public policy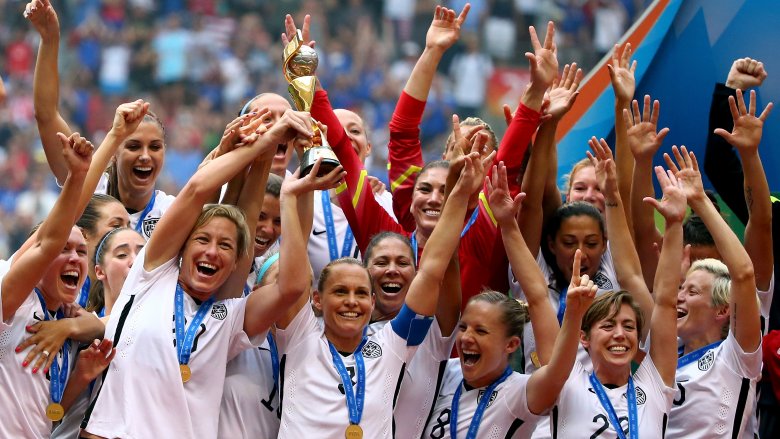 Ronald Martinez/Getty Images
Have you ever wondered just why the U.S. women's national soccer team is so dominant? Of course, there's no single reason. There never is. However, as the Guardian attests, a major culprit is the Education Amendments Act of 1972, and namely, its Title IX provision. Title IX closed a discriminatory loophole in the education system, which had a fun side effect that it applied to all educational programs … including sports. Suddenly, schools had to fund sports programs for girls, which gave female students in the U.S. unprecedented access to athletic activities.
Although Title IX was a controversial law and the political battles over its implementation and use have continued into the present day, its mere existence encouraged more and more girls to take up sports. Soccer was a big winner in this equation. In 1972, there were just 700 female high-school level soccer players in the U.S. By the time the first Women's World Cup rolled around in 1991, there were 121,000, and in 2018 there were more than three times that. What's more, this applies to plenty of other sports as well. In fact, the Guardian states that Title IX has pretty much helped the U.S. education system become "the world's most successful women's sporting development organization." As laws go, there have been worse ones.
The USWNT is creating a soccer dynasty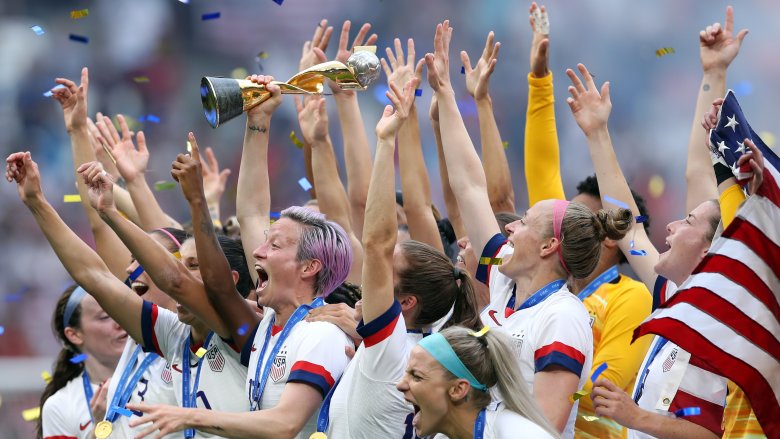 Alex Grimm/Getty Images
The U.S. women's national soccer team's tally of records is getting so impressive that Good Morning America called the team's reign a "dynasty." Megan Rapinoe happily accepted the turn of phrase: "I think it suits us. This team fits well into that word."
The assessment is hard to argue. The USWNT has now won four of the eight FIFA Women's World Cups, and with Germany (total World Cup wins: two) are the only teams that have managed to win consecutive titles. Their 13 goals against Thailand in the 2019 World Cup group stage are the most goals a team has scored in a Women's World Cup match, and their total of 26 goals in the tournament is also a record. The Thailand match is also the highest margin of victory in the history of the World Cup, men's tournament included.
When you look into the team's personal records, things get doubly impressive. Apart from Rapinoe taking home the Golden Boot for best scorer and the Golden Ball for best player in the tournament, Jill Ellis became the first coach to win two Women's World Cup titles, and striker Alex Morgan's five goals in a single match (poor Thailand) tied her for a record for most individual goals in a single game. The only other person holding that record? Yep, you guessed it: another American, Michelle Akers.
The USWNT's dominance might soon come to an end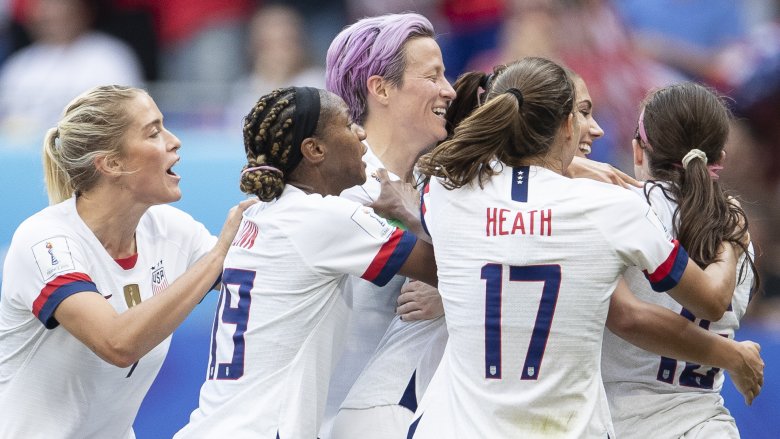 Maja Hitij/Getty Images
As dominant as the U.S. women's national soccer team might seem right now, the tides of the game are changing. As CNBC reports, soccer has been a popular sport for U.S. women for a long time, so the "talent pool" has been massive compared to other countries. However, Europe in particular is rapidly gaining on its stateside opponents, and the increasing number of eyes on women's soccer will only further grease the wheels. Europe has many high-quality women's soccer leagues, and even previously averse giants like Spain's Real Madrid are now putting together women's teams. England's Women's Super League announced a $12.5 million sponsorship with Barclays in 2019, which is a pretty clear signal for increased sponsor interest. Also, CNN writes that European soccer federations have also dramatically increased their spending on the women's game in recent years.
All this may not be enough to dethrone the USWNT in the short term — they have a pretty decent head start, not to mention that giant talent pool to guarantee the emergence of new top players. Still, the next World Cup might be a considerably more even affair.
That one time they lost to teenage boys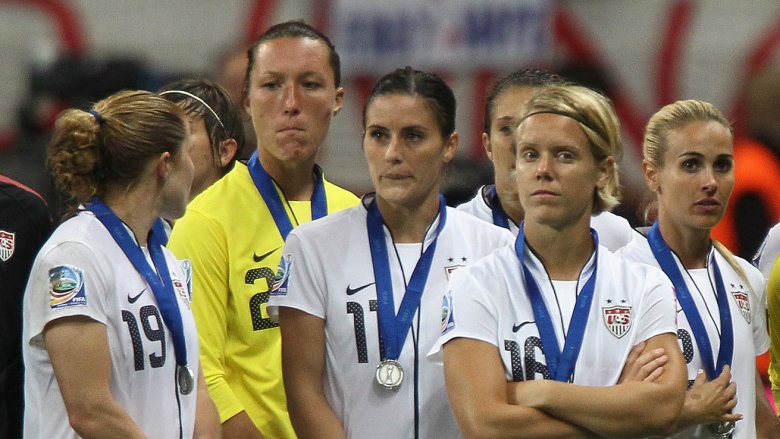 Christof Koepsel/Getty Images
If you've spent any time discussing women's soccer on the internet, some detractor might have quoted the 2017 incident where, as CBS Sports reports, the U.S. women's national soccer team lost 5-2 to Dallas FC's under-15 boys' team. On paper, this steals quite a bit of wind from the sails of women's soccer. If the sport's brightest jewel and reigning world champion suffers such an embarrassing loss to a bunch of teenagers, what's the point of having Women's World Cups at all? And how can you justify paying them more money?
Not to worry, fans of women's soccer. As 90 Min observes, the situation isn't as cut and dry as critics of women's soccer would have you believe. This "shameful loss" was actually just an informal scrimmage — a half-hearted practice play ahead of an international game against Russia. The ladies of USWNT were almost certainly more concerned about getting some light exercise and honing their positional play than they were about ruthlessly destroying a bunch of kids. Meanwhile, said kids found themselves up against actual global superstars, and quite likely took the "game" way more seriously than the light jog-and-kick the women were playing. Judging by the happy pictures the USWNT players took with the boys after the practice, they were hardly crushed by this "defeat," but FC Dallas still decided to delete their social media post about the game after some people attempted to use the game as ammunition against female soccer players.
Their fight for equal pay is hitting the courtroom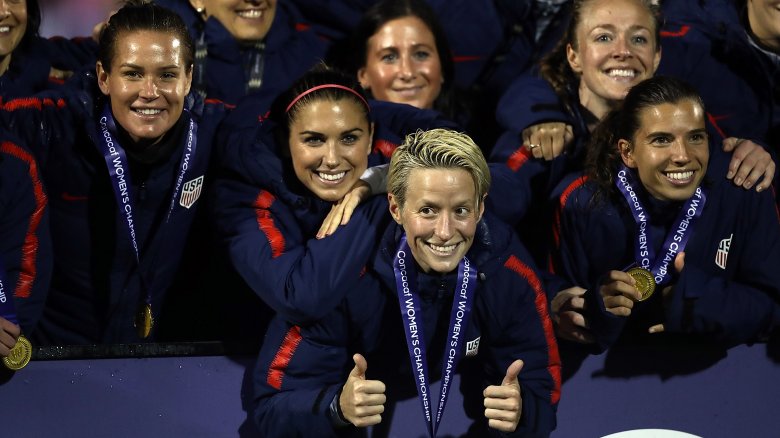 Ronald Martinez/Getty Images
If you've followed the U.S. women's national soccer team in 2019, you may have noticed that they're quite vocal about the concept of equal pay. However, they're taking things quite a bit further than the occasional pointed interview and crowd chant. As CNN reports, a few months before the World Cup 28 members of the USWNT filed a lawsuit against the U.S. Soccer Federation, claiming that the significant pay gap between them and the men's team is discriminatory, and demanding equal support, funding, working conditions, and cash.
It's easy to see why the women want to bring this up, as they are paid less than the men are paid, despite the fact that the women draw more accolades, ratings, and revenue. The avenue they've chosen to pursue this is characteristically gutsy, too. Imagine suing your own sports federation mere months before the most important tournament in four years. Then imagine pushing all that aside to win said tournament and immediately use your victory as evidence for your case (which the plaintiffs' spokeswoman Molly Levinson did as soon as they got their medals). With such sheer will to win, the USWNT might just give the Federation a run for its (quite literal) money.
Activism is a team effort for the USWNT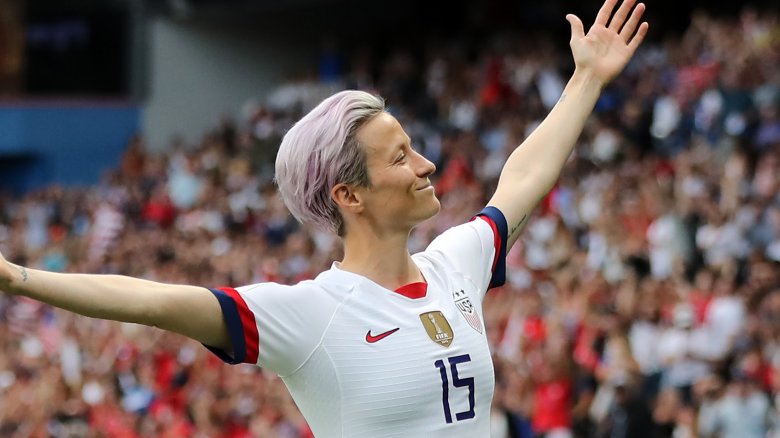 Elsa/Getty Images
As the Daily Beast attests, U.S. women's national soccer team winger Megan Rapinoe doesn't shy away from activism, to the point that she has described herself as a "walking protest" to the current U.S. administration. According to ABC 13, she is also spearheading equal pay for female footballers and managed to draw worried smiles and vague promises of future talks from FIFA bigshots during the trophy presentation, which also featured chants of "equal pay" by the audience.
Still, just because the activism talk has been focused on Rapinoe doesn't mean the rest of the USWNT isn't in on it. As NBC News puts it, the World Cup winners are now "embracing a front-line role in social justice causes" in ways few other sports teams have. They're all obviously onboard with the "equal pay" thing. When Rapinoe drew the ire of President Donald Trump with her comments that she wouldn't go to the White House if invited, the rest of the team stood by her. The team has also become a powerful symbol of LBGQT inclusiveness, as five squad members (including two who are engaged to each other) and coach Jill Ellis are openly gay.
Playing the villains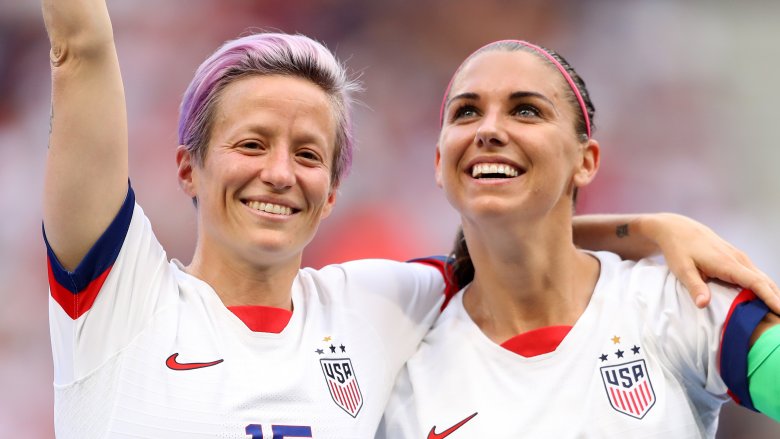 Richard Heathcote/Getty Images
The U.S. women's national soccer team has drawn much ire and criticism, to the point where they've almost been cast as the "villains" of women's soccer. They have been criticized for their goal celebrations and their enthusiasm over winning by a huge margin. Posters featuring star player Megan Rapinoe — an openly gay human rights activist who has feuded with President Donald Trump — have been vandalized with hate speech. Foreign media such as the Irish Examiner has been known to call them "arrogant, entitled and self centered," and, ironically, "Trumpian."
As CNN points out, the U.S. women's perceived antagonist status is actually good for the sport because their swaggering displays of dominance, joyful celebrations, and unapologetic attitude in the face of demands for humility — not to mention their constantly pointing out that male players wouldn't be hassled for wild celebrations — managed to draw virtually unprecedented attention to the Women's World Cup and created tons of discussion about the tournament and the equality issues surrounding it. As for the USWNT players themselves, well … their World Cup win clearly shows that the team couldn't be less bothered with whatever strange villain role some people seem determined to cast them in.
The USWNT changed the game with the "Triple-Edged Sword"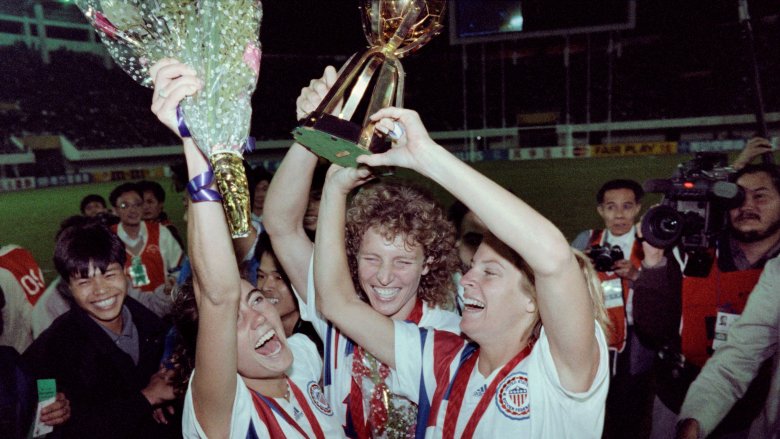 Thomas Cheng/Getty Images
From FC Barcelona's "MSN" trio of Lionel Messi, Luis Suarez, and Neymar to Brazil's destructive combination of Ronaldo, Rivaldo, and Ronaldinho, few things set the soccer fan's heart ablaze like a team with an unstoppable attacking trio. As FIFA.com notes, the U.S. women's national soccer team featured one of these legendary forward lines in the form of Carin Jennings-Gabarra, Michelle Akers, and April Heinrichs. This unstoppable trio was integral during the USWNT's victorious 1991 World Cup campaign in China. They were so destructive that they produced a whopping 20 of the team's 25 goals in the tournament, and so thoroughly impressive that the enamored Chinese media started calling them the "Triple-Edged Sword."
Jennings-Gabarra, who won the Golden Ball for the best player of the tournament, attributes a lot of the Triple-Edged Sword's success to the fact that the USWNT was one of the first teams that started deploying three forwards on the pitch: "It was a different style for other teams and they didn't know how to handle that or how to react to it because they had never seen something like it before."
​The 2000s drought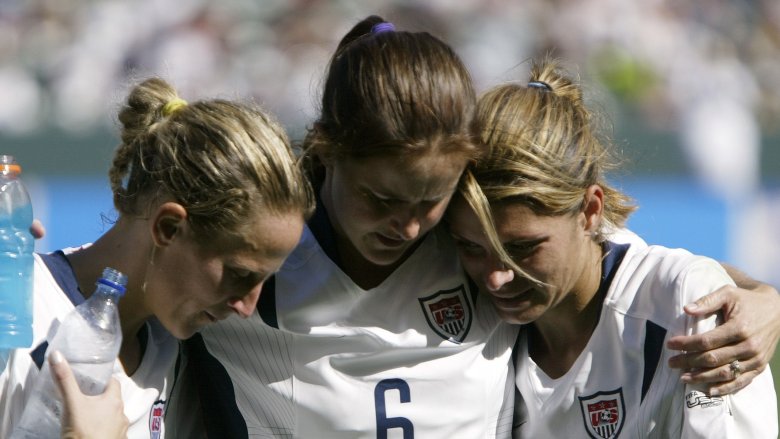 Jeff Gross/Getty Images
As ESPN puts it, the U.S. women's national soccer team is one of those squads that are simply so strong, they enter every tournament with expectations of victory and consider anything less a failure. This is why the USWNT performances in the 2000s, when they were unable to reach the Women's World Cup finals in both 2003 and 2007, was considered disappointing despite the fact that the team took third place in both tournaments.
The limbo wouldn't end until 2015, 16 years after their last World Cup win. At that point on, ESPN was talking about a full-on "drought" and analyzing the failures of the previous decade. In their opinion, the 2003 campaign was a mess of mistakes, injuries, and bad luck that culminated in a key defense error against Germany and subsequent defeat. The key mistake of 2007, on the other hand, was easier to spot: The strange benching of goalkeeper Hope Solo in favor of backup goalie Brianna Scurry for an important semifinal game against Brazil led to a number of goals that at least Solo herself is sure she would have saved.
The USWNT coach is key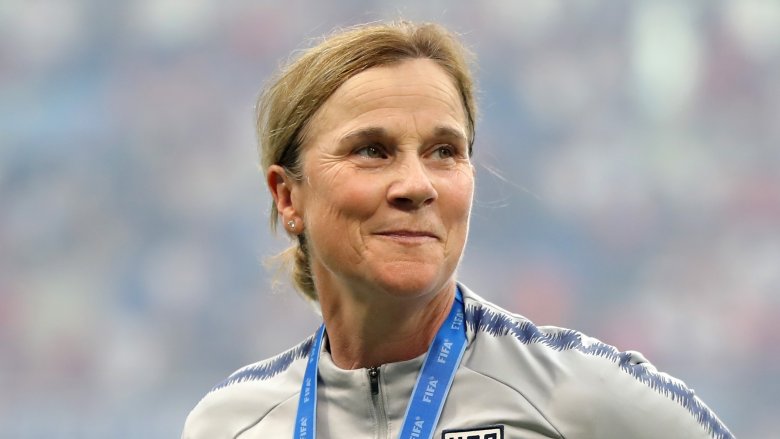 Elsa/Getty Images
No team can succeed without a good coach, and in Jill Ellis, the U.S. women's national soccer team has more than it needs to win, win, and win some more. As CNN reports, Ellis comes from a soccer household — her father, Jim, ran a soccer academy, and Ellis spent her youth learning the craft and playing on the streets, even joining a team herself in her teenage years.
Despite clearly being bitten by the soccer bug, Ellis initially tried to pursue other careers, and after getting her university degree she scored a lucrative job writing telecommunications manuals. This was roughly as interesting as you'd expect, and she was bored to death until she received a phone call from her father's old disciple, who wanted to hire her as an assistant soccer coach at the University of Maryland.
With her father's support, Ellis accepted the job despite the significantly smaller salary and dove into the world of coaching. It's probably safe to say the risk was worth taking: Today, the USWNT boss is the only coach who has won the Women's World Cup twice, and the team has lost only seven of their 126 games under her.
​Best of the best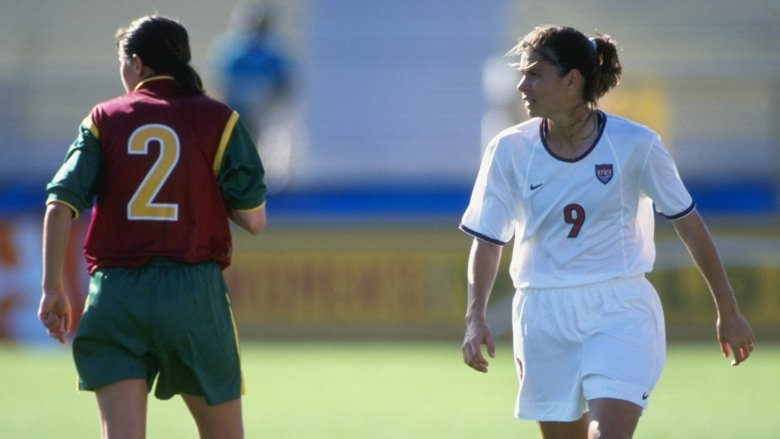 Matthew Stockman/Getty Images
With all the hype they're getting, it's easy to think that the current U.S. women's national soccer team is the best there has ever been. Time will tell whether that's true, but as Bleacher Report attests, the excellency of the current crop doesn't take away from the fact that past versions of the team have also had plenty of uniquely talented players.
Arguably the finest player who has ever put on a USWNT shirt is Mia Hamm (pictured), whose 158 international goals, 145 assists, and two FIFA player of the year awards, not to mention top spots at the 1991 and 1999 Women's World Cups and 1996 and 2004 Olympics, made her the "face of soccer" in the U.S. for years. Abby Wambach's 184 goals (77 of which were headers) are a record for an international player, and her dramatic equalizer against Brazil in 2011's World Cup played a part in popularizing women's soccer. There's Kristine Lilly and her record 354 USWNT caps; Hope Solo, the confrontational goalkeeper who won Golden Gloves in two different World Cups and lost only 11 USWNT games; Joy Fawcett, who was a reliable center back in three World Cups and two Olympics while acting as a head coach for UCLA; we could go on and on. It's probably fair to say that with the current interest in women's soccer, the future will see more than a few additions on this list of legends.