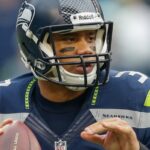 The Most Dominant Teams In Football History
echo get_the_meta(); ?>
For decades, the National Football League has strived for what league brass and TV analysts refer to as "parity." This means that, ideally, all 32 teams will have roughly equal levels of talent, making it theoretically possible for every team to have their time in the championship spotlight. This is why, unlike most other major sports, the NFL has a draft system wherein the worst teams get the first shot at drafting the next year's incoming talent. Also, it's the reason for the league's hard salary cap, which other sports leagues seem to think is wussy stuff for squares.
There's only one problem: These policies have accomplished roughly jack-squat in terms of achieving actual parity. If they had, the Patriots wouldn't be in the Super Bowl pretty much every year, and we wouldn't have any teams so ridiculously loaded with talent that they spend entire seasons slapping the rest of the league around like 98-pound weaklings. There have always been dominant teams in football, even if they don't all accomplish multi-season dynasties, and despite the NFL's best efforts (cue derisive laughter), there probably always will be. Let's take a look at some of these bullies of the gridiron — dominant teams that, in their strongest seasons, looked like the equivalent of Superman entering a dead-lifting contest.
Who needs an offense?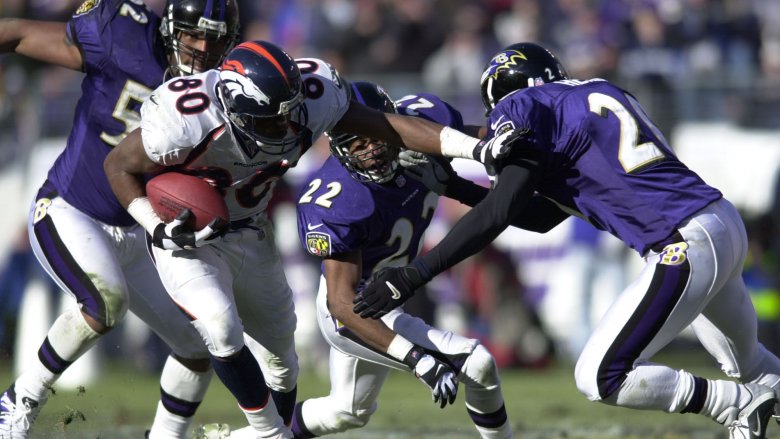 Getty Images
Truly dominant defenses are almost always given a cutesy nickname, like the Minnesota Vikings' Purple People Eaters or the Chicago Bears' Monsters of the Midway. Turn-of-the-millennium sportswriters declined, however, to bestow such a moniker on the 2000 Baltimore Ravens — most likely, out of fear that the entire defensive line would show up at their houses in the middle of the night to stuff their heads right down into their chests. This line included not one but two 6'3″ linemen (Sam Adams and Tony Siragusa) who weighed well over 300 pounds yet were still unreasonably athletic. Behind them was one of the greatest linebacking corps ever fielded, led by the walking nightmare that was Ray Lewis. Behind them were cornerbacks (Chris McAlister and Duane Starks) made of blankets. Sure, the Ravens didn't really have an offense behind legendarily middling quarterbacks Trent Dilfer and Tony Banks; fortunately, they didn't need one.
The stats: The Ravens allowed an average of 60 rushing yards per game and 4.3 yards per play. Opponents scored 165 points all season, just over 10 per game, while opposing quarterbacks combined for 11 touchdowns and 23 interceptions. In the postseason, the Ravens allowed 23 points in four games en route to a 34-7 massacre of the New York Giants, with — again — Trent freaking Dilfer at QB. There hasn't been as stifling a defense before or since, although one team — the one the 2000 Ravens earned the most comparisons with — came close.
Da greatest ever…?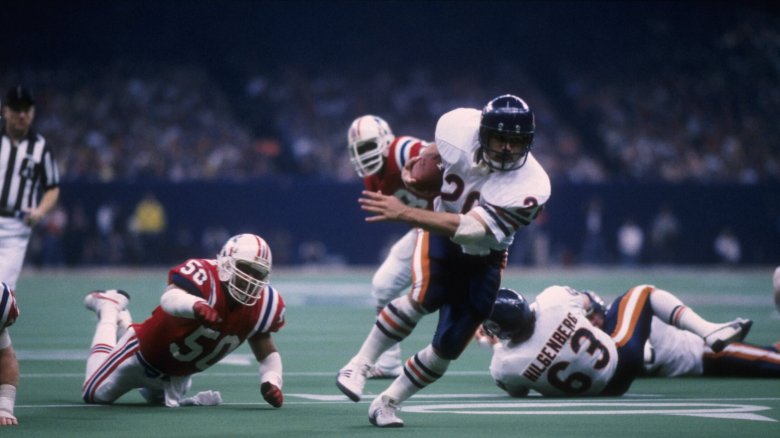 Getty Images
In 1981, legendary Chicago Bears defensive coordinator Buddy Ryan knew a change was in order after his defense surrendered 48 points in a thrashing from the lowly Detroit Lions. Their next opponent: the red-hot San Diego Chargers and cannon-armed QB Dan Fouts. In the week leading up to the game, Ryan put together a new scheme — one that featured six defensive players stacking up the line, freeing up all manner of blitz opportunities for Chicago's safeties. Since one of these safeties, Doug Plank, was central to the scheme, Ryan named his new defense after Plank's jersey number: the "46."
The revamped unit pressured Fouts into his worst day ever in a Chicago win, and Ryan spent the next few years tweaking the 46 defense to perfection. A few years later it came to its full fruition. The 1985 Bears went 15-1, losing only to Dan Marino's Miami Dolphins, and their defense (led by ferocious middle linebacker Mike Singletary and lineman William "The Refrigerator" Perry) terrorized opponents all season long before becoming the first and only unit to post back-to-back shutouts in the playoffs. The Bears squashed the New England Patriots 46-10 in the Super Bowl, and though they had their share of offensive weapons (including lightning-fast receiver Willie Gault and maybe-superhuman running back Walter Payton), Ryan's defense ensured that you could stuff the Bears' offense all day long and still not win. The 46 changed the league forever, and the '85 Bears are still considered to be one of the greatest teams ever.
Trampling their way to victory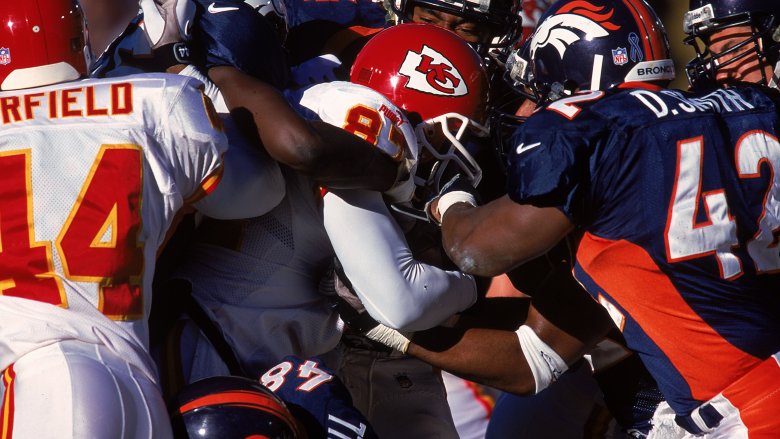 Getty Images
After enduring three progressively worse Super Bowl losses in the '80s, the Denver Broncos and QB John Elway had developed a bit of a choke-y reputation. At the conclusion of the 1997 season, however, they upended expectations with a shocking defeat of the defending champion Green Bay Packers in Super Bowl XXXII, in which Elway put together a performance as heroic as any ever turned in by a quarterback in the big game. This meant that in '98, the Broncos had a big fat target on their backs — and they responded with the most dominant season ever by a Broncos squad.
During the regular season, Denver handed out beatdowns like candy at Halloween. They opened the season 13-0, scoring over 30 points in all but three of those games. After dropping consecutive contests (one to Marino's Dolphins), they defeated the Seahawks to finish 14-2, then proceeded to stomp their way through the postseason (including a 38-3 annihilation of the Dolphins in Marino's last playoff game) on their way to Super Bowl XXXIII, in which they cruised to a 15-point win over the Atlanta Falcons and ex-Broncos coach Dan Reeves. Having given the finger to both Reeves and longtime rival Marino (widely considered the best QB to have never won the big game), Elway then promptly retired, leaving Denver searching for a suitable replacement for the next 15 years.
The Steel Curtain rises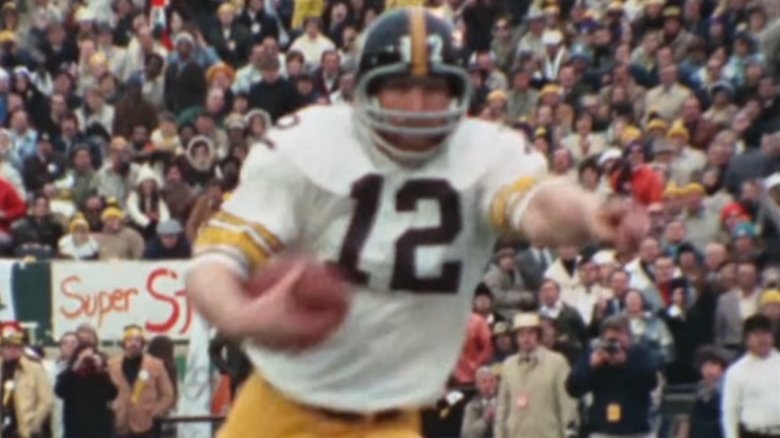 YouTube
The Pittsburgh Steelers teams of the '70s brought the term "dynasty" into vogue, taking home four Lombardi trophies during the decade. Sure, they had plenty of offensive weapons. QB Terry Bradshaw, running back Franco Harris (he of the Immaculate Reception), and elastic receiver Lynn Swann all gave opponents headaches, but the Steelers' D complemented those headaches with bruises. After their 1974 Super Bowl win, national audiences began to take note, and behind the play of standouts like cornerback Mel Blount, middle linebacker Jack Lambert, and defensive tackle "Mean" Joe Greene, the 1975 defensive squad cemented their sinister nickname: The Steel Curtain.
In a 14-game regular season, eight of the Steelers' opponents scored 10 points or fewer. While Bradshaw scrambled for first downs and hucked balls into the next county, Harris bulled through opposing defensive lines, and Swann made catches over defenders like his feet were made of pogo sticks. Meanwhile, in those 14 games, the defense notched 46 sacks, 21 recovered fumbles, and 27 interceptions. Pittsburgh's 12 regular season victories were by an average margin of 15.1 points, and they finished off the postseason by claiming their second consecutive Super Bowl win with a 21-17 defeat of the ascendant Dallas Cowboys. In a decade that mostly belonged to the Steelers, the '75 squad is still considered by many fans to be the greatest team in black and gold to ever play.
The nickname you love (or love to hate)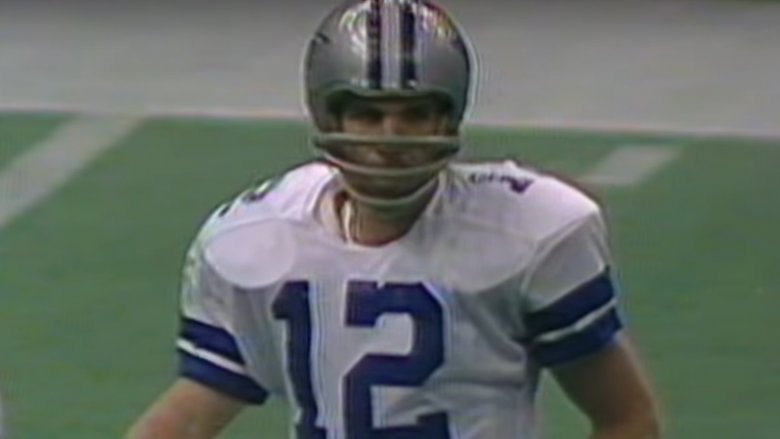 YouTube
The great Cowboys teams of the 1990s are one of football's great dynasties, but they were simply following in the footsteps of the squads Dallas fielded in the '70s, who rudely broke up the Steelers' decade-long championship-winning party with two Super Bowl wins of their own. On both sides of the ball were names that would become legends. On offense, you had QB Roger Staubach, receiver Drew Pearson, and all-time great running back Tony Dorsett. On defense: linemen Randy White, Harvey Martin, and Ed "Too Tall" Jones.
The squad simply outplayed nearly every team they faced, losing only two games by a total of 22 points. Dorsett, despite not starting until midseason, racked up 1,007 yards and 12 touchdowns. In three postseason games, Dallas outscored their opponents 87-23, including a 27-10 victory over the Broncos in the big one which featured the first touchdown to be thrown by a player who wasn't a quarterback (fullback Robert Newhouse) in a Super Bowl. It was a performance that greatly expanded the Cowboys' fan base, leading to the introduction of a moniker that has stuck ever since. In an NFL Films profile following the season, narrator John Acenda intoned: "No matter where they play, their fans are there to greet them. Their faces are recognized by fans all across this country. The sum total of their stars are a galaxy. They are the Dallas Cowboys … America's Team."
The overwhelming Legion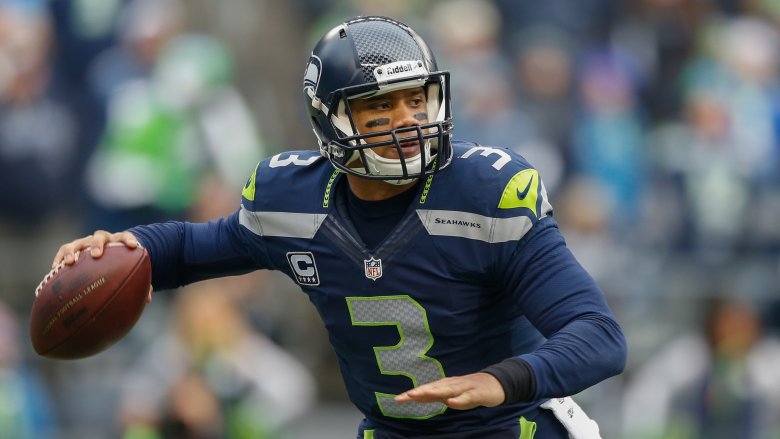 Getty Images
In 2013, the Broncos — having acquired Peyton Manning the previous season — looked to be all but a lock for the Lombardi Trophy. And make no mistake, Manning was absolutely on fire. In the regular season opener against the defending champion Ravens, he threw seven freaking touchdowns. He finished the season with a ridiculous 115.1 passer rating and 5,477 passing yards — a record to this day — and Denver defeated the Chargers and Patriots in the playoffs to waltz into the Super Bowl, where a funny thing happened. Manning's unstoppable force met the immovable object that was the Seattle Seahawks' defense — the Legion of Boom, one of the hardest-hitting units there has ever been.
After a regular season in which they held opponents under 11 points seven times and went 13-3, the Seahawks easily handled the Saints and 49ers in the playoffs before turning their attention to Denver, about whom they hadn't received the "presumptive champions" memo. Entering the game as underdogs, Seattle — behind the play of cornerback Richard Sherman and safeties Earl Thomas and Kam Chancellor — held the highest-scoring Broncos team in history to 8 measly points. The very first play from scrimmage was a safety on the Broncos, and the Seahawks never looked back. Meanwhile, Marshawn "Beastmode" Lynch ground out tough yards, QB Russell Wilson posted a 123.1 passer rating, and Seattle's special teams dominated en route to a lopsided 43-8 victory. Manning would snag his second Lombardi Trophy two seasons later, but in 2013, the LoB had his number.
Big Blue made the opposition cry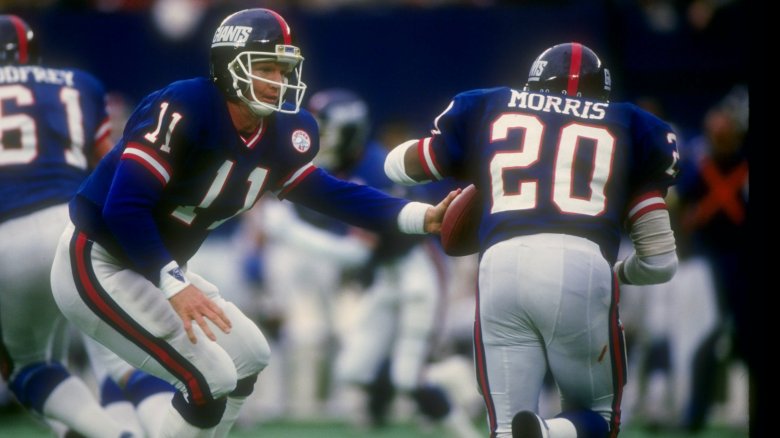 Getty Images
The New York Giants' 1986 season began inauspiciously with a close loss to the NFC East rival Dallas Cowboys, a tough road game in which the teams posted nearly identical stats. It ended with the first Super Bowl win in franchise history, as the Giants proceeded to lose only one game for the rest of the season behind the savant-like play of QB Phil Simms and the relentless onslaught of Lawrence Taylor. Simms' numbers on the season weren't stellar — he put up only a 55.3 completion percentage, with 21 TDs to 22 interceptions — but he displayed a Captain America-esque will to win, pulling out nine wins by seven points or fewer. Meanwhile, six-year veteran (and six-time Pro Bowler) Taylor was simply a holy terror, leading the league with 20.5 sacks and earning the league's MVP prize.
Some may have wondered if Simms could continue pulling proverbial rabbits out of his helmet in the playoffs, but he didn't have to worry about that. The Giants closed the regular season with a 55-24 massacre of the Packers before throttling the 49ers 49-3 in the divisional playoff round and shutting out Washington in the NFC Championship. The Super Bowl, against Denver (John Elway's first) threatened to be a close affair, with the Broncos leading 10-9 at the half. Then New York rattled off 30 points in the second half, with Simms setting a record for Super Bowl completion percentage. It was Big Blue's finest season; just don't tell Eli Manning that.
One nickname to rule them all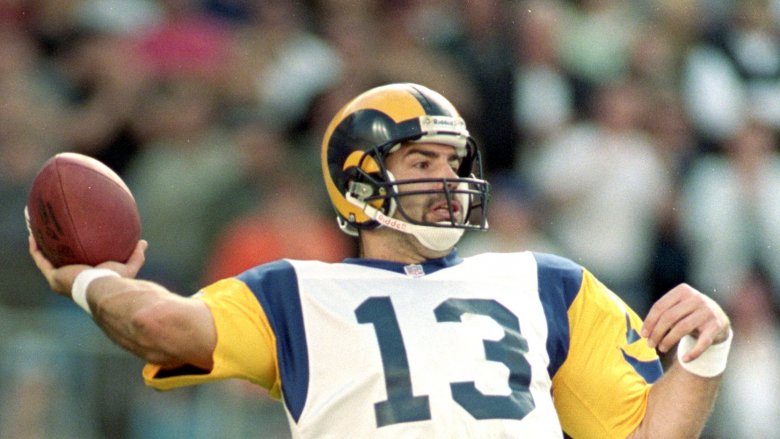 Getty Images
There are NFL Cinderella stories, and then there is the story of Kurt Warner, which seems like it should have been directed by John G. Avildsen and scored with a rousing '80s soundtrack. In 1999, the then-St. Louis Rams' starter Trent Green went down in the preseason with a season-ending injury. Bum luck, but then came Warner — a former Arena League quarterback who was famously stocking shelves at a supermarket when the NFL came calling, and whose right arm would put the Winter Soldier to shame. With help from an underrated defense and punishing running back Marshall Faulk, Warner and receivers Torry Holt and Isaac Bruce played leisurely games of catch all season long, embarrassing opponents who nonetheless had to acknowledge the awesomeness of their nickname: the "Greatest Show on Turf."
The Rams' tendency to go for the whole enchilada on nearly every play led to three regular season losses, but of their 13 wins, 11 were full-on blowouts. In the postseason, Warner and company literally found a different way to win in every game, prevailing in a shootout with the Randall Cunningham/Randy Moss-led Vikings before grinding out a tough 11-6 win over a scrappy Bucs team. Then facing the Titans in the Super Bowl, the Rams said "eh," to an opportunity to kick a field goal with the score tied at 16 late, opting instead for a 73-yard touchdown bomb to Bruce. The Rams won their first title ever, and the stockboy became a legend.
One miracle away from the perfect run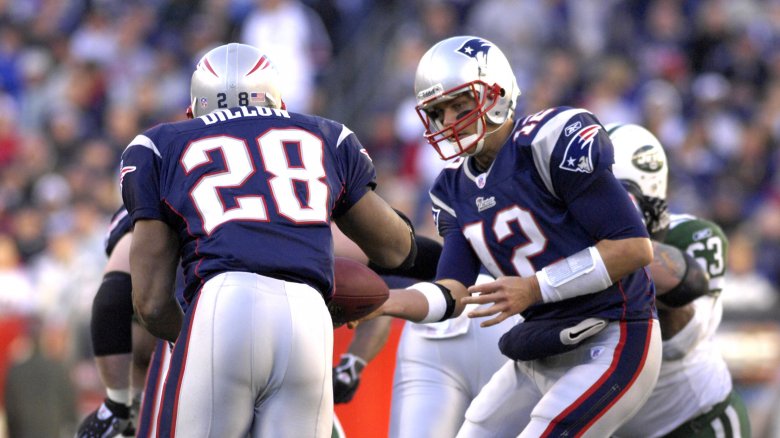 Getty Images
It may seem odd to include a team that did not close the season with a Super Bowl win here, but bust this: Has your team ever won 18 consecutive games in the same season? Anyone? You in the back, that's a yes? Then you are a Patriots fan because no team other than New England has ever gone undefeated in a 16-game regular season. If it were easy, or even just not next to impossible, it would have been done before or since. But only the 2007 Pats dispatched all comers in every game except the big one, where they ran into an unrealistically determined New York Giants team who had come within a hair of beating them in the regular season finale.
To secure that squeaker of a 17-14 win, the Giants had to pull off one of the most improbable plays in NFL history as time was winding down — the infamous "helmet catch." Facing 3rd and 5 from his own 43, Manning was assaulted in a collapsing pocket for a full six seconds before getting off a desperation pass down the field, a ball which wide receiver David Tyree fielded cleanly with his face. If not for that one miraculous play, the 2007 Pats would have a rock-solid argument for their status as the Greatest Team of All Time, instead of just the Greatest Team to Have Victory Snatched Away by David Tyree's Face.
Total domination, served with Lombardi sauce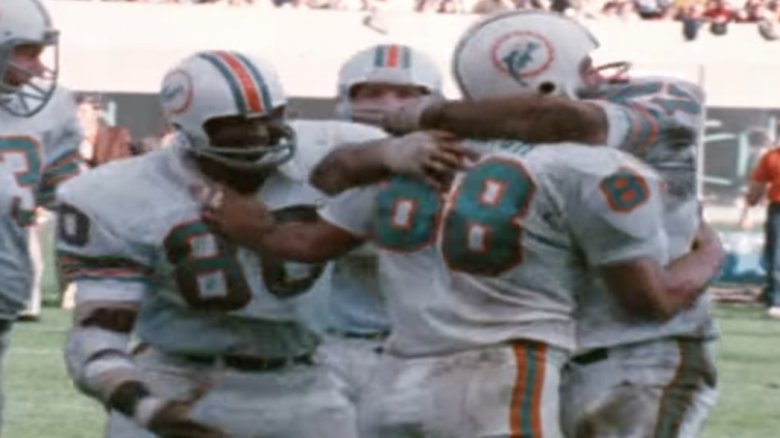 YouTube
The only group to win every game of the season and also win the Super Bowl are the 1972 Miami Dolphins, who for nearly five decades have laughed heartily in the faces of any and all potential challengers to their legacy. If winning every single game you played isn't dominance, then the definition of the word changed when we weren't looking. That year, the Fins were first in points scored, points allowed, and yards per game. Because conference championships used to rotate back then, they had to overcome an ultra-tough Steeler team on the harsh, frigid road in Pittsburgh in the AFC Championship. Nine regular season games and two postseason contests were started by Miami's backup quarterback, and when starter Bob Griese returned, they whooped Washington 14-7 in a Super Bowl that was never that close.
All great NFL teams obviously win a lot, but it's the complete absence of losing that makes the '72 Dolphins the most dominant squad to ever take the field. You can talk all you want about how their schedule was weak, but it certainly wasn't weak the following season, and they won the big one that year, too, losing only two games. They simply bullied the league in a more hardcore fashion than any other team has.