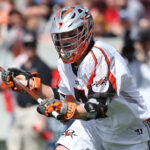 These Are The Only Countries With Official National Sports
echo get_the_meta(); ?>
What's the national sport of the United States? Football? Baseball? Basketball? Believe it or not, America does not have an official national sport. In fact, most countries don't. Out of 195 countries on Earth, just a small percentage have made efforts to select one sport to represent their population. Some national sports are more obvious than others. South Korea, for example, has Taekwondo. And just one country, the United States' neighbor to the north, has two official national sports. (We knew Canada was special.)
National sports are a source of pride for many people. They are often historically significant, and some have roots dating back centuries. However, a few national sports are controversial in some locales, often because they are less popular than other sports that are played in that particular country.
What does it take to become a national sport? Typically, it needs to be voted on by government officials, who take several factors into consideration before declaring archery, volleyball, hockey, or another activity as the country's number-one sport. You may be surprised by some of the sports certain countries have claimed as their top picks. Take a look below to see which countries in the world have national sports.
Brazil: Capoeira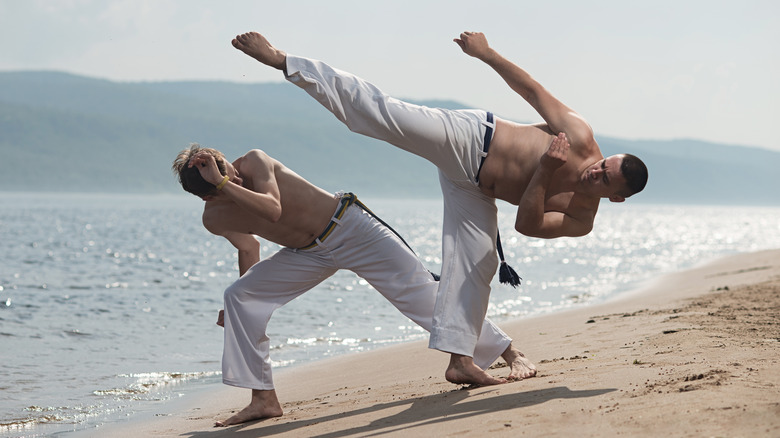 Shutterstock
Capoeira is a big part of Brazilian life and involves a combination of martial arts, music, and dance filled with fast, powerful kicks and other self-defense techniques. West Africans introduced the activity to the country more than 500 years ago, according to Culture Trip. In the 16th century, the Portuguese took advantage of slaves from Angola and Congo when settling in Brazil. A few of these slaves escaped and developed Capoeira to use in self-defense against their colonial oppressors.
As Brazil's economy grew, so did Capoeira, which was often used in criminal and violent insurrections against the government, which, at one point, led to its prohibition. Those who practiced the martial art were severely punished as a result. By the 1900s, Capoeira started to lose its association solely with criminal organizations, and many Capoeira schools started opening around the country. Today, the sport is deeply ingrained in Brazilian culture and involves kicks, sweeps, and both defensive and offensive movements to defeat an opponent. It was officially deemed Brazil's national sport by UNESCO in 2014, according to Step Flix.
Bhutan: archery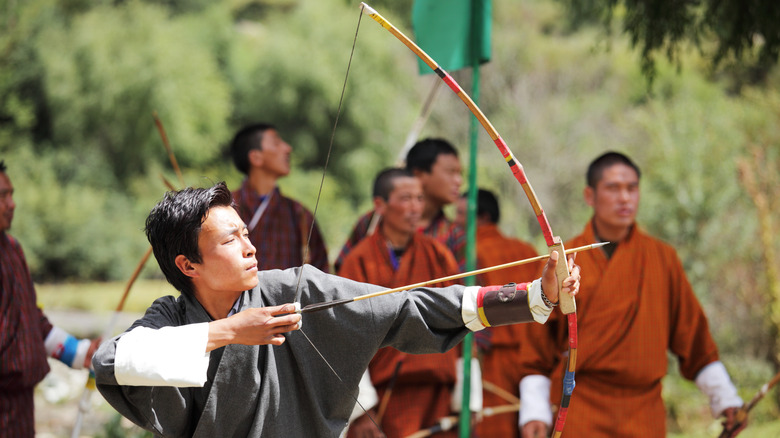 Shutterstock
Archery has been Bhutan's national sport since 1971, according to the World Traditional Archery Organization. While it's only been an official sport for 50 years, it has deep roots and has been ingrained in the country's culture since 600 B.C. Bows and arrows were once used for battle but these days are largely used in competition and for demonstration purposes only. When Bhutan's second king reigned in the 1920s, the sport was particularly popular, reports Deutsche Welle (DW).
Former minister Kinzang Dorji, president of the Bhutan Archery Federation, told DW: "Its not just sport but its celebration of the way of life and an expression of our rich culture and heritage." The activity also involves singing, dancing, and socializing with family members, making archery much more than just a sporting event. In addition, it is one of the few sports in which drinking alcohol is permitted during competition, a tradition that has been passed down through the generations. However, there's a rule that discourages imbibing too much when there are a large number of spectators in attendance for (obvious) fear of injury.
Canada: ice hockey and lacrosse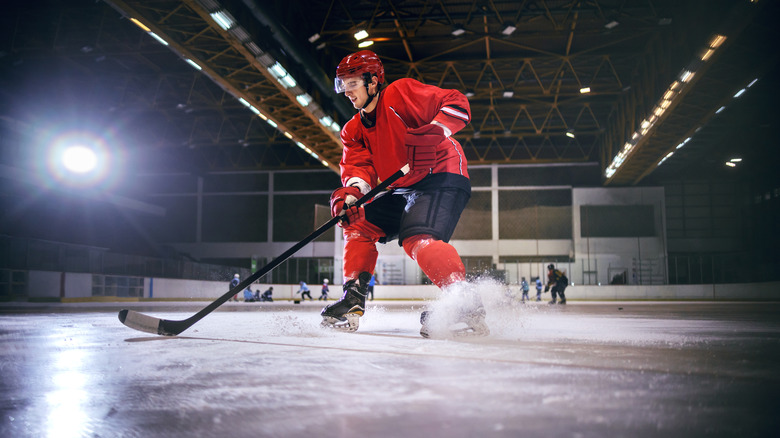 Shutterstock
Canada has not one but two official national sports. Ice hockey was declared the national winter sport and lacrosse the national summer sport in 1994, according to the Canadian government. Canadian J.G.A. Creighton is credited for developing the first hockey game using modern rules in Montreal in 1875, reports Just Landed. While the activity initially involved men only, women were eventually welcomed into the fold and won the Olympic gold metal in 2002 alongside the men. The sport has also produced one of Canada's most famous athletes, Wayne Gretzky.
As for lacrosse, it has its roots with the Native people in Canada. It was a spiritually significant activity for this population and was known as "Baggataway" by the Algonquins and "Tewaarathon" by the Iroquois Nation, reports the Canadian Lacrosse Association. Interestingly, lacrosse was often used to settle disputes between tribes. The exact origin of the sport is unclear, but non-native clubs started forming in the late 1850s and early 1860s. By the turn of the century, it was the top sport in Canada.
Philippines: Arnis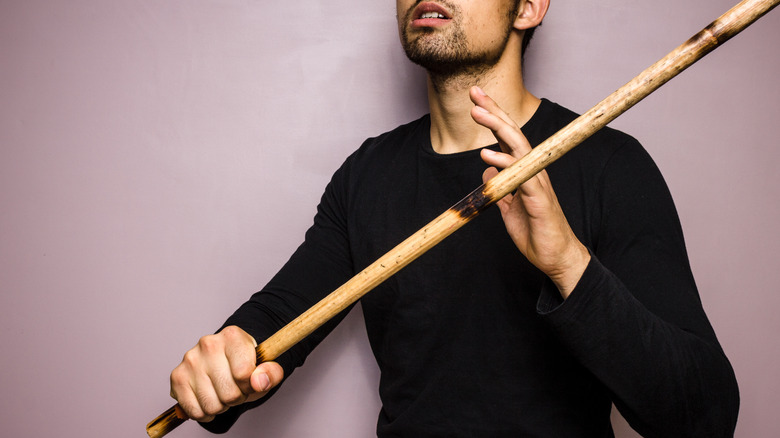 Shutterstock
Arnis was declared the national sport and martial art of the Philippines in 2009, according to Legal Sports Betting. Also known as Kali and Eskrima, Arnis was developed by the country's indigenous people, who used weapons such as knives and sticks as part of their self-defense repertoire. The martial art also involves hand-to-hand combat and grappling, according to Sportsmatik. The history of the sport dates back to A.D. 900.
Around the turn of the century, Filipino practitioners were under Spanish rule and were forced to give up bladed weapons, so they started using rattan sticks instead. It didn't take them too long to realize that the stick was a very effective fighting tool even in comparison to the sword, according to Stick Fighting Sport. Eventually, practitioners combined both stick and knife techniques, developing a system that is extremely effective today. Arnis is a dangerous sport that is known worldwide for its use of rattan and hardwood weaponry.
South Korea: Taekwondo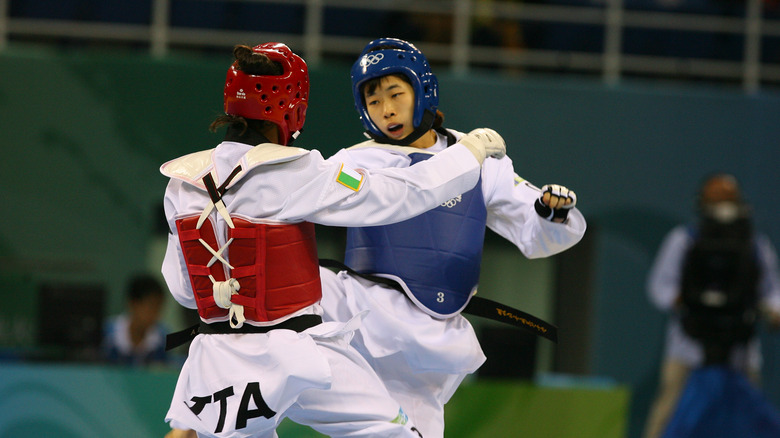 Shutterstock
In 2018, the South Korean National Assembly approved legislation that made Taekwondo its national sport, reports Inside the Games. Ninth-degree black belt Lee Dong-sup proposed the legislation with the intention of protecting the sport's legal status. It was also a necessity in order to keep it in the Olympic Games. While it has its roots in South Korea, millions of people in many countries practice taekwondo, according to the Embassy of the Republic of Korea to Norway, making it one of the most popular martial arts styles worldwide.
Taekwondo translates into "the way of the foot and fist" or "the art of kicking and punching." It has its roots in martial arts known as Taekkyeon and Subak, which are hundreds of years old. Taekwondo became even more popular after it was used in a demonstration at the 1988 Olympics in Seoul, South Korea, and it has been a part of the competition leg of the Olympics since 2000. The sport is defined by a series of kicks and punches, which vary in complexity.
Iran: freestyle wrestling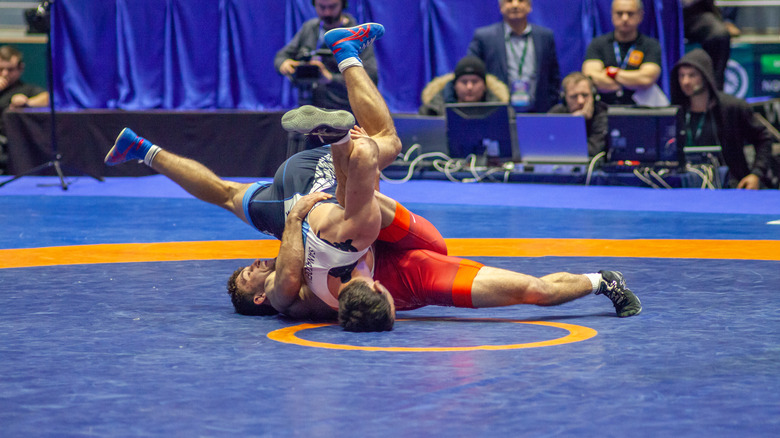 Shutterstock
Freestyle wrestling is the national sport of Iran, but the countrymen also do well in weight lifting, which is due to an ancient Persian sport known as Varzesh-e-Bastani, which essentially combines the activities, according to The Atlantic. (Taekwondo may owe its popularity in the country to the ancient sport, as well.) Varzesh-e-Bastani is a mix of wrestling, strength training, and meditation. While wrestling may be considered an aggressive activity, Varzesh-e-Bastani involves the mind, body, and spirit and acting in a chivalrous manner.
According to Topend Sports, wrestling is a very popular activity among Iran's young people, and the country's style of wrestling is known as koshti, which is practiced almost the same way as it was in ancient times. The country's wrestling team has been very successful over the years, winning international tournaments and taking home Olympic gold medals. In spring 2021, Iran's national freestyle team won the Asian Wrestling Championship, reports the Iran Press News Agency. The country's national Greco-Roman wrestling team also won first place.
Nepal: volleyball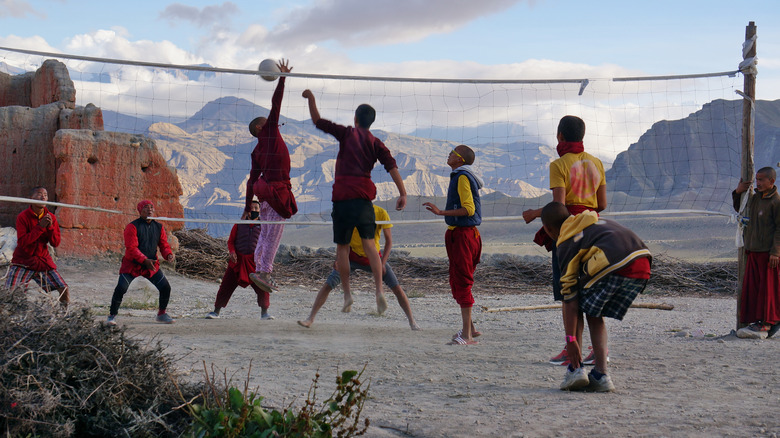 Shutterstock
In 2017, the government of Nepal decreed that volleyball was the country's national sport. Officials were persuaded to make the designation by the Nepal Volleyball Association, which noted that the game can be played in small spaces and in all types of geographical locations, as well as the fact that it's accessible to most of the country's citizens, reported Online Khabar. Volleyball is the only national sport in Nepal, although some people have believed that kabaddi or dandibiyo were the country's national sports.
People play volleyball in each of Nepal's 77 districts, according to the same publication. It's unclear exactly how or when volleyball got its start in the country or how it spread to rural areas, other than that the British introduced it to Nepal in the early 1930s. In the 1940s, the Nepal Volleyball Association was created, and the sport became quite popular with college students in the 1960s. The Nepalese started competing internationally by the 1970s. Despite being the country's national sport, the government does not invest a lot of money in volleyball, and there's no official volleyball academy or system to train new players. The country also lacks a covered training space. 
Argentina: pato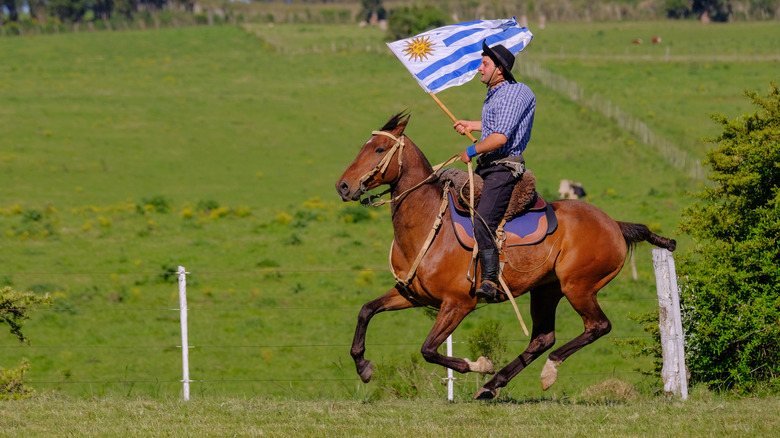 Shutterstock
Argentina's national sport is called juego del pato or just simply pato, which translates to "duck," and it combines horseback riding with a little bit of basketball and polo, according to Globe Trotting. The game involves two teams of four riders who try to get the pato into netted hoops. Four centuries ago, players used a dead bird, such as a duck, wrapped in leather, but today, they use a leather ball with six handles, according to Travel Buenos Aires. Historically, the game was quite brutal, with a lot of bloodshed, and was occasionally outlawed.
These days, the game has set rules, but players must be in peak physical condition in order to participate, as pato requires a lot of strength. It has been compared to the fantastical game of Quidditch from the "Harry Potter" children's books, but it involves horses instead of broomsticks. Both pros and amateurs play the game. While pato has historic significance in the country, many believe association football should be the national sport instead because it's significantly more popular.
Bangladesh: Kabbadi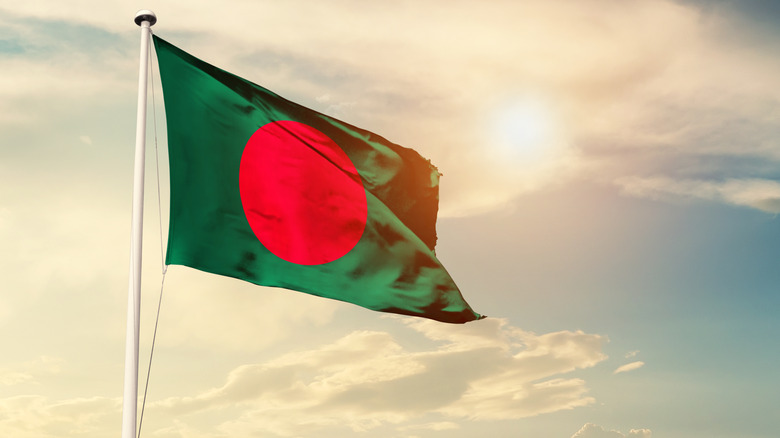 Shutterstock
It was a bit of a surprise when Bangladesh officials chose the contact sport kabaddi, formerly known as ha-du-du, instead of football or cricket as the country's national sport in 1972, according to ESPN. The nation had just gained its independence, so it's likely that those involved in the decision-making process wanted a sport that was ingrained in the country's history. While the choice was a bit controversial, popular player Abdul Jalil said of the decision, "This was an easy game to understand, and it was what the farmers played in the villages during Eid and (Durga) Puja, and other festivities."
The game, which is simple to play, has stayed true to its roots over the years, even though it's now an international sport. Kabaddi is more popular among rural residents than city dwellers. Bangladesh has won several medals over the years, including third place in the Kabaddi World Cup in 2004 and 2007. However, kabbadi doesn't have the financial backing of football or cricket and appears to be the red-headed stepchild instead. As a result, the players must have day jobs to support themselves, and they play kabaddi on the side.
Colombia: tejo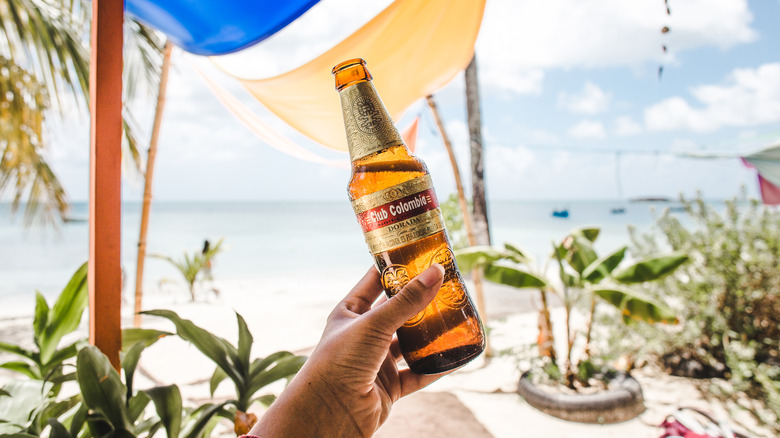 Shutterstock
Tejo, Colombia's national sport, involves booze, gunpowder, and steel projectiles, making it one of the most interesting sports on this list. The country's indigenous population created the game about 500 years ago, and it became Colombia's national sport in 2000, reports CNN. Yoani Vela Bernal, mayor of Turmequé, which is also what the sport is occasionally called, explained to CNN in 2018 that tejo is important due to Colombians' ancestral roots: "It's an achievement that it was not wiped out by the colonial conquistadors, and it makes up a unique link between our past and our present."
People play tejo outdoors or inside a bar while simultaneously drinking a lot of alcohol. It's both an individual and team sport that involves throwing a heavy steel puck at a board that's 20 yards away. The goal is to land the puck in the center of the target, which emits gunpowder from paper pouches when someone succeeds in the task. Also, the board is covered in clay, which adds a messy element to the game. Most Colombians have played the game, and it's becoming increasingly popular in Venezuela, Ecuador, and Panama.
However, some people are looking to remove the alcohol aspect of the sport so it can become part of the Olympics. After all, you can't be drunk when competing in that arena. But it will be hard to remove that aspect for many aficionados. "It's quite Colombian in that way: lots of fun, a little craziness, and of course, good beer," teacher Juan González, 24, told CNN.
Mexico: charrería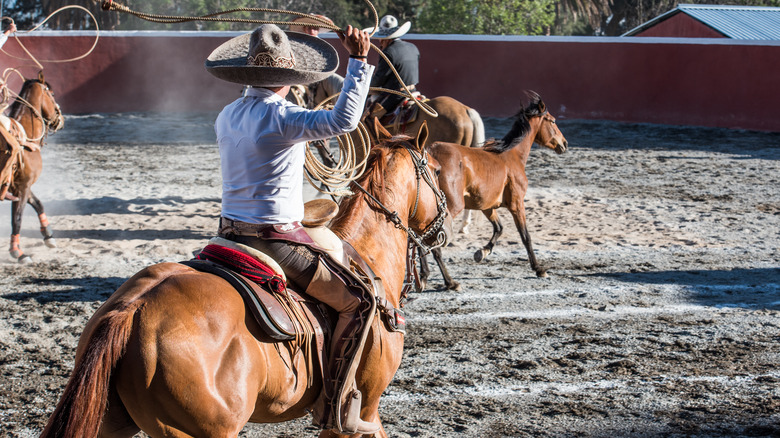 Shutterstock
Charrería has been the official national sport of Mexico since 1933. Similar to a rodeo, the sport centers on teams of horseback riders, the games are typically played on Sundays, and they're very popular among certain communities, according to Culture Trip. Charrería was created in the western part of the country after the Spanish imported horses to Mexico in the 16th century. Farm workers participated in the games, known as charreadas, to demonstrate their skills riding horses. The National Charro Association was established in 1921.
Today, the games features nine different events, or "suertes," as well as a female riding event. Participants get their start in the sport when they're as young as three years old and master several skills involving speed and precision. They must also learn how to control the horses and get them to perform a variety of tasks, such as stopping suddenly.
You can also find the sport being played in parts of the United States, such as Texas, New Mexico, Arizona, and California, which were once part of the Mexican Republic.
Namibia: football (soccer)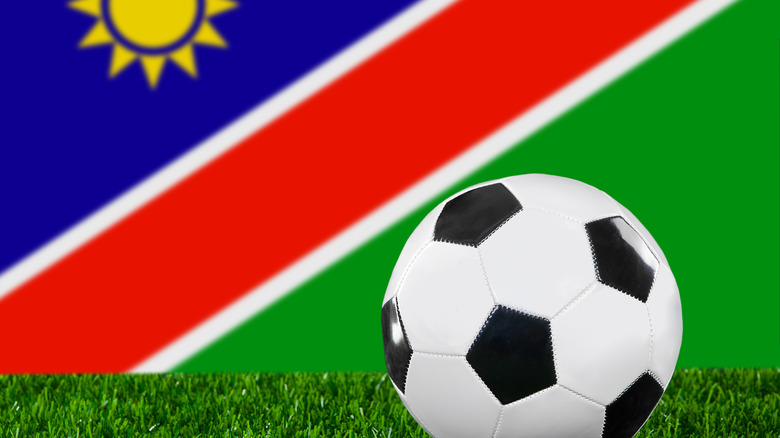 Shutterstock
The national sport of Namibia is football, or what Americans recognize as soccer. Once Namibia gained its independence from South Africa, the country formed the Namibia National Football team in 1990, according to Sport in Southern Africa. Two years later, the team became part of FIFA and the Confederation of African Football. Namibia has done very well when competing against other African teams and has developed a strong set of players over the years. It first qualified for the World Cup finals in 1994 and has qualified every year since. The country's team has not, however, been successful enough to play in a final round of the competition.
Namibia's National Football Team is ranked 132nd in the world. According to the Namibia Football Association, one of the organization's goals is to "to promote education and development programmes in all aspects of the game, particularly regarding youth and women's football." In addition to football, cricket is also a huge sport in Namibia. Cricket games have been played there as early as the turn of the century.
Chile: rodeo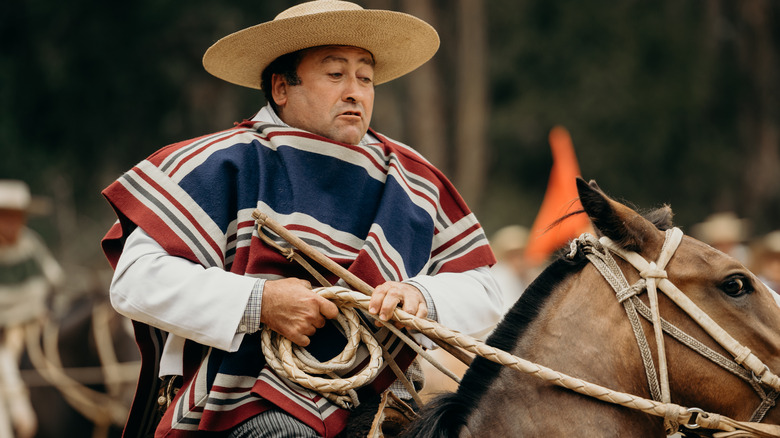 Shutterstock
The Chilean Olympic Committee declared Chilean rodeo as the country's national sport in 1962, but citizens have been participating in the activity for at least four centuries, according to Chile Off Track. The sport was developed circa 1557-1561, when cowboys and horseback riders known as huasos herded animals from the Andes back to Santiago, where the calves were branded and sorted. Back then, the rodeos took place over several days and were very intensive. The huasos eventually created a point system and made a game out of the activity.
These days, rodeos take place on Saturdays and Sundays between September and April, culminating with the National Rodeo Championship Finals in the Monumental Stadium of Rancagua, which has a 20,000-person seating capacity and is the biggest equestrian event venue on Earth. It takes participants approximately five years to become proficient in the sport. One reason is because it takes a lot of time to train a horse properly so that he or she stays in tip-top condition and is able to safely execute the moves directed by the huaso.