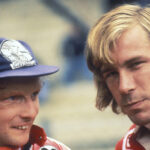 Tragic Details About These Famous Race Car Drivers
echo get_the_meta(); ?>
Race car driving as a profession isn't just one thing. It's actually pretty varied, in terms of all of the different types of racing out there. NASCAR, IndyCar, Formula 1, drag racing — all of them are their own separate, unique thing. But, that said, there are the occasional similarities: the chance at glory, the chance to become a famous champion. And the ever-present possibility of danger and death. That's always a thing, because, really, what else would you expect with sports where people whizz around in circles at a couple hundred miles an hour? It's just the slightest bit insane.
So, it only makes sense that the world of racing has a fair few tragic stories. After all, deaths on the race track are, unfortunately, not exactly the rarest of tales. But while those types of tragedies are, far and away, the most common to find among race car drivers, they aren't the only things that will be showing up on this list. These drivers are all people, after all, and many of them have experienced a number of different kinds of losses.
That said, there is a lot of death discussed here, so maybe take that as a fair warning if you were hoping to hear about something a bit lighter.
James Hunt died shortly after proposing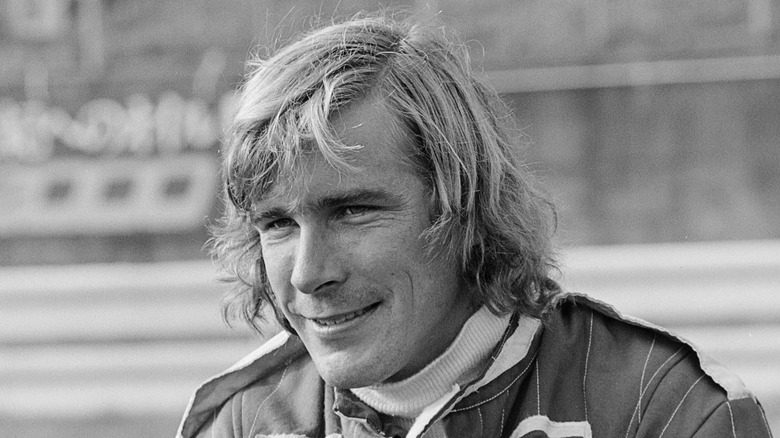 Bernard Cahier/Getty Images
The entire story of James Hunt is one absolutely wild ride. For real, the man was out there living his life to the fullest. The motto sewn onto his racing clothes was "Sex, the breakfast of champions," so take that as you will.
There are plenty of stories out there that support the image of Hunt's life being filled with drink, drugs, and women. According to The Mirror, Hunt supposedly bedded 35 hostesses in the lead up to a single grand prix (though there are some pretty legendary — and unsubstantiated — claims that he slept with around 5,000 women through his lifetime). He even showed up at a race wearing his clothes from the day before, following a night of partying and drinking. Just to paint an even clearer picture, his wild lifestyle — complete with women and drink — was dramatized in the 2013 film "Rush," though even that depiction was pretty tame, according to Hunt's son, Freddie (via The Mirror).
For all that Hunt appeared the part of a playboy, though, there was more to him that meets the eye. The Independent explains that, after retiring from Formula 1, Hunt also retired from the playboy life. Despite a few failed marriages, he began dating Helen Dyson, who helped him start working toward a healthier lifestyle: cycling, less drinking and smoking, you get the picture. He even proposed to her in June 1993, only to die of a massive heart attack less than a day later.
Ayrton Senna couldn't honor his fallen friend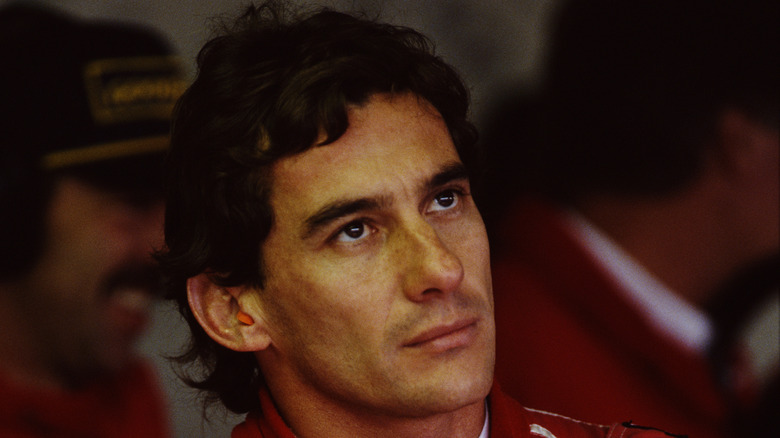 Pascal Rondeau/Getty Images
Ayrton Senna is one of those absolutely massive names in the history of Formula 1. Sportscasting likens him to the Michael Jordan of Formula 1, easily among the best of the best in the sport. He dominated the grid back in the 1980s and 1990s, coming out on top in 41 of his 162 races over the course of his career. Not to mention winning a couple of championship titles.
Senna's death was a massive loss, shaking up the racing community. One of the greats of the sport was suddenly gone, and far too soon, as the result of a violent racing accident in May 1994. Senna's car lost control and rammed into a concrete wall at nearly 150 mph, basically killing him instantly.
The death of a legend on its own is tragic — some three million people attended his funeral (via Autoweek) — but there's even more to it than that. See, Senna wasn't the only race car driver to die that year, that month, or even that weekend. Austrian driver Ronald Ratzenberger was killed just a day earlier at the same exact Grand Prix; his funeral was even held around the same time. According to the Ayrton Senna Institute, Senna actually wanted to win the race for Ratzenberger. That was even true to the point that, after his crash, he was found carrying an Austrian flag inside of his helmet, presumably planning to wave it as he crossed over the finish line.
Robby Gordon and his parents' deaths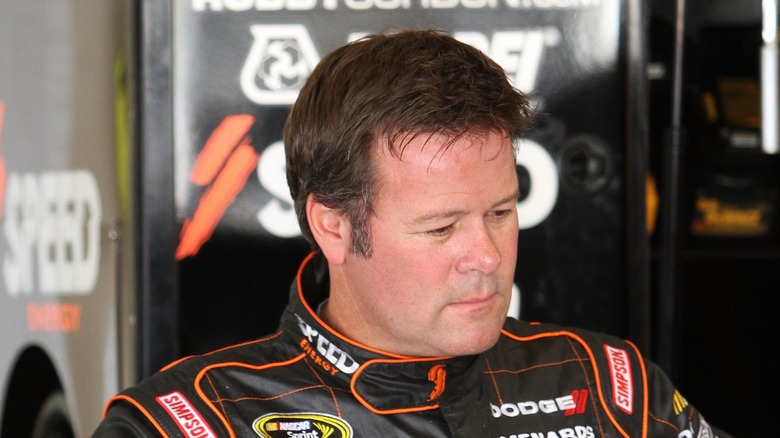 Jerry Markland/Getty Images
If you want to talk about impressive and varied resumes, then Robby Gordon just might be the guy to take a look at. Gordon was most known for his career in NASCAR, making nearly 400 Cup Series starts from 1991 to 2012 (via NASCAR). Oh, and he also drew some pretty considerable press for throwing his helmet at another car in the middle of a race. The respectably varied part of his resume comes from his presence in a bunch of other series, racing in IndyCar and winning a fair few off-roading titles. Even after stepping out of the NASCAR spotlight, he went on to create his own racing series called Stadium Super Trucks.
Gordon's career is honestly really impressive, so where's the tragedy here? Well, it's not related to his career, but rather his family, and the news of the tragedy came almost out of nowhere. According to Sportscasting, both of Gordon's parents were found dead in their home on September 14, 2016. Police determined that it was a murder-suicide; Gordon's father had strangled his stepmother before shooting himself fatally. The news came as a crushing surprise to Gordon, but it's been shrouded in mystery ever since. Aside from the news that it was probably a murder-suicide, no other information has really been released (via The Orange County Register).
Dan Wheldon died after testing new safety equipment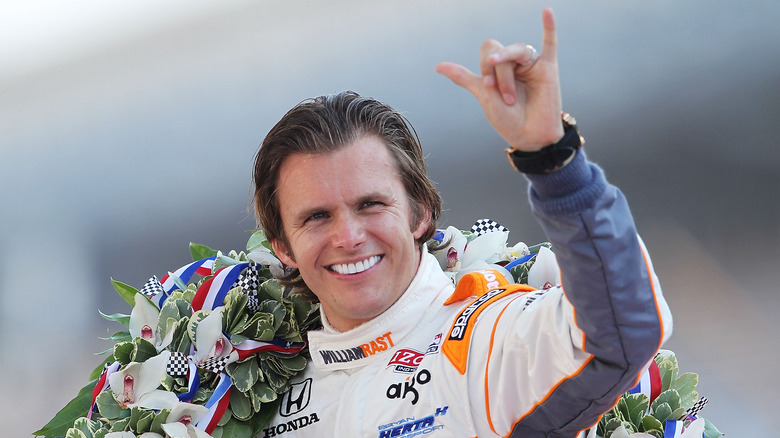 Nick Laham/Getty Images
British racing driver Dan Wheldon showed up on the IndyCar scene with a bang, just barely missing out on the championship title in only his second year in the sport, then sweeping both the Indy 500 and the championship in 2005 (via Sportscasting). Not to mention a surprise win at the 2011 Indy 500.
But the 2011 season was marked by a lot more tragedy than triumph. After only a handful of laps, the intended grand finale ended with a massive crash; debris littered the track as cars swerved and crashed. Unable to do much, Wheldon got swept up in that crash, his car flying over another and through the air, then shredded by the fences. A few tense hours later, Wheldon was pronounced dead.
The really sad thing, though, is the fact that Wheldon's death could've been avoided. According to The Sydney Morning Herald, many of the drivers had voiced their concerns going into the race, fearing that the conditions (high-banked turns, tightly packed racing) would end in disaster. On top of that, Wheldon was, at the time, working with IndyCar on testing safety improvements that would keep drivers safe. That is, safety improvements that would keep cars from going airborne in the exact way that Wheldon's car did in the crash that killed him. It's just really sad that the work he was doing — the work that could've saved his life — wasn't implemented until a year after his death.
Alan Kulwicki's history of family tragedy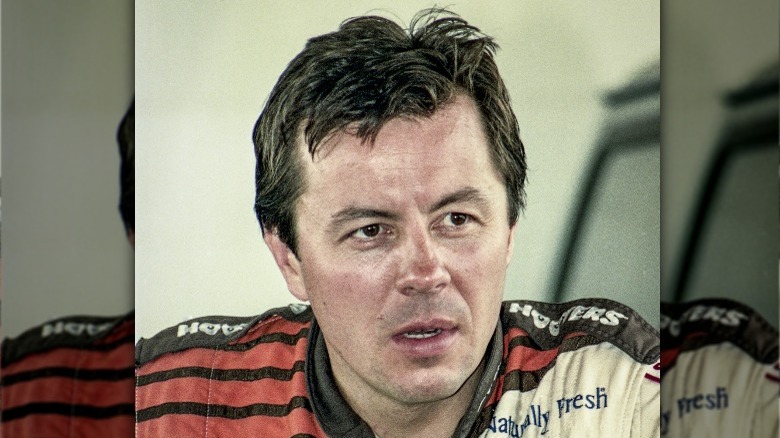 Brian Cleary/Getty Images
The story of Alan Kulwicki is filled with more than just one tragedy. Really, there's quite a bit that happened here. But let's start with the basics. Kulwicki was a NASCAR legend and champion, but one who came from a pretty different background from most other people who share those titles. According to The New York Times, he started off his career as an engineer and only ended up joining the NASCAR circuit in 1985, a couple of years after his graduation. Driving had always been his passion, though, and he took to the professional circuits immediately, winning accolades and even a championship by 1992. It made him the first college graduate — and the first driver born north of the Mason-Dixon Line — to ever win a NASCAR championship.
Jumping back in time, though, Kulwicki had quite the tragic past, one which he attributed to his independence as a driver (via Sportscasting). His mother died when he was only in the second grade, and as a result of that, his father moved the whole family to live with Kulwicki's grandmother. Only a handful of years later, she died. Fast forward just one more year, and the tragedy wasn't over — Kulwicki's brother died, too. Meanwhile, Kulwicki's father wasn't around that much, usually out racing, leaving Kulwicki to grow up pretty quick.
It's a lot of family tragedy, and one that Kulwicki apparently couldn't avoid. He died suddenly in 1993 after a fatal plane crash, aged just 38.
Davey Allison was the last in a string of deaths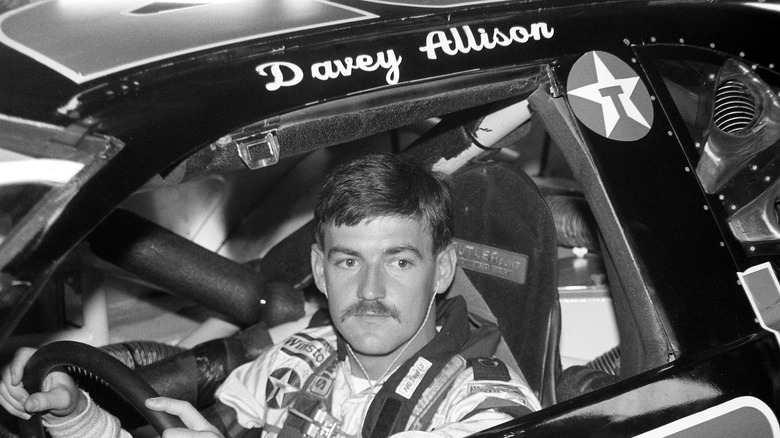 Bruce Alan Bennett/Shutterstock
Davey Allison was a rather accomplished NASCAR driver. Boasting some 19 wins — one of which was the 1992 Daytona 500 — Davey was inducted into the NASCAR Hall of Fame in 2019, on top of being a member of a prominent racing family. He and his father actually took first and second at a race in 1988 (via NASCAR Hall of Fame), and his brother and uncle were also pretty big names in the sport (via The New York Times).
But racing proved not to treat the Allison family well. Both Davey's father and uncle — Bobby and Donnie Allison, respectively — retired from the sport in the 1980s due to crashes that ended their careers. But then tragedy really struck in July 1992, when Davey's brother, Clifford Allison, died in a violent crash during practice at the Michigan International Speedway.
The family tragedies didn't end there, though. Per the Los Angeles Times, barely a year would pass before the same misfortune fell on Davey. In July 1993, he was landing a helicopter at Talladega's infield when it suddenly rocketed up 25 feet in the air and spun before landing on its side. The other passenger survived, but Davey was killed.
And to make things even heavier, Davey's death came only a couple months after Alan Kulwicki — another NASCAR driver — was killed in a separate plane crash. Dark times for the sport.
Charles Leclerc lost his father figures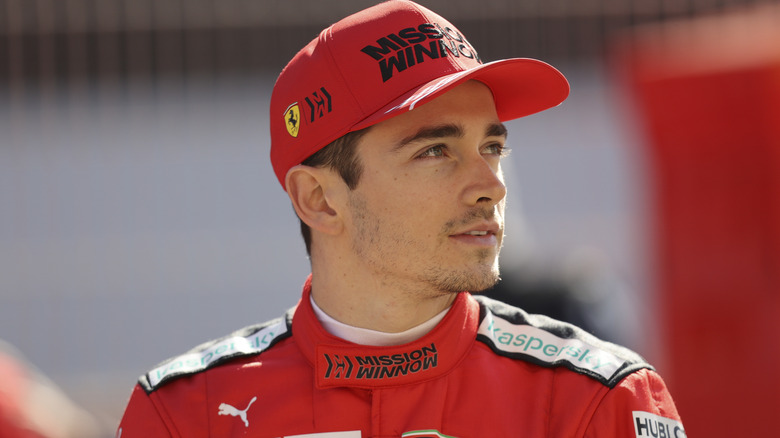 LiveMedia/Shutterstock
It's probably a pretty safe guess to assume that current Formula 1 fans are well-acquainted with the name Charles Leclerc. But for anyone unaware, Charles is, as of writing, one of the young talents in the sport. He first donned the famous red Ferrari firesuit at barely 20 years old, recognized by his team, his competitors, and Formula 1 overall as the future of the sport (via The Guardian). But Charles himself has pointed to a number of tragedies as the things that really push him forward.
One of those tragedies was the death of his father, Herve Leclerc, in 2017 (another was the death of his godfather, Jules Bianchi, just a couple years earlier). Herve was only in his 50s when his health suddenly spiralled, and his son was in the midst of a successful rookie season in Formula 2. Herve wouldn't end up living to see his dream come true: his son crowned as F1 world champion. He wouldn't even live to see his son race under the Ferrari banner, though Charles had told him he'd been contracted for the 2018 season. (A lie, in actuality. At the time, Charles hadn't signed any such contract, though he would just a year later).
Herve died just three days before the 2017 F2 race in Baku — that's just three days before his son would go on to win that race (via Fansided).
Mario Andretti has had a rough few years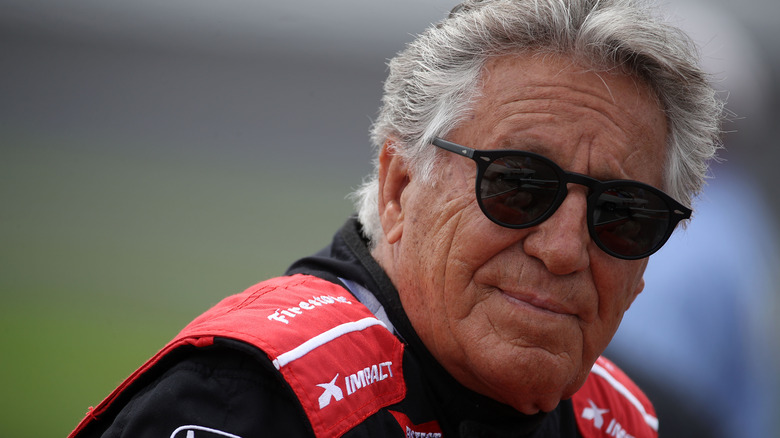 Chris Graythen/Getty Images
You've heard of Mario Andretti, right? Yeah, you probably have. The Andretti name is just absolutely massive, one that's gotten around outside of solely racing fans. In case you don't know, Mario Andretti is basically the guy when it comes to racing, winning the Formula One championship, the Indianapolis 500, and the Daytona 500 (via AP).
But despite the legends, Andretti is just as human as the rest of us, and, as of writing, the past few years haven't been the kindest. Andretti's wife — whom he credited in an interview with shaping his legendary career — died suddenly in 2018 (via IndyStar). His sister also died within the same year, and when 2020 rolled around, Andretti's nephew died after three years of fighting colon cancer.
And then, well, 2020 was 2020. With the COVID-19 pandemic, Andretti ended up stuck at home alone, with only his parrot to keep him company into the evenings. He'd long been a staple at IndyCar events — both his son and grandson being a part of the sport — but those races all got put on hold. But to really top it all off, December 2020 would deliver the worst blow: the death of Andretti's twin brother, Aldo, due to complications from COVID-19. The brothers had always been close, sharing a passion for racing their entire lives, and Andretti tweeted shortly after his brother's death that "Half of me went with him."
Michael Schumacher's accident and family
Michael Schumacher is one of those athletes that completely deserves the title of legend. Per Newsweek, during his career as a F1 driver from 1991 to 2014, he set records, becoming the first driver to win seven world championships, five of which came in consecutive years — another record in and of itself (via BBC).
Everything changed in late December 2013, though, when he was thrown headfirst into a rock during a skiing trip to France. Doctors put him into a medically induced coma, and by late 2014, he'd been transferred to continue his recovery at home. That's all anyone really knew for a long time, with the family valuing their privacy (via The Guardian).
The status quo didn't change until September 2021 with the release of the "Schumacher" documentary. In it, Schumacher's wife says that the family is doing its best, all living together and trying to make the driver feel as comfortable as possible. That said, it's not always easy; they all miss him, though they have taken strength in knowing that he might be different, but still there with them all the same. Schumacher's son, Mick — now a Formula 1 driver himself — added that he wished he could just talk to his father again. He'd give up everything just for the opportunity to "speak a similar language" and understand each other.
Niki Lauda defied death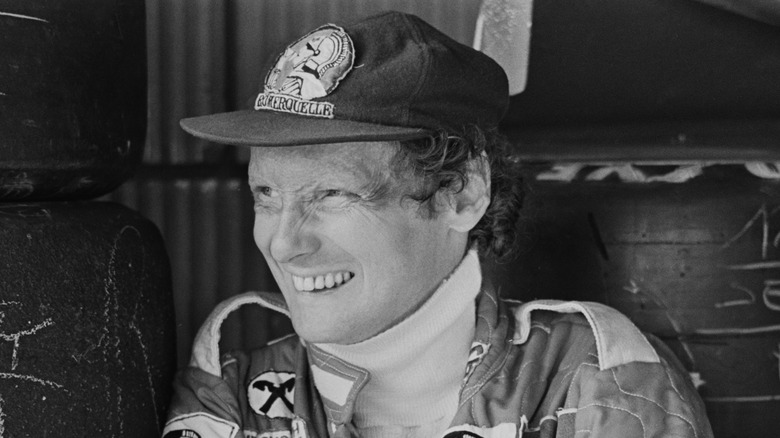 Mccarthy/Getty Images
Yup, we're going to talk about this one: the terrifying, near-deadly crash that Niki Lauda — three-time Formula 1 world champion — managed to survive in 1976. It's one of those huge accidents that F1 fans likely know.
The 1976 season is hailed as one of the most exciting seasons in all of F1 history, and one of the races was set to happen at the infamous Nurburgring — a massive 14-mile-long track known for its treachery, having killed five drivers in the three years prior. Drivers in 1976 knew that, and Lauda himself spoke out against racing at the track, especially given that track conditions on the day of the race were wet and dangerous. He called for a vote to cancel the race, only to lose by one (via The Mirror).
That slim defeat changed everything. Partway through the race, Lauda felt something break in his car, sending him spinning into the guardrails. His car erupted into flames with Lauda stuck inside "for 55 seconds at 800 degrees," in his own words (via Autoweek). He was sent to the hospital (where he fell into a coma) to treat third-degree burns and damage to his lungs from inhaling toxic fumes. Lauda said he was "right on the point of death for days" and thought he "really did die once." A priest even went so far as to read him his last rites, though that particular incident angered him enough that he fought even harder to survive.
Several decades later, in 2019 and at the age of 70, the champion "passed away in his sleep," according to the BBC.