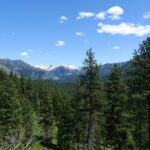 What You Don't Know About Terrence Woods, Jr.'s Disappearance
echo get_the_meta(); ?>
On October 5, 2018, Terrence Woods Jr., a 27-year-old TV production assistant from Maryland, went missing while shooting a reality show for the Discovery Channel in Idaho. According to eyewitness accounts reported by Vice, after a night's filming, Terrence just dropped his radio and ran into the forest, where he quickly disappeared into the trees. Several search and rescue efforts found no signs of him, and as of this writing, Woods — described by friends and coworkers as "responsible," "reliable," and "dedicated" — is still missing.
Speculation into his disappearance has been debated online by his friends, family, and industry freelancers ever since. Many of them have pressured Raw TV, the U.K. production company working on the shoot when he disappeared, to account for its treatment of Woods before he supposedly shot off into the forest with reckless abandon. According to the entertainment news website Deadline, Woods's parents suspect Raw TV of not telling the whole story about their son's mysterious disappearance. They and others claim that the toxic work culture characteristic of television production was exaggerated on shoots run by Raw TV, where disparaging comments about employees were commonplace. One former Raw TV freelancer who preferred to remain anonymous told Vice that the atmosphere on the company's shoots "was different in the sense that it felt entrenched within the culture."
Friends and family blame Raw TV's 'toxic work culture'
One producer who had worked on the shoot with Woods gave the missing young man's parents a glimpse into this toxic work environment when they flew out to Idaho to search for their son. His father, Terrence Woods Sr. told Vice that the first thing producer Simon Gee told him was how his son had not measured up to his high expectations. Gee said he once asked Woods to get him some fruit, and Woods, failing to read the producer's mind, asked him to specify what kind of fruit. The missing man's mother, Valerie, said that she was also given similarly disparaging stories of her son's supposed ineptitude over the phone. Raw TV denies any claims of its production team having expressed "disappointment" in Woods's performance.
But his friends aren't buying it. They started an Instagram account to raise awareness of his disappearance and demand answers from Raw TV. Friend and former coworker Cherlynn Andrew-Wilfred denounced Raw TV in a tweet, claiming that the company did little to address the issue of mental health on its productions. Another tweet featuring a video to raise awareness, posted in August 2020 by Woods's friend Rochelle Newman, was retweeted over 2,600 times within a month of publication, as more and more join the call for answers to yet another haunting unsolved disappearance that remains a mystery to this day.