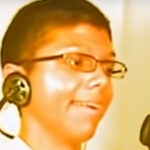 Whatever Happened To The Chocolate Rain Guy?
echo get_the_meta(); ?>
The internet and, more specifically, YouTube, has given everyone in the world a voice. Gone are the days when recording a song required spending huge amounts of money to rent space in a studio and then hoping for a record deal. If you're willing to spend a comparatively small amount of money on some at-home recording equipment, with a few clicks of the mouse your song can be on YouTube and, with any luck, will become a smash hit.
Back in 2007, Adam Nyerere Bahner, better known by the pseudonym Tay Zonday, recorded a song about the Black experience in America and released it on the video-sharing platform. "Chocolate Rain," in spite of or perhaps because of its low production values, its "cheesy" (as Zonday himself describes them) lyrics, and its nonsensical captioning of everything the performer is doing ("I move away from the mic to breathe in"), the song became a viral hit. As of June 30, 2021, the song had over 130 million views.
Tay Zonday is still performing
In early 2021, Zonday admitted that one of the reasons "Chocolate Rain" blew up is because he had a "voice-body mismatch," referencing his diminutive stature and boyish looks with the baritone, silky-smooth singing voice that comes out of it. "I look like Bruno Mars, I sound like Barry White, I move like Mr. Bean," he joked to Buzzfeed Video on YouTube.
In the immediate aftermath of his sudden fame, Zonday said, he was overwhelmed with requests to perform, and he took as many as he could, joking that at the time he didn't know how to say "no."
These days, it appears as if Tay Zonday is in the business of being Tay Zonday. He has a Twitter account, but rarely posts, and what few tweets he's posted consist of him either joking about his fame (one tweet suggested he should perform at an upcoming Super Bowl), or random thoughts about racial and social issues. He also has a Cameo account, where he notes that, for a $40 booking fee, he'll perform at a birthday party, perform a musical apology, or whatever else his patron may ask of him.