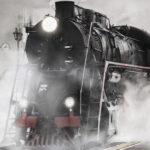 16 Best Inventions From The Industrial Revolution
echo get_the_meta(); ?>
Here in the modern 21st century, mankind tends to be pretty proud of itself when the newest and best smartphone comes out, when digital cameras get better, or when video games get more realistic. But here's the thing: That's just improving on something that's existed for a while now.
Many of the inventions from the Industrial Revolution were even more impressive, and came from incredibly smart people looking at a problem and inventing something out of nothing. There were no prototypes, no guarantees it was going to work, and sometimes, it was accepted with all the grace expected of a generation facing a lot of changes.
Just like the older generations today bemoan the rise of TikTok and… whatever else the kids are into these days, the Luddites were a group of people who were violently opposed to some of the changes the Industrial Revolution brought. And there were a lot of changes. History defines the Industrial Revolution — the 18th and 19th centuries — as the time when the world switched from the agricultural one it had been for millennia to the industrialized society of today. It was fueled by these inventions, and was it a good thing? That's a matter of opinion, but it would be a very different place without them.
Photography
Gas lighting