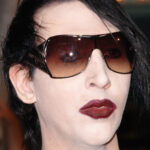 Marilyn Manson Turned Himself In To The Authorities. Here's Why
echo get_the_meta(); ?>
Glam rocker and notoriously gross stage performer Marilyn Manson has been in some pretty hot water recently. According to The Hollywood Reporter, he was dropped from his record label Loma Vista Recordings in February 2021 after five women made allegations of abuse by the singer stretching back decades. The trouble for Manson — whose given name is Brian Hugh Warner — actually started back in 2018, when actress Evan Rachel Wood testified before Congress in support of a bill of rights for sexual assault survivors. According to USA Today, she did not name her abuser. Speculation, however, pointed to Manson. In February, she finally came out and said that indeed, it had been Manson, leading to his removal from the label. Four other women have also claimed that he abused them in the past. For his part, Manson said on Instagram that his life and art "have long been magnets for controversy" and that his "intimate relationships have always been entirely consensual with like-minded partners."
Then in June, Manson found himself facing assault charges of a different nature. People magazine reported that he had actually turned himself in to authorities in Los Angeles after making a deal with a police department in New Hampshire. This time, however, it wasn't on allegations of sexual assault. Let's take a look into Manson's latest legal troubles and see what's going on.
Marilyn Manson was charged with being Marilyn Manson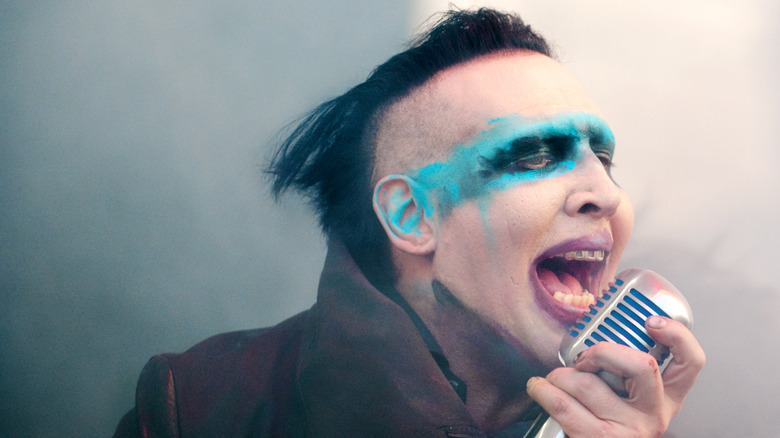 Shutterstock
This time, Manson appears to have been charged with simply being the performer that the world has known he is for decades by now. One camerawoman filming a concert of his in 2019 must have never heard about what a Marilyn Manson concert is like, because when the bodily fluids started flying, she was not having it. She claims that Manson spit and shot a "snot rocket" on her and her camera several times during the show. As People notes, she demanded $35,000 for damages to her camera. Manson's lawyer called the allegation "ludicrous" and the singer was released without bail.
Is getting spat and snot-rocketed on gross? Of course. Is it something that should surprise an attendee of a Marilyn Manson concert? Not exactly. The rocker is famously filthy on stage, a fact the world learned in the '90s, when the Satanic Panic had parents all across America in a fit of righteous indignation. Manson's lawyer Howard King also pointed out this well-known detail. "It is no secret to anyone who has attended a Marilyn Manson concert that he likes to be provocative on stage, especially in front of a camera," he said, adding that his office received no reply from the camerawoman when asked to provide proof the damage to her equipment. Manson has yet to address the allegation personally.