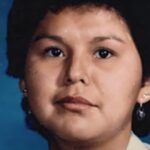 The Untold Truth Of The Alberta Williams Murder Case
echo get_the_meta(); ?>
In 1989, 24-year-old Alberta Gail Williams (above) and her sister Claudia were sharing an apartment in Vancouver, Canada. Although they enjoyed living in the city, they both decided they wanted to spend some time in a more rural area. That summer, Alberta and Claudia made the decision to travel to northern British Columbia, where they hoped to find seasonal work. As reported by CBC News, within months of arriving in Prince Rupert, Alberta Williams was abducted, killed, and her body was dumped along Canada's infamous Highway of Tears.
Claudia was with her sister on the evening Alberta disappeared. As reported by the Durham College Chronicle, Alberta and Claudia were among hundreds of indigenous people who were hired as seasonal workers at the local fish cannery. As they routinely worked up to 15 hours a day, the workers often met after work to socialize. On the evening of August 26, 1989, Alberta and Claudia were standing outside a since-closed bar called Popeye's, talking with some of their co-workers and friends. Claudia said," One minute we were talking and laughing, I turned my head to speak to my boyfriend and turned back, and she was gone, just gone."
Although there was some disagreement about the color of the vehicle, Durham College Chronicle reports everyone who witnessed the incident said Alberta Williams got into a truck with her uncle Jack and another man who was only described as a "non-native." Three days later, Alberta Gail Williams was found dead. To this day, her murder remains unsolved.
Alberta Williams is one of many women connected to the Highway of Tears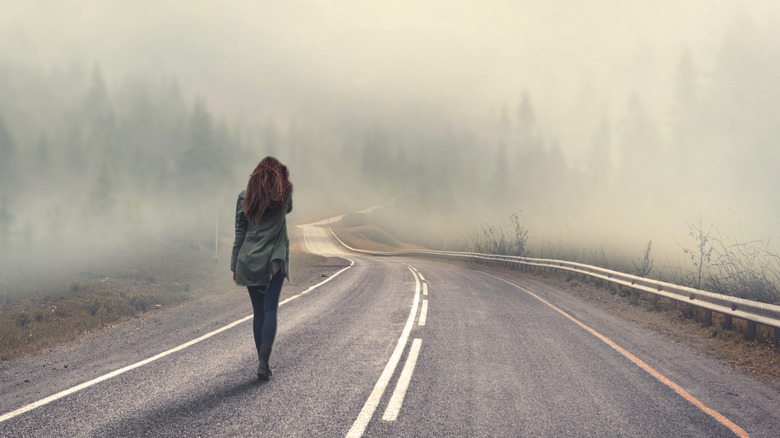 Shutterstock
Durham College Chronicle reports Alberta Williams was physically and sexually assaulted before she was killed. Her naked body was then dumped in the brush along Highway 16, which is commonly referred to as The Highway of Tears.
The Highway of Tears is a stretch of highway in British Columbia, where an unusual number of women, who are primarily indigenous, have gone missing or were found dead. In 2007, the Royal Canadian Mounted Police formed a task force which is solely focused on solving crimes committed against women along the Highway of Tears. At this time, the BCMP has identified 18 women connected to the Highway of Tears, including Alberta Williams.
As reported by the BCMP, Project E-PANA, which was named for an Inuit goddess, focuses on females who were either abducted, or found dead, within a mile of Highway 16, Highway 97, or Highway 5, between 1969 and 2006. Alberta Williams is one of 18 women on the task force's list.
The task force specifically focuses on women who were engaging in hitchhiking or other high-risk behaviors when they were abducted or killed. However, in a 2006 interview with Daily News, which was reprinted by A Town Called Podunk, Claudia Williams said her sister "had no reason to take off and hitchhike." She explained that her sister had plenty of money and "didn't have any family problems" that would have prompted her to leave without notice.
A retired RCMP detective provided a compelling tip 27 years after Alberta Williams' death
Shutterstock
In 2016, CBC News investigative reporter Connie Walker received an ominous email with only one line. The message, which was sent by a retired RCMP investigator, revealed the name of the man he believes brutally assaulted and murdered Alberta Williams.
As reported by Missing and Murdered, Walker understandably questioned the validity of the information contained in the email. However, upon researching the identity of the sender, she discovered it was Garry Kerr, the lead detective in the investigation into Alberta Williams' murder. In the months following the receipt of the initial email, Walker met with Kerr to discuss his impressions about the brutal crime, and what compelled him to contact the media.
Kerr said he investigated dozens of violent crimes throughout his 30 years with the RCMP. However, Alberta Williams' murder is one of the cases that "really sticks in [his] guts." Although he hesitates to use the word "closure," Garry said he hopes Alberta's killer will be identified and brought to justice for the sake of her family.
In an interview with Missing and Murdered, Kerr admitted he is "not pretending to be judge and jury." However, he spent enough time on the case to have a strong feeling about who is responsible for Alberta Williams' death, and he believes it is time to make that person's identity known. Kerr alleges that the case is absolutely "solvable."
Former detectives have suggested who the alleged killer might be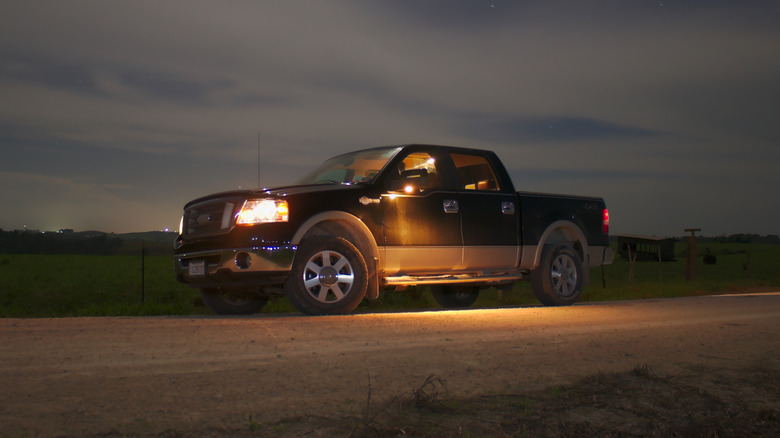 Shutterstock
According to several witnesses, Alberta Williams was last seen getting into a truck outside the now-closed Popeye's Pub. The witnesses all confirmed the truck was driven by Alberta's uncle, Jack Little. Another man, who was described as "non-native," was reportedly in the passenger seat. As reported by Missing and Murdered, Alberta said Little was taking her to a party.
Kerr said he became suspicious when Little, who was described as "very close to Alberta," refused to disclose any details about that evening. In Kerr's opinion, Little's behavior "still raises huge … red flags."
In an interview with Missing and Murdered, another former RCMP officer, who worked with Kerr, said he came to the same conclusion. Rick Ross said he and Kerr "pretty much identified" Little as Alberta Williams' alleged killer "within the first 48 hours." He further stated that they "never really changed" their minds about their initial assessment. Ross admits detectives can "get tunnel vision," but he stressed the fact that he and Kerr explored "every avenue," and both officers allege that all of the evidence pointed to Little.
Alberta Williams' relatives may have seen her alive the day after she went missing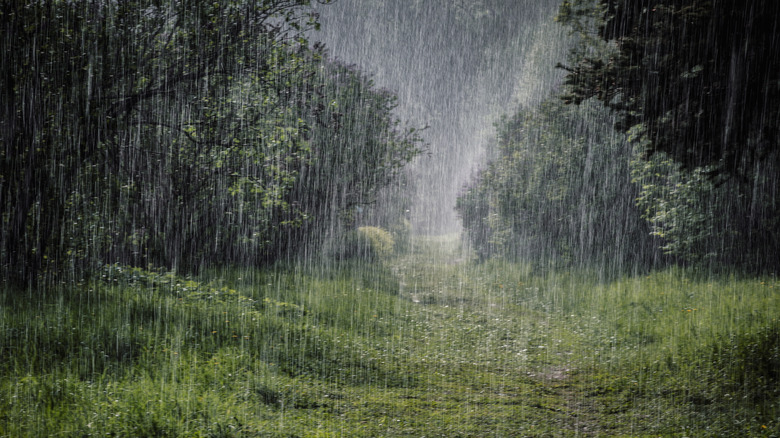 Shutterstock
In an interview with Missing and Murdered, Alberta Williams' aunt, Donna Marsden, said a cousin named Amanda had mentioned seeing Alberta the weekend she went missing. During an interview with investigative reporter Connie Walker, Amanda confirmed the story. According to Amanda, Alberta came to her house with Little and another man to use the bathroom and to borrow $20. Amanda said Alberta was visibly drunk when she arrived and she eventually had to help her back to the truck.
Amanda, her boyfriend Ed, and her younger sister Yvonne, who were all home when Alberta and Little stopped by, insist it was on Saturday, which was one day after Alberta went missing. All three said they are certain of the date, because Alberta said she was on her way home from her grandmother's birthday party.
During their interviews with Missing and Murdered, Amanda and Yvonne also said it was raining heavily that evening. However, Walker said historical weather data proves it never rained on that specific day.
It is unclear whether Amanda, Yvonne, and Ed saw Alberta Williams the day after she was reported missing, or what significance it would have on the case. However, their story does match reports that Alberta was last seen with her uncle Jack and a non-native man in a black truck.
Somebody knows what happened to Alberta Williams
On the evening Alberta Williams vanished, she and her sister Claudia (above) were in a public place with their coworkers, friends, and neighbors. According to multiple witnesses, Alberta was last seen getting into a truck driven by her uncle. In an interview with Daily News, which was posted by A Town Called Podunk, Claudia did not name her primary suspect. However, she said she and her family are certain Alberta was at a party with the killer on the night she vanished.
When authorities contacted Claudia to tell her Alberta's body was found, she alleges that she was with the man she suspects killed her sister. Upon learning the body was found, she alleges the man asked her to watch his children and immediately left town. Although authorities eventually seized and searched the man's vehicle, she and her family were not informed of the results.
As reported by A Town Called Podunk, Claudia thinks witnesses "were afraid to say anything" about what really happened to her sister. However, she said "it's not going to hurt to talk, not now." She said she cannot "understand why people are so sold, just so cold." Alberta Williams' family hopes someone will eventually come forward and provide authorities with the information they need to solve her brutal murder.