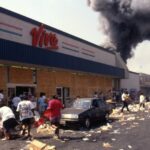 The Truth About The Infamous LA Four
echo get_the_meta(); ?>
Four Black men from South Central Los Angeles became known as the L.A. Four after they were caught on helicopter video pulling a white truck driver from his vehicle in broad daylight and beating him within inches of his life. The brutal attack happened in April 1992 during the Los Angeles riots, which erupted after four members of the Los Angeles Police Department were acquitted of another unwarranted beating caught on video — that of Rodney King. 
On March 3, 1991, before everyone had cell phones and the ability to record any moment, a man named George Holliday happened to catch four white police officers kicking and beating King — a Black man — with their batons as he lay on the ground. According to the Associated Press, King was attacked after he tried to elude police because he'd been drinking and was on probation. When King finally pulled over, Holliday caught the police attack with his video camera from his balcony. The shocking video made the national news. 
The four officers were charged with assault with a deadly weapon and excessive use of force, per History. But when all four walked away free after clearly beating an unarmed black man who was not fighting back, riots surfaced that would last more than five days. On the first day of the violent uprising, a white truck driver — Reginald Denny — was attacked, beaten, robbed, and left for dead on live TV. 
The attack by the LA four was shared in real time
Unlike the Rodney King video, which made its way into the homes of Americans across the nation via the news in the days following the incident, the attack on Reginald Denny was caught live. The footage was captured by news reporter and pilot Bob Ter as he flew over the scene at the intersections of Florence and Normandy. According to Ter — who spoke with The Daily Beast twenty years later (via YouTube) — he was broadcasting live from the chopper as Damien "Football" Williams, Henry Keith "Kiki" Watson, Antoine "Twan" Miller, and Gary Anthony Williams pulled Reginald out of his truck, beat him, bashed his skull with a brick, and robbed the critically injured man. 
Damien and Antoine were to two youngest men involved in the vicious beating. Antoine, who was 20 years old at the time, had been living with Damien's family for years when the incident occurred. It was Antoine who opened the door and pulled Reginald out of the truck, setting the brutal assault in motion. 
Antoine's mother had drug problems and his father split early on, according to the Los Angeles Times. After he was taken in by a friend of his dad's, he would witness his grandmother shoot his grandfather to death while at their home. According to a woman who helped raise him, he was never the same. Antoine ended up being shot to death himself in 2004 at 31-years-old during an altercation outside of a nightclub, per the Los Angeles Times. 
The attack was spontaneous
Kevork Djansezian/Getty Images
Damien Williams was 19 years old when he was caught on video hurling a brick at Reginald Denny's head as the truck driver lay in the street. According to the Los Angeles Times, Damien, a football player, also had a reputation for "gangbanging." He had a 3-month-old baby boy at the time of the attack. It was Damien who attracted the most media attention as the person who not only threw a brick at Reginal's head but followed it up with a dance and a gang sign.
Henry Keith Watson was 27 years old, married with kids, and had a job when he stomped on Reginald's face, neck, and head repeatedly. He had spent time in jail for armed robbery and was trying to turn his life around. He was described as having friends in gangs, but not being a member of any gangs himself. 
The last of the L.A. Four was the opportunist, Gary Anthony Williams, who was 33 years old at the time. Gary had no apparent relation to Damien, and he was not accused of any of the violence toward Reginald. However, he was charged with robbery after emptying Reginald's pockets and stealing his wallet as he lay in the street unconscious and bleeding. A man interviewed by The Los Angeles said that Gary endured the deaths of both of his parents in his teens, graduated high school, and then ending up "a hustler" who was "looking for handouts." 
Reginald Denny survived
Gary Williams plead guilty to attempted grand theft, assault, and robbery and was sentenced to three years in prison, per UPI. A hung jury meant that the assault charge against Henry Keith Watson didn't stick, according to Time. He was ultimately convicted of the misdemeanor of simple assault and sent home after his trial for time served after spending 17 months in jail, The Eagle reported. "I got caught up in the emotions like everyone else," the former marine said of his attack on Reginald Denny.
Antoine Miller was sentenced to 17 months in jail and 27 months of probation for his role in the attack on Reginald. He pleaded guilty to grand theft, assault, and receiving stolen property, per the Los Angeles Times.
Damien Williams was sentenced to ten years for attacking Reginald and four others the same day. He only served four of those years but ended up in prison again for being part of the murder of a drug dealer in 2000. He was sentenced to 46 years in prison in 2003.
Reginald survived the assault but incurred brain damage. According to the Los Angeles Daily News, Reginald was living in Arizona working as a boat mechanic as of 2017.