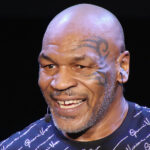 Mike Tyson's Face Tattoo Explained
echo get_the_meta(); ?>
Back when Mike Tyson first showed up in public in 2003 with his now-instantly recognizable tribal face tattoo, the first reaction of many folks was, "huh?" followed by, "why?" followed by, "seriously though, why?" But let's be honest: was anyone going to make fun of him to his face and risk getting detonated by one of Iron Mike's fists? No, sir. Not only was Tyson still the #1 dude who you did not want to get into a brawl with (and also the man with the most disproportionate "intimidating presence: intimidating voice" ratio), he had bitten off a bit of Evander Holyfield's ear during a boxing match back in 1997. Tyson was considered volatile, as well as loose, cannon.
In 2003, as TalkSport reminds us, Tyson stepped into the ring with his freshly inscribed ink and knocked out Clifford Etienne in 49 seconds. This would be Tyson's last career victory, a mere week after getting his first tattoo. His trainer, Jeff Fenech, who'd been training Tyson for eight weeks leading up to the fight, called shenanigans. He said that Iron Mike was sabotaging the fight, essentially, because it "wasn't healthy" to have a boxing match where Tyson's face would get punched days after getting a tattoo on it. Fenech also thought Tyson got the tattoo because he didn't want the fight in the first place. A week before the bout, Fenech walked, and Tyson went on to win in the first round. Two years later in 2005, Tyson retired after back-to-back losses.
Tyson's long road to recovery and rejuvenation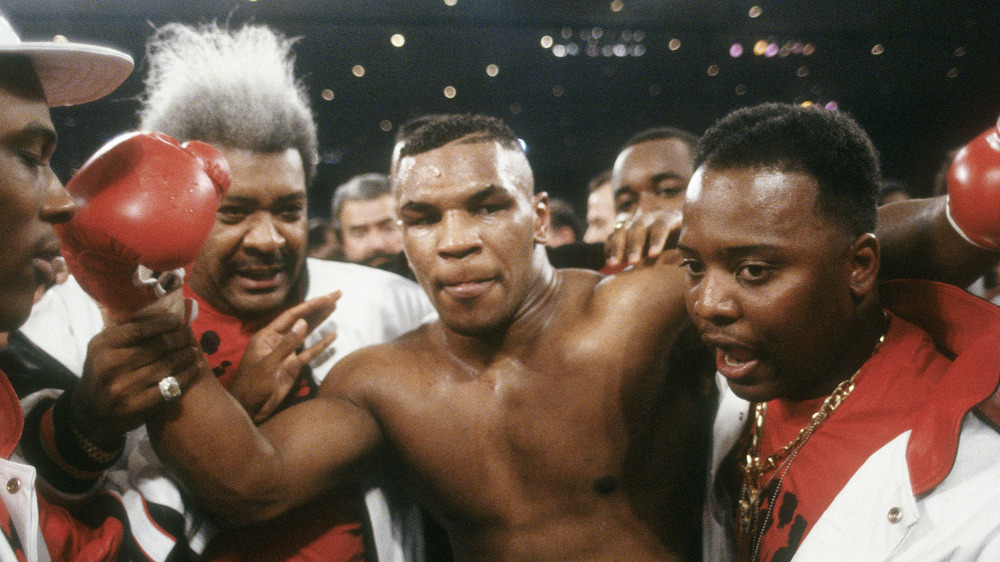 Focus On Sport/Getty Images
The decision to get the face tattoo would be emblematic of this ultimately troubled period of Tyson's life, and reflect on his future choices. In the years since Tyson retired, he's more or less rehabilitated his public image as a troubled brute by being open in interviews, with self-deprecating humor, and getting involved in some cheesy B-movies, such as 2017's legendarily cringetastic China Salesmen (prepare to facepalm your way through the fight with Stephen Seagal, viewable on YouTube). Tyson has started his own weed empire, Tyson Holistic, which, according to the Sun, earns more than $675,000 a month. Tyson himself reportedly cuts into his profit margins quite a bit by consuming (with his friends) $40,000's worth every month at his Tyson Ranch in Mojave Desert, as Marketwatch says. He's also talked about building a cannabis-themed resort.
These decisions aren't just chuckle-worthy, random choices, though. Back around the time he bit Holyfield's ear off and got his tattoo, Iron Mike had some severe substance abuse problems. On top of that, he suffered from chronic pain resulting from his boxing career, for which he was prescribed opioids. Those, however, only destabilized him more. Eventually, he turned to pot, and as his current business partner, Rob Hickman, says, "It changed his life. He's the perfect person." Tyson evened out, and now he wants to support upcoming weedpreneurs, saying, "I thought about how much good I could do by helping people with cannabis… It was a no-brainer."
The true reason Tyson got his tattoo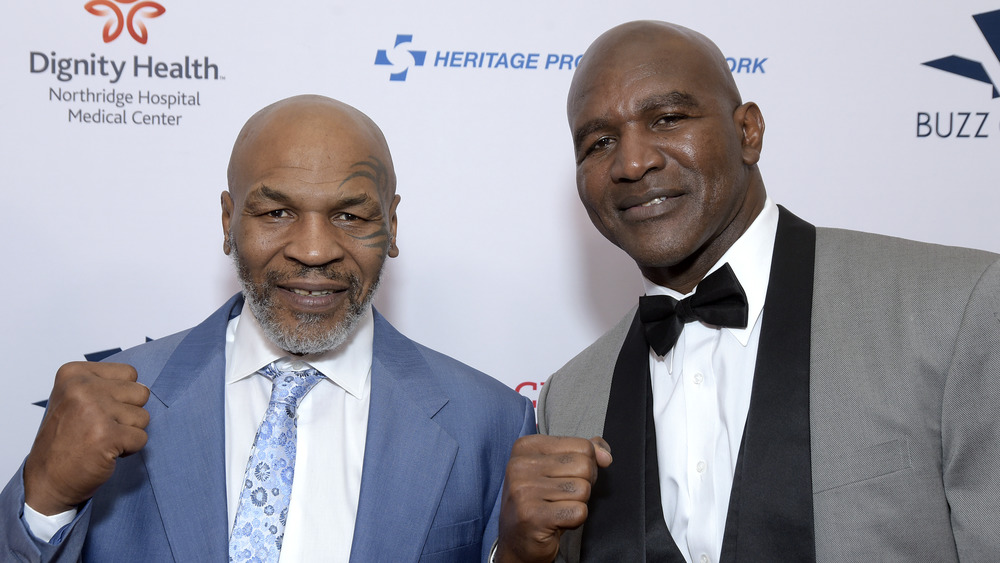 Michael Tullberg/Getty Images
Tyson's new, mellowed state has finally allowed him to get real about his decision to get the tattoo. It boils down to caprice that reflects his drug-addled period. In an interview from 2012, posted on YouTube, Tyson states that he was intending to get "a bunch of hearts and stuff" on his face because he wanted to be known as "The Man of Hearts." Tyson's tattoo artist, Victor Perez, straight-up refused, and instead drafted some tribal patterns. "I just thought it was so hot," Tyson says. "I would be in these dens, these clubs and strip places sometimes and all the girls said 'oh you are very exotic, where are you from?'"
Tyson has also said that the tattoo was meant to honor the Maori of New Zealand, although Maori representatives have not responded kindly to such use of an ancestral moko, especially since it was used in The Hangover, and doubly so because Perez says that it's his original design. "The tattooist has an incredible arrogance to assume he has the intellectual right to claim the design form of an indigenous culture that is not his," Professor Ngahuia Te Awekotuku said in the New Zealand Herald.
In 2014, though, Tyson finally fessed up about the real reason for his tattoo. As Sportcasting recounts, Tyson said of his dark period, "I just hated myself… I literally wanted to deface myself." Capricious though it was, the tattoo was also his first step toward making positive choices.