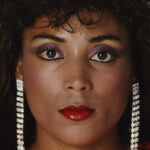 Olympians Who Died Too Soon
echo get_the_meta(); ?>
The life of an Olympic athlete can be an arduous one. Only the best of the best get to represent their countries in the Olympics, and as such, you'd expect that the athletes who make it to the games are as fit as a human being can possibly be. Still, while their physical performance in their respective sports is quite demonstrably top-level, that doesn't mean they invariably live long and healthy lives. In fact, there are countless ways that even a person whose physique has been fine-tuned to Olympian quality can end up in an early grave in a shocking and tragic fashion.
While studies have found that U.S. Olympians live roughly 5.5 years longer than regular folks (per the British Journal of Sports Medicine), even the most impressive athletic ability isn't enough to grant immortality. As such, a person might go to the Olympics, return to their healthy everyday life, and still perish at an early age for any number of reasons, from weirdly mundane to outright horrifying. Let's take a moment to look into the stories of these Olympians who died too soon.
Matti Nykanen
David Madison/Getty Images
When Matti Nykanen first competed in the Olympics, he made clear that he was a peerless athlete (via Olympics.com). The Finnish ski jumper immediately won the gold at the large hill by a record-breaking margin, and he went on to win another medal in the normal hill event — a silver this time. Per YLE, that was the last time Nykanen would deign to take home any Olympic medals that weren't golden. In the Calgary Olympics in 1988, he won no less than three of the brightest medals. 
As The Guardian attests, Nykanen's achievements made him one of the best ski jumpers in history, if not the absolute greatest. Unfortunately, the rest of his life didn't quite match up to his athletic accomplishments. The former sports star's alcohol abuse, five marriages, two stints in prison for assault with a knife, and tabloid-friendly singing and even stripping endeavors made sure that all eyes were on him, often for all the wrong reasons.
Nykanen's turbulent life came to an early end in 2019, when the 55-year-old suddenly died of an inflammation of the pancreas (per YLE). 
If you or anyone you know is struggling with addiction issues, help is available. Visit theSubstance Abuse and Mental Health Services Administration websiteor contact SAMHSA's National Helpline at 1-800-662-HELP (4357).
Florence Griffith Joyner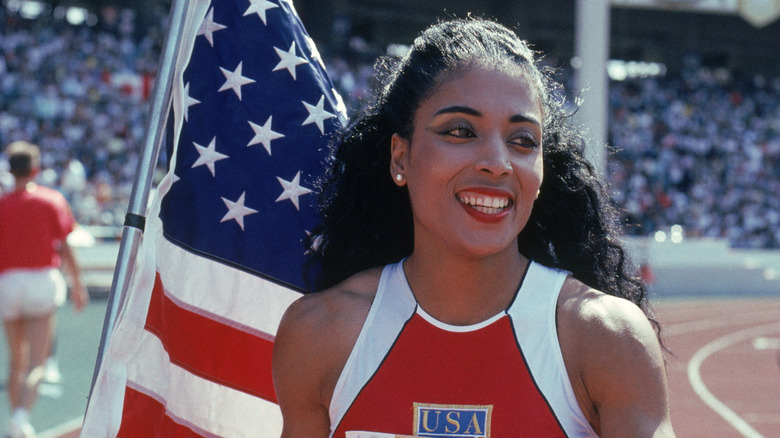 Tony Duffy/Getty Images
As Biography tells us, Florence Griffith Joyner was one of the most dominant sprinters in history, and her legacy seems to be cast in stone. When Shelly-Ann Fraser Pryce ran the fastest time in women's 100 meters in 33 years in June 2021, it was the fourth-best performance in history (per NBC Sports). The three best ones? All Flo-Jo. She was so dominant that despite the fact that she last competed in the 1988 Seoul Olympics, she still holds the world records for both women's 100 and 200 meters. 
The combination of Joyner's sheer talent and a signature look that involved fashionable outfits and long, colorful fingernails made her a fast celebrity, in more ways than one. In purely Olympic terms, her 200-meter silver medal at the 1984 Los Angeles Olympics was nothing to scoff at, but per Britannica, Seoul was her true high point. There, she set both of her still-standing world records and also competed in the 100- and 400-meter relay races, which led to a haul of three gold medals and a silver. Soon after this, she retired from the track. 
Unfortunately, her life was cut short in 1998, when an epileptic seizure caused the 38-year-old Joyner to suffocate in her sleep (via the Los Angeles Times). Joyner's early death and sheer dominance on the track caused murmurs about doping, but she passed every test that she took. Even the autopsy found no signs of performance-enhancing drugs.  
Drazen Petrovic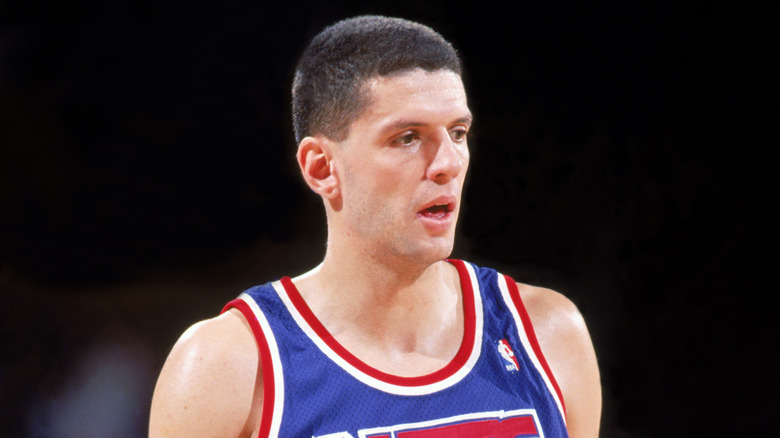 Tim Defrisco/Getty Images
When the Olympics' official website says that an athlete might be the best in the history of Europe, said athlete is well worth paying attention to. Such was the case with Drazen Petrovic, the legendary basketballer from the former Eastern European country of Yugoslavia (via the U.S. Department of State). One of the few European players in the NBA in his heyday, the towering shooting guard and his team gave Yugoslavia a bronze medal from the 1984 Los Angeles Olympics and a silver from Seoul in 1988. In the Barcelona Olympics of 1992, he represented the freshly independent (per The New York Times) Croatia and might very well have added gold in his repertoire if it wasn't for the fact that the unbeatable U.S. "Dream Team" – which consisted of Magic Johnson, Michael Jordan, Larry Bird, Scottie Pippen and the like (via Bleacher Report) — was his team's final opponent. 
Unfortunately, Petrovic's career and life were cut short in 1993. According to The Washington Post, the car he was traveling in crashed into a truck not far from Frankfurt, Germany, and all three people inside died. Petrovic was only 28.
Though the basketball player died in his prime, he remains a legend in his home country and his sport. Croatia has erected a statue in his honor and named a square and a basketball arena after him.
Flo Hyman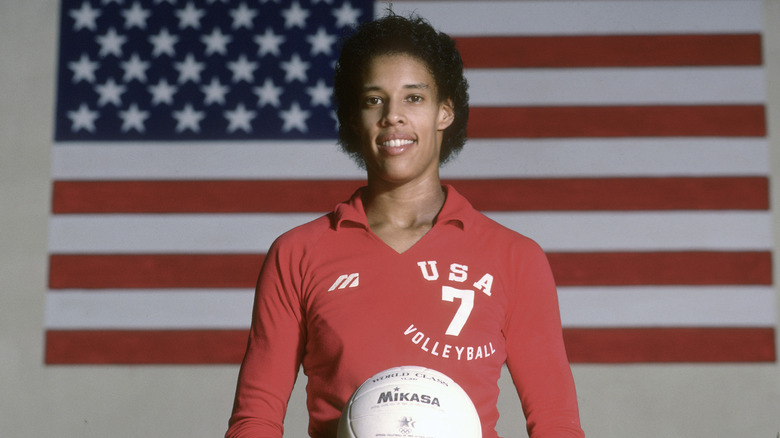 Focus On Sport/Getty Images
In the three Olympics she took part in, U.S. volleyball legend Flo Hyman won one silver and two bronze medals (per Olympics.com). Unfortunately, the 6'5″ athlete died during her active career. As the Los Angeles Times notes, in 1986, the 31-year-old Hyman was sitting on the bench during a league volleyball match in Japan, when she suddenly fell and was rushed to the hospital.
The gravity of the situation was not apparent at first. "It was the third set, and Flo had just come off the court," Hyman's friend Marty Kuehnert described the events. "She was sitting in the middle of the bench, cheering for her team, and she just keeled over. Flo had fainted in the past. [Hyman's teammate Rita Crockett] told that Flo had just fainted, so she thought it was OK to continue the match."
This, however, was more than fainting. Hyman's heart had failed, and she died in the hospital. It later came to light that, unbeknownst to anyone, the star had Marfan Syndrome, which can put serious strain on the heart and arteries (per the CDC). 
Though Hyman died at an early age, her legacy lives on in the shape of the Flo Hyman Award, given to the female volleyball player who "'embodies the spirit and dignity" of Hyman (via The New York Times). Also, Women's Sports Foundation notes that part of the reason the annual National Girls and Women in Sports Day got its start in 1987 was to honor Hyman. 
Camille Muffat and Alexis Vastine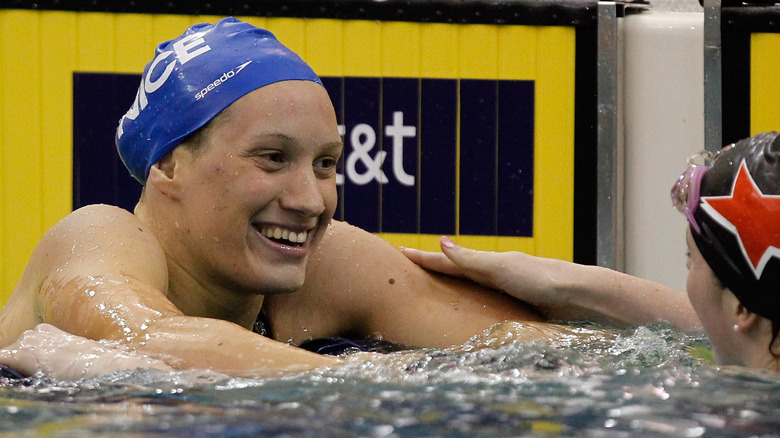 Streeter Lecka/Getty Images
March 9, 2015, was a dark day for French sports. On that day, according to the Australian Broadcasting Corporation, three of the country's top athletes — 25-year-old swimmer Camille Muffat (pictured), 28-year-old boxer Alexis Vastine, and 57-year-old sailor Florence Arthaud – died in a bad two-helicopter crash that took the lives of a total of 10 people. Per the BBC, both Muffat and Vastine were Olympians. Muffat competed in the 2008 Beijing Olympics and the 2012 games in London, in which she won the 400-meter freestyle event, took silver in the 200-meter freestyle, and completed her collection with a bronze from the 4×200-meter freestyle relay (per Olympics.com). Vastine's Olympic success came in Beijing, where he won a bronze medal as a light welterweight. 
The crash that took their lives happened in a distant part of Argentina, where the athletes were shooting a reality survival show that was, darkly enough, called "Dropped." The premise of the show was to see how the sports stars would survive in the wilderness, but as one chopper was circling around the other, a pilot error caused their rotors to come in contact. The ensuing disaster sent both helicopters crashing to the ground, in full sight of the rest of the show's horrified stars. 
Steve Prefontaine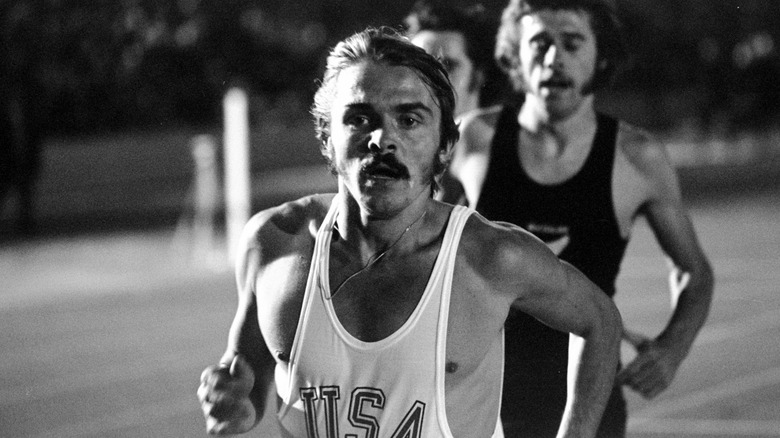 Tony Duffy/Getty Images
Steve Prefontaine was arguably the greatest American runner of the early 1970s, per The New York Times. A slim small-town boy who turned to running as a last-ditch effort to keep on the straight and narrow path, Prefontaine proved to be a natural, and he ran all the way to the 1972 Munich Olympics. 
Prefontaine was no slouch. As Sports Illustrated notes, at one point he held the U.S. records at 2,000, 3,000, 5,000, and 10,0000 meters, as well as 2, 3, and 6 miles. Unfortunately, being the best in his country wasn't enough to make him the best in the world, and he ended up placing fourth at the Olympics' 5,000-meter race, with the bronze medal winner running past him just before the finish line.  
Apart from that disappointment, though, the runner was a dedicated and talented athlete, and there's no telling what he would have won if his life hadn't ended so prematurely. In 1975, the 24-year-old runner was driving his convertible after a party with fellow athletes, the car flipped after hitting a curb, and he was stuck underneath. Prefontaine, who had been intoxicated, died on the scene.
Lara Van Ruijven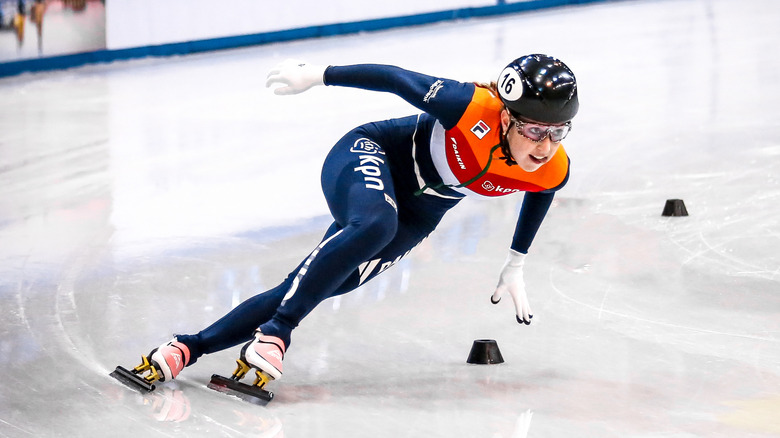 Shutterstock
There's no telling what speed skater Lara Van Ruijven could have achieved, had she not died in 2020 (per NBC Sports). She took part in both the Sochi Olympics in 2014 and the PyeongChang games in 2018. In the latter, her 3,000-meter relay team took home bronze, setting a world record in the process. Before, during, and after her Olympic glory, Vain Ruijven raked in both team and individual wins, and at the time of her death, she was the 500-meter individual speed skating world champion. 
On June 25, 2020, Van Ruijven's health took a quick and shocking turn for the worse. She left her training to go to a hospital, where, per People, she soon fell into critical condition and had to be put in a medically induced coma. Multiple surgeries couldn't save her life, and the Associated Press announced her death of "complications from an autoimmune reaction" on July 10. She was only 27 years old. 
The news of Van Ruijven's death sent shockwaves through the world of sports, and understandably, the Dutch skating community in particular. "It's incomprehensible that she has been taken from us while in the prime of her life," Dutch Skating Federation director Herman de Haan said of the news.  
Mika Myllylä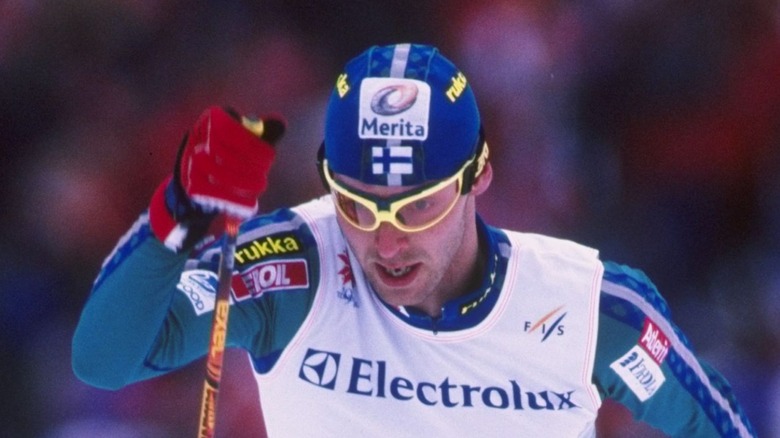 Shaun Botterill/Getty Images
Finnish skier Mika Myllylä was one of the best winter athletes of his day, as his six Olympic medals — including a gold from Nagano in 1998 — readily prove (via The New York Times). However, he was knocked off his pedestal in 2001, when a doping scandal landed him and five other members of his team a two-year competition ban. 
Myllylä's career never recovered, and as The Star tells us, his unsuccessful attempt at a comeback led to a difficult transition to normal life, pockmarked with alcohol abuse and brushes with the law. In 2011, he was found dead in his home at just 41 years old. "We do not believe that the death is linked to a crime," the police said (per The Sydney Morning Herald). "The cause of death will be investigated."
The athlete's true cause of death was ultimately not released, which ended up causing a minor scandal. As the Helsinki Times tells us, the case caused a large amount of curiosity within the police. In 2014, no less than 72 people — all of them affiliated with law enforcement — were convicted for looking into the particulars of the skier's death without a justifiable cause. 
If you or anyone you know is struggling with addiction issues, help is available. Visit theSubstance Abuse and Mental Health Services Administration websiteor contact SAMHSA's National Helpline at 1-800-662-HELP (4357).
Andrew Simpson
Andrew "Bart" Simpson was a highly successful British sailor who, along with his good friend Iain Percy, won gold at the 2008 Beijing Olympics (per the BBC). While they didn't quite repeat the trick at their home Olympics in London 2012, they still got a silver medal. However, the year 2013 brought a tragic end to Simpson's life. On May 9 of that year, the 36-year-old sailor was part of the 11-man crew of a 72-foot catamaran that was training in the San Francisco Bay when it suddenly capsized and broke apart. Though the other crew got away safely, Simpson remained under the pieces (via the BBC). 
According to SF Gate, Simpson was underwater for up to 15 minutes and couldn't be recovered until he'd already perished. "I lost my closest friend of over 25 years, the friendliest and kindest man I have ever met," his teammate and Olympian friend Percy commented. It was eventually determined that the whole incident was accidental, and a toxicology report revealed nothing out of the ordinary in Simpson's system. He'd reportedly received several blows to his head during the incident, and a combination of them and drowning was ultimately the cause of death. 
Lillian Board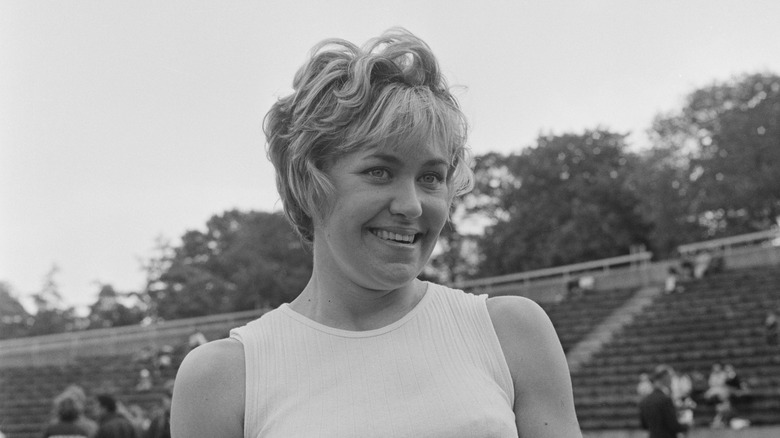 Evening Standard/Getty Images
Lillian Board was one of the great British runners of her era, per Olympics.com. Board's sole Olympic medal was a silver in the 400-meter race at the Mexico City Olympics in 1968, but she was a capable competitor at pretty much any distance, be it 100 or 1,500 meters. She also set a number of world records as part of her country's relay teams. 
Board's athletic career was cut short when she started experiencing severe stomach pains, which turned out to be a particularly aggressive bowel cancer (via the BBC). After several surgical operations to deal with her intestinal issues, she died in 1970 after what her doctor described as "a terrible series of complications." Board was 22 years old.
To underline how tragic it is that the athlete's life ended at such an early age, it's worth noting that she was a huge deal for her country. Board referred to as the "Golden Girl of British athletics," and her accomplishments were so highly esteemed that shortly before her death, she was awarded with a Member of the Order of the British Empire award, commonly shortened as MBE (per the BBC).
Dave Laut
Dave Laut was an American shot putter, and he was so good at what he did that he won the bronze medal at the 1984 Summer Olympics in Los Angeles (via The Washington Post). In August 28, 2009, the 52-year-old former Olympian's life ended in an extremely violent way when an intruder shot him multiple times in his backyard. Well, that's what everyone thought at first, anyway. The police eventually arrested none other than Jane Laut, Dave's wife, who had made the 911 call and had given the intruder story. 
The victim had a reputation as a nice man and a pillar of the community, but during the legal proceedings, Jane Laut and her defense stated that Dave had been abusing her in a ruthless way for many years, and things escalated when Laut threatened to kill her, along with their son and pets. She also rejected a number of plea deals, as they would have made her seem guilty. The prosecution didn't believe this, arguing that Jane had massive financial problems and Dave was considering a divorce, which escalated the situation to the point of murder.
The jury ended up siding with the prosecution's view, and in 2016, Jane Laut was sentenced to 50 years in prison for her husband's murder.
If you or someone you know is dealing with domestic abuse, you can call the National Domestic Violence Hotline at 1−800−799−7233. You can also find more information, resources, and support attheir website.