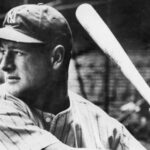 The Untold Truth Of Lou Gehrig
echo get_the_meta(); ?>
When people die young, it's always a tragedy. But when people at the top of their game die, the sadness is intensified.
Lou Gehrig, one of baseball's all-time greats, began his career at the top of his game but just a few years later saw his physicality decline. Gehrig was one of the first prominent people to be diagnosed with amyotrophic lateral sclerosis (ALS). Gehrig's battle with the disease was so public that his name was given to it; it was referred to as Lou Gehrig's disease for many years.
Gehrig was born in 1903 to German immigrant parents, explained his official website. Despite having three other siblings, Gehrig was the only surviving child. His parents struggled to provide for the family, so when he got a scholarship to play football for Columbia University while pursuing an engineering degree, he took it. At the advice of New York Giants manager John McGraw, Gehrig played baseball for Hartford. He had to do it under an assumed name, Henry Lewis, because doing so jeopardized his college career. He was discovered, though, and had to miss one season of college sports.
Gehrig returned in 1922 to play football for Columbia and, in 1923, joined the university's baseball team. Almost immediately, Gehrig's baseball skill attracted attention. A baseball scout saw him at-bat that same year and signed him on to the Yankees with a $1,500 bonus. Gehrig left school and joined Hartford while waiting for the Yankees to call him up.
His record of consecutive games was only broken in 1995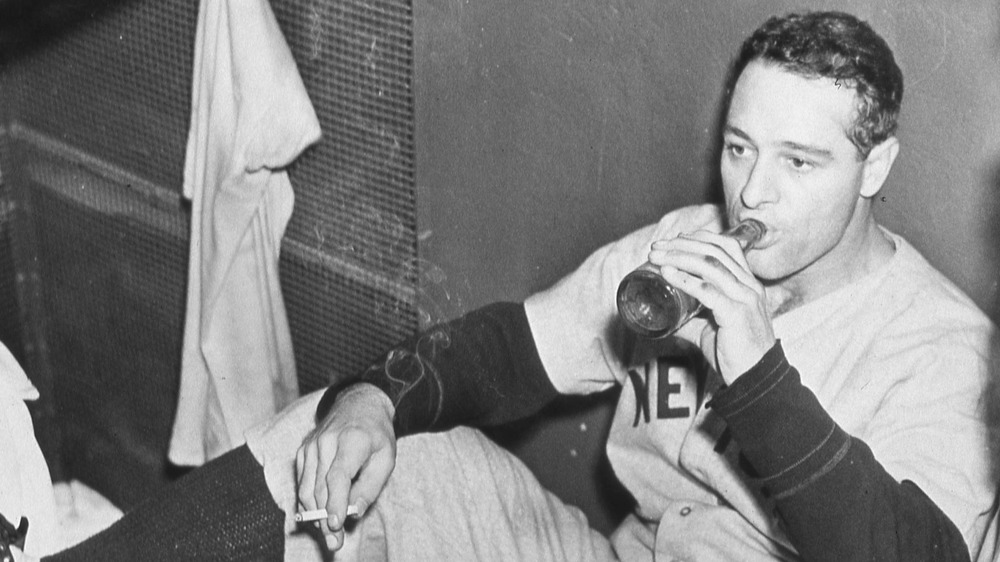 Transcendental Graphics/Getty Images
Gehrig became a full-time Yankee by 1925. For the next 13 years, Gehrig never missed a game with the team. ESPN reported Gehrig played 2,130 games, earning him the nickname "Iron Horse." His stats were impressive: He hit more than 400 home runs and 1,990 runs. He never called in sick and played through several injuries, including, says his website, back spasms, a broken toe, and a fractured thumb.
In his years of playing, Gehrig had a friendly rivalry with another baseball legend and teammate, Babe Ruth. Gehrig and Ruth were neck-and-neck in terms of the number of home runs. Gehrig became the first player to hit four home runs in a single game. It would've been five home runs, but his last one was caught. Despite being friendly for their first few years, Ruth and Gehrig stopped speaking to each other for six years.
But in 1938, Gehrig began declining. Biography wrote he not only had trouble on the field, but noticed he also had trouble just tying his shoelaces. People believed age was catching up to him, especially since he'd never missed a game before. He told reporters that he just felt tired in the middle of the season.
When 1939 rolled around, Gehrig got worse. His hitting power was reduced, he wasn't as fast running bases, and he collapsed during spring training. Something was wrong, and he wanted to find out what.
The luckiest man alive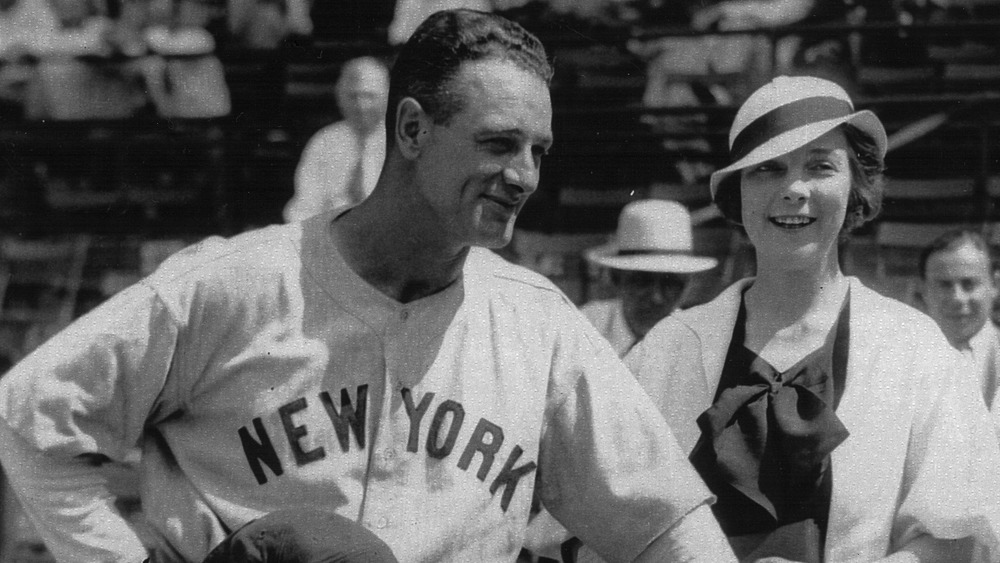 Transcendental Graphics/Getty Images
Gehrig played a couple of games during the 1939 season but benched himself soon after. The head of the Mayo Clinic told Gehrig's wife, Eleanor, to bring him to the clinic as quickly as possible. There, Gehrig was diagnosed with ALS.
Doctors had been aware of ALS since the 19th century, but it wasn't a disease that was on the public's radar. Doctors told Gehrig and his wife the grim prognosis: He can no longer play baseball, as paralysis was rapidly settling in, and he may only have three years left to live. ALS, then and now, has no cure, though research money has been pouring in. (Remember the ice bucket challenge? That was to raise funds for ALS Association.)
Gehrig went to the Yankees and announced his retirement. To show their appreciation, the Yankees held "Lou Gehrig Appreciation Day" on July 4, 1939, following a game. Amid the accolades from New York City Mayor Fiorello LaGuardia and other dignitaries, it was a hug from former teammate Ruth that showed how much Gehrig was appreciated. During the event, Gehrig stood at the center of the diamond and gave his now-famous "I am the luckiest man alive" speech. After his retirement, Gehrig was inducted into the Baseball Hall of Fame and then given a post on the parole board to help troubled youth.
Gehrig died on June 2, 1941, from ALS. His legacy, though, extended far beyond baseball.