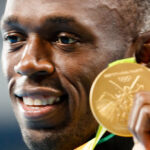 Olympic Records That Will Probably Never Be Broken
echo get_the_meta(); ?>
The Olympics are all about history. Although the first modern Olympic Games were held 125 years ago, the tradition dates back more than 3,000 years. In Ancient Greece, several sporting competitions were held on a regular basis, but the games held at Olympia were especially important, and served as the inspiration for the modern version, held for the first time in 1896 in Athens.
The international nature of the Olympics has given the games special significance. Politically and culturally, the games are often seen as a way to foster international brotherhood and world peace. But the Olympics will always be primarily about athletic achievement. Athletes from all over the world train for years in order to compete against each other, and that drive to win a gold medal often leads to spectacular results. And spectacular result often means setting a new world record.
But there are world records and there are World Records. Some records stand for a few years, others a few decades. But with most world records you kind of assume someone will eventually come along and break it—part of our nature as humans is the way we constantly look forward and assume progress. But there are a handful of Olympic records that are just so dominant, so incredible, there's every possibility they will never be surpassed. Here's a list of Olympic records that will probably never be broken.
China's 53 medals in table tennis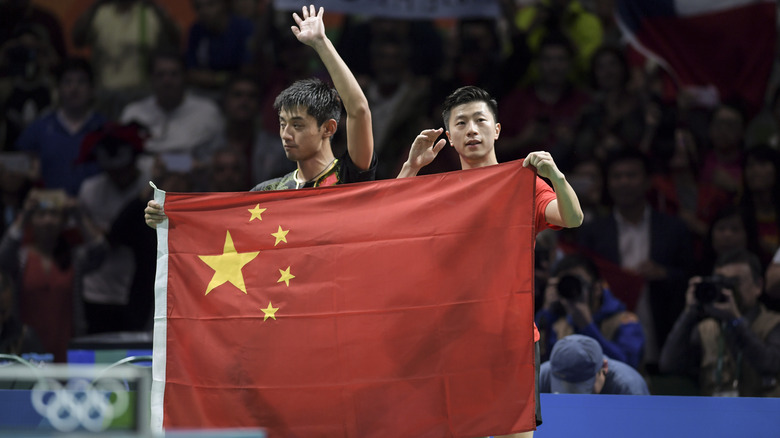 Shutterstock
When you think of the Olympics, you probably think of track and field events, or skiing, or swimming—classic athletic competitions held outdoors. But the Olympics has more than 400 events spanning 35 different sports, and not all of them are what we might consider "sports." Like table tennis, for instance. Which is essentially ping pong.
Added to the Olympics in 1988, table tennis is serious business—and there is no place in the world it is more serious than China. In fact, the Chinese take table tennis so seriously they have dominated the sport in the Olympics in a way that will likely never be challenged. The Chinese Table Tennis team has won 28 of a possible 32 gold medals over the years—not to mention 17 silver and 8 bronze medals, for a grand total of 53. Out of 100.
To put that record in perspective, China's closest competitor in table tennis is South Korea, which has a grand total of three gold medals—and just 18 overall. In fact, the Chinese Table Tennis team is so good according to USA Today some of their best players actually have to go play for other countries just to make an Olympic team.
Florence Griffith-Joyner's 10.62 second finish in the Women's 100-metre dash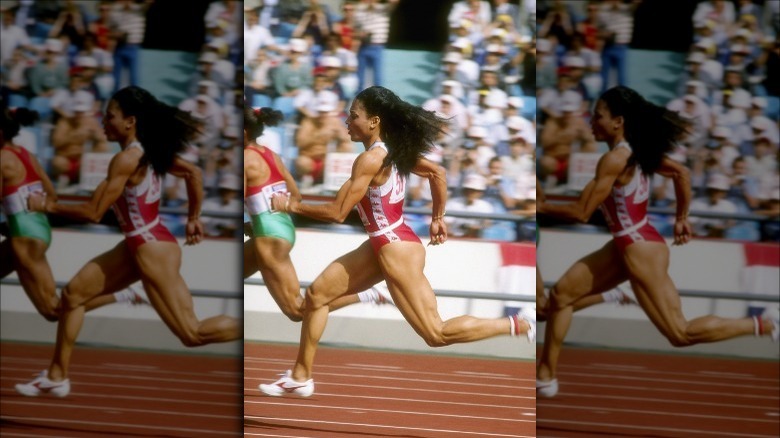 Tony Duffy/Getty Images
As noted by the Los Angeles Sentinel, one of the most amazing things about Florence Delorez Griffith-Joyner's athletic career is the fact that she'd given up on it by the age of 20. In 1979, Flo-Jo was working as a bank teller, and had to be convinced to get back into track-and-field running. Nine years later, she set a record in the Women's 100-metre dash, hitting the finish line in 10.62 seconds in a non-wind-aided sprint.
More than three decades later, the record still stands. There have been some very close calls in terms of breaking the record—according to Reuters, in 2021, Jamaica's Shelly-Ann Fraser-Pryce ran a 100-metre dash in 10.63 seconds. But that also demonstrates the difficulty level in breaking this record, because two hundredths of a second is a lot in this race, and as ESPN notes the event is often won or lost based on how quickly you can react to the starting gun.
What's truly remarkable about Flo-Jo's record is that she actually broke it later in the 1988 Olympics, running the 100-metre final in 10.54 seconds. But because that run was considered to be "wind-aided" (i.e., she had the wind at her back) it wasn't counted as a world record.
Bob Beamon's 29 foot and 2 1/2-inch long jump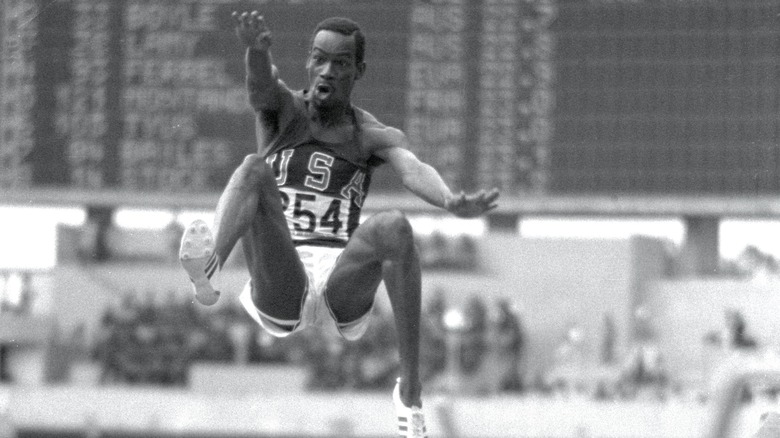 Tony Duffy/Getty Images
It's actually kind of crazy that Bob Beamon isn't a household name, because the man did something incredible at the 1968 Olympics. As ESPN explains, Beamon didn't just break the world record for the long jump. He eradicated it. Prior to Beamon's jump, the world record for the long jump stood at 27 feet, 4 and 3/4 inches. Over the prior eight years the record had been set and re-set a few times, but the total distance crept forward just an inch or so each time.
Then Bob Beamon came along. As World Athletics reports, he smashed through the 28-foot barrier and kept going through the 29-foot barrier. He set the new record at an incredible 29 feet, 2 and 1/2 inches. To put his achievement into perspective, not only has his Olympic record stood for more than 50 years at this point, but the Olympics officials didn't even have a measuring device long enough to measure his jump. Everyone just stood around while they searched for extra tape measures, finally putting Beamon into the record books.
It's important to note that Beamon's record is an Olympic record. In 1991, Mike Powell jumped 29 feet and 4 and 1/2 inches at the 1991 World Championships in Tokyo, setting the overall world record. But the chances of anyone beating Beamon's Olympic record remain vanishingly small.
Michael Phelps's 23 gold medals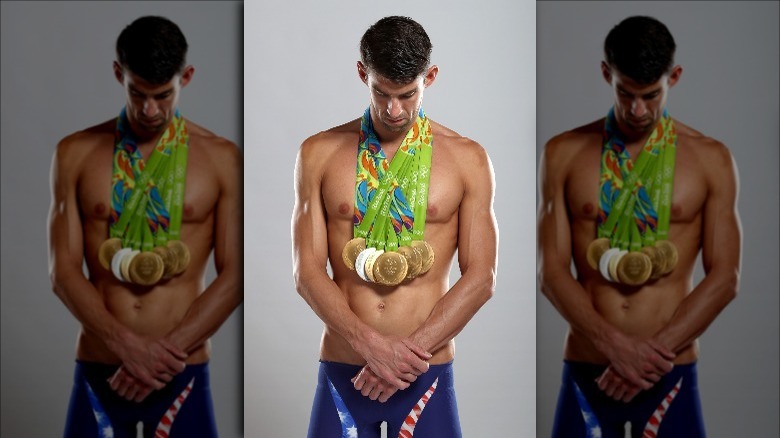 Al Bello/getty Images For Mmpp/Getty Images
Olympic records aren't always about an individual event performance. One record that seems pretty impossible to beat is most gold medals won by an individual, which swimmer Michael Phelps set in 2016 when he won his 23rd gold at the Rio Olympics. Phelps has 28 medals overall, which puts him comfortably in first place as the athlete with the most medals. Considering that no other athlete has dominated their sport quite like Phelps did—he took gold in more than 80 percent of the events he competed in—this is a record that's likely to stand more or less forever.
To put it in perspective, before Phelps the record holder for most medals overall was Larisa Latynina, a Soviet gymnast who won 18 medals between 1956 and 1964. That's a lot of medals, but only nine of them were gold. To put it further in perspective, according to Sportshubnet Phelps has more Olympic gold medals than most countries. To make it all even more impressive, according to NBC sports during his epic run Phelps also set a record for most gold medals won at a single Olympics, with eight in Beijing in 2008. Let's just say that Michael Phelps will no doubt be remembered as one of the greatest Olympians of all time and leave it at that.
Usain Bolt's 9.63 second run in the 100-metre dash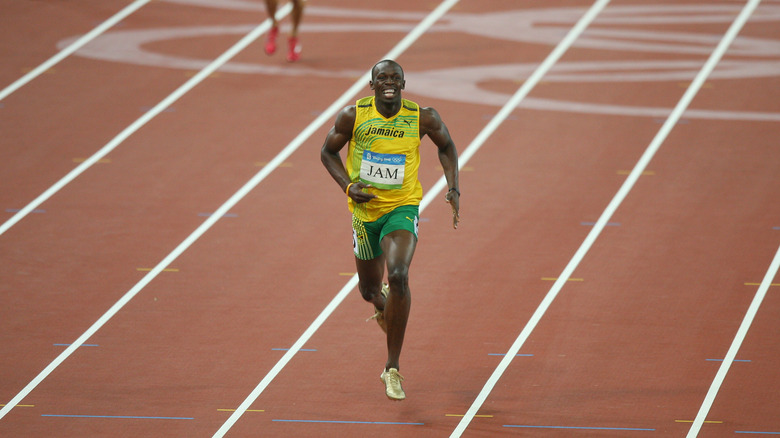 Shutterstock
Usain Bolt is indisputably the fastest human being in history. Bolt owns so many speed records it's almost unbelievable—the only reason anyone has any hope of winning gold medals at future Olympic running events is because Bolt retired in 2017.
Bolt's credentials are impeccable. In 2012, Bolt set the Olympic record in the 100-metre dash with an incredible 9.63 second run. That's a performance that will likely stand the test of time, but just in case, Bolt has backup: As SPORTBible reminds us, he set the 100-metre dash world record in 2009, running it in just 9.58 seconds. The Encyclopedia Britannica helpfully points out that scientists have measured Bolt's top speed at 27.33 miles per hour, which means he could get a speeding ticket running down most American residential streets.
Even if he loses the Olympic record sometime in the future, someone's going to have to run really fast to take away his overall record—and for extra insurance, Bolt also holds the second-fastest 100-metre Olympic record with his 9.69 second performance in Beijing in 2008. Basically, there's Usain Bolt, and then there's everyone else.
Nadia Comaneci's perfect routine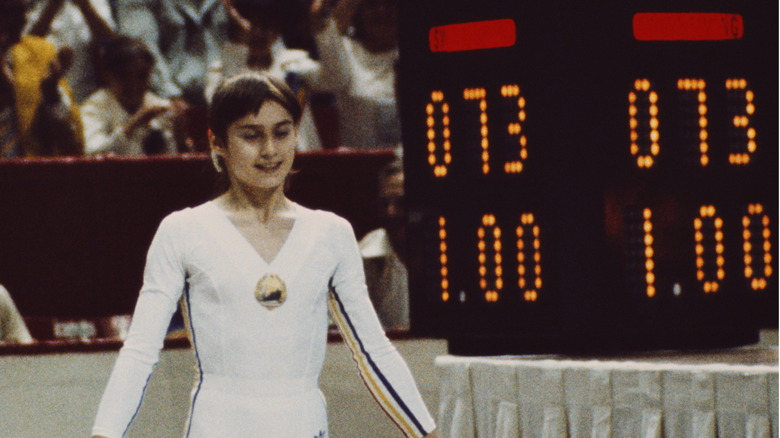 Don Morley/Getty Images
Most Olympic records are technically breakable even if they seem out of reach. Someone could run faster, or win more medals, or score more points. Which makes Nadia Comaneci's performance at the 1976 Olympics in Montreal one of the most remarkable records ever set, because it can literally never be broken.
That's because, as reported by AP News, Comaneci's performance that year was literally perfect. She was the first gymnast to ever score a perfect 10 at the Olympics. It was so unexpected the scoreboards initially displayed 1.00 across the board because they had not been programmed to accept 10 as input.
There are two reasons Comaneci's record will never be broken. For one, it's perfection, so it can literally only be matched (and it has, several times according to The Medal Count—by a lot of people, including Mary Lou Retton), and that still leaves Comaneci as the first to do it. For another, as reported by The Mercury News, the International Gymnastics Federation changed its scoring system back in 2006. There can never be another Perfect 10, because gymnastics aren't scored that way anymore. That's why you haven't heard about Simone Biles scoring a Perfect 10—because she almost certainly would have, under the old system.
Bob Hayes' unofficial 8.6 second 100-metre dash in 1964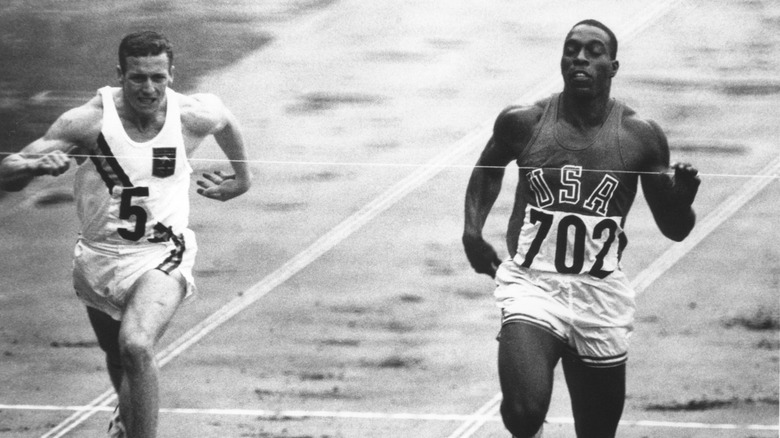 Hulton Archive/Getty Images
To be quite clear, Bob Hayes no longer holds the Olympic record or the world record in the 100-metre dash today—that honor goes to Usain Bolt. But Bob Hayes—who had a very unusual running form—holds one of the most incredible unofficial records in Olympics history.
As The Guardian reports, Bob Hayes arrived at the 1964 Tokyo Olympics a world-record holder, but events conspired to make him an underdog in the competition. First, he lost a shoe. Fooling around with boxer Joe Frazier before the event, Hayes realized just before suiting up that Frazier had somehow misplaced one of his spikes. Hayes had to race around checking shoe sizes, finally borrowing a pair from fellow runner Tom Farrell. Then he was assigned lane one on a cinder track—the last time a cinder track was used in the Olympics. His lane was torn up and in rough shape from a previous race, offering plenty of opportunities to trip or simply be slowed down. He still managed to set an Olympic record in the 100-metre dash that day, despite these setbacks.
But the most incredible moment of Hayes' Olympic career came when he ran anchor in the 4×100 meter relay race later. When he took the baton, the USA was in fifth place, but he went on to secure the gold medal. His unofficial time of 8.6 seconds over those final 100 meters has never been beaten—even by Usain Bolt.
Team USA's collective 239 medals at the 1904 Olympics
The United States has done pretty well over the course of the Olympics' 125-year modern history. As SBNation reports, the U.S. became the first country to win 1,000 gold medals back in 2016 at the Summer Games in Rio—but its domination is even more intense than that. Statista tells us that the USA currently has a total of 2,522 medals overall—almost 1,000 medals ahead of their nearest competition, the combined Soviet Union and Russian Federation.
While that's an impressive lead, you can't say the record will never be broken. The USA could enter a steep athletic decline (or cease to be a country), or another country could simply go on a tear. It might take another 125 years, but it's not impossible.
What would be virtually impossible is breaking the United States' record of winning 239 medals in a single Olympics, which Guinness World Records tells us they accomplished in 1904 (there's some debate over which events were officially Olympian, so some sources list 248 medals). The United States was so dominant in St. Louis that year they won more than 85 percent of all the available medals. Factors that fed into the achievement include the low number of participating countries: Olympedia tells us only 10 countries competed. In today's more crowded and competitive field, it's doubtful any country breaks this one.
Ian Miller's 10 appearances
While individual records often come down to tiny differences in time or single points scored—and thus can conceivably be broken despite extreme difficulty—some other kinds of records seem a bit more assured. Equestrian Ian Miller holds a record that will most likely stand forever: According to Boston.com he's competed in the most Olympic Games with 10 appearances over the course of 40 years.
Competing in the Olympics is hard. They only come around every four years, which means you have to stay in shape for long periods of time—and you're four years older every time. Training is expensive and exhausting. Only two other athletes have competed in nine Olympics, according to Olympics.com—Hubert Raudaschl and Afanasijs Kuzmins—making it very unlikely Miller's record will ever be broken.
Incredibly, Miller (who is known as "Captain Canada" in his home country) might have managed 12 Olympics if not for circumstances beyond his control. In 1980, many Western countries, including Miller's Canada, boycotted the Olympics in Moscow. And Sportshubnet reports that in 2016, Miller would have competed at age 65 if his horse had not been injured. His daughter, Amy, took his place on the Canadian team.
Kwon Jong-Ryul and Arianne Cerdena's gold-medal bowling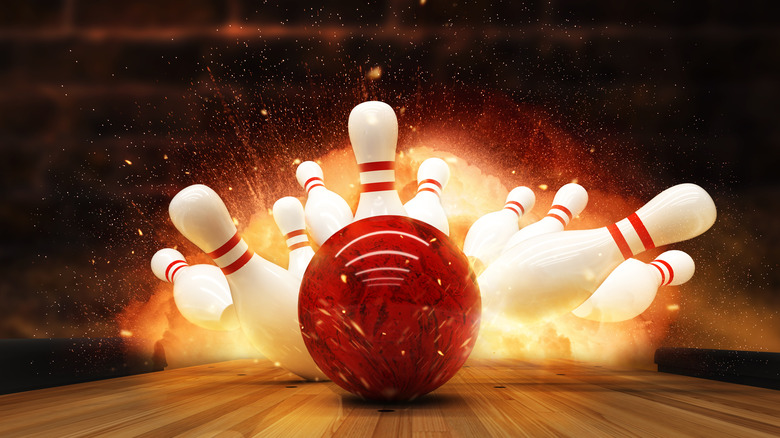 Shutterstock
As things stand today, South Korea's Kwon Jongryul and the Philippines' Arianne Cerdena are the greatest Olympic bowlers of all time. And they are likely to retain that status forever, for the simple reason that it is very unlikely bowling will ever return to the Olympics.
As reported by FloBowling, fans of the sport have been trying to get bowling added to the Olympic program for years without success. The problem is almost certainly one of popularity: While bowling is a popular casual pastime for many, it doesn't have a huge following, especially among younger fans the Olympics is desperate to attract.
In fact, bowling has had only one shot: As Fox Sports notes, bowling was part of the Olympic games in Seoul, South Korea in 1988. As Topend Sports explains, bowling was a non-medal "demonstration sport" that year, so Kwon and Cerdena, who placed first among men and women respectively, didn't get gold medals for their performances. But they do get to hold the records for best bowling performance at the Olympics, and since no one seems to be in a rush to bring bowling back, those records are pretty solid.
Kim Yun-mi is the youngest gold medal winner ever
One way to guarantee you hold an Olympic record forever is for the rules to change immediately after you set it. That's why South Korea's Kim Yun-mi will forever be the youngest athlete to win a gold medal.
According to Olympics.com, in 1994 at Lillehammer, Kim won the gold in the women's 3,000-meter relay skating event when she was just 13 years and 86 days old. It's unusual for athletes to even compete at such a young age, much less win their events, because training to compete at that level typically takes years, and getting onto a country's team means beating out all the other top athletes trying to get some Olympic glory. Not only did Kim manage to do all that before age 14, she came back four years later and got another gold medal in 1998, according to Olympedia.
Kim Yun-mi's gold medal prompted the International Skating Union to raise the minimum competition age to 15, however, pretty much guaranteeing her record is permanent. According to Inside the Games, there's ongoing concern that young kids must perform dangerous and complicated jumps they're not physically or psychologically ready for, and there's a movement trying to get the minimum age raised further to 17.
Kevin Young's 46.78 second 400 meter hurdles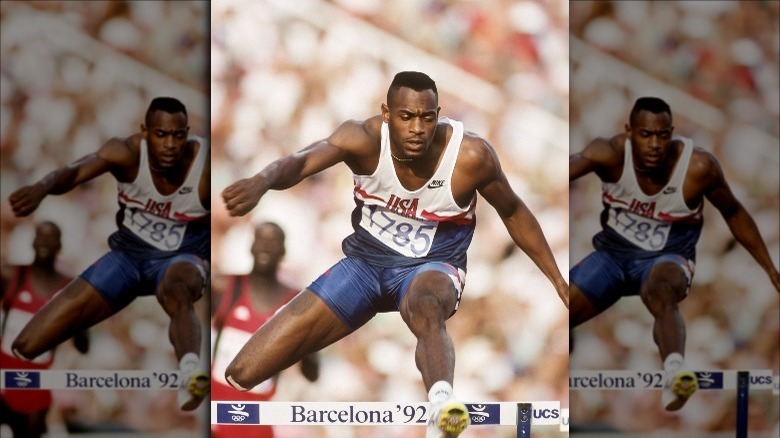 David Madison/Getty Images
When Kevin Young arrived in Barcelona in 1992 to compete in the 400 metre hurdles event, no one had ever managed to break the 47 second barrier. But as NBC Sports reports, Young had an excellent sub-47 second run on the practice track, so he knew it was possible. Sure enough, when he competed in the real thing, he blew everyone away and notched an all-time Olympic and World record of 46.78 seconds.
Twenty-nine years later, the record still stands—in fact, it's a double record of sorts. As noted by World Athletics, it's the oldest existing track and field world record. While this record may appear to be in jeopardy—Barron's notes that Karsten Warholm shattered Young's world record when he ran a 46.70 in Oslo in 2021, and other runners like Abderrahman Samba and Rai Benjamin have both logged runs under 47 seconds in their careers (Samba has actually broken the 47 second mark nine times), there's no guarantee any of them will be able to replicate their performances while actually competing at the Olympics.
Young believes that someone will break his record. But as of this writing Young's record still stands—and it's possible it always will.