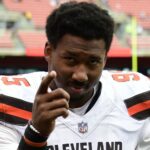 The Longest NFL Suspensions Explained
echo get_the_meta(); ?>
The NFL doesn't usually hand out long suspensions, but when it does, it knows how to make it hurt. After all, just one suspension can hover over the status of even an All-Pro for the remainder of his career. However, for the most part, the athletes getting suspended for a lengthy amount of time usually deserve their punishment. 
Need proof? Well, the players on this list — while all extremely talented — were taken off the field for some pretty insane reasons. On one of the end spectrum, you've got football players betting on games and taking PEDs. On the other, you've got people involved in some pretty serious crimes like animal abuse, hurting kids, and even murder. So if you want to know the story behind these players getting sidelined, well, put on your helmet and get ready for some football as we explain the longest suspensions in the NFL — a league that may forgive but never forgets.
Art Folz was suspended for a pretty ingenious scam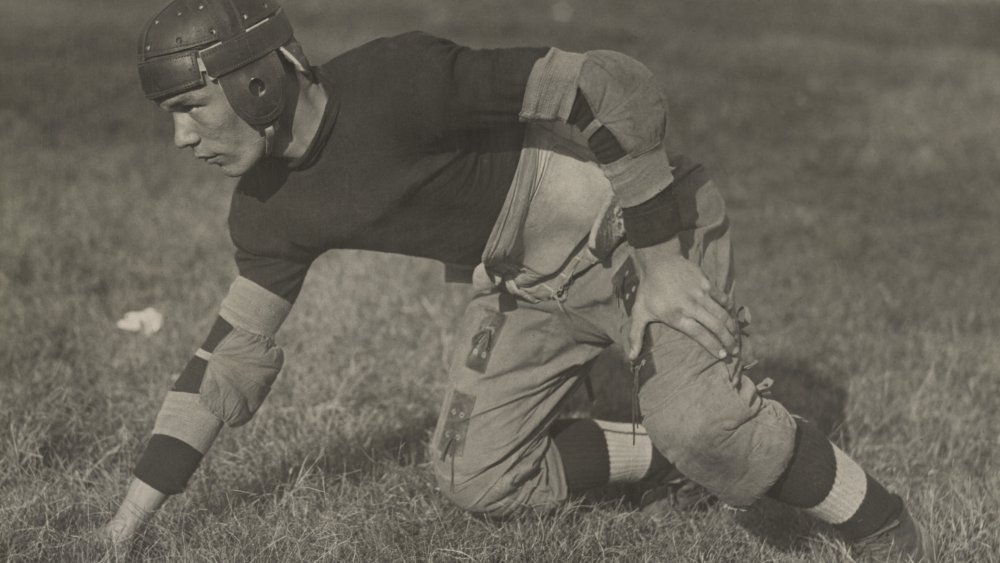 Shutterstock
Depending on how you view things, Art Folz (not actually pictured above) was either a scummy part of football's past or a criminal mastermind willing to do anything to win a game. As explained by The New York Times, Folz, who played multiple positions for the Chicago Cardinals, recruited four high school players to feature for the Milwaukee Badgers in a game scheduled for December 1925. At that time, clubs were allowed to alter their schedules through and past the holiday season, and Chicago needed a win to bolster the team's record in an attempt to get past the Pottsville Maroons in the standings. The Badgers required bodies for the game, and Folz convinced the amateur athletes they were participating in a practice exhibition.
Unsurprisingly, Chicago routed Milwaukee to the tune of 59-0, but then-league president Joseph Carr wasn't amused by Folz's stunt. The NFL banned Folz for life, and Badgers owner Ambrose McGuirk was forced to sell his franchise. According to the Times, the Badgers folded after the 1926 regular season. Per Pro Football Researchers, Folz's suspension was eventually lifted, but he never again played in a professional game. While the high school players were initially punished, they were eventually forgiven by the young league.
Frank Filchock and Merle Hapes were accused of accepting bribes
When most people think about athletes taking money to fix the outcome of a game, they probably recall how the infamous Chicago White Sox squad — known as the "Black Sox" — threw the 1919 World Series. But nearly 30 years after baseball's biggest scandal, a pair of New York Giants athletes were linked with an attempt to predetermine the outcome of the 1946 NFL Championship.
As explained by the Pro Football Hall of Fame, New York players Frank Filchock and Merle Hapes (pictured above) were questioned about accepting bribes on the morning of a title contest versus the Chicago Bears. According to The Oklahoman, NFL commissioner Bert Bell suspended Hapes indefinitely before kickoff, but he allowed Filchock to feature for the Giants. Filchock was responsible for New York's two and only scores of the outing, but the Giants nevertheless lost to the Bears, 24-14.
Bell wasn't as kind to Filchock after the game. Even though police didn't prosecute the two men, Filchock joined Hapes on the league's suspended list. Hapes never played in the NFL again, but Filchock eventually earned reinstatement and featured for the Baltimore Colts in 1950. In 1960, Filchock became the first head coach of the Denver Broncos, and his team went 7-20-1 over two seasons.
Gregg Williams was the mind behind 'Bountygate'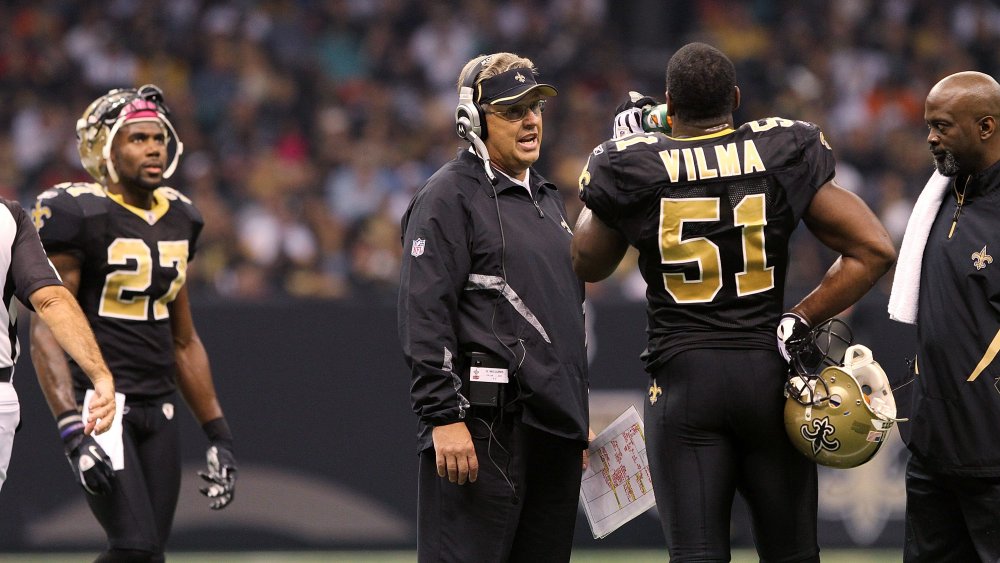 Matthew Sharpe/Getty Images
Football is an undeniably physical and hard-hitting competition. Injuries are unavoidable in a contact game where 300-pound men crash into each other. As a result, football has evolved across generations, in part to protect itself and to ensure the safety of athletes. And as much as stations such as CBS, Fox, and ESPN show crunching hits and blows in highlight-reel packages, the NFL doesn't want players or coaches actively targeting opponents with intent to injure. In fact, if the league catches you plotting to take someone down, that's a good way to wind up suspended.
For example, according to ESPN, the NFL accused then-New Orleans Saints defensive coordinator Gregg Williams of running a "bounty system" that involved paying defensive players who inflicted injuries upon opposing offensive stars such as Brett Favre and Kurt Warner. As explained by CNN, Williams was caught on tape naming San Francisco 49ers players worth targeting ahead of a playoff game between the Niners and Saints in January 2012.
Following a league investigation into the matter, the NFL suspended Williams for the entire 2012 campaign, including the playoffs. He was reinstated in February 2013, however, and he became a journeyman assistant. He even enjoyed a brief stint as interim head coach of the Cleveland Browns during the 2018 season. Under Williams, the Browns won five of eight contests, and he ended the decade as a coordinator with the New York Jets.
Sean Payton could've ended 'Bountygate' before it began
Sean Gardner/Getty Images
The NFL would have fans and observers believe that no defensive coordinator could orchestrate and run a "Bountygate" system intended to injure opposing offensive players without that team's head coach at least knowing about the plan. And in March 2012, the league handed what NFL.com referred to as "sweeping and unprecedented punishment" when the league suspended both New Orleans Saints defensive coordinator Gregg Williams and head coach Sean Payton for the 2012 regular season for their roles in the team's bounty fund.
According to the league's official website, Payton was the first head coach in league history to receive a suspension "for any reason." While he denied any involvement in the "Bountygate" scandal, the NFL accused him of attempting to cover things up. In April of that year, Roger Goodell upheld Payton's suspension.
As explained by USA Today, Payton claimed in 2018 that he later learned two NFL franchise owners campaigned for him to lose his job because of "Bountygate." That, of course, did not happen. The NFL reinstated Payton in 2013, and he guided the Saints to four playoff appearances from 2013 through the 2019 campaign. In fact, his Saints were one non-call away from (probably) facing the New England Patriots in Super Bowl LIII.
Jonathan Vilma battled with the NFL over his 'Bountygate' ban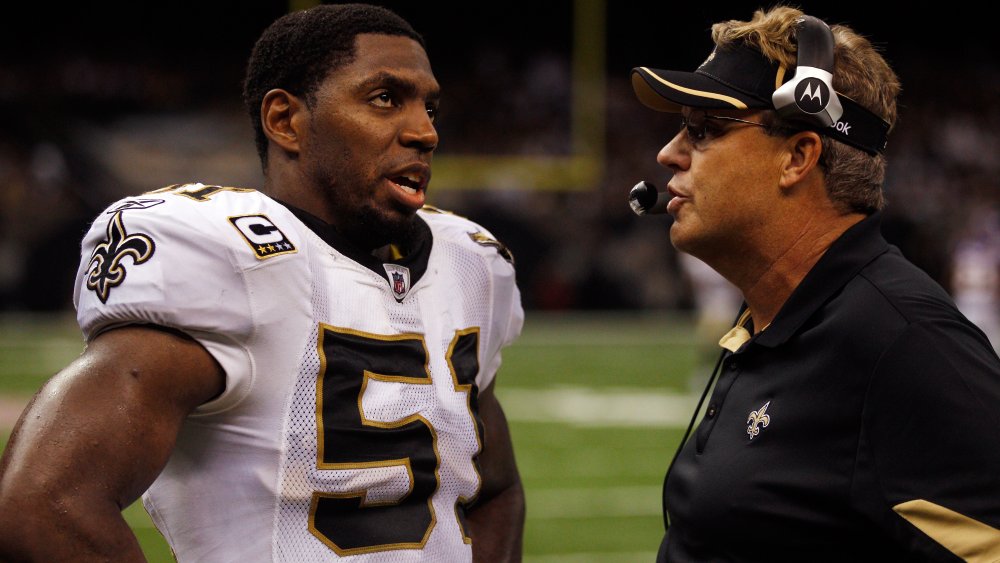 Chris Graythen/Getty Images
Former New Orleans Saints linebacker Jonathan Vilma may be the most fascinating case to emerge from the "Bountygate" scandal. As reported by multiple outlets, including CBS Sports, Vilma allegedly offered teammates $10,000 to knock Brett Favre out of a game versus the Saints in January 2010. In May 2012, the NFL suspended Vilma for all of that fall's season, including the playoffs. Scott Fujita, Will Smith, and Anthony Hargrove were also banned, but they were eligible to play later that fall.
Vilma didn't take this punishment lightly. In September 2012, a collective bargaining agreement appeals panel vetoed the suspensions of all four New Orleans players. That October, however, Roger Goodell reissued his original punishments. The saga played out through December when former NFL commissioner Paul Tagliabue officially overturned Goodell's ruling.
Meanwhile, Vilma filed a defamation lawsuit against Goodell, although it was dismissed in January 2013. Vilma played in 11 contests during the 2012 campaign. Knee problems kept him off the field for 15 of 16 outings in 2013, though, and that one appearance was his last as a pro player. In December 2015, he officially retired from the NFL. The Saints inducted the defensive star into the team's Hall of Fame in October 2017.
Adam 'Pacman' Jones was his own worst enemy
Joe Murphy/Getty Images
"How is it possible to be in the wrong place at the wrong time so many times?" According to ESPN's Greg Garber, this was the question then-NFL Players Association executive director Gene Upshaw asked regarding cornerback Adam "Pacman" Jones in March 2007, after Jones was allegedly involved in multiple off-the-field incidents. In February of that year, Jones reportedly incited a fight inside of a gentlemen's club in Las Vegas, Nevada, that resulted in three people suffering gunshot wounds. Former professional wrestler Tommy Urbanski was left paralyzed.
As a result, in April 2007, Roger Goodell suspended Jones for the entire 2007 season for violating the league's personal conduct policy. Jones missed that whole year, and the Tennessee Titans traded him to the Dallas Cowboys in the spring of 2008. That October, Jones earned another suspension following an alcohol-related incident that involved a personal bodyguard. Dallas parted ways with the troubled defensive back after the 2008 season, and Jones was out of the league entirely in 2009.
Jones eventually settled down as much as he would during his career. He played for the Cincinnati Bengals from 2010 through 2017, and he was named First-Team All-Pro for the 2014 campaign.
One decision nearly cost Donté Stallworth more than his NFL career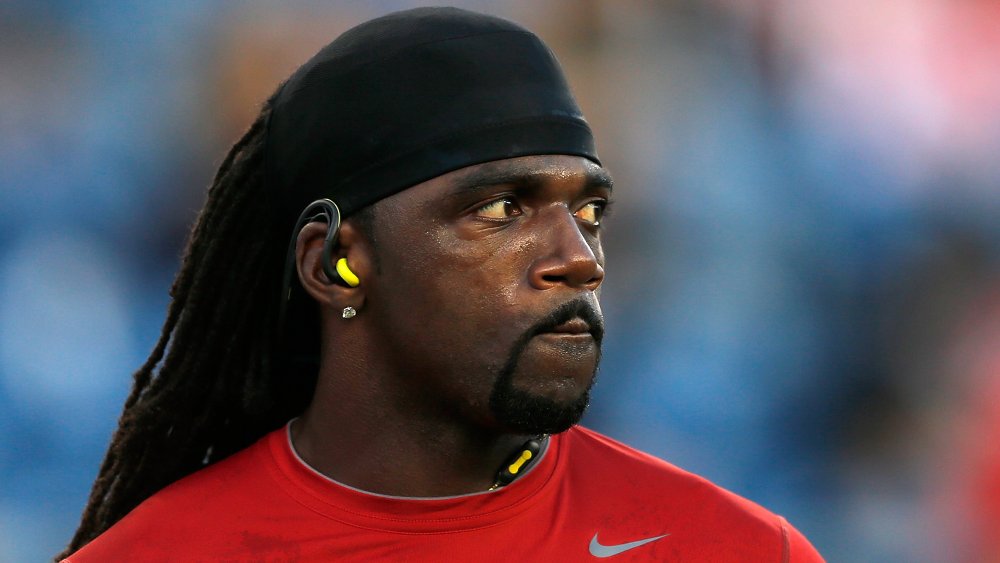 Jim Rogash/Getty Images
From 2002 through the 2008 season, wide receiver Donté Stallworth played for four different teams. He earned All-Rookie honors as a member of the New Orleans Saints, and he was on the 2007 New England Patriots roster that won all 16 regular-season games but lost to the New York Giants in Super Bowl XLII. Stallworth had three catches for 34 yards in that championship contest.
But after a rather forgettable 11 appearances with the Cleveland Browns in 2008, Stallworth accidentally struck and killed a pedestrian while driving his Bentley in March 2009. As ESPN's Jeffri Chadiha wrote, Stallworth's blood alcohol level registered well above the legal limit, and he received a 30-day prison sentence, community service, eight years of probation, and the lifetime suspension of his driver's license.
Roger Goodell suspended Stallworth for the entire 2009 season, and Stallworth didn't play a down that year. However, in February 2010, Goodell reinstated Stallworth, and the wideout remained an active player for another three seasons. Following his retirement from the league, Stallworth embarked on a career in media. He completed an internship with The Huffington Post, and he's also analyzed NFL stories and situations during fall months.
Vontaze Burfict got his lengthy suspension for being a dirty player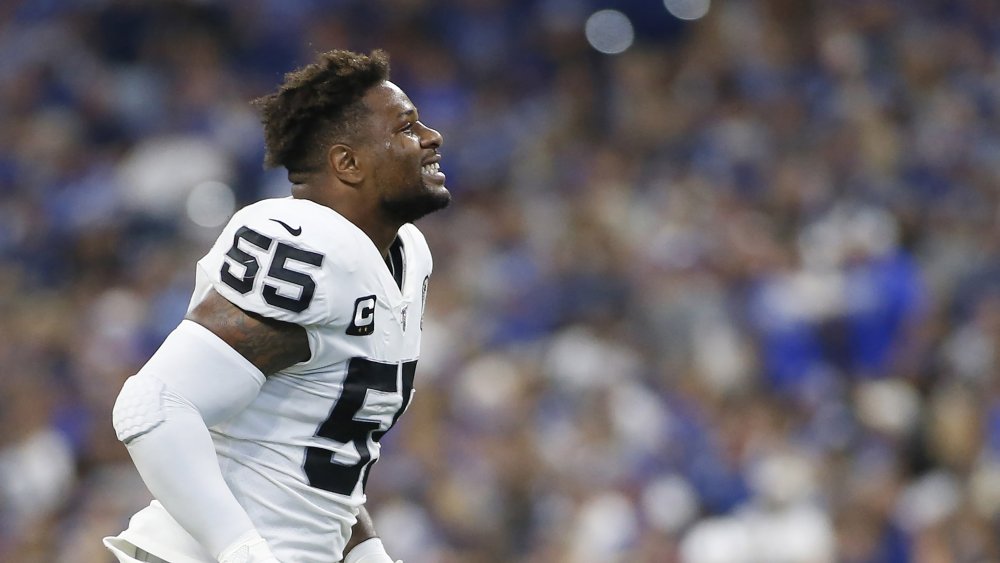 Justin Casterline/Getty Images
Linebacker Vontaze Burfict entered the NFL in 2012, and he quickly earned a reputation for being the dirtiest player in the league. Between 2013 and 2019, the NFL fined and banned Burfict on multiple occasions for late or outlawed hits on opponents. For example, the NFL suspended him for three games after he delivered a brutal helmet-to-helmet blow to then-Pittsburgh Steelers wide receiver Antonio Brown in 2016. And in 2018, Burfict was suspended for four games for violating the league's policy on the use of performance-enhancing substances.
Then, Burfict was playing for the Oakland Raiders in Week 4 of the 2019 regular season when he delivered yet another helmet-to-helmet strike during a game, this time to Indianapolis Colts tight end Jack Doyle. Enough was enough in the eyes of the NFL, as the league suspended Burfict for the remainder of that campaign (if not longer). According to ESPN, NFL vice president of football operations, Jon Runyan delivered a letter to Burfict that read, "Following each of your previous rule violations, you were warned by me and each of the jointly-appointed officers that future violations would result in escalated accountability measures. However, you have continued to flagrantly abuse rules designated to protect yourself and your opponents from unnecessary risk."
As of December 2019, Burfict's ban was the longest given to a player for an on-field incident, which is just another reason why he's one of the most hated players in the NFL.
We bet others won't follow in Josh Shaw's footsteps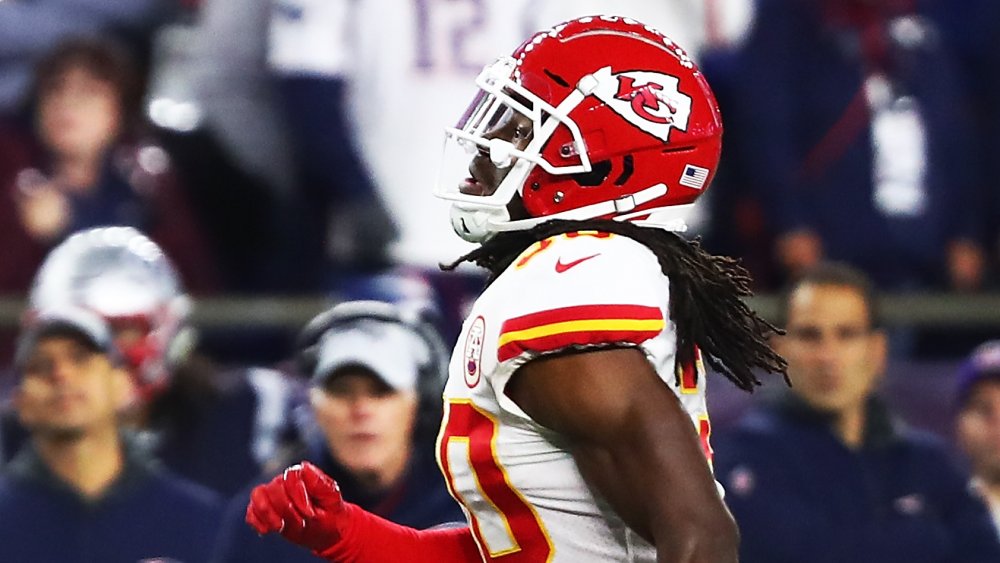 Adam Glanzman/Getty Images
Officials running competitions such as the NFL, MLB, and NBA couldn't clearer about the fact that they don't want their athletes betting on games that occur under their jurisdictions. Football players wagering on pro football isn't just a bad look for the NFL. Such actions lead to questions about whether or not athletes can become susceptible to accepting bribes.
This is no secret to players, and that's why it was so surprising to learn that Arizona Cardinals defensive back Josh Shaw was suspended for at least the entire 2020 season after the NFL learned he wagered on multiple league contests in 2019. As ESPN's David Purdum reported, Shaw bet against the Cardinals, his employer, at least once. Per Purdum, the NFL caught Shaw because he listed "professional football player" as his occupation when he registered with Las Vegas sportsbook Caesars Entertainment. Shaw's actions led observers to believe that he either was completely unaware of how to bet anonymously or that he lost interest in playing for any NFL organization past the end of the decade.
The Cardinals placed Shaw on injured reserve in August 2019, but he was still signed by the team at the time he placed his bets and violated NFL rules.
Rae Carruth orchestrated the unthinkable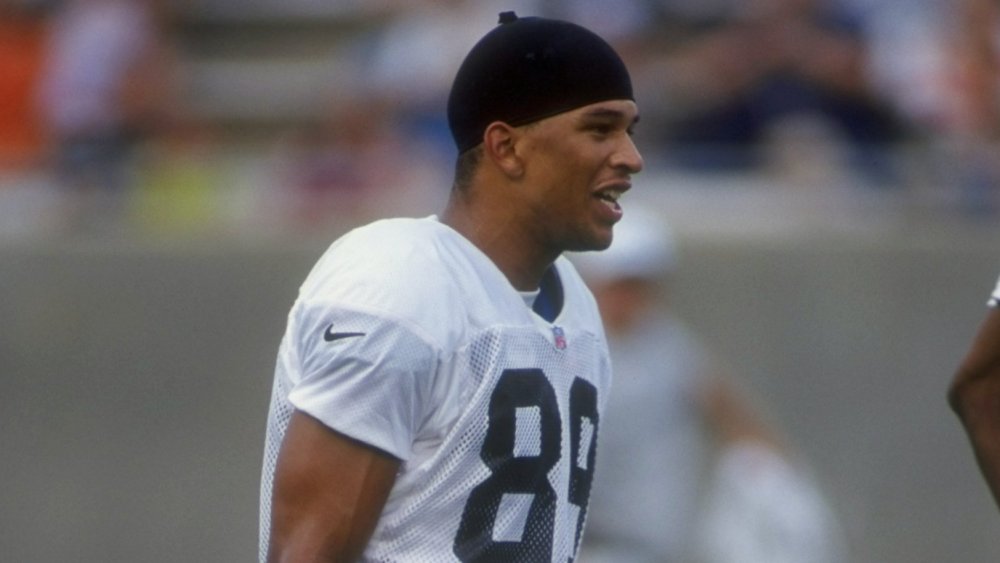 Erik Perel/Getty Images
Former Carolina Panthers wide receiver Rae Carruth was 44 years old when he was released from prison in October 2018, so a comeback to pro football wasn't in the works once he became a free man. Besides, Carruth was still technically under an indefinite league suspension that began in December 1999 after he was accused and convicted of conspiring to have the mother of his unborn child murdered.
A month before the suspension, Cherica Adams (Carruth's girlfriend) called 911 after she'd suffered multiple gunshot wounds. Adams died from her injuries roughly one month later, but her son survived. The Panthers welcomed the boy as a guest during the 2018 season.
As for Carruth, in December 1999, he fled authorities, but the FBI found him hiding in the trunk of a car in Tennessee. On January 17, 2001, a jury found Carruth guilty of some of the worst crimes committed by an NFL player, including conspiracy to commit murder. Because the jury didn't find him guilty of first-degree murder, he was able to escape the death penalty. He ultimately spent 18 years behind bars before he was released from prison.
Adrian Peterson was suspended from the NFL over a switch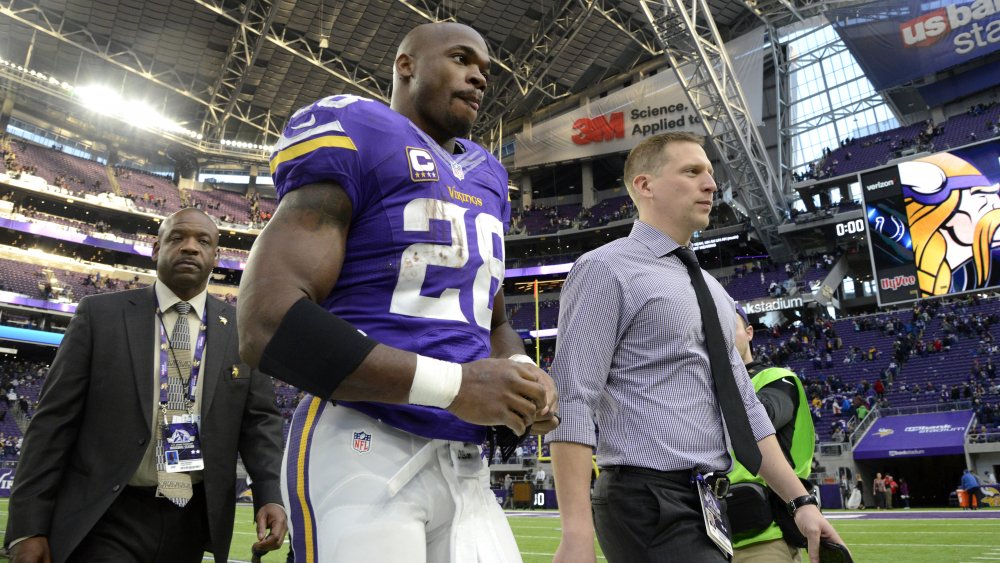 Hannah Foslien/Getty Images
About five years after he retires from playing in the NFL, running back Adrian Peterson will be enshrined in the Pro Football Hall of Fame. In other words, the man is beloved. In fact, by the fall of 2019, what became a 15-game suspension from the league warranted no mention from commentators during games in which Peterson starred in the backfield. The public quickly forgave "All Day."
However, that wasn't the case in September 2014 when Peterson was indicted on charges of reckless or negligent injury to a child after he used a switch to punish his son, who was four years old at the time. Peterson had played a single game for the Minnesota Vikings that month when the Vikings deactivated him and placed him on the NFL's Exempt/Commissioner's Permission list, and he remained essentially banned until he accepted a plea deal in November.
Roger Goodell didn't let Peterson return to the Minnesota lineup, though, as the commissioner suspended the running back without pay through the remainder of the campaign. Peterson spent about eight months as persona non grata until the league reinstated him in April 2015. But after that, he was chosen for the Pro Bowl and named First-Team All-Pro after he led the league in rushing yards, rushing touchdowns, and rushing yards per game that season. But despite his achievements, Peterson is proof that even respected athletes can do terrible things.
Michael Vick ended up behind bars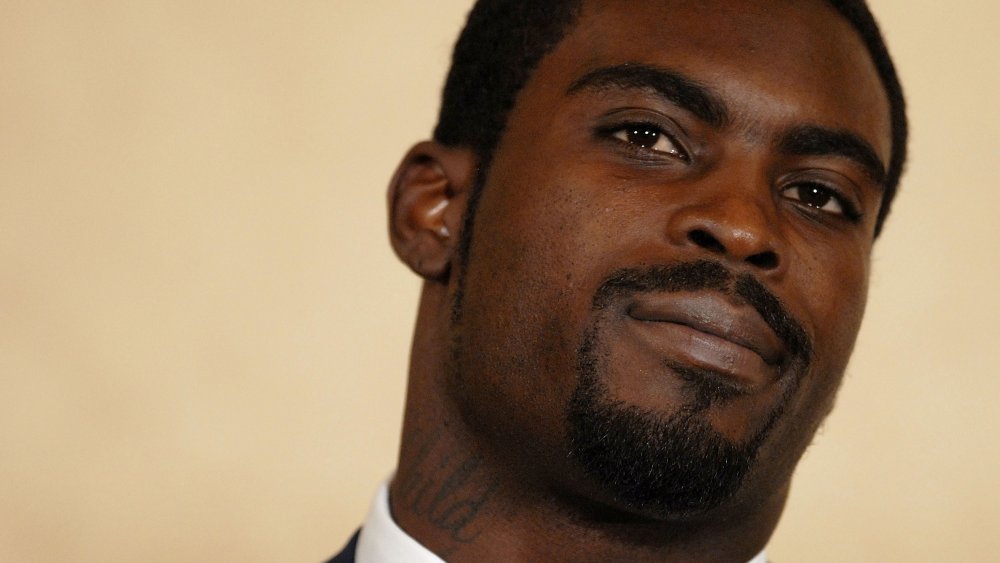 Jonathan Ernst/Getty Images
While former quarterback Michael Vick never murdered a human being, he's still one of the most controversial NFL players ever. Vick last played a down of NFL football during the 2015 season, but even the idea that the NFL could include him as a captain for the 2020 Pro Bowl enraged football fans and dog lovers, some of whom created and signed petitions to get him removed from the exhibition football game. But why were they so angry? Well, it's because Vick was smackdab in the middle of the one of the biggest scandals involving a high-profile athlete.
At the start of April 2007, Vick was a dynamic playmaker for the Atlanta Falcons and a signal-caller capable of totaling a combined 30 passing and rushing scores over a season. Little did the pubic realize at the time that the superstar had bankrolled an interstate dogfighting ring known as "Bad Newz Kennels." That August, Vick agreed to a plea deal, and Roger Goodell suspended the QB indefinitely without pay. Vick was sentenced to 23 months in prison in December of that year.
After missing two NFL seasons, Vick was released from prison in July 2009. Goodell reinstated Vick later that month, and the QB was a legitimate MVP candidate in the fall of 2010. Throughout the 2010s, Vick worked as an animal rights activist, and he also starred in PSAs for the Humane Society of the United States.
Myles Garrett got his lengthy NFL suspension for turning a helmet into a weapon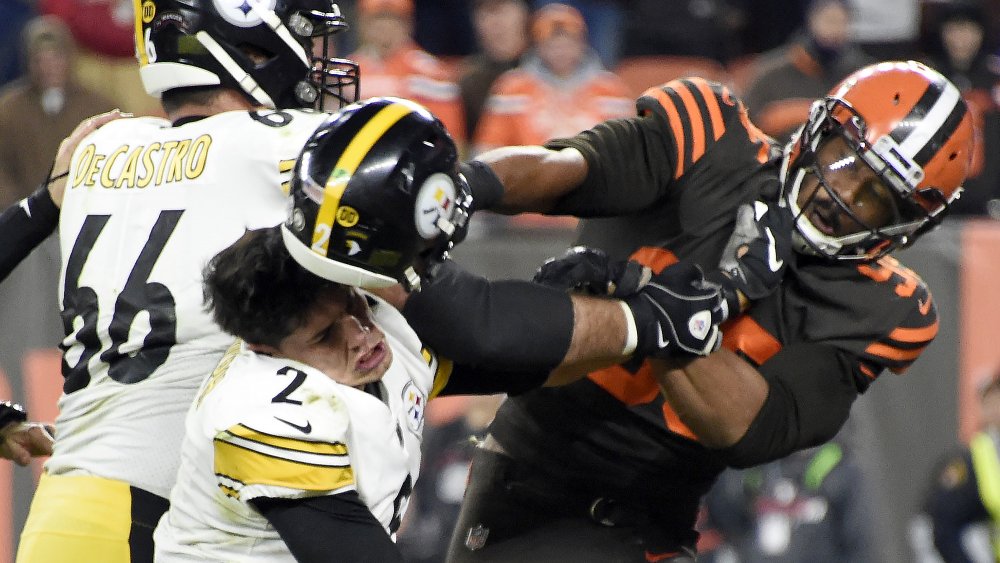 Jason Miller/Getty Images
The belief among so-called experts is that if your team holds an insurmountable lead during a game, you shouldn't engage in a physical altercation with an opponent under any circumstances. After all, there's nothing to be gained, since you're the one with more points on the scoreboard.
However, Cleveland Browns defensive end Myles Garrett didn't get the memo about this matter. On November 14, 2019, the Browns held a 21-7 advantage over division rivals the Pittsburgh Steelers with seconds left on the clock, and that's when Garrett found himself involved in a tussle with Pittsburgh quarterback Mason Rudolph. Garrett ripped Rudolph's helmet off and then smashed the QB with his own headgear. The NFL responded swiftly by suspending Garrett indefinitely the next day, a punishment that ended Garrett's season and put the future of his career in question.
While Garrett initially apologized for what former coach and television analyst Rex Ryan called an "assault," the player later claimed he was a victim of a racial slur. Rudolph vehemently denied that accusation, and the NFL upheld Garrett's indefinite suspension. Throughout that November, sports talk personalities and fans wondered if the NFL should and would ban Garrett for life for what could be considered a criminal act. One can't help but believe an NFL "death penalty" would've been on the table had Garrett seriously injured Rudolph or if the pass-rusher had attacked a future Hall of Famer such as Tom Brady or Aaron Rodgers.