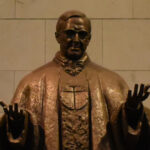 The Messed Up Truth About Opus Dei
echo get_the_meta(); ?>
It's possible to write an entire book about why Dan Brown and "The Da Vinci Code" is so polarizing, but for now, let's talk about a single part: Opus Dei. Brown's version of Opus Dei features a shadowy organization that employs a murderous monk to do the actual dirty work, and it doesn't put the group — which is absolutely real — in a good light. There's no evidence that anything about the monk is true, but if Brown had done a little more digging, he would have found a lot more shady stuff that's actual fact.
Opus Dei was founded by Josemaria Escriva in Spain in 1928. According to their own history, the spread of the organization was delayed by the World Wars, but as the second edition of those wars drew to an end, Escriva started traveling and taking his organization to other countries. The general idea of the message was getting laypeople into serving God and following Christ with the help of a series of guidelines, and the Roman Catholic Church was fully on board by the late 1940s.
And this is important: Opus Dei is a fully recognized and approved arm of the Catholic Church, so much so that when Escriva died in 1975, it took just six years for calls of sainthood to be answered. Investigations took until 1986, and in 2002, Escriva was made an official saint. That's pretty much record time, so let's take a close look at just what the Church is supporting.
What is Opus Dei?
Former members are incredibly critical