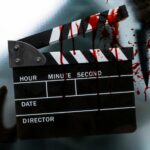 The Most Haunted Places In Hollywood
echo get_the_meta(); ?>
"Welcome to Hollywood! What's your dream?" demands the "Happy Man" played by Abdul Salaam El Razzac in 1990's Pretty Woman. As the character implies, anything can happen in Tinseltown whether it's in real life or make-believe on film. Since the early 1900s, Britannica verifies, thousands of actors have flocked to this iconic neighborhood of Los Angeles in hopes of making it big. And when they don't, well, that's Hollywood for you. Only the strong can survive the ups-and-downs of the film industry that keeps America on the cutting edge of stardom with anticipation. As the media has shown, the acting profession can be quite volatile as dreams are frequently dashed.
Hollywood certainly has had lots of stories of heartbreaks and tragedies that pair nicely with the trappings of fame. That is no doubt why Hollywood makes such a great place for ghost stories. No wonder people like ghost hunter Scott Michaels are on hand take tourists on a "Dearly Departed" tour and show them such intriguing items as the car actress Jayne Mansfield died in and other "tragical artifacts." And if you too have a dark love for haunted Hollywood, read on to learn about some of the more intriguing landmarks this famous, and sometimes infamous, suburb of glitz and glamour has to offer.
Hollywoodland: a real estate developers dream
Hollywood's first dreamers were its founders, Harvey and Daeida Wilcox. U.S. History says the Wilcox's moved to Los Angeles in the 1880s and purchased 160 acres of land. Daeida Wilcox had heard of Hollywood, Ohio and thought that would make a nice name for the Wilcox ranch. When the ranch failed, Harvey platted a town instead. Hollywood had a population of 500 by 1900. At least that's one story. History explains that in 1902, real estate developer H.J. Whitley, aka the "Father of Hollywood," showed up and opened the Hollywood Hotel (now the Dolby Theater), thereby officially establishing the community. Either way, Hollywood incorporated in 1903 but soon relegated itself to just being a trendy Los Angeles neighborhood.
Next, in 1907 according to Hollywood Sign, a Chicago film company came west because California offered better weather. Besides, filmmakers were sick of Thomas Edison's studios back east which were hard to work with. By 1911, Hollywood's first film studio had been built at Sunset Boulevard and Gower Street, and within a year there were around 15 such places in operation. Oh, and about the famous Hollywood sign on Mount Lee: it was originally erected in 1923, as Hollywoodland, to advertise a new subdivision. It would be twenty years before the Chamber of Commerce removed the last four letters, restored the rest, and made the sign one of the most famous landmarks in America.
The ghosts of Grauman's Chinese Theater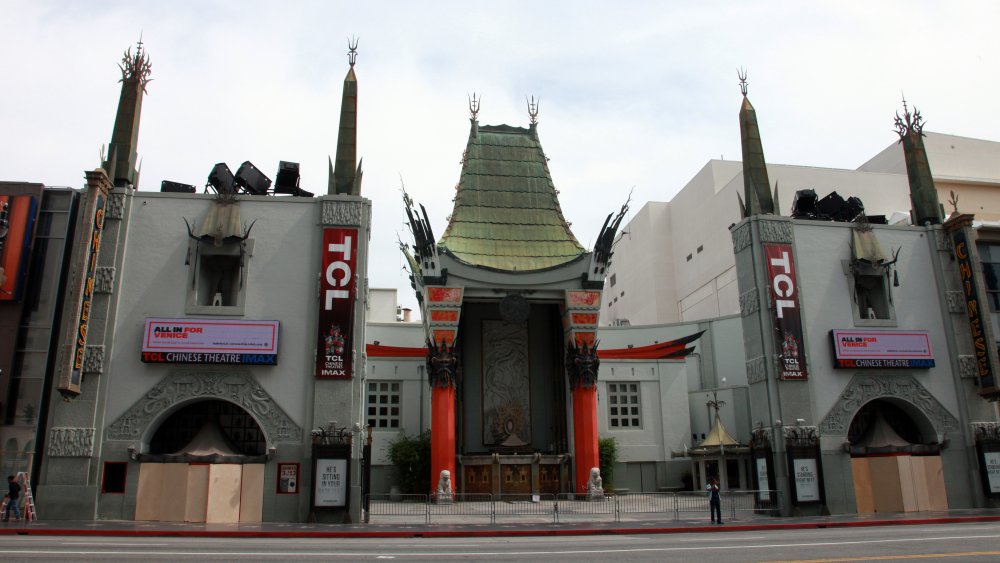 Amy T. Zielinski/Getty Images
Sid Grauman opened the historic Chinese Theater in 1927, according to the theater's website. Someone accidentally stepped in the wet cement in front of the new theater, and the idea to have celebrities put their handprints, footprints, and signatures in the sidewalk out front was born. An Open Suitcase verifies that there are now nearly 200 concrete squares dedicated to the stars. Now known as TCL Chinese Theatre, Grauman's has been such a hotspot for movie premieres and other events over time that it is no wonder that a few spirits hang around. The most unusual of them, says The Culture Trip, is Annabell, a child who loves playing around the red curtains on the stage.
But there are more substantial ghosts at the theater, including a stagehand named Fritz who allegedly hung himself above the stage. A more reliable story is that of elderly actor Victor Kilian, whom the New York Times reported was found beaten to death in his apartment near the theater in 1979. Kilian's ghost has been seen wandering around in front of Grauman's, perhaps looking for his killer. Britannica blogger Laurie Jacobson, who toured the theater in 2010, witnessed a large drape "violently shaking" and said employees have heard buzzers sounding from some private rooms once used to entertain special guests. But the rooms have been sealed off for years.
Actors who haunt the Roosevelt Hotel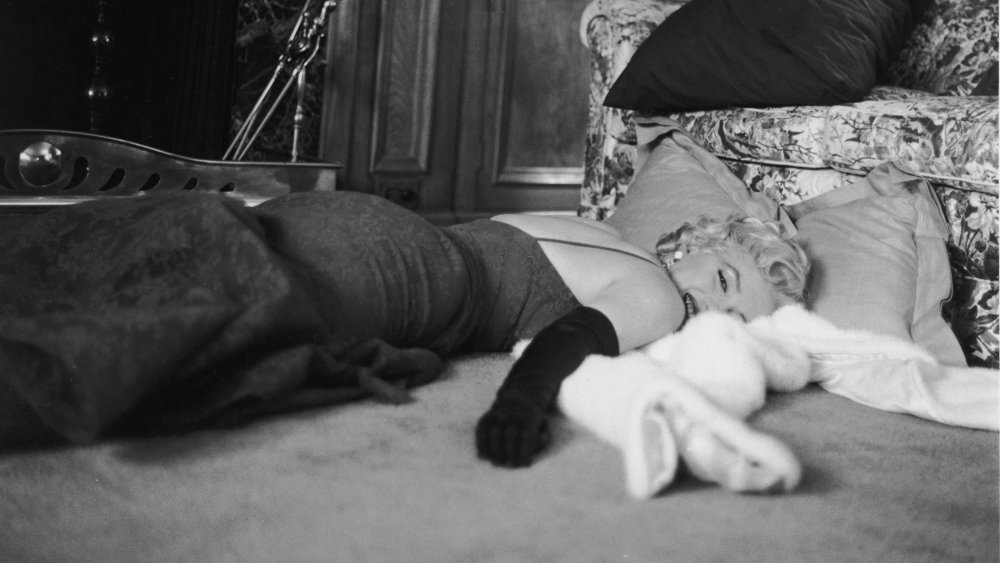 Gene Lester/Getty Images
Sid Grauman did more than build his Chinese Theater. He also played a heavy hand in building the historic Hollywood Roosevelt Hotel, which also premiered in 1927 and hosted the very first Academy Awards. Actors Douglas Fairbanks and Mary Pickford also financed the hotel, which towers 12 stories with 300 rooms. Notable guests of the past include film legends Clark Gable and Carole Lombard, as well as Marilyn Monroe (pictured) who actually lived on the property for two years and shot her first commercial there. Actor Montgomery Clift also lived at the hotel for three months, according to the Los Angeles Times, while shooting From Here to Eternity in 1953. Even in death, neither Monroe nor Clift seem able to leave the Roosevelt.
Haunted Rooms reports that Monroe's spirit habitually haunts her old suite, #1200, and has appeared in the mirror there. As for Clift, the actor's ghost brushes up against people, plays his trumpet, and paces the hallways like he did when rehearsing his lines. But there are more, including a five-year-child identified as "Caroline," whom LA Curbed describes as wearing a blue dress. Carole Lombard's ghost floats around the upper floor, while two unidentified spirits linger in the Blossom Room where the Academy Awards were held. Radisson Hotels purchased the Roosevelt in 1985, and in 1991 the hotel was added to LA's Historic-Cultural Monument list.
Ghostly jazz players and perfumed women of the Avalon Theater
Yet another landmark to open in 1927 was the Hollywood Playhouse, better known today as the Avalon Theater. Britannica says the theater also has been called El Capitan, while Totally LA says it was also once named The Palace. Under its various names, according to Haunted Places, the theater presented such famous programs as Fanny Brice and Baby Snooks (on radio), This is Your Life, the Lawrence Welk Show, and more. The shows are long gone, but some of the ghosts from the past didn't get the memo. Most prominent is an unseen jazz piano player who plays to an invisible audience upstairs.
Other unseen ghosts allegedly include a gaggle of high-heeled women whose scented perfumes still linger. Guests have heard voices talking in the balcony, a girl sobbing in the ladies' lounge, and there's a former electrician named Harry who steals tools and messes with things. And Only in Hollywood reports that "strange messages" are somehow generated by the theater's adding machines and cash registers. There are some sightings, too, such as a dashing man wearing a tuxedo and another couple sipping cocktails, à la 1930s style. The scariest phenomenon? A woman's "blood-curdling" scream, which, as urban legend tells it, was once emitted by a chorus girl after her jilted boyfriend committed suicide by jumping from the catwalk above the stage and died right in front of her.
The mystery of Greystone Mansion
Interestingly, the scene of one of Hollywood's first murders had nothing to do with the movies. But there is plenty of mystery about the unsolved deaths of Ned Doheny and his secretary, Hugh Plunkett. The story, according to Little Things, goes that Doheny and his wife Lucy moved into Greystone Mansion in nearby Beverly Hills in 1928. All was well until February 1929 when Plunkett showed up in the dead of night, met up with his employer in a locked guestroom, and allegedly shot Doheny dead. Lucy called the family doctor. By the time the police were summoned hours later, Plunkett had shot himself too, but there was much confusion around the scene. The bodies, for instance, had been moved.
For over a year, the media followed the case. The authorities theorized that it was a case of murder-suicide, Patch reports, but there are some intriguing tidbits involving the deaths. According to the Indianapolis Times which covered the investigation, there was a scandal involving the dead men dating back to 1921. And, the press pretty much glossed over the alleged murder-suicide and other strange details according to Findagrave. The mystery remains unsolved. Only the ghosts of a man in a black suit, Lucy Doheny, and of course, Ned and his secretary, who have been seen roaming the halls at the historic mansion, know the truth.
Ghosts of the Knickerbocker Hotel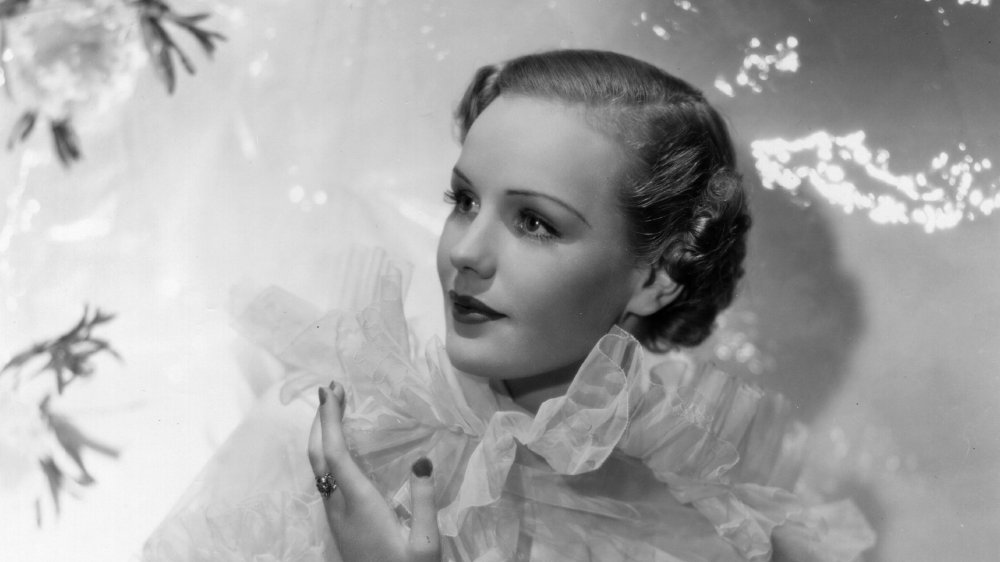 Hulton Archive/Getty Images
This rather unassuming building, according to Totally LA, opened sometime between 1923 and 1929 as just another Hollywood hotel. Soon, however, the place was rife with celebrities who visited or even lived at the hotel, KCET says. Residents included actors Frances Farmer (pictured), Maureen O'Sullivan, and William Frawley, the latter of whom suffered a fatal heart attack in the lobby long after he had moved out. And the parties were crazy legendary, hosted by such greats as Betty Grable. Anybody who was anybody attended a bash at the Knickerbocker at one time or another, which is why the ghosts of a bellhop, actress Marilyn Monroe and even Rudolph Valentino (who actually died in 1926) wander the halls.
There is more to the Knickerbocker than just its celebrity status: in 1935, it was the scene of the Pacific Coast Association of Magicians annual convention, and the following year Bess Houdini held the last of ten seances on the roof of the hotel as she tried in order to contact her dead magician husband, Harry Houdini. There were other deaths, too, including that of director D.W. Griffith according to LA Curbed. Add Frances Farmer's arrest and subsequent commitment to a mental institution and the suicide of costume designer Irene Lentz who leaped from her 11th-floor window, and this is truly the stuff of a good ghost story. 
Howard Hughes spooks around the Pantages Theater
Oooh, let's talk about Alexander Pantages, the poor Greek boy who worked his way up to a millionaire playboy and whose dalliances included the famed actress Klondike Kate. Pantages's wealth stemmed from the money he made in the Yukon Gold Rush and invested heavily in western theaters. These included the Pantages Theater in Hollywood, which opened in 1930. Just a year before, Pantages's wife caused a car accident that left a man dead, and he was charged with the rape of a seventeen-year-old dancer. Pantages served time for that but was able to open his famous theater —only to lose it in 1932, according to Home Advisor. 
The same year Pantages lost his theater, a female patron allegedly died in the mezzanine during a performance, per Britannica, which theorizes the woman was an "aspiring singer." Her singing has actually been heard when the theater is empty and even recorded during live performances. Then there is Howard Hughes, who bought the Pantages in 1949 and whose ghost still opens desk drawers and occasionally appears to visitors. Totally LA claims the millionaire's ghost sightings began following a 1990 break-in. And although he hated cigarette smoke, the odor is often smelled just before Hughes appears. There is another ghost too: that of Alexander Pantages himself, who died in his sleep in 1936.
Peg Entwistle and the Hollywood sign
In 1932, newspapers commented on 24-year-old Peg Entwistle, an acclaimed Broadway star in New York and London who inexplicably jumped to her death from atop the Hollywoodland sign. Although "attempted suicides in Hollywood are nothing unusual," according to the Washington DC Evening Star, Entwistle's case was notable since she had received glowing reviews for her part in a play titled "The Uninvited Guest." But when her parts in her first movie, Thirteen Women, ended up on the editing room floor according to Fringe Paranormal, Entwistle became unstrung. Feeling very much like Hollywood's own uninvited guest, the girl climbed onto the "H" of Hollywoodland's iconic sign and jumped.
Entwistle left a note that served to identify the actress's body, which was cremated and buried next to her father in Ohio per Findagrave. And true to Hollywood's legendary folktales, Hollywood Sign claims Entwistle's uncle received a letter offering her a lead role in a play the day after her death. Maybe that is why the woman's ghost lingers near the Hollywood sign still, appearing in the late evening wearing clothing of her era. One couple watched her wander around in a daze before vanishing into thin air. And Griffith Park ranger John Arbogast says Entwistle smells of gardenias when she appears and often sets off the alarms around the sign.
Hitler (almost) goes to Hollywood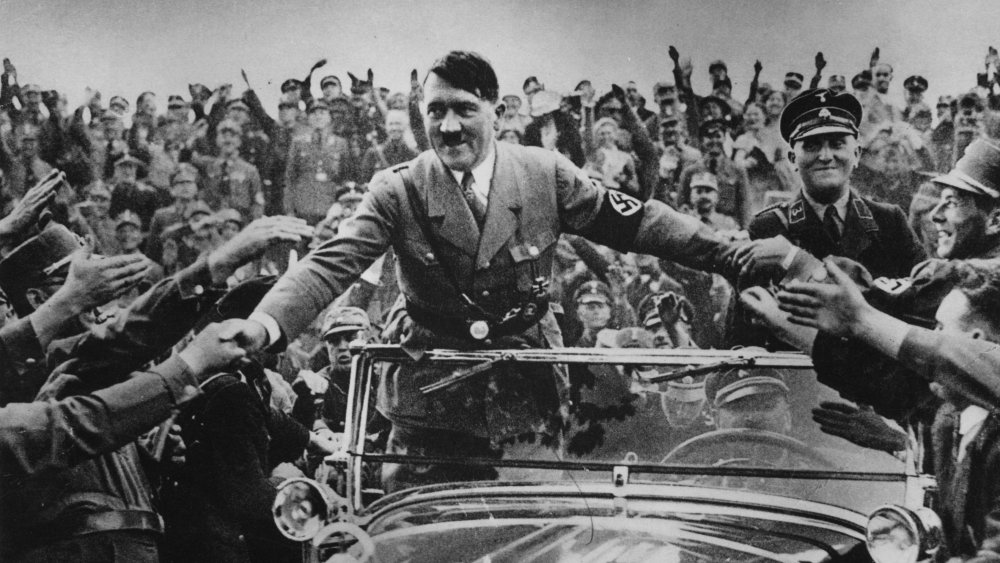 Hulton Archive/Getty Images
This little-known landmark is not so much haunted as it is haunting. And it's still worth a look to see if any ghosts show up. Most shocking is its purpose: a secret ranch was constructed outside of Hollywood by Hitler fanatics just for the Nazi leader. Smithsonian Magazine says that upon becoming chancellor of Germany in 1933, Hitler's henchmen sought to infiltrate Los Angeles and start doing away with Jews. Enter the "Silver Shirts," a fan club headed by Winona and Norman Stephens. According to Time magazine, the couple purchased 50 acres near today's Will Rogers State Historic Park and began constructing elaborate buildings for the ranch in hopes of making it one of Hitler's headquarters.
According to LA Curbed, the plans included a palatial four-story mansion, spring-fed water, a power station, expansive gardens, and even a pool. But Hitler never visited the ranch and the project never came to full fruition. The place was abandoned sometime after 1948, at which time the Stephens were still relegated to living above a garage and threw in the towel. Gizmodo confirms that some structures were slated to be torn down, which they were in 2016. But enough graffiti-covered ruins remain yet to make the hike to see them worthwhile, and not surprisingly, the place exudes creepiness.
Do schoolchildren haunt the Vogue Theater?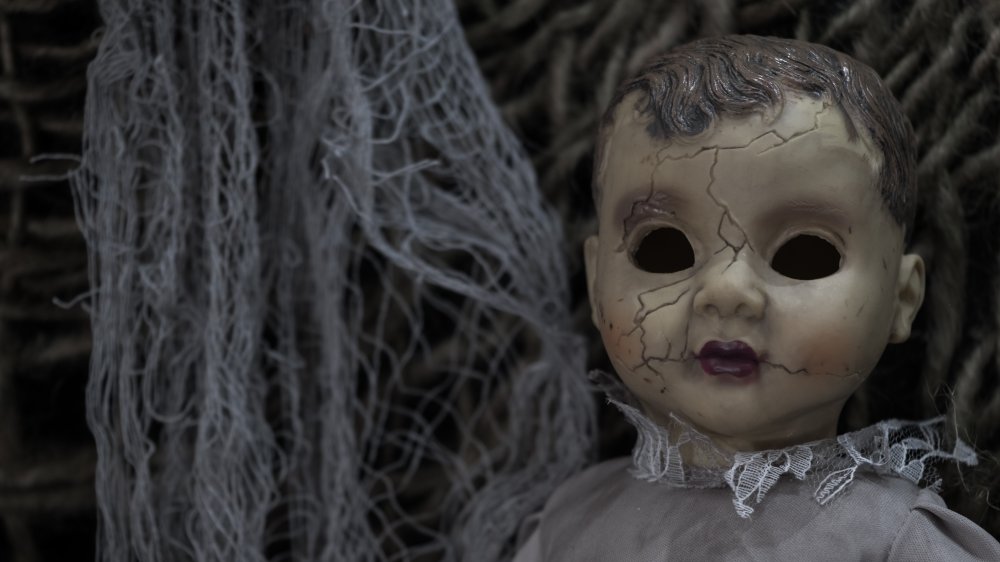 Shutterstock
The story goes, according to Creepy Ghost Stories, that in 1901 a fire at Hollywood's Prospect Elementary School killed 25 children and their teacher, identified as "Miss Elizabeth." The school, says the site, was located right next door to the Vogue Theater during the "late 1800s," but the Vogue wasn't built until 1935. Also, old maps fail to reveal a school on the site, and there are no known news articles about such a fire. Yet several websites, including The Culture Trip, say it is true, and that Miss Elizabeth and eight of her students now haunt the Vogue Theater.
"The theatre is NOT haunted," former employee Michael Moran insisted to Los Angeles Theatres in 2017. There are no ghosts at all, he says, not even the ghost of a former projectionist identified as Gus. "I knew Gus and he died long after he retired from the Vogue," Moran claimed. Rather, the story was fabricated by "Ghost Hunters tour or some such nonsense." Moran might have been referring to the International Society for Paranormal Research, which LA Tourist says took over the Vogue in 1992 and found six children and three adults spooking around. Parapsychologist Larry Montz claimed the Vogue "was one of the most active sites I've ever worked on." And when his group was done investigating in 2001, he said, they cleared out the ghosts. But others who visit the place remain unsure.
Ghosts of Ciro's dance club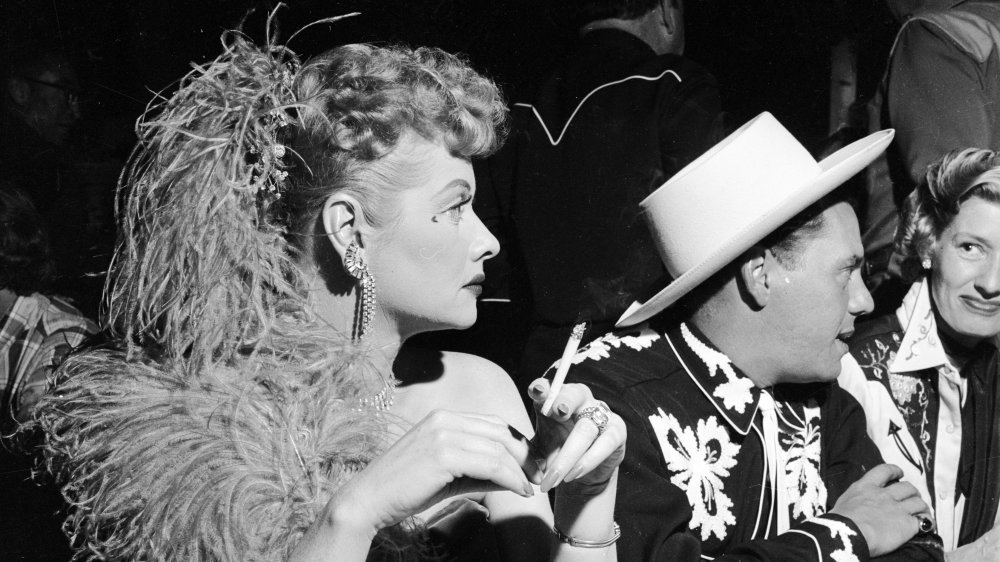 Michael Ochs Archives/Getty Images
The first Ciro's, according to Playground to the Stars, opened in 1934 on Hollywood Boulevard but failed. In 1940, Billy Wilkerson opened a new, successful Ciro's on Sunset Boulevard which soon became one of the hottest dance clubs in town with such guests as Lucille Ball and Desi Arnaz (pictured). But another owner, Herman Hover, lost the business in 1957. After serving as a rock club for a decade or so, the Comedy Store opened for business in 1972 and hosted such greats as Johnny Carson and Richard Pryor. Although none of the building's ghosts are identifiable, plenty of spirits wander around the place today.
Britannica cites such instances as the sound of a piano and other prankish phenomena on the second floor. Candles blow out on their own and chairs slide across the stage by themselves and were once found piled on the stage just seconds after security guard Blake Clark passed by. Clark, who has seen a ghost or two, also said that once, as Sam Kinison rehearsed on stage, a buzz of voices began chanting "It's him. It's him. It's him," according to Haunted World. The website also theorizes that most of the spirits hail from the 1940s and '50s when Hover's guest list included members of the mob. Gangster Mickey Cohen and others purportedly tortured and killed men down in the basement, which is described as being haunted by "an evil entity." Wear your Kevlar.
Spirits of the Hollywood Wax Museum
What better place for the dead to come to life but in a wax museum? The Hollywood Wax Museum on Hollywood Boulevard opened in 1965 and has since branched out across America. In the original museum, however, spirits move amongst the life-size wax figures, says CBS Los Angeles. Also, photographs of the displays often included "strange images" and colors that can't be explained. Rumors of ghosts once inspired a National Enquirer reporter to stay the night in the museum overnight. By morning the man was cowering at the front door "completely pale and horrified."
LA Tourist, which also recounted the National Enquirer writer's experience, claims that the magazine never heard from their wayward reporter again. But there's more: general manager Tej Sundher says seances in the museum have revealed spirits haunting the place. And as if seeing lifelike creepy wax figures standing around isn't enough, visitors have also reported spotting a woman kneeling in prayer in front of the Last Supper exhibit, Haunted Rooms says. She vanishes when approached. There is also a ghostly young man who enjoys hanging out in the Chamber of Horrors.