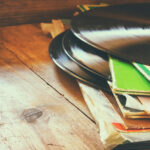 The Most Underrated 70s Rock Song, According To 25% Of People
echo get_the_meta(); ?>
Musically, the 1970s was a decade of contradiction. On one hand, it marked the emergence of easy-listening ballads like Debby Boone's "You Light Up My Life," right alongside the hypnotic throb of disco. On the other hand, old-fashioned rock 'n' roll from the era — think The Rolling Stones, Eagles, and The Who — was such a force that, decades later, the musical era is now known as "classic rock." 
Even though some of your favorites may still be firmly in the rotation at your classic rock radio station, others have failed to get the love they deserve. These songs stand in the shadows of more popular hits, just waiting for their moment, so let's give it to them. Grunge asked 600 U.S.-based readers which rock song they thought was the most underrated of the 1970s and these are the winners.
Our readers can get enough of Bad Company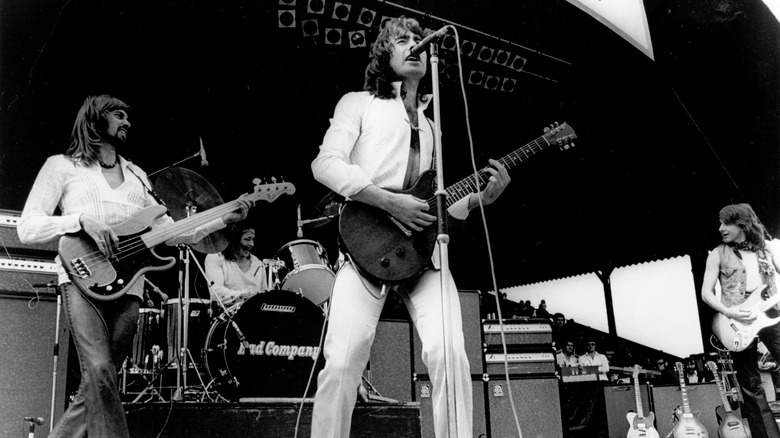 Michael Ochs Archives/Getty Images
It's not unusual for a band to release a song with the same name as the band itself. According to Stereogum, Green Day has released a song called "Green Day," Black Sabbath gave us a song called "Black Sabbath," and well, you get the idea.
Such is the case with English hard-rock band Bad Company who, in 1974, released a song based on a book a bandmate had read about Victorian-era morals, warning its readers to "beware of bad company," according to Songfacts. The band also released other hits, including "Feel Like Makin' Love" and "Rock 'n' Roll Fantasy."
And while Songfacts tells us their 1974 hit "Can't Get Enough" was a top-20 hit in the U.S., it hit the airwaves at the same time as a similarly named (and entirely different) love song by Barry White. Perhaps that's why our readers seem to think that "Can't Get Enough" deserves its place in the shadows. Only 10.5% of our readers believe this is the most underrated rock song of the 1970s.
Hall & Oates are gone from our readers' memories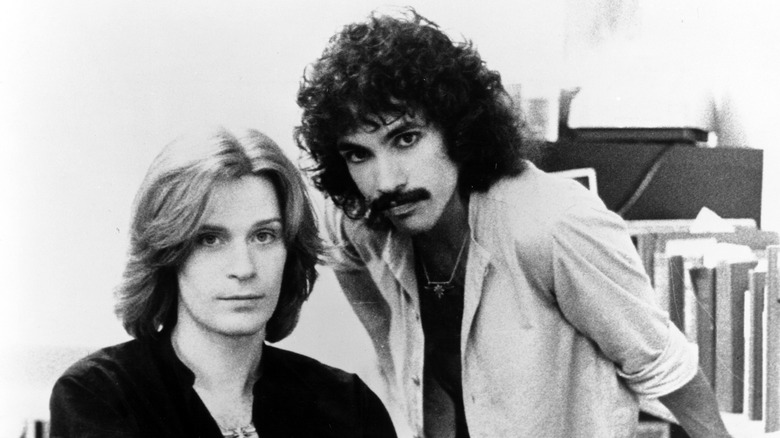 Michael Ochs Archives/Getty Images
If you were to ever meet Daryl Hall or John Oates in person, one of the first things you might hear from them would be a lecture about their name. For decades, most of us have referred to their group as "Hall & Oates," even though that was never a thing. "It's always Daryl Hall and John Oates, from the very beginning. People never note that," John Oates told Esquire in 2012.
Hall & Oates — forgive us, Daryl Hall and John Oates — produced a slew of R&B-infused hits in the 1970s and 1980s. However, it took them two tries to get it right with one song in particular. "She's Gone" was originally released on the band's 1973 album "Abandoned Luncheonette," according to The Encyclopedia of Popular Music. At the time, it failed to achieve any real success outside of the band's hometown of Philadelphia. However, it was released again in 1976, and this time, it went all the way to No. 7 on the charts, according to Billboard.
Despite its strong chart position, these days "She's Gone" is relegated to the second tier of Daryl Hall & John Oates tunes, behind "Rich Girl," "Private Eyes," and more. Only 13.5% of our readers consider it the most underrated rock song of the 1970s.
Our readers think Ramblin' Man rambles for too long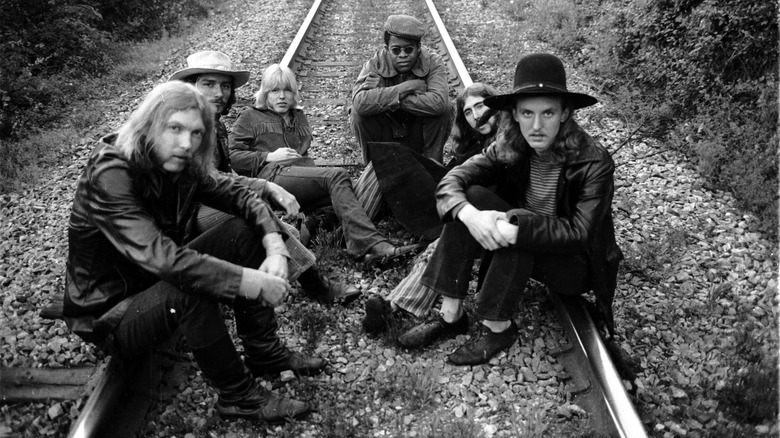 Michael Ochs Archives/Getty Images
The Allman Brothers Band formed in Florida in 1969 and tried to forge their unique path in rock 'n' roll by infusing it with elements of country, jazz, and jam band-style freestyling and improvisation, according to The Wall Street Journal. Then, in 1971, following the death of founding member Duane Allman in a motorcycle accident, the group was forced to reinvent itself.
In 1973, the group released "Ramblin' Man," taking its title (but nothing else) from a 1951 song by Hank Williams, according to Songfacts. It would become not only the band's most popular song but a staple of classic rock radio.
"Ramblin' Man" is also interminably long. At 4:50, it doesn't even come close to even-longer '70s hit songs like "Stairway to Heaven." However, the final minute and a half or so of the song is one extended instrumental bit that seems to go on forever.
Whether for this reason or others, our readers are content to let this song stay where it is in popularity. Only 14.17% called it the most underrated rock song of the 1970s.
Our readers don't have sweet emotions for Aerosmith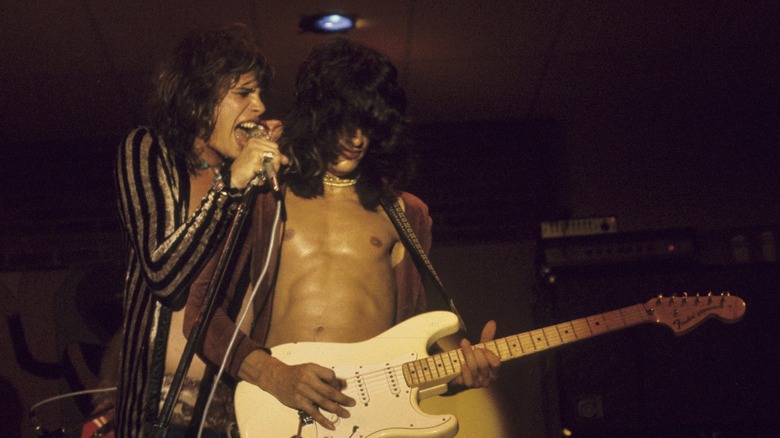 Richard Mccaffrey/Getty Images
Aerosmith is a band that, much like The Rolling Stones, seems incapable of going away for long. The Boston group got big in the 1970s and never looked back, continuing to produce hit songs over parts of four decades, and touring and performing well into a sixth. Along the way, they've battled substance abuse, internal conflicts, and the changing tastes of the music-consuming public.
When the history of rock 'n' roll is written, Aerosmith may well be most remembered for one of two songs: "Dream On," the brooding ballad about the band's hopes for success (according to Songfacts), or "Walk This Way," the collaboration that reignited their then-sagging careers (according to The Guardian).
Other Aerosmith tunes, such as "Dude Looks Like a Lady" and "Love in an Elevator," also define the long-lived band, but it's their 1975 hit "Sweet Emotion" that, in the minds of Grunge readers, is one of their more middling tracks. Only 17.5% of our readers believe it to be the most underrated rock song of the '70s.
Pink Floyd's songs are just other bricks in the wall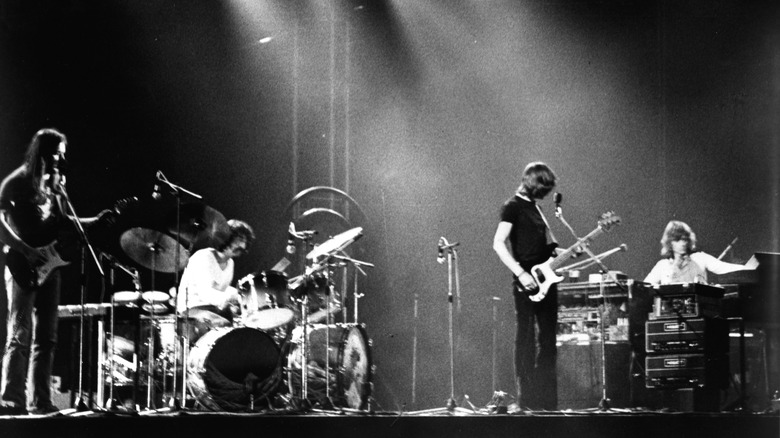 Michael Ochs Archives/Getty Images
The 1970s saw the rise of two forms of musical expression that often went hand-in-hand: Progressive (or "prog") rock, which focuses on elaborate instrumentation and other elements intent on elevating rock to something more artistic and literary; and so-called "concept albums," in which an album is itself one long narrative, the individual songs making up specific "chapters" of the story.
Pink Floyd was one of the biggest prog-rock bands of its day, and its 1979 rock opera album "The Wall" possibly one of the biggest concept albums of all time. "Another Brick in the Wall" is actually the second of a three-part arc of songs about the singer, suffering from various traumas (such as abusive schoolteachers), and metaphorically "walling" himself up, according to MTV.
"Another Brick in the Wall" may quite possibly be one of the only songs about child abuse to become a classic rock staple, but our readers don't consider it particularly underrated, — only 18.83% called it the most underrated rock song of the 1970s.
Santana cast some black magic on our readers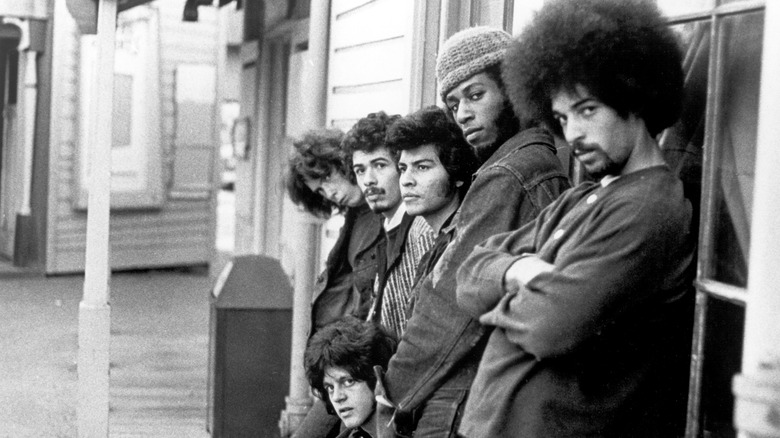 Michael Ochs Archives/Getty Images
When you think of a band named for one of its members, such as The Dave Matthews Band or the J. Geils Band, you may be tempted to conclude that the person who lent their name to the group is the lead singer. In fact, that's not always true; even J. Geils wasn't the singer in his eponymous band.
When it comes to the name of Mexican-American guitarist Carlos Santana's band, not only doesn't its namesake sing on any of the band's songs, a fair share of their tracks are instrumentals. That's because Carlos was content to let his guitar do the "singing," recording such instrumental classics as "Samba Pa Ti," among others.
One Santana song that does feature lyrics is "Black Magic Woman," originally recorded by Fleetwood Mac, according to Ultimate Classic Rock. It became one of Santana's signature hits, and to this day, it's well-loved by fans. A clear plurality of Grunge readers — 25.5% of them — say that "Black Magic Woman" is the most underrated rock song of the 1970s.