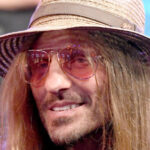 The Untold Truth Of C.C. DeVille
echo get_the_meta(); ?>
While the tales of the excesses that were the late '80s glam metal scene have become the stuff of legend, one of the most troubling stories to stem from the era is that of C.C. Deville. Lead guitarist of the notorious hair band Poison, Deville has had more than his fair share of trouble, both in and out of the band. Everything from fistfights with original band members Bret Michaels and Bobby Dahl, to problems with alcohol, DeVille's time in the limelight has been a troubled one.
Poison formed in the mid '80s. Deville was the last member to join the band; on the cusp of their big break, founding Poison guitarist Matt Smith got cold feet (via Living Legends Music). With a freshly signed club deal that would bring regular money into the band, the boys in Poison (Bret Michaels on vocals, Bobby Dahl playing bass, and Ricki Rockett on drums) were now in a serious pinch. After auditioning the likes of Slash from Guns N' Roses, the band was no closer to hiring an axeman. On a whim, the band auditioned New York native C.C. Deville.
Success and excess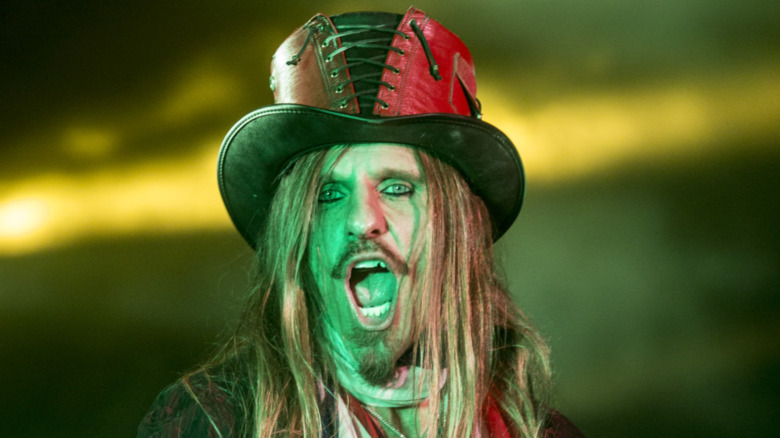 Harmony Gerber/Getty Images
Even though both Bret Michaels and Bobby Dahl had bad feelings about the guitarist (via Living Legends Music), Deville was hired, and the band's ascent was firmly underway.
Years of unprecedented success, accolades, and all-around debauchery will eventually take their toll on any member of any band, but especially on Deville. The guitarist's penchant for alcohol and cocaine over the course of Poison's meteoric rise are well known, but culminated one late summer night in 1991.
On September 5, 1991 Poison was set to perform at the MTV Video Music awards (via Tone Deaf). Riding high off the release of their third album, "Flesh & Blood," but internally on the verge of breaking up, Poison took the stage. No one knows for sure what was up with Deville that night, but he wasn't on the same page as the rest of the band. He wasn't even using the same book, for that matter.
Only scheduled to play their hit "Unskinny Bop," Deville hit the stage before the rest of the band, off cue, and ripped right into the song (via Medium). It turns out, though, Deville started too soon. Way too soon, in fact.
Then there were the fights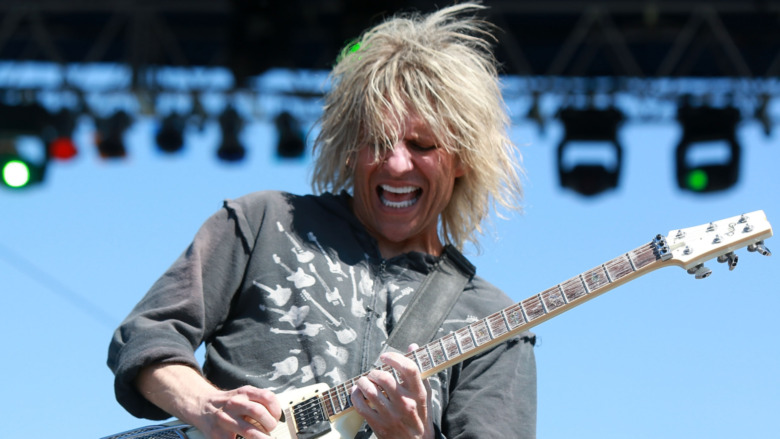 Robin Marchant/Getty Images
The broadcast was still on commercial break. By the time things got "righted," Deville unplugged his guitar, plugged it back in and played an entirely different song than what the band agreed upon. After the set, but before even making it all the way backstage, Bret Michaels jumped Deville, beating him unmercifully. Michaels fired Deville on the spot.
That fight certainly wasn't the first for one for the boys in Poison. During an interview on "Steve Gorman SPORTS! Show" back in 2015 (via Loudwire), Michaels discussed at least one other time that he mixed it up with Deville. As Michaels tells it:
"…let's start with New Orleans, me and CC at a sports bar; Archie Manning's sports bar. This is no lie. Me and him were having a few words, having a good time, next thing you know, maybe a couple drinks, a little substance here, next thing you know a few words, and we are beating the living crap out of each other. And then it continued. They broke us apart.
Allegations of stealing songs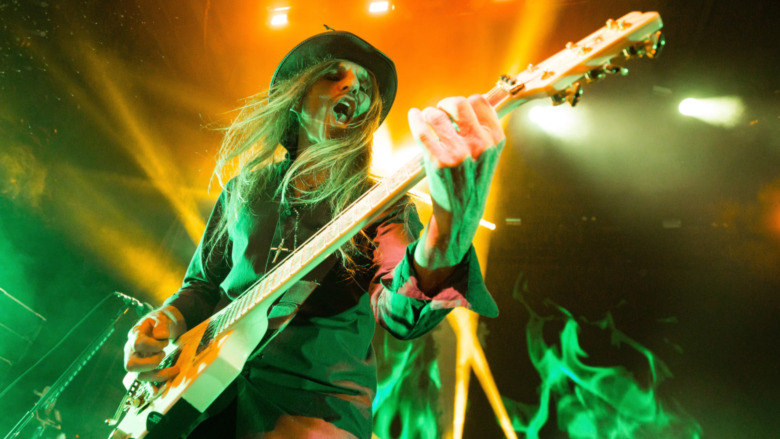 Scott Legato/Getty Images
"We went back to the hotel, right," he continued, "and all of a sudden the elevator door opens and we just happened to be going down to our buses, they were trying to separate us, and it started again. Old CC came at me and we went at it again. And it was like an old Army/Navy bam, boom, boom, we got some punches in. It was good…" It would only be a short time later that the now infamous incident at the 1991 MTV Video Music awards would occur. And Deville would find himself without a band.
The fact of the matter is, a popular band with a 30+ year history is going to face some lawsuits. It's just part of being in the public eye. However, when four of the band's most popular hits are accused of being stolen? That's something else entirely.
In 2011, 20 years after their major label releases, a lawsuit alleged that four of Poison's songs — "Talk Dirty To Me," "I Won't Forget You," "Fallen Angel" and "Ride the Wind" — all belonged to another band (via Hollywood Reporter). The lawsuit, brought up by members of a Chicago band known as Kid Rocker, claimed that before he joined Poison, Deville tried out for Kid Rocker.
The arrests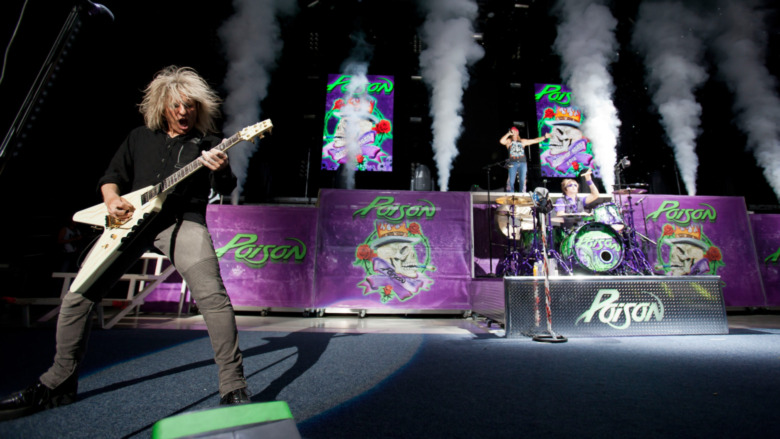 Scott Legato/Getty Images
According to the suit, Deville was loaned master recordings of Kid Rocker's songs for the audition, implying Deville had kept the songs even after not joining the band. Among damages sought, Kid Rocker demanded payment on profits on all four songs, payment for willful infringement and an immediate cease and desist on the performance of all four songs by Poison.
In 2013, the judge in the case ruled "in favor" of Poison (via LexisNexis). The ruling, however, did not state that Deville didn't steal the music; rather, that Kid Rocker's claim for damages would be limited to two of Poison's songs, and that would then be held to a three-year time frame, not in perpetuity. Further, Poison was allowed to continue playing all the songs in question. So while Poison did "win," the message was also pretty clear: Deville stole the music.
One night, while on tour in 1990, the boys in Poison were hanging out in Louisville, Kentucky. Deville, hours away from performing a show, was hanging out in a "lounge" when he decided to have some fun. Leaving the club, according to the Los Angeles Times, Deville jumped on the roof of a random car, causing all sorts of havoc. Deville was arrested at the club on December 4, 1990, for public intoxication and criminal mischief.
Leaving the past in the past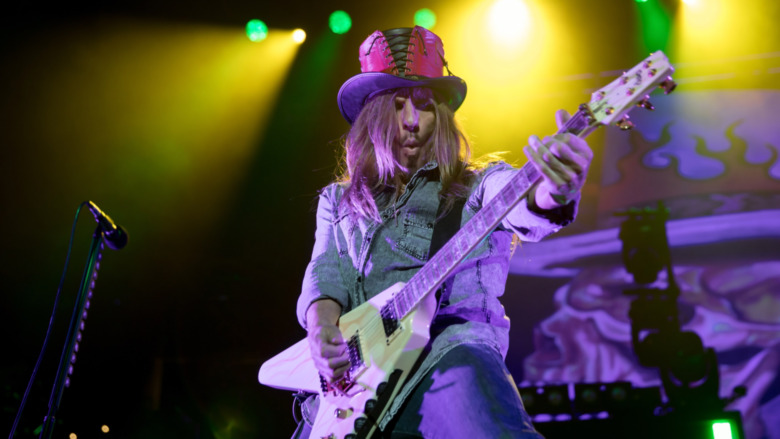 Miikka Skaffari/Getty Images
Trouble found Deville again years later. This time around, Deville was arrested for domestic abuse. According to Blabbermouth, Deville was arrested on August 21, 2005 for allegedly beating up long time girlfriend Shannon Malone. According to Metal Sludge, it was the second time Deville was charged with domestic abuse against Malone. Deville was arrested again two short months later for driving while intoxicated (via E! Online). He was sentenced to 80 days in jail for the incident.
Now nearly 60 years old, Deville may have finally put much of that behind him. A current member of Poison, the band was set to be part of a massive summer stadium tour alongside a revitalized Motley Crüe, Def Leppard, and Joan Jett in 2020. And while all tours have been on hold over the last year due to COV-19, all four bands involved with the event are confident it will happen when concerts start up again (via Music Mayhem Magazine). Maybe Deville will stay out of enough trouble to enjoy another wave of the band's success.