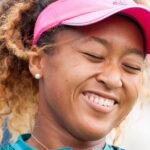 The Untold Truth Of Naomi Osaka
echo get_the_meta(); ?>
Naomi Osaka is an ambitious tennis player who aims high and dreams big. As per her official website, she hopes to inspire others around the world with her work. She wants to go beyond tennis and use her fame to get others to reflect on social issues. Also, tennis has been something that she's grown to love since childhood and Naomi Osaka only aspires to get better every day. Her achievements are extremely impressive: she is only the third person in history to have emerged victorious from all her initial Grand Slam final matches.
The ambitious player has also already won the U.S. Open as well as the Australian Open twice. And she has no plans of taking it easy. There's a lot that she hopes to achieve in her professional tennis career. What's more, the athlete works hard. She told Vogue in an interview, "You may lose more than you win, be told 'no' more than 'yes' but if you stay the path, and put in the work you can be the best version of [yourself]." She added that tennis essentially something that is played alone, and you cannot depend on someone else to help you out. She explained it best when she said, "It's about trusting yourself and the work you put in prior to the match."
This is the untold truth of Naomi Osaka.
Naomi Osaka is from a diverse background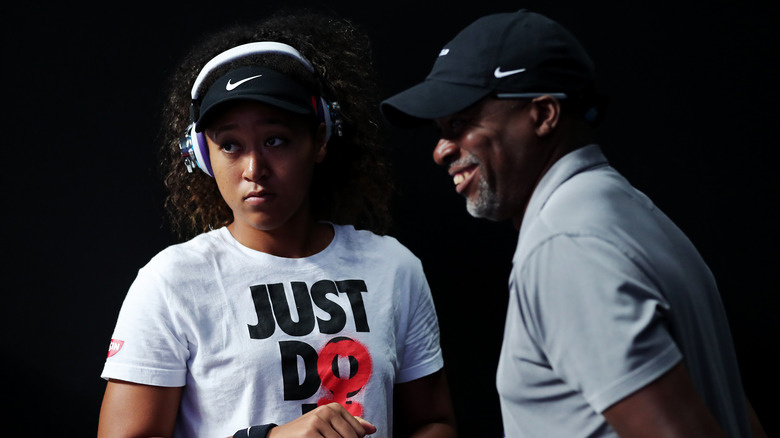 Lintao Zhang/Getty Images
Naomi Osaka was born in the city of Osaka, Japan in 1997. According to Biography, her parents met in Japan in the 1990s. Leonard Francois and Tamaki Osaka were madly in love but they faced resistance from Tamaki's parents. They didn't want their daughter to tie the knot with a man from Haiti and refused to bless the couple. However, Francois and Tamaki remained determined and married anyway, living in Osaka where they had their daughters, Mari and Naomi a short while after they made their relationship official.
Per the New York Times, Naomi's parents chose to shift base to the U.S. when she was 3 years old. Even though she was far away from Japan, she did learn to appreciate Japanese culture and has publicly expressed her love for manga and Japanese cinema. Her childhood was filled with diverse experiences, and she spent her initial years with her family on Long Island followed by Florida. Naomi said, "I grew up surrounded by both Haitian and Japanese culture."
Her relationship with Japan is tricky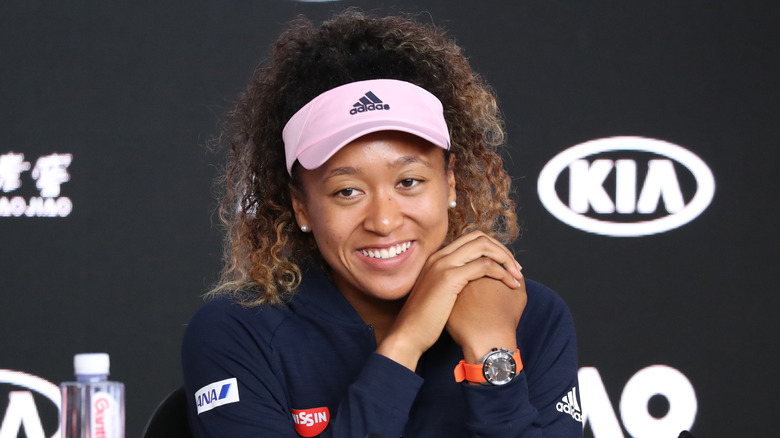 Shutterstock
According to the Washington Post, Naomi Osaka's parents were determined to ensure that she would someday represent Japan as a competitive tennis player. Tamaki Osaka said that this decision was made when Naomi was a child. She added, "She was born in Osaka and was brought up in a household of Japanese and Haitian culture. Quite simply, Naomi and her sister Mari have always felt Japanese, so that was our only rationale."
With this mind, Naomi decided to let go of her American citizenship when it was time for her to choose in 2019. Japan's citizenship policies didn't permit her to hold her dual citizenship after the age of 22. At that point, the tennis player said, "It is a special feeling to aim for the Olympics as a representative of Japan. I think that playing with the pride of the country will make me feel more emotional."
However, Japan didn't embrace Naomi whole-heartedly. The reception has been complex. Some Japanese comedians even poked fun at her, calling her "too sunburned." Naomi also told the Guardian in an interview about playing a match against Japanese girls who assumed that she wasn't Japanese and said, "Oh, that Black girl. Is she supposed to be Japanese?" Naomi believes that ignorance is a huge problem in Japan in terms of race.
Naomi Osaka started training early on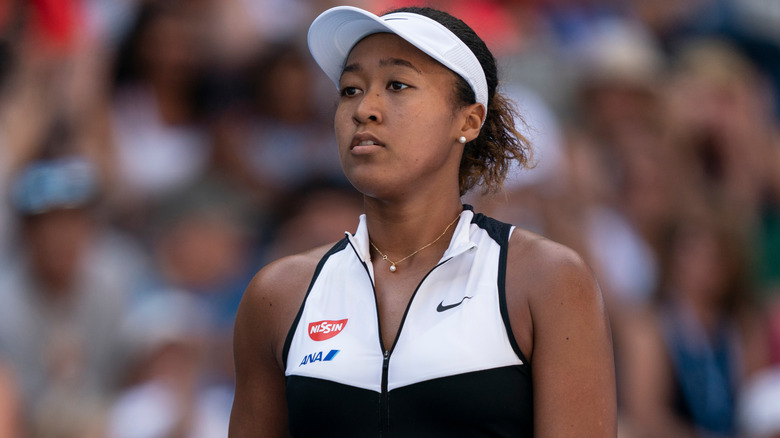 Shutterstock
Naomi Osaka, as per the New York Times, started playing tennis at the age of three. Her father Francois was highly motivated by a French open series featuring the legendary players, Venus and Serena Williams that he watched on television. He decided his daughters would go down the same route and train to become professional tennis players. He said, "The blueprint was already there. I just had to follow it."
Francois was actively involved in introducing his daughters to the sport, teaching them what he could. He used books and DVDs to increase his knowledge of tennis. Initially, Naomi simply had one goal in mind: she wanted to win a match against her sister. She said, "I don't remember liking to hit the ball. The main thing was that I wanted to beat my sister." Naomi's sister Mari wasn't as competitive, but Naomi remained determined and told her that she'd win one day. Her dream came true 12 years after they started playing together.
The Osakas were extremely serious about prioritizing tennis and in 2006, they relocated to Florida to concentrate on the sport. The sisters would play tennis all day and be homeschooled in the evenings. While they practiced constantly, they didn't really attempt to play junior competitions and focused on the pro satellite tours when it was time.
Naomi Osaka always had what it takes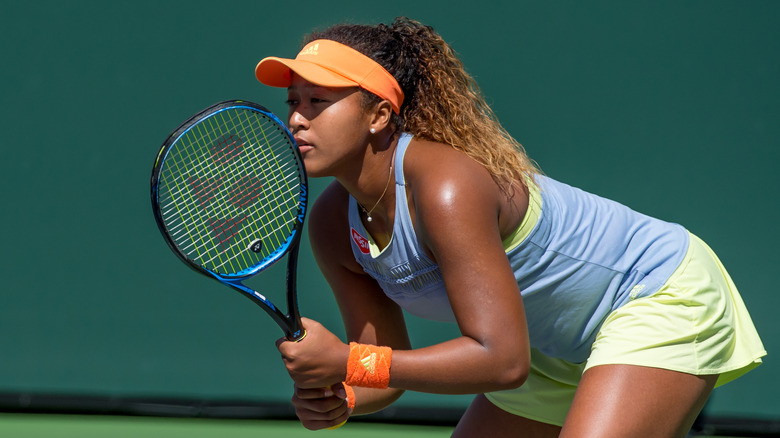 Shutterstock
According to Tom Downs, Naomi Osaka's former coach who taught her at the Harold Solomon Tennis Institute in Fort Lauderdale, Florida, the tennis player doesn't like being anything but herself, something that he thinks is her strength and works in her favor. She was at the institute for seven months when she was 16 years old. Downs said that many "good tennis minds and coaches have spent hours on court with Naomi" and his team felt lucky enough to be a part of her journey.
He wrote in the Tennis View Magazine, "The great thing about Naomi Osaka is that she's always been herself. Nothing has ever seemed to bother her too much." Downs added that she was always humble and polite to her coaches and other people at the institute while training. 
Furthermore, she wasn't afraid of putting in the work required to get better at her game. Downs wrote that he was extremely confident that Osaka would become an accomplished player someday in the future. She had the talent and determination needed to succeed in the sport.
She embraced professional tennis at age 16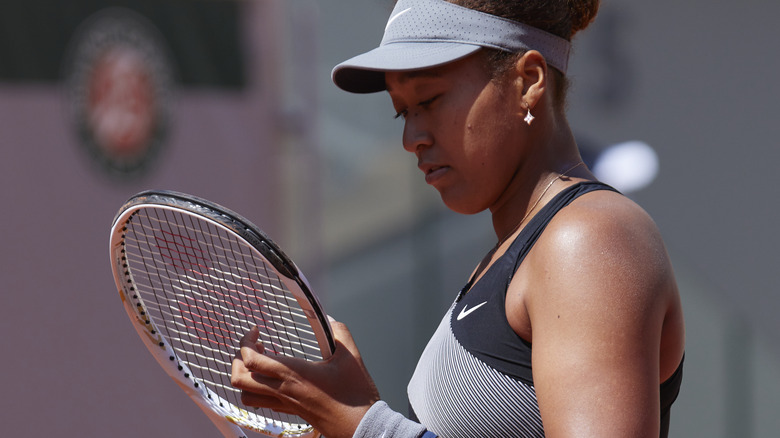 Quality Sport Images/Getty Images
Naomi Osaka aimed for the big leagues and started playing professional tennis in 2013, beginning with the 2014 Bank of the West Classic. She managed to win a difficult match against tennis legend, Samantha Stosur (via CNN.) It took her just a year to get noticed and Osaka started getting placed higher on the world rankings. Towards the end of 2015, she won the 2015 Rising Stars Invitational exhibition in a match against Caroline Garcia. 
Her early performance at the Bank of the West Classic was good enough for media outlets to cover it. Sports Illustrated noted that she had managed to hit "a massive forehand," something that was most impressive and unusual for someone her age. Her performance was heavily praised, and the article noted, "This kid has a live arm," referring to her deadly serves that were believed to be as fast as 120 mph.
Naomi Osaka struggled in 2017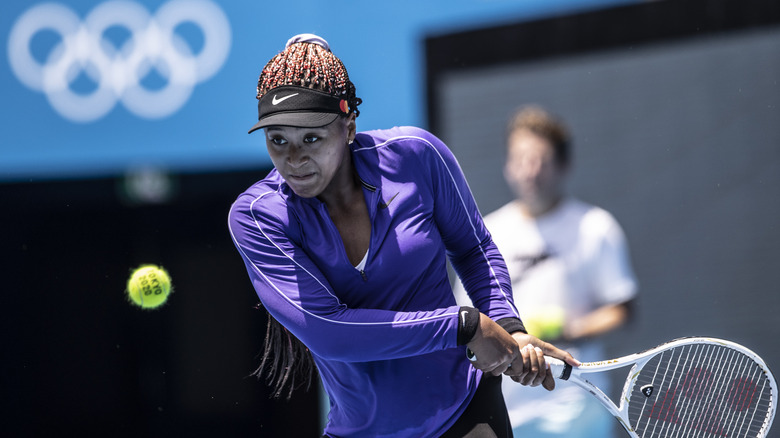 Maja Hitij/Getty Images
As an athlete, Naomi Osaka has already seen her share of highs and lows. In 2018, she decided to practice under Sascha Bajin's watch in a bid to improve her game. According to Tennis World, Bajin has worked with legends like Serena Williams and Caroline Wozniacki. Osaka experienced an uncertain period in 2017 and didn't have as many consistent wins under her belt as she hoped. That said, she did prove her talent in any case by winning several rather difficult games at the U.S. Open and impressing many onlookers with her raw talent. She longed to get better, though and focused on creating a new team for herself.
Her coach, David Taylor remained optimistic about the player's potential and said that "the sky's the limit" when it comes to her. Osaka did credit her coach for giving her much-needed strength during her difficult moments and said that he gave her a boost of positivity whenever she needed it.
Her match against Serena Williams was controversial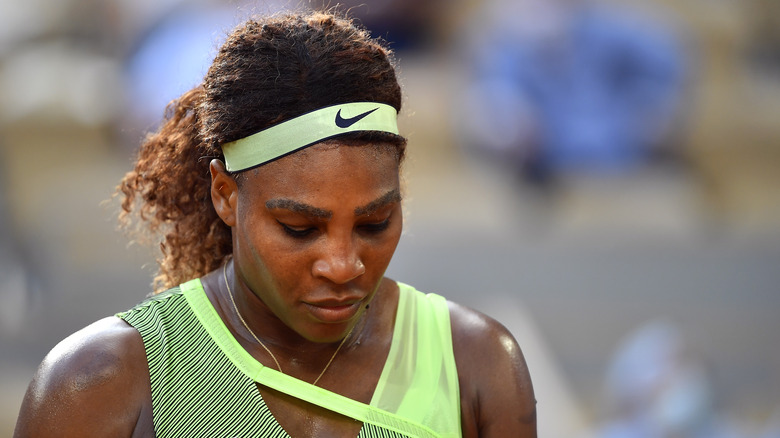 Aurelien Meunier/Getty Images
In 2018, Naomi Osaka got to live a dream when she played a match against one of her tennis idols, Serena Williams (via Evening Standard.) She said, "Just the fact that it's happening, I'm very happy about it. At the same time, I feel like even though I should enjoy this moment, I should still think of it as another match. I shouldn't really think of her as my idol. I should just try to play her as an opponent."
She stayed true to her words and fought hard to win a Grand Slam. Her win wasn't exactly what she visualized it to be like, though. According to the BBC, it was a "bittersweet" match for her because Williams got upset and claimed that the umpire Carlos Ramos was a "thief." She later also said that he was sexist. Osaka admitted, "Of course I'm happy that I won a Grand Slam, I don't think there's anything that can take away from that, but I feel like it was so strange, I didn't just want to think about it." She wished to put the incident behind her and focus on the future.
Naomi Osaka feels strongly about activism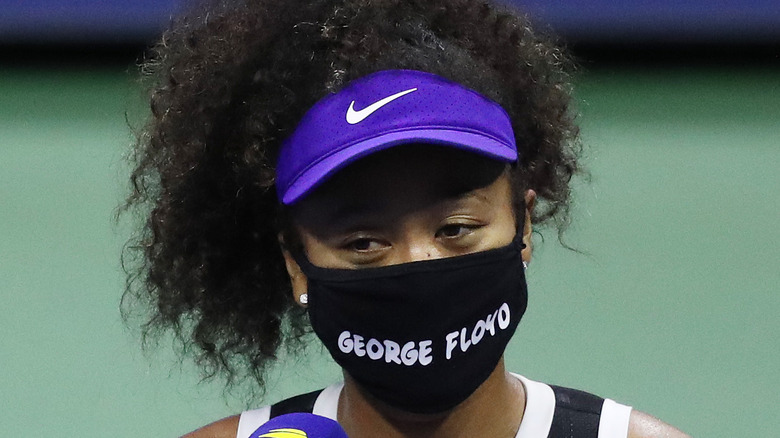 Matthew Stockman/Getty Images
For Naomi Osaka, it's really important to speak up against topics that she feels strongly about. In 2020, the Associated Press named Osaka the "AP Female Athlete of the Year." She used her voice to speak up about issues such as racial inequality. In fact, she decided to withdraw from a tennis match in New York in solidarity with NBA players as they protested against the shooting of Jacob Blake. 
WTA Chairman and CEO, Steve Simon was full of praise for Osaka. He said, "Her activism has shone a light on how we as individuals and sports leagues can collectively make an impact." Meanwhile, tennis legend Billie Jean King was impressed and said, "She successfully completed the difficult task of taking excellence in sports performance and using that platform to succeed outside of sports on a much bigger stage."
The Telegraph couldn't help but appreciate Osaka for using customized face masks at the U.S. Open to spark conversations around police shootings and racial inequality. Even her coach, Wim Fissette, didn't know about her masks beforehand. He said that he realized that speaking up for the things that bother her helps Osaka avoid overthinking about tennis. In that sense, it helps her game.
She has been outspoken about mental health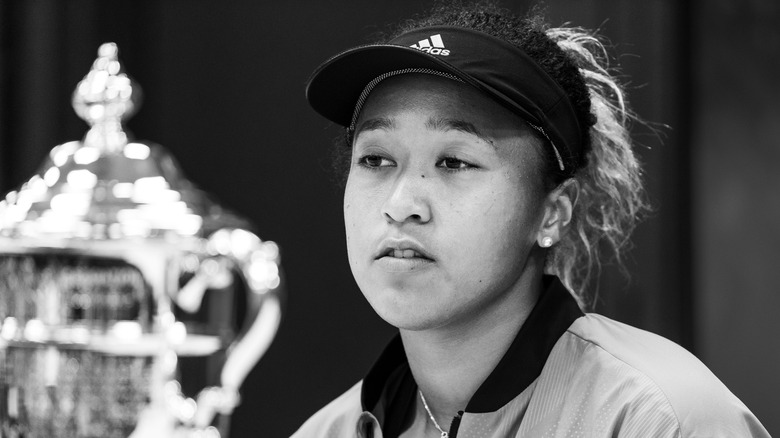 Shutterstock
Naomi Osaka expressed her thoughts on mental health in a deeply moving Time piece where she explained why she chose to skip some French Open press events for the sake of her mental health. She didn't mince her words as she expressed surprise at the reactions she received because of her decision. There were many who supported her and spoke about the importance of mental health while others couldn't quite understand her. 
Osaka emphasized that she has always been happy to talk to the press and has often done in-depth interviews. She added that her answers are always genuine and that she has never received any kind of media training. She said, "The press-conference format itself is out of date and in great need of a refresh. I believe that we can make it better, more interesting, and more enjoyable for each side. Less subject vs. object; more peer to peer."
She knows that certain tennis writers disagree with her. Osaka, however, feels that it was necessary for her to step away from the spotlight. The athlete explained that it was difficult to deal with the amount of scrutiny she was under and that she wouldn't want anyone to go through it.
If you or someone you know is struggling with mental health, please contact theCrisis Text Lineby texting HOME to 741741, call theNational Alliance on Mental Illnesshelpline at 1-800-950-NAMI (6264), or visit theNational Institute of Mental Health website.
Naomi Osaka decided to skip the French Open and Wimbledon in 2021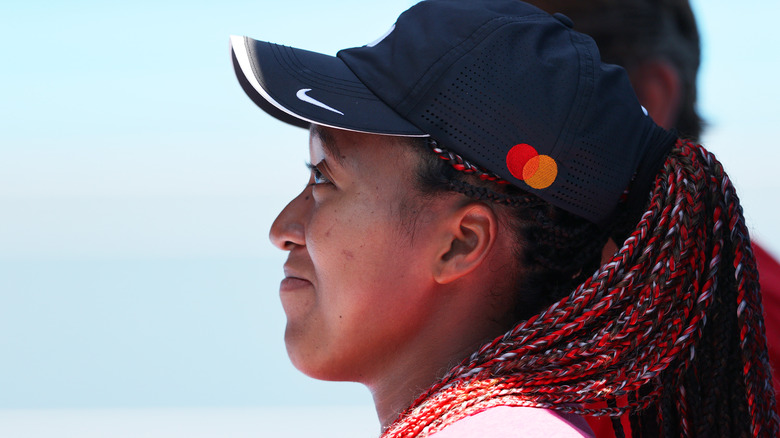 Clive Brunskill/Getty Images
Naomi Osaka is setting a solid example by prioritizing self-care and being honest about her journey. As per Vulture, the documentary film, "Naomi Osaka" offered some perspective into her life and thoughts. She found it upsetting when she was fined $15,000 for avoiding the French Open press conference. This led to her decision to skip the rest of the tournament. She also decided to step away from Wimbledon and take it easy and "spend some personal time with friends and family." Something heartwarming that did happen to Osaka was the fact that Serena Williams offered her support (via CNN.) The legend said, "The only thing I feel is that I feel for Naomi. I feel like I wish I could give her a hug because I know what it's like. Like I said, I've been in those positions."
Naomi Osaka knows her weaknesses and strengths. She even spoke about her sense of self outside tennis. The player explained her dilemma, "For so long I've tied winning to my worth as a person. What am I if I'm not a good tennis player?" For Osaka, it's really important to be honest and transparent instead of running away from her feelings. When she was questioned about a loss at the Australian Open, she said, "I'm sort of like the vessel that everyone's hard work is put into, and I wasn't able to, like, do what I was supposed to do."
She loves gaming and fashion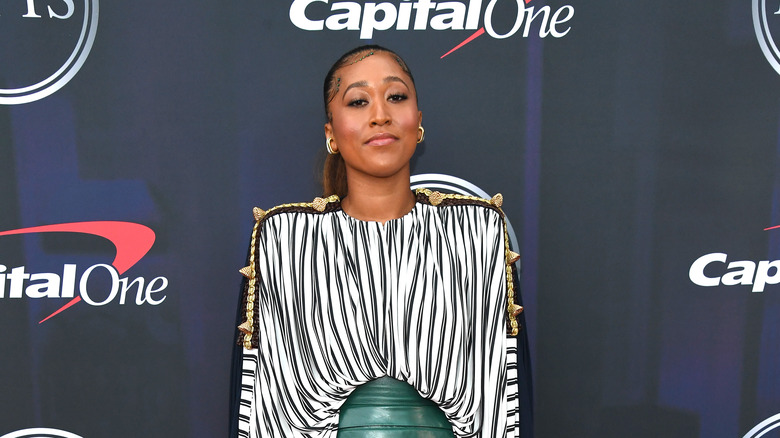 Kevin Mazur/Getty Images
According to GQ, Naomi Osaka has interests that go beyond tennis. For example, it's pretty well-known that she loves gaming. In fact, she enjoys it so much that she even uses gaming terms to make sense of tennis matches. She once said, "I just feel like I know [tennis] is sort of my job and, like, if I were to say it, like, in a gaming term, then it's sort of a mission that I have to complete. Um, so yeah. I just sort of tune everything out and just try my best to complete the mission." Pretty cool, huh?
Plus, the tennis player absolutely loves fashion and isn't afraid to flaunt her passion. According to Vogue, she's felt drawn to fashion since childhood and would come up with new outfits and styles with her sister, Mari who would convert them into sketches. In 2020, Naomi even launched her very own capsule collection. Speaking about her collection, Naomi maintained that it was reflective of her personal style. She said, "It's both feminine and something that I would personally wear…I really felt like this represented me and my style both on and off the court."
Naomi Osaka is self-aware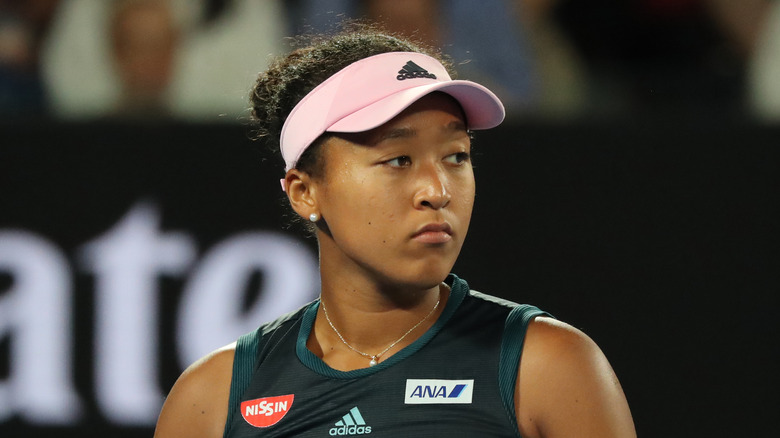 Shutterstock
The one quality that really sets Naomi Osaka apart is the fact that she's rather self-aware. For example, she knew that clay courts weren't her comfort zone for a long time and she struggled to perform on them (via Tennis World.) She put in more work to try and feel better about playing on clay courts. The player said after a match at the WTA Mutua Madrid Open, "I feel that I am more comfortable with this surface than in the past. I started playing better in the second set and I can only improve my movements on the court." Her strength is that she's optimistic about improving her game. 
According to GQ, Osaka practices for several hours every day. Exhaustion is not an option. Interestingly, she prefers defensive tactics when she's playing and she knows that as a tennis professional, she's usually referred to as aggressive. This isn't news to Osaka, who's often heard this from others. But all that matters is that she keep excelling, both on the court and in her personal life.