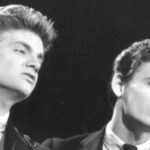 The Untold Truth Of The Everly Brothers
echo get_the_meta(); ?>
The Everly Brothers' clear, melodic harmonies influenced an entire generation of artists. But there was more to the brothers than concordant vocals. They excelled on the charts whether they were singing songs written by themselves or others, and their well-practiced guitar skills added intricacy and complexity to hit songs such as "Bye Bye Love," "All You Have to Do is Dream," and "Crying in the Rain." But Don and Phil Everly's relationship wasn't always, well, harmonious.
The Everly Brothers may have been the picture of 1950s clean-cut good looks and clean-cut tunes, but things got a little messy behind the scenes. Factors ranging from substance abuse to smashed guitars created turbulence in the brothers' career and relationship. But even when they took a step back from the limelight, the artists that dominated the mainstream were clear disciples of the Everly sound. And beyond the brothers' differences, disputes, and tensions was the enduring brotherly love that underpinned their career success. Here's more about the Everly Brothers' highs and lows.
The Everly Brothers sang live on the radio as kids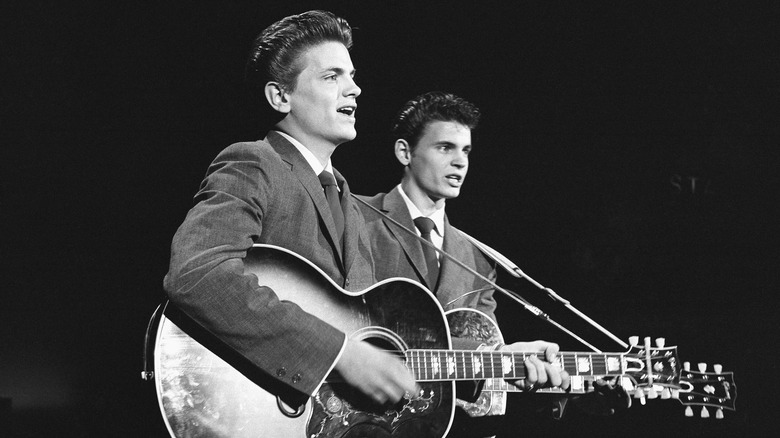 Michael Ochs Archives/Getty Images
The Everly Brothers were a product of the Everly Family. Don and Phil Everly's father, Ike, was a coal miner with musical ambitions, per the New York Times. The Everly Brothers spent much of their childhood in Shenandoah, Iowa, where their father earned a living by playing country music on local radio stations. When he got his own early-morning radio show on the station KMA, Ike enlisted some help from his wife, Margaret, and their two sons, the 8-year-old "Little Donnie" and the 6-year-old "Baby Boy Phil," who harmonized with him. He also taught Don and Phil how to play the guitar.
Throughout the 1940s and 1950s, the Everlys took the Everly Family Show on the road, performing live in the Midwest and the South. "We used to go on the road, and do some show and dance," Don recalled during a 2016 interview with his old radio station, KMA. "And, it was really fun for me as a child. I was riding in the small backseat of a car, sleeping after a gig. It was really fun for me."
The Everly Brothers' first single flopped and prompted Columbia Records to drop them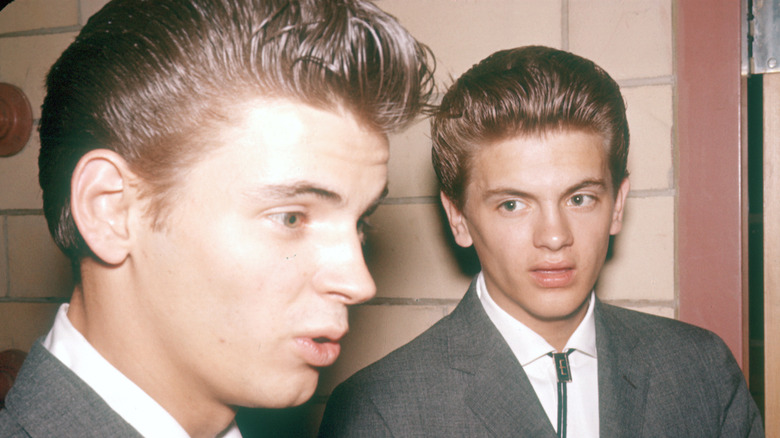 Michael Ochs Archives/Getty Images
By 1955, the teenaged Don and Phil Everly were living in Knoxville, Tennessee and performing as a country duo called the Everly Brothers. According to Studio B, Don began to write songs for other artists, including "Thou Shall Not Steal" for country singer Kitty Wells and a song for Anita Carter (who was the sister of June Carter Cash). The brothers soon caught the attention of Nashville music pioneer Chet Atkins, who got them a recording contract with Columbia Records in early 1956, per the Shenandoah, Iowa website.
The Everly Brothers' first single for Columbia, titled "Keep A' Lovin Me," was also their last. The single flopped and Columbia dropped the brothers, but Atkins still believed in their talent. He introduced them to music executive Wesley Rose of Acuff-Rose music publishers, who recognized their talent as songwriters. Rose cut the Everly Brothers a deal: If they signed with Acuff-Rose as songwriters, he would help them land a record deal. The brothers agreed and signed with Acuff-Rose in late 1956. They signed with Cadence Records by early 1957, partly because of their "photogenic good looks," according to Sam Houston State University.
The Everly Brothers' first hit was rejected by 30 other musical acts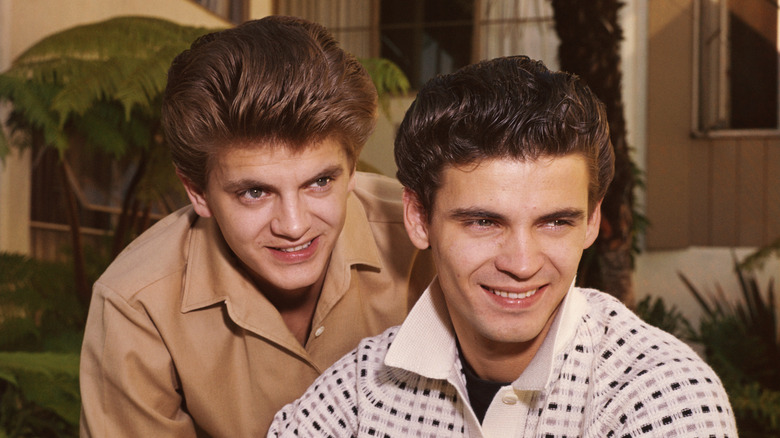 Keystone/Getty Images
On January 3, 1957, the Everly Brothers recorded their first hit single, "Bye Bye Love," written by Felice and Boudleaux Bryant. According to the Shenandoah, Iowa website, the song had previously been rejected by 30 artists, including Elvis Presley. New York Public Radio's New Sounds also reports that the country music star Porter Wagoner was due to record the song, but producer Chet Atkins brought things to a halt because Boudleaux refused a chord change. Still, the Everly Brothers saw the song's potential and were even permitted to give it a twist of their own: the choppy guitar intro, which was taken from a song Don had written called "Give Me a Future."
"Bye Bye Love" saw a 22-week run on the charts, and the single became their first to sell a million copies. Even so, Elvis likely wasn't too cut up about it, since the song peaked at No. 2 behind his own hit, "Let Me Be Your Teddy Bear."
Following the success of the song, the Bryants went on to write a string of hits for the Everly brothers. Moving away from the simplicity of "Bye Bye Love," the Bryants brought more intricacy to their next songs, including "Wake Up Little Susie" and "Poor Jenny," to accommodate the brothers' prowess when it came to harmonies and rhythm guitar.
The Everly Brothers were buddies with Buddy Holly
Michael Ochs Archives/Getty Images
On September 6, 1957, the Everly Brothers embarked on an 11-week, rock 'n' roll roadshow tour across the United States. They toured with major acts including Chuck Berry, Paul Anka, Eddie Cochran, the Drifters, and the Crickets — the latter of which was fronted by Buddy Holly. The star-studded group played five shows a day and ultimately covered 78 U.S. cities.
The Everlys formed a mutually — and musically — beneficial friendship with Buddy Holly and the Crickets. Holly wrote songs for the brothers, and they gave him Boudleaux Bryant's song "Raining in My Heart" because they felt it wasn't right for them. The Everlys also gave the Crickets some fashion tips. "We took [them] down to our clothes stores in New York, too: Phil's Men's Shop, Lefcourt's for shoes," Don told Rolling Stone in 1986. "We had just learned to dress a little sharper ourselves, and they noticed it, so we took them to all the places. If you look at pictures from back then, you'll see all of us in the same jackets -– Ivy League, like. Same photographer, too: Bruno of Hollywood."
After Holly died in a plane crash in 1959, Phil flew to the funeral in Lubbock, Texas, and sat with Holly's parents. Don stayed home. "I wouldn't go," he told Rolling Stone. "It just freaked me right out when Buddy died. I took to my bed. Quit riding planes for a while, too."
The Everly Brothers had a long, dramatic dispute with their record producer and manager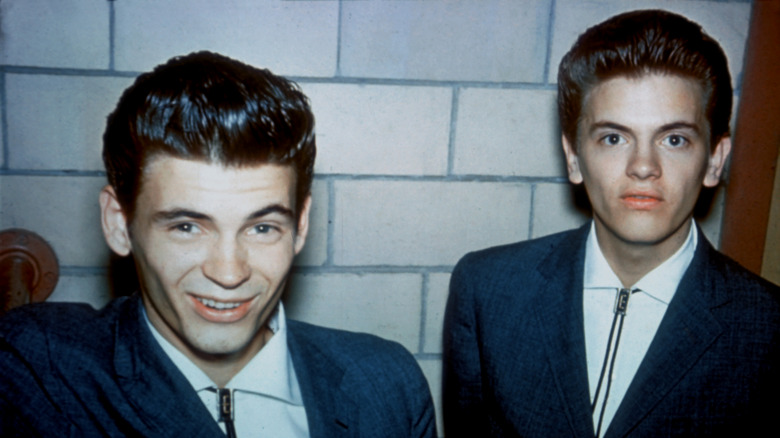 Michael Ochs Archives/Getty Images
In 1960, the Everly Brothers left Cadence Records over a dispute about royalties, according to the Shenandoah, Iowa website. According to Rolling Stone, the dispute began because the Everlys wanted to release the song "Temptation." According to the Los Angeles Public Library, the brothers' manager, Wesley Rose, didn't want them to release the song because it had been written decades earlier by a songwriter who was not signed to his company, Acuff-Rose, meaning the company would get no publishing royalties from the record.
The brothers left Cadence and signed a decade-long, million-dollar contract with Warner Brothers Records, but then learned that Rose had given himself veto power over any future songs they recorded that were written by Acuff-Rose songwriters. Their contract with Rose cut them off from recording any songs written by the Bryants and many other of the major songwriters of the time. The Everlys had enough songwriting chops on their own — Phil wrote their last top-ten hit for Cadence, "When Will I Be Loved," in a car parked in front of a root beer stand — but Rose's configuration of their contract even kept them from recording songs they had written while under a songwriting contract with Acuff-Rose.
The Everly Brothers set up their own record label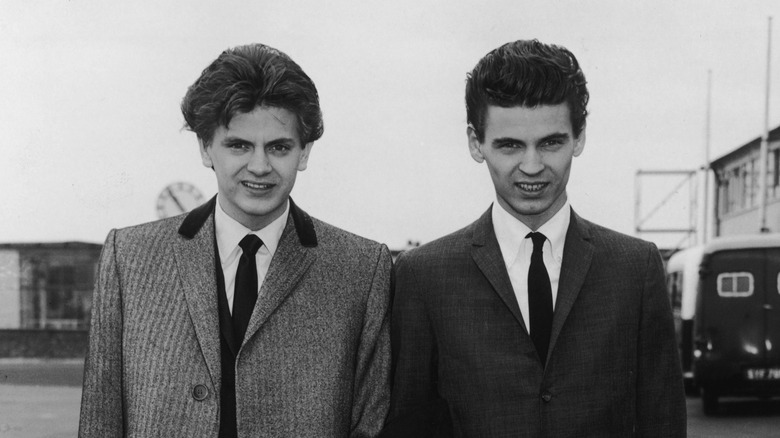 J. Wilds/Getty Images
Prior to their dispute with Wesley Rose, the Everly Brothers had tasted success with their Warner Brothers single "Cathy's Clown." Don Everly had written the song, and it swiftly became their best-selling single, spending five weeks at No.1 on the U.S. charts, per the Shenandoah, Iowa website.
Their songwriting potential was limited by their contract with Rose, but determined to find ways to write and release their own music, they tried to write songs under the aliases "Jimmy Howard" and "Adrian Kimberly." Rose was on to their scheme, and successfully sued for ownership of those songs, according to the Rapid City Journal. Refusing to give up, the Everly Brothers launched their own record label, Calliope Records, in 1961, with which they primarily released their own material as a duo and as solo artists, per Mental Itch.
The Everlys also tried their hand at collaborations. Phil Everly joined forces with Glen Campbell and Carole King as the Keestone Family Singers, a group which recorded one single, "Cornbread and Chitlings." As Adrian Kimberly, Don recorded a rendition of "Pomp and Circumstance," which became a Billboard Top 40 hit. Still, Adrian Kimberly's future singles flopped, and Calliope Records folded in 1962.
The Everly Brothers' career declined after they joined the Marines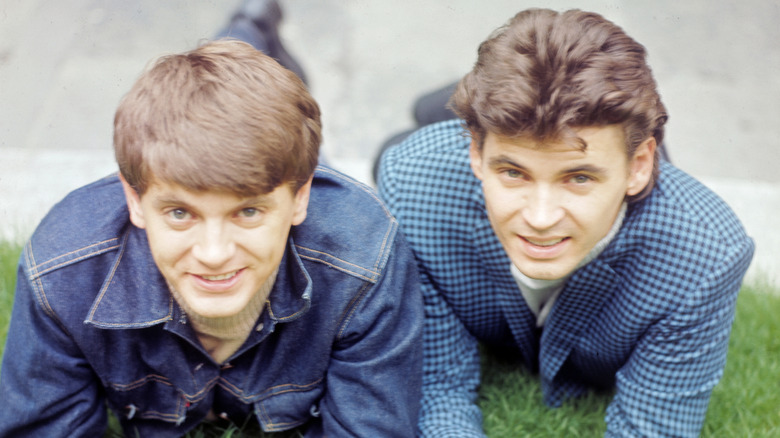 Icon And Image/Getty Images
In November 1961 — at the height of their fame — the Everly Brothers enlisted in the United States Marine Corps. They reportedly did so to avoid being drafted into the Army, per the Fay Observer. According to the San Diego Union Tribune, they completed 12 weeks of Marine Corps Recruit Depot in San Diego, California. They were then stationed at the Marine Corps' West Coast base, Camp Pendleton, in San Diego County.
On February 13, 1962, the Everly Brothers completed their basic training. That same day, Don Everly married the actor Venetia Stevenson in the chapel at the Naval Training Center. Phil Everly was his best man, and both brothers wore their Marine uniforms. "No sooner had [they] heard the final bugle call, drum roll and sought-after words, 'You are now Marines,' from their commanding officer, Lt. Col. T.A. Stawicki, than they dashed off [to the wedding]," wrote a San Diego Union reporter at the time.
While they were in boot camp in 1962, the Everly Brothers' top 10 hit "Crying in the Rain" was released, but they were unable to tour to support the song. On February 18, shortly after graduating from boot camp, they performed that song and "Jezebel" on the Ed Sullivan Show while wearing their Marine uniforms. Still, the brothers' stint in the Marines caused their music career to take a nosedive.
The Everly Brothers faced life-threatening drug addiction
Donaldson Collection/Getty Images
In 1961, Don Everly began receiving "Ritalin therapy" — a combination of a stimulant drug and vitamins — to cope with the demands of fame. He quickly became addicted. "People didn't understand drugs that well then," he told Rolling Stone in 1986. "They didn't know what they were messing with. It wasn't against the law: I saw a picture of my doctor with the president, you know? But it got out of hand, naturally. It was a real disaster for a lot of people, and it was a disaster for me. Ritalin made you feel energized. You could stay up for days. It just got me strung out. I got so far out there, I didn't know what I was doing."
Although Don quit using Ritalin while in the Marines, he got back on it shortly after leaving. One day in 1962, while touring in London, Don attempted to overdose on barbiturates, per Rolling Stone. His wife had him taken to a hospital to get his stomach pumped, but he returned to his hotel room and tried again. He was then sent to a psychiatric ward in New York City and treated with electroshock therapy. "They say shock therapy is good for some things, but it didn't do me any good," Don recalled. "It was a pretty primitive treatment at the time — once they gave it to you, you couldn't remember how long you'd been there. It knocked me back for a long time. I thought I'd never write again."
If you or anyone you know is struggling with addiction issues, help is available. Visit theSubstance Abuse and Mental Health Services Administration websiteor contact SAMHSA's National Helpline at 1-800-662-HELP (4357).
If you or anyone you know is having suicidal thoughts, please call the National Suicide Prevention Lifeline​ at​ 1-800-273-TALK (8255)​.
Tensions caused the Everly Brothers to part ways for a decade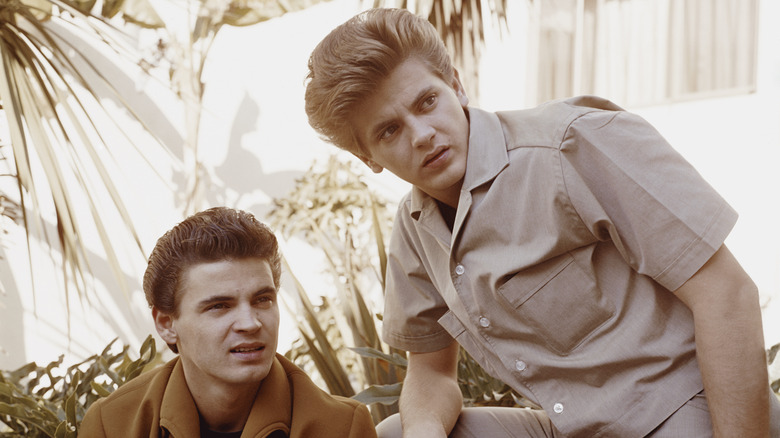 Keystone/Getty Images
"It's over," Don Everly told a reporter on July 13, 1973 (via Rolling Stone). "I'm tired of being an Everly Brother." The following night, he swigged tequila before taking the stage with Phil Everly at the John Wayne Theatre at Knott's Berry Farm in Buena Park, California. After a drunken Don proceeded to mess up the lyrics to "Cathy's Clown," an onsite manager stopped the show halfway through. Phil smashed his guitar on the floor before storming offstage, and Don played the rest of the show alone. "The Everly Brothers died ten years ago," Don said onstage.
"People thought that night was just some brouhaha between Phil and me," Don told Rolling Stone in 1986. "They didn't realize we had been working our buns off for years. We had never been anywhere without working; had never known any freedom. We were just strapped together like a team of horses. It's funny, the press hadn't paid any attention to us in ten years, but they jumped on that. It was one of the saddest days of my life."
"What we needed was to take a long vacation, to get off the merry-go-round," Phil said. "There were too many people making too much money off us, keeping us going … The tensions between Don and I … existed from day one, from birth. And will go on forever."
The Everly Brothers' '80s comeback was boosted by two major artists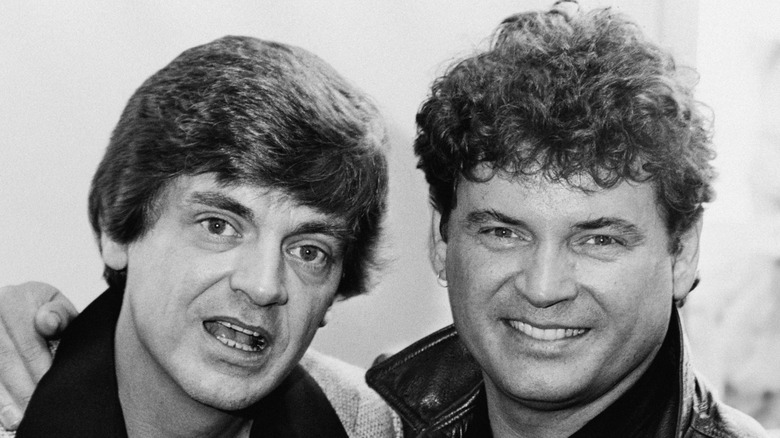 D. Morrison/Getty Images
The Everly Brothers' show at Knott's Berry Farm was their last as a duo — and one of the last times they would see each other — for a decade. Other than a brief reunion at their father's funeral in 1975, the brothers didn't see each other again until the early 1980s, per Rolling Stone.
By 1983, the Everly Brothers were considering a comeback — but they needed a little help from their friends. So their producer, Dave Edmunds, called Paul McCartney. "Dave said it was the hardest phone call he ever made, because McCartney is always being asked for something," Don Everly told Rolling Stone. "Paul said if he could come up with anything, he'd give a call. Dave forgot about it, but about six weeks later, the phone rang, and it was McCartney. He said, 'I think I've got one.'"
The song, "On the Wings of a Nightingale," was released on the Everly Brothers' comeback album, "EB '84." The single, and the brothers' comeback tour, proved to be a success. And in 1986, the Everly Brothers teamed up with another musical titan of the time, Paul Simon of Simon & Garfunkel. Simon enlisted the brothers to sing harmonies on his album's title track "Graceland," which he described as "the perfect Everly Brothers song" (via AV Club).
Phil Everly's death prompted Don Everly to reflect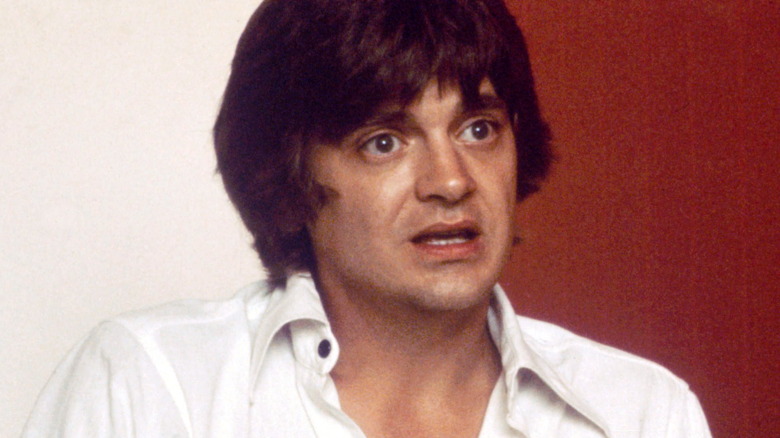 Michael Putland/Getty Images
Phil Everly died on January 3, 2014. He was 74 years old — just 16 days shy of his 75th birthday. The musician died of chronic obstructive pulmonary disease in a hospital in Burbank, California, as reported by the Associated Press.
Although the differences between Phil and Don Everly were well-documented, Don honored Phil with a statement to the Associated Press upon his death. "I was listening to one of my favorite songs that Phil wrote and had an extreme emotional moment just before I got the news of his passing," he wrote on the morning after Phil's death. "I took that as a special spiritual message from Phil saying goodbye. Our love was and will always be deeper than any earthly differences we might have had."
Don's own health issues were highly publicized, and he was two years older than Phil, so he hadn't expected to see his younger brother die. "I loved my brother very much," he wrote. "I always thought I'd be the one to go first. The world might be mourning an Everly Brother, but I'm mourning my brother Phil Everly."
Don Everly died at age 84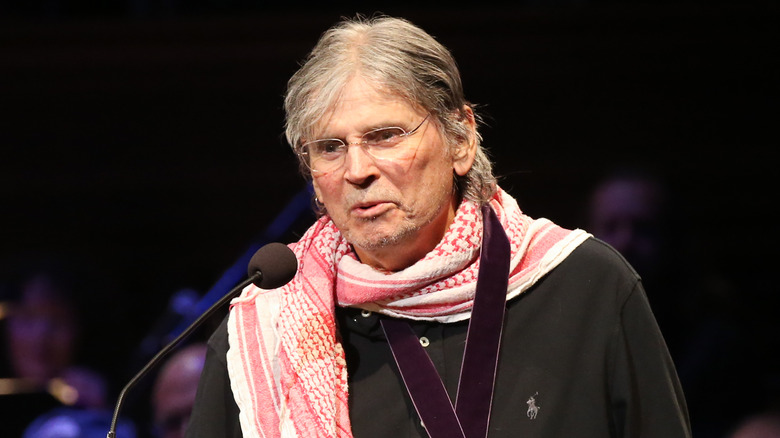 Terry Wyatt/Getty Images
Don Everly died at home in Nashville, Tennessee, on August 21, 2021. He was 84 years old, exactly a decade older than Phil Everly was when he died seven and a half years earlier. Although Don's family confirmed his death, they did not immediately specify the cause. "It is with great sadness that we regret to announce the passing of Isaac Donald Everly today," read an official Instagram post announcing the news.
In 2019, just two years before his death, Don was voted into the Musicians Hall of Fame in Nashville, per the Los Angeles Times. In an honorary video, Keith Richards of the Rolling Stones referred to Don as "one of the best rhythm guitar players I've ever heard."
"Don lived by what he felt in his heart," a spokesperson for the Everly family said in a statement (via BBC). "Don expressed his appreciation for the ability to live his dreams … with his soulmate and wife, Adela, and sharing the music that made him an Everly Brother."
The Everly Brothers influenced a generation of artists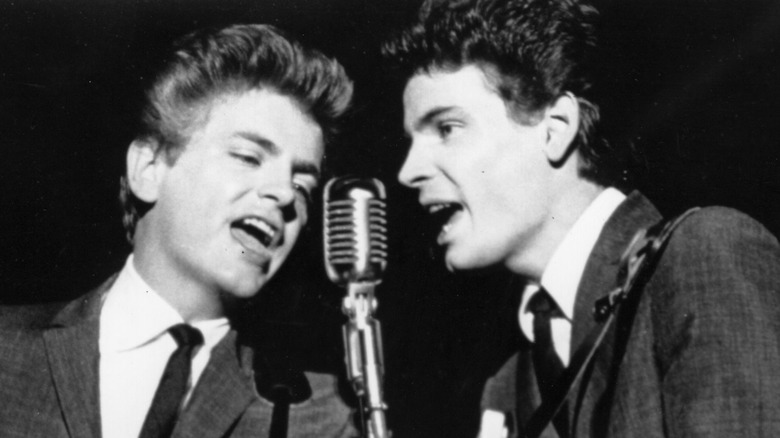 Keystone/Getty Images
The Everly Brothers' work with Paul McCartney and Paul Simon during their 1980s comeback was made possible in part because of their previous influence on these fellow iconic artists. "Artie [Garfunkel] and I, we really learned to sing harmony by learning the Everly Brothers," Paul Simon told PBS. "Don and Phil, for me, are still the best of all of the duos — better than Artie and me, better than John and Paul — just astonishingly great. Their sound was something that we strived for, that kind of buzz that you get, you know, when the blend is just right. You couldn't tell who was singing lead because both parts were so beautiful and sung so beautifully … And John and Paul were, undoubtedly, doing the same thing."
Paul McCartney confirmed Simon's assertion that the Everly Brothers had influenced him and the Beatles. "Phil Everly was one of my great heroes," McCartney wrote in a Facebook post following Phil's death (via Rolling Stone). "With his brother Don, they were one of the major influences on the Beatles. When John and I first started to write songs, I was Phil and he was Don."
According to the Independent, the Everly Brothers also influenced major artists including the Beach Boys and the Byrds. Even Bob Dylan, one of the most influential songwriters of all time, once said of the Everlys, "We owe these guys everything. They started it all."