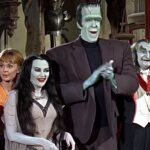 Tragic Details About The Munsters Cast
echo get_the_meta(); ?>
In the late 1950s and early '60s, some classic monsters that had frightened movie audiences decades before came back in a big way. Rising from their celluloid tombs, Frankenstein, Dracula, and the Wolfman found new lives on TV when 52 classic horror films were sold into syndication in 1957. The films, packaged as Shock! were monster ratings hits (pun intended). Convincing their on-air talent to ditch their suits and ties for fangs and fright wigs as masters of ceremonies for the macabre movies, local television stations ushered in the age of the horror host. From Philadelphia's John Zacherle to Portland's sultry Tarantula Ghoul, horror hosts injected humor and sometimes sex appeal into the creepy late-night happenings to the delight of their youthful audiences.
In October 1962, Bobby "Boris" Pickett's novelty song "Monster Mash" reached No.1 on the Billboard Hot 100 and, according to David J. Skal, author of "The Monster Show," not even President John F. Kennedy's daughter, Caroline, could resist its spooky charms.
With the monster craze in full swing by the mid-1960s, TV producers were anxious to get in on the graveyard bash. Premiering on CBS on September 24, 1964, "The Munsters," produced by "Leave it to Beaver" creators Joe Connolly and Bob Mosher, brought the classic monsters home to suburbia as a typical sitcom family. An immediate ratings hit, "The Munsters" would go on to become one of the most beloved TV comedies of all time. Yet, for the cast, life was often truly monstrous.
Tragedy haunted Fred Gwynne
Although actor Fred Gwynne was born into privilege, his life before Herman Munster was often anything but easy. As documented by Biography, tragedy ripped the Gwynne family apart when Fred's father died after a routine sinus operation. Eight-year-old Gwynne was devastated by the sudden loss.
A few years later, a sudden growth spurt would isolate Gwynne from his adolescent peers, making puberty, already an awkward time, even more difficult. With the support of his mother, the gangly teen made it through to become a popular, outgoing student who excelled in art and drama.
After graduating high school, Gwynne enlisted in the United States Navy, where he served as a radio operator on a submarine chaser during World War II, according to the New York Times. The stress and constant beeping of Morse Code took a toll on Gwynne, and he once broke down in tears in front of his captain, who relieved him of radio duty.
In the 1950s, Gwynne began working as an actor on stage and television while juggling a second career as a copywriter for an ad agency. In 1961, he made his big breakthrough as Officer Frances Muldoon on the cop comedy "Car 54, Where Are You?" However, just as Gwyne was settling into his success and enjoying family life with his wife and four children, his youngest son Dylan drowned in the family pool. While still dealing with his grief, he got word that "Car 54" was canceled and fell deeper into depression.
The downside of being Herman Munster
United Archives/Getty Images
The role of Herman Munster made Fred Gwynne a household name, yet the actor nearly passed up the part. "He didn't want to do it, but the money was too good," Foxy Gwynne, Fred's former wife told A&E's "Biography" in 1999. "The whole idea kind of turned him off," she said. Ever the professional. Gwynne nevertheless gave the role his all, and his childlike interpretation of Doctor Frankenstein's monster remains one of the greatest dads in sitcom history.
Once Gwynne surmounted his initial misgivings about the part, he discovered a wholly unexpected set of challenges in portraying Herman. Donning the costume and makeup proved torturous for the actor. Perspiring heavily under the makeup and heavy costume, Gwynne was forced to take salt tablets to stave off dehydration. He also developed severe back pain and began to lose weight at an alarming rate.
Physical rigors aside, Gwynne also grew frustrated with the show's recycled scripts and jokes. The stale material eventually left the actor feeling creatively stifled.  Following "The Munsters" cancelation in 1966, Gwynne found that he couldn't escape the long shadow of Herman. Typecast and frustrated, Gwynne spent much of his later career feeling bitter about the show. "It wasn't until he was out of 'The Munsters' that he realized (the show) had hurt him a lot as far as acting," Foxy said in a 1999 interview. "His name would come up for a part and they would say, 'Oh, come on. Herman Munster for that? Are you crazy?'" 
Financial woes brought Yvonne De Carlo to The Munsters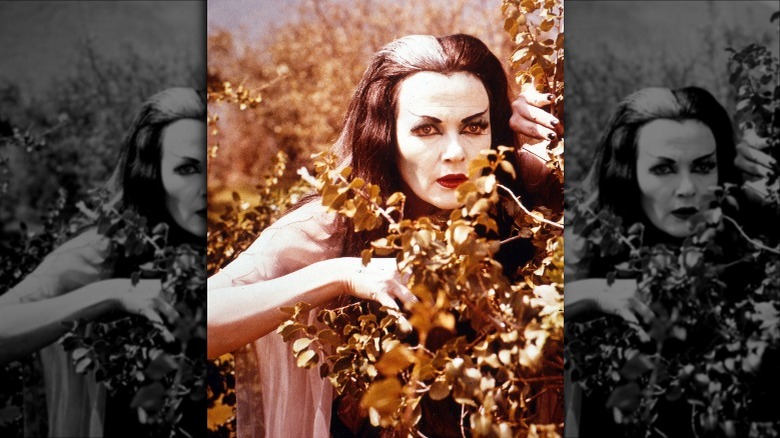 United Archives/Getty Images
When Yvonne De Carlo took the role of Lily Munster in 1964, she had been an established Hollywood star for two decades.
As detailed by A&E's "Biography," a grisly accident on the set of 1962's "How the West was Won" left De Carlo's husband, stuntman Bob Morgan, permanently disabled. Movie studio MGM refused to take responsibility for the negligence that led to Morgan losing his leg, leaving the couple in dire financial straits. Forced to mortgage the family home, De Carlo took any job she could get, from singing in nightclubs to summer stock theater. With medical and legal bills mounting, De Carlo needed a miracle.
In 1964, Universal offered De Carlo the role of Lily Munster. Although "The Munsters" was the solution to De Carlo's money troubles, the actress was still reluctant to take the role. "At first, she was embarrassed by the thought of doing it," biographer James Parish explained to the producers of "Biography," "but her agents and her bankbook told her, 'Go audition for this. You need the part, and you need the money.'"
Co-stars Fred Gwynne and Al Lewis initially had their misgivings about working with a movie star, but quickly reevaluated their attitudes when De Carlo got on the set. "When we heard that Yvonne De Carlo was going to play Lily Munster, I guess (there was) some reverse snobbery," Al Lewis told the Archive of American Television in 2002. "We were wrong. She was wonderful."
Yvonne DeCarlo's troubled love life
Ray Jones/Getty Images
Dubbed "the most beautiful girl in the world," Yvonne De Carlo was one of the most glamorous starlets of the 1940s and '50s. With her exotic beauty and vivacious personality, the young actress was sought after by some of the most powerful men in the world. Yet her many relationships rarely brought her happiness.
While under contract to Paramount in the early 1940s, De Carlo began a romantic relationship with legendary director Billy Wilder, whom she would later call the "first big love" of her life. As detailed in her 1987 autobiography "Yvonne," Wilder was physically far from De Carlo's idea of the perfect man. Still, she fell head over heels for the recently separated director of "Double Indemnity." Their romance ended abruptly when De Carlo spotted Wilder arm in arm with actress Doris Dowling.
In 1945, De Carlo became involved with eccentric billionaire Howard Hughes, but their relationship fizzled when Hughes refused to commit to marriage. After breaking up with Hughes, De Carlo briefly dated actors Robert Stack and Burt Lancaster, and Iranian Prince Abdul Reza Pahlavi.
While working on the 1949 film "The Gal Who Took the West," De Carlo met actor and stuntman Jock Mahoney. The couple fell in love and were engaged to be married when De Carlo discovered she was pregnant. Sadly, she lost the baby when doctors removed a large cyst from one of her ovaries. Soon after, Mahoney's affair with actress Peggy Field effectively ended the couple's engagement.
Al Lewis' past is a complete mystery
Best remembered as Sam "Grandpa" Dracula, Lily Munster's dad and Herman's partner in hijinks, comedic actor Al Lewis was one of the most visible members of the cast of "The Munsters" in the decades after the show ended, especially in the last years of his life. Still, Lewis' past is something of a mystery.
As irascible in real life as the character he made famous, Lweis was known to bend the truth, often to the breaking point. The beginning of Lewis' self-mythologizing likely dates to 1964, when Lewis was first cast as Grandpa. Fearing he might lose the part if producers discovered he was younger than Yvonne De Carlo, it's thought that he fudged his date of birth by 13 years. Lewis' amended 1910 birthday became accepted as fact with many publications and newspapers, including the New York Times, which declared in obituaries that he died at the age of 95 when, in fact, he was 82.
As detailed in the A&E "Biography" episode "Al Lewis: Forever Grandpa," Lewis was actually born on April 30, 1923 to Russian immigrants Alexander Meister and Ida Neidel, in Manhattan. Lewis decided to fill in the 13 year gap in his biography with many unlikely exploits. Telling interviewers that he had been everything from a circus clown to a union organizer in the South, Lewis always placed himself just at the edge of important historical events. He also claimed to have a totally unverifiable doctorate in child psychology from Columbia University, earned some time between 1941 and 1949.
Al Lewis' sad decline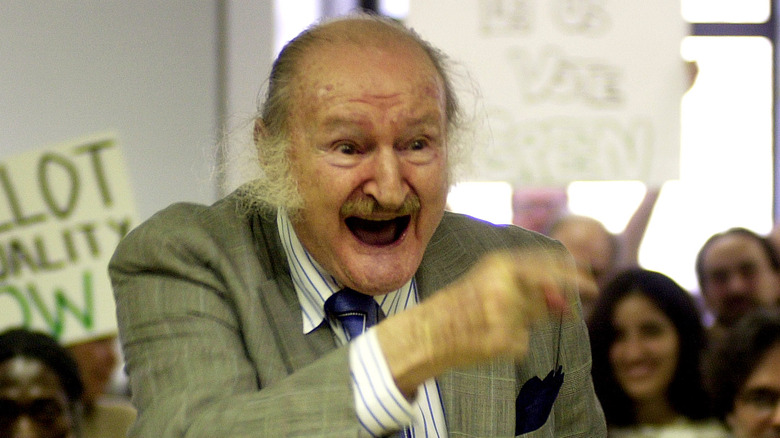 Chris Hondros/Getty Images
As documented in "Al Lewis: Forever Grandpa," in his 60s, Al Lewis embraced his "The Munsters" persona, using his famous image as the foundation for an Italian restaurant in Greenwich Village appropriately called Grampa's Bella Gente. The eatery brought Lewis (and Grandpa Munster) back into the public eye and the aging actor used his renewed celebrity to promote everything from liquor to a line of children's videos.
Ever a political activist, Lewis ran as the Green Party candidate for Governor of New York in 1998 at the age of 75. Although he lost to Republican George Pataki, Lewis garnered enough votes to make the Green Party a viable force in New York politics. In 2000, Lewis, then 77 years old, launched an unsuccessful bid for senate against Hillary Clinton and Rudolph Giuliani.
Although his enthusiasm for new challenges never waned, Al Lewis' health was in rapid decline by the early 2000s. According to the New York Times, in 2003, Lewis underwent an operation to clear a blockage in his heart. Complications during the surgery led to an emergency bypass and the amputation of his right leg and the toes of his left foot. Lying in a coma for a month, the end seemed near for Lewis. However, he rallied and, a year later, he made an appearance in the music documentary "Ramones Raw." On February 3, 2006, Al Lewis died. He was 82 (or maybe 95).
Beverley Owen's tearful time on The Munsters
Considered the family's "ugly duckling" because of her girl-next-door good looks, the character of Marilyn Munster was inspired by blonde bombshell Marilyn Monroe. Beverley Owen was the first of two actresses to portray Herman and Lily's niece. Although Owen survived the initial casting cuts that would see the exit of Joan Marshall as proto-Munster mom Phoebe and original Eddie Nate "Happy" Derman from the unaired pilot, she only appeared on the initial 13 episodes.
Owen, in love and living in New York, had reluctantly accepted the role in "The Munsters" pilot, believing the outrageous show had little chance of going to series. When "The Munsters" not only went to series but became a huge hit, Owen was forced to move to Los Angeles. Overcome with homesickness, the 25-year-old actress spent much of her time on the set in tears. Under contract with Universal, Owen felt trapped. "I had signed one of those seven-year Hollywood contracts," Owen told the producers of A&E's "Biography," "and I certainly didn't get a lawyer. I just believed what they told me."
As Owen grew more and more miserable, two of her co-stars intervened on her behalf. " …Finally, Fred Gwynne and Al Lewis marched into the office and said, 'You either let her go or we're all walking and you're not going to have a show.'" Eddie Munster actor Butch Patrick explained to the Seattle Times. "And they let her go, but they blackballed her and she never worked again."
Pat Priest, too old to play Marilyn?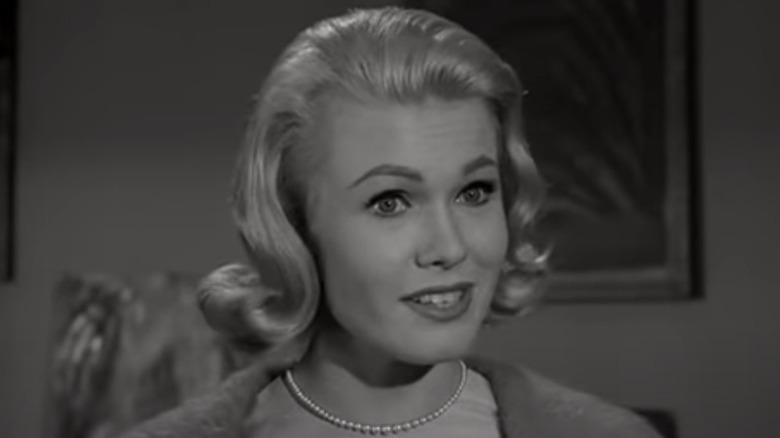 Following Beverley Owen's departure from "The Munsters," the show's producers found themselves in the difficult position of having to replace a cast member halfway through the first season. At last, they settled on Utah-born Pat Priest. Priest, the daughter of former Treasurer of the United States Ivy Baker Priest, had previously appeared in small roles on "My Favorite Martian" and the sci-fi series "Voyage to the Bottom of the Sea." A dead ringer for Beverley Owen, Priest slipped into the role virtually unnoticed and co-starred on "The Munsters" until its cancellation in 1966.
Despite its strong first season, "The Munsters" was getting clobbered in the ratings by ABC's "Batman." Soon, CBS pulled the plug on show, but the Munsters weren't quite ready to slink off to the grave just yet. Hoping to generate foreign interest in the show for syndication, producers Joe Connoly and Bob Mosher brought the original cast together for the feature film, "Munster, Go Home!" in 1966. Unfortunately, Pat Priest wouldn't be invited along for the Munsters' last ride.
Connolly and Mosher considered Priest, who was approaching 30, too old to reprise her role and the part of Marilyn went to 17-year-old Debbie Watson. As detailed in "Drive-In Dream Girls," Priest was devastated. "I started to cry, I was so upset and Al [Lewis]…was the one that talked to me and calmed me down," Priest says. "They [the cast] all felt that it wasn't right, but they couldn't do anything about it."
Butch Patrick's downward spiral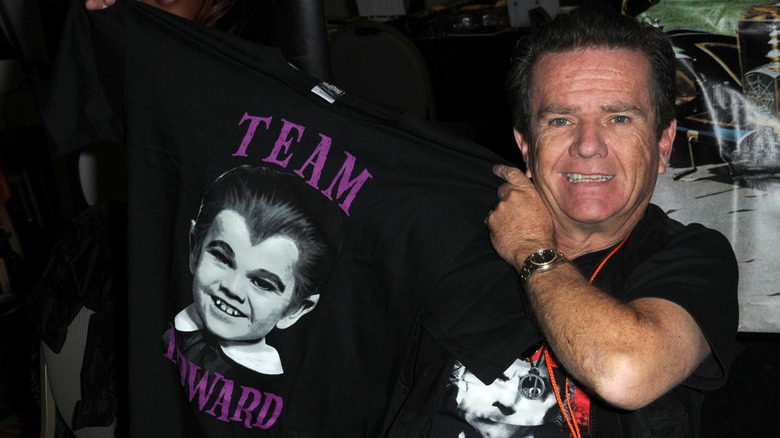 Albert L. Ortega/Getty Images
Already a veteran TV actor at age 11, Butch Patrick replaced Nate "Happy" Derman in the role of youngest Munster, Eddie, after Derman was deemed unsuitable. Patrick's interpretation of Eddie as a normal kid who just happened to be a werewolf made him lovable, where Derman's snarling, feral performance was anything but.
Following the cancelation of "The Munsters," Butch Patrick continued to work as a child actor, appearing in episodes of "The Monkees," "I Dream of Genie," and "Family Affair." In 1970, Patrick starred in the Sid and Marty Kroft Saturday morning series "Lidsville" opposite legendary comic actor Charles Nelson Riley. The show briefly established Patrick as teen idol in the mold of David Cassidy, Bobby Sherman, and Davy Jones.
However, by 1974, life had taken a turn for the 21-year-old actor. Descending into alcohol and drug abuse, Patrick disappeared from public life. It would take Patrick decades to finally put drugs and alcohol behind him. "I had 40 years out in the ozone," Patrick told Australia's "Studio 10." "…I was a functioning alcoholic and drug addict… It caused me a lot of grief… Although most people didn't know about it, I tell people now about it because it's an epidemic. With my success, I lead by example… after 40 years, if I can do it… they can do it."
Frequent guest star Paul Lynde's battle with booze
Along with its wacky cast of regulars, "The Munsters" featured a who's who of guest stars including classic horror actor John Carradine, a young Dom Deluise, and comedian Harvey Korman. Beloved comic actor Paul Lynde, best remembered for his flamboyant persona, flawless timing, and acerbic wit as a guest star on countless sitcoms throughout the 1960s and '70s, as well as his many unforgettable appearances on "Hollywood Squares," portrayed the Munsters' hopelessly near-sighted physician Dr. Dudley on three episodes in the show's first season.
As reported by the Hartford Courant, Lynde was an openly gay man in an era when LGBQT people were often forced to hide their sexuality. Wracked with insecurities and in constant fear of failure, Lynde struggled with his emotions. An alcoholic for most of his life, his fiery temper when drinking isolated him from friends and often cost him work. Sadly, by the time Lynde got sober, he had done irreparable damage to his career and his health. Paul Lynde suffered a fatal heart attack in 1982. He was only 55 years old.
Phoebe Munster? The tragic life of Joan Marshall
Lily Munster went through a drastic transformation from the unaired pilot. Originally named Phoebe, the character was played by Joan Marshall, and she was a typically gothic vampire. With black tresses and skintight dresses, Phoebe was virtually a clone of Morticia Addams. However, the producers completely overhauled the character, and opted for a different actress.
Losing out on "The Munsters" paled to the other tragedies in Marshall's life. At 17, polio left her partially paralyzed. She made a complete recovery after taking up dance as therapy. In 1961, a role in William Castle's "Homicidal," turned out to be an embarrassing dead end. According to "The Encyclopedia of Early Television Crime Fighters," Marshall had a string of failed marriages (at least three and possibly as many as five). In the '70s, she left acting to become a writer. Marshall died of lung cancer in 1992, at the age of 61.
The last Munsters standing
Fred Gwynne, died of pancreatic cancer in 1996, and the age of 66. Al Lewis passed away 10 years later, in 2006, and in 2007, Yvonne De Carlo died of heart failure at 84. With Beverley Owen's 2019 death at age 81 from ovarian cancer, Butch Patrick and Pat Priest are the last remaining principal cast members from the original "The Munsters."
Both Priest and Patrick are cancer survivors. As reported by The Rock Island Dispatch-Argus, Priest was diagnosed with non-Hodgkin's lymphoma in 2010. After a successful series of treatments, Priest remains in remission. In 2011, Butch Patrick had surgery to remove a small cancerous mass from his prostate. As of writing, he remains cancer-free.
Butch Patrick, now in his late 60s, and Pat Priest, in his mid-80s, have embraced their past as part of TV's first family of fright. They often appear together at autograph shows and fan conventions, to the delight of generations of fans of "The Munsters."