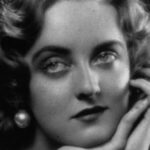 Why Bette Davis Once Tried To Get Joan Crawford Fired From A Movie
echo get_the_meta(); ?>
Bette Davis and Joan Crawford are legendary actresses — no one will deny that. Davis was the first actor who received ten Academy Award nominations, winning two of them. In 1942, she became the first female president of the Academy of Motion Picture Arts and Sciences, although she quit a few weeks later after alleged sexism. Davis also went to court against Warner Bros. to fight for a better salary and roles (via Vanity Fair).
As for Crawford, she was also known for her beauty and talent. In the 1930s, she was labeled a "box-office poison" by the Independent Theatre Owners Association of America (via Biography). However, Crawford was excellent at comebacks and always surprised both the public and critics. Notably, she received an Academy Award for her role in "Mildred Pierce" in 1945.
Behind the scenes, Davis and Crawford had strong personalities and were not always easy to deal with. They also hated each other and had one of the most memorable feuds in Hollywood, which inspired the TV show "Feud" decades later.
Bette Davis and Joan Crawford didn't like to share media attention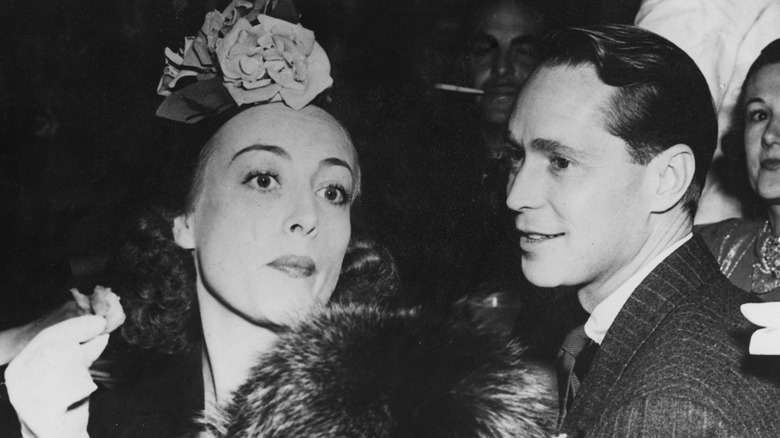 Keystone/Getty Images
According to Harper's Bazaar, the feud between Bette Davis and Joan Crawford started in the 1930s, when the former began her career and the latter was already an established actress. In 1933, Davis got the leading role in "Ex-Lady," and Warner Bros. wanted to announce her as their new star. But on the same day that an article about the movie and the rising star was to be released in The New York Times, Crawford announced she was divorcing her first husband. The publication dedicated several pages to Crawford's divorce and reduced the article about "Ex-Lady" to one paragraph. The movie didn't perform well in the movie theaters and was pulled after a few weeks.
The stars were not only competing for media attention. In 1935, Crawford married the actor Franchot Tone. The pair met while he was filming "Dangerous" with Davis, who was in love with him. "I fell in love with Franchot, professionally and privately. Everything about him reflected his elegance, from his name to his manners," she said, per Daily Mail.
Davis never got over it. In 1987, during an interview with Michael Thornton, she said that Crawford took him from her "coldly, deliberately and with complete ruthlessness. I have never forgiven her for that and never will" (via Bustle).
Bette Davis tried to have Joan Crawford fired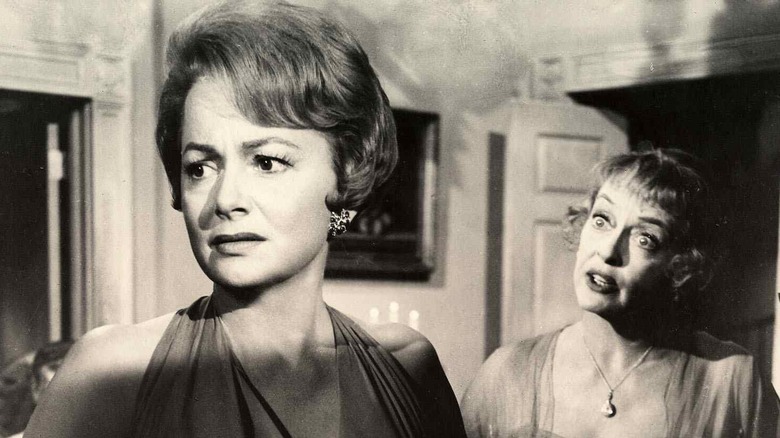 United Archives/Getty Images
Bette Davis and Joan Crawford filmed "What Ever Happened To Baby Jane?" in what was the first and only time they worked together. The legendary fights while filming the movie inspired the TV show "Feud." Although the pair never worked together again, they almost shared the screen in "Hush … Hush, Sweet Charlotte," but Davis didn't want it to happen. According to Vanity Fair, Crawford demanded her name to appear first, and Davis wanted to be credited as associate producer.
Davis strategically became friends with people in the crew and made sure she would invite everyone for dinner after work — except for Crawford, who would isolate herself in her trailer. While Crawford was filming, Davis would sit next to the director and make negative remarks. When the director refused to extend Crawford's part, she walked away and went to the Cedar Sinai hospital. After that, the studio decided to replace her.
Davis called actress Olivia de Havilland and convinced her to get the part. She also convinced the director to fly to Switzerland to meet Havilland. When the negotiation was formalized, Davis made sure everyone would know it and leaked the story. Crawford heard about her replacement on the radio when she was in the hospital.
"I still get chills when I think of the treachery that Miss Davis indulged in on that movie," Crawford said (via Vanity Fair).
The rivalry lasted for decades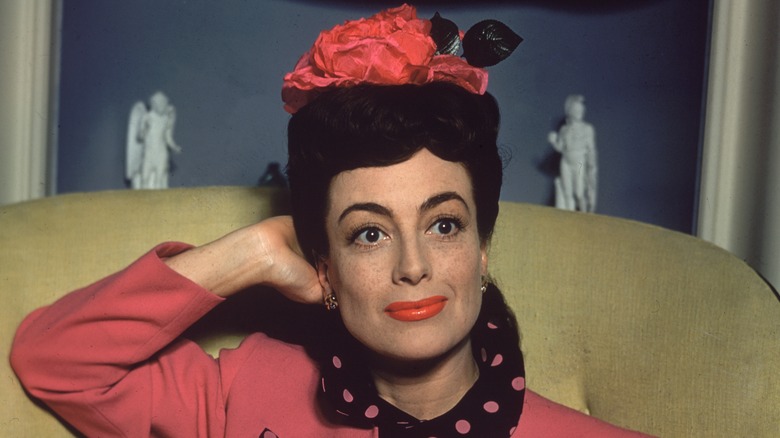 Hulton Archive/Getty Images
Bette Davis and Joan Crawford never tried to pretend that they liked each other, and they shared insults for years. Things got worse in 1943 when Crawford signed a contract with Warner Bros. — the same studio Davis was working with — and they competed for the same roles. According to Harper's Bazaar, Crawford demanded a dressing room near Davis.
Davis once said that Crawford "slept with every male star at MGM except Lassie," Bustle reports. Elsewhere, Crawford shared her opinions about Davis's acting after they shared the screen on "What Ever Happen to Baby Jane?" "Sure, she stole some of my big scenes, but the funny thing is, when I see the movie again, she stole them because she looked like a parody of herself, and I still looked like something of a star," she said, per Bustle.
Some people believe that there is a thin line between love and hate. According to the book "Joan Crawford: The Essential Biography," the actress reportedly said to a friend, "Franchot isn't interested in Bette, but I wouldn't mind giving her a poke if I was in the right mood. Wouldn't that be funny?"