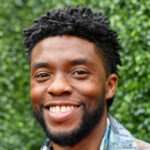 Actors Who Died Right At The Peak Of Their Fame
echo get_the_meta(); ?>
In 2020, the average life expectancy among actors was 73.99 (via Legacy), Health System Tracker shows that this is over three years lower than the U.S. national average of 77.3. Why would actors die younger than other people? Research suggests that performers may have reduced life expectancy due to their tendency to drink, smoke, and use drugs (via Huffington Post). By looking at the obituary entries of 1,000 people in the New York Times, researchers found that younger deaths were more common among those whose "lives had been devoted to the performing arts and sport." They also found that shorter lives tended to be caused by accidents, infections, and cancers.
Sadly, there are plenty of examples to support the findings. From Jim Morrison to Anton Yelchin, it's easy to name successful performers who joined the "27 Club." Others made it into their 30s and beyond, but still passed away with projects in the works and bright futures ahead of them. Here are just a few of actors who died right at the peak of their fame.
Philip Seymour Hoffman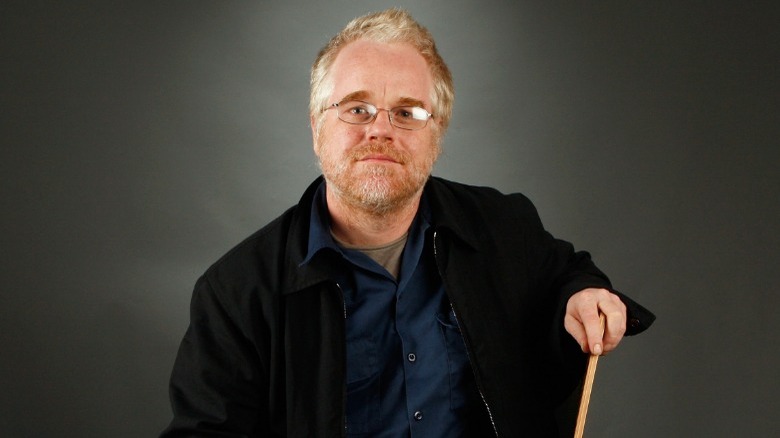 Mark Mainz/Getty Images
Philip Seymour Hoffman was one of the most revered actors in the world when he died on February 2, 2014, aged just 46. He was found in his Greenwich Village apartment, which he was renting as an office, according the New York Times.
Hoffman had long struggled with addictions to alcohol and heroin, which he had started experimenting with in his early 20s (via Vogue). He was open about his addiction and sober for some 20 years. In an interview with Vogue, his wife, Mimi O'Donnell said, "He'd been sober for so long that nobody seemed to notice. But something was brewing."
The relapse started in 2012, while Hoffman was performing in "Death of a Salesman." It began with casual drinking and grew to include prescription opioids. Soon, Hoffman was in and out of rehab, unable to detox because of acute physical pain. Throughout his struggles, he was candid with both his wife and young children.
Eventually, Hoffman moved into the Greenwich Village apartment, which was around the corner from his family home. However, he continued to walk his kids to school and shared family dinners.
In January 2014, Hoffman was working in Atlanta on "The Hunger Games: Mockingjay – Part 1," in which he reprised his role of Plutarch Heavensbee. Hoffman and his wife began arranging for another rehab stay, but the actor died in his Greenwich Village apartment just three days after returning to New York. His death was ruled as acute mixed drug intoxication (via CNN).
If you or anyone you know is struggling with addiction issues, help is available. Visit theSubstance Abuse and Mental Health Services Administration websiteor contact SAMHSA's National Helpline at 1-800-662-HELP (4357).
James Gandolfini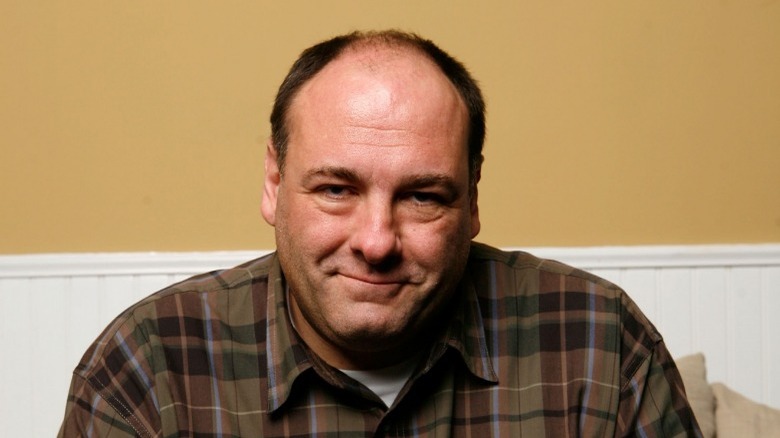 Getty Images/Getty Images
James Gandolfini made a strong impression with a string of films in the 1990s, including "Get Shorty," "12 Angry Men," and "Crimson Tide." However, it was his role as Virgil in "True Romance" that intrigued Susan Fitzgerald, who was casting the lead role of Tony Soprano in HBO's new drama, "The Sopranos" (via Vanity Fair).
Gandolfini won the role and became a central figure of television's so-called "golden age" (via Slate). Praise abounded for his performance, which he maintained for six seasons from 1999 – 2007. The Guardian says that he "reinvented the gangster," adding that the actor "carried a rare sense of danger and rage."
When "The Sopranos" ended in 2007, Gandolfini was a three-time Emmy award winner with international fame (via IMDB). Over the next six years, he appeared in films such as "Killing Them Softly," "Zero Dark Thirty," "Enough Said," and "The Drop," all of which received acclaim.
This transition to the big screen was cut tragically short when James Gandolfini died in Rome on June 19, 2013. According to Today, Gandolfini was on a "special father-son" trip to celebrate his son Michael's graduation. Gandolfini and his son were seen enjoying dinner together at Sabatini, a restaurant in the Trastevere area of the city. The next day, Michael found his father on the bathroom floor. He was still alive when the ambulance arrived, but the actor was pronounced dead later that day of an apparent heart attack. He was 51 years old.
Marilyn Monroe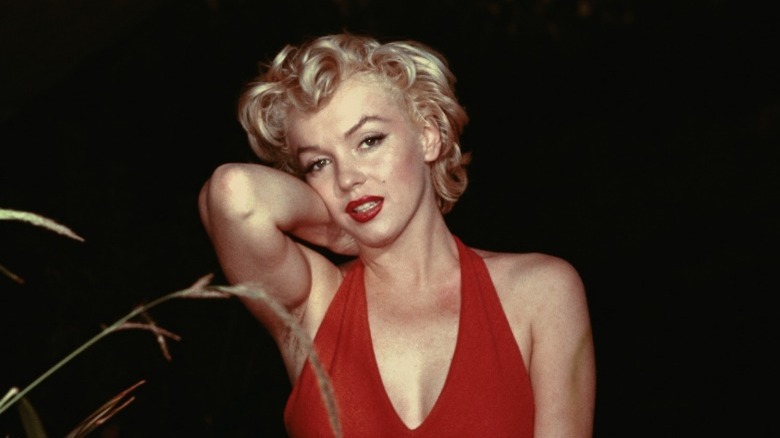 Baron/Getty Images
The world was shocked when Marilyn Monroe, an icon among icons, was found dead from an overdose aged just 36 (via New York Times). Monroe starred in many classic films during the 1950s, including "How to Marry a Millionaire" and "Some Like It Hot." Perhaps her most famous film was "The Seven Year Itch," which featured the iconic scene with the white dress and the subway grill.
However, the fame and glamor belied Monroe's troubled life and mind. Born to an extremely unstable mother who was repeatedly sectioned, Monroe spent her youth in an orphanage and with foster parents (via History).
At 16, Monroe married a factory worker, but the marriage was short lived. She would marry again in 1953, this time to baseball player Joe DiMaggio, whom she'd divorce just nine months later, citing "mental cruelty" (via Life). Then there was her 1956 union with Arthur Miller, the playwright of "Death of a Salesman." That marriage ended in 1961. Following her third divorce, Monroe entered a deep depression. She was living in LA, in a home that she referred to as a "fortress where I can feel safe from the world" (via The Spruce).
In the early hours of August 5, 1962, Eunice Murray, Monroe's live-in maid, noticed that Monroe's bedroom light was still on. When the actress failed to respond to her calls, Murray called Dr. Greenson, Monroe's psychiatrist, who broke into the locked room and found the star on the bed. Authorities concluded that her death was "caused by a self-administered overdose of sedative drugs and that the mode of death is probable suicide."
If you or anyone you know is having suicidal thoughts, please call the National Suicide Prevention Lifeline​ at​ 1-800-273-TALK (8255)​.
Heath Ledger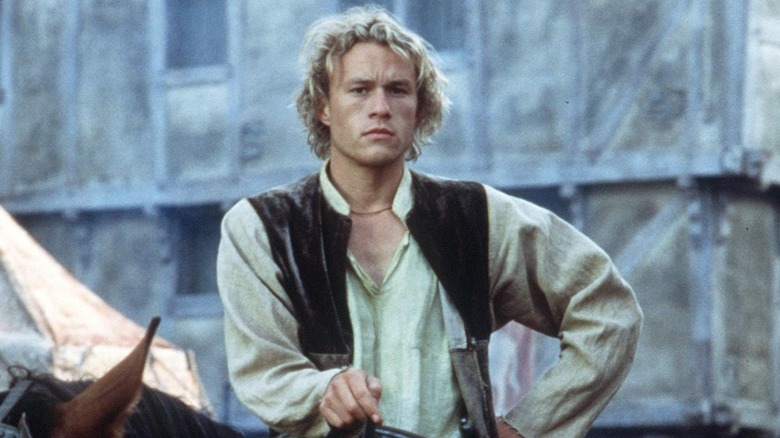 Getty Images/Getty Images
By 28, Heath Ledger had become a very popular and respected actor with roles in "Monster's Ball," "A Knight's Tale," and "Brokeback Mountain," the latter earning him an Oscar nomination for best actor (via Biography).
These dramatic roles built upon the wide fan base he had attracted with films such as "10 Things I Hate About You," which gave him early heartthrob status. Director Gil Junger said, "There was an energy to him, a sexuality that was palpable" (via The Independent).
However, it was his turn as the Joker in "The Dark Knight" that would define Ledger's range and dynamism. Tragically, he would not live to see the cultural significance of performance, which he described in a FEARnet interview as, "the most fun I've ever had [and] probably ever will have playing a character." The intensity of the role was very demanding on Ledger, who told the New York Times during filming, "Last week I probably slept an average of two hours a night… I couldn't stop thinking. My body was exhausted, and my mind was still going."
Ledger used sleeping pills such as Ambien to adjust his sleeping pattern. On January 22, 2008, he overdosed on these pills and a medley of other prescription drugs including oxycodone, hydrocodone, diazepam, temazepam, alprazolam and doxylamine (via The Guardian).
If you or anyone you know is struggling with addiction issues, help is available. Visit theSubstance Abuse and Mental Health Services Administration websiteor contact SAMHSA's National Helpline at 1-800-662-HELP (4357).
James Dean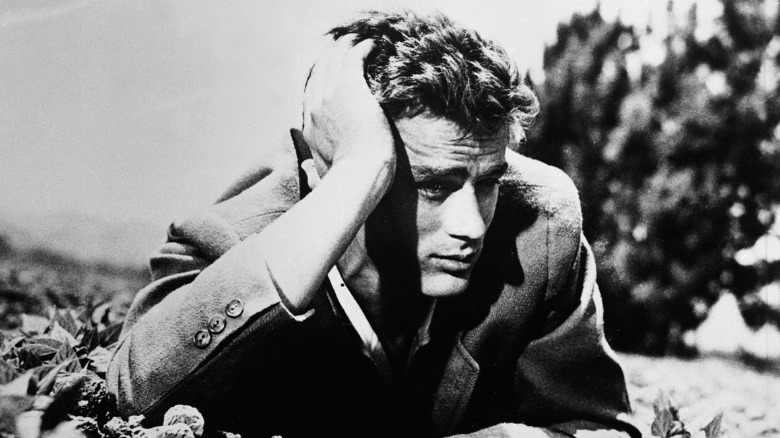 Hulton Archive/Getty Images
James Dean, the iconic figure of old Hollywood, was just 24 years old when he died on September 30, 1955. A keen motorist, he died along Route 466 when his Porsche 550 Spyder collided with a Ford Tudor (via History).
Dean starred in just three films in his young life and only one of these, "East of Eden," was released in his lifetime. The other two, "Rebel Without a Cause" and "Giant," premiered in October 1955 and October 1956, respectively. However, Dean's performance in "East of Eden" was enough for him to be "rocketed to stardom," according to the Los Angeles Times. And Dean wasn't just famous; he was a widely respected actor, too. George Stevens, who directed Dean in "Giant," described him as "extraordinary talent."
According to The Guardian, Dean is often compared with Marlon Brando and Montgomery Clift as prime examples of classic method acting. In fact, Dean was a great admirer of Brando, who had become a huge star with "A Streetcar Named Desire," "The Wild One," and "On the Waterfront." However, Brando wasn't interested in a friendship with Dean, saying "I gave him the name of a [psycho]-analyst, and he went. At least his work improved." (via Biography).
Helen McCrory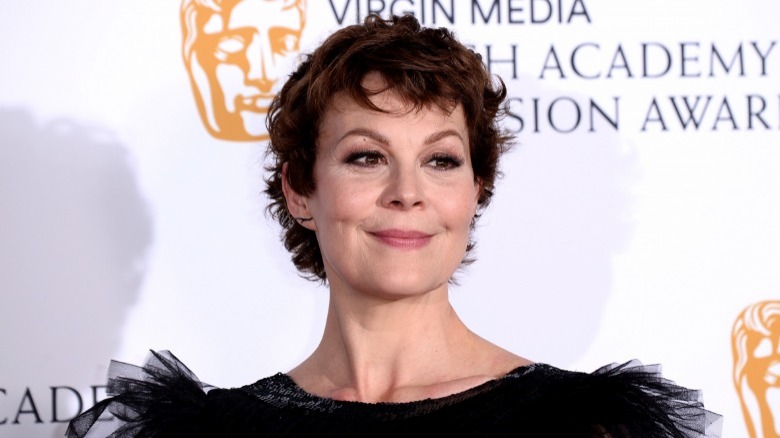 Jeff Spicer/Getty Images
Before her roles in "Harry Potter" and "Peaky Blinders," Helen McCrory was a successful stage actress, appearing in productions of "Macbeth" and "Fuente Ovejuna." Stage director Declan Donnellan said, "She was extraordinary, very moving and quite frightening." (via Evening Standard). Many others joined him in praising McCrory. Fellow director David Lan complimented her "quality of delicacy and fragility, though she was also quite robust."
McCrory found a larger audience when she played Narcissa Malfoy in the final three "Harry Potter" films. She then took the role of Aunt Polly in "Peaky Blinders," which ran for five of the show's six seasons (via The Guardian). In 2007, McCrory married Damian Lewis, the star of "Band of Brothers" and "Homeland." During the COVID-19 pandemic, McCrory said they had done, "quite a lot of painting and music," adding that "We are completely different as people, but we're very similar in our values and very rarely disagree about fundamental things" (via BBC).
Sadly, on April 16, 2021, Lewis announced that his wife had died from cancer. She was 52.
Chris Farley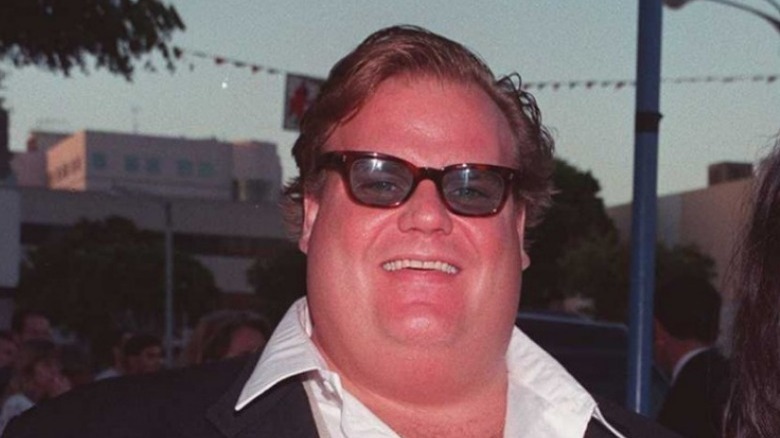 Denny Keeler/Getty Images
In 1990, Chris Farley got his start on "Saturday Night Live," entertaining audiences with skits such as "The Chris Farley Show," in which he would interview celebrities such as Martin Scorsese in an endearingly cringe-worthy manner (via Biography).
Farley's television popularity led to appearances in films such as "Wayne's World" and "Coneheads." His first lead role was in 1995's "Tommy Boy," which was followed by "Black Sheep" and "Beverly Hills Ninja."
Despite his success and zany persona, Farley struggled with demons, drugs, and alcohol. According to the New Yorker, Farley became cynical about his comedic appeal, which he dubbed as merely "fatty fall down." He was also reported to have asked an "SNL" writer, "Do you think it would help the show if I got even fatter?" Farley's mental and physical health deteriorated, including a 1997 appearance on "SNL" that the New Yorker described as "a loud and wheezing shadow of his former self."
On December 18, 1997, Farley was found dead in his apartment at the John Hancock Center, Chicago (via CNN). An autopsy found that Farley had overdosed on cocaine and opiates. He was also suffering from heart disease. Farley was just 33, the same age as his idol John Belushi, who died in similar circumstances.
If you or anyone you know is struggling with addiction issues, help is available. Visit theSubstance Abuse and Mental Health Services Administration websiteor contact SAMHSA's National Helpline at 1-800-662-HELP (4357).
Chadwick Boseman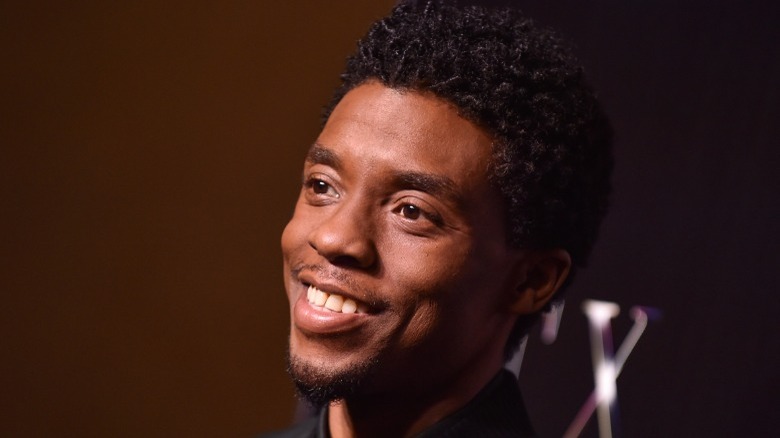 DFree/Shutterstock
Chadwick Boseman was known for his roles in "42," "Marshall," and "Get on Up" when he won the role of T'Challa, which he performed in four MCU films including "Black Panther." The movie was the first superhero film to be nominated for an Oscar for best picture (via The Guardian).
With this new level of fame, Boseman pursued small dramatic roles in "Da 5 Bloods" and "Ma Rainey's Black Bottom," which earned him an Oscar nomination for best actor. Sadly, this nomination was posthumous, for Boseman died on August 28, 2020, aged just 43.
Boseman was diagnosed with stage-three colon cancer in 2016, the year of his first Black Panther role in "Captain America: Civil War" (via New York Times). The actor kept his condition private, keeping a very busy schedule as he underwent chemotherapy and many invasive surgeries (via Instagram).
Following the success of "Black Panther," questions abounded about the sequel. In response, Boseman said, "The only thing I can say is that, for people who are hungry, the food is being prepared." Unfortunately, Boseman was unable to reprise his role in that film, which is scheduled for release in 2022.
Phil Hartman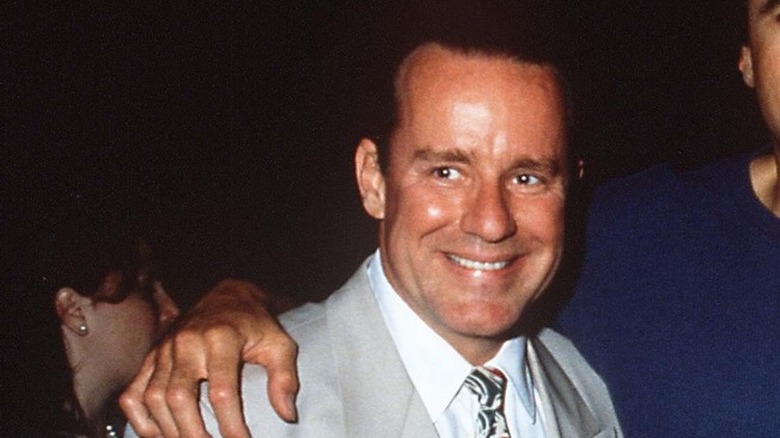 Barry King/Getty Images
Phil Hartman was known for his everyman charm on "Saturday Night Live," where he thrived from 1986 to 1994 (via Biography). Fellow comedian and actor Jon Lovitz said, "He could do any voice, play any character, make his face look different without makeup." After winning an Emmy for his writing prowess, Phil left "SNL" and appeared in many film and television features, such as "Jingle All the Way" and "News Radio." 
Phil gave a very happy impression to friends and family, with Steve Guttenberg remarking how he and his wife, Brynn, "were always a happy couple… they always had the appearance of being well-balanced" (via Chicago Tribune). However, the reality was quite different. Brynn had a violent temper that was exacerbated by drugs and alcohol. During her jealous fits of rage, Hartman typically moved to the bedroom, where he would rest or sleep, hoping she would calm down.
In May 27, 1998, Brynn had dinner with a friend. When she returned home, an argument broke out with Phil, who retired to the bedroom as usual. In the small hours of the morning, Brynn entered the room and shot her husband with a handgun, striking him in the head and chest and killing her 49-year-old husband instantly. Brynn committed suicide hours later.
If you or someone you know is dealing with domestic abuse, you can call the National Domestic Violence Hotline at 1−800−799−7233. You can also find more information, resources, and support attheir website. If you or anyone you know is having suicidal thoughts, please call the National Suicide Prevention Lifeline​ at​ 1-800-273-TALK (8255)​.
Bruce Lee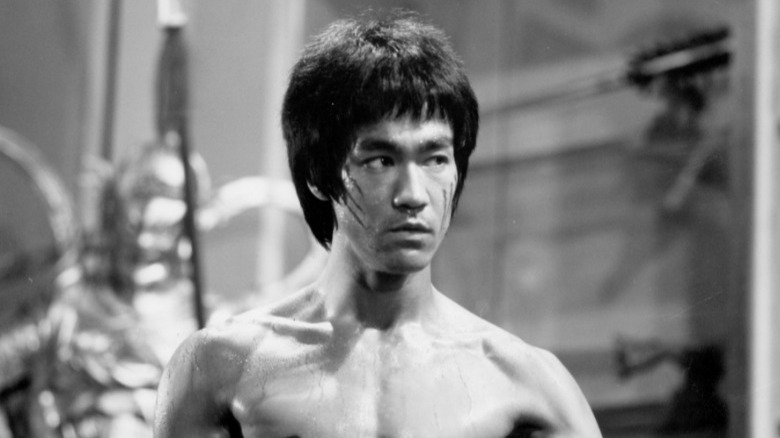 Michael Ochs Archives/Getty Images
Bruce Lee became a household name in Hong Kong with action films such as "Fist of Fury" and "Way of the Dragon," which displayed the actor's remarkable athleticism. One of popular culture's most famous martial artists, Lee pioneered a technique he called Jeet Kune Do, which translates as "Way of the Intercepting Fist" (via Bruce Lee Foundation).
In 1973, "Enter the Dragon" introduced Lee to millions of Western cinemagoers, building on the fame he developed in ABC's "The Green Hornet." However, the kung fu star had died weeks before the film's release, aged just 33.
On May 10, 1973 — two months before his death on July 20 — Lee was struck by intense pain and seizures. They were found to be caused by a cerebral edema, which doctors treated with mannitol (via All That's Interesting). Lee reacted to the treatment well and resumed his busy yet healthy lifestyle, complaining of only minor headaches.
Lee spent July 20 in Hong Kong, where he met with Raymond Chow, a film producer, and Betty Ting Pei, a Taiwanese actress with whom he was having an affair. That evening, Lee developed another headache, so Ting Pei gave him Equagesic, a pill that acts as a painkiller and tranquilizer (via RxList). Hours later, Ting Pei found Lee unresponsive. Lee was taken to a hospital, but was declared dead (via History). The autopsy found that Lee's brain had swollen with fluids, increasing the organ's size by 13%. The official cause of death was cerebral edema, which was attributed to an adverse reaction to Equagesic (via The Guardian).
Paul Walker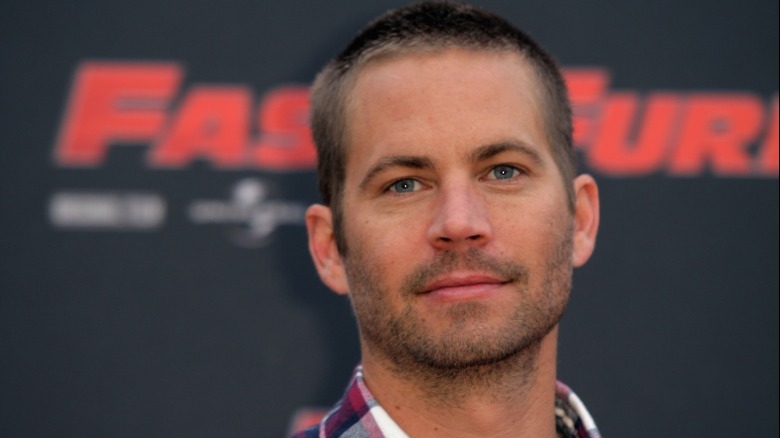 Ernesto S. Ruscio/Getty Images
Paul Walker was best known for playing Brian O'Conner in "The Fast and Furious" franchise, which generated some $2.8 billion during his lifetime. His on-screen relationship with Vin Diesel proved to be a winning combination, earning legions of fans (via The Guardian).
Walker was humble about the franchise and understood the nuts and bolts of what made it work, "The second we become pretentious, we've killed it. It's not the most complex thing in the world. People identify with it because it's not trying to be anything it's not," he said.
On November 30, 2014, Walker attended a charity event for Typhoon Haiyan, which had smashed through the Philippines earlier that month (via Metro/BBC). Afterwards, friend Roger Rodas picked Walker up in his Porsche Carrera GT, a hypercar producing 604 bhp (via Evo).
Rodas lost control of the vehicle in Santa Clarita, smashing into several objects and exploding in a fireball. Both men died, having suffered "traumatic and thermal injuries," according to a local coroner (via The Guardian).
Anton Yelchin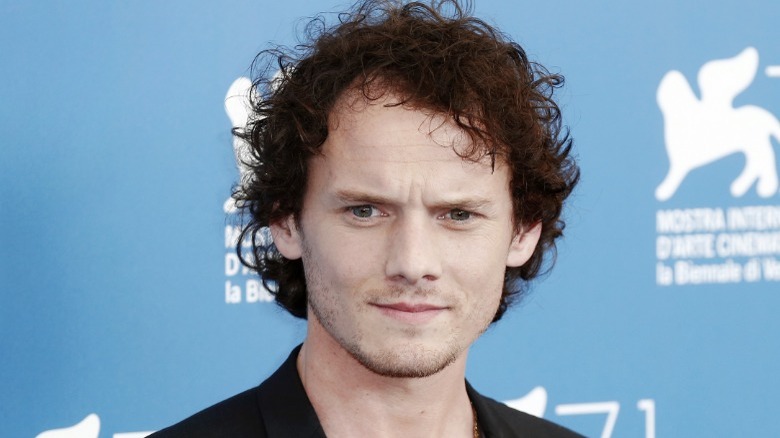 Andrea Raffin/Shutterstock
Anton Yelchin was a respected up and comer who had appeared in the "Star Trek" franchise and Jeremy Saulnier's "Green Room." Born in St. Petersberg, Yelchin immigrated to the United States when he was just six months old. He attended acting classes as a child and had several TV credits, including "ER" and "Curb Your Enthusiasm". By his early 20s, he had appeared in "Alpha Dog," "Charlie Bartlett," and "Terminator: Salvation." Ryan Gilbey wrote that these films demonstrated Yelchin's "subtlety, versatility and intelligence" as an actor.
Yelchin's career was seemingly unhindered by his cystic fibrosis, with which he was diagnosed at 8 years old (via Complex). He was private about his condition, which lowers life expectancy (via MedlinePlus). Tragically, it was not his medical condition that killed Yelchin at just 27, but a bizarre car accident. On June 19, 2016, Yelchin's Jeep Cherokee rolled down his driveway and pinned his body against the brick gate pillar, crushing him (via Complex).
River Phoenix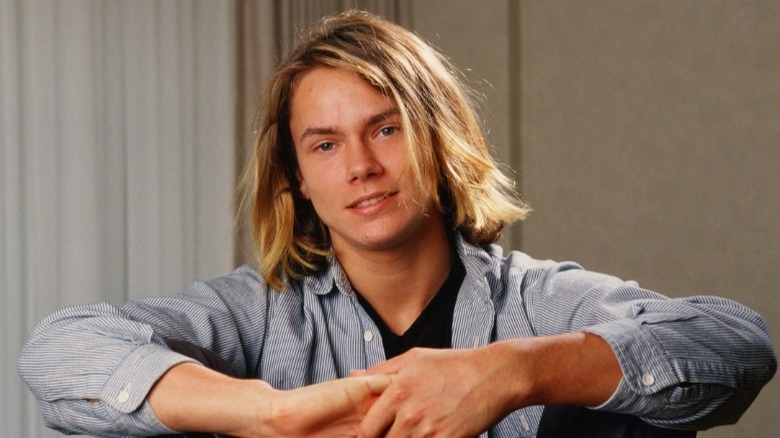 George Rose/Getty Images
A member of the so-called Brat Pack group of actors, River Phoenix was due to play the lead in "Interview with a Vampire" when he died from an overdose aged just 23 (via The Independent).
Phoenix's parents were missionaries for the Children of God, a cult formed in the 1960s that has been described as "hell on earth" (via BBC). After raising the children in Venezuela, they abandoned the cult and moved to Florida, where they resolved to turn their children into actors.
Remarkably, it worked. In 1986, Phoenix acted with Harrison Ford in "Mosquito Coast," which was followed by a lead role in cult favorite "Stand By Me." After this, he was deluged with projects, including Gus Van Sant's "My Own Private Idaho" in 1991.
However, Phoenix remained troubled by his past, saying "I go back and forth about success and wealth and want to take the Devil's bribe and use it for God." He also spoke of establishing "a home for abused kids, the homeless, the psychotics."
Sadly, Phoenix developed a drug problem during his brief and intense fame. His preferred substances were cocaine and heroin, a combination sometimes known as a speedball, which infamously killed John Belushi (via All That's Interesting and Health Line). Phoenix collapsed and died outside LA's Viper Room club on October 31, 1993.