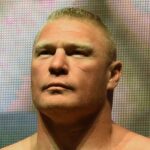 Athletes That Have Defied Death More Than Once
echo get_the_meta(); ?>
A day at work isn't the same for a professional athlete as it is for the typical office worker. While most of us sit at a desk and poke at a keyboard all day, these men and women only stop training to compete, pushing their bodies and their abilities to the peak of physical accomplishment in pursuit of athletic greatness. 
Sometimes, it backfires — the human body is not perfect (even those of the sporting elite among us) and pro athletes get severely hurt during the heat of competition. Some of the more foolhardy have even died right out there on the field, on the court, or in the water. (Hey, at least they went out doing what they loved.) Then there are those athletes who enjoy a unique symbiotic relationship with their bodies. They've reached sports greatness but also looked death in the face when their meat sacks failed them … more than once. Here are the stories of some sports people who almost died multiple times.
It's ride or die for Travis Pastrana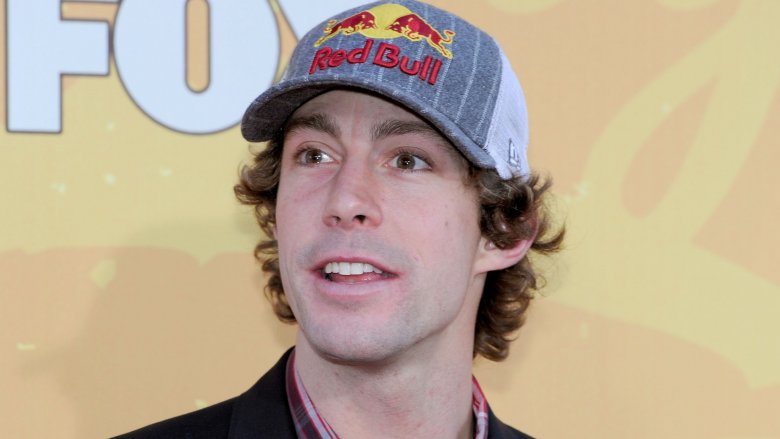 Ethan Miller/Getty Images
Travis Pastrana is legendary in the world of the X-Games, motocross, and auto racing … but he's still human. While still just a teenager, he was practicing to nail a 120-foot jump, and didn't make it. Pastrana suffered a ghastly injury, dislocating his spine from his pelvis: an injury that reportedly only three people in recorded history have ever incurred, two of whom were left paralyzed. Remarkably, Pastrana walked again. "I was in a wheelchair for five months and I bled out over half my body's blood in the first week so I had to have multiple blood transfusions to stay alive," he told Coach. Also amazing: He got back into riding as soon as possible.
Though that kind of injury is enough pain for one lifetime, Pastrana has had even more near-death accidents. When preparing for X-Games IX in 2003, Pastrana sustained such a serious knee injury doctors told him he would bleed to death in half an hour if he merely stepped on it the wrong way. That same year, he and some friends were driving so far over the speed limit that their car crashed, flipped upside down, and ejected Pastrana from his seat. Pastrana miraculously survived, but his friend in the passenger's seat, Matthew Bigos, was left paralyzed.
Water is friend and enemy alike to Isaquias Queiroz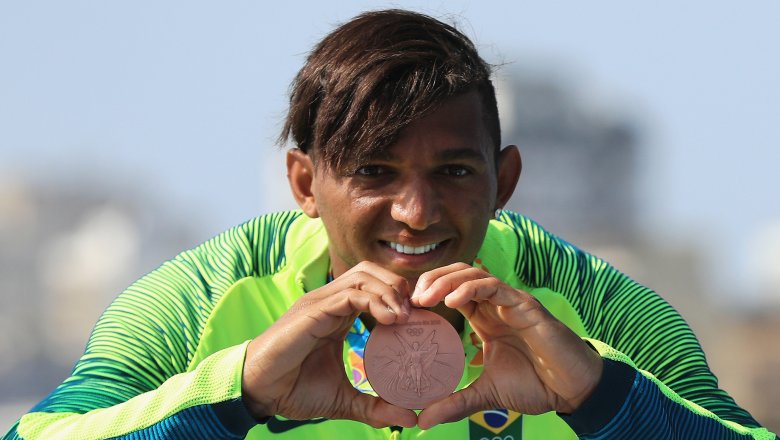 Mike Ehrmann/Getty Images
Brazil's champion sprint-canoeist won three medals on his home turf at the 2016 Summer Olympics in Rio de Janeiro — two silver and a bronze. Olympic glory is impressive for anyone, but it's even more impressive for Isaquias Queiroz, because he did it after a remarkably harrowing childhood. A pot of boiling water fell on Queiroz when he was only 3-years-old, leaving severe burns on most of the right side of his body. Queiroz spent a month in a hospital, where doctors were not optimistic about his chances for recovery, but he pulled through. 
He wasn't out of the woods yet — at age five, Queiroz was kidnapped by a representative of a child trafficking ring, but thankfully was recovered moments after the abduction. Then at age 10, the poor kid fell out of a tree and onto a rock, which led to such severe internal injuries he had to have a kidney removed. But hey, you only need one kidney to live, and live Queiroz did. Hailing from the water-heavy Ubaitaba, Brazil, where canoeing is a main form of transportation, Queiroz overcame all that turmoil and injury to steer his canoe to the medals platform.
Matthew Hawksley is more of a try-athlete than a triathlete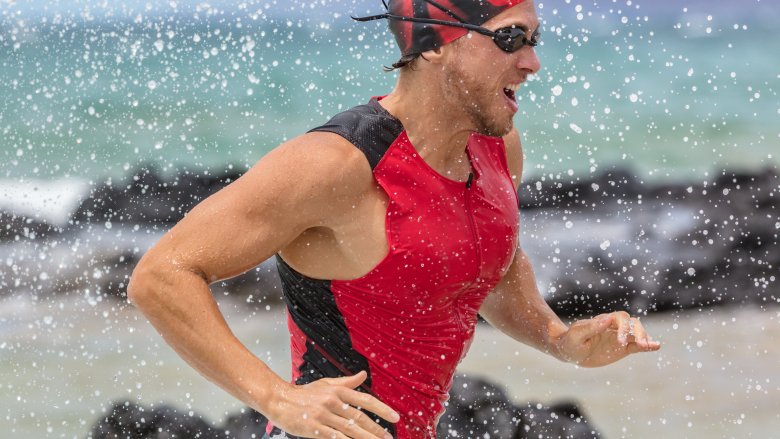 Shutterstock
We're pretty sure U.K. triathlete Matthew Hawksley is actually a cat — after all, he's escaped death an unbelievable eight times, according to the BBC. It all began in 2011 in Mullaghmore, Ireland, when he took a dive into what he didn't know were incredibly shallow waters. Hawksley broke his neck, shattered his spine, and suffered multiple consecutive heart failures — he had to be resuscitated an astounding four times on the way to the hospital. Doctors told his family he would most likely be confined to a wheelchair for the rest of his life, and that he might never regain the ability to speak.
Fortunately for Hawksley, a crucial spinal surgery proved these initial predictions wrong, and he eventually regained his motor skills. But while recovering, he contracted pneumonia and developed MRSA, which can be a life-threatening condition. After making it through all these injuries and illnesses, the battle still wasn't over. Just months after leaving the hospital, Hawksley learned that he had testicular cancer, necessitating the removal of his right testicle. 
Not only did Hawksley beat that too, he returned to his sport. In 2014, he crossed the finish line of a triathlon that took place in the very town in Ireland where he first met death.
Mat Hoffman went 22 feet and had 20 minutes left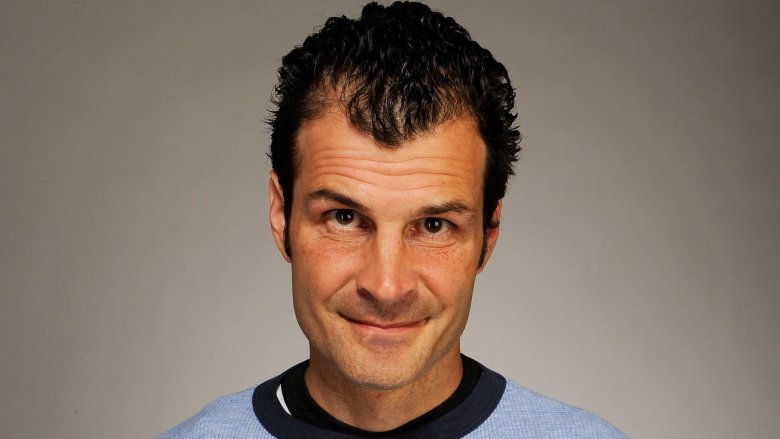 Larry Busacca/Getty Images
BMX rider Mat Hoffman is one of the most celebrated riders of the vert ramp. He's a six-time Summer X-Games medalist, but at what price glory? "I suffer for my art," Hoffman told ESPN in 2007. "I've been unconscious over 100 times and broken more than 60 bones." One of the most bruising of those moments came in 1993, when Hoffman built a 21-foot halfpipe and then rode it with his bike, which he'd tricked out with a weed-eater motor. "After a few days I got 22 feet out of the ramp, highest I'd ever gone. But the motor made the bike off-balance and I crashed when I landed," Hoffman said. 
The crash, he'd soon learn, ruptured his spleen. Feeling ill and light-headed, he passed out while waiting for help to arrive. When he finally got to a hospital, doctors told Hoffman that he'd suffered so much internal bleeding that he had about 20 minutes to live. Hoffman got his spleen removed and he recovered, but that's just one of the more than two dozen operations he's had during his career, according to The New York Times. He also had a brush with death that didn't involve trying to make a bicycle fly. In 2007, "a semitruck ran a stop sign and hit me at like 50 miles per hour," he told Maxim. "It nearly ripped my arm off."
A.J. Foyt drove into the dark part of the history books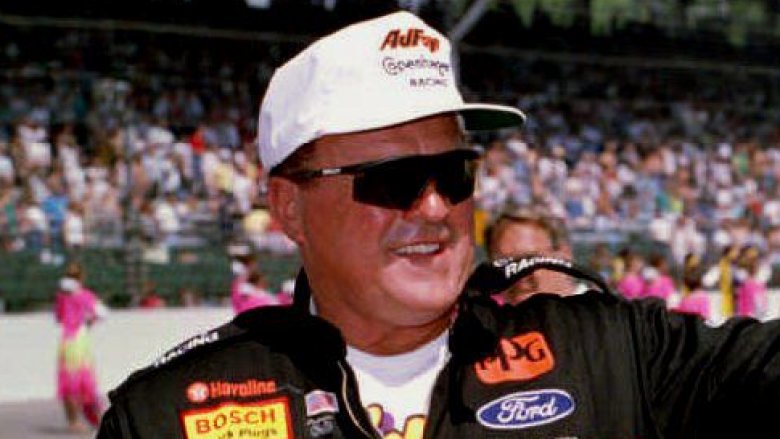 Tom Holoubek/Getty Images
A.J. Foyt is one of the best auto racers of all time — both the Associated Press and ESPN named him a "driver of the century" in 1999, on account of his dozens of wins and four Indianapolis 500 championships. Still, hurtling around a track at breakneck speeds isn't without its hazards. During a NASCAR race in 1965, Foyt's brakes failed and he veered into the infield, then careened down an embankment, sending the car flipping over and over for hundreds of feet. When paramedics got to Foyt, he wasn't breathing, but they managed to revive him and get him to a hospital. 
Seven years later, during a dirt race in DuQuoin, Illinois, he made a pit stop for a quick gas tank top-off, only for the hose to come loose and spray two gallons of alcohol/nitro fuel on Foyt's head. The driver assumed it would evaporate, but it didn't get a chance to — after he'd re-entered the race, an exhaust pipe spit out some fire, sending Foyt ablaze. He tried to jump out of the car to run for an infield lake, but the car was still moving … and one of the wheels ran over Foyt's left foot and flipped him over, all while he was still on fire. (His father, who ran up with an extinguisher, helped alleviate the situation.) 
Don't even get him started on the killer bees. Not once but twice Foyt has been attacked by swarms of the aggressive insects.
Brock Lesnar's biggest fight was with a GI disease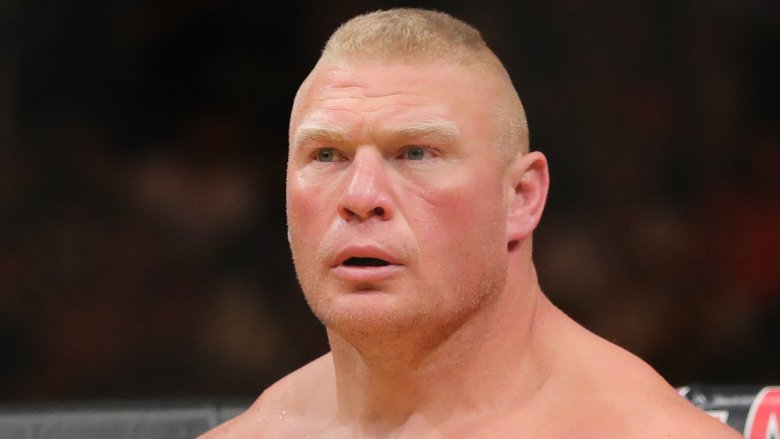 Rey Del Rio/Getty Images
Brock Lesnar is a big boy and a tough guy, and he's gone pro in just about every big boy/tough guy sport there is. He won the WWE Undisputed Championship, briefly practiced with the NFL's Minnesota Vikings, and then joined the mixed martial arts circuit, ultimately becoming the UFC Heavyweight Champion in 2008. As Lesnar said on a media conference call (via Sher Dog), he suffered "some stomach pains here and there" throughout 2009, which came to a startling peak during a hunting trip in rural Manitoba that November. In the middle of the night, and several hours away from civilization, "it felt like I had taken a shotgun blast to the stomach, and then someone poured in some salt and Tabasco and stirred it all up with a nasty pitchfork," Lesnar wrote in Death Clutch (via MMAMania). After a visit to a poorly equipped small hospital proved fruitless, Lesnar headed for North Dakota, where a doctor diagnosed diverticulitis. That's a severe problem in which bulging pockets that line the GI tract (including the colon) became infected, inflamed … or rupture.
Doctors wanted to remove the compromised part of the colon, but Lesnar refused, ostensibly to train for his title defense bout against Shane Carwin. In 2011, the diverticulitis struck again, and this time Lesnar couldn't turn down surgery. Doctors removed about 12 inches of his colon, and fixed him up real nice.
Eric Abidal kicked liver problems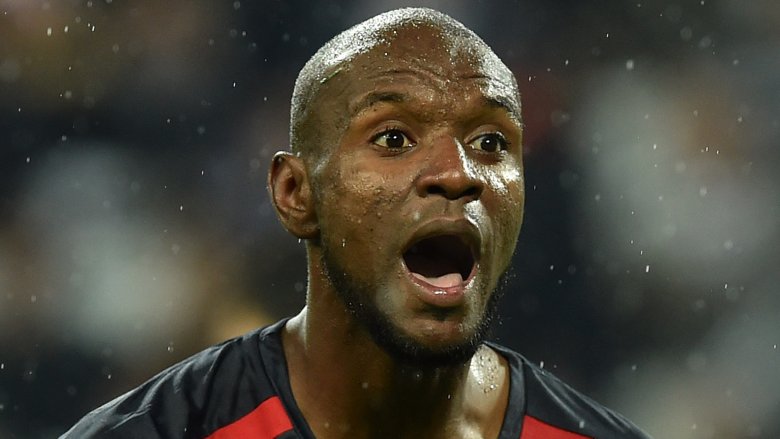 Valerio Pennicino/Getty Images
Eric Abidal played soccer for the French national team for nine years, which included a second place finish in the 2006 FIFA World Cup, but he was also a star in league play in the early 2000s for Lyon in France's Ligue 1 and for FC Barcelona in Spain's La Liga. That was all interrupted in March 2011, when, according to a statement released by FC Barcelona, doctors discovered a tumor in Abidal's liver. Very quickly he went in for surgical removal of that tumor at a Barcelona hospital. Unbelievably, just two months later, in May 2011, Abidal returned to the pitch, playing the entire 90 minutes of Barcelona's win over Manchester United in the Champions League Final. 
Abidal's is an amazing and inspiring comeback story … but it wasn't over quite yet, unfortunately. After signing a one-year contract extension with FC Barcelona and playing in 20 matches, he had to take another health-related leave of absence. In March 2012, Abidal's team announced that the tumor removal hadn't completely solved all of the player's health problems, because he was going under the knife once more, this time for a liver transplant. (The donor: His noble cousin, Gerald.) This time Abidal remained on the sidelines for a year to recover, returning to soccer in 2013.
Jonny Gomes shrugged off the notion of mortality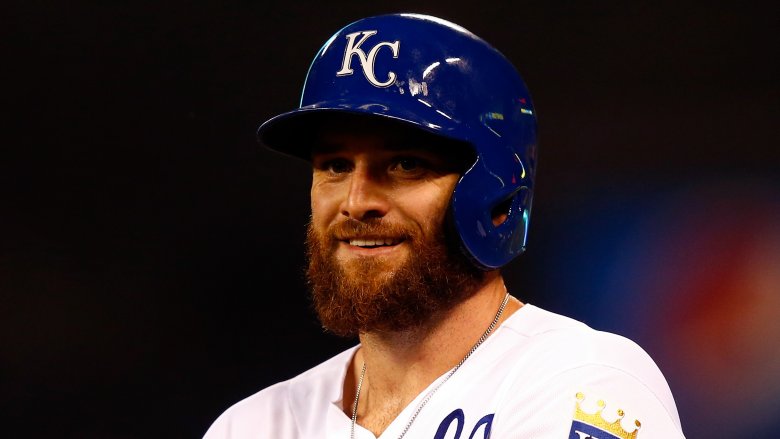 Jamie Squire/Getty Images
A reliable designated hitter and left-fielder, Jonny Gomes played in the major leagues for 13 seasons. It's kind of amazing he lived long enough to get that far, because death came calling frequently for young Gomes. When Gomes was 15, he lived in Inverness Park, California, and fell asleep one night near a candle he'd left burning. It set a nearby butane lighter aflame, which in turn lit up the sleeping bag in which Gomes was snoozing, melting the synthetic fabric to his skin. He managed to break free of the flaming bag, got a pot of water, and extinguished the flames … then went back to sleep on a wet sleeping bag with a burn on his chest. Teenagers.
About a year later, he went for a ride with some friends down a treacherous lane in Petaluma, California, nicknamed Rollercoaster Road. Gomes and his baseball teammate were sitting in the back when the driver, blinded by oncoming headlights, swerved to the right and into a telephone pole. The friend died two days later, but Jonny and the two young women in the front seat survive with nary a scratch. Flash forward to 2002, when 22-year-old Gomes suffers a heart attack that lasts 27 hours. Doctors pinpointed the cause as an inexplicably blocked artery and administered an angioplasty and nitroglycerin pills. Just a few months later, Gomes got called up to spring training with the Tampa Bay Devil Rays — some good luck for once.
Things got chilly for Rulon Gardner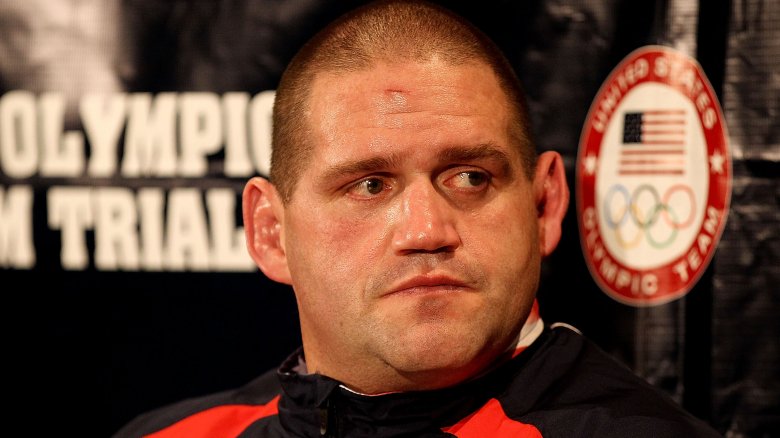 Matthew Stockman/Getty Images
Greco-Roman wrestling isn't the flashiest sport, but Rulon Gardner nevertheless made history in the sport during the 2000 Summer Olympics. The American wrestler won a gold medal by defeating Alexandre Kareline of Russia, a nine-time world champion and three-time Olympic gold medalist who'd never lost a match. Four years later, Gardner took home a bronze medal in his Greco-Roman event.
While Gardner's highs are high, his lows are extremely low. In February 2002, he got stranded during a snowmobiling excursion in Wyoming. After getting stuck in a gully, his snowmobile broke through a snow shelf and plunged into a river. He tried to get out, but drove down another cliff as darkness approached. Gardner spent a total of 17 hours in subzero temperatures before a rescue team spotted him just after dawn the next day. His core body temperature had dropped to 80 degrees, and he lost a toe to frostbite.
In February 2007, Gardner endured another sub-zero ordeal in the western wilderness. He was a passenger in a small airplane with two friends flying over Good Hope Bay on the Utah-Arizona border when the pilot lost control and plunged into the water. Gardner and his cohorts swam for more than an hour in near-freezing water, only to reach land … where they had to spend the night without shelter or campfire. They were rescued in the morning by a fisherman. "I think I'm really lucky," Gardner told CNN (via ESPN), "after everything I have been through." Yeah, dude.
Cathy Rigby's heart stopped multiple times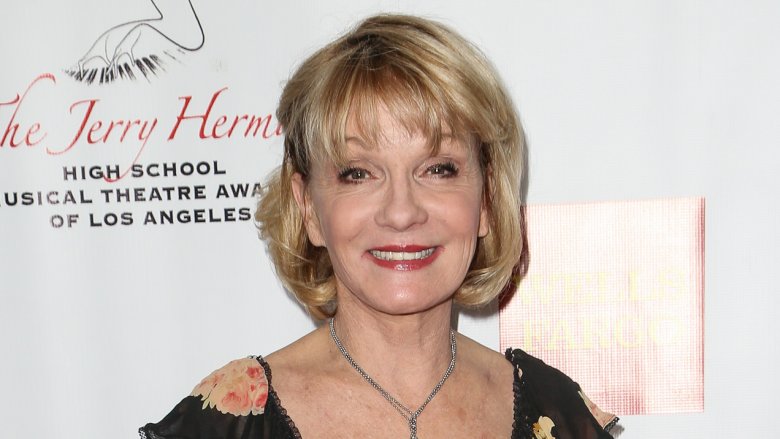 Chelsea Lauren/Getty Images
It seems like every Olympics cycle features a new breakout American gymnastics champion who becomes a national hero and cultural sensation. In 2012, it was Aly Raisman, in 1984 it was Mary Lou Retton, and in the early 1970s, it was Cathy Rigby. The first American woman to win a world championship, she competed in the 1968 and 1972 Summer Olympics, finishing in 16th and 10th place in the all-around, respectively. At that point, those were the best Olympic showing ever for a woman from Team U.S.A.
Female gymnasts are generally of slight figure and light frame, and to maintain what she told People was her perceived "ideal" weight of 89 pounds during her Olympic years, Rigby developed bulimia, an eating disorder characterized by eating large quantities of food and then regurgitating it. That's extremely hard on the body, and Rigby was hospitalized for complications of the disorder twice — she went into cardiac arrest on two separate occasions. ″When your potassium level gets as low as mine was and vitamins and minerals are missing from your body, it causes your heart to beat irregularly and heart attacks often follow," Rigby told the Associated Press in 1986, five years after she sought professional help.
Denny Morrison speeded away from oblivion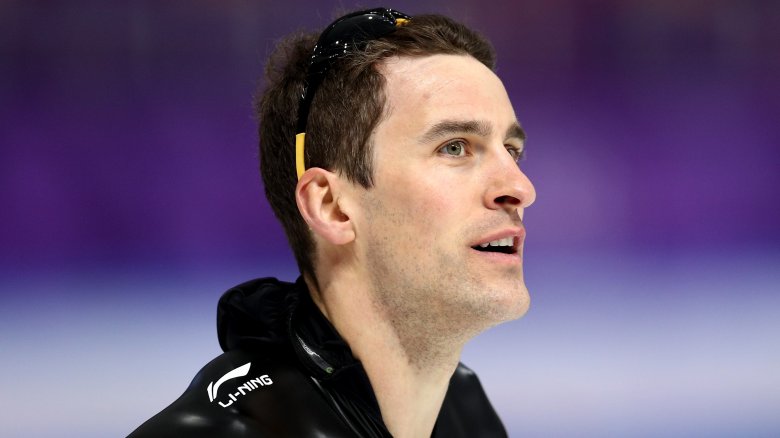 Maddie Meyer/Getty Images
Dedicating your life to becoming one of the best in the world at a certain sport is a big challenge, with the ultimate payoff a spot in the Olympics. Canadian speed skater Denny Morrison did exactly that … only he made it the Winter Games an incredible four times, competing in the 1,000 meter, 5,000 meter, and team events at the first three Olympics he went to in 2006, 2010, and 2014. He got a gold, two silver, and a bronze medal to show for his efforts. And then, after all that, he almost died. Twice. 
On May 7, 2015, Morrison was involved in a motorcycle accident in Calgary, Alberta. He woke up in a hospital the next day with a broken leg bone, a torn ACL, a punctured lung, a damaged liver and kidneys, and a broken spine. Several of those injuries alone could've killed Morrison, or in the case of the spine, paralyzed him. Just two weeks after the crash, he was walking with the aid of crutches, and before long, was skating again. Morrison missed an entire year of training, but hey, he lived and got himself well enough to bike the Arizona Trail, an 800-mile trek from Mexico to Utah. Two days after he finished it, he suffered a massive stroke. Once again, Morrison walked the long road to recovery and, amazingly, qualified for the 2018 Winter Olympics, his fourth.