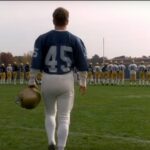 The Shady Life Of Daniel Ruettiger, The Man Who Inspired Rudy
echo get_the_meta(); ?>
In "Rudy," the character Daniel "Rudy" Ruettiger takes his spot as one of those quintessentially American heroes who achieve an impossible dream through grit, determination, and monologues about passion. The film follows Ruettiger from a small, unimpressive boy who dreams of playing for The University of Notre Dame's football team, The Fighting Irish. Eventually he gets his chance: three plays in the last game of his senior year, in which he manages to sack the opposing team's quarterback. The emotion the film strives for is, as Kenneth Turan puts it in the Los Angeles Times, "[sweet-natured] and unsurprising, about as hard to resist (and as intellectually demanding) as an affectionate puppy, this is one of those Never Say Die, I Gotta Be Me, Somebody Up There Likes Me sports movies that no amount of cynicism can make much of a dent in."
Similarly, the real Daniel "Rudy" Ruettiger is a true American. He did dream of playing for Notre Dame and did sack the quarterback. "The True Story of Rudy Ruettiger" validates in complete earnestness the glowing pitch of the story, while the screenwriter Angelo Pizzo in an oral history of the film expressed the University Football Team's more sober view: "And if [the film crew] were gonna make a football movie, why would it be about some schlub who sits on the end of the bench?" Still, the film's emotions hit home, and Ruettiger has given motivational speeches ever since.
'YES I CAN'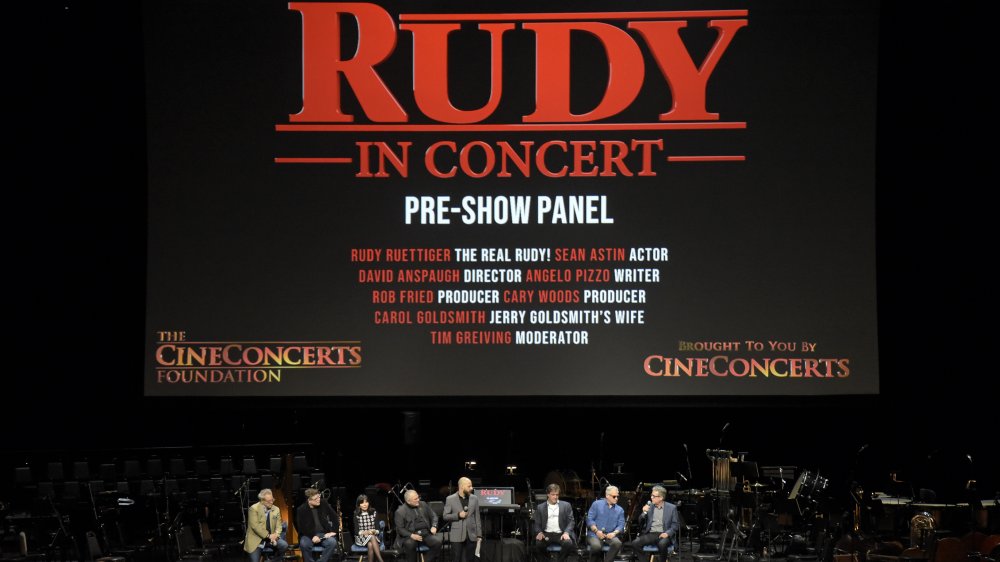 Michael Tullberg/Getty Images
Since achieving his dream, Daniel Ruettiger has expanded his scope. According to the information page on his website, he has written a series of motivational books which all bear his name in the title, such as Rudy's Insights for Winning in Life or Rudy & Friends. He also visits crowds ranging from 200 to 20,000 people to teach them his shouted slogan: "YES I CAN!" Later on he performed his show "DREAM BIG!" on Broadway. He also sells memorabilia. One group falls under the category "Rudy Memorabilia," which consist of photographs taken during the game he played, priced at $35 a pic. The other, less expected store is his collection of Disney Memorabilia: "Rudy's private exclusive Disney Collection. Rudy was inspired by the Magic of Disney and began his collection over 25 years ago. He is now making the entire collection available to the very passionate Disney collector who also has a love for the movie RUDY. Each Disney piece will be hand signed by Rudy personally." The cost? $2,500.
Rudy isn't the only man in history to use his name — which inspired a classic football film — to sell merchandise, though it does fall rather nicely into the category of American hero, transformed into a brand, like Walt Disney. To be fair, there was a Rudy Foundation, but the website has since disappeared, nor is there much evidence for what it accomplished, besides the Rudy Award for displays of character in college football, which tracks.
The step too far
Michael Tullberg/Getty Images
Then, like other great American heroes, Daniel Ruettiger started a company: Rudy Nutrition. If you have never heard of it, there's good reason: It was actually a pump-and-dump scam, an activity that involves inflating the price of a company's stock by lying to people and then selling it once it becomes valuable. At least, that's how the SEC "charged Daniel Ruettiger and 12 other participants in a scheme to deceive investors into buying stock in his sports drink company" in 2011. After noting that Ruettiger was "widely known for having inspired the 1993 motion picture 'Rudy,'" the SEC proceeded to describe just how Rudy Nutrition deceived investors: by claiming that the company would double Gatorade's sales. The scheme generated $11 million. Ruettiger  paid $382,866 as a settlement.
The next year, Ruettiger published Rudy: My Story. According to a Forbes review by Nathan Vardi, Ruettiger explains in the book that he lost all of his money in the housing bust of the late 2000s and started Rudy Nutrition. This contradicts the SEC's report that Ruettiger already was promoting the product in 2007. Vardi writes: "something changed when (Rudy) took his eye off the ball with the drink venture and focused on money instead of focusing on a dream. Throughout the book Ruettiger is preoccupied with money." Today, though, he's still around, with a blog post on August 3 about a motivational book he read. The American Dream continues.