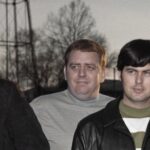 The Untold Truth Of The Muscle Shoals Rhythm Section
echo get_the_meta(); ?>
The Muscle Shoals Rhythm Section, also known as The Swampers, consisted of four men you've definitely heard — but likely never heard of. Session musicians David Hood on bass, Barry Beckett on keyboards, Jimmy Johnson on rhythm guitar, and Roger Hawkins on drums played on scores of hit records in the 1960s, '70s, and '80s and helped arrange songs for huge acts like the Rolling Stones, Aretha Franklin, Paul Simon, Lynyrd Skynyrd, Rod Stewart, and many more.
According to The Muscle Shoals Sound Studio website, from 1969 to 1978 alone, The Swampers played on more than 200 albums and had hundreds of hit songs with artists including Bob Dylan, Bob Seger, the Staples Sisters, Willie Nelson, and Cat Stevens, just to name a few. More than 75 RIAA Gold and Platinum records came out of their studio.
In 2013, a documentary about the impact of the Muscle Shoals sound and its players highlighted the richness of the music made in this Podunk part of the country for decades, music that could be considered the soundtrack of American life in the 1960s and 1970s. Steve Winwood said in the documentary, "What is it about Muscle Shoals? It's just a little village on the Alabama border. Why does that music come out of there?"
The Muscle Shoals Rhythm Section helped launch Aretha Franklin's career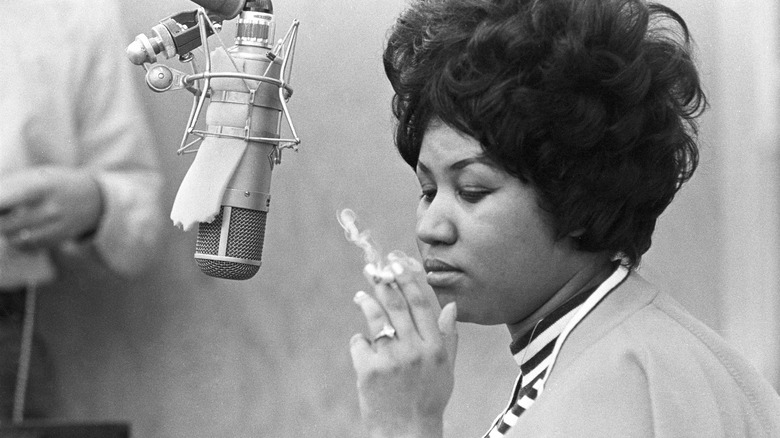 Michael Ochs Archives/Getty Images
While the Muscle Shoals Rhythm section are remembered for their huge contributions to popular music, they weren't the first to set up a music studio in the unassuming town. Producer and music industry legend Rick Hall first brought musicians to the town with his FAME Recording Studio.
It was during their years at FAME where Hall had brought Hood, Hawkins, Johnson, and Beckett on as session musicians that they were credited for helping Aretha Franklin find her sound after years of struggling to earn commercial success. Newly signed to Atlantic Records, producer Jerry Wexler set her up with a session at FAME. Things went awry and Hall ended up in a fist fight with Franklin's husband, Ted White, according to The Guardian, so the couple went back to New York. 
Drummer Roger Hawkins told Modern Drummer Wexler then asked The Swampers to go to New York to record with Franklin, and they were all in.  
"Nobody really suggested anything to play; we would interpret it. Now that I look back at what we did, in addition to being musicians, we were really arrangers as well. It was up to us to come up with the part. That was the rule back then: producers wanted us to come up with some parts," he said.
Those sessions produced Franklin's first top 10 pop hit, the soulful "(I Never Loved A Man) The Way That I Love You," according to Song Facts.  
The Muscle Shoals Rhythm Section split from Rick Hall and FAME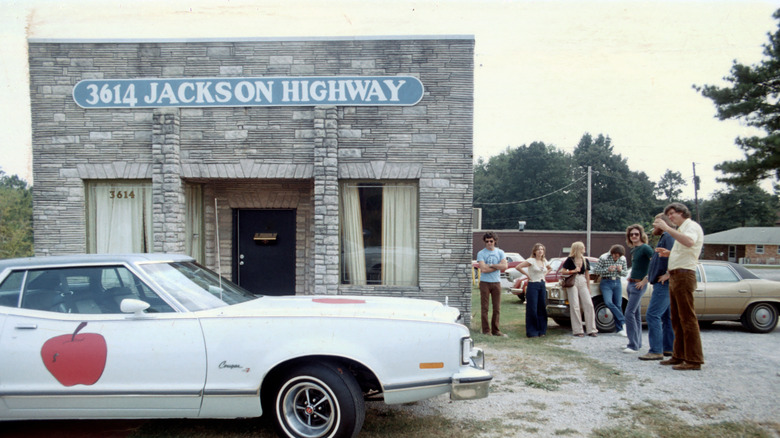 Michael Ochs Archives/Getty Images
The Swampers honed their craft at FAME by playing with musicians like Etta James, Wilson Picket, and Duane Allman. Simultaneously, Hall taught them the ins and outs of studio recording sessions. To Hall's surprise, shortly after the Aretha Franklin sessions, The Swampers left FAME to start their own recording studio. 
Signature Sound reported it had to do with money. Rick Hall reportedly signed a $1 million deal with Capitol Records and offered his session players $10,000 each. At the same time, the vice president of Atlantic Records, Wexler, offered the men a $19,000 loan to start their own studio and offered them financial support for the first 18 months. The Swampers took it and opened the Muscle Shoals Sound Studio at 3614 Jackson Highway in Sheffield, Alabama, which is within the "Shoals" jurisdiction. 
According to the Muscle Shoals Sound Studio website, it was the only recording studio owned and run by session musicians, and the four men became businessmen in all the ways it took to run a successful recording studio. But as good as it was for Hood, Hawkins, Beckett, and Johnson to become entrepreneurs, the move hurt Hall. 
"It's like a sledgehammer hit me upside the head," he told Fast Company in 2013. "I felt like my best friends had betrayed me, that the people I taught everything I knew about the music business had forsaken me. There was a lot of anger."
The Swampers helped shape many huge hits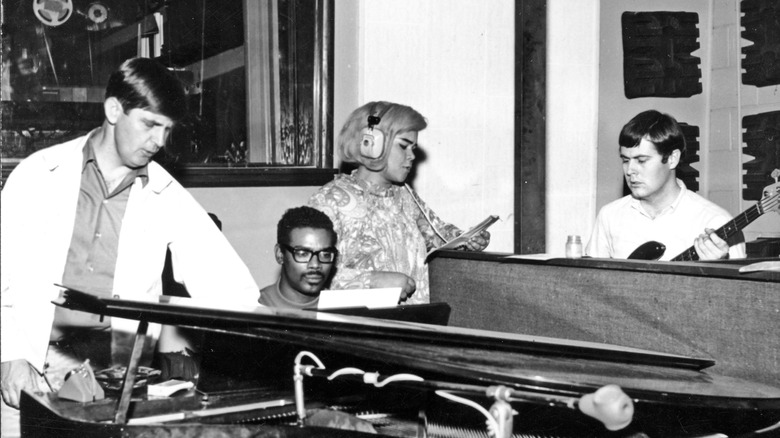 House Of Fame Llc/Getty Images
Once the Muscle Shoals Rhythm Section got into their own studio, they started to get more involved with not just playing on the records but producing, engineering, and helping artists arrange songs. 
After rhythm guitarist Jimmy Johnson died in 2019 at 76 years old, bassist David Hood spoke with reporter Mike Wake for the website Alabama. "We all respected Jimmy so much, not just for his guitar playing but also for his production ideas," Hood said. "He produced 'Wild Horses' and 'Brown Sugar' because [The Rolling Stones] didn't have a producer [with them during their 1969 Muscle Shoals Sound sessions]. He was the engineer [on The Stones' Shoals sessions], so he guided them on all that."
Johnson produced Lynyrd Skynyrd's first songs that later were released as "Skynyrd's First – The Complete Muscle Shoals Album." Hood recalled Johnson working with the band. "And Skynyrd, he believed in Lynyrd Skynyrd from the first day, when everybody else was saying, 'No, no, it's too long. Three guitars? What are you crazy?' Jimmy really believed in the things he worked on. You couldn't sway him. And most of the time, he was right," Hood said. 
That dedication even earned The Swampers a shout-out in Lynyrd Skynyrd's song "Sweet Home Alabama" with the lyrics, "Now Muscle Shoals has got The Swampers/And they've been known to pick a song or two (yes they do)/Lord they get me off so much/They pick me up when I'm feelin' blue/Now how about you?"
The Muscle Shoals Rhythm Section's success may be because they were so easygoing
House Of Fame Llc/Getty Images
One of the intriguing things about the Muscle Shoals Rhythm Section is the unassuming vibe of its members. The four Alabama natives seemed like some good ol' country boys with a laid-back southern attitude, yet they embodied soul, R&B, and rock 'n' roll rhythms with a unique southern sound that lured musicians to the little studio in small town Alabama simply because there was nowhere else quite like it. 
"The Swampers are humble guys who could adapt to what the artist wanted, knew how to work together in a live session and didn't let their egos get in the way," said the director of the "Muscle Shoals" documentary, Greg Camalier, according to Fast Company.
But even though Hall brought the quartet together with a regular paying gig working with A-list musicians, they were already acquainted with each other. The Shoals are a cluster of small towns, after all.
Bassist David Hook told Wake at Alabama of his relationship with rhythm guitarist Johnson. "I met Jimmy when I was in junior high school, and we were acquaintances … Jimmy has been such a part of my life from the very beginning of my music career. From the first time I ever touched a bass, he encouraged me. I would not be doing what I'm doing if not for Jimmy Johnson," he said.  
Muscle Shoals Sound Studio was refurbished by Dr. Dre and Jimmy Iovine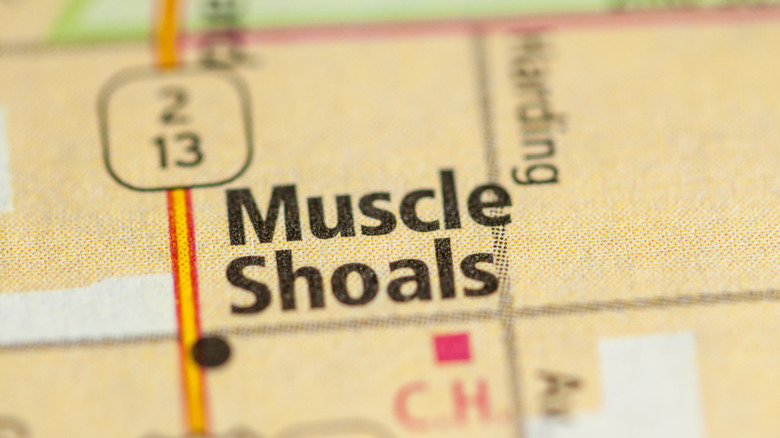 Shutterstock
In 1978, The Swampers moved from the building at 3614 Jackson Highway to a larger sound studio. By the 1990s, the small building where huge hits were created became dilapidated. 
Dick Cooper, former curator for the Alabama Music Hall of Fame, who was also once an assistant to Swampers keyboardist Barry Beckett, told the Alabama Newscenter, "There really is nothing else like it, anywhere. The fact that a studio this small turned out so much great music is phenomenal, and it's all because of the people who were involved. This is the most amazingly creative workshop atmosphere I've seen. This building is so special. It really needed to be preserved."
Luckily, music moguls Dr. Dre and Jimmy Iovine felt the same way. According to David Hood's wife, Judy Hood, who is the chairperson of the Muscle Shoals Music Foundation, Iovine and Dr. Dre saw the "Muscle Shoals" documentary and called that very night to say they were so "captivated by the story." Judy Hood told the Alabama Newscenter that they formed a philanthropic sect of their company Beats Electronics, which would restore run-down yet iconic music studios to their former glory. 
Their first project was the Muscle Shoals Sound Studio, which is now refurbished with much of the original instruments and made to look the way it did in The Swampers heyday. "We will be forever indebted to Beats Electronics because they made it possible for The Swampers to come home again," Judy Hood said.