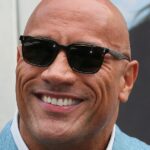 What Did Dwayne Johnson Actually Look Like In College?
echo get_the_meta(); ?>
Dwayne "The Rock" Johnson has had one wild ride from the bucktoothed kid that his godparents called "little Dewey" to one of pro wrestling's most popular superstars to globally adored Hollywood actor. When he wrestled for the WWE — haughtily cocking his eyebrow and stomping any jabronis that got in his way — he often boasted that he was "The most electrifying man in all of entertainment." Then he left the ring and went on to prove that statement.
Now his life story is being told with a twist of comedy in a new NBC series, and viewers are wondering how accurate Young Rock is to his real life. What did Dwayne Johnson look like at age 10, or at age 15, and do the actors who play him really resemble him at those ages? The show also covers Dwayne Johnson's college days, when he played defensive line for the University of Miami football team, with whom he won an NCAA National Championship in 1991. Let's take a trip down memory lane and see what Dwayne Johnson looked like in college, and how well the show did in representing him at that age.
Dwayne Johnson was already huge in college
ESPN spoke to several of Johnson's former coaches and teammates in 2012 to get an idea of what The Rock was like in college. He was called "a specimen" by teammate Warren Sapp, who ended up taking Johnson's position on the line. "He looked great. He always looked great," said Sapp. "He was tan, curly hair. He was the kind of guy you want your sister to date, because he was a nice guy." Another former teammate, defensive end Kevin Patrick, called him a "yoked-up kid with muscles everywhere," and also "a physical specimen from Day 1. He didn't just become one as soon as he became a wrestler."
So how does the actor playing him at that age, Uli Latukefu, measure up? According to a post on Johnson's Instagram account from September 2020, the two sure do look alike, in the face at least. But how about the build? Johnson posted a pair of photos to Instagram in February 2021 that reveal that Latukefu's got the guns to play the part, as well. Johnson said that in addition to looking like him, Latukefu "brought a great quality, intensity, depth and love to the role." You can check out Young Rock on Tuesdays at 8/7c on NBC.