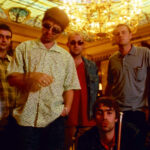 What Happened To Alan White From Oasis?
echo get_the_meta(); ?>
When it comes to the band Oasis — or really when it comes to anything having to do with Liam and Noel Gallagher — you can usually expect fireworks. Whether it's the combative relationship between the two brothers at the heart of the band or its various lineup changes over the years, Oasis was never known to avoid a bit of drama. For years, British tabloids covered everything from the band members' personal lives to the Gallagher brothers' contentious (and seemingly irreparable) relationship. Rolling Stone even made a list of 100 things Noel Gallagher has been quoted as saying he disliked (which didn't even include his much-noted hatred for the band's mega-hit, "Wonderwall"). Also not on the list was the band's longtime drummer, Alan White. Depending who you believe, he may or may not have belonged on there.
Over the band's near-twenty-year history, Alan White would be the drummer who managed to keep time longer than any other, staying with the band from 1995-2004, arguably some of Oasis's most successful years. Ultimately, White was fired from the group and replaced by Ringo Starr's son Zak. Here's what's happened to Alan White since then.
What Alan White has been up to since Oasis
Over the years there have been various fan theories about what happened between Alan White and the Gallaghers, with Alan's brother (and fellow drummer), Steve, alleging Alan was fired over the phone by the band's manager. According to Steve, Alan hasn't heard from the brothers since that phone call. In April 2020, Liam leapt into some Twitter drama (stars, they're just like us!) to claim that it was Noel who was behind the decision, calling it, "Another 1 of his porkys Noel fired Alan white nothing to do with me," whatever that means.
Meanwhile, Alan White has largely stayed out of the spotlight with the exception of briefly joining his brother's group, Trio Valore, to play a gig in London in 2008. Despite the low profile, fans still clamor for news of the drummer, with nearly 30,000 fans following him on the Instagram account he started in April 2020. In one post, White is seen pulling faces alongside Liam Gallagher, though it's unclear when the photo was taken. White also uploaded recent video of himself drumming along to some classic Oasis as a thank you to the UK's National Institute of Health workers. What does all this Oasis bonhomie mean for Oasis fans? Well, probably not a reunion. But White, who has also shared happy, domestic snaps of cold beer, a scooter ride around his lawn, and a sunset, seems pretty content right where he is.