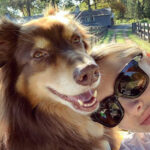 Your Favorite Celebrities and Their Rescued Furbabies
echo get_the_meta(); ?>
If you're a pet lover, then the best way to add to your family is to head to your local shelter and find an animal that is looking for a good home. These places are usually much cheaper than buying from a breeder, there are fewer shady practices going on, and oftentimes they're run with the help of volunteers who just love animals.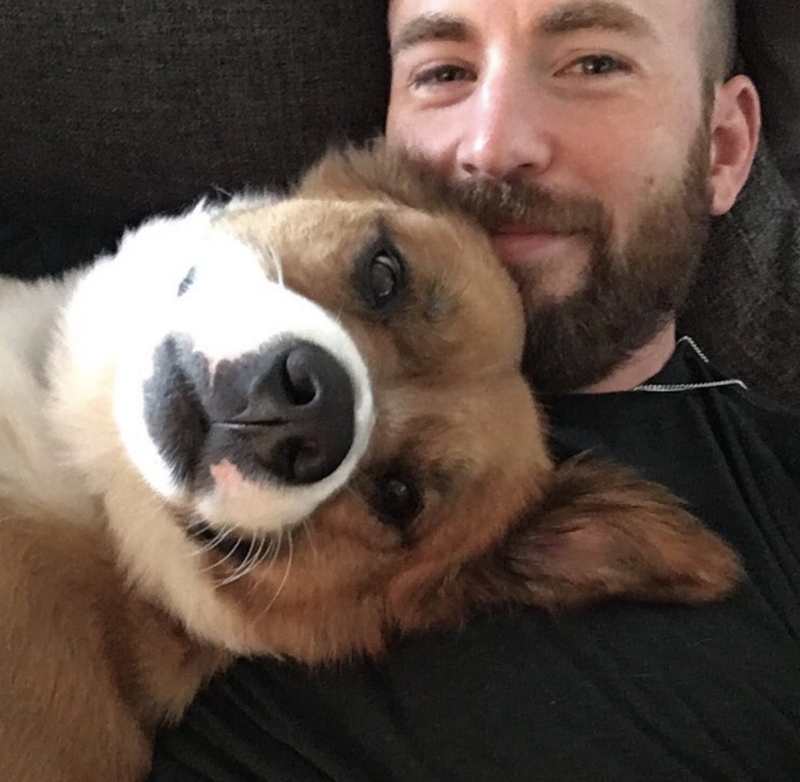 Plenty of celebrities have taken this knowledge to heart and now boast a happy hound or kitty – or more than one, a lot of the time. read on to see which A-listers have opened their homes thanks to shelters.
George and Amal Clooney: Millie and Louie

If you thought that George Clooney was dreamy before, just listen to his love of pets, and you'll be melting faster than ever. George, Amal, and their twin children have always had a household of dogs, but Clooney got the ball rolling before he even met Amal.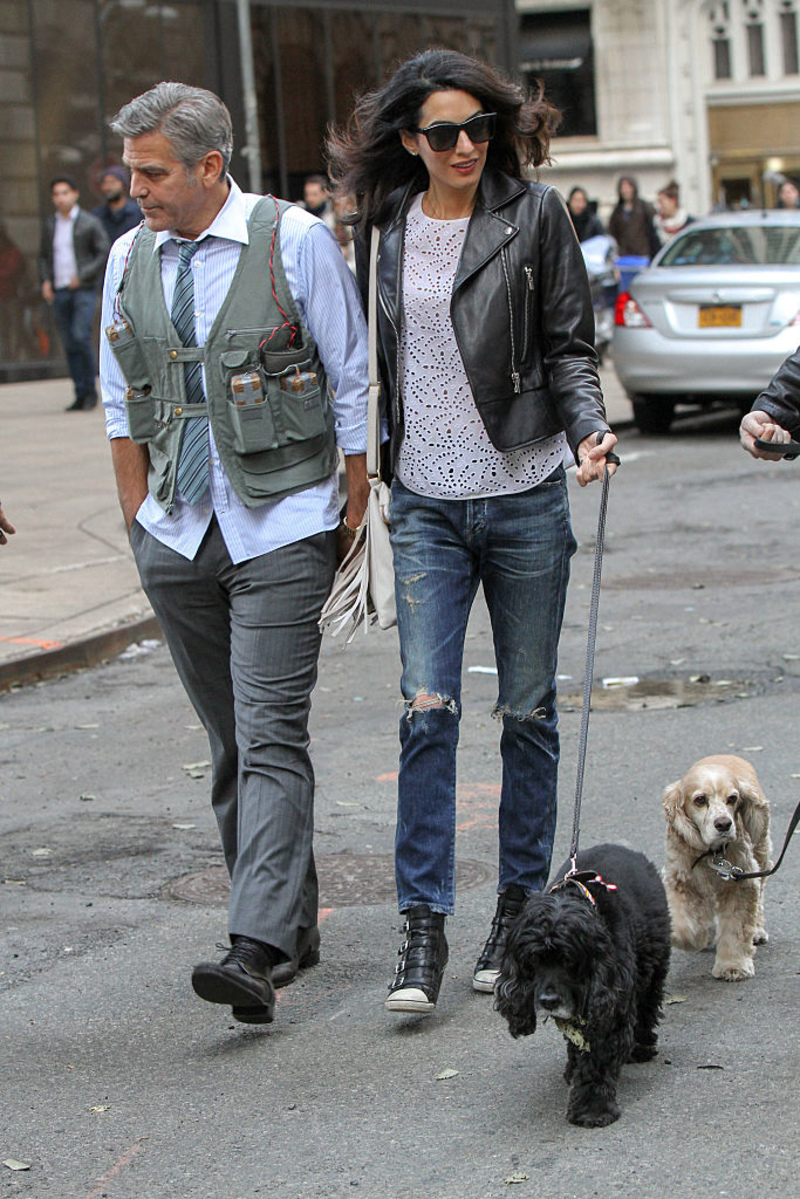 It was with Einstein in 2010, with whom Clooney appeared in a number of advertisements. As the family grew, so did their need for pets – and so they added a couple of rescue dogs. The first was a Basset hound named Millie in 2015, and the second was a Cocker spaniel – just like Einstein, who sadly passed in 2017 – named Louis.
Ryan Reynolds: Baxter

Ryan Reynolds was on the hunt for a new dog for a friend after the friend's old one passed away, but he ended up getting a pal of his own when he came across Baxter, a Golden Retriever that he described as dumb-looking. Yet when Reynolds asked if the pooch wanted to get out of his small home, the dog was amped to go.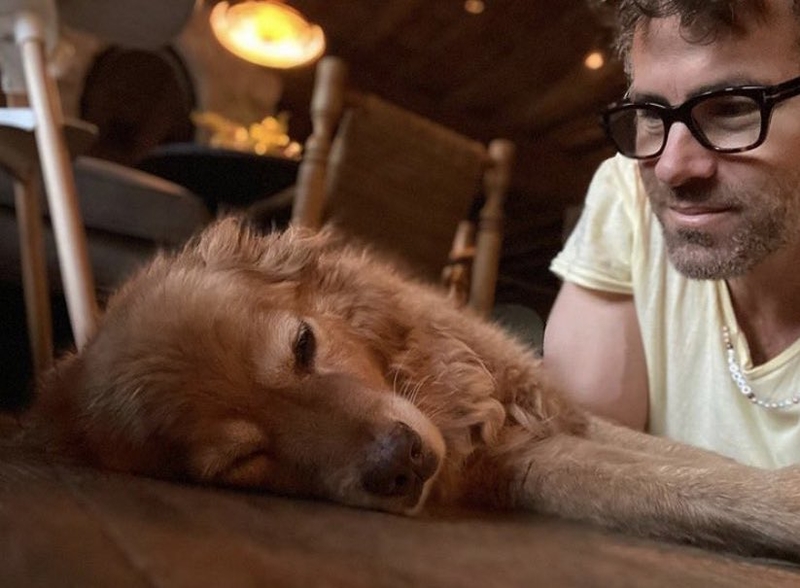 It was too big for his friend (who was paralyzed, requiring a specific temperament – Reynolds found a chocolate lab), but Reynolds fell in love with Baxter right away. They've been best buddies ever since, and Baxter is a constant fixture of Reynolds's Insta.
Zosia Mamet: Moose

Famous for appearing in "The Kids Are All Right," "Girls," and "Mad Men," Zosia Mamet has also gained fame because of the video where she first receives Moose. The mutt appeared on Christmas morning wearing a bow, and Zosia sobbed with happiness. Mamet's actor boyfriend, Evan Jonigkeit, had convinced her that having a dog wasn't practical, so his surprise was even better.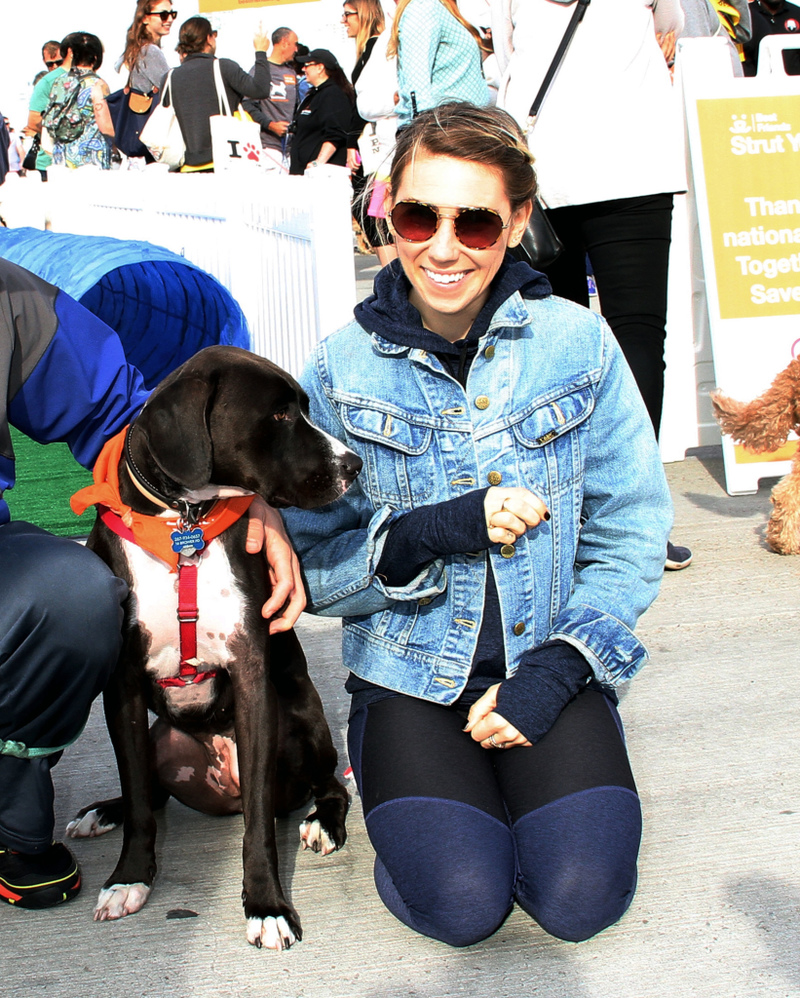 Mamet, who is a vocal supporter of rescuing pets, has since started volunteering with the Best Friends Animal Society and encourages others to adopt. While Mamet is pushing for a sibling (or several) for Moose, the fact that both she and her husband frequently travel for work makes it difficult.
Selma Blair: Ducky

Selma Blair might not have been the one that picked Ducky out – that would be her son, Arthur – but she's just as close to the Chihuahua-Pug mix as Arthur is. Blair was hoping for an older female dog, but when Ducky walked right into Arthur's lap (the boy was only five at the time), they knew they didn't have any other options.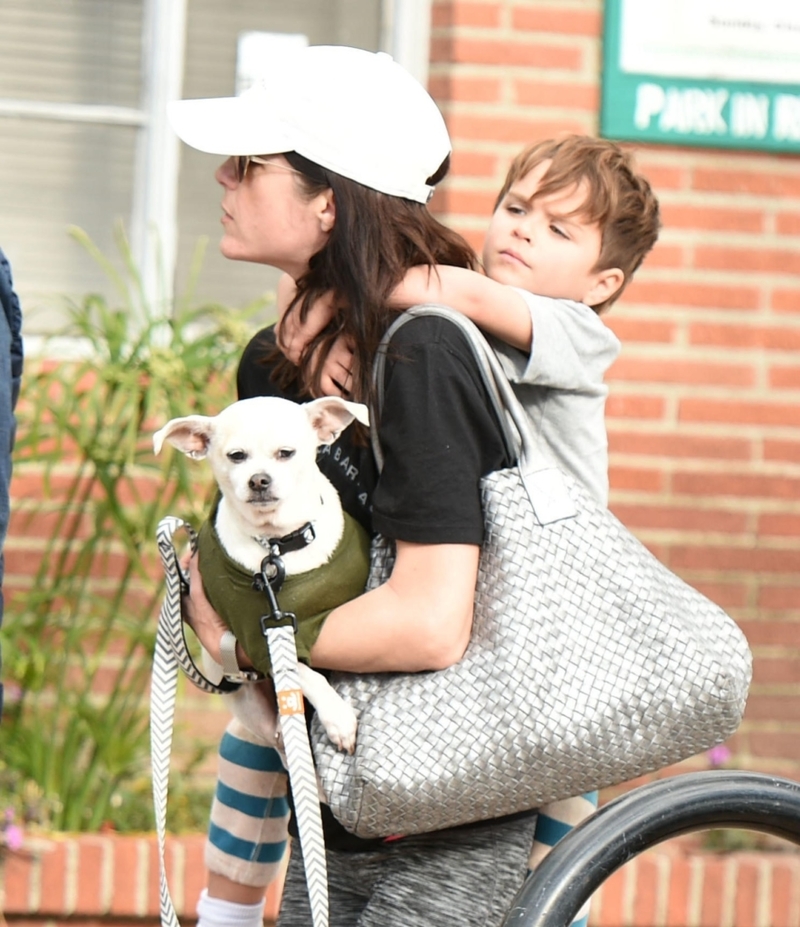 The dog and Arthur quickly bonded even more, with the two often napping together in heartwarming ways. Sadly, Ducky has now passed away following a tragic accident in 2017.
Zooey Deschanel: Dot and Zelda

The most famous bangs in the world are big fans of fur. When Deschanel went hunting for a new pet in 2013, she figured she had struck paydirt when she met Dot, a cute little dog of unknown breeding. Then, she found out that Dot had a sister. There was only one thing to do.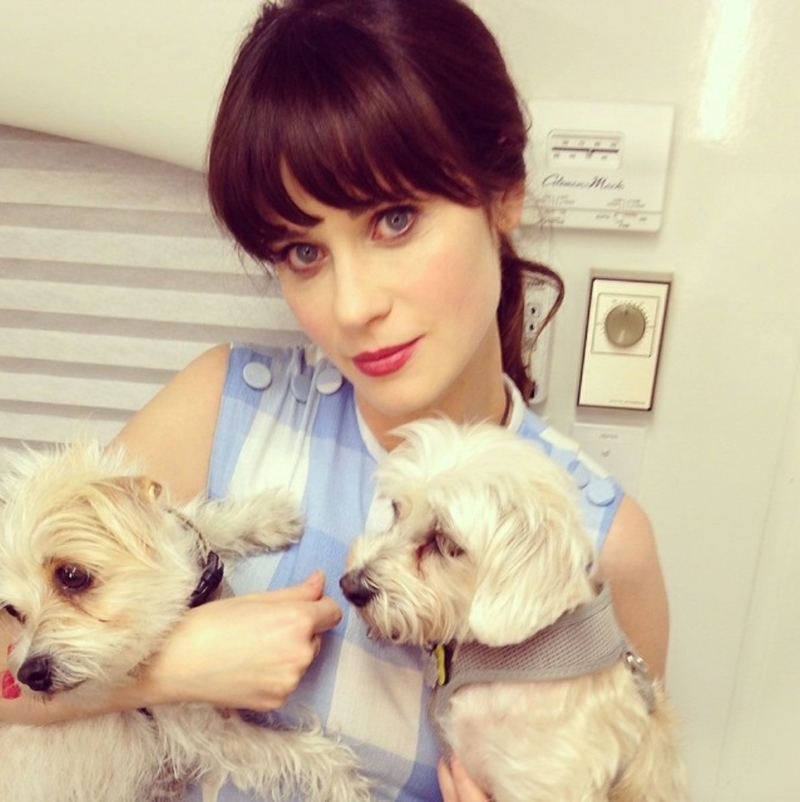 Zooey came home with the pair, naming the second dog Zelda, and it's been uphill ever since. Deschanel might be known as one of the cuter actresses working these days, but her new furry friends are giving her a big run for her money – and there are pictures to prove it.
Hilary Swank: Lucky, Karoo, Rumi, and Kai

Going to a breeder has never crossed Hilary Swank's mind. With eight million homeless dogs and cats on streets across the country, there's just no need. She adopted her first rescue, a black Lab and Shepherd mix named Lucky when she was only eighteen.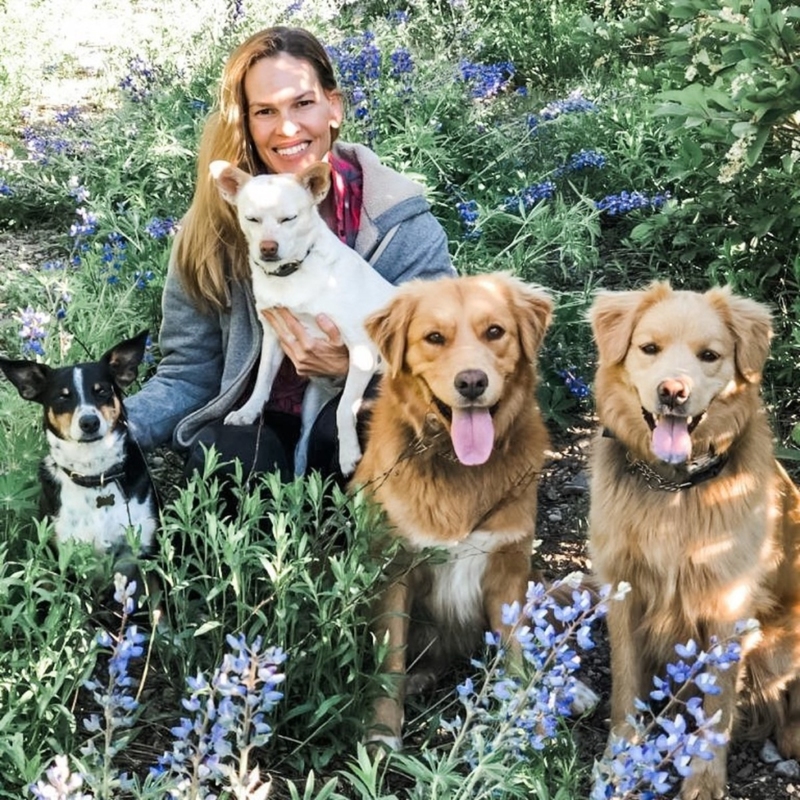 Then there was the Karoo, a starving, sickly Jack Russell Terrier and Corgi mix in South Africa. After that came Rumi, a Golden Retriever mix, followed by Kai, a Beagle-Terrier cross. No doubt there will be more to come as time goes on, as Swank is a lifelong animal advocate who helps out with a number of different animal organizations.
Luke Bryan: Kimmie

One of the biggest joys of adopting animals from shelters is watching them realize they don't have to live in a cage anymore. Country music star Luke Bryan knows this a little better than most since he's done foster work.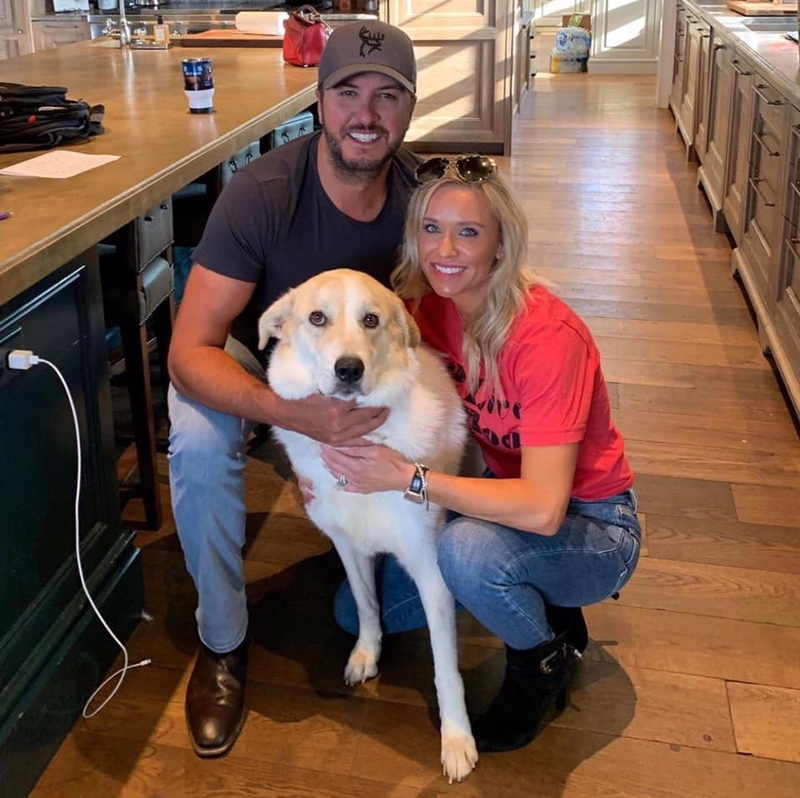 Kimmie is just one such pooch and was apparently kept in a small cage for most of the time she was with her previous owners. So far, Bryan and his wife Caroline are just fostering the dog, but from the number of pictures the family has posted, it might be the kind of situation that stretches for a good long while, much to the delight of all involved.
Olivia Munn: Frank

While the actress was involved with Green Bay Packers quarterback Aaron Rodgers, the pair picked up little Frank, a little pup of indeterminable breeding. While the Munn-Rodgers connection may have ended, Olivia still loves the addition.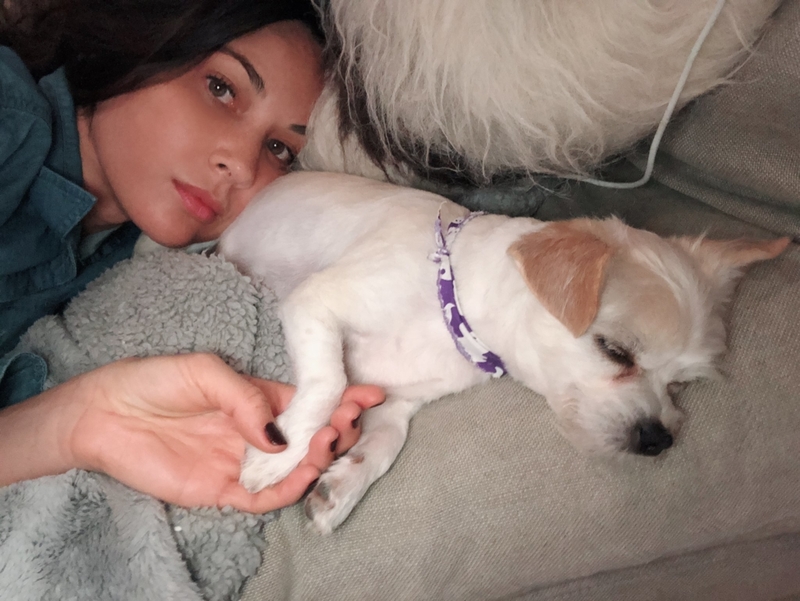 Frank joined the couple's other dog, Chance, a Cavalier King Charles spaniel that Munn adopted in 2014. Munn is a consummate supporter of the Adopt Don't Shop movement, which encourages pet adoption from shelters instead of puppy mills. While Frank did have an Instagram account all his own for a while, it seems to no longer exist after the breakup between Rodgers and Munn.
Anne Hathaway: Kenobi and Esmeralda

The Oscar-winning star's first adopted poochie was a handsome chocolate Labrador named Esmeralda, first appearing with the actress in 2004. The second part of the family, after husband Adam Shulman entered the picture, was a cute puppy the pair renamed Kenobi, after the classic Star Wars character.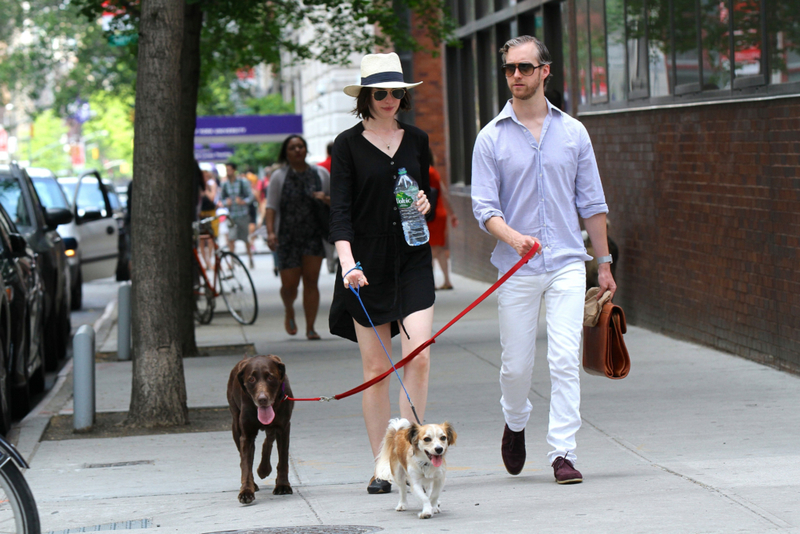 Apparently, the puppy, who started with the name Edward, kept his eyes on the pair while they were checking out the shelter. Realizing he would be easy to train, they took Kenobi home with them. Teri Austin, president of the Beverly Hills rescue Centre where they found Kenobi, praised Hathaway's dedication to dogs and adoption.
Kristen Bell: Mr. Shakes and Lola

We all know Kristen Bell's sloth story, but this actress really loves her dogs as well. Lola is a sweet Welsh Corgi-Chow Chow mix who had been returned to her shelter by a couple of different families due to difficulty training, but Kristen saw something in her.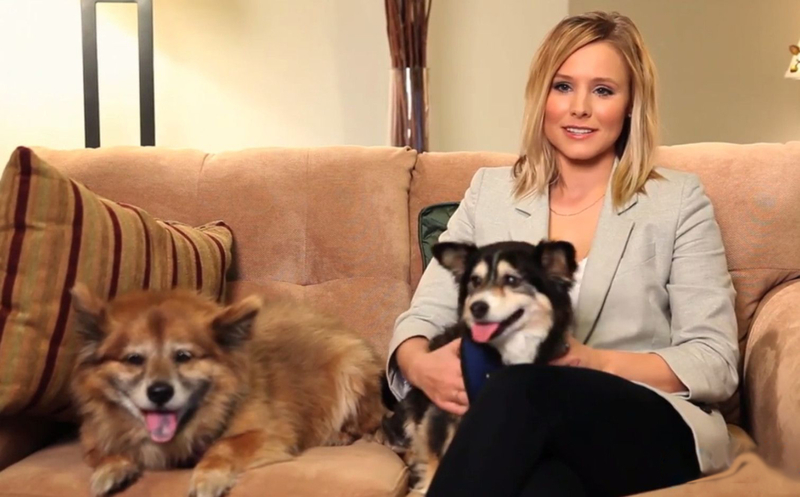 She described the dog as an escape artist. After that came Mr. Shakes, a Chihuahua-Welsh Corgi mix, who was nearing euthanization before Bell came to rescue him. Lola needed a friend to be around when Bell is working long hours, and Mr. Shakes was the perfect fit. There have been even more pets in the Bell household, too.
Brooks Laich: Koda

We shouldn't be surprised that a professional hockey player chose a Siberian Husky as his pet of choice. Koda ended up being more than just a pet for Laich; however – when Laich and his actress girlfriend, Julianne Hough, called it quits in 2020, there was only one thing that could get them back together: the dog.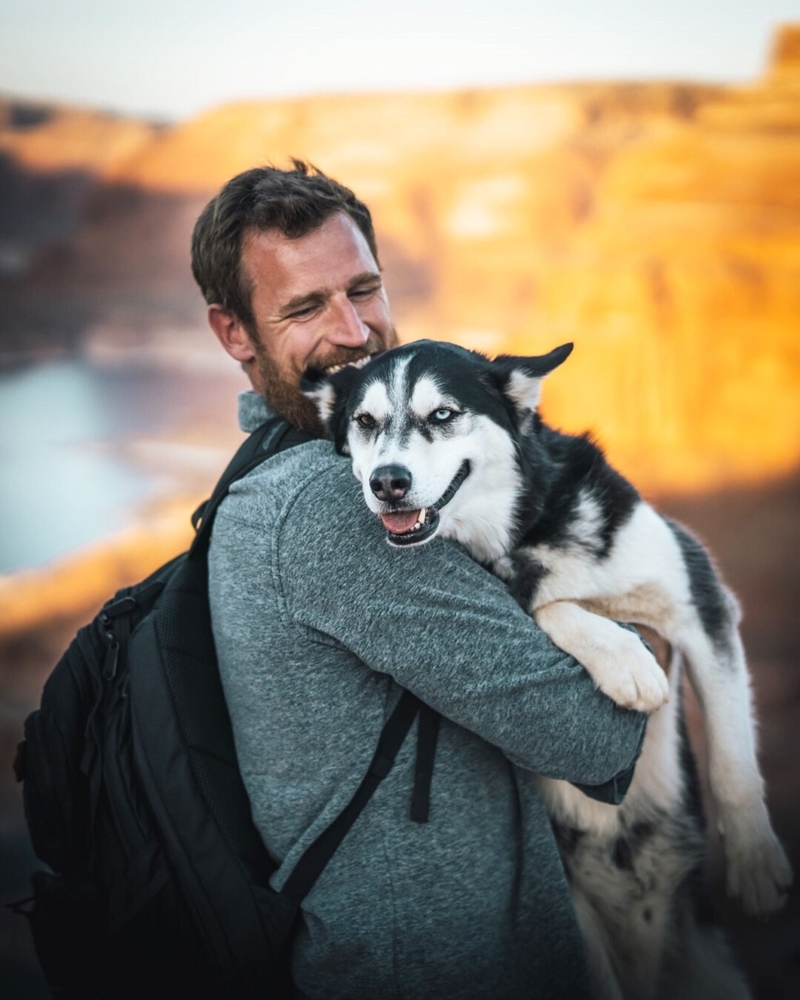 After losing their two Cavalier King Charles Spaniels, the couple adopted Koda, and neither one could bear to be away from him. They reunited and have announced they are working on the relationship again. Hopefully, things work out for them, but one way or another, they'll always have Koda at their side.
Zac Efron: Chapelle

Along with dog siblings Dreamer and "Puppy" (who passed away in 2016) and latest addition Maca, Efron's adopted dog Chapelle has got a pretty rowdy home life. Zac Efron and his girlfriend Sami Miro took their relationship to the next level when they adopted the adorable little Chapelle from a shelter.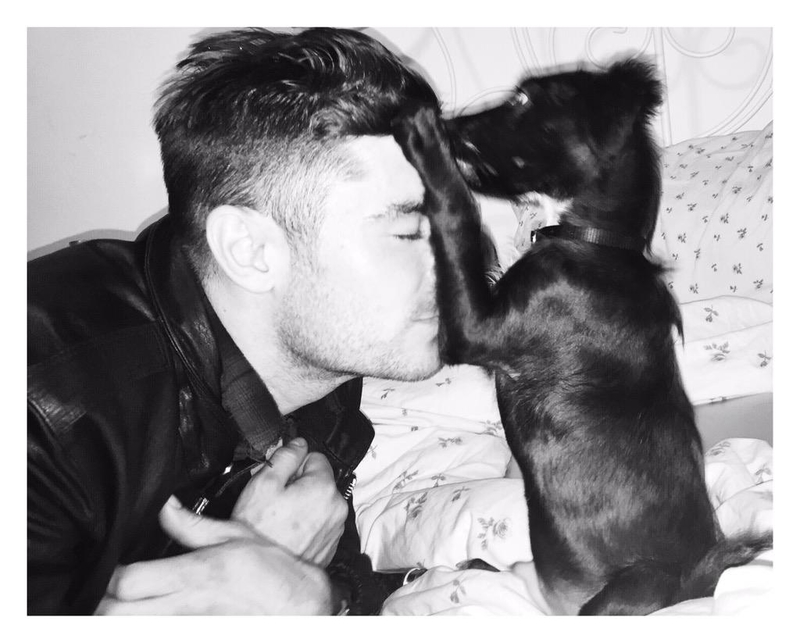 Sami and Zac might not be together anymore, but Chapelle is still going strong. He's a good-looking dog with a white front and a long snout, and we're sure that the dog is just as happy with the relationship as clear dog-lover Efron is.
Zac Efron: Maca

Maca joined the Efron household in 2018, and she's lucky to be alive. The dog was scheduled to be euthanized, but Zac Efron – a hero to dogs everywhere – stepped in and brought her home with him instead.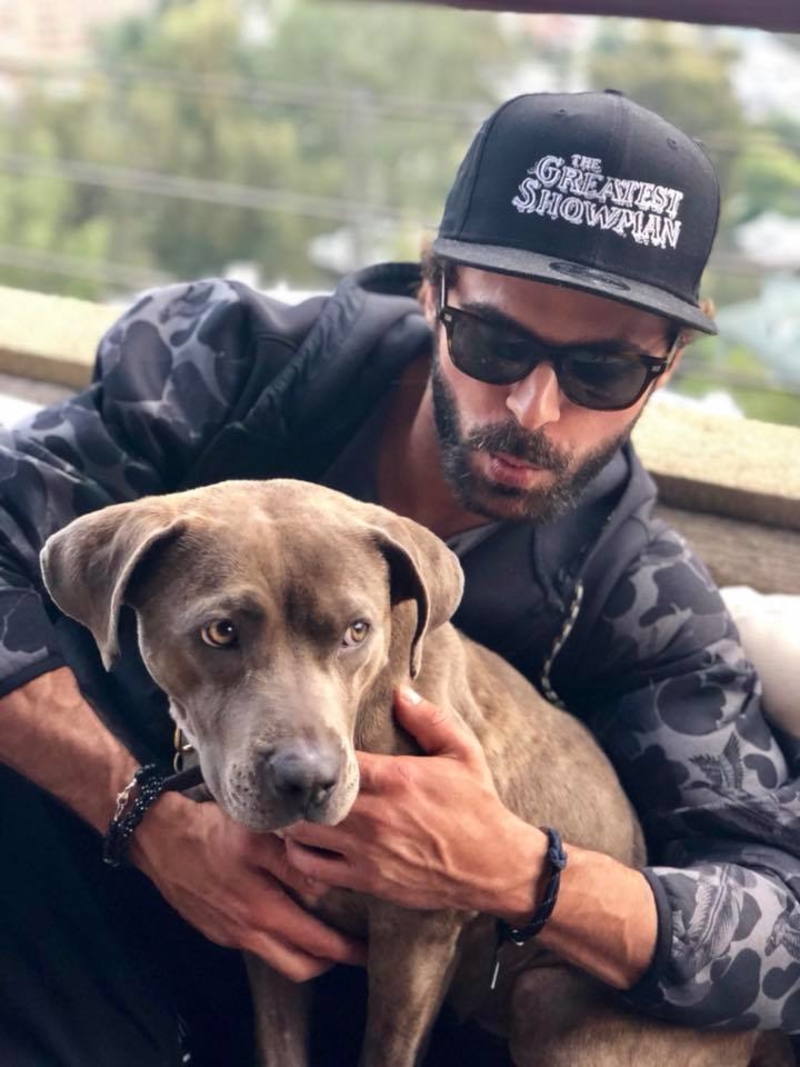 Efron was in need of some more puppy love in his life – only a few years before Maca joined the family, his dog "Puppy" passed away. While Maca was just going to be a temporary visitor for Zac…well, we all know where this story is going. He couldn't give her back. Just look at those eyes – who could blame him.
Emmy Rossum: Cinnamon, Sugar, and Pepper

Emmy has always been a proponent of adopting and the no-kill movement, and her life has been one adopted dog after another. Some of her recent dogs have all had a certain theme to the names since they are named Cinnamon, Sugar, and Pepper (as well as a cat named Fiona).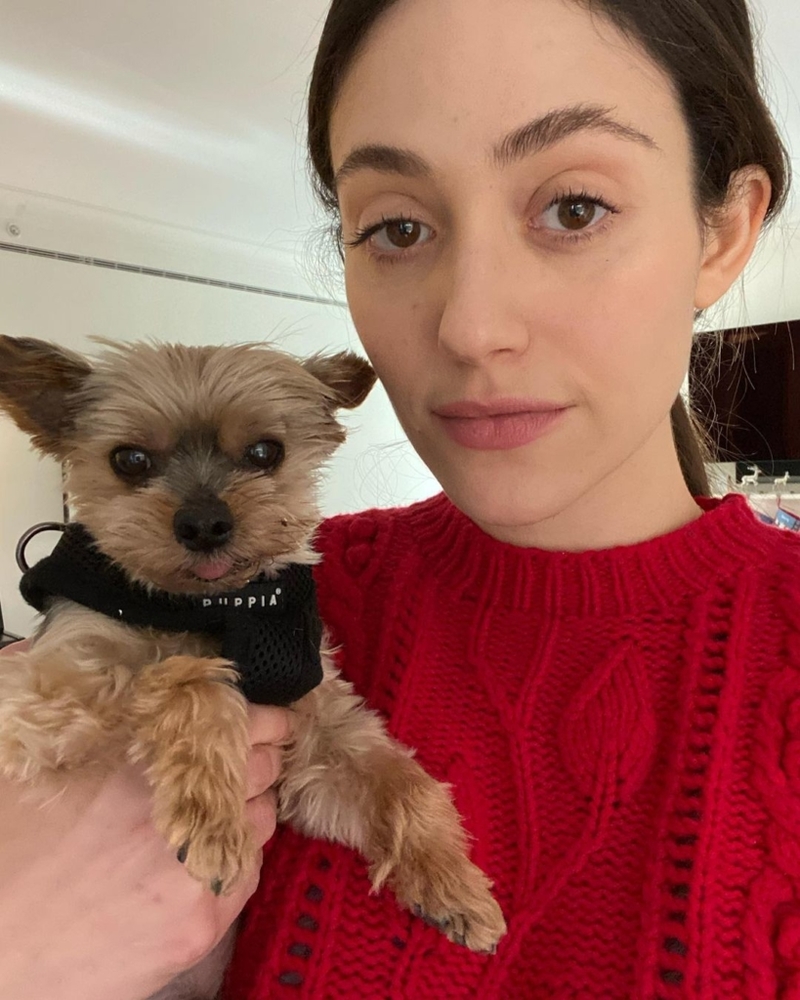 The animals add a great deal to Emmy's life, especially for a person living alone. Emmy and her dog Pepper have joined the Best Friends Animal Society's Save Them All Campaign, which has celebs posing with their own rescued in order to convince others to do the right thing. It saves pets' lives and makes families better.
Lauren Conrad: Chloe and Fitz

Even before she was cast in the reality television series "Laguna Beach: The Real Orange County" at the age of eighteen, Lauren Conrad was an animal lover and a proponent of animal adoption. Now married to singer-songwriter William Tell, she's been putting her weight behind her words.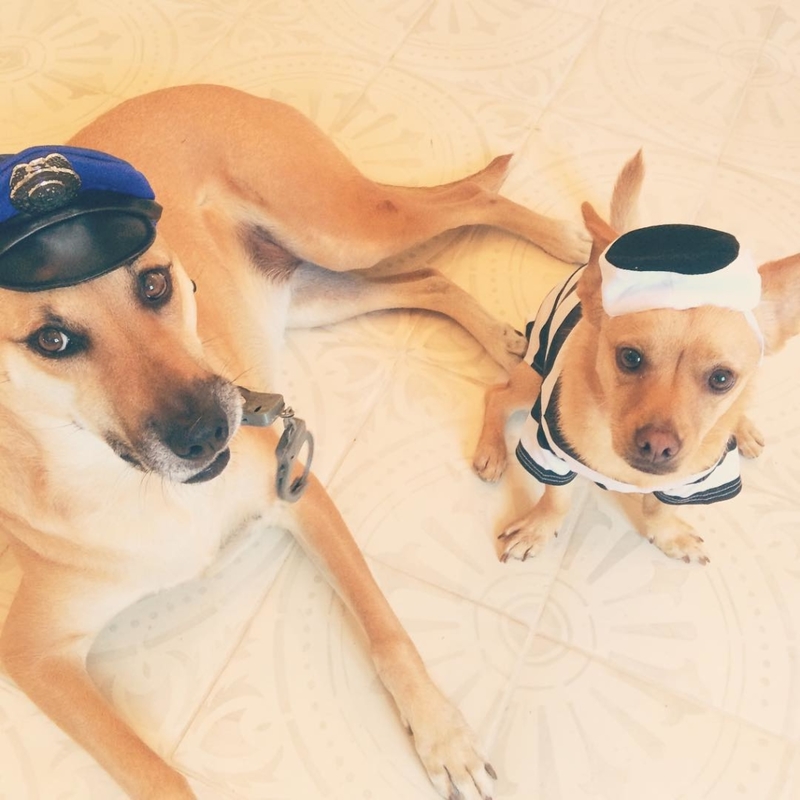 The first pet she had, adopted in 2008, was Chloe, a yellow Lab-German Shepherd mix. Sadly, Chloe passed away in August of 2019. The second dog, Fitz, is a mixed breed that Conrad named in honor of the author of "The Great Gatsby," her favorite book. A German Shepherd mix has also joined the family.
Kelly Clarkson: Lots of Dogs

As far as this list goes, there are few celebs that are bigger pet lovers than Kelly Clarkson. She's been a big supporter of animal rights since she was a kid. She even owns a ranch – Eddie's Rescue Ranch, in Texas – that is named after a dog of hers that ran away.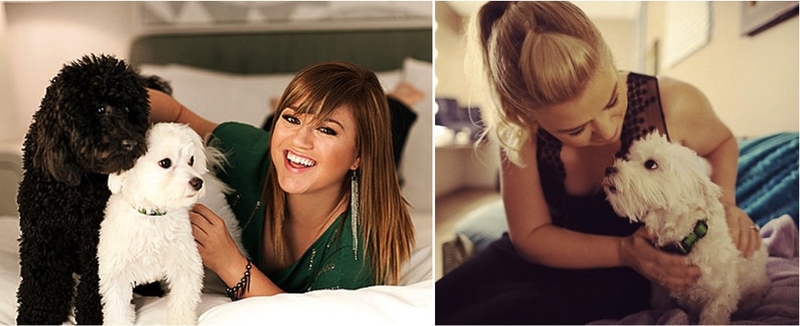 It's fourteen acres and home to eighty animals, including horses, ponies, goats, pigs…and, of course, tons of dogs. As far as the dogs that have lived with Clarkson, there's Joplin, adopted in 2011, Security, a Maltese who is a loud snorer, Wyatt, a poodle adopted in 2014, and many more.
Miley Cyrus: Milky

Miley's life has been a wild ride ever since she first appeared on the Disney channel, but the great part about pets is they don't usually care. As long as you give them love, they'll give it right back.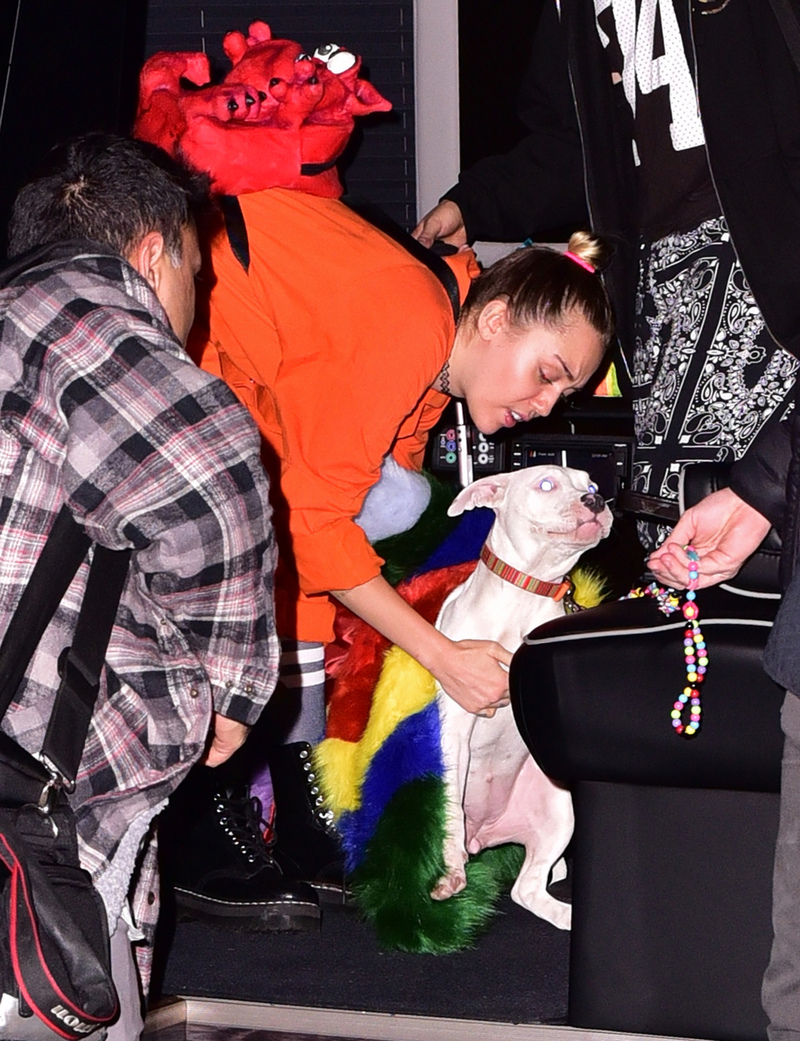 Cyrus has already been the owner of several pets, including Floyd, whom she immortalized in song, but Milky – an adorable pitbull puppy – might be one of the photogenic pooches we've ever seen. Milky is no longer a pup, of course, since Miley adopted him more than six years ago, but that doesn't stop us from getting the fuzzies looking at all the pictures.
Justin Theroux: Kuma

Actor Justin Theroux has spent time with various attractive women, but the one that has truly captured his heart is none other than Kuma, a pit bull rescue whose name means "Bear" in Japanese.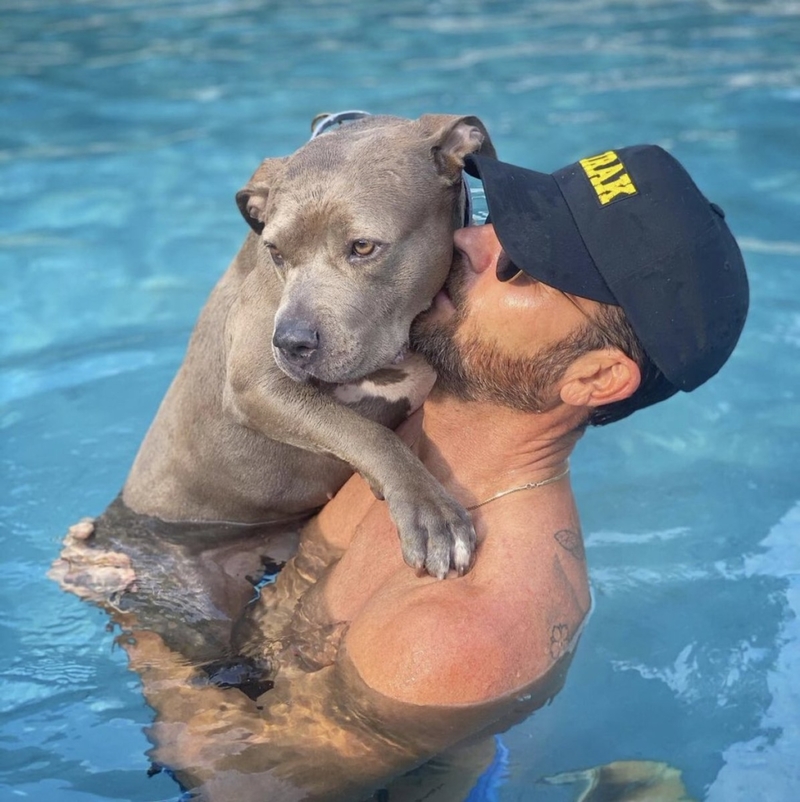 This pooch managed to make her way through the dangers of Hurricane Harvey, and when she was rescued, she landed in a high-kill shelter. She was rescued and placed in A Chance to Bloom Dog Rescue, which allowed her to heal before Theroux came to take her to her new home. They traveled all the way from Austin to New York City to be together, and they're both happy with the situation.
Rachel Bilson: Thurman Murman

After a long, happy doggy life with actress Rachel Bilson, Poodle mix Thurman Merman passed away around the end of 2020. Bilson was in love with the pooch and has called him "her first baby." He had been with her almost as long as she had been in the public spotlight, and they were frequently spotted together, whether in person or on social media.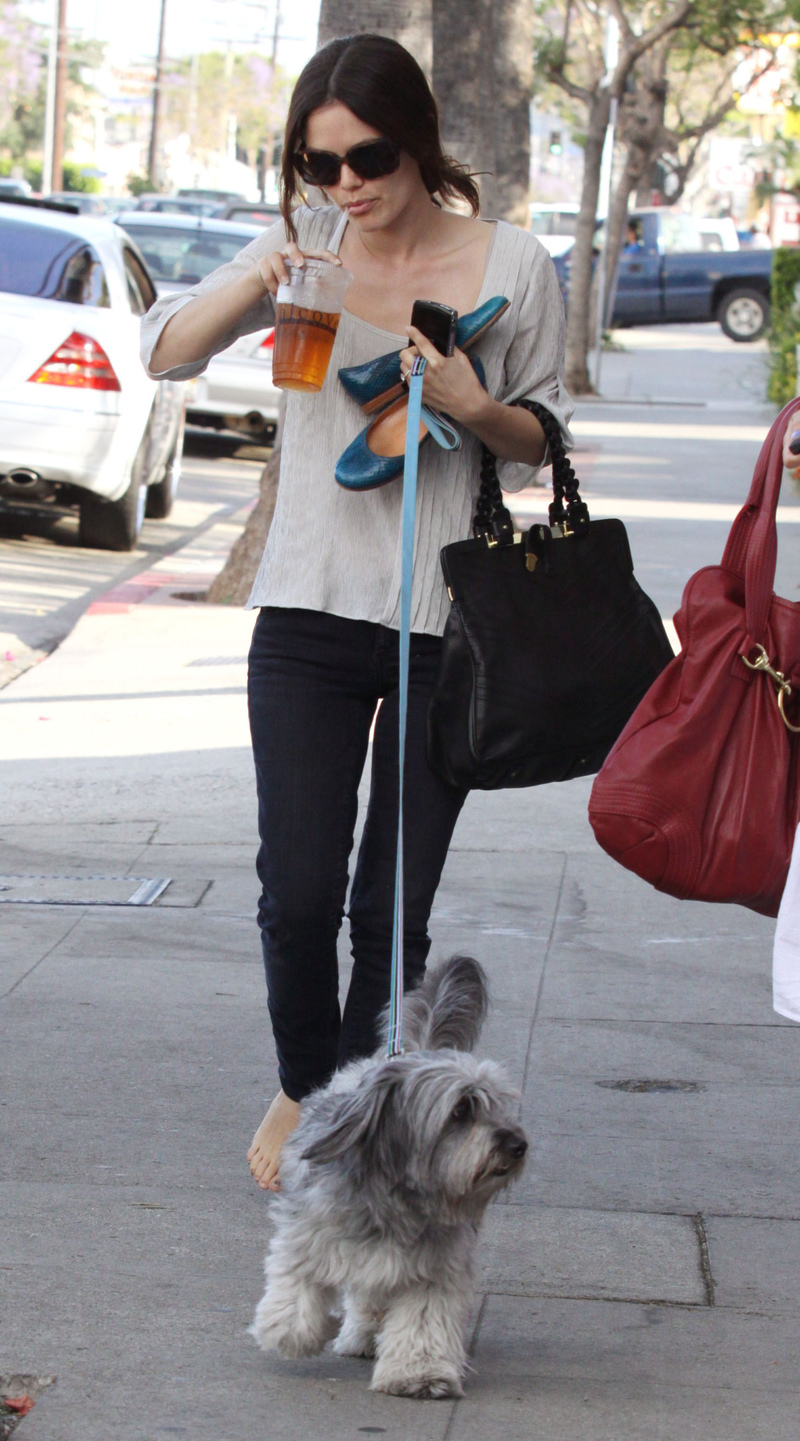 Bilson will certainly miss Thurman Murman a lot, but she does have two other dogs – as well as a human child – to help cover over the wounds and help her feel better.
Andy Cohen: Wacha

Sometimes, even the best things in life aren't meant to last. Such is the case with Andy Cohen and his pooch Wacha. Cohen adopted Wacha back in 2013 from a rescue that had saved him from a kill shelter (Wacha, not Cohen), but after more than half a decade together, Cohen was forced to give Wacha up.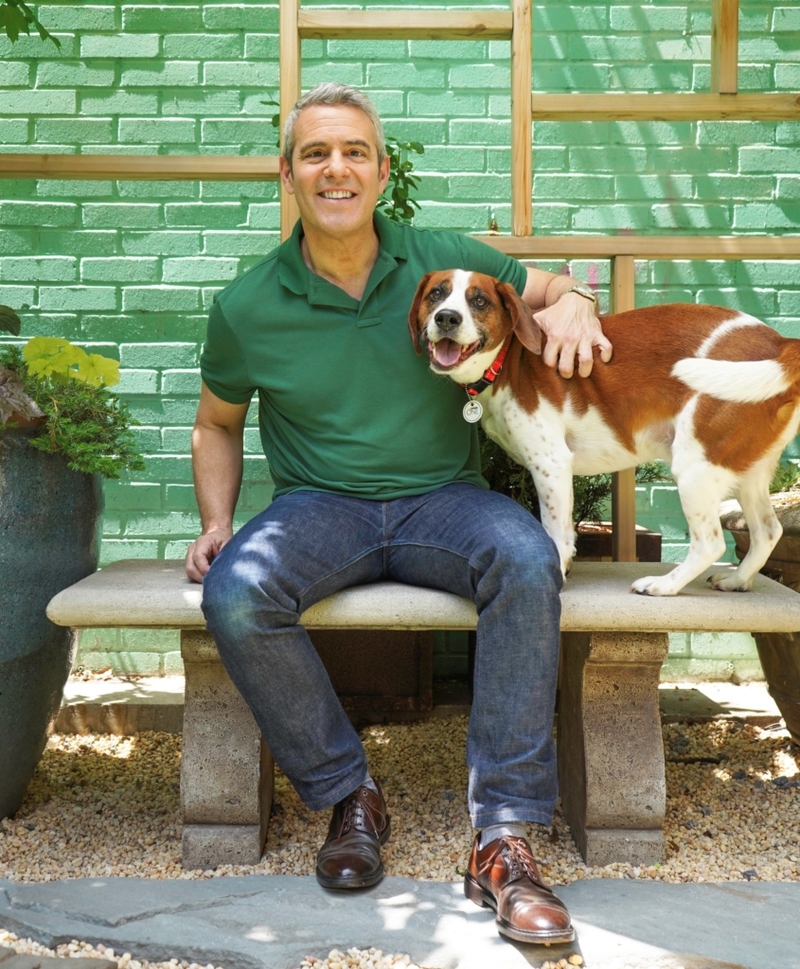 The dog had been exhibiting random signs of aggression that Cohen had been trying to address but ultimately couldn't figure out. He put it off as long as possible, but eventually, there was no other solution. For the safety of his little son Ben, and the health of Wacha, Cohen found the dog a new home, which the actor still visits sometimes.
Selena Gomez: Baylor

While this singer might have adopted the pup with her then-boyfriend Justin Bieber, Baylor is now Gomez's dog through and through. Gomez has a long-standing habit of opening her home to pets that need to be rescued – Baylor was her sixth!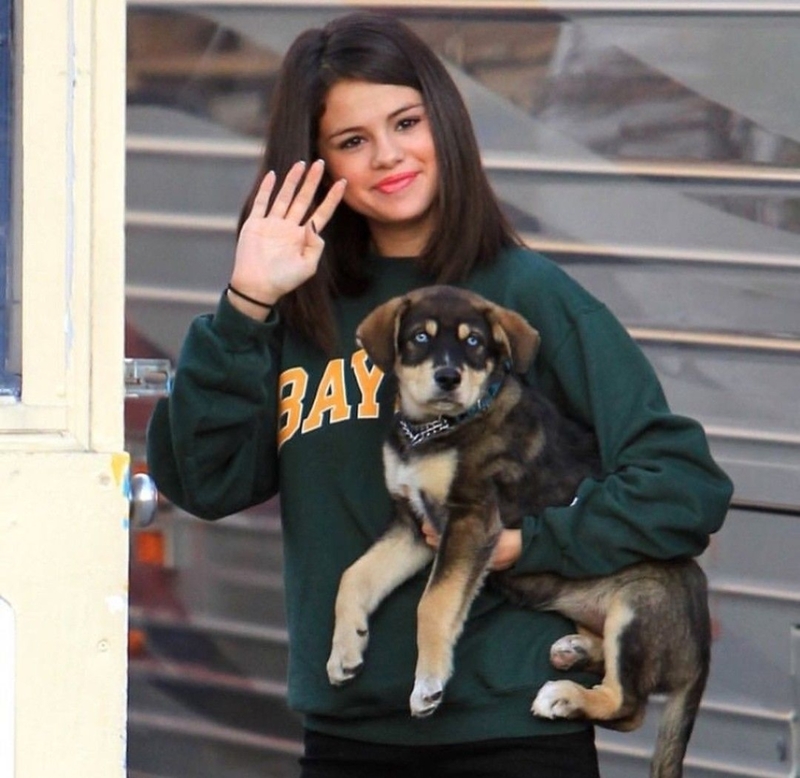 The dog is named after Baylor University in Texas, and Gomez first got him when he was only ten weeks old. Just a year later, and the dog is nearly as big as she is. With big floppy ears and bright blue eyes, we shouldn't be surprised that he captured the heart of this celeb. Don't look too long; he'll have yours soon, too.
Selena Gomez: Winnie

Gomez loves her furry friends. She's fostered or adopted a pretty proud collection of pets, and in September of 2019, she announced that one of her most recent – Winnie, was ready to meet her fans after getting accustomed to life.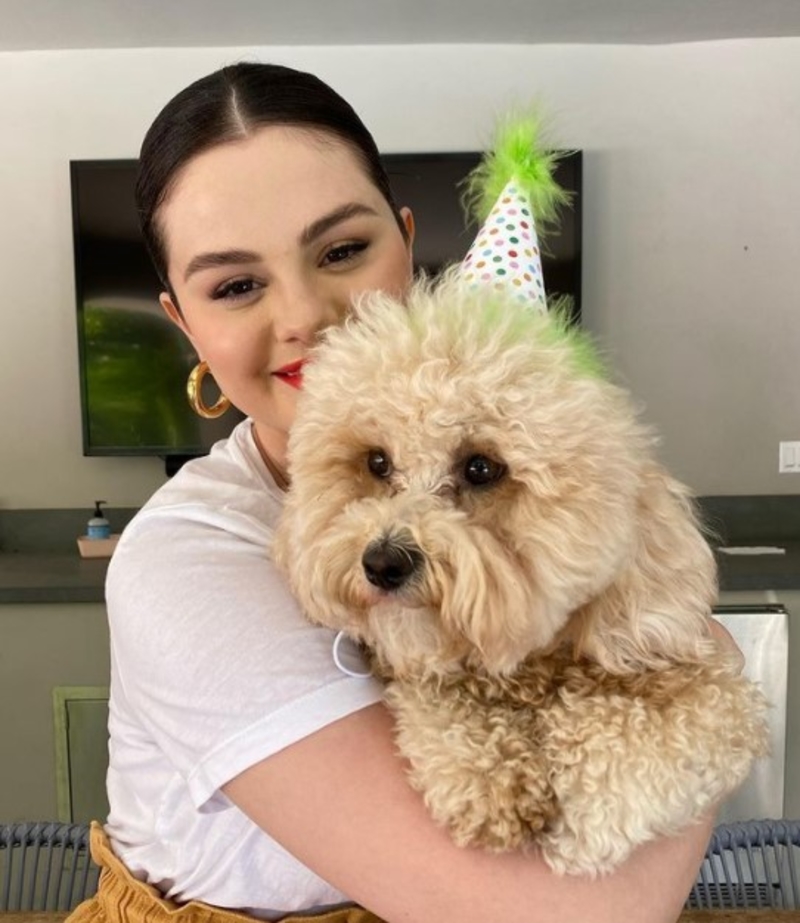 Gomez often takes breaks from social media and the public limelight due to mental or physical health factors, and her dogs are a big boon to her day-to-day health. We're unsure exactly how old Winnie is or what kind of dog she is, but she appears to be related to poodles.
Chris Evans: Dodger

One of the last scenes Evans shot for the movie "Gifted" took place in an animal shelter. They weren't working dogs – they were real shelter pups up for adoption. Evans locked eyes with Dodger, a bona fide mutt, and it was clear what was about to happen.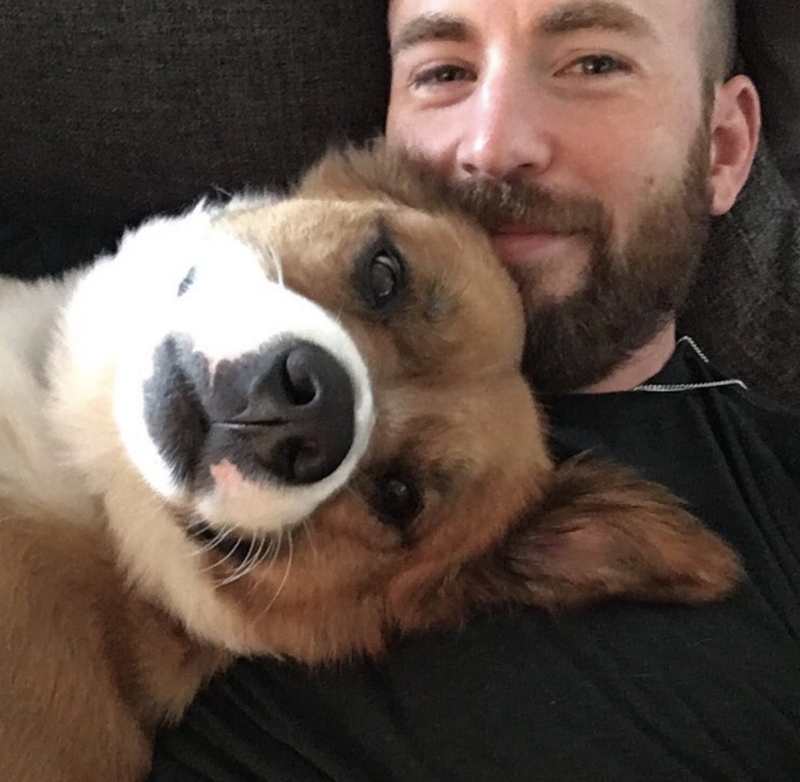 Evans is a noted dog lover, and he often encourages people to get a dog. Just because. He's also said that currently, a lot of his free time goes to Dodger, which both parties seem fine with. Evans's love of dogs was turned on its head during the film "Knives Out," which made him unfriendly with the dogs at his character's grandfather's home.
Kellan Lutz: Koda

There seems to be some confusion about whether "Twilight" star Kellan Lutz's adopted pooch is named Koda or Kola. We can't get a straight answer. No matter what she's called, it was love at first sight between the actor and the dog.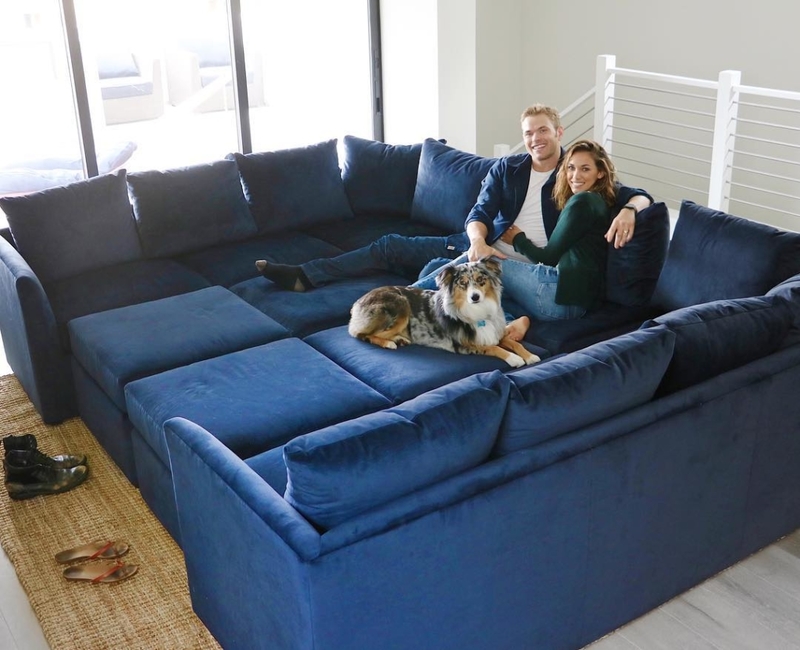 Lutz reached out and touched the dog's toe and asked her name (get back to us on that one, Lutz), and later remarked that the dog "spoke to me." The dog is, apparently, a puller – a hound that doesn't like to wait. Lutz knew he had found the one for him. She joined Lutz's other dog, Kevin, and the rest of his family in 2010.
Lena Dunham: Lamby

In 2017, fans started to get worried for Lamby, the cream-colored mutt that had so often dominated Lena Dunham's social media feeds. The dog disappeared, replaced by a pair of new poodles, Susan and Karen. Dunham had adopted Lamby in 2013 but later had to return him to a facility in Los Angeles due to behavioral problems.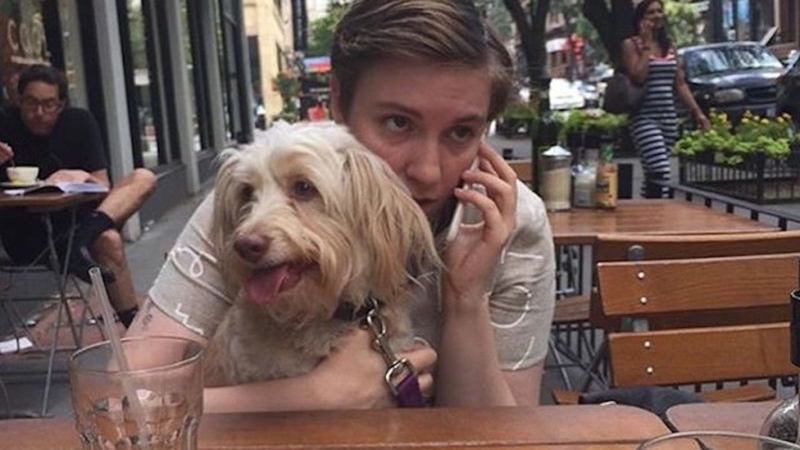 Dunham stated that Lamby was horribly mistreated as a puppy, which created these problems, and no small social media storm erupted, with people saying Dunham lied – including the shelter Dunham originally adopted Lamby from. They stated the dog was mild-mannered and well behaved. The dog now appears to be doing fine.
Nikki Reed: Ira Reed

Nikki Reed, along with husband Ian Somerhalder, picked up a couple of canines before they had their own children. One of them was Ira Reed, a stout German shepherd. Sadly, Ira passed away in 2018 after being with Nikki Reed even before Ian came into the picture. She and her previous husband, Paul McDonald, adopted the dog.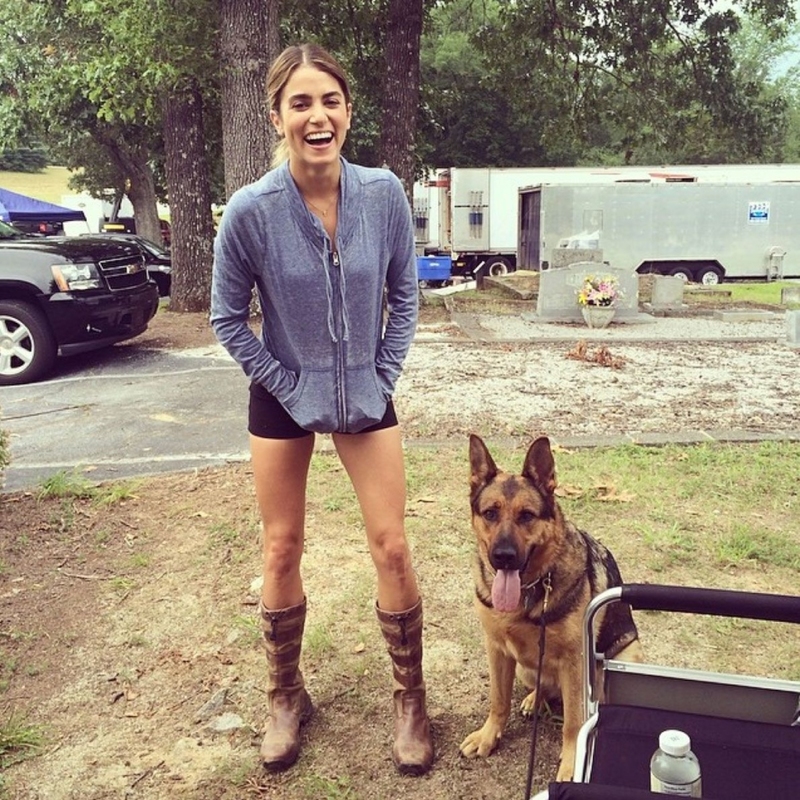 Both Nikki and Ian are big into adopting pets. Their full family now not only includes their daughter Bodhi, but several other cats, dogs, and even horses.
Ruby Rose: Ru

Best known for her role in "Orange Is the New Black," Australian actress Ruby Rose spends plenty of time with her little rescue dog, Ru. Rescued from a hoarder's puppy breeding farm in 2012, Ru is the apple of Ruby Rose's eye if the commissioned portraits of the dog are any indication.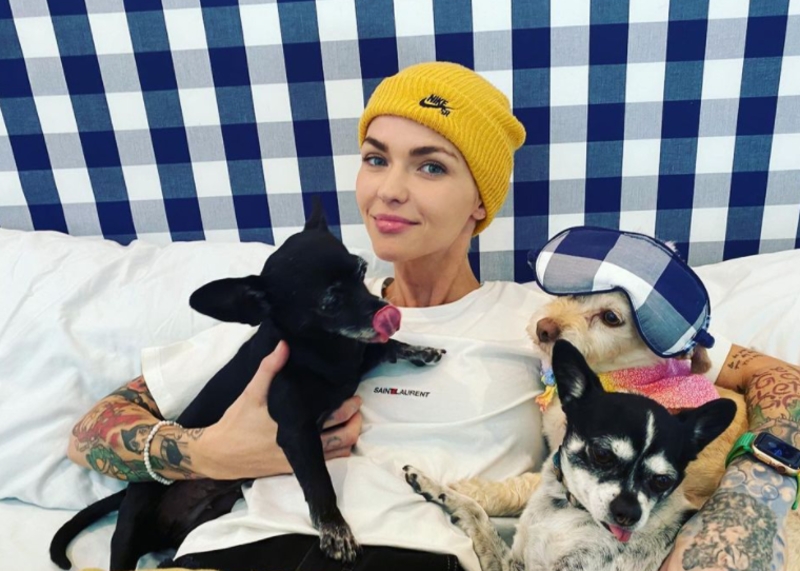 When she went on vacation during the filming of "xXx: Return of Xander Cage," Rose brought the small dog along for some rest and relaxation. Rose has a history of adopting dogs that need homes badly – there has also been Chance, who needed expensive vet bills, and Cricket, who was missing half a leg.
Simon Cowell: Daisy and Freddie

You'd be forgiven to think that Simon Cowell doesn't have any space in his cold, hard heart for pets, but that's where you're wrong. Quite wrong. It turns out Cowell is a really big animal lover. Daisy, for instance, comes all the way from Barbados – Cowell came across her and took her in without a thought when she was homeless and hungry.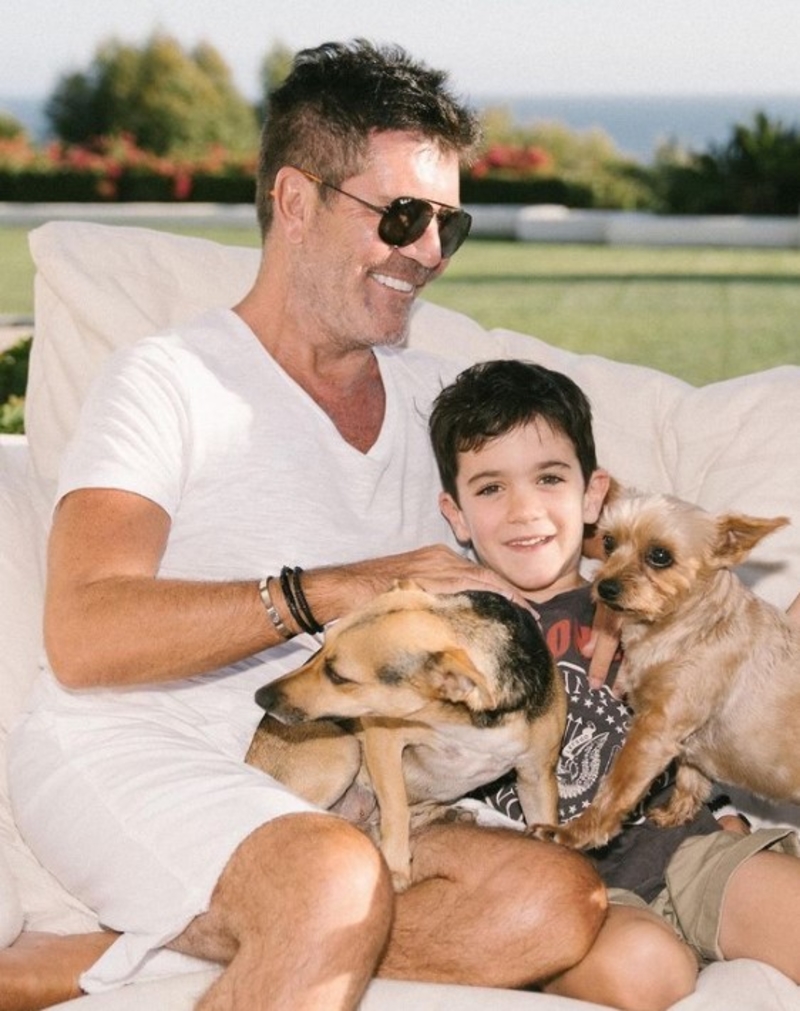 There's also Freddie, one of his mom's dogs. There are never too many dogs for Simon. He couldn't bear the thought of not having them around.
Simon Cowell: Squiddly and Diddly

Cowell is such a loving character when he isn't judging people's singing. He loves all his dogs, but his Yorkshire Terriers Squiddly and Diddly might have the most of his affection. Apparently, he's willing to shell out almost two hundred thousand British pounds to a South Korean company to try and clone them.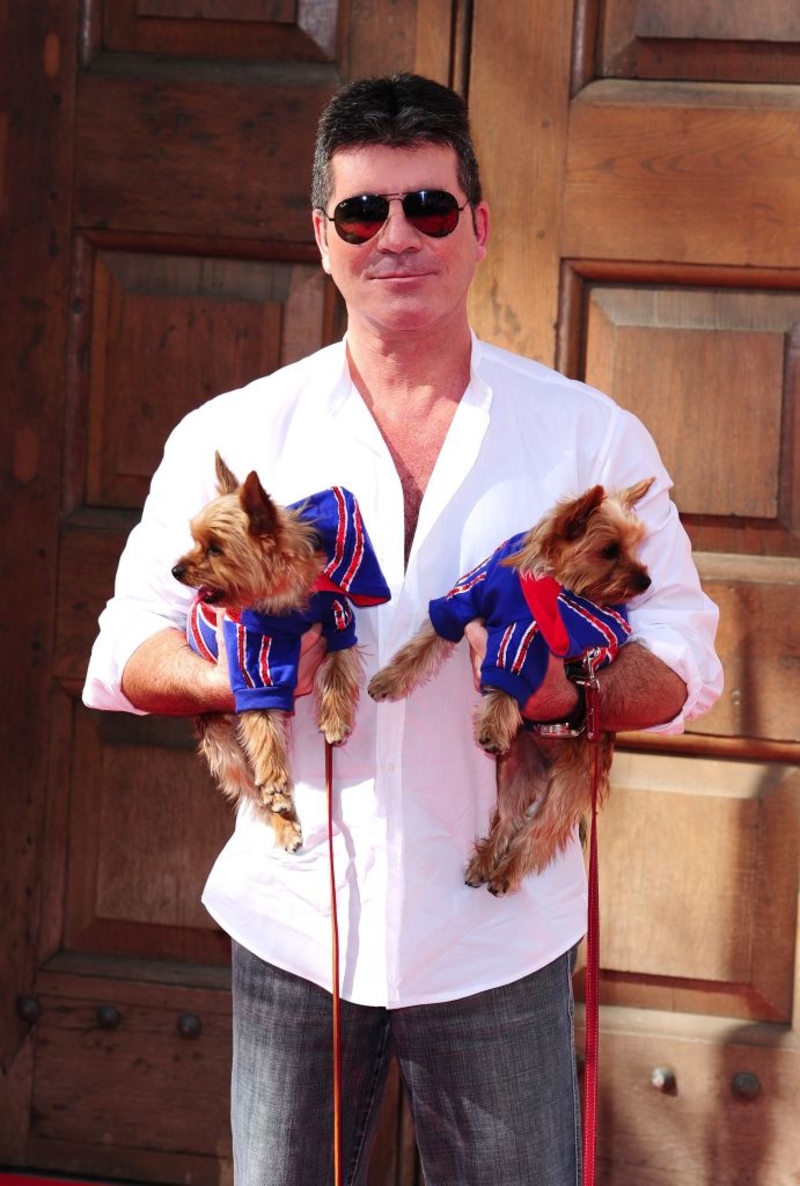 These have to be some of the most spoiled dogs that Hollywood has ever seen – they often travel with him by jet, have their own white leather seats, and enjoy fancy mineral water.
Jon Hamm: Cora

Of course, a guy with the last name Hamm would have dogs. When Jon was with his long-time girlfriend Jennifer Westdfeldt, both of them fell in love with Cora, a Shepherd mix. Hamm has opened up about how Cora has helped him out, saying that her presence in his life was a very positive thing.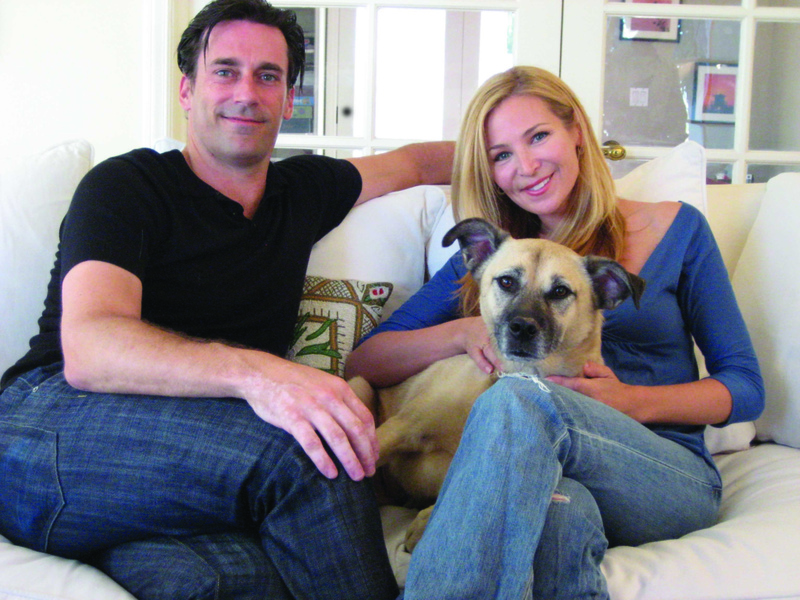 To Hamm, it's been a pure joy watching Cora grow from skinny to graying but still happy since all the way back in 2003. Cora passed away in 2017, but it wasn't long before the Hamm household added a new bundle of fur: a puppy named Splash. No one can replace Cora, but Splash is a good start.
Emma Stone and Andrew Garfield: Ren 

Fostering a pet can be dangerous. Just ask these two Hollywood names. You might you're prepping a dog for living with people, but you end up just keeping it. That's what happened with Emma Stone and Andrew Garfield when they agreed to foster Ren, a young Golden Retriever, in December of 2012.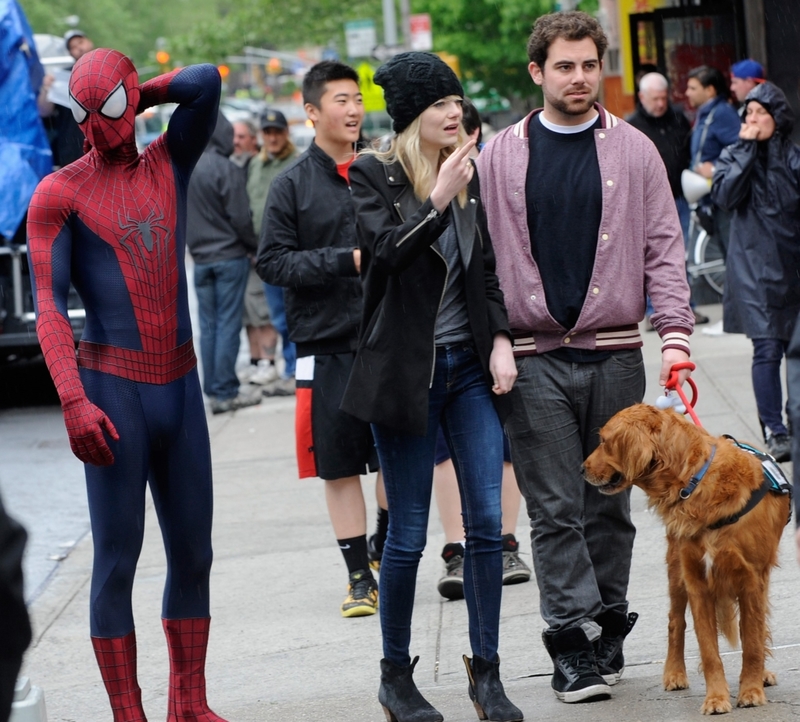 The couple has split up, but Ren is still hanging out with Emma Stone now that she's married to Dave McCary. There's another dog in the mix now, too: a Hurricane Florence survivor from a shelter that Stone named Dwayne "The Dog" Johnson. Now there's a name that is built to last.
Arnold Schwarzenegger: Dutch

The most famous muscle man in the world also has a pretty big heart (that's not a joke. Lifting weights takes a strong heart). The Terminator's dog, Dutch, is named after Arnold's character from the movie "Predator." The former California governor has been a pet owner for quite some time, though fewer dogs than you might expect.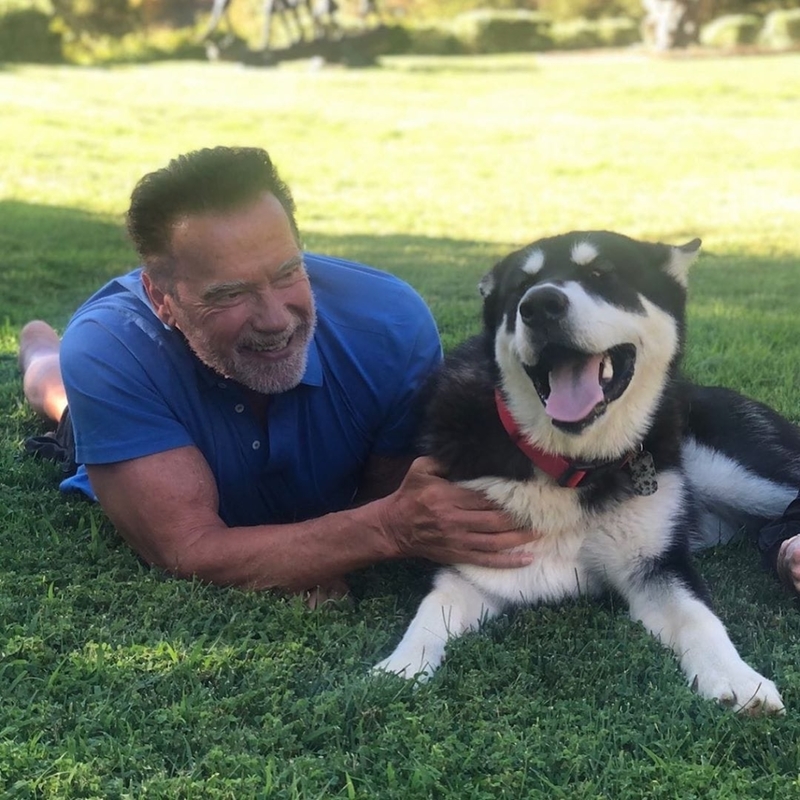 Head on over to his social media accounts to see photos and videos of Whiskey, his mini pony, and Lulu, his donkey. Schwarzenegger even has a merchandise collection that featured his pets, with a hundred percent of the proceeds going to an organization that provides food to families while schools were closed.
Kaley Cuoco: Loretta

There's one kind of person that "The Big Bang Theory" star Kaley Cuoco cannot stand: those without loyalty. She dove into fostering dogs and never looked back.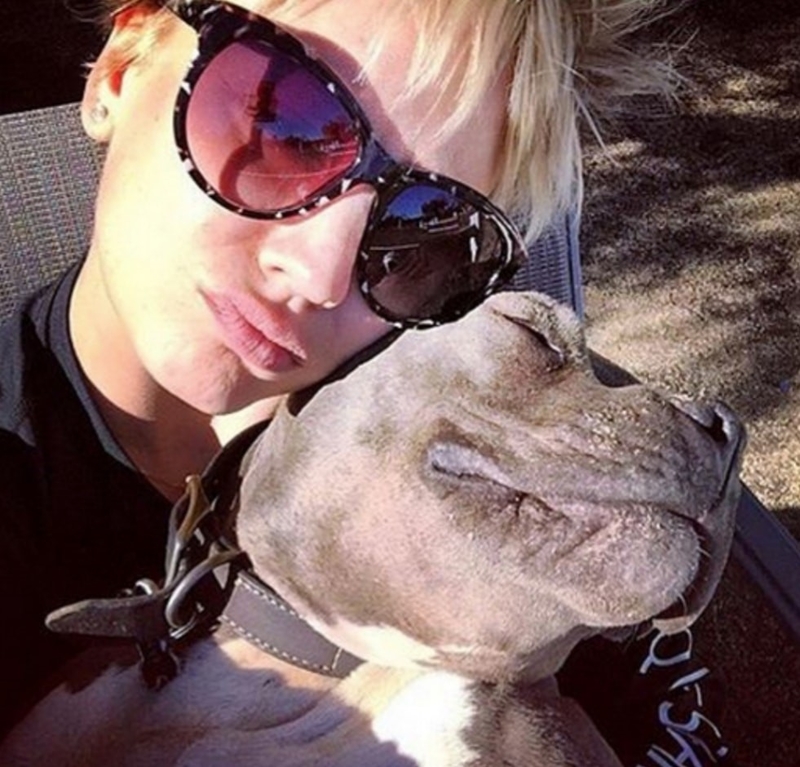 In 2012, the pit bull Loretta joined the family that at the time was Cuoco and tennis player Ryan Sweeting. Cuoco was worried that her beau liked the pit bull more than he liked Cuoco, but she can't be too mad about that. Just look at that happy doggy face. Cuoco loves pit bulls, and there are now more than just Loretta providing energy to her home.
Chelsea Handler: Tammy and Chunk

Handler may have a different pair of pooches these days, but it's impossible to forget about the original two. As a huge dog lover, Chelsea Handler has a long history of adopting from and supporting pet adoption services.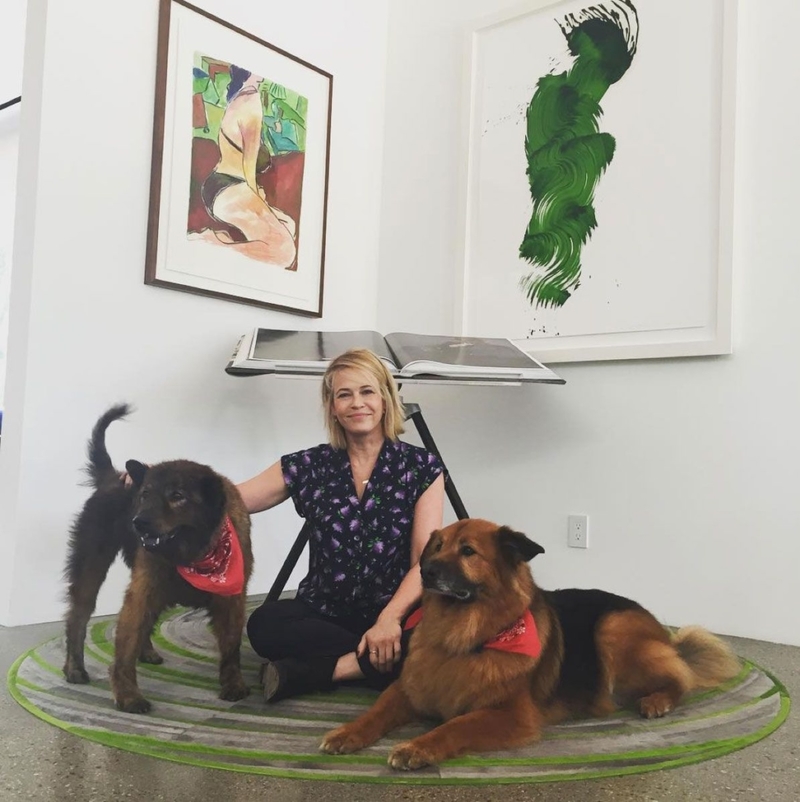 Tammy and Chunk came from two different shelters across the country from each other, but they fit right in with her family. She's a partner in the dog food company Dog for Dog, which donates one dog food bag to a rescue animal shelter for every one they sell from store shelves. Keep your own dog fed and keep shelter dogs happy as well? It's a win/win.
Chelsea Handler: Bert and Bernice

Following the passing of her two dogs Tammy and Chunk, comedian Chelsea Handler decided there was plenty of space to adopt more. Her new babies are named Bert and Bernice, and they closely resemble her earlier dogs.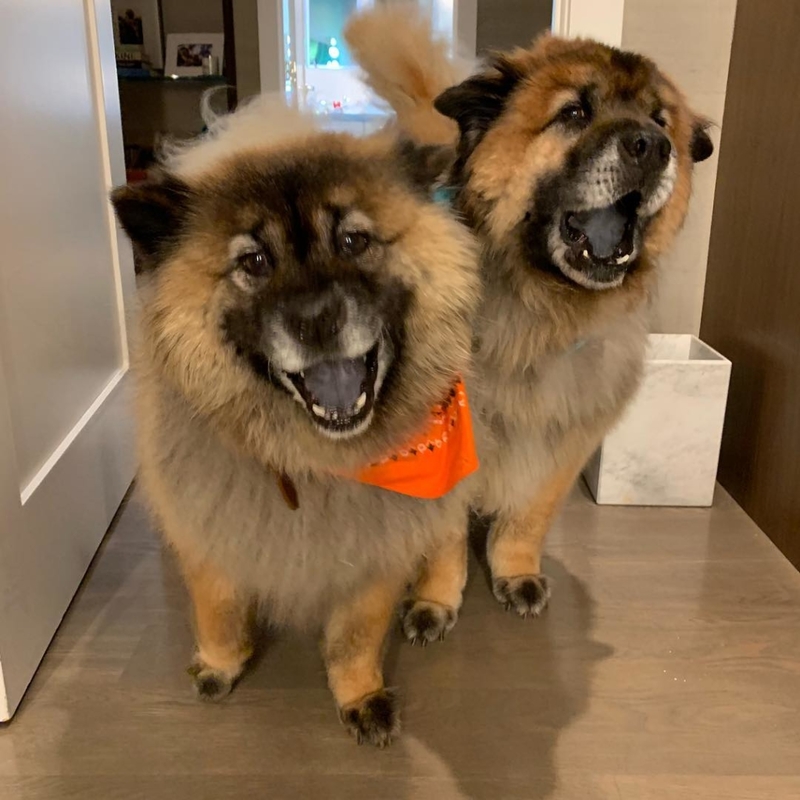 All four of the dogs have come from shelters. In all of the social media posts talking about the loss of the original two dogs, and the adoption of the two new pooches, Handler took the chance to encourage pet adoptions and helping out at shelters. Handler loved her old dogs, and there's no doubt that she's going to give the exact same affection to the new members of her family.
Hilary Duff: Lucy and Ivan

The sweet pooch that is taking center stage in this picture is none other than Lucy, one of the latest additions to Hilary Duff's growing family. The dog was a senior who was looking for a good home from the Los Angeles-based shelter Love Leo Rescue, but it wasn't the only animal that the Duff family has.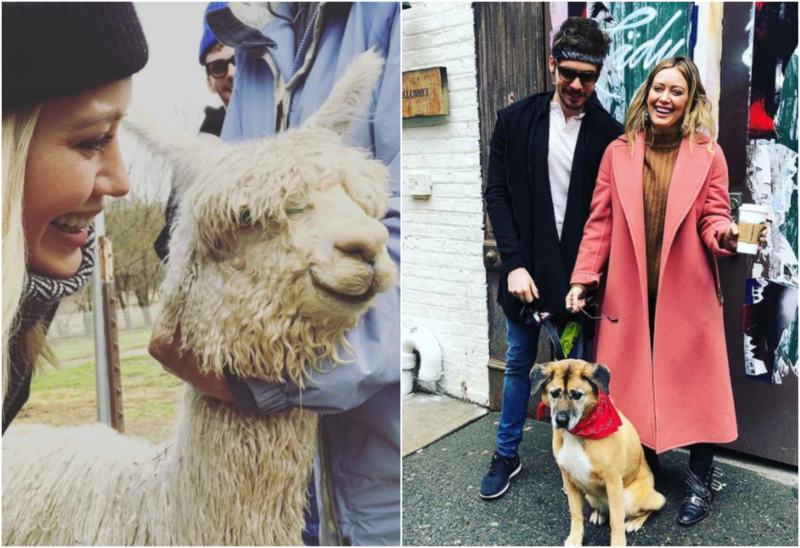 In 2019, Matthew Koma gifted Hilary with a rare gift: an alpaca named Ivan. When they first met, he was a little damp thanks to the rainy weather, but he looked pleased to be meeting his new family. Ivan grew up on an alpaca farm while Duff got her home ready for him.
Allison Williams: Moxie

It was a special time in 2015 when Allison Williams, who is known for her role on the HBO show "Girls," added a lovable new pooch to her life. Moxie, a Golden Retriever mix, first appeared on National Puppy Day, and Williams couldn't stay away.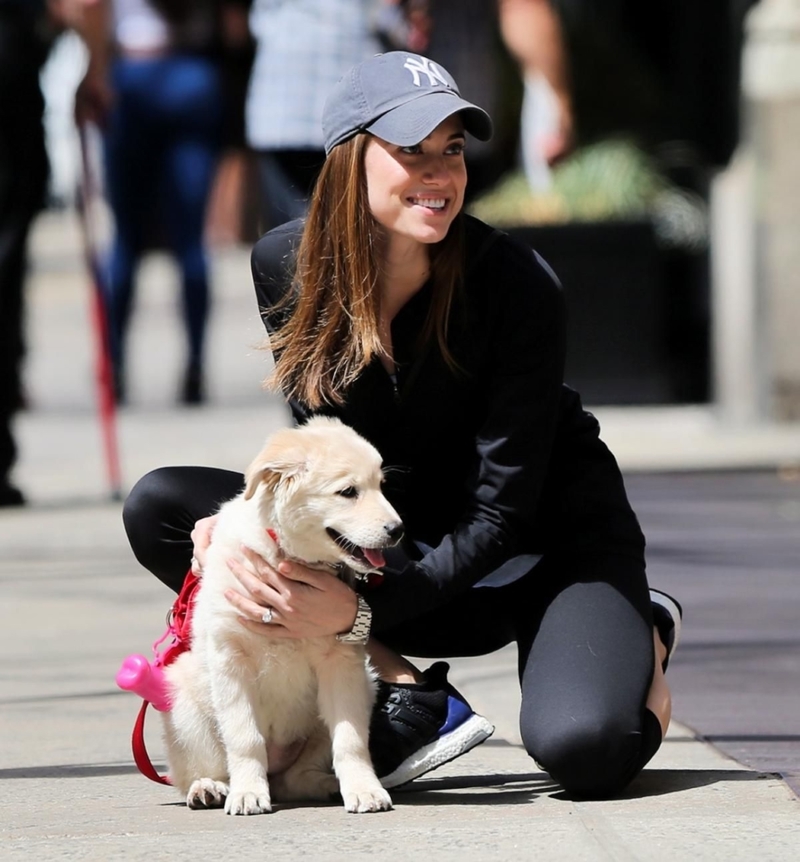 Since Williams picked the puppy from a shelter, she wasn't sure about the age or exact breed of the dog, but she had no doubt Moxie would grow into a good-looking dog. If there's even a little bit of Golden Retriever, you know she's going to look adorable.
Amanda Seyfried: Finn

All (or, at least, most) of these celebs love their adopted pets, but the love between Amanda Seyfried and Finn might be the most obvious. This actress and Australian Shepherd pair love posing in photos together.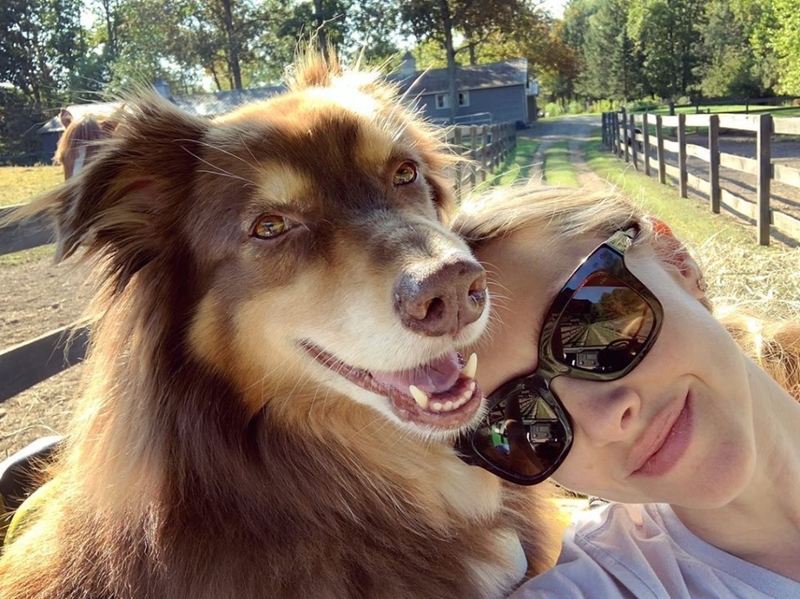 Seyfried has said that Finn gives her tons of attention, listens to her when she talks, cuddles her, and loves her, and she's more than willing to return the affection. It's possible that Finn is one of the most famous celebrity pets. If his Twitter and Instagram follower counts are any indication – he's nearing a hundred thousand all told.
Josh Hutcherson: Driver

Even if his role in the "Hunger Games" series of movies didn't light up your life, there's no denying that Josh Hutcherson has a big heart. Rescuing a pup is one thing, but Hutcherson opened up his home to Driver, a pit bull puppy that had been at the shelter for more than a hundred days.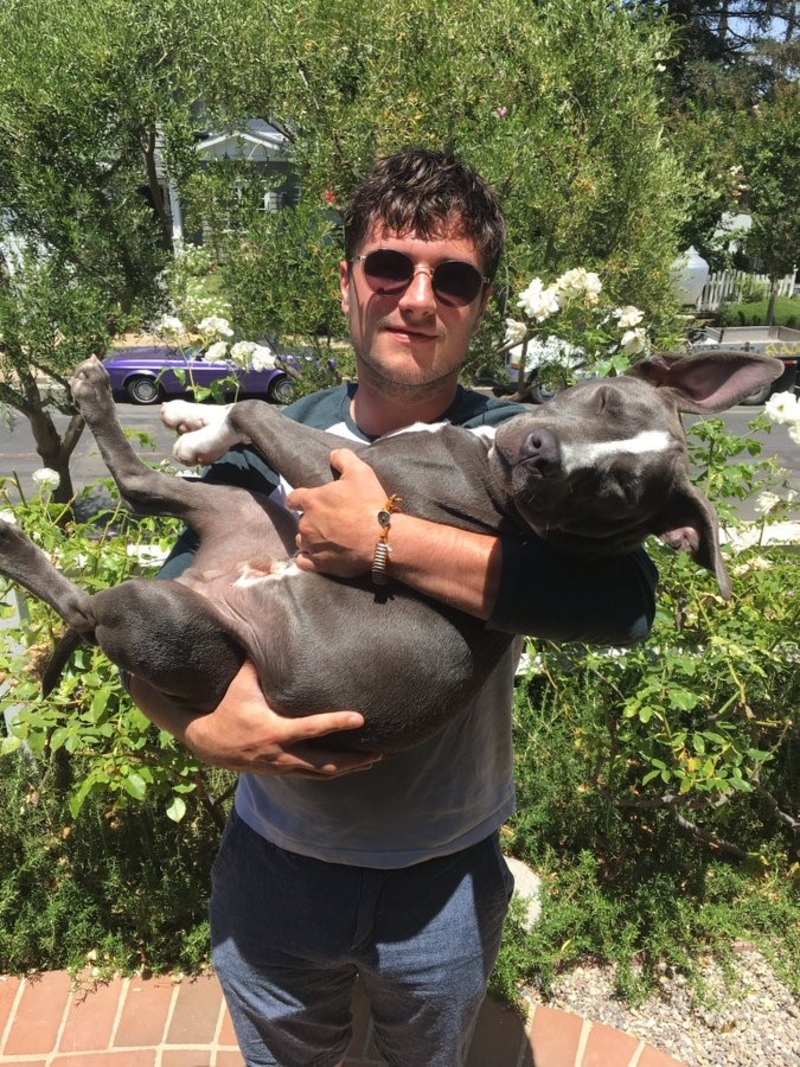 The little guy was dropped off at the shelter with two toes missing, as well as a broken leg. Thanks to Hutcherson, Driver got some much-needed medical attention, and then he was off to join his new best friend. Just look at the cute little face. The dogs, specifically.
Bradley Cooper: Samson and Charlotte

While looking around a kill-shelter during an adoption drive, Bradley Cooper came across Samson, a German Short-Haired Pointer, and he and the seven-year-old dog fell in love.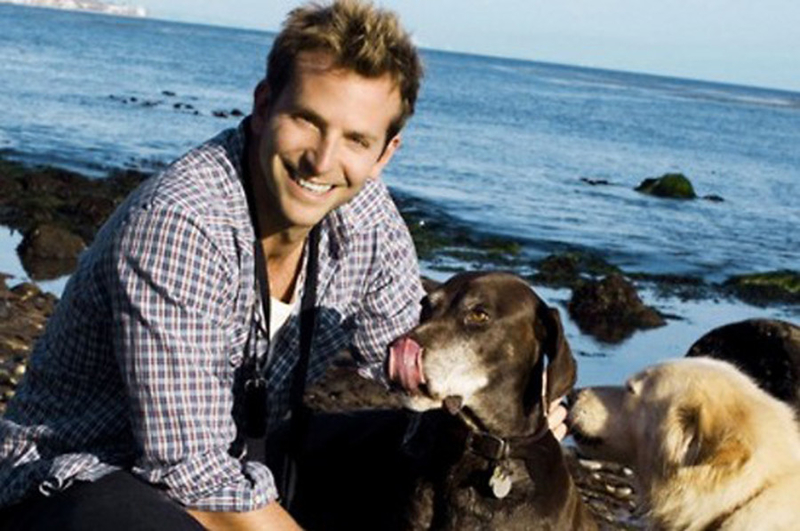 The stoic dog was a good grounding presence for the actor, and then came Charlotte. She, a yellow lab, was energetic and loving. As Cooper said, the two dogs represented the two extremes of his personality. They're like his kids, and he's been happy with them ever since they entered his life. The man can go off about his pups for ages, and if you've ever had a fond furred friend in your life, you probably know the feeling.
Ariana Grande: a Pack of Dogs

Ariana Grande isn't just a superstar recording artist – she's also a star to a grand total of many rescued dogs. It all started with the Beagle-Chihuahua mix Toulouse, and it bloomed from there. There's Ophelia and Sirius, a pair of Labradoodles, Cinnamon, an American Pit Bull Terrier, Lafayette, a Bloodhound, Fawkes, a Shiba Inu, and more.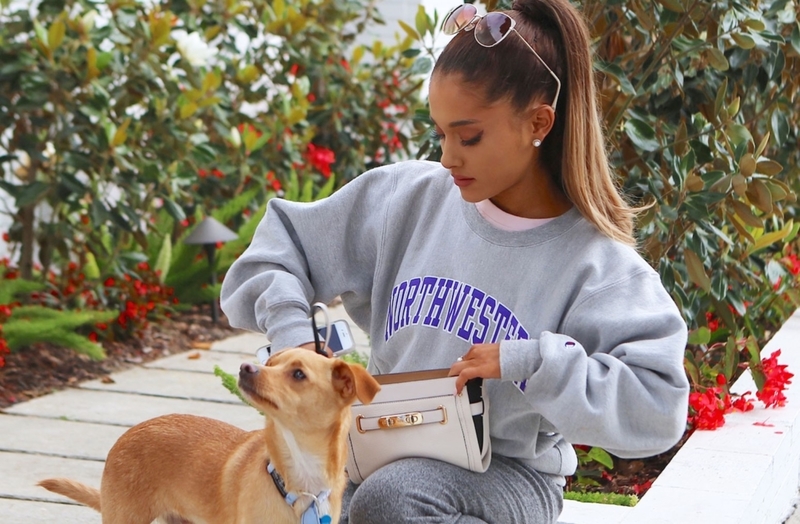 There's also Myron, a Pit Bull mix that she adopted with Mac Miller, her boyfriend, prior to his tragic passing in 2018. She has their names tattooed on her body, and there's even been word that she has an adopted Micro pig named Piggy Smallz, as well.
Jake Gyllenhaal: Boo Radley and Atticus

If you're a fan of literature or movies, you might recognize both of the names of actor Jake Gyllenhaal's dogs. Both of them are main characters from Harper Lee's famous novel of justice and race "To Kill a Mockingbird."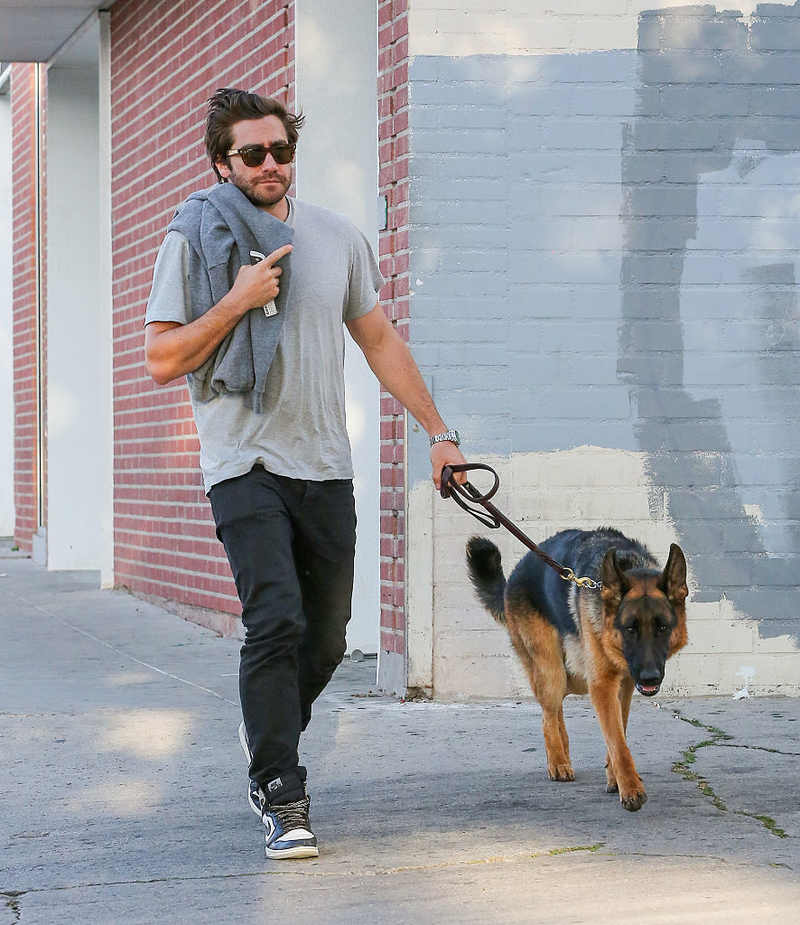 When interviewing with "Movies Online," the actor said that he always had a somewhat distant relationship with animals as a kid, but after starring in "Brokeback Mountain," he was ready for a dog. Boo Radley is an adorable little Puggle (a Pug-Beagle mix), and Atticus is a tall and stately German Shepherd.
Drew Barrymore: Douglas, Lucky, Peach, and Many More

"Life is better with dogs," Drew Barrymore says. She's been a dog lover her entire life, and to date, the actress has fostered nine different dogs – a few of them have ended up in her home in a permanent manner.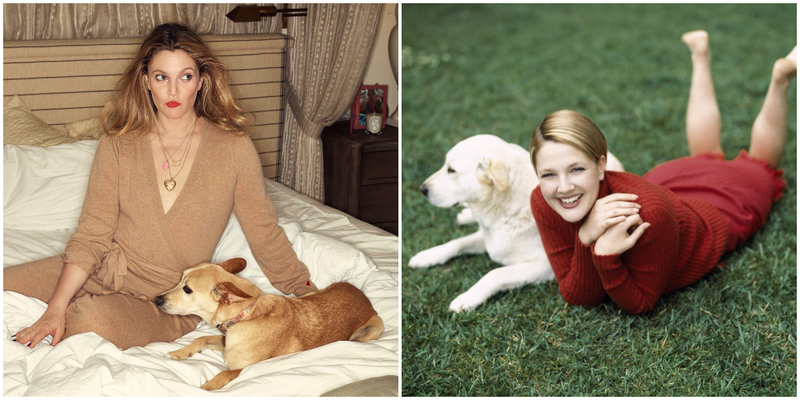 Douglas and Lucy are two such pooches. But all that doesn't mean it's all dogs in the Barrymore household – a trio of kittens have recently joined, Lucky, Peach, and Fern. Lucky belongs to Olive Barrymore, Frankie Barrymore got Peach, and Fern went to Drew herself. Everything in this house is going to be covered in fur, and that's just the way they like it.
Miranda Lambert: Nine Rescue Dogs

When Lambert got hitched to husband Brendan McLoughlin, she had a very important request – you have to love the dogs. There was no way around the request since Lambert is a huge dog lover with a full complement of pooches packed into her home: There's JD, Delta Dawn, Bellamy, Cher, Waylon, Jessie,  Thelma, Louise, and ROE.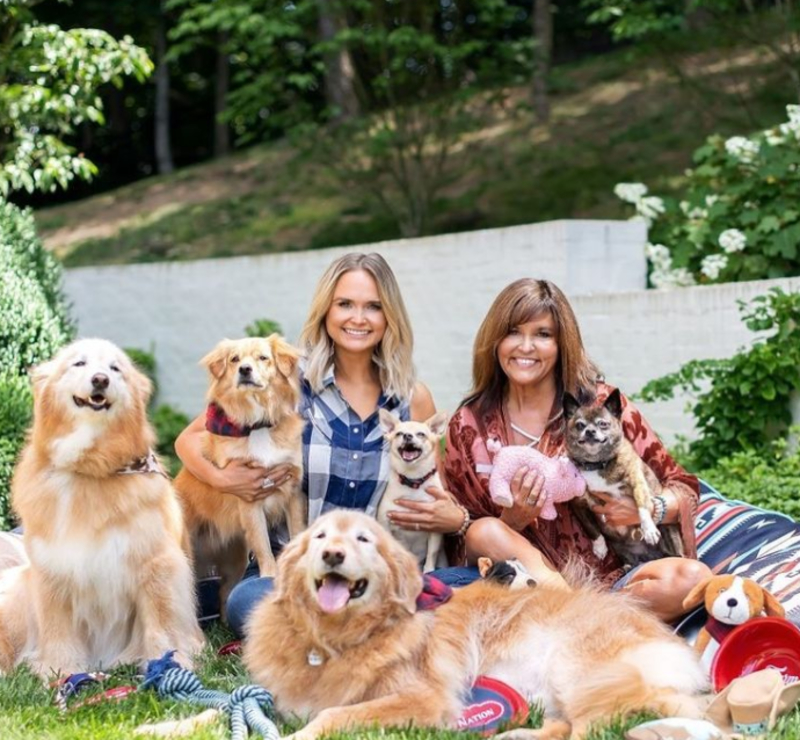 The dogs love the husband, and he loves them back just the same. Since they've been spending a lot of time together in the past year and a half, it's good that everyone gets along. Three of the dogs are a trio of immense yellow labs with nearly-white fur, and they could easily take him down.
Liev Schreiber: Woody, Willow and Scout

For a lot of people, just one dog isn't enough. Dogs are often social creatures, which means they need pals. Actor Liev Schreiber knew this, which is why he adopted two different dogs, Woody and Willow after they had been displaced by Hurricane Harvey in Texas.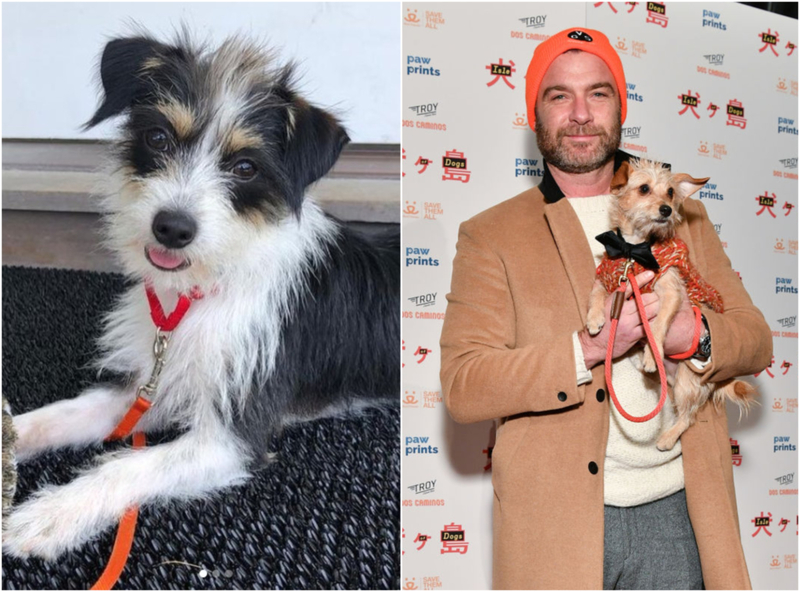 But even two little pups didn't fill up Liev's heart, especially since Woody passed away a few years after adoption. In came Scout, a new addition to the crew that was able to help both Schreiber and Willow deal with their grief. The new dog gets along well with the rest of the family.
John Legend: Penny

With supermodel Chrissy Teigen and Grammy-winning musician John Legend together, this young family needed something else: we bet you can guess the answer. The couple adopted Penny from a shelter in 2014, and the dog immediately started adjusting to her new life.
There were already a few dogs in this family, though one had passed a few years previous. Pippa was still around when Penny joined. Penny is a tripod, missing her front left leg. There is yet another pet in the family starting in 2017, an English bulldog named Paul (though it took them a little while to settle on a name they like).
Ian Somerhalder: Nietzsche

Somerhalder's wife, Nikki Reed, is also on this list with her own pooch Ira, but Ian has his own faithful dog (along with all the other animals that they have collected over the years).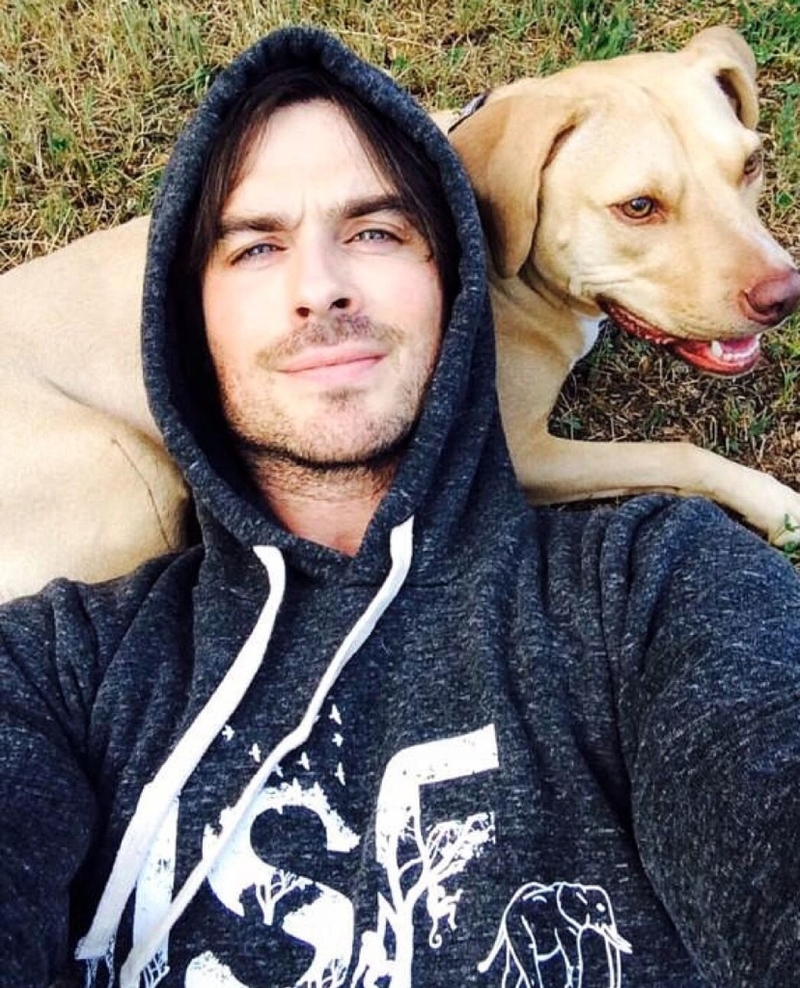 Ian added this gal after he split with long-time girlfriend, Nina Dobrev in 2013. The mutt was running around in traffic near the "Vampire Diaries" set, and Somerhalder snapped her up to take her home. He called her Nietzsche – for some reason – and brought her home to his three cats, where she fit right in. Nowadays, the big animal-loving family is still going strong.
Orlando Bloom: Sidi

Orlando Bloom has been in Hollywood for a while now, and he's been all over the world filming this movie or that. When he was in Africa – Morocco, specifically – filming "Kingdom of Heaven," he came across a stray dog named Sidi. He is a Saluki mix, and the two became fast friends, going everywhere together.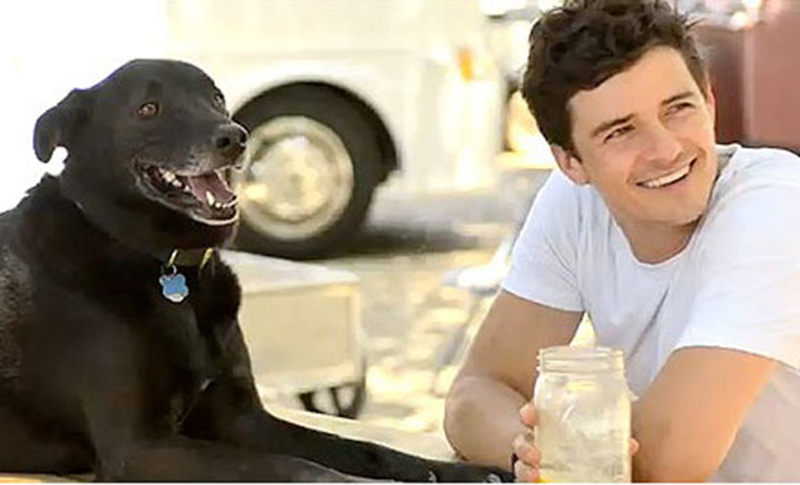 Truly, dogs are man's best friend, and when Sidi ultimately passed away after a long, happy life with Orlando, Bloom reached out to a company that created a tasteful display with Sidi's bones. It's a bit odd, but it's done to celebrate a life-long friendship.
Tom Brady: Fluffy

For most of the world, Tom Brady is known as Gisele Bundchen's husband, but he's also a great friend to dogs. They have four pooches that they love dearly.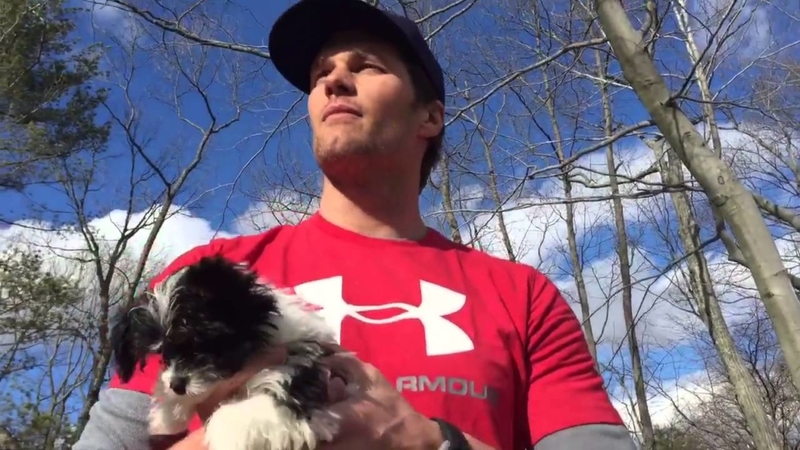 Fluffy comes from Wags and Walks, a Los Angeles shelter, and Gisele added the dog without Tom's knowledge – following Tom doing the exact same thing with a Beagle named Scooby. Brady has always loved dogs, but he's reported several bites from dogs, including by a military K-9 at Gillette Stadium. It did some damage to Brady, but not nearly enough for him to stop loving his dogs.
Jennifer Aniston: Dolly and Sophie

Aniston has apparently always been a dog lover – there have been plenty of pooches through the years. She had long been enjoying the company of her beloved German Shepherd, Dolly, who passed away in 2017. Aniston has been seen wearing part of the dog's collar as a necklace! But she's been able to keep the furred fun in her family going thanks to a pit bull mix, Sophie.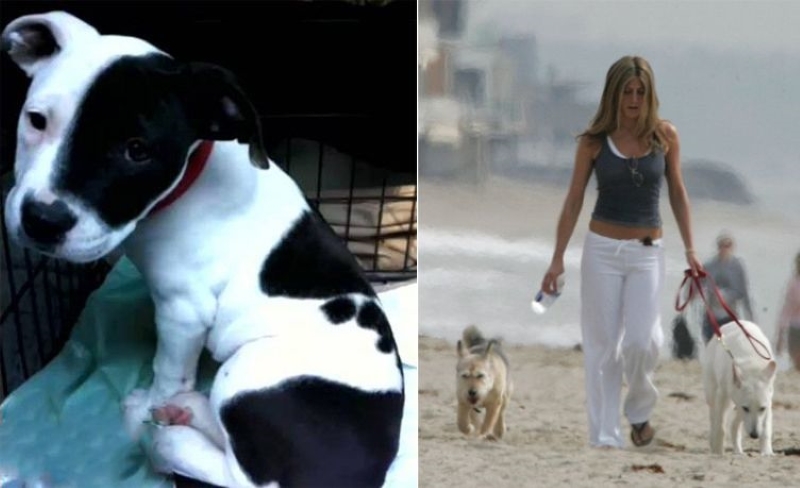 The dog is, according to reports, obsessed with watching "The Bachelor," which explains the quality of the show in recent years. Aniston adopted Sophie while she was with Justin Theroux back in 2012.
Jennifer Aniston & Clyde And Lord Chesterfield

Even as late as 2020, The most famous member of the Friends has been adding to the four-legged members of her family. Most recently, she's added Lord Chesterfield, announcing the small pup in an Instagram post that shows the tuckered-out little lord with a bone in his mouth.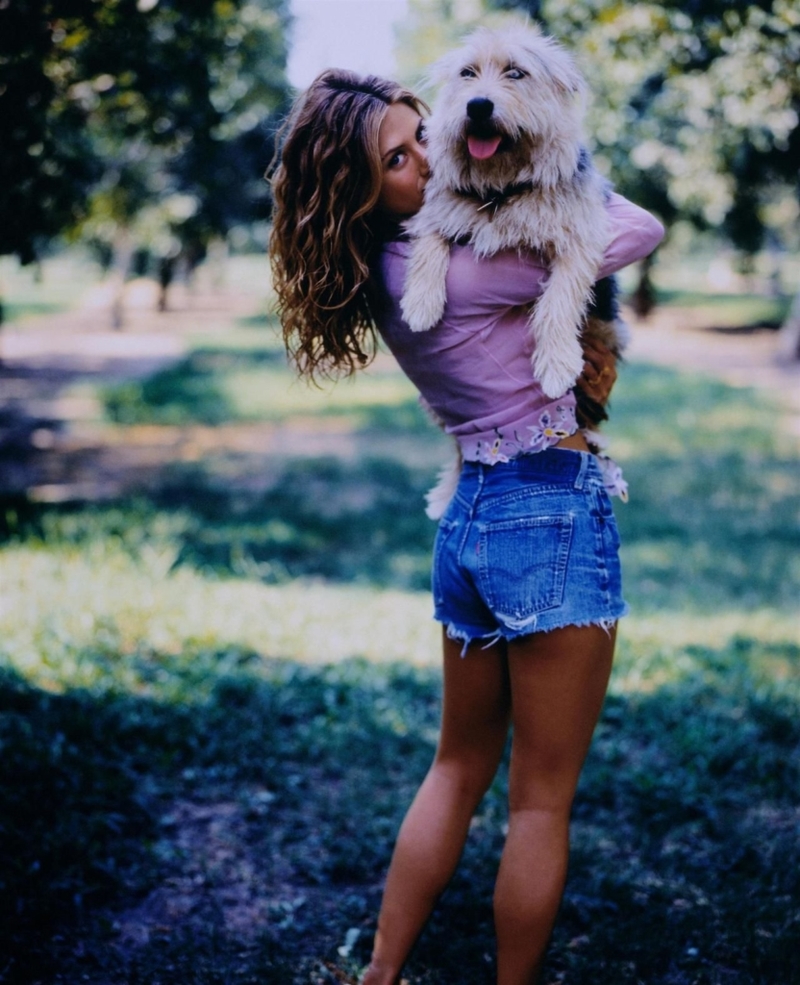 The post also thanked the shelter that had kept Lord Chesterfield safe until Aniston found him. There's also Clyde, a Schnauzer mix, to round out all the pets in the home. Aniston has said she'd adopt a lot more if she could, but she has to make sure all the members of her family are comfortable.
Charlize Theron: Tucker

Movie star Theron has had plenty of rescue dogs over the years. They often appear in photographs with her when she's out and about, but most of these dogs have been foster pooches who have moved on to other homes before too long. A few of the dogs have stuck around for the long run, however, including Tucker.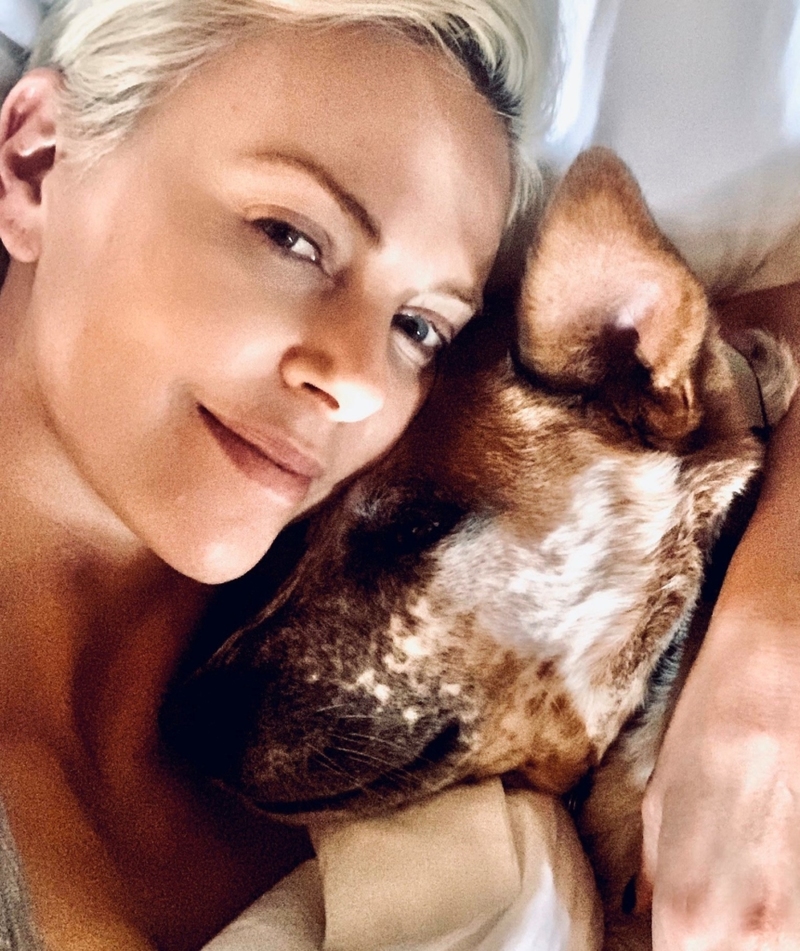 With a sweet and reserved nature, Tucker is a dog aware of others' emotions, making him just the kind of dog that a busy actress loves to come home to. Theron adopted Tucker in 2001 when he was three years old, so we're sad to say he's passed on now. He will live forever in her heart.