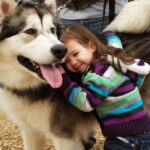 Adorable Rescue Dogs Going Home with Their New Families
echo get_the_meta(); ?>
There's nothing sweeter than seeing the happy looks on these dog's faces when they realize that they're being adopted. Take a look at some of the cutest rescue dogs getting out of the shelter to go home with their new families for the very first time!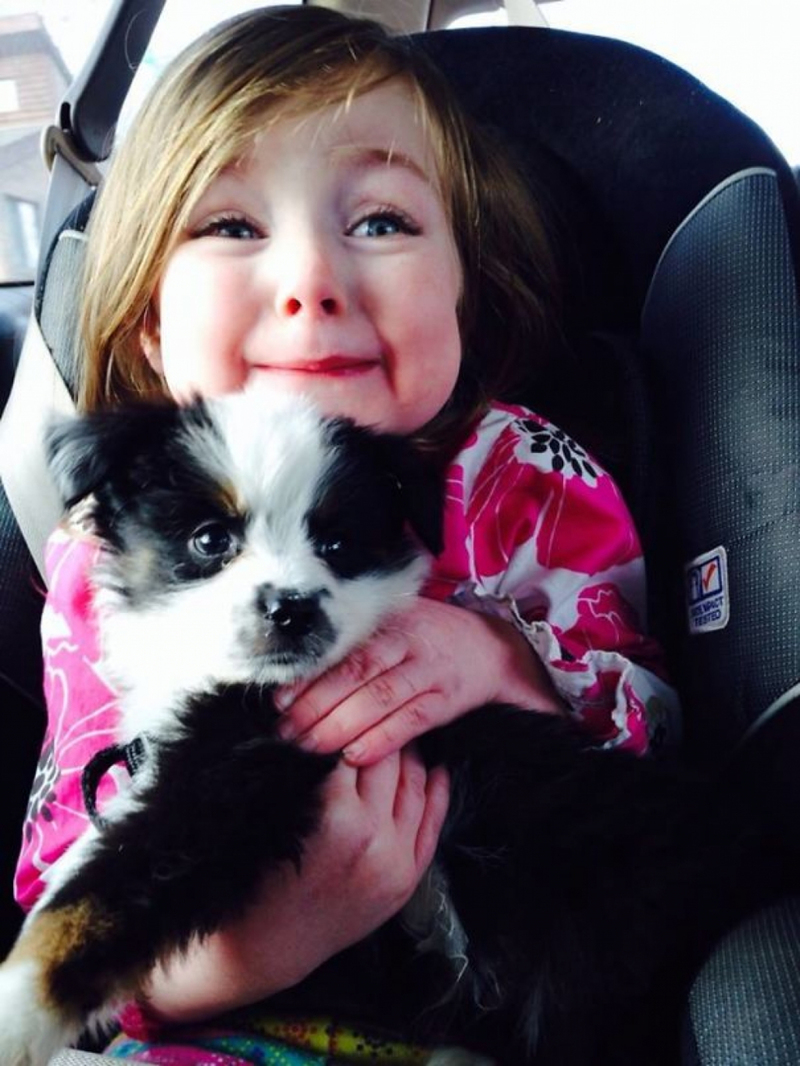 While it can certainly take a while for both the family and the dog to adjust to each other, sometimes others just click. These dogs all seem to be pretty content in the arms of their new owners, though!
Love You Too
Can't you feel the love seeping out of this image? It's obvious that this boy would go to the ends of the earth for his best friend.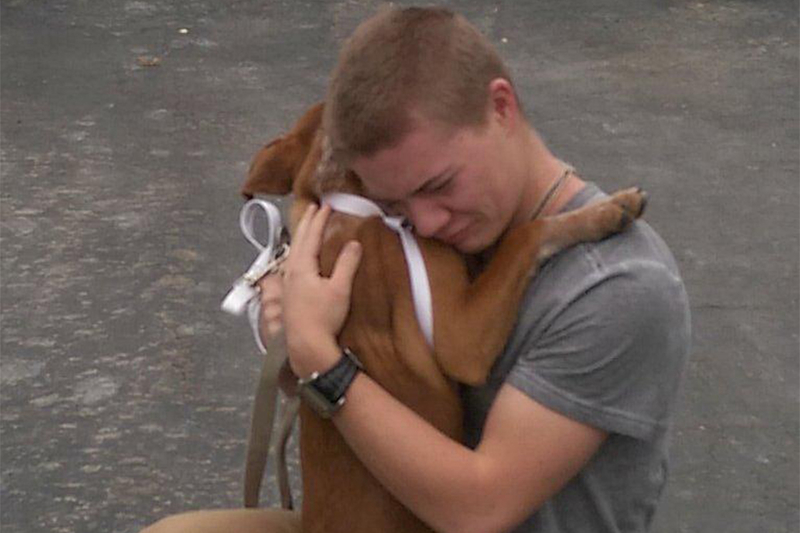 Getting a shelter pet can be such a rewarding experience, both for the human and the dog (or cat!) If you're considering a new animal, make sure to check your local shelters before heading to a pet store! There are always plenty of amazing cats and dogs waiting for someone like you to come along and change their life – just as much as they will change yours!
A Kodak Smile
This overload of cuteness is named Kodak. That seems like a fitting name for such a photogenic pup.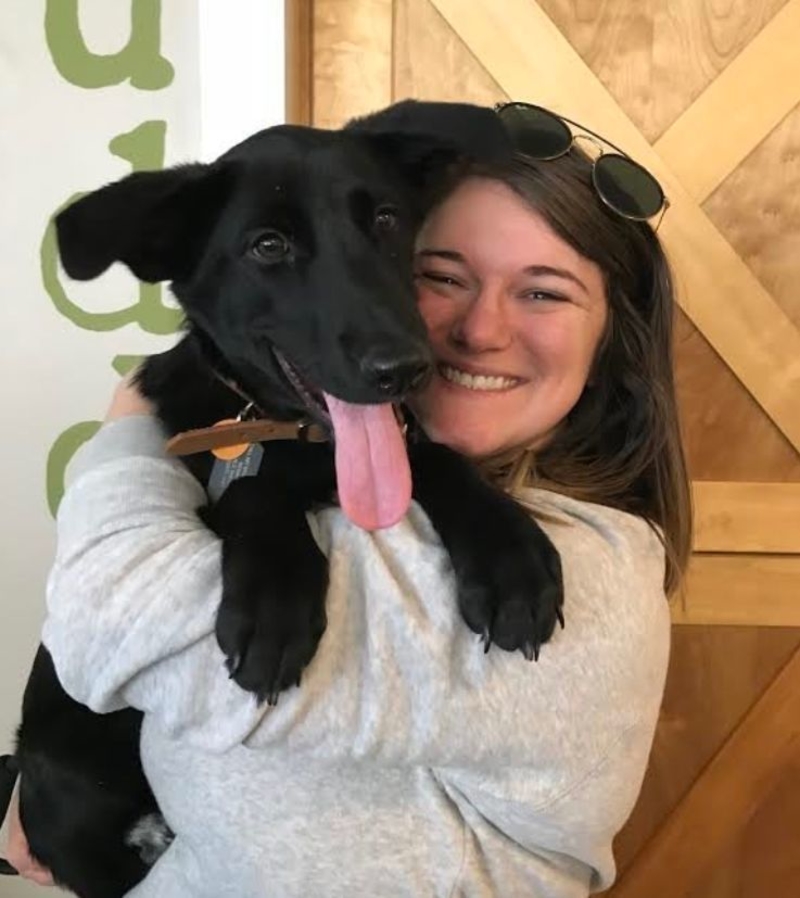 Kodak was pulled from an animal-hoarding situation, in a dirty and overcrowded home. Thanks to his new mom, he's getting a second chance at a happy life, with the Love and attention that he deserves.
Happy Days
This beloved little creature is so thankful to his new dad for picking him out from the shelter that he can't stop smiling! And that was before he even got to see his new house!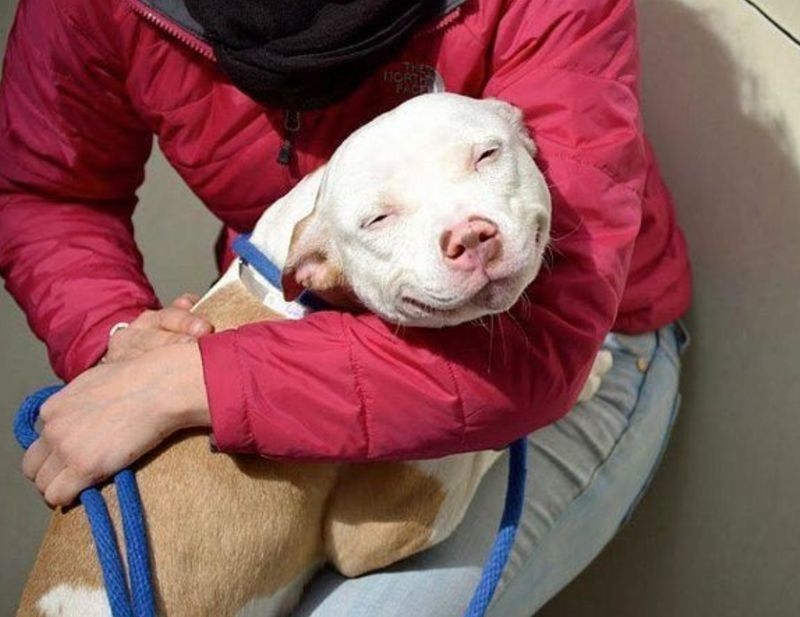 Is that not the sweetest thing you've ever seen? What a heartwarming moment caught on camera!
Boop
This puppy seems to be mirroring what his owner usually does to him – petting!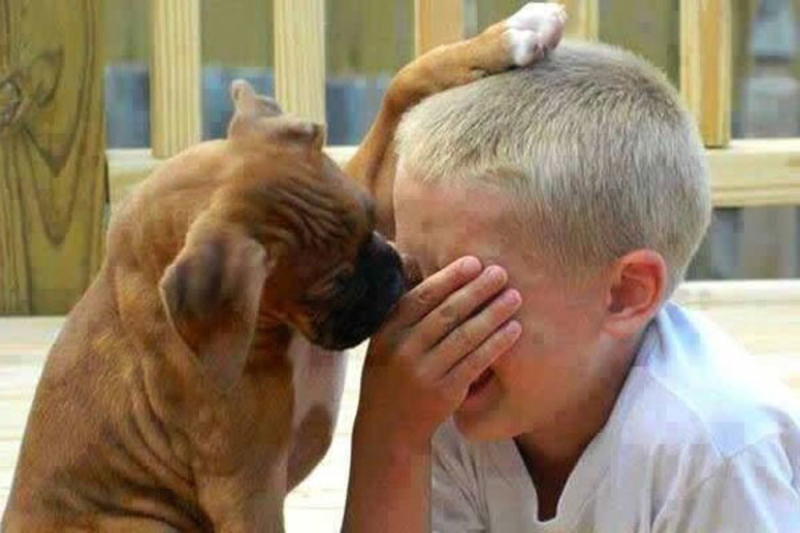 Well, it's either that or he's being knighted in the dog world.
A Woman and Her Companion
This elderly woman was having a tough time in her empty nest. She decided she wanted to bring some new life into her house, and that's where this little guy came into play!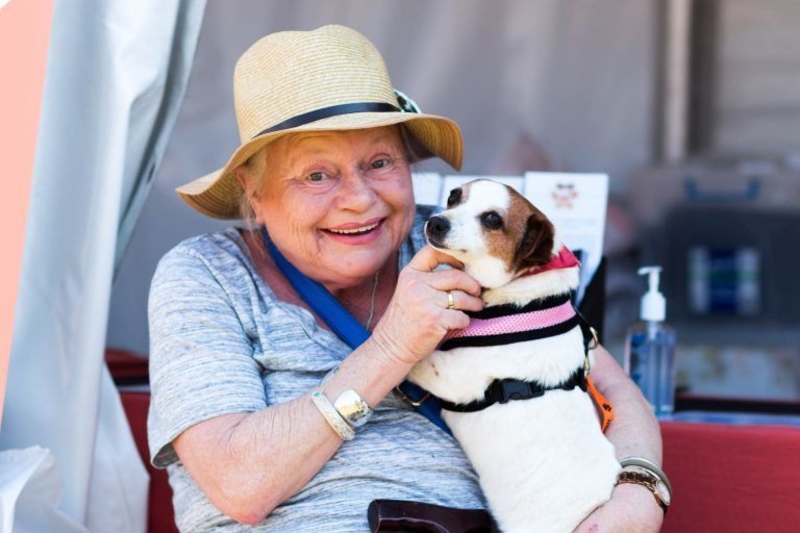 She had to make sure that this was the right dog for her first since a puppy would have likely been a bit too playful. But she couldn't be happier with her decision, and she loves her new family member.
All the Hugs
Unfortunately, too many people expect to go into a shelter and find a newborn puppy. They want a pet that they feel isn't "damaged," already, and so many senior dogs and dogs with disabilities, etc., never get the chance at love that they deserve.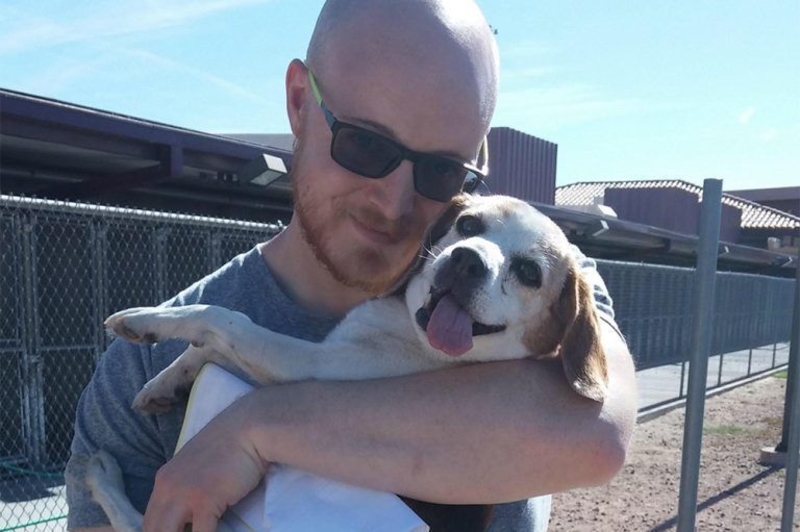 But there are those caring few that come along with open minds and open hearts. The ones that see the good and the hope in the eyes of those older dogs. Like this guy who took a chance on this senior doggo and couldn't be happier with his decision. And hey, most senior dogs are already potty trained!
First Trip to the Park
When you're in the shelter, you don't really get too much exercise. Shelter doggies depend on volunteers to come and walk them around and take them out on adventures. So, when this guy went to the park with his family for the first time, he wore himself out playing with his new brother!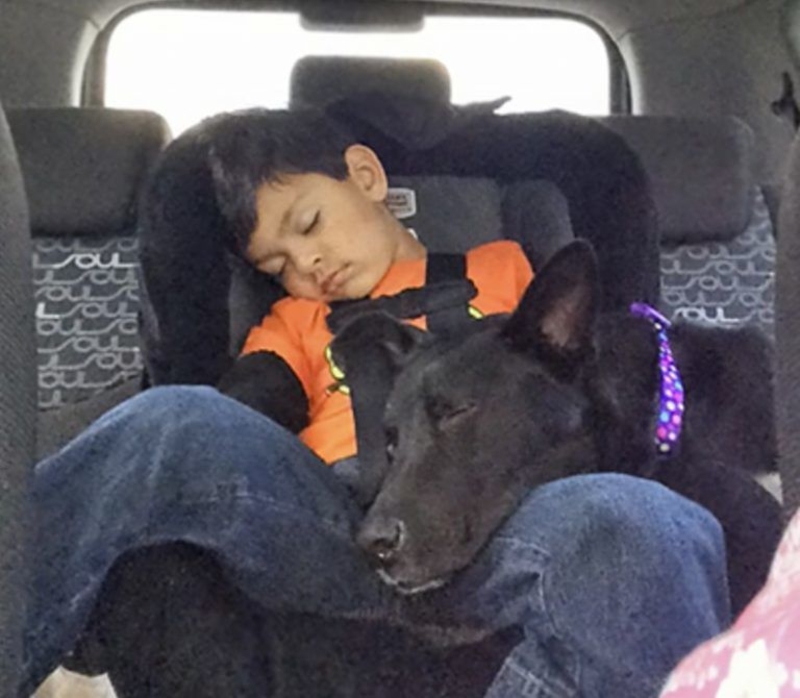 They spent a few hours running around and this is the aftermath of their day at the park. Mom couldn't help but to snap this shot of her two adorable little boys napping together on the ride home.
Just Two Older Guys Hanging Out
This is another case of a senior who wanted a dog that would match his mellowed-out mood. He found exactly what he was looking for when he met Gus, who stole his heart right away. The two hit it off the second the shelter staff brought Gus out of his kennel to meet his new friend, and then he was off to his new forever home not long after.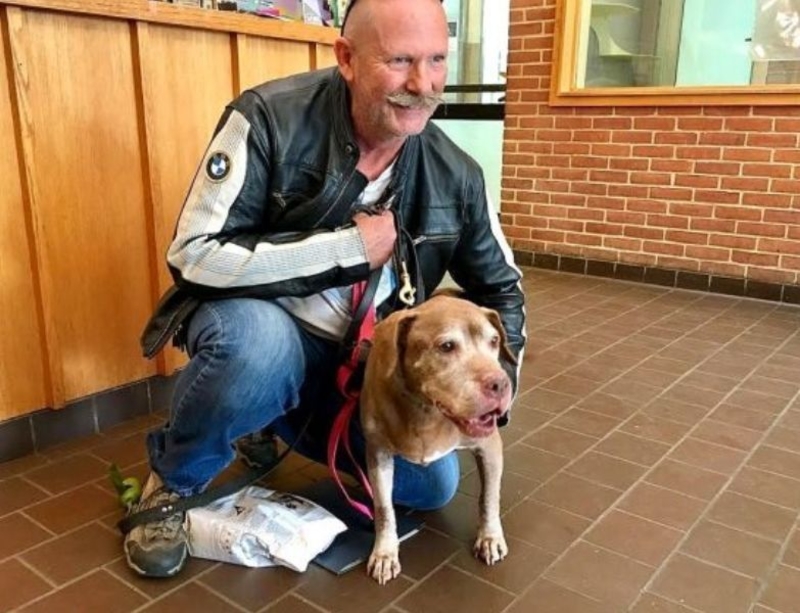 This picture goes to show just how happy they are together, and that was when the pair had just met. Now, their bond is even stronger.
Asleep on Dad's Lap
Puppy have to get their fair share of sleep especially when they have an exciting long day like this one had. He couldn't even make it over to his seat he fell asleep right on dads lap instead.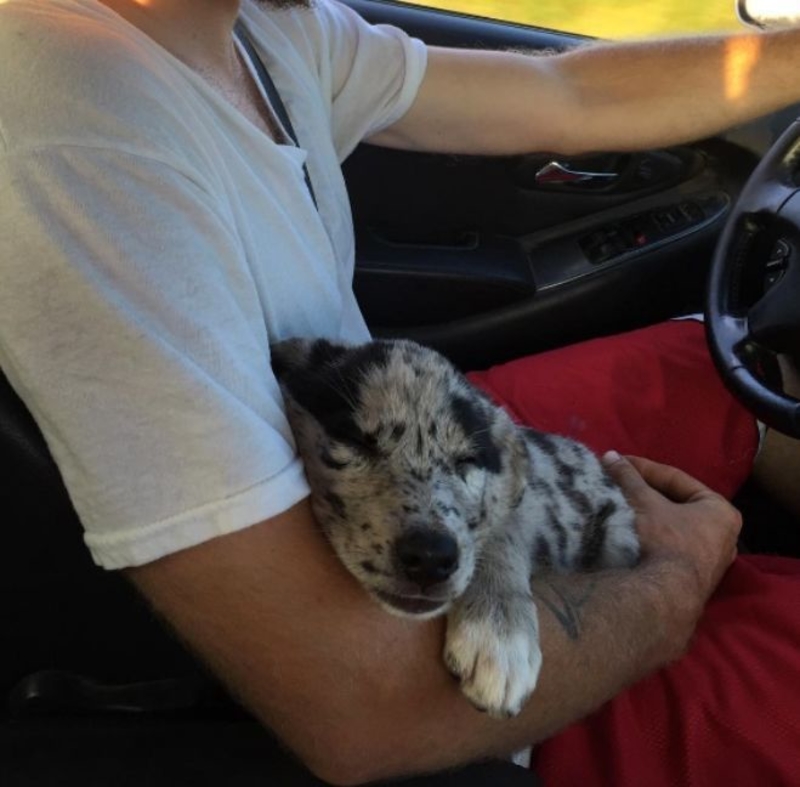 Hopefully, dad can drive safely with his passenger. What a truly precious moment to catch on film. Thanks for sharing!
That Face
Speaking of "can't blame him," this photo displays the perfect example of "puppy eyes." It may seem like they flash them at us when they want something, but the truth is, they can't help it – which makes it that much more adorable!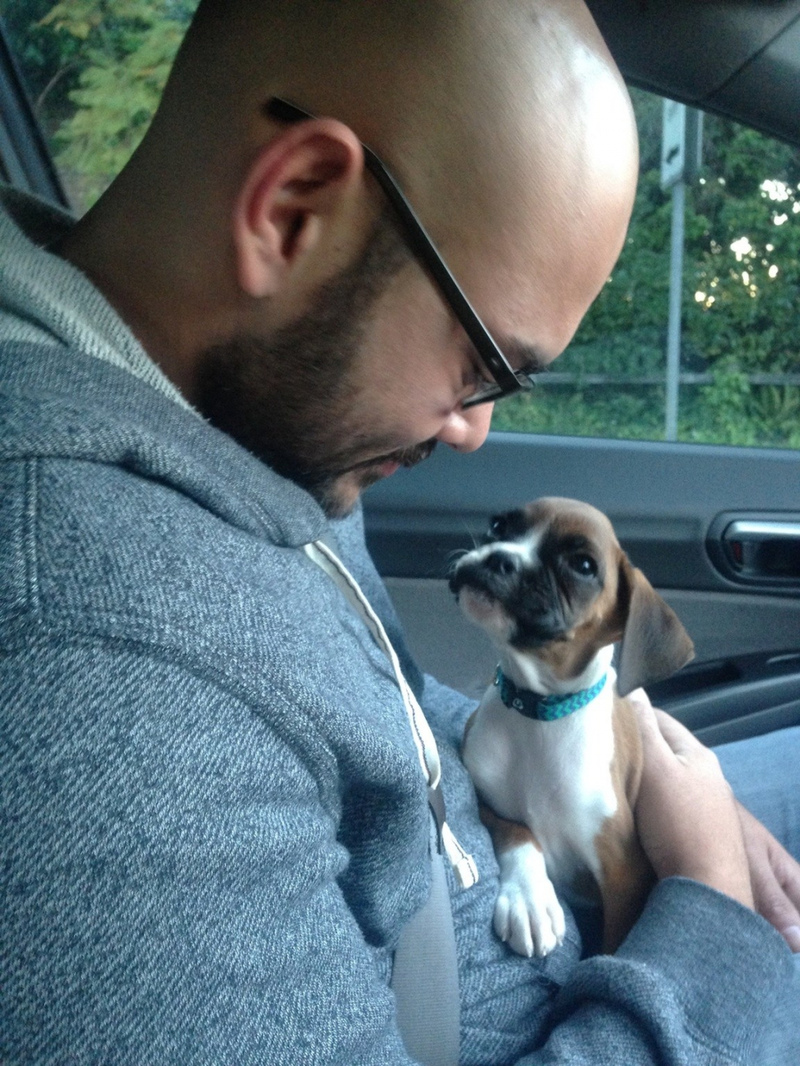 Who cares what this little guy wants? We're going to give it to him no matter what. Who could say no to that face? Okay, who would want to say no to it?
Smiling Pitt
Here's another awesome picture of a Pitbull who's super happy to be with his loving family. Dogs are just so sweet and simple. They don't require complex things like humans. They just want to be loved, petted, and fed.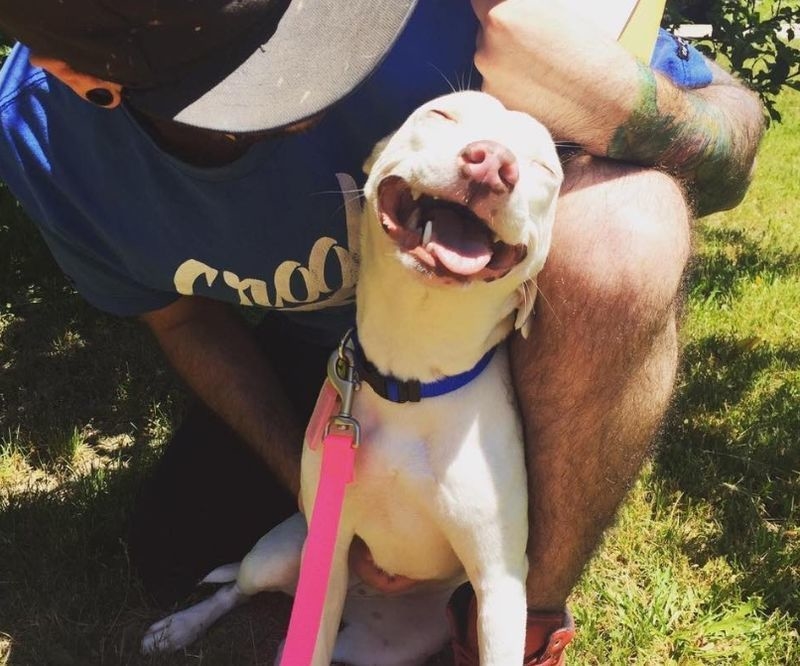 Judging by the look on his owner's face, he's more than happy to be providing that love. There's no one more loyal and deserving of it than a dog.
The Wagging Tail
How adorable is this little fluffball? You can tell how happy she is with her new human because of how fast her tail is moving! Not to mention the kisses she's laying on her nose.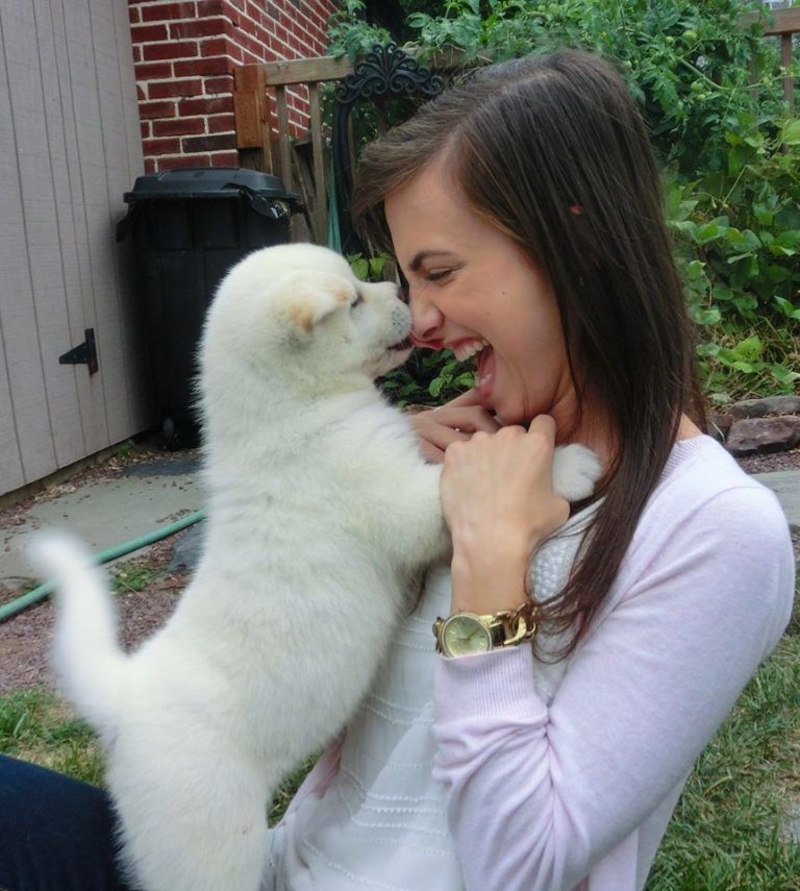 After this photo was posted on Reddit one user commented, "the camera may have been quick enough to catch this protruding puppy's tongue, but it still couldn't capture his fast-flicking tail!"
A Second Chance
More often than not, senior dogs get passed up for the younger and more vibrant dogs that are waiting to be rescued. Unfortunately, that results in many dogs spending their aging years in a stressful environment because no one's willing to give them a chance.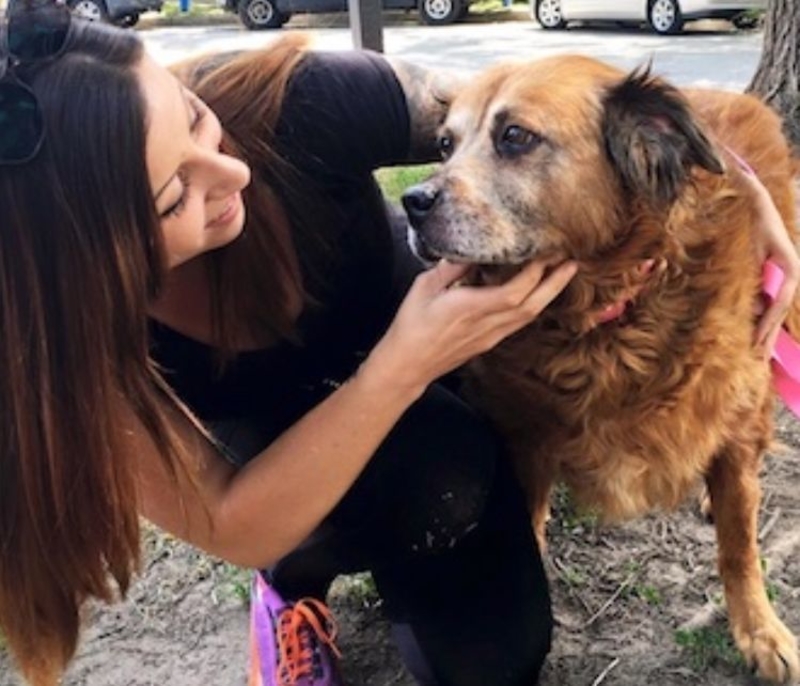 But this woman could see the spark in Bandit's eyes, and she was ready to give him the best years of his life – even if there aren't a great number of them left. It's kind-hearted individuals like that who are responsible for changing the lives of someone in need!
Sweet Thing
All it takes is a glance for a dog to show you what they're feeling. And the way this dog is looking at her owner says it all.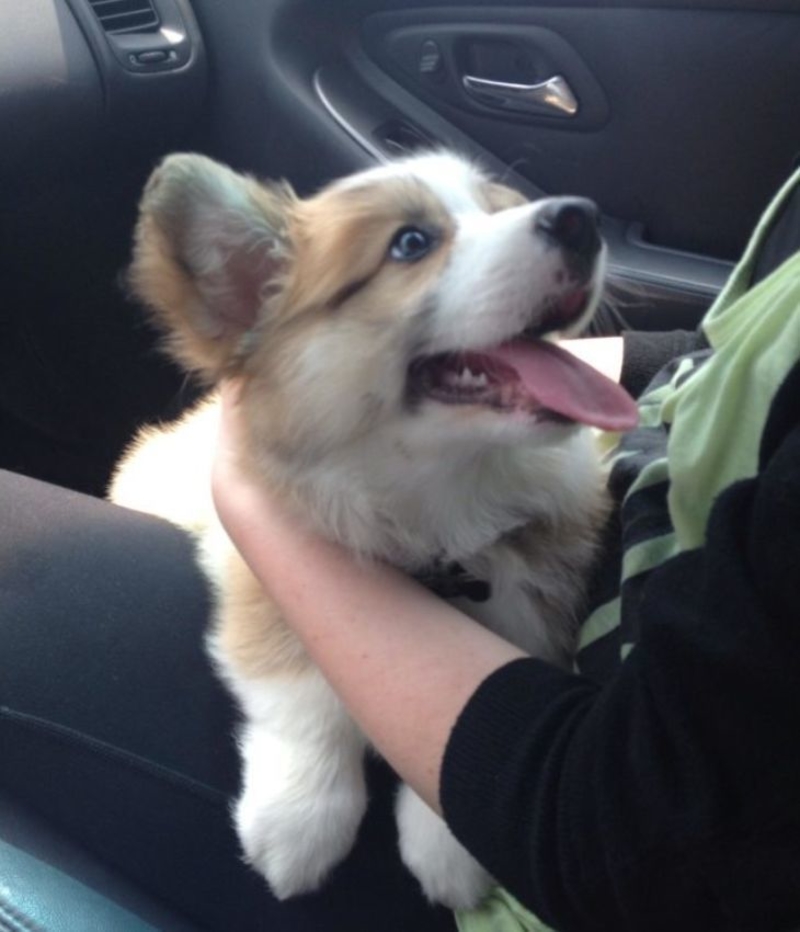 The eyes make it clear that she is super happy and doesn't want to leave her owner's side, or lap. Well, she may have had to get down when they got out of the car, but something tells me she got her seat back when they got home.
Policeman's Joy
While you may not always see the softer side of law enforcement officers, that doesn't mean it isn't (always) there! Just take a look at this officer who rescued this little guy and quickly got attached. Do you blame him?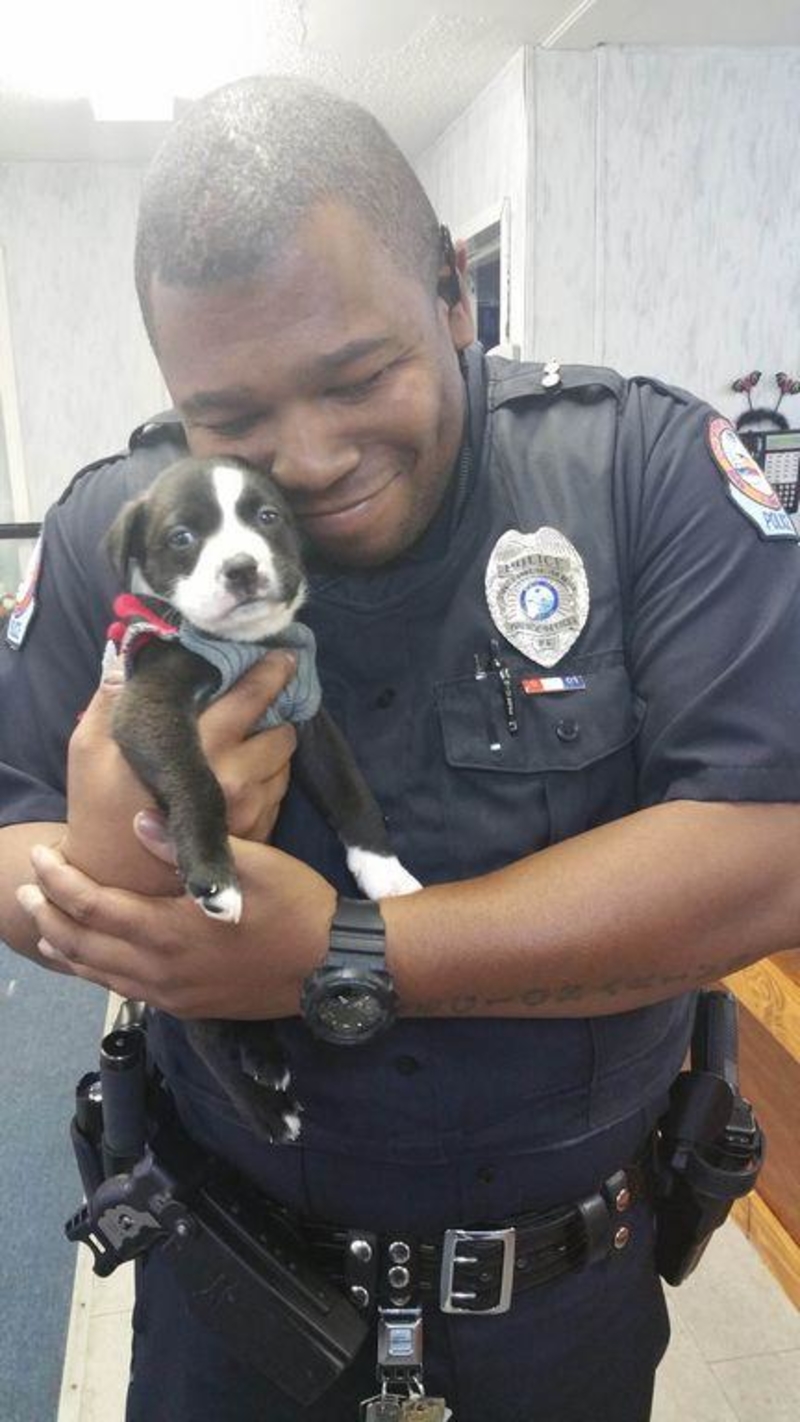 He doesn't always come to work with his new dad, but that was not long after his initial rescue, and he wanted to show him off to all of his work buddies. Now, he spends most of his days relaxing at home and/or the park with his mom and siblings.
The Cutest
Okay, there may be a lot of cuteness on this list, but is it me, or do they just keep getting cuter and cuter? This face, for instance, is something that would stop you dead in your tracks on the street. Who wouldn't just have to pet this angelic little thing?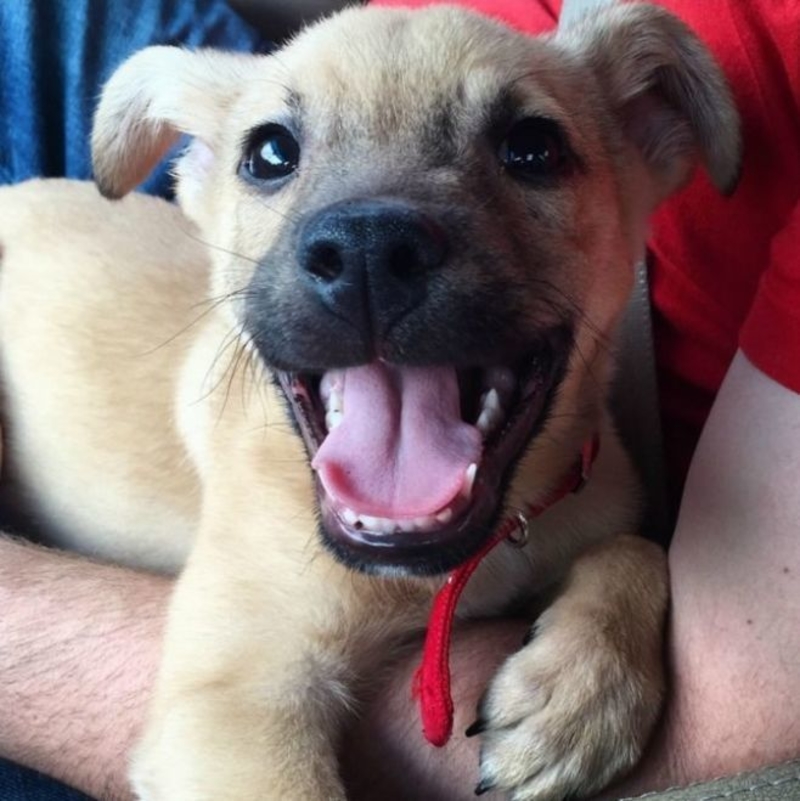 Puppies this adorable don't typically have any problems getting adopted from shelters. Unfortunately, many people then decide later in an animal's life that they don't want to care for them any longer. Pets aren't a temporary plaything or gift, they're family!
Happy to See You
This is what happens when a dog's owner comes home after a weekend trip. This dog had only been home with his new family for a few weeks when dad had to go away on business.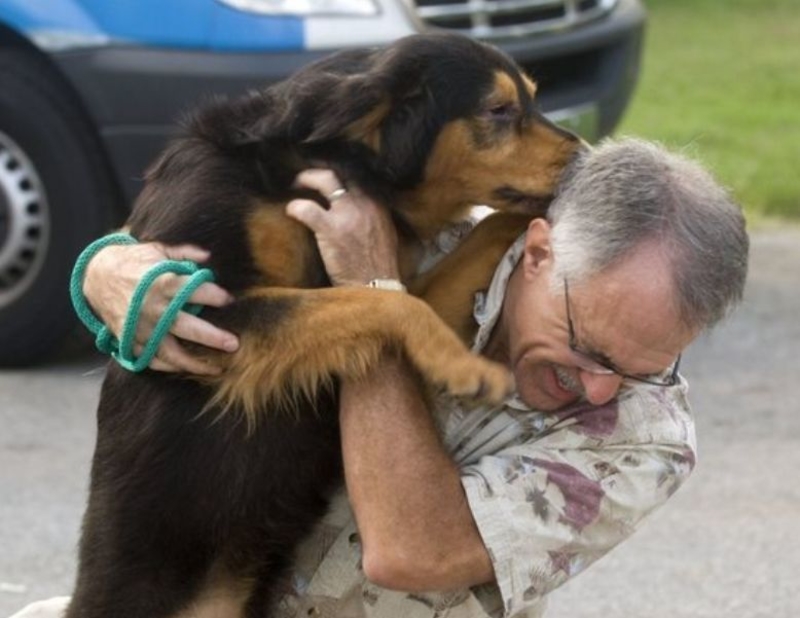 He missed him so much that he couldn't help but pounce on him the second he got home!
Wake Up!
This is the only kind of alarm that doesn't make you angry at it, am I right? What's a paw on the chest and a sweet kiss from your new furry family member compared to an annoying beeping/buzzing?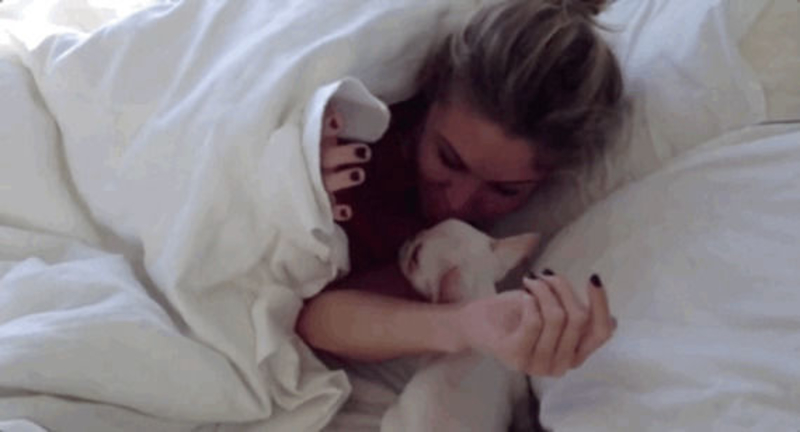 After all, a puppy (and your adult dog) has to get up and go outside in the morning – or maybe he's just hungry. Either way, you can't blame him…he's just so darn cute!
We're So Excited
And neither the doggo nor his new owner can hide it! They're both obviously pumped to have found each other. Now, they're on their way to Fido's new furr-ever home for the first time!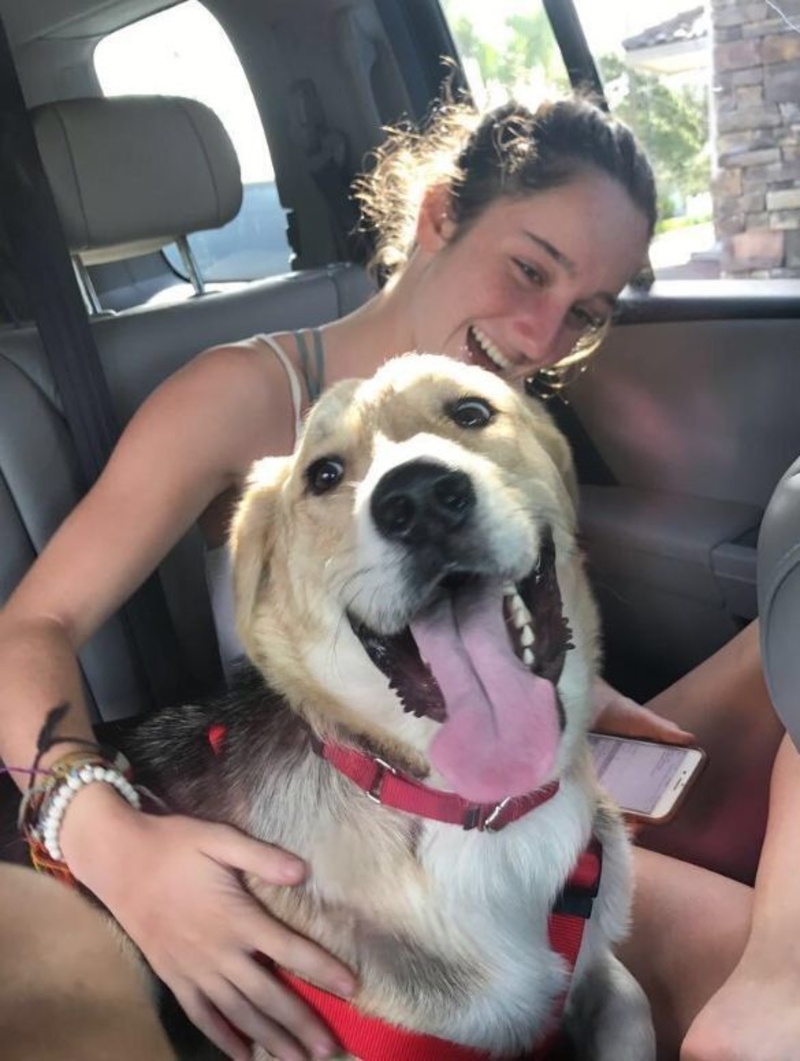 By the look of things, her owner is just as thrilled. How adorable is this picture? The expression and looks on both of their faces perfectly display all the warm feelings going on in that car!
Photoshoot
This dog looks like someone just told it to look over its shoulder at them – or maybe they did! Whether or not he meant to pose that way, a lot of people are glad he did. How else would we witness this uber-cuteness?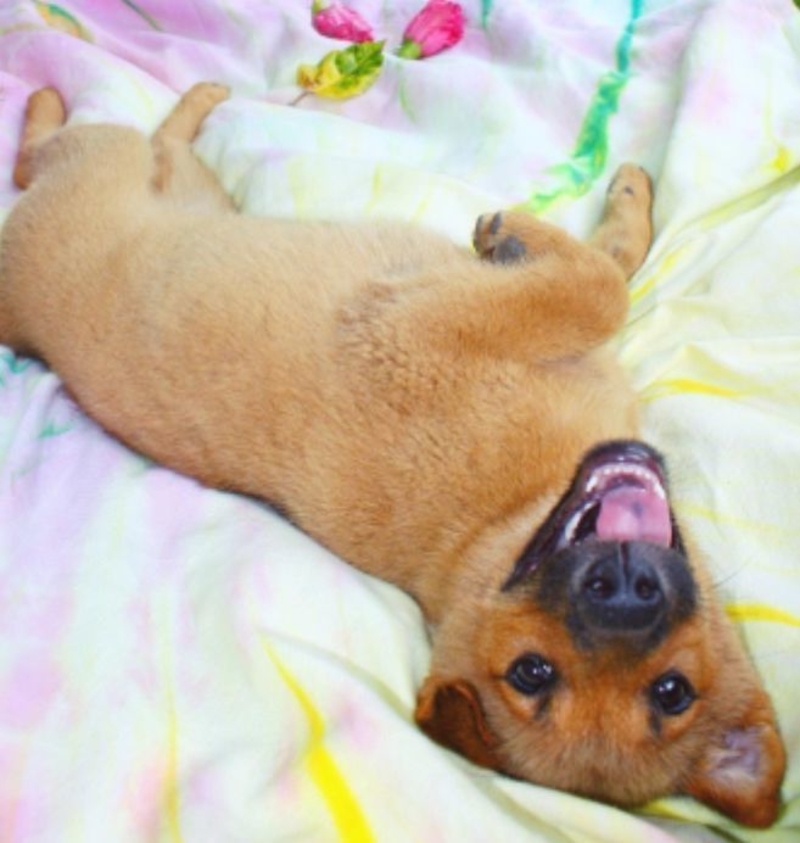 Then again, maybe someone opened a bag of treats and that's why he looks so excited. He does, after all, look almost like he's licking his chops. Or, maybe it's both. In any case, it's darling!
Double the Cuteness, Double the Fun
No, this isn't a new commercial for Doublemint gum. But, it's so cute that it could absolutely sell some products, don't you think? After all, there's an adorable puppy and super sweet little girl. Could this picture be any cuter?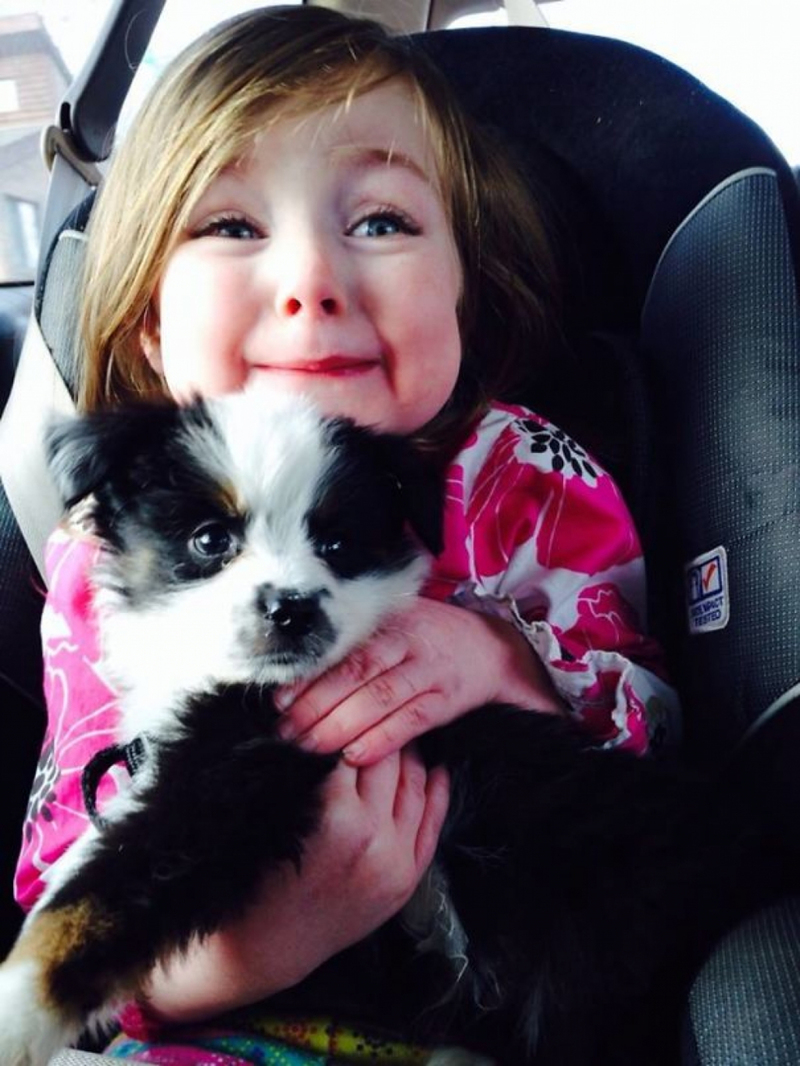 This girl went with her mom to the shelter to pick out her new forever family member and just so happened to lock eyes with this lovable pup and it was all over from there. Once she had him in her arms, mom knew there was no turning back! But after it was her turn to hold him, she didn't want to, either!
A Happy Ending
This poor dog named Rex had a horrible first owner who treated him terribly. They made Rex wear a shock collar and overused it and abused it to a point they caused him neck trauma.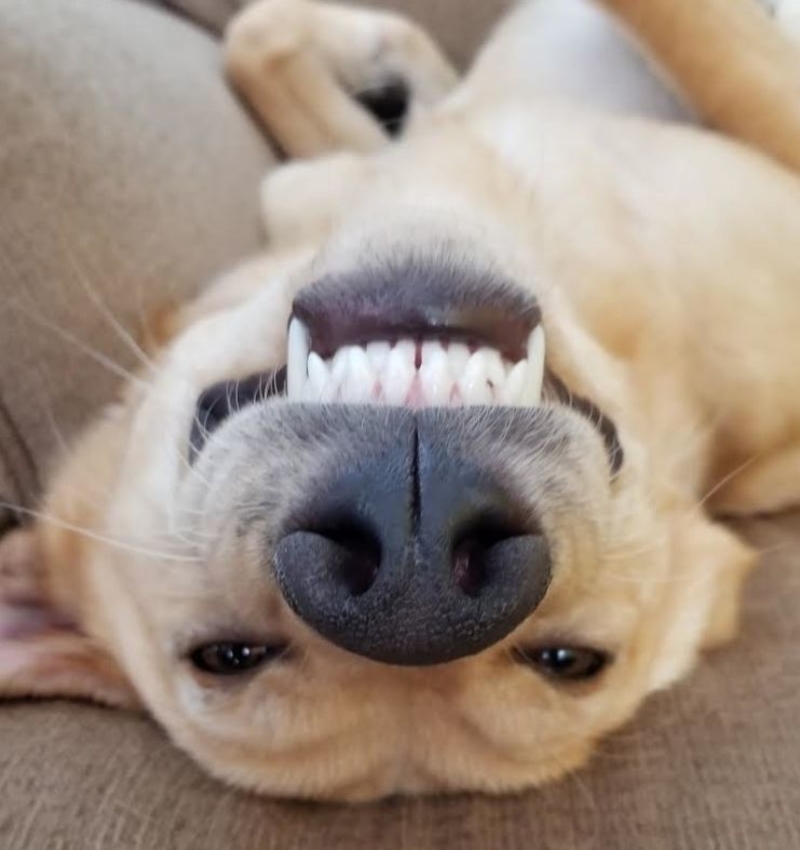 But Rex was rescued by much kinder humans and now lives with his new family, hence the big smile. How can anyone treat such gentle creatures so cruelly? Thanks to his new dad, he's a happy boy these days.
Momma Dog
This adorable little girl met her new family after she was taken in by an animal control service in Detroit. She was then brought to an adoption event in Grand Rapids where she was spotted by Kasey Blauwkamp and his fiancé. Although the organization couldn't tell them much about the dog, other than she'd already had a couple of litters of puppies, they knew she was the one for them.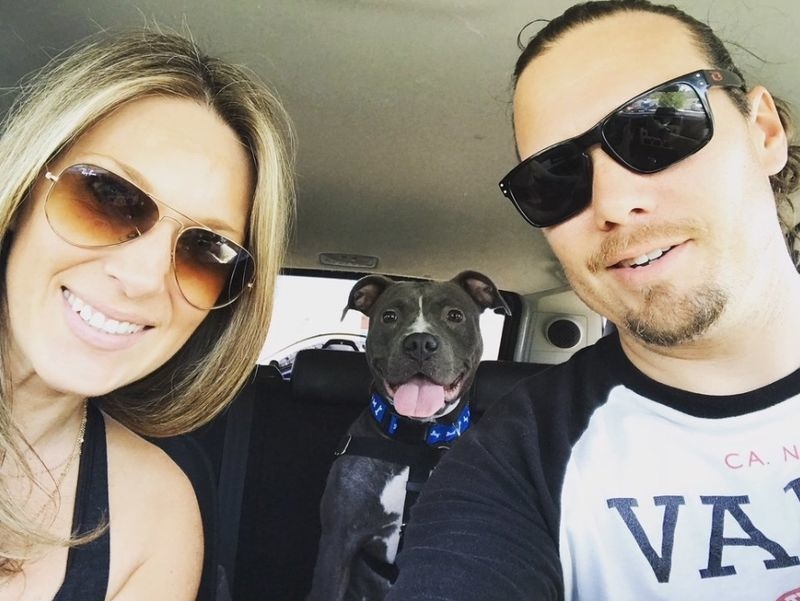 When they took Cora home, she was walking into an environment with a lot of other animals, including three cats and another dog, but she did just fine. In fact, they all got along great and today, they couldn't be happier. They must all be so glad that they took a chance on her! What a sweet image – it looks like Cora is smiling!
Car Seat
Unlike children, there are really no rules about how a dog can ride in the car. So, this puppy's owner decided to put him in a basket for their road trip. There's nothing actually keeping him in there but it's worth a shot! After all, at least it's keeping him somewhat contained.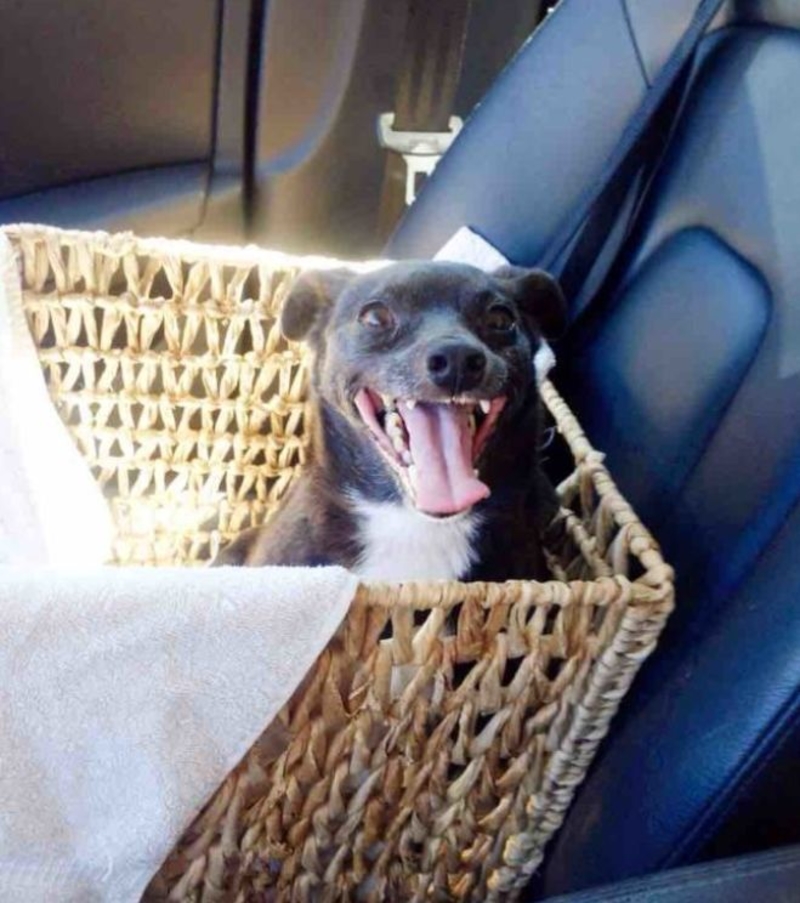 But this won't be a long trip. They are just going home for the first time since his new mom adopted him from the shelter. It's not like she could have a puppy car seat handy or anything. Although they probably do sell them on Amazon!
Merry Christmas
The holidays are all about love and joy and giving to the people you care about most. That's exactly what's going on in this picture, when one Christmas, this husband finally got his wish: a new puppy! His wife had her reservations for several years, but when she found this sweet little furball on the side of the road, she knew it was a sign.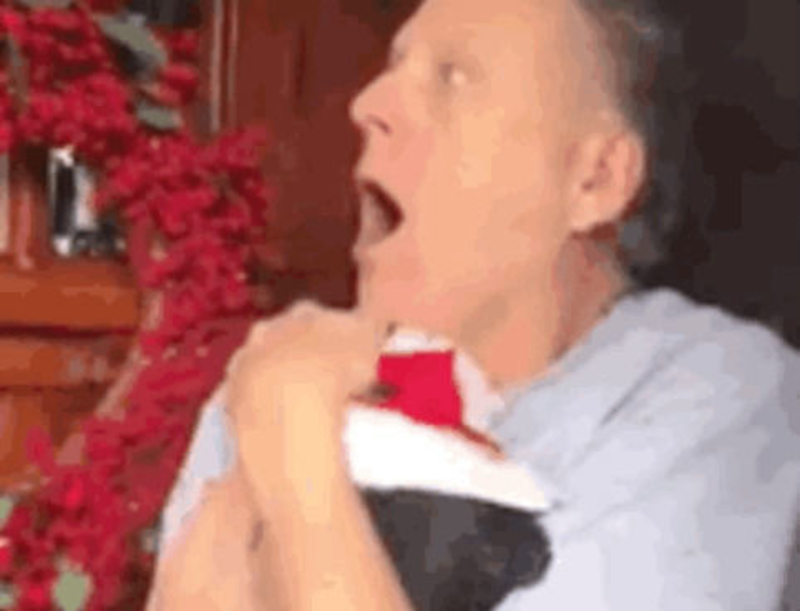 It just so happened that this puppy, who they named Twila, was abandoned by her previous owners just a few days before Christmas. The poor thing had a broken paw, and rather than paying to help her, she was cruelly tossed aside. Luckily, this man's wife picked her up, took her to the vet to get the care she needed and brought her home right in time to celebrate the holidays with her new family.
Massive Boy
Some breeds of dogs seem more like horses than, well, dogs. Just look at this Cane Corso who stands just about as tall as his human when he's up on his hind legs. Aren't big, sweet dogs just the cutest thing in the world?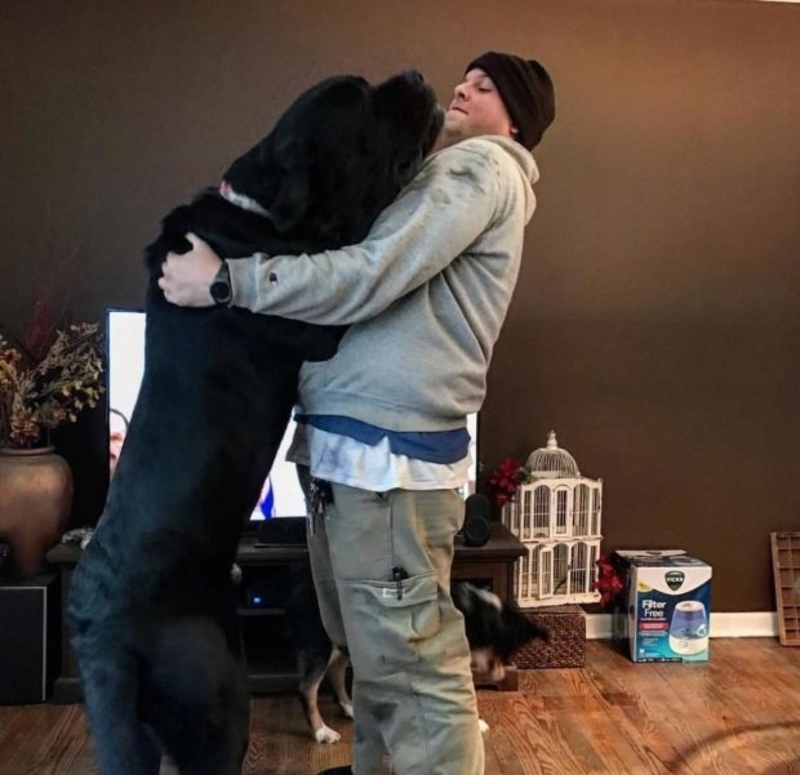 Although a big dog may intimidate a lot of people, at least some can see their giant hearts and are willing to take a chance on them. And from the looks of things, this guy isn't regretting it one bit.
All Smiles
This little guy met his new human mom at an adoption event being hosted by a rescue organization. Of course, they had to know he wouldn't have any trouble being adopted with that squeezable little face.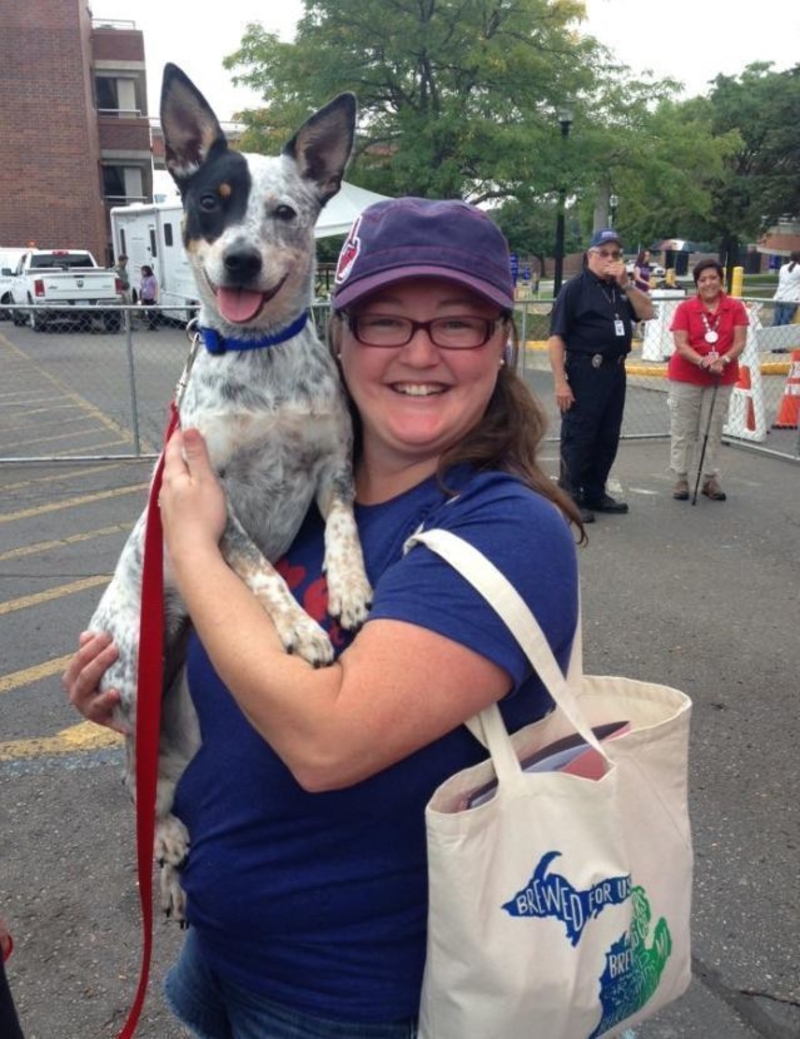 This was just the first of many pictures they've taken together since the day they met. But you can tell that they hit it off right away!
Big Boys Need Love Too
Dogs that need rescued come in all shapes, sizes, colors, and breeds. Take this big boy, for example. Standing on his hind legs he's probably just as tall, if not taller than his new dad.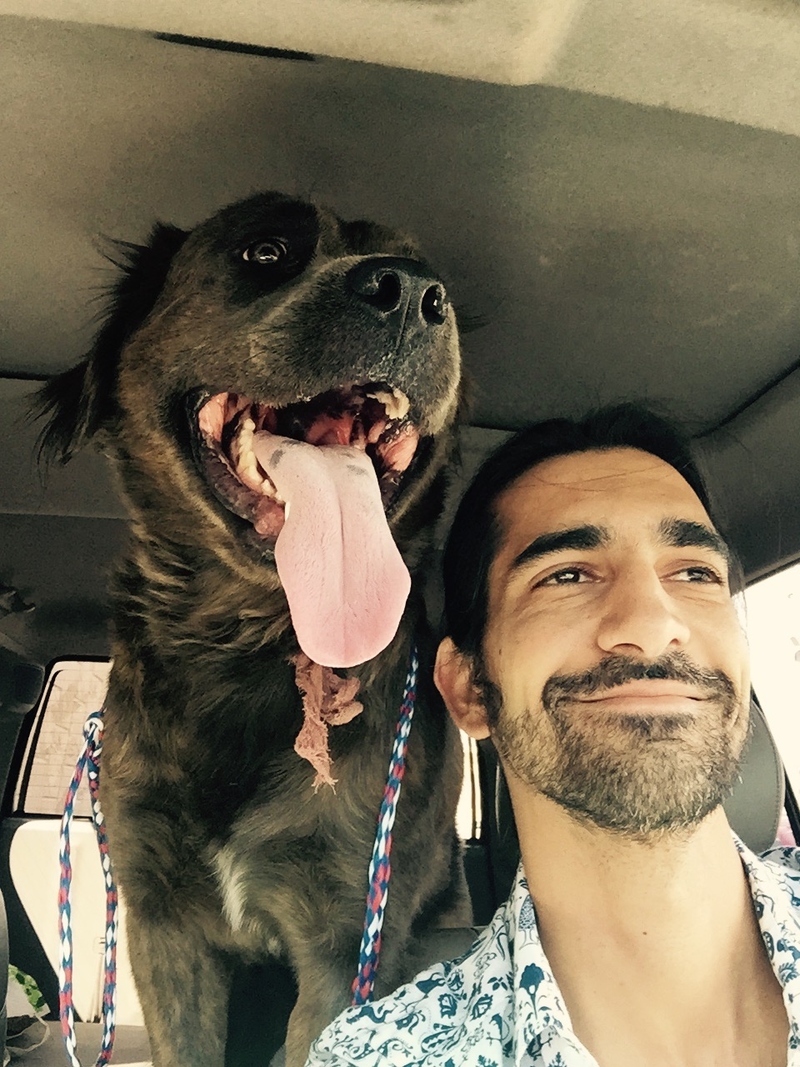 But, no matter his "bear-like" stature (his dad's own words,) he fell in love with him right away. It's great that people have different tastes when it comes to dogs so that they all have a fair shot at being adopted and finding a forever home!
Smooches for Pooches
This woman picked up her new rescue dog, Stitch, at a shelter local to her area. It seems like they're both ecstatic about their new living situation!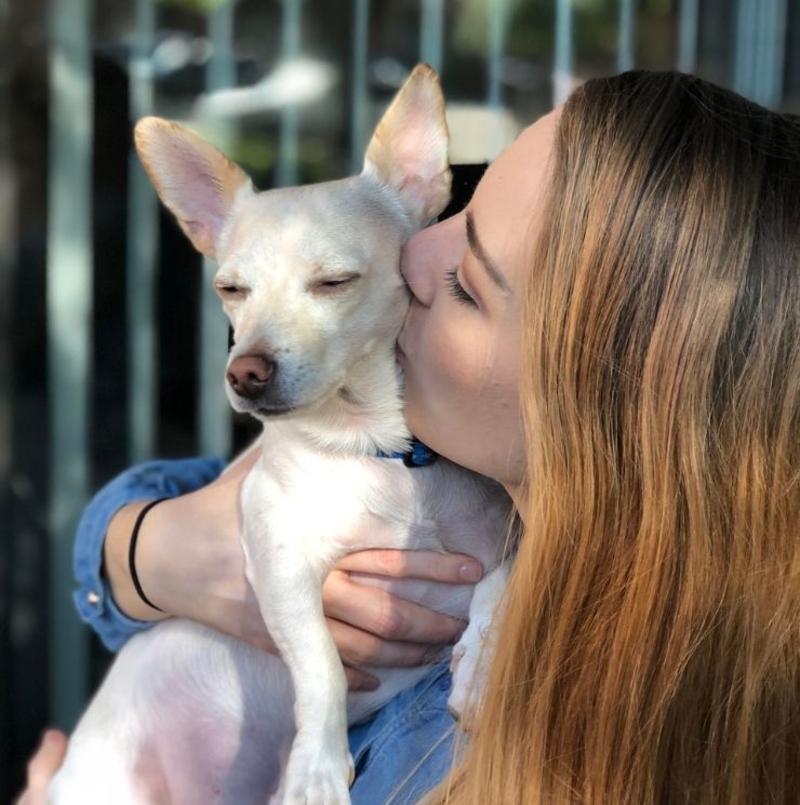 That was just the first of many kisses to come – and the first of many selfies together. How great is it that they've found each other?
Brown Eyes
Does this puppy not just have the most adorable brown eyes in the world? The fact she's looking longingly at her owner just makes it that much cuter.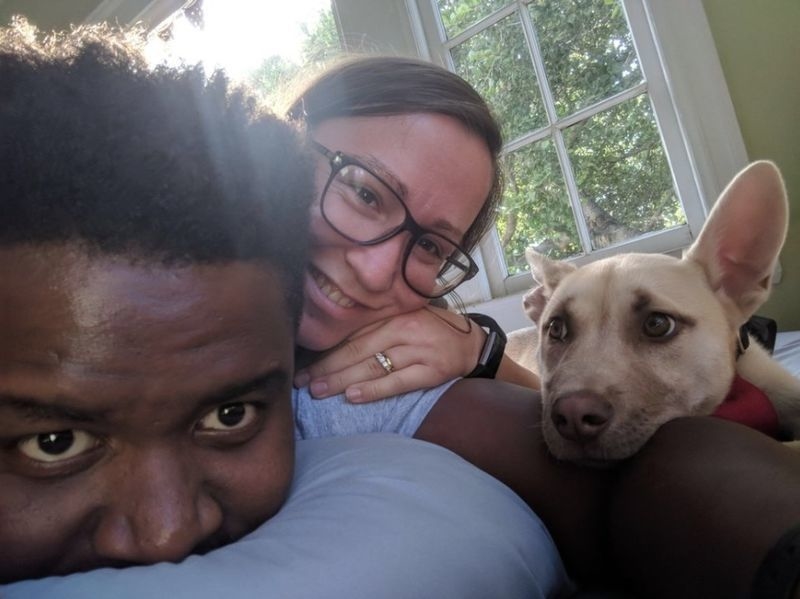 This good girl's name is Hazel, and she's a Husky mix from California. Hopefully there are more pictures of her circulating the internet!
Sleepy Dog
Meet Roxy. According to her owner, Sarah, she's usually very full of energy. But it seems as though she wore herself out playing with friends this day.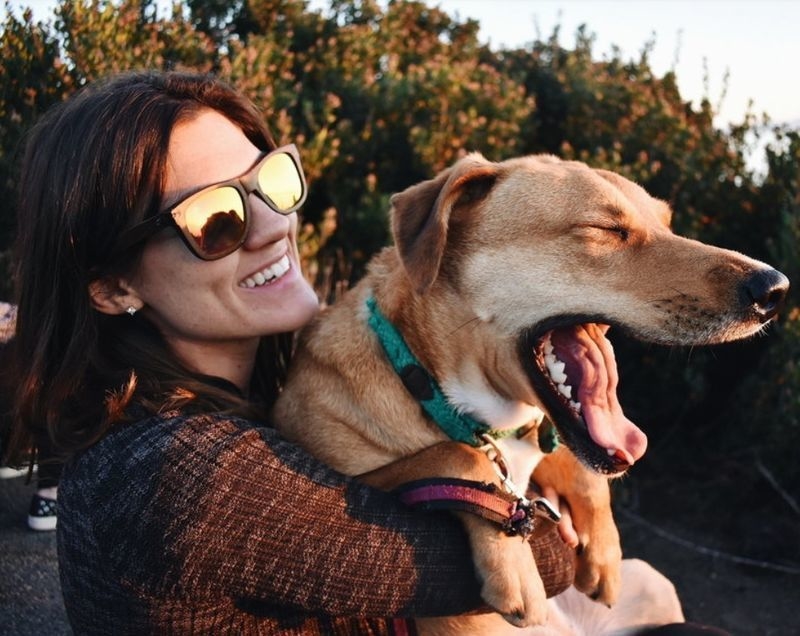 In fact, according to Sarah, Roxy is great at making new friends – even for her owners! "We've met most of our friends through her," said Roxy's mom.
The Best Kind of Antidepressant
Owning a dog is like having a therapist, friend, and family member all rolled into one – one that never doubts you or makes you feel lesser-than. Dogs are the most loyal, loving creatures on the face of the planet, and at some points, it feels like we don't deserve them. But since we have them, it's our job to take care of them and protect them from all of the pain and suffering the world has to offer.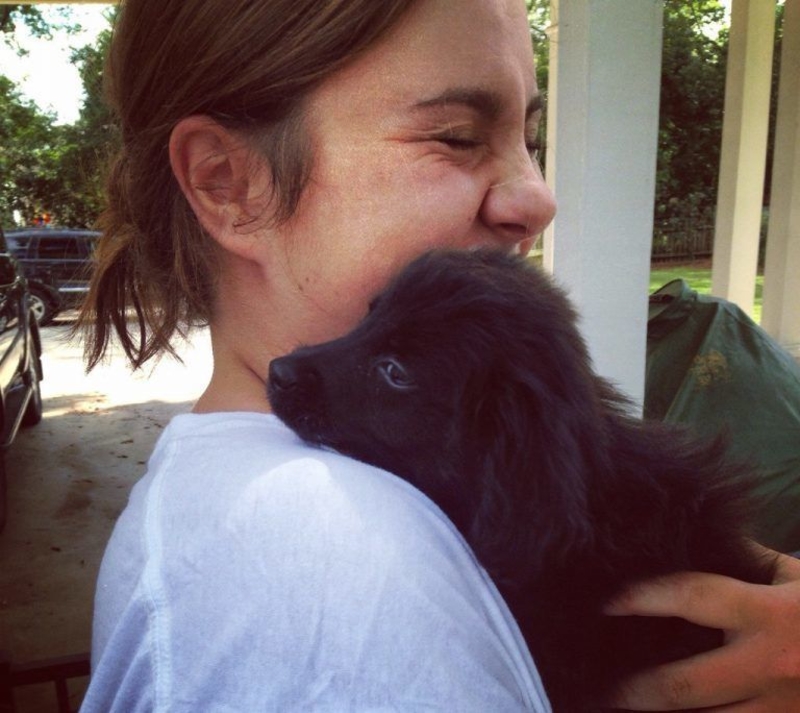 Rescuing a dog is beneficial for both you and your new furry friend. You get an addition to the family that's going to love you no matter what, and that's all they want from you, too. It looks like this puppy and his new owner found that in each other. Yay!
Husky Hugs
There's nothing better than giving a big, fluffy dog a giant hug when you're still shorter than he is. Okay, maybe there's nothing better than giving a big, fluffy dog a hug, period. And this little girl doesn't look like she plans on letting go anytime soon.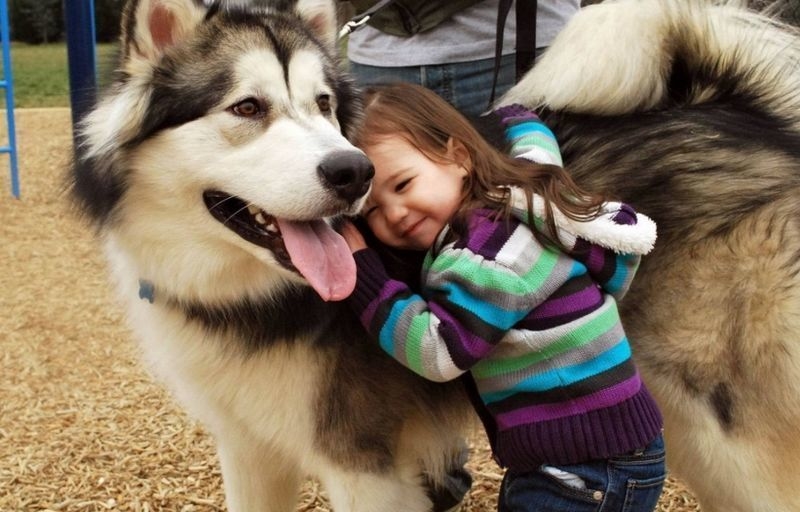 That dog looks like he feels like the girl's loyal protector. Not only that but also just a fluffy friend. The content expression on his face and calm demeanor say it all. What a good boy!
The Sun's Shining Once Again
This poor puppy was left out in the cold to starve by someone who didn't deserve to be near her. Then, she was rescued, and taken in by her new, loving family, who treat her like a queen!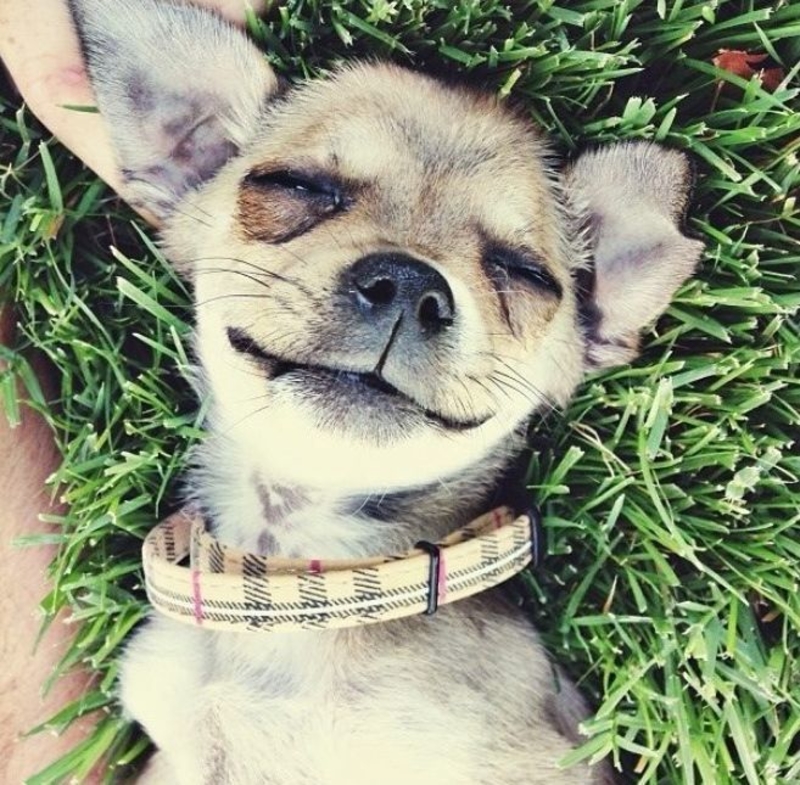 Just look at her in her little Burberry-esque collar with a giant grin on her face! If that doesn't say "content," I don't know what does!
Selfie Time
Let's face it – taking selfies is not for everyone, and I say that as someone who can't take a selfie to save her life. But some people have zero issues, and apparently so do some dogs, because this shot is amazing.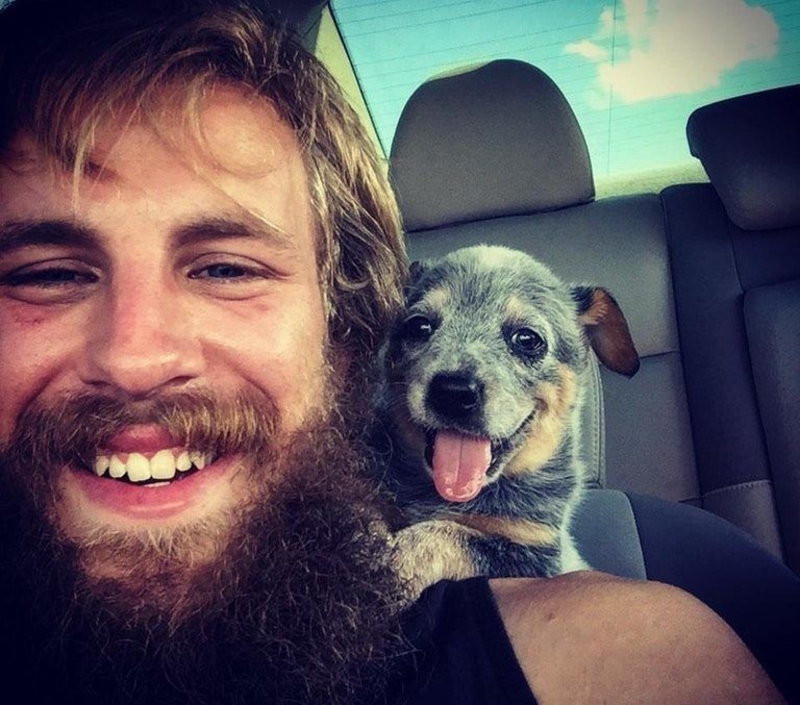 It's like the pup understands what's going on and was ready to take his first family photo. And, even if it was an accident, it's a very happy one!
Who Took the Cookies from the Cookie Jar?
Not me, couldn't be! But it looks like these two came down to the kitchen for a pre-bedtime snack. The puppy is even licking his lips as evidence!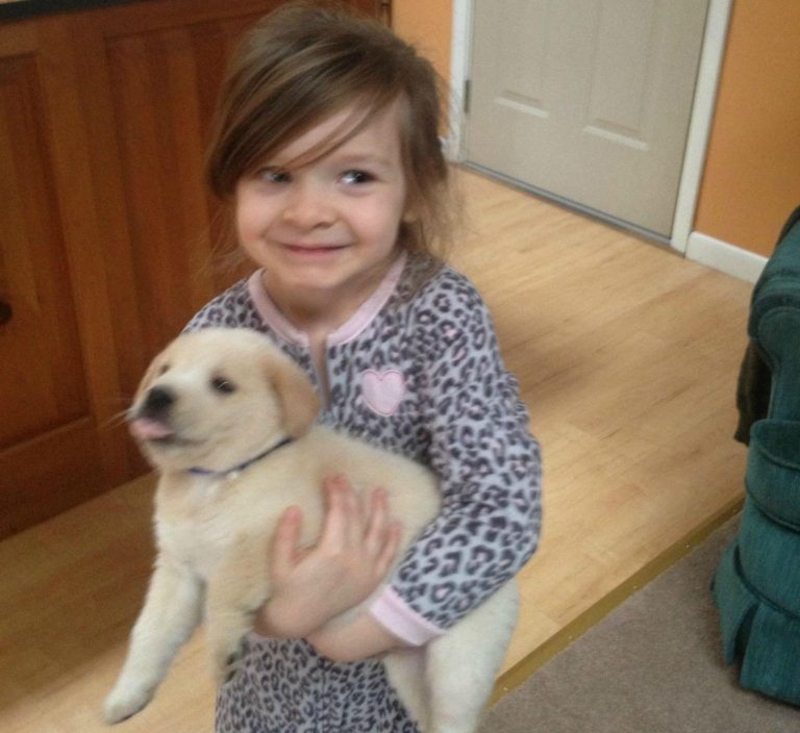 This little girl just got this fluffy boy a few days before and they've been getting along great. In fact, they've been getting along a little too well, as they've turned into mini partners-in-crime. But hey, they're both so cute they deserve a few cookies.
Sweet Pitt
I love seeing pictures that truly represent what Pitbull's are like when they're cared for like any other dog. Just look how sweet they can be when they're brought up in a loving family!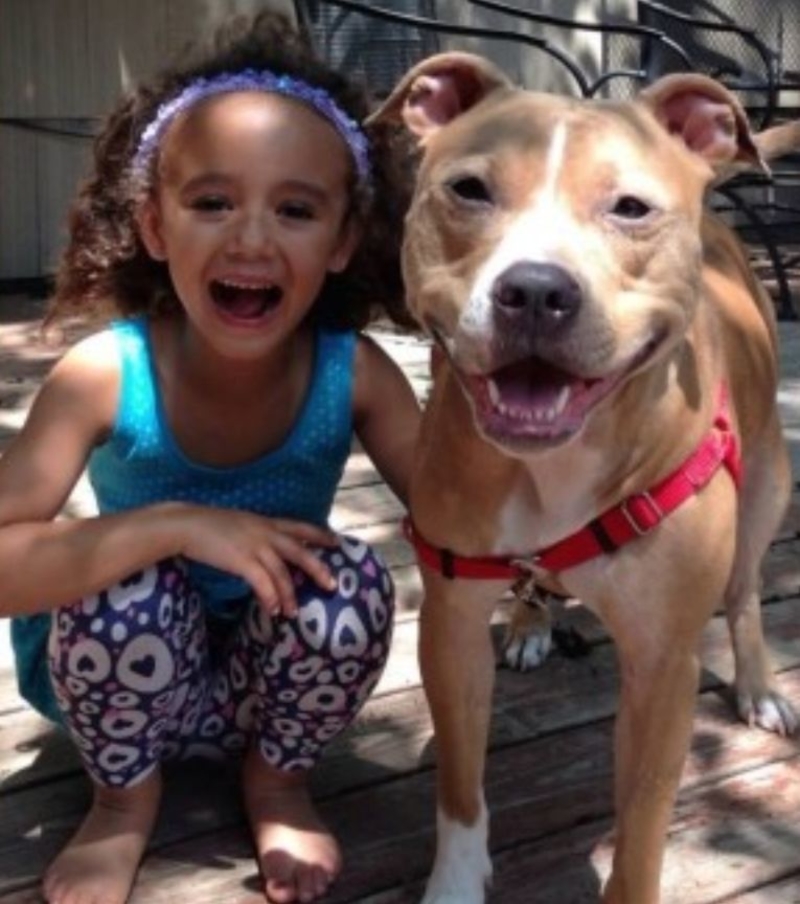 This little girl was ecstatic to find her new furry friend at the pound. She knew from the second she saw him that he was the one. And the family hasn't regretted a single second of his company!
Secret Keeper
Perhaps one of the many reasons why dogs are "man's best friend," is their ability to keep and hold one's secrets throughout their lifetimes. Dogs are the most loyal creatures on earth, and this girl knows that she can tell her buddy anything!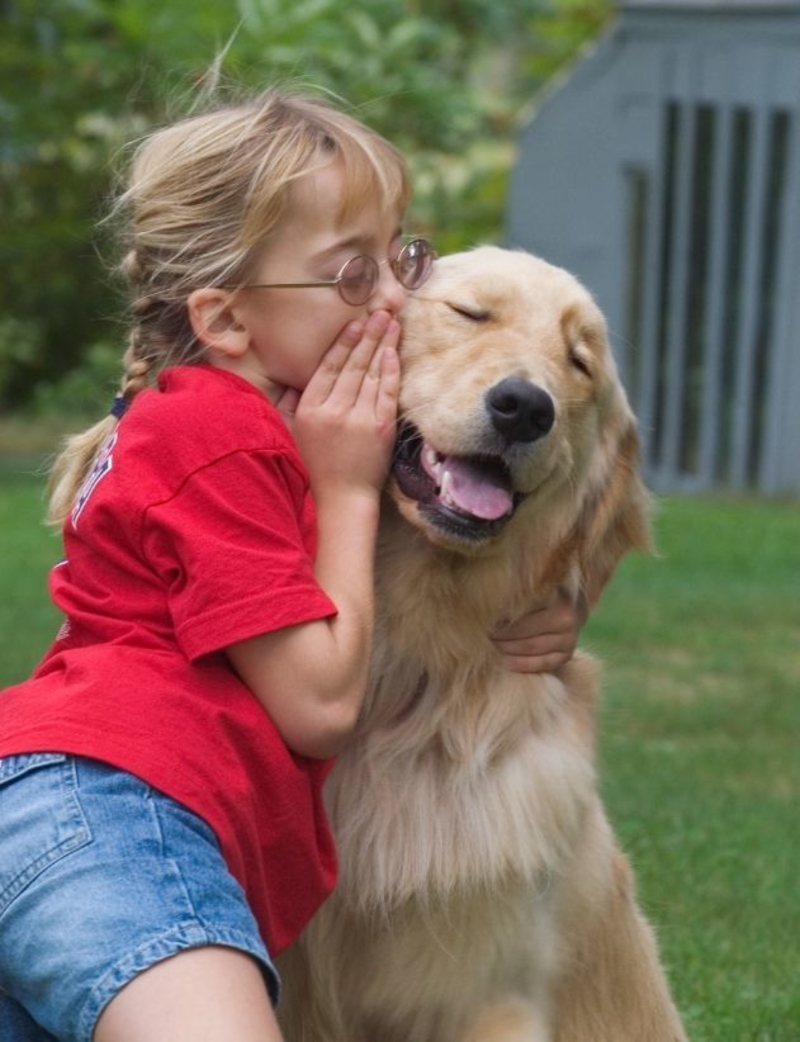 Dogs will love their humans unconditionally. They don't care what secrets you tell them as long as you love them and treat them right. That's why "all dogs go to heaven!"
On My Way
This picture is another that was taken of one lucky dog and his loving new family at the adoption event where he first got spotted. As soon as she laid eyes on this pile of cuteness, she knew she had to take him home – and that's exactly what she did.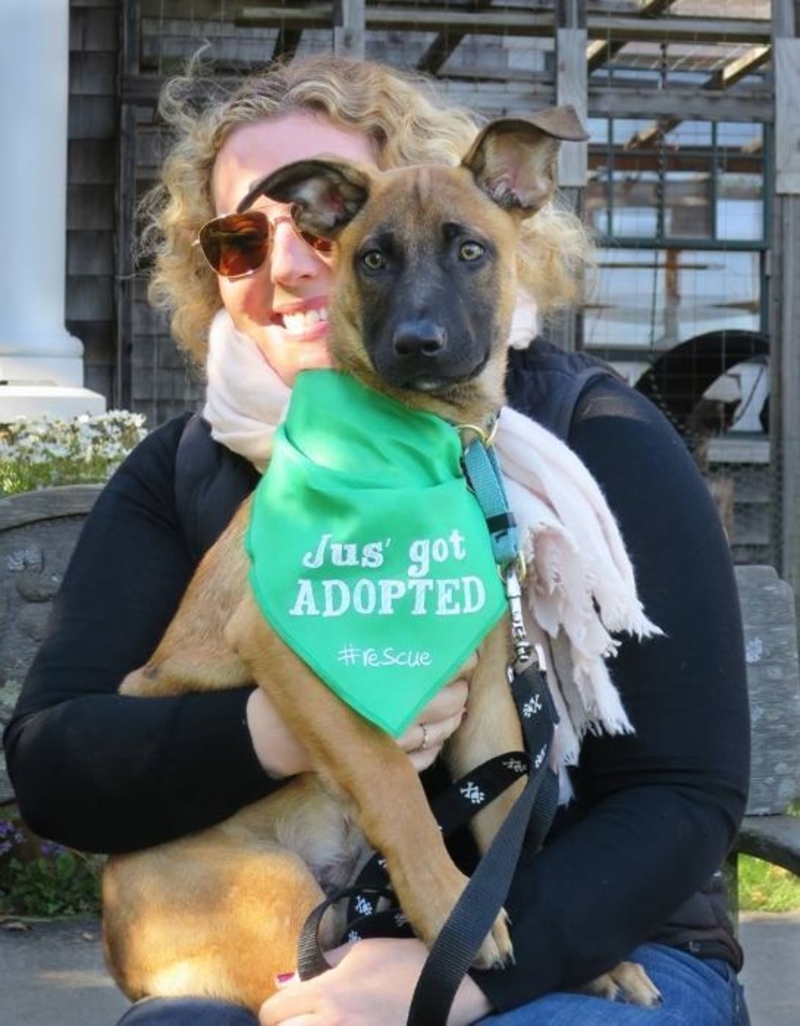 But, before they even jumped in the car to head back to the house, she wanted to document the moment with this sweet photo. That way, she can always remember the exact moment Shamrock entered her life.
Bullied Breed
Pit bulls and other types of bull terriers are often discriminated against due to this image that they have of being aggressive. But the truth is any dog can be aggressive if they are mishandled or treated improperly. And pit bulls can be just as sweet and loving as any other dog breed.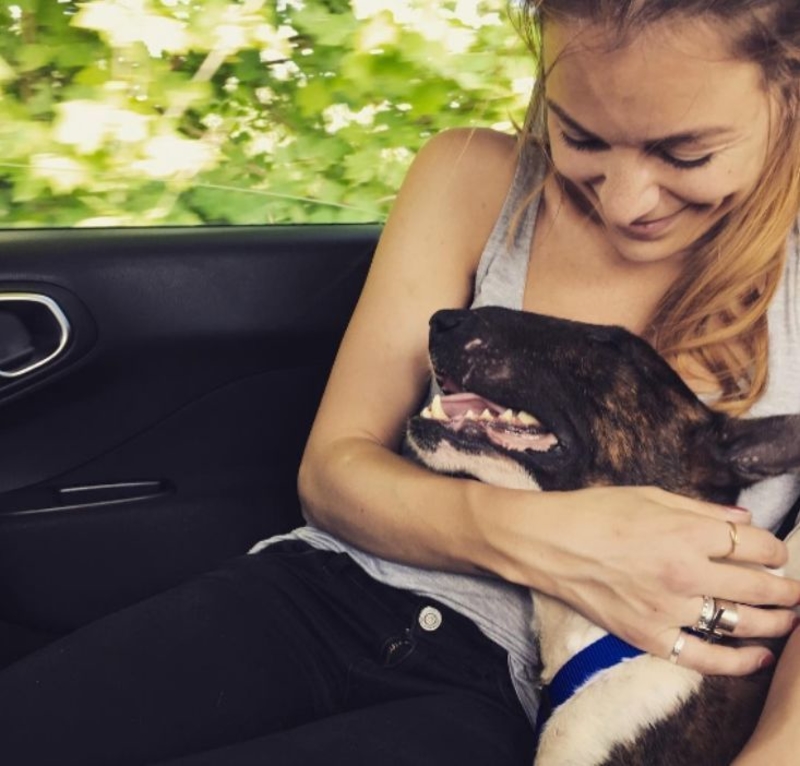 The fact that many apartment complexes won't allow this breed makes it difficult for them to get adopted as does the stigma. But luckily, there are people like this who come along and take a chance on them. Now this Bully is living it up with his new family!
A Rescue Dog's Dream
This little guy was rescued from a puppy mill operation. He was bound to live an unhappy, trapped life in a small cage. And then this happened.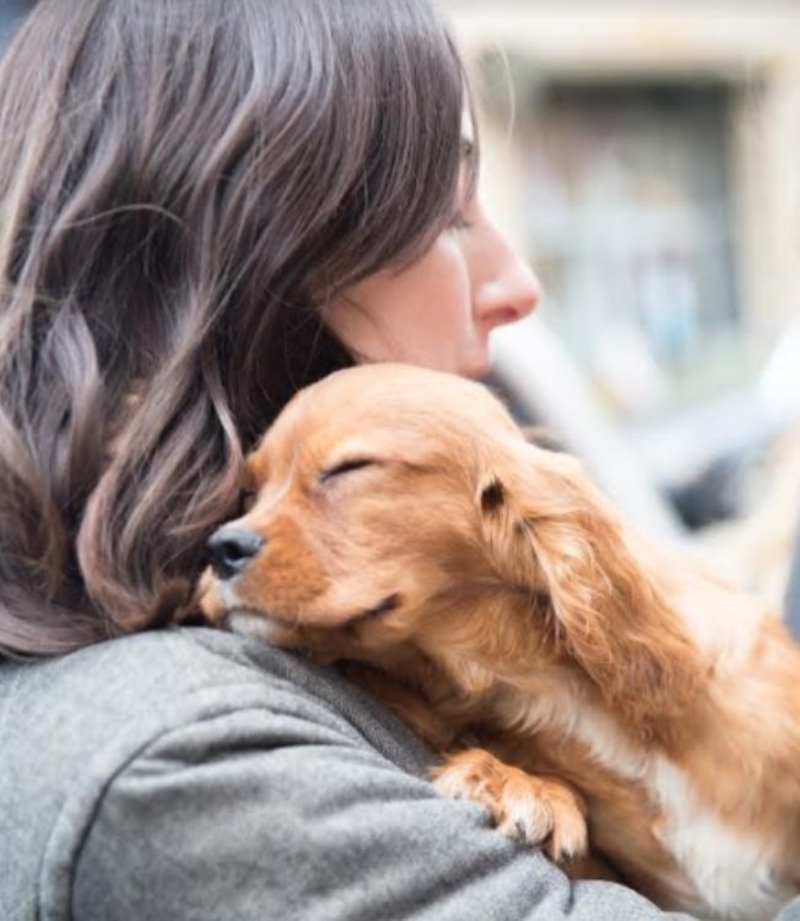 He almost couldn't believe it, and he certainly wasn't about to let go when mom picked him up and held on tight. Now, Dusty is living his best life in a happy home!
Rock-a-bye Baby
This is the first time this dog's being rocked to sleep by his new mom and he is absolutely loving it. She'd better be careful before he starts to expect it every night!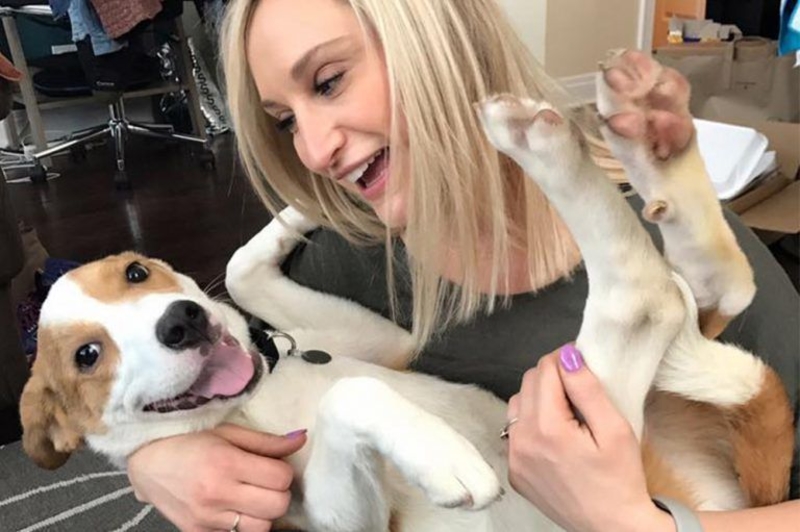 The timing on this picture was great, considering they snapped the photo while the pup's eyes were still open – and looking at the lens! The only thing that would make it better is if there was one from just a few minutes later right next to it, after he'd fallen asleep.
Match Made in Heaven
Ruby had spent several years in the shelter, being passed over for other, younger dogs. But when Gloria walked in that day, her life would change forever. No, both of their lives would change forever.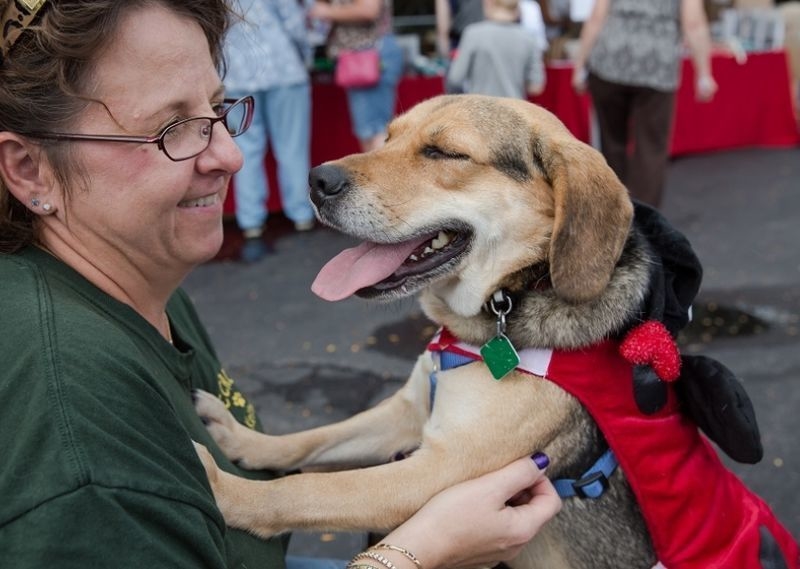 Gloria had been suffering from depression, and bringing Ruby home allowed her to feel some sunshine in her life once again. Now, the pair couldn't be happier!
Who Are You Calling a Fluke?
This sweet Pitt-boy's name is Fluke, and he's been living the good life with his new humans since 2017. That's when he was rescued and taken home to be treated as an actual member of the family.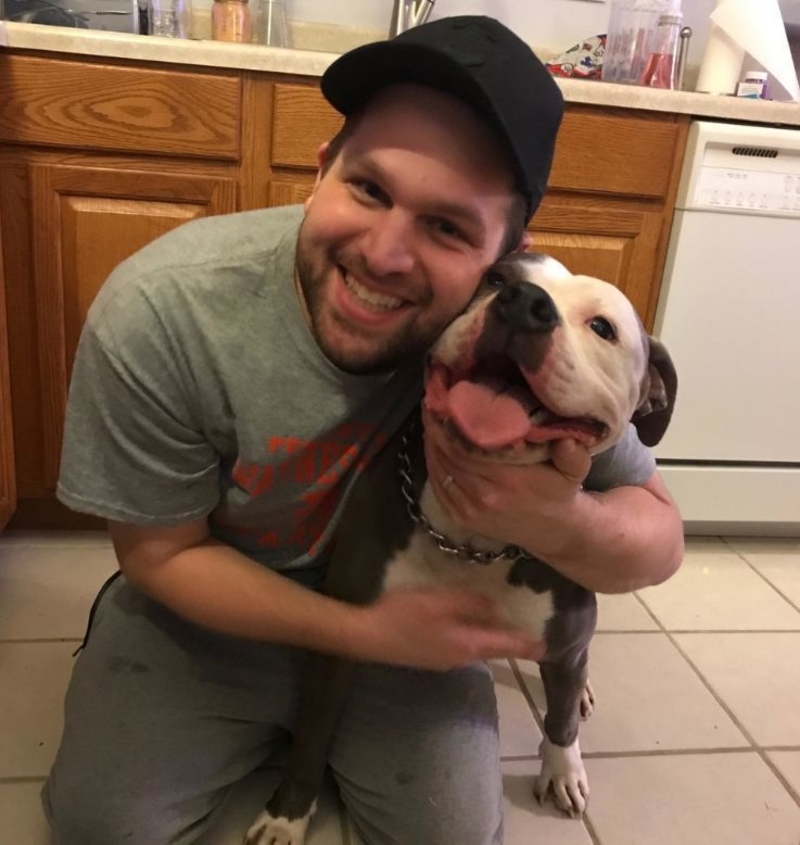 We're not sure what Fluke's story was before he was rescued, but he somehow ended up in a shelter, so it probably wasn't the greatest. Luckily, those days are all in the past, and he's turned a new leaf (and living a whole new life!)
Duck Face Dog
This dog looks like he's excited to be heading on a road trip with his new momma. He also looks somewhat surprised to be getting his picture taken, though. It almost looks like he opened his phone to be confronted by the front-facing camera.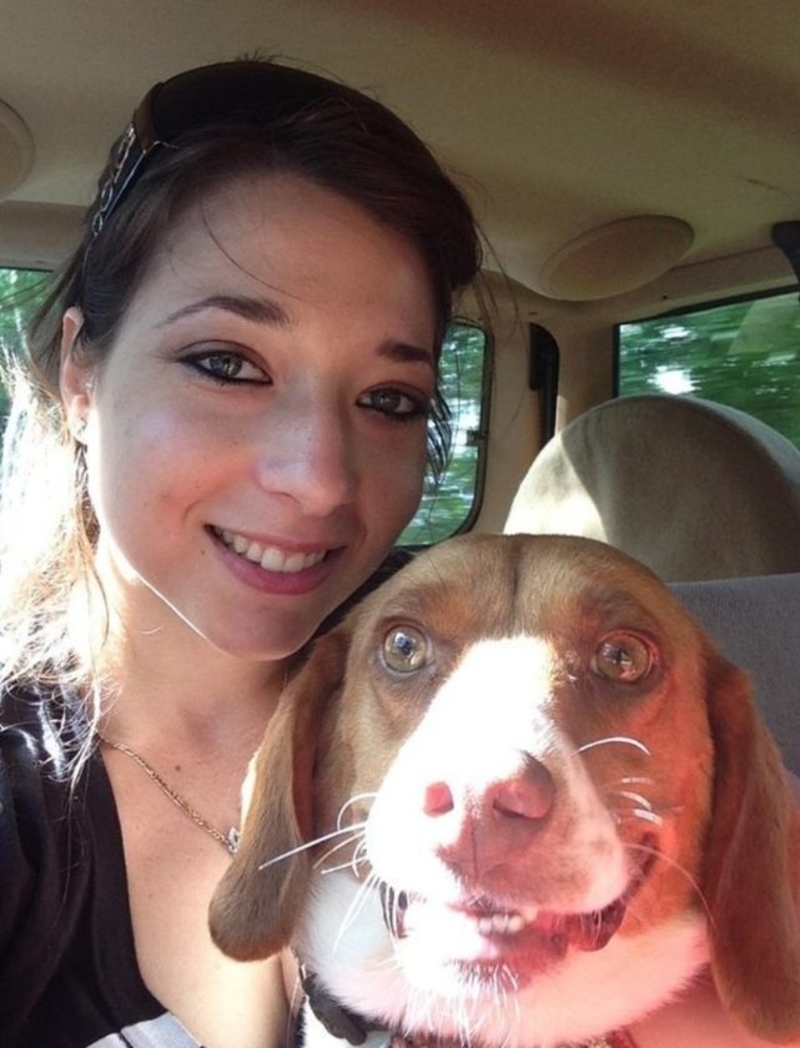 Even if he was a little shocked, he still looks adorable. And his mom looks like she loves him to pieces. Who wouldn't?
Wave Your Paws in the Air! Like You Just Don't Care!
This dog is so excited to be leaving the shelter he just can't contain himself. He's so ready to be home that he's doing his happy dance.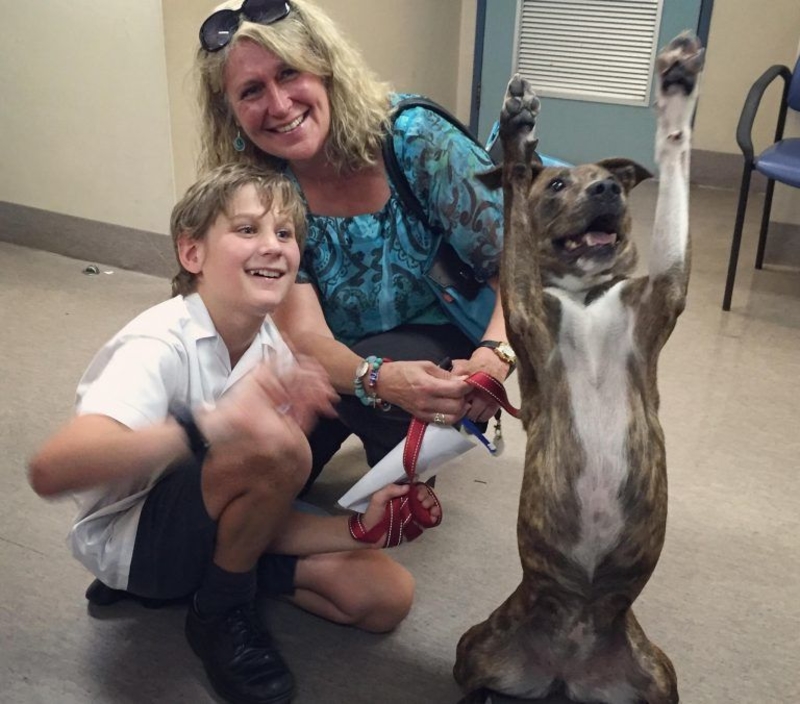 Or, perhaps dad is behind the lens holding a squeaky toy. In any case, that's one happy doggo! It also seems like he's trying to say, "come on, guys, let's get out of here!"
Sweet Girl
This poor, deaf pup was left to fend for herself out in the wild by a cold-hearted human who didn't want to care for her. Luckily, she was found by a little boy when he was playing outside one day.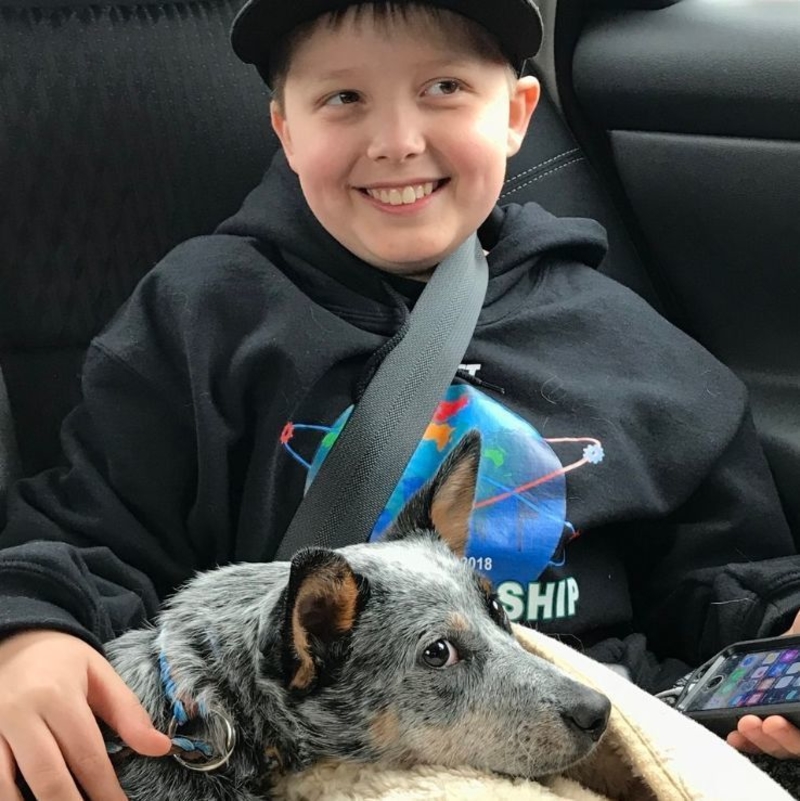 The dog, who the family named Terabyte, met her fate that day when she strolled into that field, and so did the boy. Now, they're living as one happy family, and she couldn't be more loved. What a happy ending!
Brothers
These two brothers may have just come into each other's lives recently, but that doesn't make their bond any less strong! You can feel the love and trust between these two just by looking at this picture.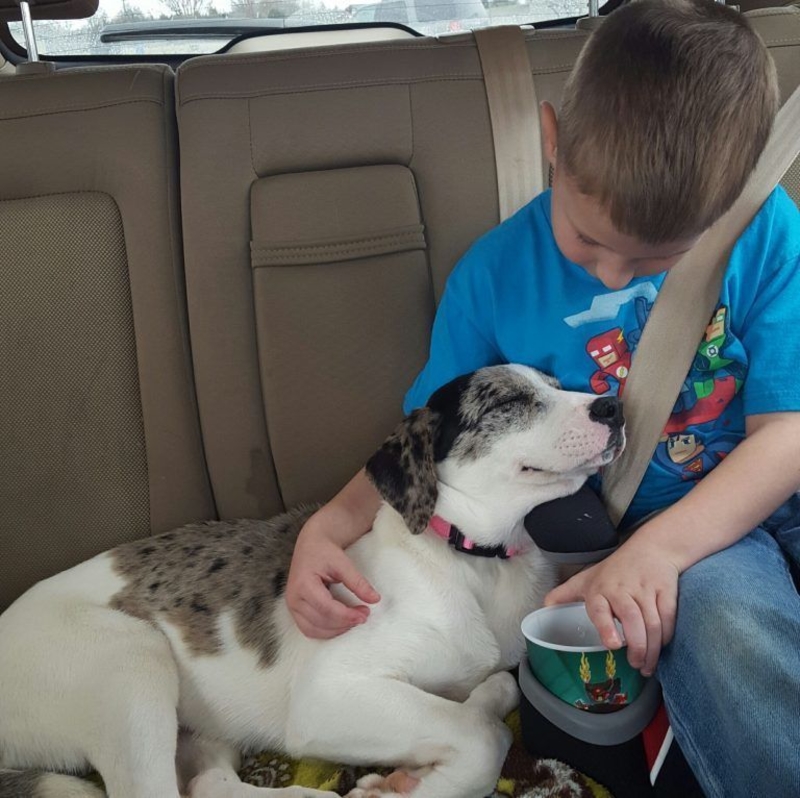 The dog feels comfortable enough around the boy that he's fallen asleep in his lap. And just look at how adoringly the boy looks at his fluffy little friend! It's all just way too cute!
Got Your Nose
Puppies can't help themselves when it comes to chewing on things, not even if they're attached to their human's face.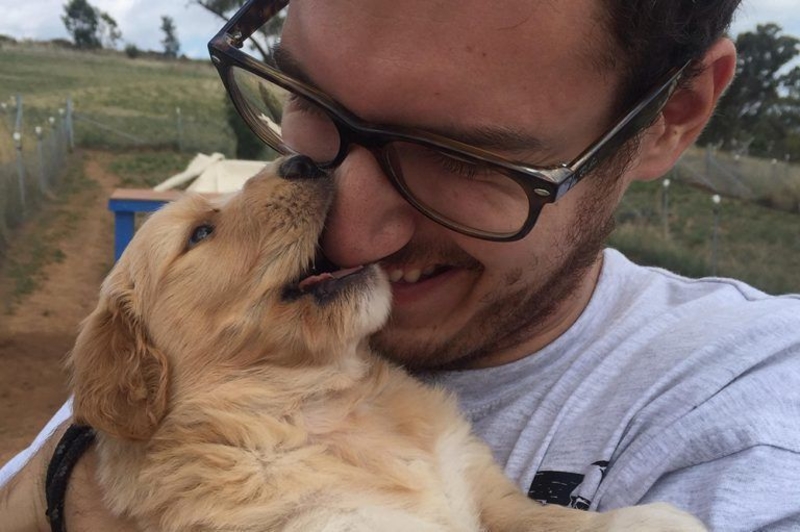 Luckily, his teeth haven't fully formed yet, so it probably doesn't hurt as much as it would if he were about a year older.
All the Fluff
Giving this long-haired white fluffball baths after he gets messy has got to be worth all of the cuteness he provides. Just look how happy he makes his family!
This boy had a rough day at school and his dog could tell by the sad look on his face. So, he decided to cheer him up by giving him a hug. It definitely worked. Good boy!
Penny
Penny the puppy looks adorable as she rides away from an NYC adoption center in her new dad's arms. "We knew we had found the perfect little girl," he said as he cradled her and smiled.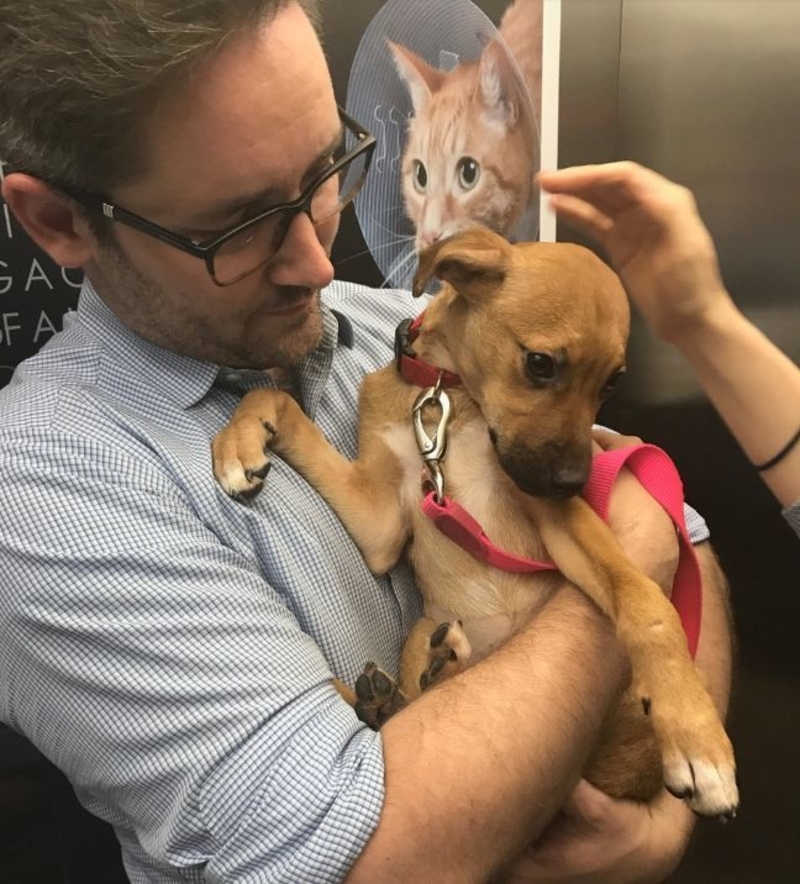 From the loving look on Penny's dad's face, she won't ever have to worry about a thing again. Hopefully, the cat and other animals at the center were just as lucky!
Happy Boy
Could this dog look any happier to be at his new home? This shot was taken on pup's first morning waking up at his new mom and dad's place, and he is absolutely ecstatic!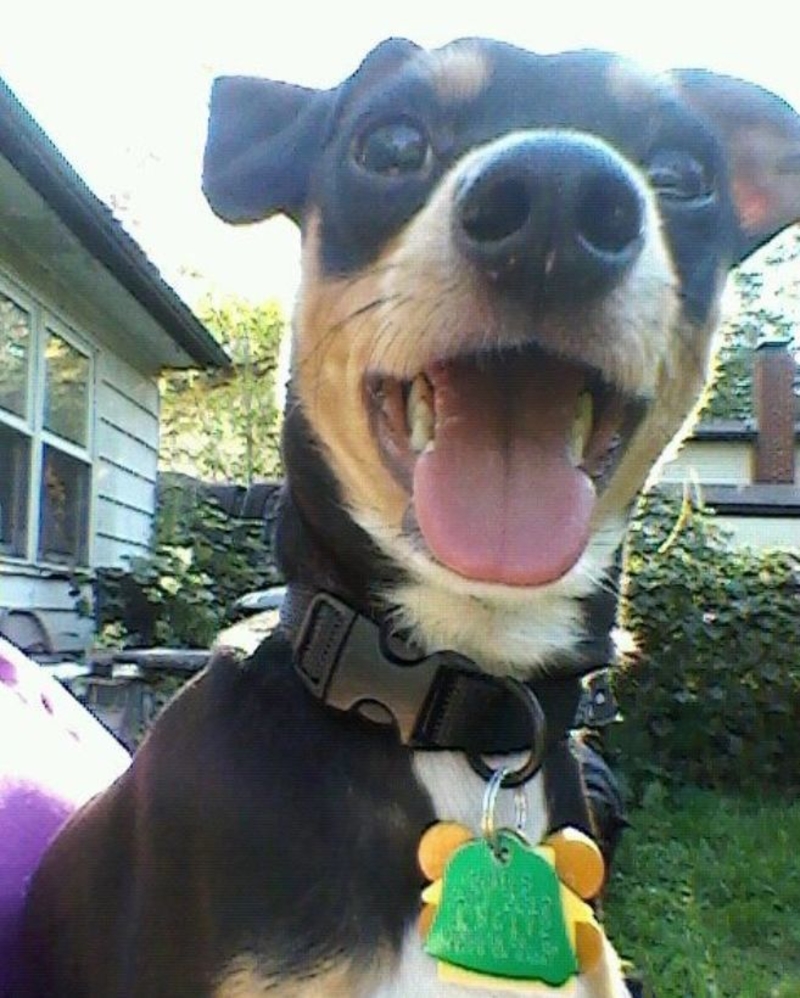 He's going to have many more good mornings to come, and hopefully they're right there with a camera to catch more puppy grins, because this one is just paw-some. Who doesn't love seeing happy rescue stories?
Puppy Love
This boy looks like he couldn't be any happier to have his new furry friend in his life. And, judging by how content the puppy looks being held, he seems pretty happy too. You can tell that these two hit it off immediately.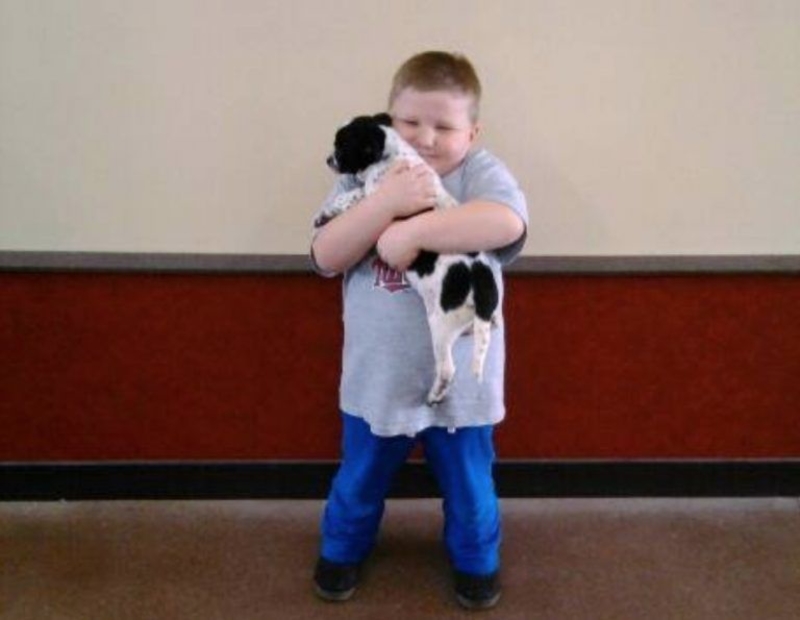 Young children and animals don't always get along, especially when the children try and play rough with them. Luckily, this boy is gentle as could be with his furry friend. What a sweet duo!
Therapy Dog
Doesn't it seem like in a lot of cases, the perfect dog winds up with the person who they were made to find? That certainly seems to be what's going on here. This therapy dog and his new human have a super-strong bond.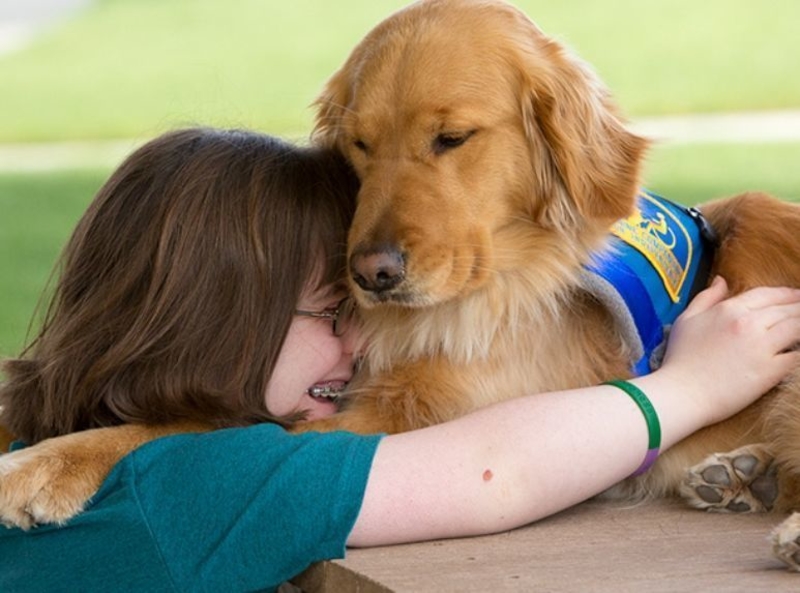 Just look at that embrace! The dog looks like he's more than content to be in the arms of his owner. And she's obviously just in heaven holding her new best friend.
The Happy Rottweiler
Rottweiler's may be big boys, but they can also be some of the cutest balls of fluff that you've ever seen – not to mention how smart and loyal they are. When Doug met Gonzo, he knew it was meant to be. Just look how happy they are together!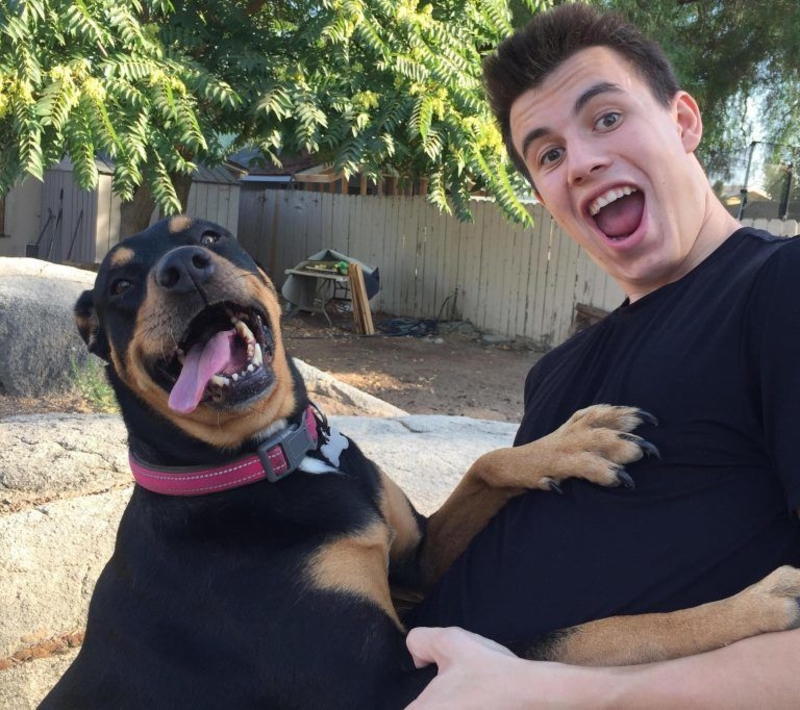 Gonzo and his dad are not only taking a selfie, they're taking a selfie of them hugging. What could possibly show the affection that these two have for each other more than this? The Rottie even has a huge "smile" on his face!
Cuddles and Kisses
What's the point of having a sweet, tiny boy (or girl) if you can't pick them up and cuddle them? Granted, some dogs, like most cats, hate being picked up. But, if you do it from when they're young and/or they just happen to like the attention, they should love it as much as you do!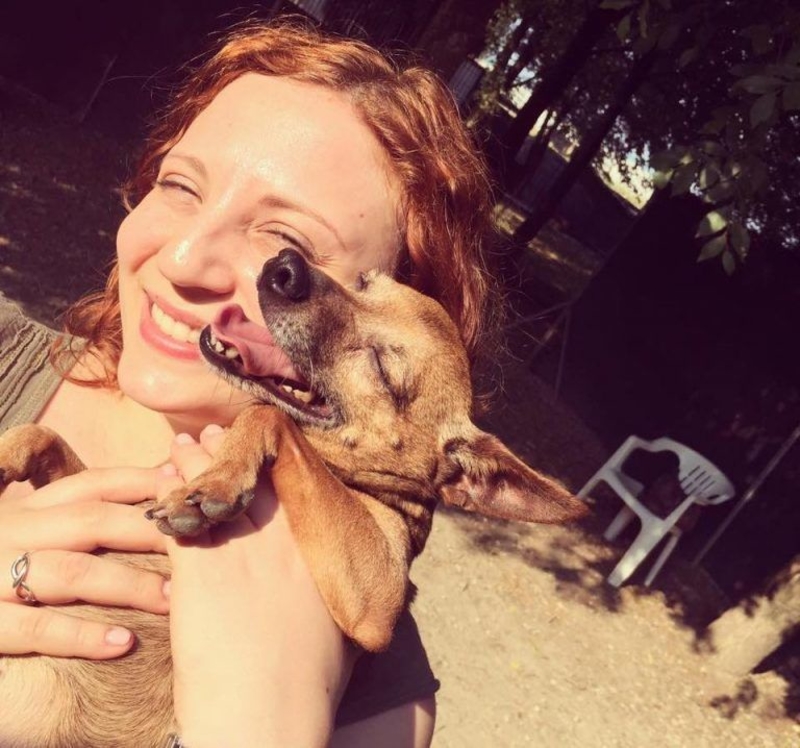 Queenie certainly appreciates the loving, that's for sure! Just look at that super relaxed expression on her little face!
Puppy Time
This little Chocolate Lab is on his way home for the first time too! He just met his new family at an adoption event, and they fell in love with his face the second they laid eyes on him! Who wouldn't?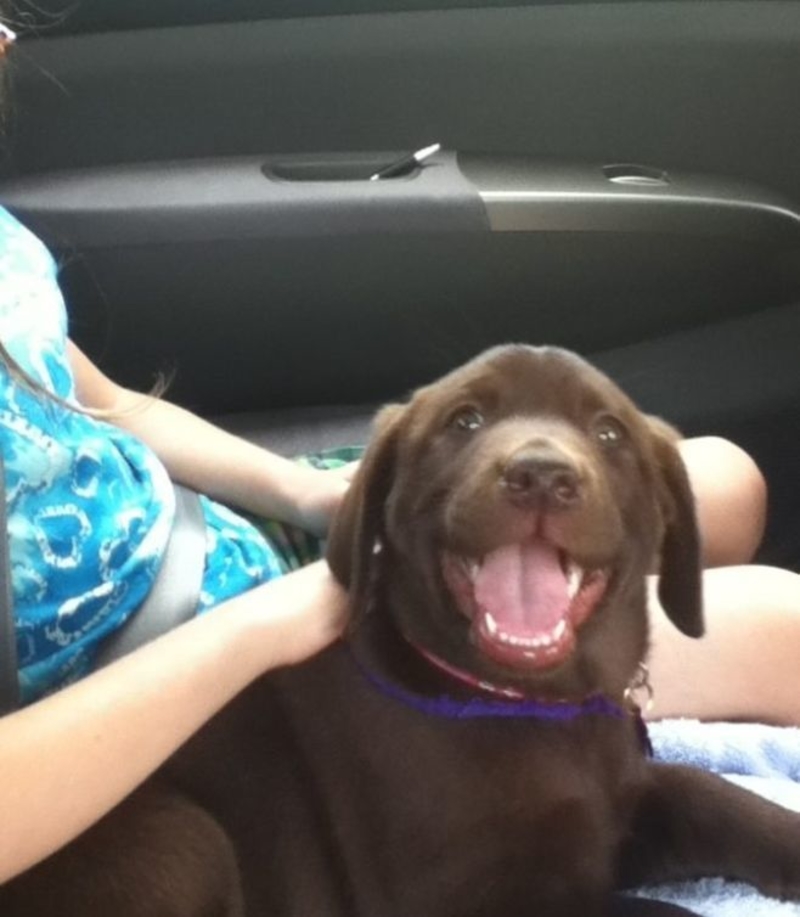 Something tells me that he is going to live an amazing life in his new house. How could anyone not spoil him?
Going Home in Style
This little girl was lucky enough to get picked up by her new mom and dad during an adoption event in a local shop. Not only do her new human parents take great care of her – they make sure she always looks her best! With short her, they don't have to worry much about professional grooming, but they can keep her looking fresh in awesome collars like that one!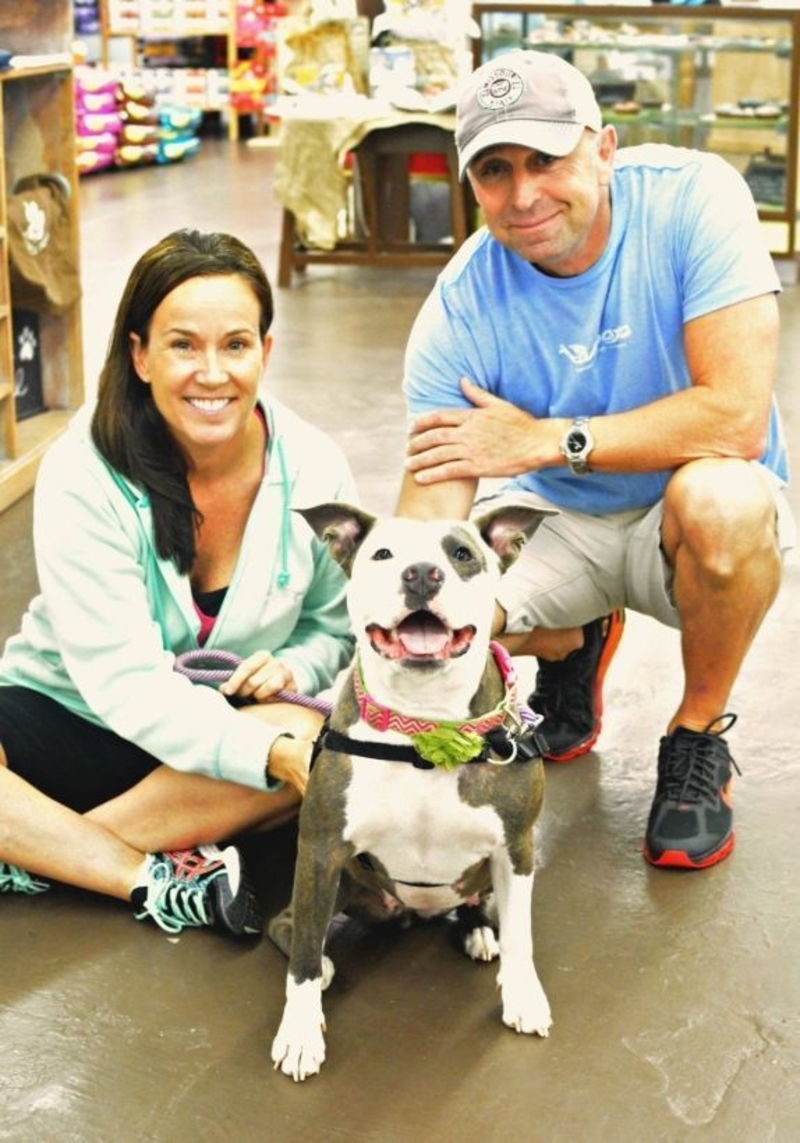 The pink in her collar matches the pink in her perked-up ears, it's so adorable. It also looks almost like they're gift bows, and she's most definitely a gift. It's wonderful that everyone is so happy to have found each other!
Making Funny Faces
This dog was having a hard time getting picked up because of her unique look, but then this woman came along and saw her and fell in love with those eyes. And now, I'm almost certain that dog is an internet celebrity in the form of memes all over the world. All of the people who passed up on her probably feel pretty bad about it! (As they should.)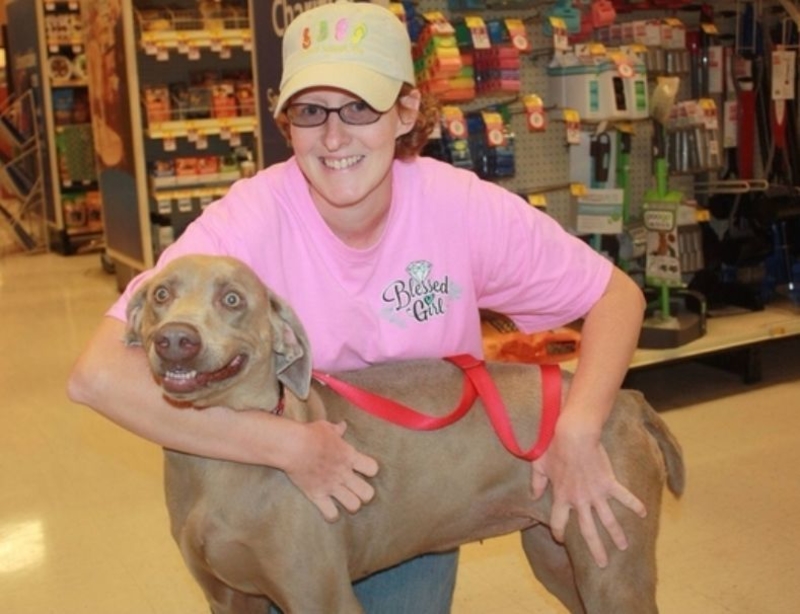 This one certainly couldn't hide her excitement.
A New Best Friend
This woman was having a rough time dealing with the loss of her husband of several decades. Her son decided to get her a puppy to keep her company, and she loved it even more than he could have hoped!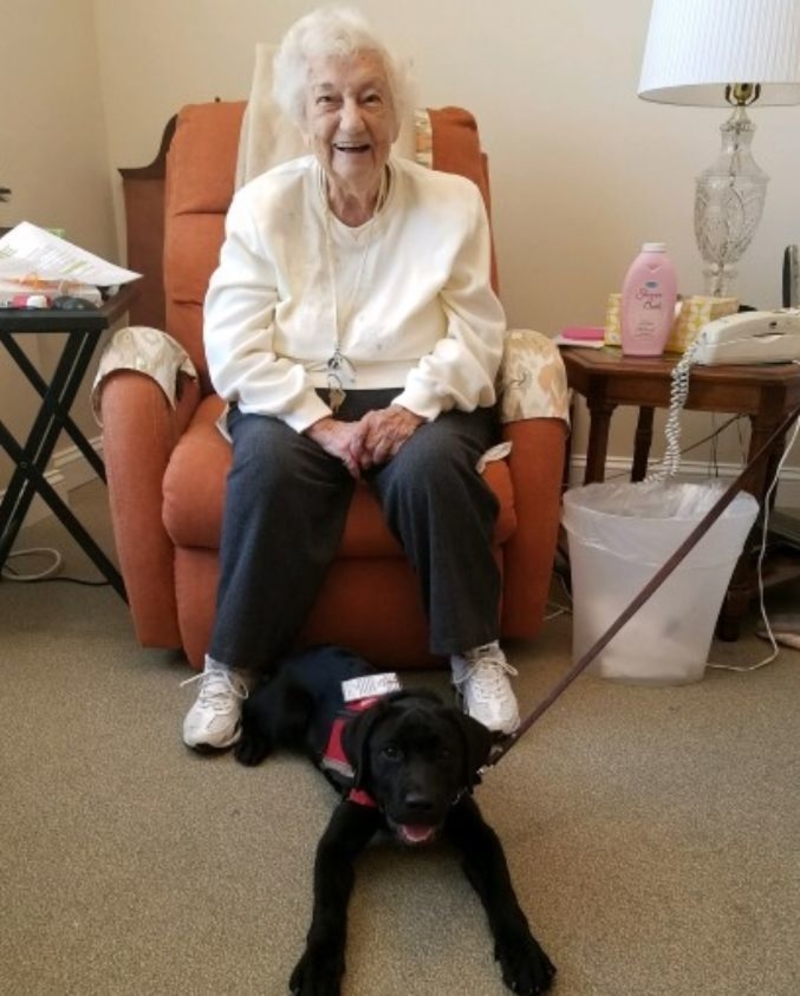 This good little boy has done a great job being a loving and loyal companion. Plus, it's hard not to smile when you're around a wiggly and cute dog like that! Well done, son, mission accomplished!
Dax Facts
This rescue dog's name is Dax, and he was fortunate enough to be adopted by a loving new owner named Kelsi. Not only did she change his life, but he changed hers, too.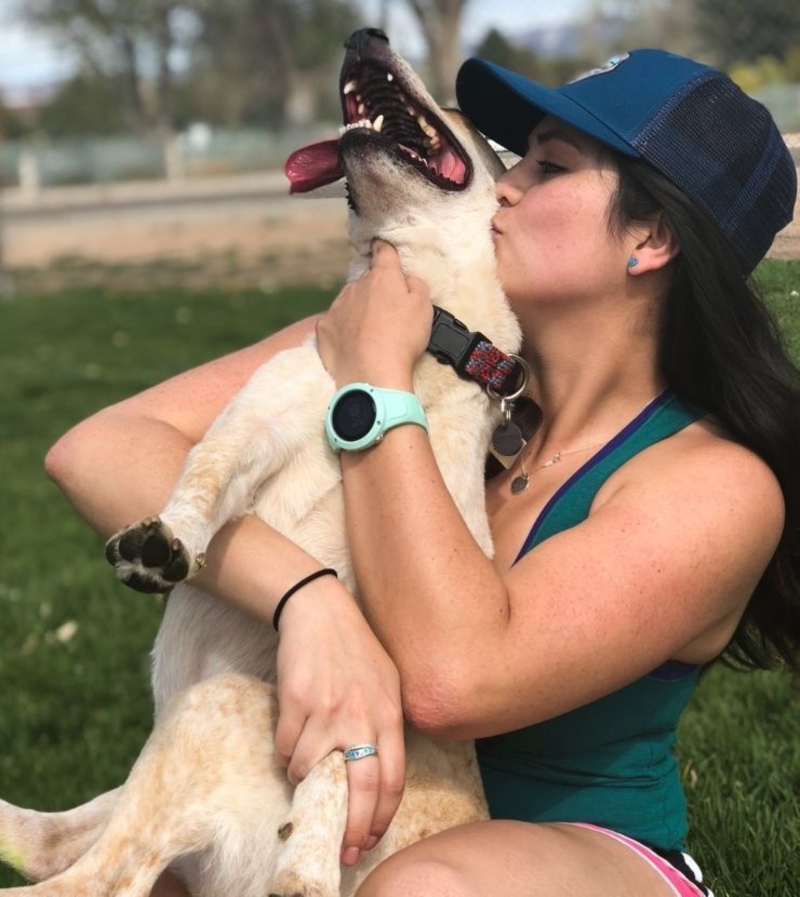 Judging by all of the love that's on display in this picture, they're likely doing great. And this shot was from not long after Dax's adoption, so you can imagine how things are going now!  Kelsi called the decision to take Dax home the best she's made in her life.
Love You More Than Pizza
When there's food at eye-level with your puppy and he'd rather look at you, you know how much he must love you! That's what's going on here, since this little boy can't take his eyes off of his papa.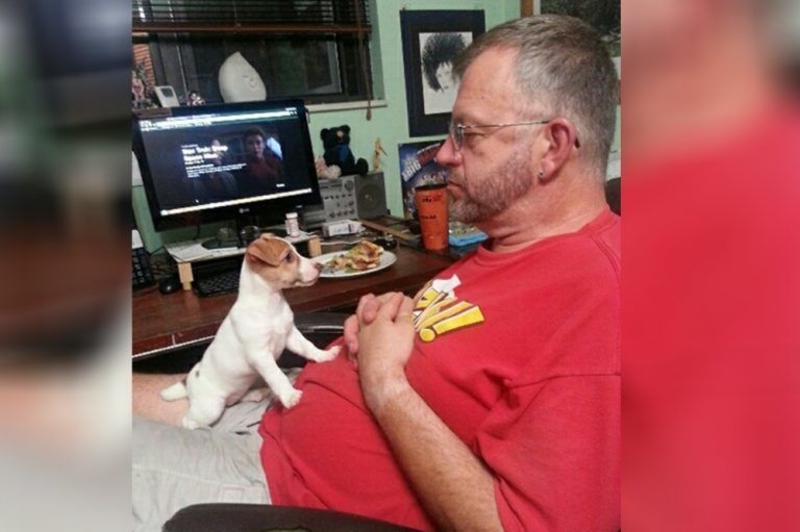 Of course, there's always the chance that he's pulling "puppy eyes" because he knows it will get him a bite. Or maybe he's just not a pizza fan. Yeah, right – like there are any dogs in existence who don't love pizza crust!
Show Some Teeth
Some dogs just make the most hilarious faces. This girl's new owner actually chose her because of that adorable smile. And the way she's flashing those pearly whites makes it seem like she's just as happy to have been chosen!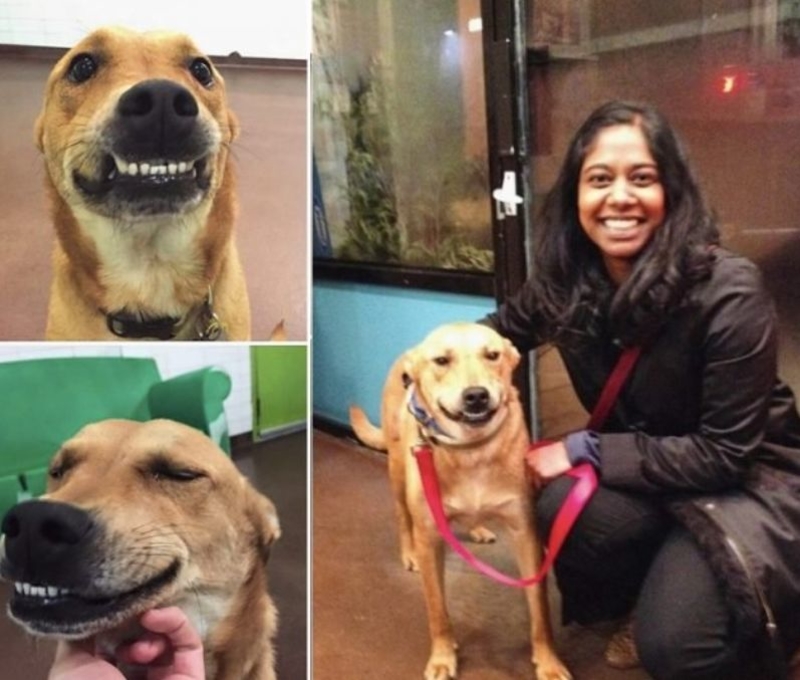 There's nothing cuter than a dog that's able to make human-like expressions. And hey, just think of all of the selfies they can take together. Say cheese, ladies!
The 9-Year Challenge
These side-by-side photos showgirls and her dog on the day they met and nine years later. It is obvious how much she has cared for her friend for the decade they've known each other. The pup doesn't even look any older than the day he was adopted!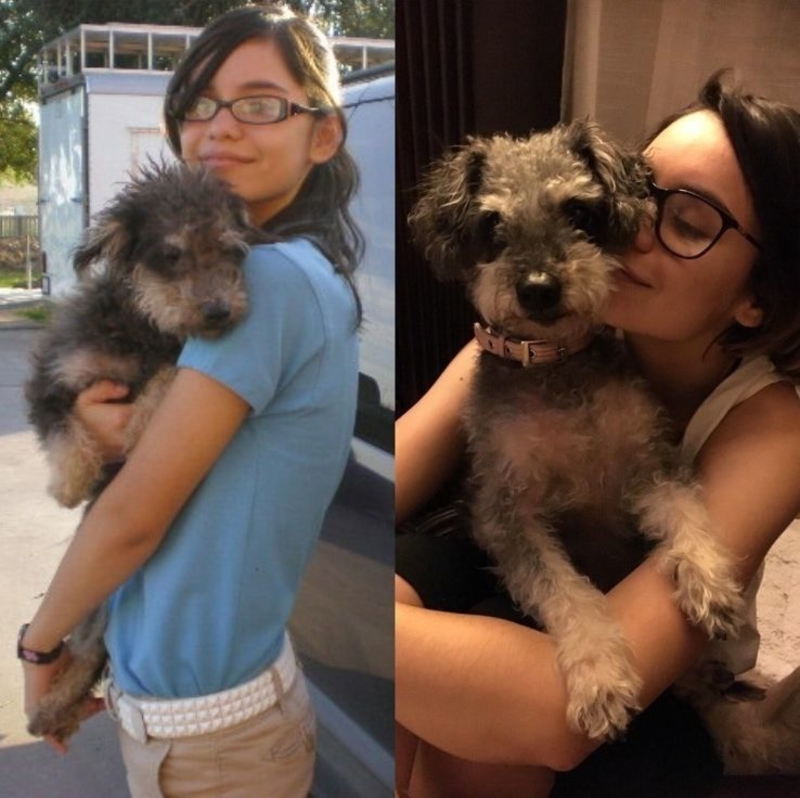 The girl named her dog Suki, and Suki has become somewhat of a therapy dog. Her owner says that she helps with her mood disorders, which is just another great example of how much a dog can change someone's life, just as much as its within our power to change theirs. Thanks to each other, Suki and her owner are living happily ever after.
Senior Loving
This woman wanted a new fur-buddy to keep her company, but she wasn't about to go through potty training, and she wanted someone who was just as mellow as her. When she saw this older dog looking back at her from the shelter, she knew in a heartbeat it was the one for her.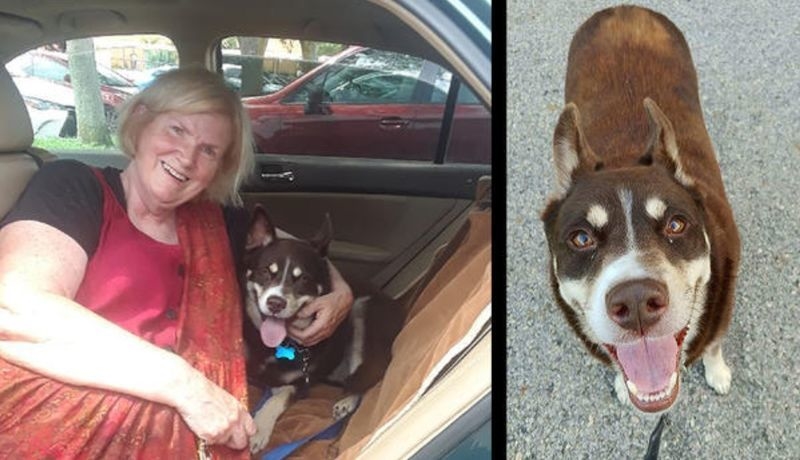 Once they got home, it was love at first cuddle. Now, they're the best of friends, and they love to hang out around the house together and go for walks around the neighborhood. Senior dogs can be some of the most well-behaved rescues!
After Fluff
These photos are perfect example of what can happen when a dog is loved and cared for. The picture on the left was from later on when the dog was adopted, while the picture on the right shows a few days afterwards since he's been living with his new family.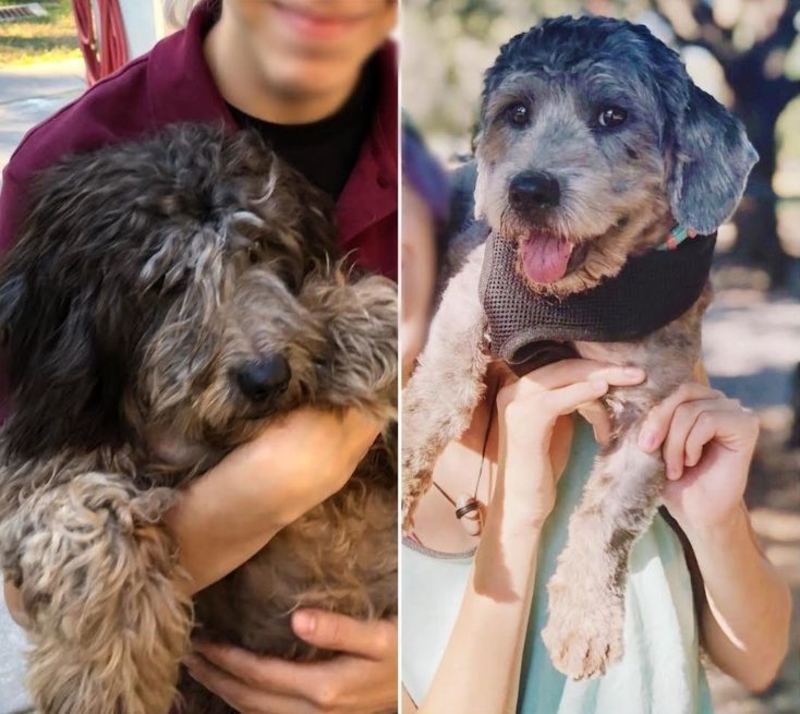 The poor pup had come from a situation where she was neglected, hence the long raggedy fur. But her new dad takes excellent care of her. All it took was one trip to the groomers to make Bella feel like a brand-new dog!
Sweater Weather
This little guy's name is Oliver, and he was really nervous when his owner, Jenna, first adopted him. So much so, in fact, that he was shaking and crying on the ride home. Jenna said that it was probably because the only other time he'd been in a car was to get taken to the shelter. Poor thing.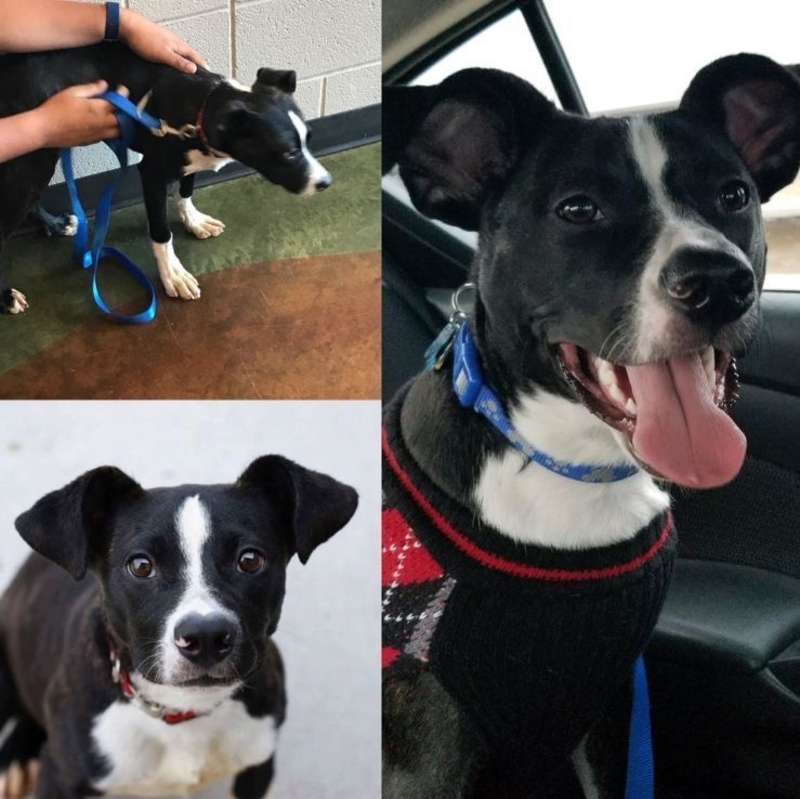 But look how happy he is now! He even loves going for rides in the car these days. That, Jenna says, is because he "knows he's going to play," each time it happens! I don't know how anyone could give him up, but I'm glad Jenna has him now. It looks like they are enjoying their time together.
I've Only Got Eyes for You
How precious is this moment between this little furball and his new mom? The way they're looking at each other says everything about all of the feels going on in this car.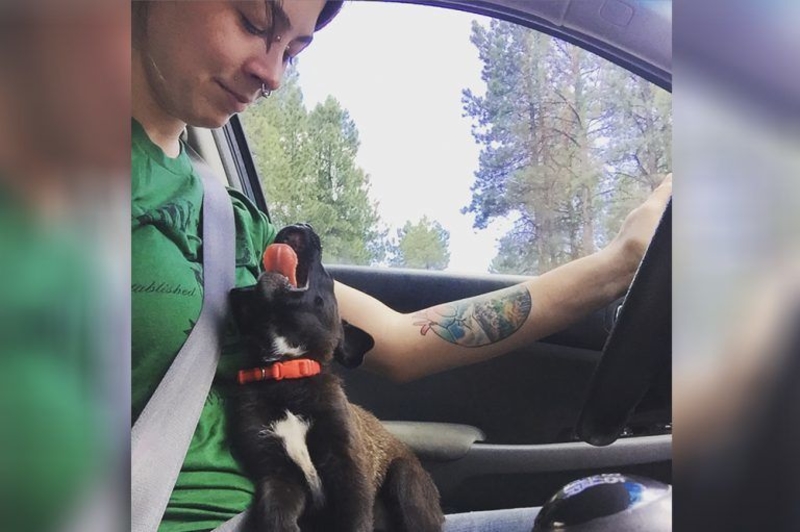 It doesn't always happen that there are puppies in a shelter, but this doggo and his fur siblings were tossed to the side of the road. As soon as she saw him, she knew it was meant to be. Don't worry, his brothers and sisters got adopted, too.
Saying Cheese
This little four legged friend was waiting patiently in the kennel for someone to take him home. Once that special someone got there and saw his face, there was no denying the instant connection.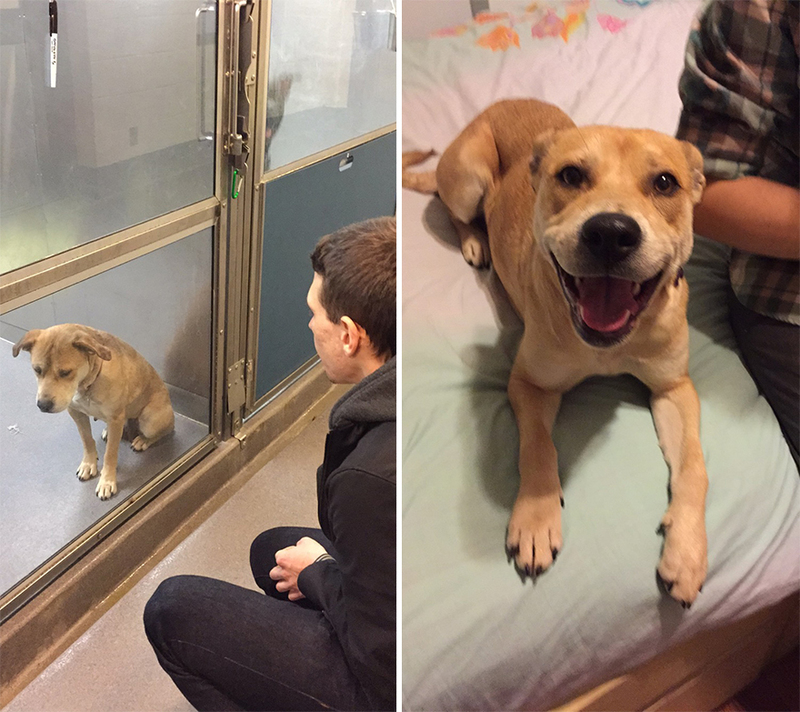 This good doggo now answers to the name 'Spokey' and is more than willing to smile for camera held by his beloved human.
Don't Stop Bee-living
This little sweetheart is called Bumble Bee (or simply Bumble for short). Waiting for a new human to adopt her made her a little sad, but that was long ago.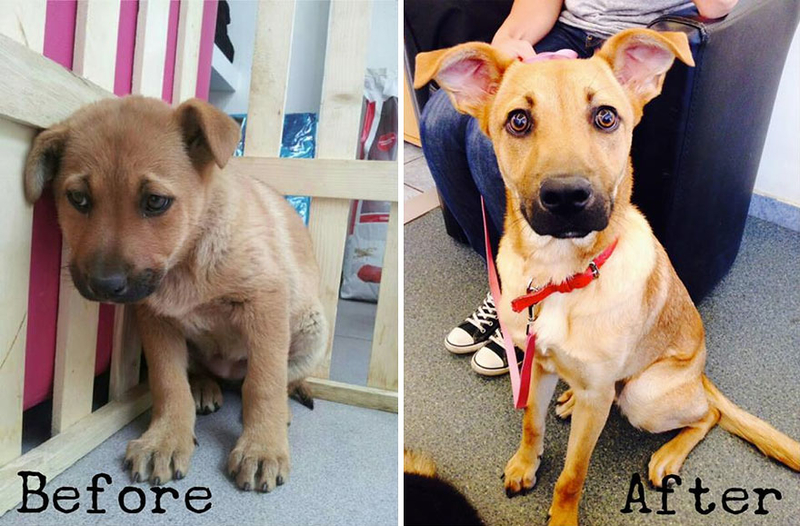 Now that she's got her very own human and her very own home, she can't stop buzzing for joy.
Stretches and Belly Scratches
When Jackson was in the pound, he didn't have much room to roam. He didn't even have much room to stretch. All he had was a little piece of floor and a water bowl.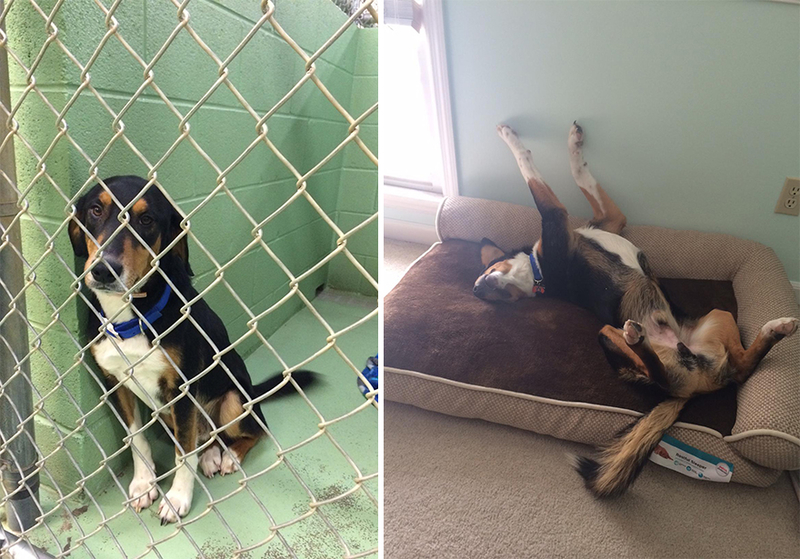 In his new home, however, Jackson has anything he can hope for, including his very own bed and an unlimited supply of belly scratches.
Perfect Napping Buddy
This little sweety was taken home by a human who loves napping and thought of taking his napping game to the next level with a new friend.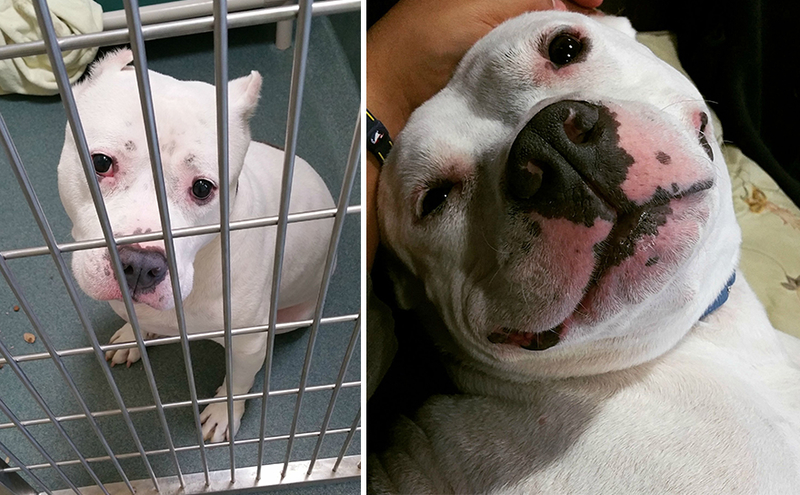 Her new name is actually Pillow, and she never says no a good nap with or without her human.
From Desert to Oasis
Sandy was found in a cage in the desert, where she was put by a mean person who didn't treat her well. Luckily, things are now different for her.

Sandy couldn't be happier about her new home, where she has people who love her, take care of her and keep her hydrated.
The Best Present
When Amelia was in the Kennel she had very little going for her. She couldn't wait to find her forever home. Thankfully, her new owner only had to pat her on the noggin once to know they're going home together.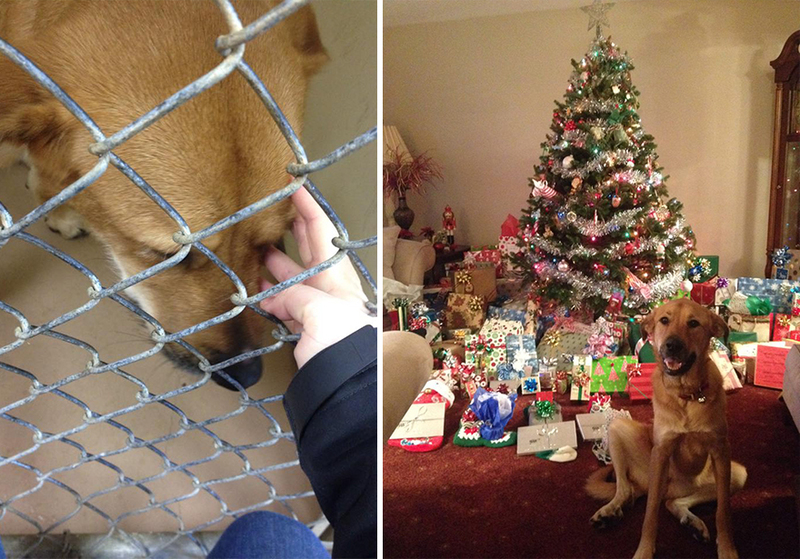 Now Amelia enjoys a loving home with a warm family and Christmas presents every year.
Lovely Laurel
This little pup's name is Laurel. She loves playing fetch and cuddling with her humans. After a long time of Laurel wanting to find a family, and of the family wanting a dog, the two found each other.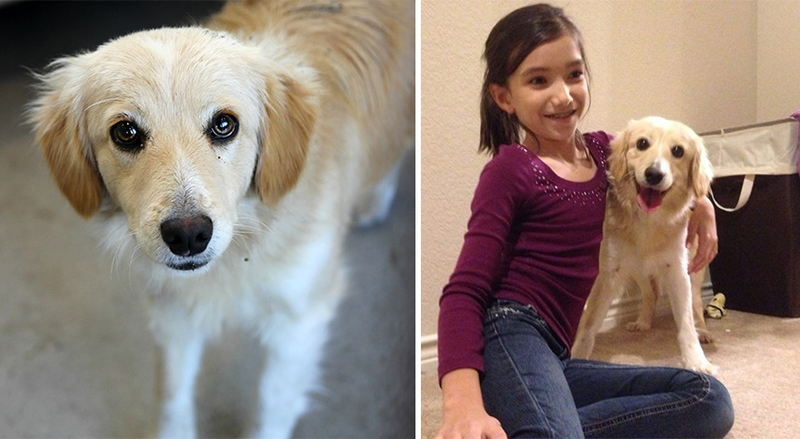 Now Laurel and her new family can't stop smiling!
Bandit
This pup's name is Bandit. And contrary to his name, he is a loving little critter. Well, The 'little' part is temporary though.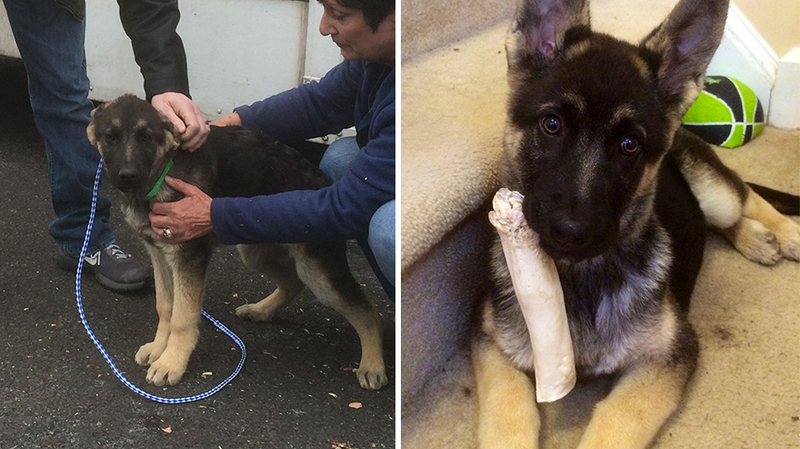 These kinds of shepherd dogs grow to be very big and are often used as guard dogs, but his new family doesn't seem to mind.
I Choose You!
This dashing doggo and his pearly whites used to be all alone in the world. He just had to take a look at each person looking for a new friend to adopt and show just how much of a good boy he is.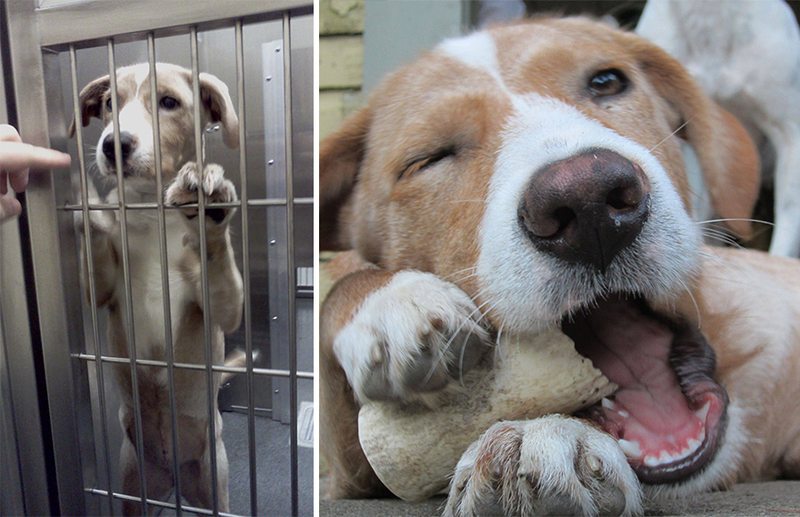 When that special someone came along, he named his doggo Little Guy. And no matter how big or old he's going to be, he will always be Little Guy to us.
Peacefully Napping
Living the kennel life means that you always have to be alert. You keep your guard up and try to always be on the lookout for potential adopters. That makes for very tired dogs, and Val here is no different.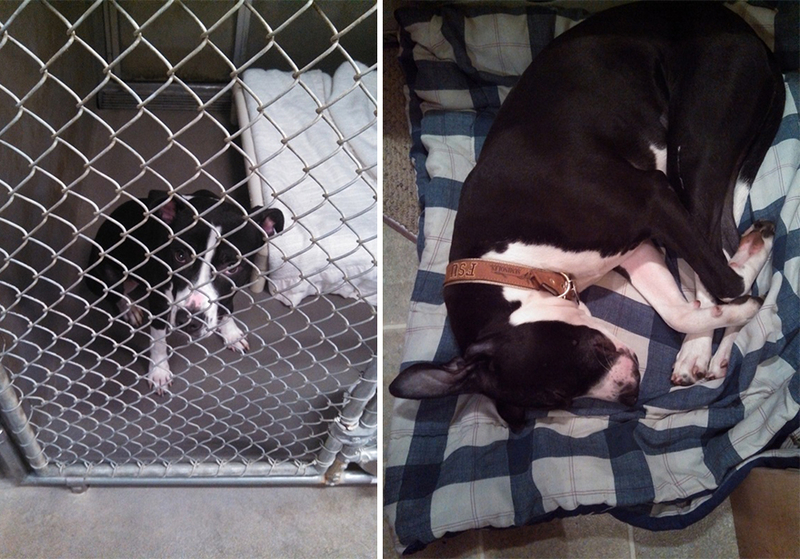 Now with a new family, new home, and a new soft bed, Val can finally get some well deserved sleep.
Love at First Scratch
This is Chex, and he wasn't going to just let anyone adopt him. His way of vetting potential humans was to audition them for their scratching abilities. Once Chex felt that perfect scratch, he knew he was in good hands.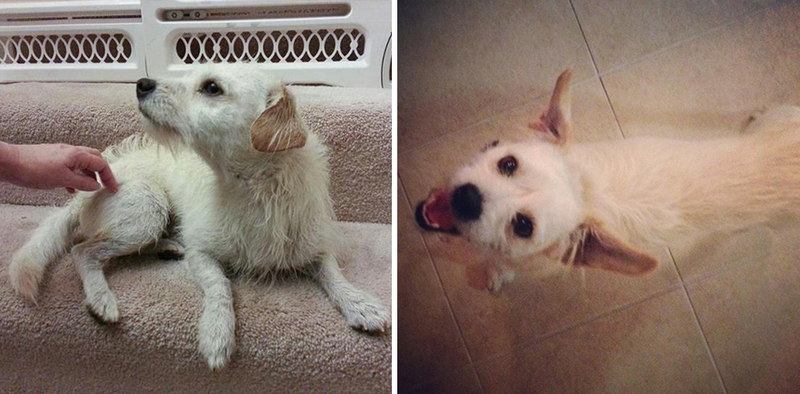 You could also say Chex's new human is Chex's mate.
Hunting Days Are Over
Carozo here used to be a hunting dog. Once he got too old to hunt properly he was abandoned by the very hunters he used to serve.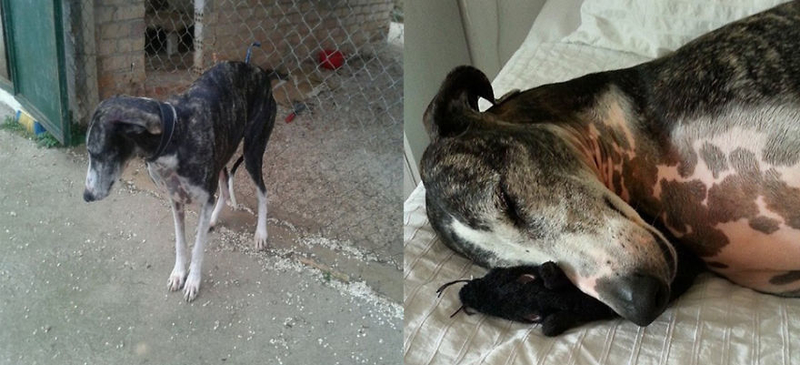 Thankfully, he was found and given a loving home. Now he doesn't have to hunt anymore and has all the time in the world to nap with his toy mouse.
Pitbull Pal
The pitbull in the picture answers to the name Nora Budulis. When she was in the pound she rarely smiled, but with her current family, she smiles all the time.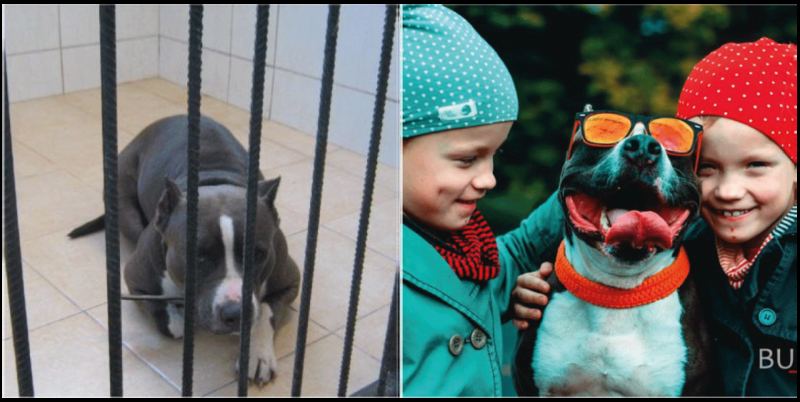 Her humans make sure she's happy, healthy, and loved. Oh, and they also keep her stylish!
It's All in the Ears
A dog's ears can tell you a lot about the dog's mood. Take Bodza in these pictures for example. On the left you see a sad-yet hopeful dog with its ears down.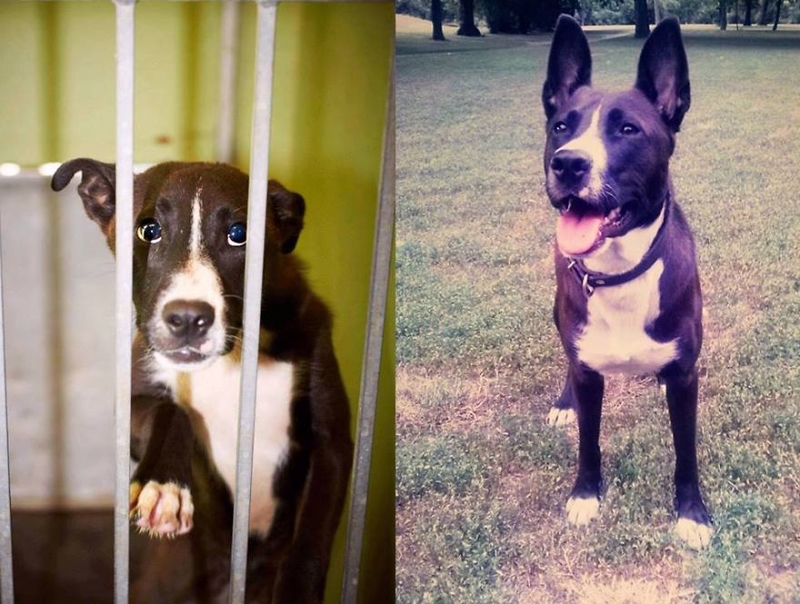 The picture on the right is a completely different story. With daily walks to the dog park and a human to love, Bodza's ears are up, indicating happiness.
Happy and Healthy
When Mokka was rescued, she was weak and sick. She needed a lot of love as well as proper medical care. Her current human stepped up to the challenge and the two couldn't be happier about it.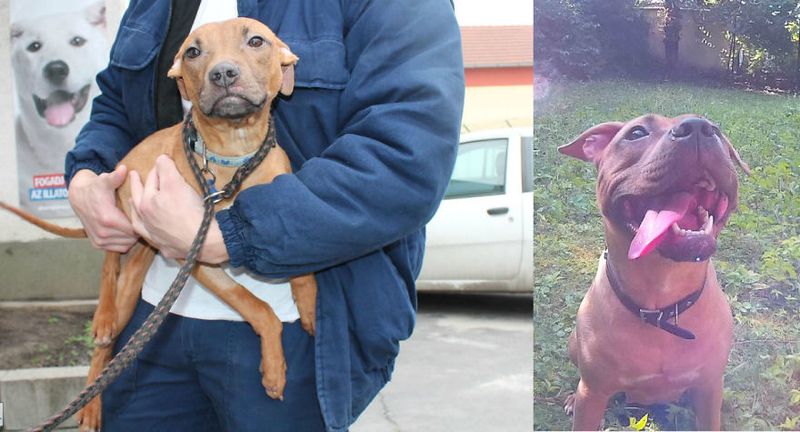 Weeks after she was brought to her new home, Mokka is perfectly healthy and well looked after.
Beatles Fan
This little lady is called Penny Lane. We guess it's because this was the song playing on the radio when she was first brought to her new home.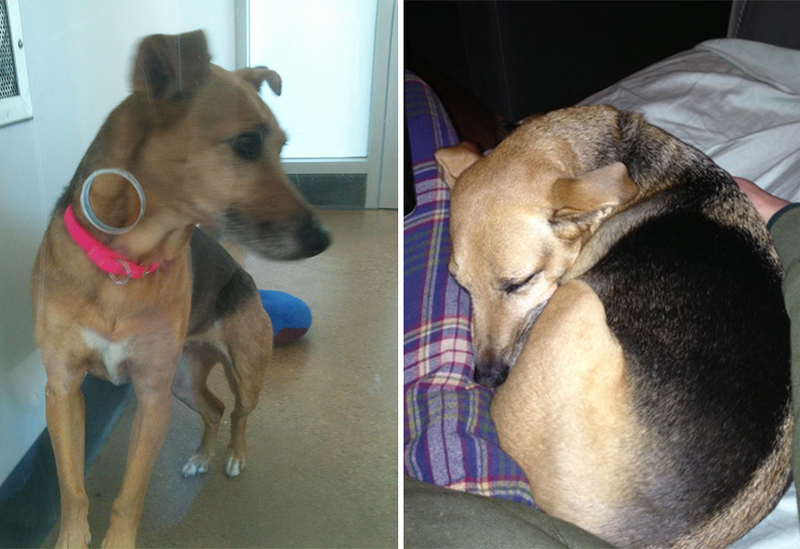 The new owner must have heard "Penny Lane is in my ears and in my eyes…" and thought this would be a cool name. And they were right.
A True Olympian
When Kirsten found Zeus he was 14 years old. Dogs that age rarely get adopted, but Kirsten didn't mind about that. She took him in, and according to her, after being with her for a while he looks younger than his own age.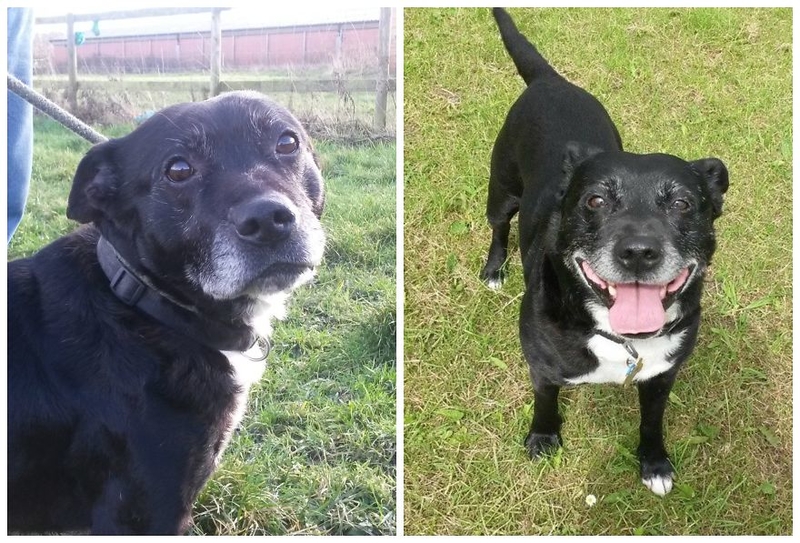 With that dashing smile, we completely agree with you, Kirsten.
Pampered Little Lady
When Alanek was taken in by her human, Marcela, she was in bad shape, as you can see in the picture on the left. The picture on the right was taken only 12 weeks after she got a new home, and the difference is amazing.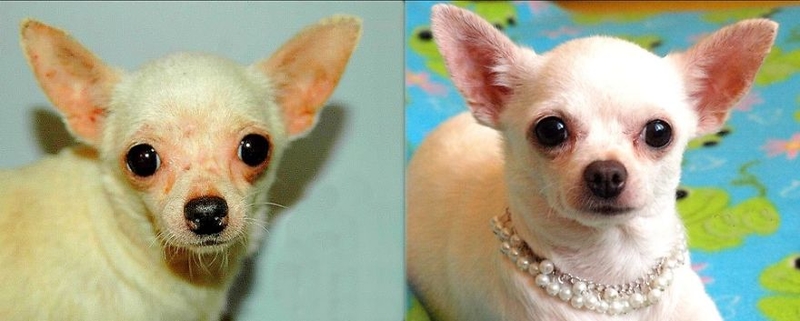 Alanek is now being treated like the princess she is, given the treats, love, and jewelry she deserves.
Howdy Partner!
On Drako's first day at his new home he was still a little shy and timid, but his new human mom, Sheila, helped him come out of his shell in a matter of a week.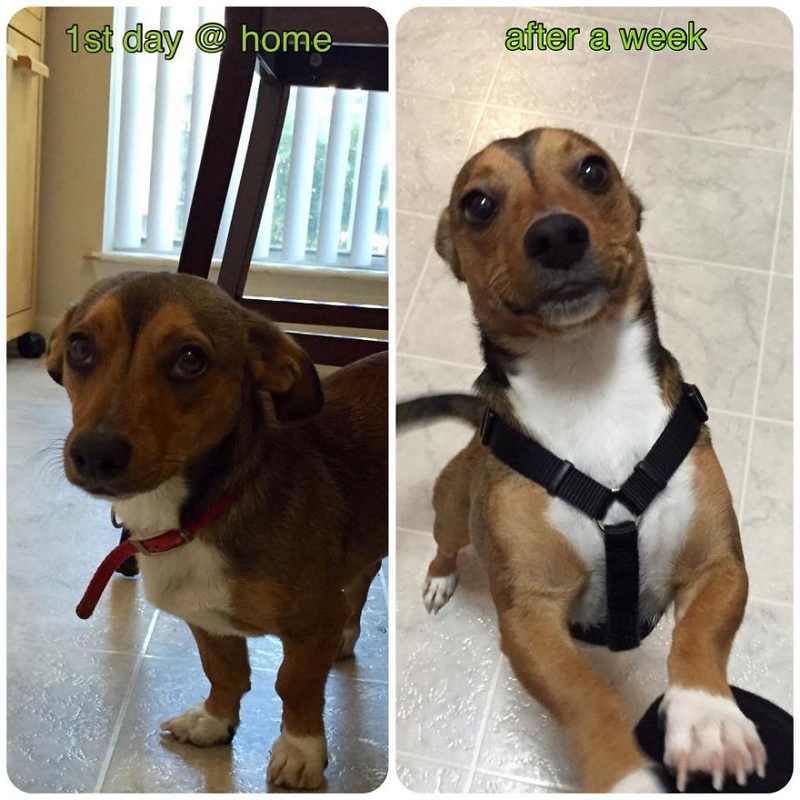 Now, this adorable doggo welcomes anyone he meets, and we're sure he gets all the noggin pats he could possibly desire.
Wrinkly Love
Poor Bella Moose wasn't treated well by her previous owner, who used her for breeding until she couldn't take it anymore. Luckily, she was found by Amanda, who knows how to show love to each and every one of her wrinkles.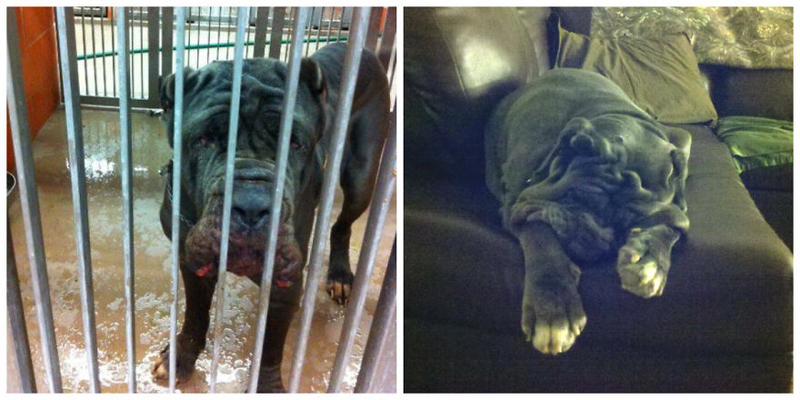 Now Bella enjoys all the rest she needs and a special napping spot on the big couch, where her human cuddles her all the time.