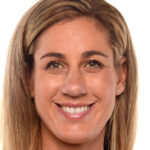 April Ross: The Untold Truth Of The Olympic Beach Volleyball Champ
echo get_the_meta(); ?>
Professional beach volleyball player April Ross is appearing at the Tokyo Olympics this month. It will be her third appearance in an Olympic Games tournament, and Ross is gunning for her third medal.
The Olympian, who stands 6'1″, earned her first medal, a silver, at the 2012 London Olympics. Then at the 2016 Rio Olympics she picked up a bronze medal. Ross will be pairing up with fellow baller Alix Klineman to compete in the beach volleyball games. The duo were the first to qualify the U.S. in the sport, per NBC. She and Klineman are also being coached by Ross' former volleyball partner, Jen Kessey, with whom Ross won her first Olympic silver medal, says Team USA.
The duo are just two of eight American volleyball players the U.S. is sending to Japan; four men and four women. Of the women, Ross is the oldest, at 39. After bronze and silver medals, her road to gold all starts in California.
Early childhood and introduction to volleyball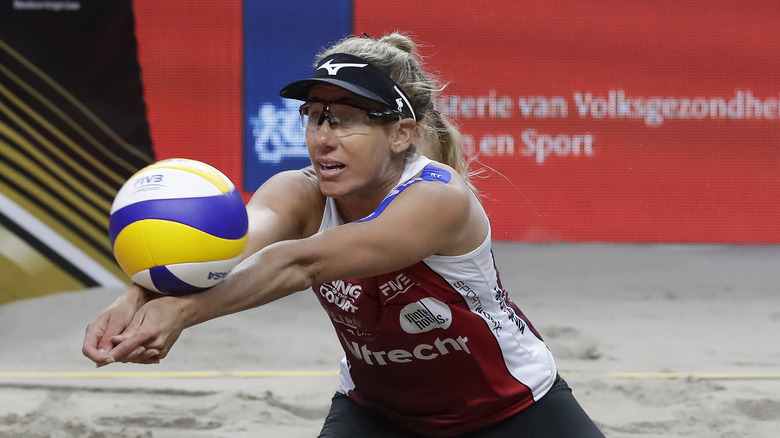 Soccrates Images/Getty Images
Ross was born in Costa Mesa, California on June 20, 1982 to Glen and Margie Ross, one of two girls her parents had. She was raised in the nearby city of Newport Beach. Her experience with volleyball began there at the city's high school. While attending Newport Harbor High School she participated in several sports, including playing for their volleyball team, where she quickly became a star player. During her duration there she won the Gatorade National Player of the Year in 1999, according to her website. She earned the opportunity to play for the Junior National Team in 2000 and 2001.
In 2001, her mother died and her father later remarried. That marriage gained Ross four new siblings; three step-brothers and a step-sister, says Team USA.
After graduating high school, Ross went on to enroll at the University of Southern California (USC). She majored in international relations (via USA Volleyball), but of course, she continued her volleyball-playing throughout college by joining the Trojans team. But most of that was limited to playing indoors.
Ross' college years and rise in volleyball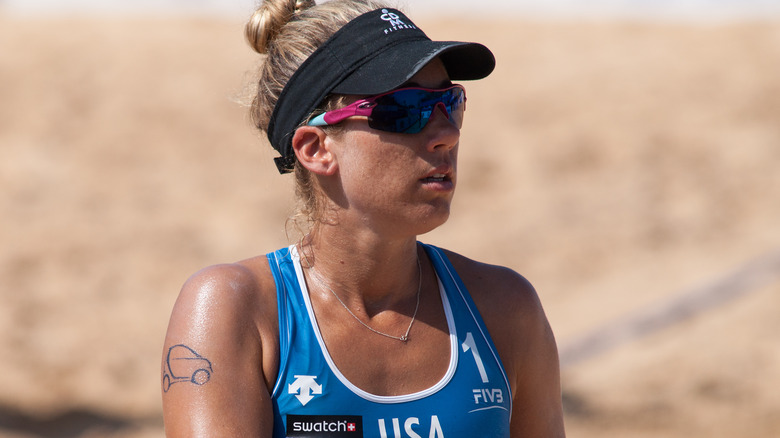 Shutterstock
Her collegiate career would bring accolades Ross picked up as an up-and-coming player. In her freshman year she won the Pac-10 (now called the Pac-12) Player of the Year award. In college, she also trained with the U.S. Women's National Volleyball Team for about a year (USA Volleyball). She won the title of All-American at USC. Soon after, she went pro and started her international career in Puerto Rico with the International Volleyball Federation (commonly known by its French acronym, FIVB). There she played for the Leonas de Ponce volleyball team. She spent two years on the team, and picked up the Honda Sports Award in 2004.
By the time she graduated in 2005, she had led the Trojans to two consecutive National Collegiate Athletic Association (NCAA) volleyball titles, and had started every match she played at USC, per Ross' website. After college her volleyball career didn't end. Instead Ross decided to enter a new area in the sport of volleyball: beach volleyball.
From hard floors indoors to sand
Jeff Gross/Getty Images
Unlike indoor volleyball, which is played on a typical surface floor specifically created for sports, beach volleyball is played on sand. And it can only be played with two players per team. Ross made the switch to it in 2006. Even though this type of volleyball was a bit different and required her to be barefoot, her overall volleyball talents were still outstanding and she continued to increase her standing in the volleyball world. A year later she became the first American woman to win the FIVB's Rookie Player of the Year award (USA Volleyball). And it was only up from there.
Ross has played in dozens of world championships since 2007. To date, she's won six World Championships and 13 FIVB titles. Of those 13, she's won five when partnered up with Alix Klineman. She has also won bronze and silver medals; her most recent bronze was won with Klineman at the 2021 Cancun Hub this past spring. Since 2007, Ross has competed in the biennial World Championship (Team USA). But one of her earlier beach volleyball partners was Olympic medalist and current coach, Jen Kessy. Ross participated in her first World Championship game with Kessy; the two won gold in 2009.
Ross' Olympic journey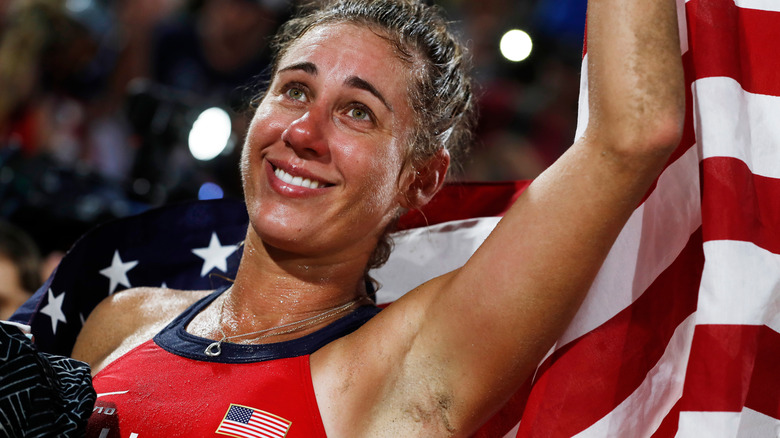 Shutterstock
But before that, Ross and Kessy were going to qualify for the Olympics. In 2008, they were close to taking part in the 2008 Beijing Olympics, but unfortunately did not meet qualifications (via USC). They were the third ranked team in America, but didn't rank high enough when it came to the international scale. They had to wait another four years and in 2012, the duo qualified for their first Olympics. That year they took home their first silver Olympic medal (Team USA). It was the first for both women.
Ross went on to compete in the 2016 Olympics with a new partner in volleyball, player Kerri Walsh Jennings — a three-time Olympic gold medalist (in 2004, 2008, and 20012, says Team USA). The duo of Ross and Jennings won a bronze that year. This year Ross hopes to add a gold medal to her bunch, with Alix Kilinemann, who is making her Olympic debut. Their chances are good; Ross and Klineman are two of the top-ranked beach volleyball players in the world, and the No. 1 players in the U.S. (via FIVB rankings).
Going for gold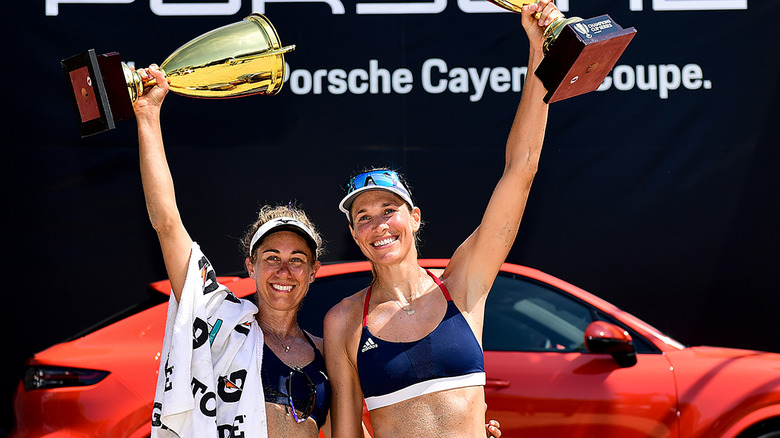 Handout/Getty Images
Ross has likely been out for gold since getting silver, and a subsequent bronze at the following Olympics. The pandemic caused by COVID-19 pushed back the 2020 Tokyo games to this summer, extending her wait to make it plain and show that she can win the top medal. She told USA Today in May that gold is her goal, but she's also in it to display her patriotism.
"The lure of the gold medal is definitely there. I want to get it. But just being able to go to the Olympics and represent your country and qualify and compete at the highest level in your sport is such an honor. It's such an amazing experience and something I want to experience as many times as I can," said Ross.
She's won gold medal championships with Klineman before (pictured with Ross), and perhaps together the two can win it this year. They play on July 24 against China, says NBC.
The Tokyo Olympic Games are scheduled for July 23-August 8.