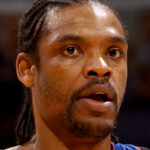 How NBA Star Latrell Sprewell Lost All His Money
echo get_the_meta(); ?>
For much of his 13-year career, Latrell Sprewell was a talented, yet controversial figure in the NBA. Known as an athletic guard/forward who can contribute on offense and defense, "Spree" was a four-time All-Star, was named to one All-NBA and All-Defensive Team each, and finished his career with an average of 18.3 points per game, according to Basketball-Reference. Unfortunately, his temper often proved to be as explosive as his game, as many fans arguably remember him most for the time he choked Golden State Warriors coach P.J. Carlesimo early in the 1997-98 season — all because he wanted him to "put a little mustard" on his passes, per CBS News. 
That, however, wasn't the only reason why Sprewell lost much of the fortune he earned during his time in the NBA. How could a multimillionaire who was one of the league's finest at his position go broke just a few years after he retired from the game? Let's take a closer look.
Sprewell was suspended without pay for a year for choking incident
Otto Greule Jr/Getty Images
As the 24th overall pick in the 1992 NBA Draft, Sprewell quickly proved to be a steal for the Warriors and was fresh off his best-ever statistical season when Carlesimo joined Golden State as its head coach. As noted by The Undefeated, Carlesimo was known for his hard-nosed style of coaching, and he was described as a "bellicose and belligerent" individual who liked to stir the pot.
That also meant he shared the same temperament as Sprewell, and his dissatisfaction with the player's apparent lack of effort in practice led to the aforementioned choking incident. Sprewell was so mad at Carlesimo that after initially leaving the gym, he allegedly returned to attack his coach a second time.
Per The Undefeated, Sprewell immediately became a pariah in the aftermath of his confrontation with Carlesimo. He was seen as the poster boy for the average "overpaid, petulant, [and] violent" Black athlete, and his contract with the Warriors — where he was still owed $24 million — was voided following the public uproar. This was later overturned, but when all was said and done, Sprewell had served a one-year suspension without pay — the longest in NBA history at that point, per the Associated Press.
Spree's unusual reason for rejecting a three-year, $21M deal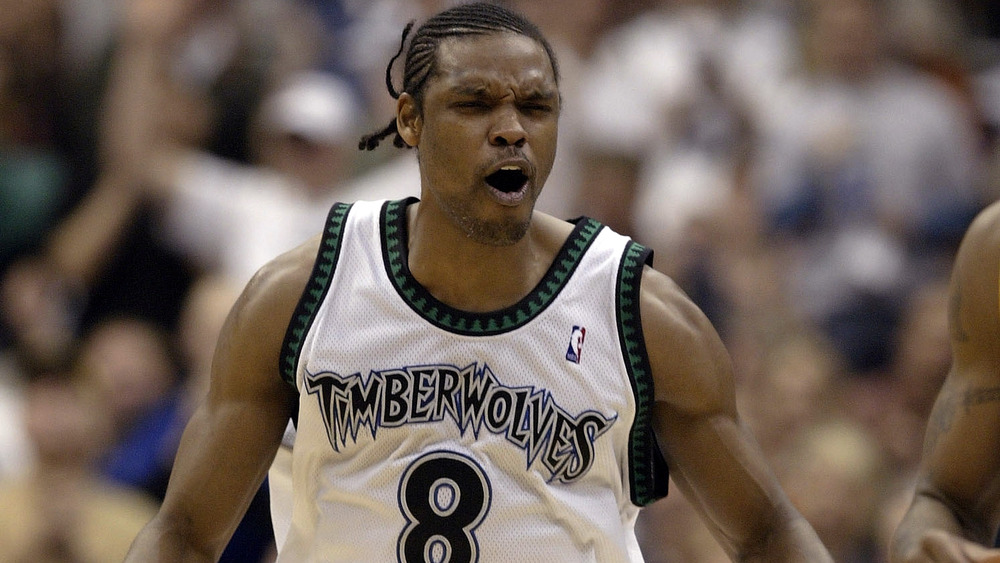 Elsa/Getty Images
Following his suspension, Sprewell went on to play for the New York Knicks and the Minnesota Timberwolves. While he wasn't as productive as he was with the Warriors, he was still an effective scorer and stopper as he switched from shooting guard to small forward.
Teaming with Kevin Garnett and Sam Cassell, Sprewell helped the Timberwolves reach the 2004 Western Conference Finals, but he followed that up with a puzzling move that had a similarly puzzling explanation — rejecting a three-year, $21 million contract extension because he had a "family to feed." At that time, he was being paid $14.6 million for what would turn out to be his final NBA season.
"Actually, through the World Vision relief program, he could feed 8.3 million people for one day. Or a village of 400 for nearly 57 years. Or [American Idol Season 2 winner] Ruben Studdard for two weeks," Sports Illustrated's Rick Reilly quipped in November 2004.
Quite notably, Sprewell owned several vehicles that most of us can only dream of owning, including a Rolls-Royce Phantom, a customized Lamborghini Diablo, a Maybach, and a 70-foot yacht called "Milwaukee's Best."
Foreclosures, bank auctions, and lawsuits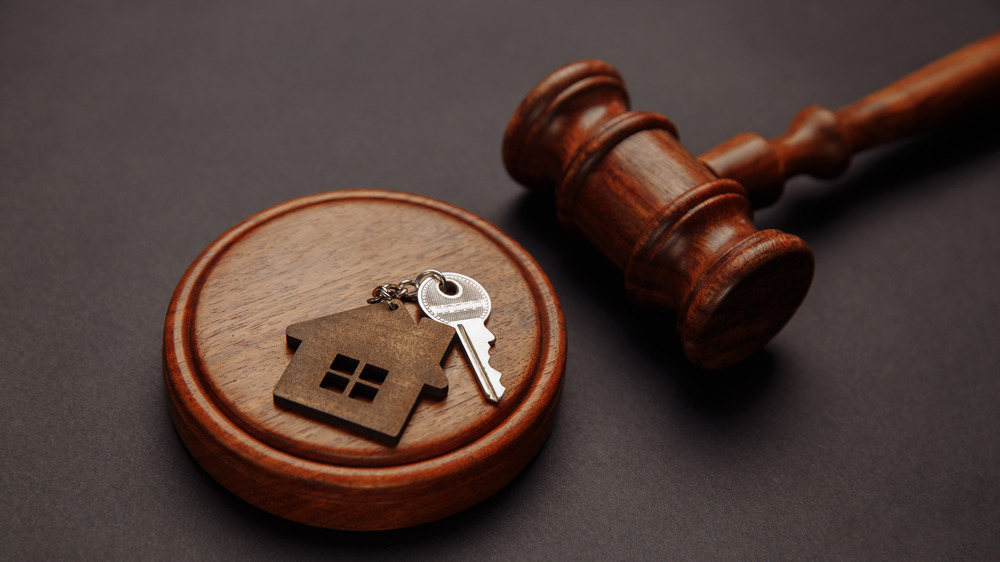 Shutterstock
All in all, Sprewell earned about $97 million during his NBA career, but much of that money was seemingly long gone as of February 2008, when Citizens Bank filed a foreclosure suit on the $405,000 home he purchased in his hometown of Milwaukee in 1994, according to a report from ESPN. Court documents alleged that the former NBA star owed close to $300,000 in outstanding payments and had failed to pay his $2,593-a-month mortgage from September 2007 to January 2008.
A second home, a Purchase, New York, mansion he bought in 2000 for $2.3 million, was foreclosed on by Deutsche Bank in 2015, and it was listed for sale in 2017 for just $1.5 million, per The Journal News.
A month prior to the foreclosure of his Milwaukee home, North Fork Bank had Sprewell's yacht seized and auctioned off for the bargain price of $856,000 — or less than 60 percent of its original $1.5 million value. Apparently, his firm had failed to make timely monthly payments or maintain the required insurance, and this led to Sprewell owing $1.3 million on the boat.
Additionally, the Philadelphia Inquirer reported that the mother of four of Sprewell's children filed a $200 million lawsuit against him in January 2007, claiming that the retired player "broke their long-term cohabitation deal and roughed her up" the month prior.
Recent years: the Priceline ad and his current financial situation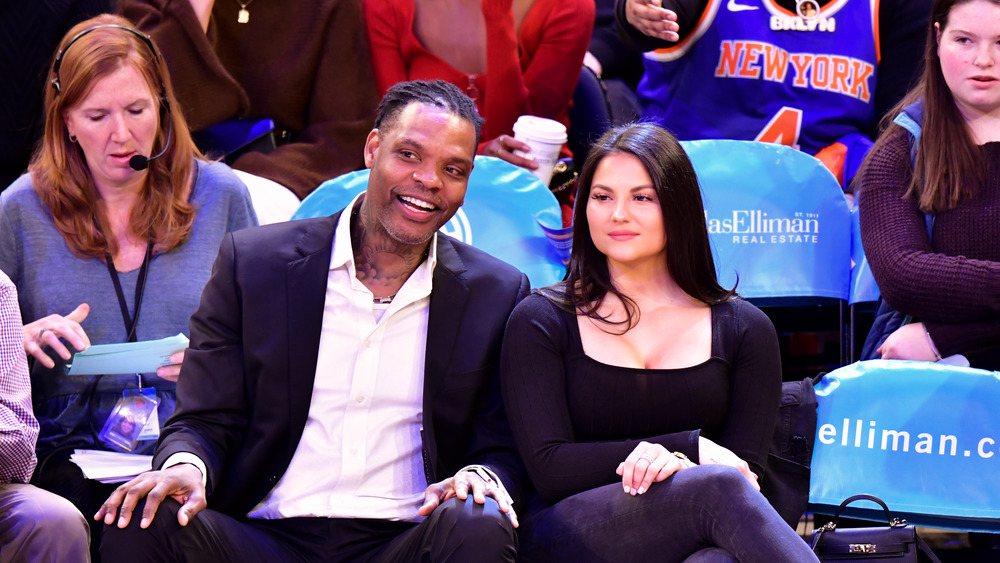 James Devaney/Getty Images
While it's obviously stressful to lose so much money and assets in such a short period of time, Sprewell has to be credited for being able to laugh at his misfortunes. Shortly before the 2016 NBA All-Star Game, Spree teamed up with San Antonio Spurs legend David Robinson in a commercial for Priceline, where the two retired stars spoke to a young girl and shared their insights on success.
Robinson, the model athlete who delayed his NBA debut by two years due to Navy commitments, told the child that one can achieve success through "hard work and a great attitude." 
Sprewell, meanwhile, saw things much differently than "The Admiral," warning the girl that success "is just failure that hasn't happened yet."
Celebrity Net Worth's page for Sprewell estimates that he is now worth $150,000 — that's definitely not a huge amount of money for a prominent ex-NBA standout. Furthermore, as Sportscasting wrote, social media users expressed concern earlier this year when he launched — and later deleted — a GoFundMe page that sought to raise $35,000 for his 1-year-old granddaughter's battle with leukemia.