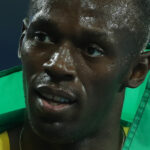 Olympic Athletes With The Most Gold Medals
echo get_the_meta(); ?>
Olympic athletes are a special breed of people. They live, eat, and breathe the sports they're passionate about and spend countless hours training for the winter and summer games. These men and women are finely tuned athletes who spend years honing their skills in everything from swimming and long jumping to gymnastics and skiing. Whether they're just naturally gifted or simply put in so much work that they excel compared to others, one thing is undeniable: They have an unbeatable amount of drive and spirit.
Competing in the Olympics is one thing. Earning a medal is another, and winning several gold medals is a feat few people have achieved. These competitors are the best athletes of all time. Many have dominated more than one Olympic game, setting the bar high for those who dare to challenge them. They have persistence, determination, and grit that sets them apart from the rest of the pack. Here are some of the best Olympic gold medal winners of all time. 
American swimmer Michael Phelps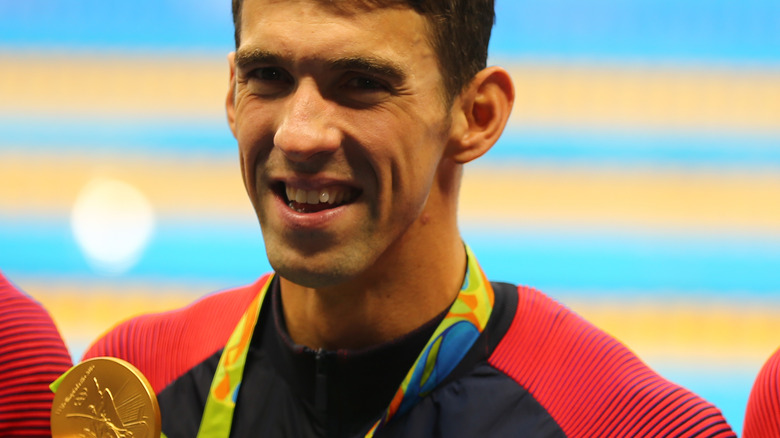 Shutterstock
Swimmer Michael Phelps vastly outperforms other Olympians with a whopping 23 gold medals. He won a total of 28 medals during his Olympic career, according to Biography. Phelps first started competing in the international competition arena at the age of 15 as a member of the U.S. men's swim team. He has been part of five Olympic teams, and he earned a gold medal for an individual event in swimming at age 28, making him the oldest person to ever do so.
Phelps, a Baltimore, Maryland, native, was inspired as a teenager by the 1996 Summer Games in Atlanta, Georgia, and three years later, he made the U.S. National B Team. The following year, Phelps, just 15 years old, became the youngest male swimmer to compete at the Olympics in nearly 70 years. He started breaking records in 2001 and continued to do so for several years. When he competed in the 2004 Olympics in Athens, he took home eight medals, including six golds, another history-making moment. He tied with Soviet gymnast Aleksandr Dityatin for the biggest medal haul in a single Olympics competition.
Following the 2016 Olympics in Rio de Janeiro, he told reporters, "I say this a lot, but every single day I'm living a dream come true."
Soviet gymnast Larisa Latynina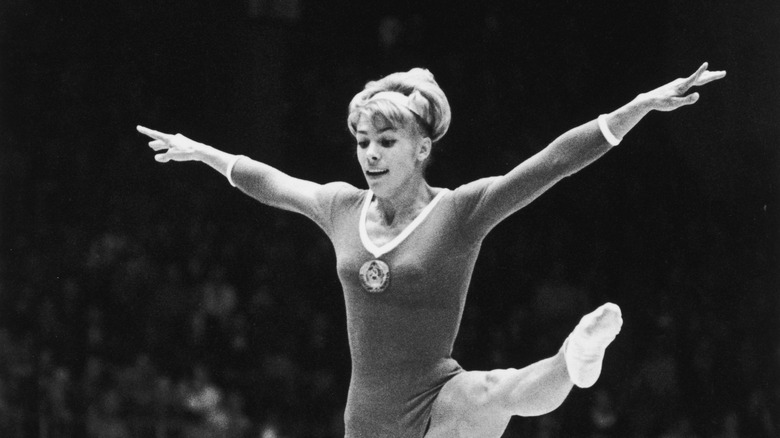 Keystone/Getty Images
Larisa Latynina put the Soviet Union on the map in the sport of gymnastics. She is the first female athlete to take home nine gold medals in the Olympics and won 18 medals in total, a record she held for nearly 50 years, until Michael Phelps came along and passed her total in 2012, according to Britannica. 
Latynina competed at the 1956 summer Olympics, winning gold medals for the floor and vault events. She also won silver and bronze medals for the uneven bars, according to the International Gymnastics Hall of Fame. She competed at the 1960 Rome Olympics, in which she earned two additional gold medals, as well as the 1964 games, in which she won a gold medal for the floor event for the third consecutive time. What makes Latynina's career so impressive is that she won medals in each event that she participated in except for one in her 1956 Olympic debut. She's also a standout athlete for being the only female to win an all-around medal for gymnastics in two different Olympic games.
Finnish runner Paavo Nurmi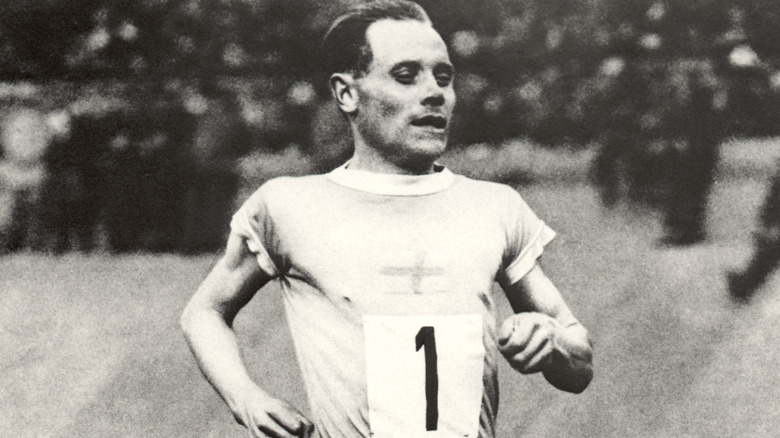 Getty Images/Getty Images
Finnish athlete Paavo Nurmi is considered one of history's greatest long-distance runners. He took home a total of nine gold medals and three silver medals in the 1920, 1924, and 1928 Olympiads, according to The New York Times. Nicknamed "The Flying Finn" and "The King of Runners," Nurmi set 25 world records during his career, reports Your Dictionary. He got his start as a child by running through the forests of his country, which isn't a bad way to get one's feet wet in the sport.
Nurmi's unique style of running made him a superstar, his strides long and his partially clenched fists held to his chest. He didn't alter his pace and was easily able to surpass less gifted runners. Nurmi won six of his gold medals at the 1924 Olympics in Paris, and his talent was so incredible that even Americans were in awe of his skills. Finland erected a bronze statue of a naked Nurmi outside of its Helsinki Olympic Stadium, an enormous honor. Later in life, when asked why he ran, Nurmi said it wasn't for Finland or Olympic glory. "I ran for myself," he explained.
American swimmer Mark Spitz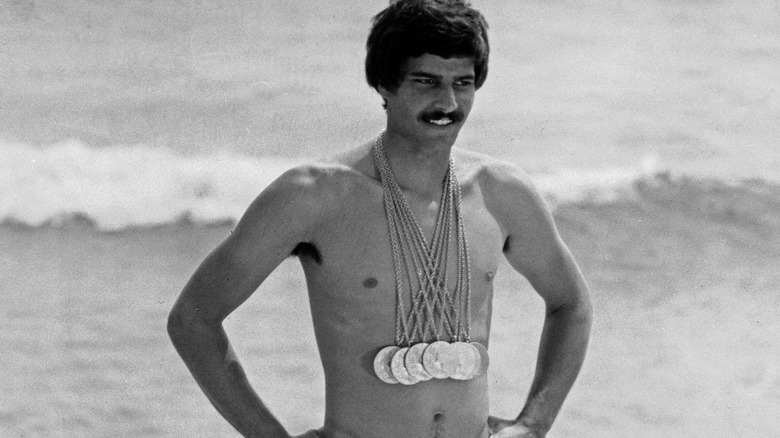 United Archives/Getty Images
Swimmer Mark Spitz won two gold medals at the 1968 Mexico City Games and seven gold medals at the 1972 Munich Games, in which he competed in seven events, dominating each one and setting world records. The California native started swimming competitively at age six, according to his official website. He started breaking national records before reaching the age of 10. Dubbed "Mark the Shark" by fellow swimmers, Spitz stunned spectators after taking home so many gold medals in Munich. He completed his final event just a few hours before Palestinian terrorists killed 11 Israeli athletes in the Olympic Village.
You may also know Spitz for the mustache he sported while competing in the games. He bucked the clean-shaven trend because he felt that the facial hair gave him luck, which was the exact opposite thinking of other swimmers, who believed hair created too much drag on the body while swimming. Spitz is considered one of the greatest Olympians of all time, and he also won five Pan-American golds and set 33 world records.
American jumper Carl Lewis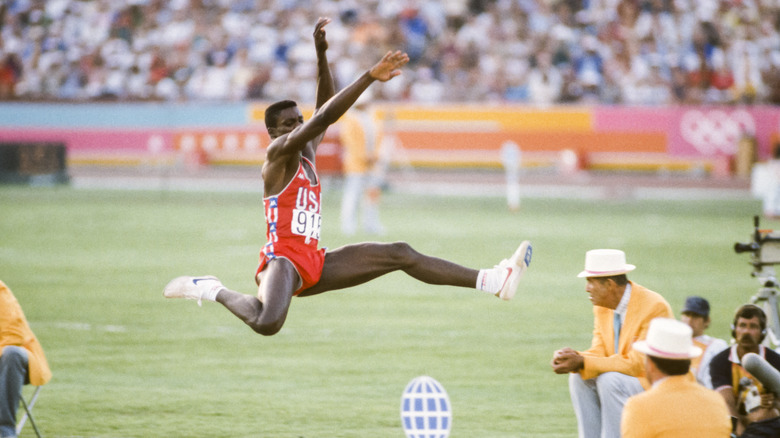 David Madison/Getty Images
Also topping the list of world's greatest athletes is track and field star Carl Lewis, who won nine Olympic gold medals during his career. He made history and set records by appearing in five separate Olympics, according to his website. Over a decade, Lewis won 65 events in a row in the long jump, an incredible streak in sports history. In 1984, he set a record for indoor long jump that still hasn't been broken. His inspiration was Jesse Owens, and Lewis matched Owens' four-gold medal haul during the 1984 Olympics.
Lewis was 35 years old when he won his fourth consecutive gold in long jump in 1996, according to ESPN. This accomplishment resulted in nine total gold medals, which tied him with long-distance runner Paavo Nurmi, gymnast Larysa Latynina, and swimmer Mark Spitz. Sports Illustrated writer Rick Reilly said of Lewis at the time: "Lewis beat age, gravity, history, logic and the world at a rocking Olympic Stadium in Atlanta to win the Olympic gold medal in the long jump. It was quite possibly his most impossible moment in an impossibly brilliant career."
Norwegian skier Marit Bjørgen
Marco Felgenhauer/nordicfocus/Getty Images
Norwegian cross-country skier Marit Bjørgen has won more medals at the winter Olympics than any other athlete. The skier has taken home 15 medals, including eight gold ones, and she won five medals at PyeongChang in 2018 alone, more than anyone else, according to Olympics.com. She started competing internationally in 1999 at the age of 19, and she took home her first Olympic medal, a silver, in 2002 in the women's 4×5 km team relay at Salt Lake City alongside teammates Anita Moan, Bente Skari, and Helde Pedersen.
Bjørgen officially retired following the 2018 Olympics, but the thrill of competition prompted her to return to the sport. In 2020, the 40-year-old decided to compete in the Vasaloppet, a roughly 55-mile long-distance race in Sweden, according to Inside the Games. She told reporters, "Getting the opportunity to be in the world's best long-distance skiing team triggers me. I am curious to learn something new and have something concrete to work towards."
In addition to her Olympic medal haul, Bjørgen is an 18-time world champion, and she won the World Cup four times.
German kayaker Birgit Fischer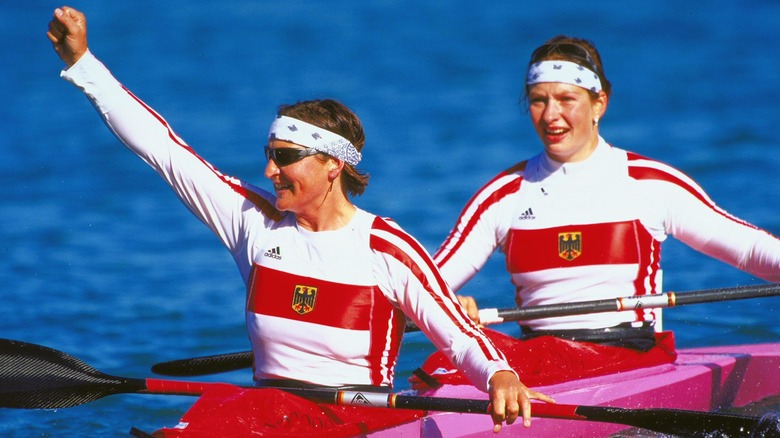 Darren England/Getty Images
Birgit Fischer is the only female Olympic athlete to win eight gold medals in kayaking, and she achieved this tremendous feat over a span of two decades. The German athlete started kayaking with her older brother when she was just six years old with the assistance of her father, according to Olympics.com. She competed in the 1980 Olympics in Moscow and, at 18 years old, became the youngest kayaker to win a gold medal, which she did in the K1 500-meter event. She then went on to win three World Championships in a row in 1981, 1982, and 1983.
Unfortunately, Fischer couldn't compete in the 1984 Olympics in Los Angeles because Eastern Bloc countries were banned from the competition. If she had, it's likely her gold medal count would be higher than it is today. She won two golds in Seoul 1988, two more golds in Barcelona 1992 and Atlanta 1996, and two additional golds in Sydney 2000. Afterward, Fischer decided to retire, yet she returned for Athens 2004 after a three-year break, where she clinched her eighth gold medal. Incredibly, Fischer won her first Olympic gold in 1980 and finished with her final Olympic gold in 2004 — 24 years later.
Norwegian skier Bjørn Dæhlie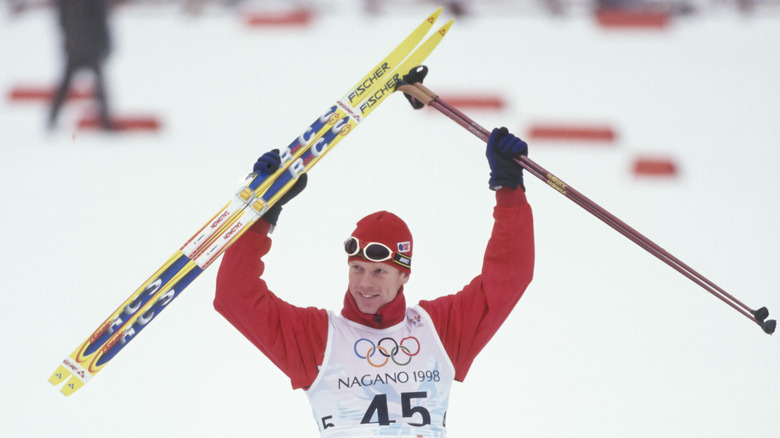 David Madison/Getty Images
Bjørn Dæhlie of Norway is another incredible Olympian who has taken home more medals in cross-country skiing than any other athlete during the winter games. Considered one of the greatest winter Olympians of all time, Dæhlie competed in the 1992 Albertville Winter Games, where he took home a silver medal in the 30-kilometer event and three gold medals in the combined pursuit, the relay, and the 50-km, according to Olympics.com.
Two years later at the Olympics in Lillehammer, Dæhlie won an additional four golds on his home turf. Unfortunately, during the men's relay, he experienced a rare loss. He made up for that in Nagano four years later, taking home a gold medal with teammate Thomas Alsgaard. He has won a total of 12 Olympic medals and has also won five individual events at the World Championships, according to Olympedia. Dæhlie retired in 1999 after hurting his back while roller skating, reports Olympics.com. He had hoped to make a comeback but was unable to do so following the injury.
Japanese gymnast Sawao Kato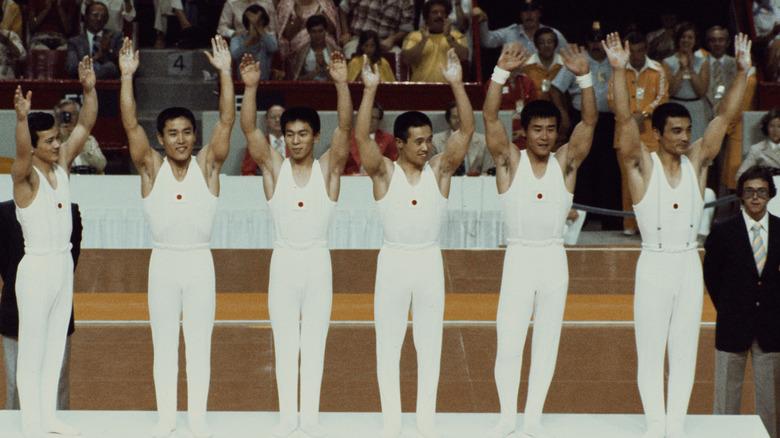 Don Morley/Getty Images
Japan was a powerhouse when it came to gymnastics during the 1960s and 1970s. During this time period, Sawao Kato (center-right above) won an impressive eight gold medals, which is the most any male gymnast has ever won, according to Olympics.com. He was a force to be reckoned with during three Olympiads. During the 1968 games, Kato, the team captain, took home the all-around title, Japan's third consecutive win in the event. Even more impressive, three Japanese gymnasts won four of the five individual events, reports the International Gymnastics Hall of Fame.
During the Munich games in 1972, Kato retained the all-around title, making him just the third gymnast to achieve this task. He took the gold, while his teammates took the silver and bronze medals in the event, resulting in a Japanese-dominated podium. This type of clean sweep of the top three medals hadn't occurred since 1900. Kato also competed in the Montreal Olympics in 1976, where he was defeated by a Soviet competitor for the all-around title. However, he once again dominated on the parallel bars. Kato earned a total of 12 medals during his Olympic career.
American swimmer Jenny Thompson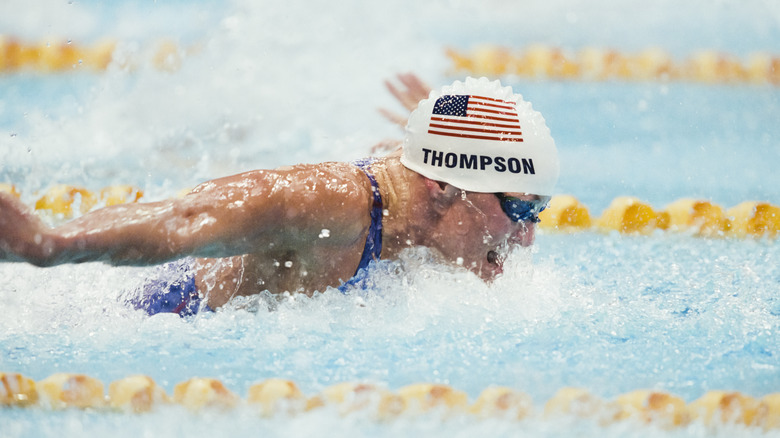 David Madison/Getty Images
If you're a swim fan, you no doubt know Jenny Thompson, who has won 12 Olympic medals, including eight gold, three silver, and one bronze. She's won more medals than any other woman in the Olympics, according to the United States Olympic & Paralympic Museum. At the age of 14, she competed in the 1987 Pan American Games, winning a gold medal in the 50-meter freestyle event. While she didn't qualify for the 1988 Olympics in Seoul, she appeared in the following four consecutive Olympiads.
In 1992 in Barcelona, Thompson took home two gold medals in the relay and a silver medal in the 100-meter freestyle. In 1996 at the Atlanta games, she won three gold medals despite having some problems during the Olympic trials and not participating in the final heat of the 4×100-meter medley relay. That struggle just pushed her harder, and in 2000 in Sydney, she won three additional relay gold medals as well as an individual bronze medal.
Thompson competed in Athens in 2004 and won two silver medals but not any gold ones, and then she retired from professional swimming. She doesn't mind that all her gold medals are tied to team events. "When I show little kids at clinics my gold medals, no one asks if it was relay or individual," she said. "A gold medal is a gold medal, and I have eight."
American swimmer Matt Biondi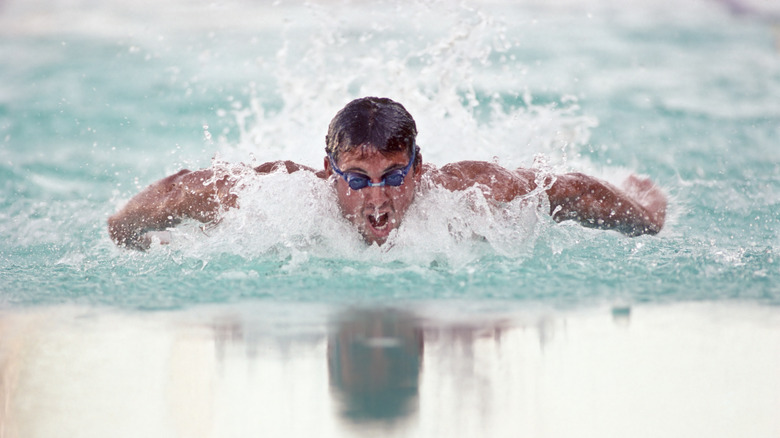 David Madison/Getty Images
Like the other men and women on this list, Matt Biondi is a highly decorated Olympian with 11 medals under his belt. He started swimming at age five, and by the time he enrolled in college, he was swimming as well as playing water polo, according to Team USA. He competed in his first Olympics in 1984, winning a gold medal as part of the 4×100-meter freestyle relay team.
He went on to compete in Seoul in 1988, winning seven medals, including a gold in the 50-meter freestyle in which he set a world record, a gold in the 100-meter freestyle, a gold in the 800-meter freestyle relay, a gold in the 400-meter freestyle relay, and a gold in the 400-meter medley relay, according to the International Swimming Hall of Fame.
Biondi is one of only two people to win seven Olympic medals at one Olympiad, and he won more medals than any other competitor at the Seoul Games. Swimming World magazine once dubbed him U.S. Olympic Committee Sportsman of the Year, as well as Male Swimmer of the World on two separate occasions.
American jumper Ray Ewry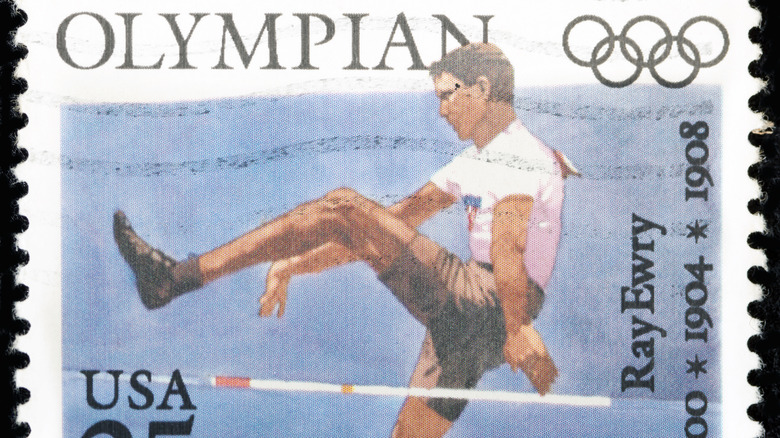 Shutterstock
Ray Ewry might not be as well-known as other Olympians, but he's definitely not less accomplished when compared to the other highly decorated Olympic athletes in this list. After all, he won eight gold Olympic medals. Ewry contracted polio at the age of seven and strengthened his legs with the use of jumping exercises, according to the Lafayette Urban Ministry. When he attended Purdue University, he played football and participated in track events, breaking records in the high jump, standing long jump, and standing triple jump.
Ewry competed in four Olympiads; the first was the 1900 Paris Olympic Games, where he won medals in each of the three events in which he competed, according to the United States Olympic & Paralympic Museum. During the 1904 games in St. Louis, he took home an additional three gold medals in the same events, repeating his success. At the 1908 London games, he won only two medals because the standing triple jump was no longer part of the competition. Ewry's record of eight gold medals stood for years.
Jamaican runner Usain Bolt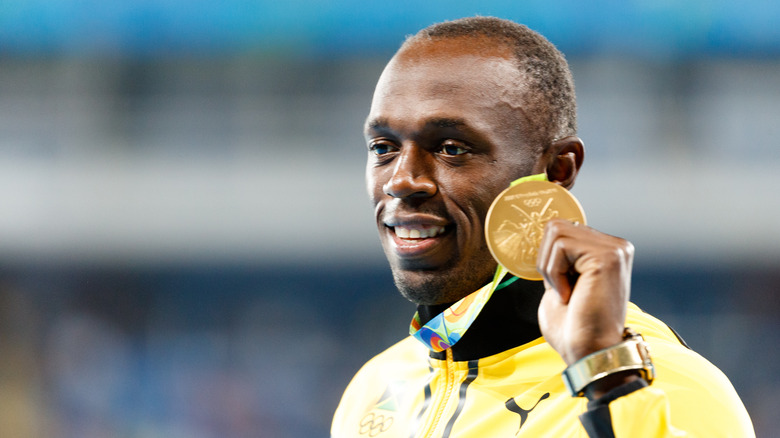 Shutterstock
According to his official website, Usain Bolt is "the most naturally gifted athlete the world has ever seen." Judging by this list of incredible Olympians, he has just a little bit of competition for this accolade, though. Bolt was making a name for himself in his native Jamaica when he was as young as 14. He enjoyed jumping and playing cricket before participating in track events.
His claim to fame is winning three gold medals at three consecutive Olympic games. In 2008 in Beijing, he won the 100-meter, 200-meter, and 4×100-meter, setting records along the way. He repeated the feat in the 2012 London games and became known as the world's fastest man. In 2016, at the age of 29, he once again took home three gold medals for the same three events, achieving what is known as the "Triple Triple."
In addition to his nine gold medals, Bolt has taken home 11 World T&F Championship titles.