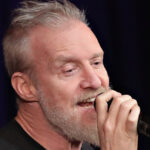 Why You Rarely Hear About The Spin Doctors Nowadays
echo get_the_meta(); ?>
It's easy to think of the Spin Doctors as a one-hit-wonder that deserved more than just one hit. For much of 1993, their song "Two Princes" was all over the radio, consistently on heavy rotation on MTV, and a must-have on your setlist if your high school garage band was playing on prom night. The tune's breakout popularity, combined with the band's quirky image and on-stage performances, helped turn them into one of the biggest rock bands of the era that weren't from Seattle. But that was not the only hit single from their 1991 debut album, "Pocket Full of Kryptonite" — prior to that, "Little Miss Can't Be Wrong" cracked Billboard's pop top 20, and tracks like "Jimmy Olsen's Blues" also did well on the mainstream rock charts.
Then suddenly, the Spin Doctors were seemingly a flash in the pan, a relic of the '90s "jam band" era that also saw the rise of acts such as Phish, Blues Traveler, and the Dave Matthews Band. What happened to them, why did they fade from relevance in such a quick and spectacular fashion, and why are they so rarely mentioned in present-day discussions about '90s rock bands? Let's go ahead now (see what we did there) and look at the reasons why we don't hear much from the Spin Doctors these days.
Two Princes was virtually impossible to top
When it comes to bands with one or two big hits, their one most popular song is oftentimes the "black sheep" (as described by TV Tropes) of the act's entire catalog — typically a song that's poppier, simpler, and catchier than their usual fare. "Two Princes" could fall into this category, given how it's packed wall-to-wall with hooks and how its lyrics offer a far more relatable premise than the usual Spin Doctors song. However, it also doesn't sound out of place on its parent album, "Pocket Full of Kryptonite" — it's not like Chris Barron and company went full-on Aerosmith and topped the charts with the monster ballad to out-monster all monster ballads.
"Two Princes" was a classic case of catching lightning in a bottle. It was a pure pop song that just so happened to have crunchy rock guitars, and that helped propel it to No. 7 on the Billboard Hot 100. That set the bar pretty high for the Spin Doctors in terms of chart success, and that also applied to its melody and lyrics — any subsequent single would inevitably be compared to "Two Princes." In theory, it's possible the band could have tried to top "Two Princes" with another radio-friendly tune, but that brings us to another reason why people don't talk too much about the Spin Doctors anymore …
The Spin Doctors wanted to avoid writing another Two Princes on their second album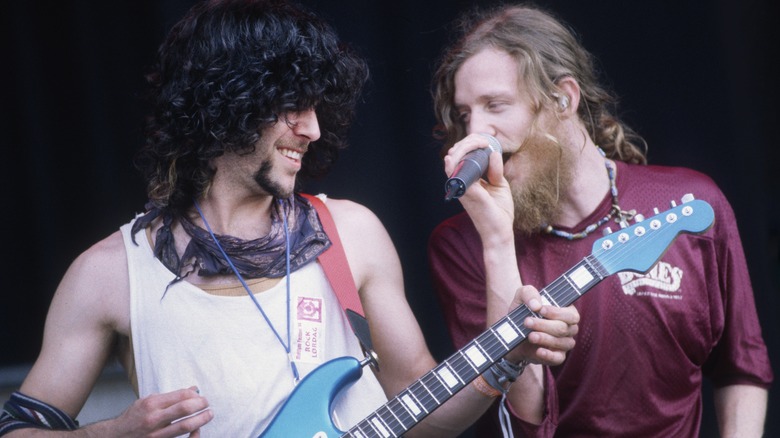 Gie Knaeps/Getty Images
After the Spin Doctors went from neo-hippie jam band with a loyal cult following to certified rock stars, the band released their second studio album, "Turn It Upside Down," in 1994. According to Louisville Music News, guitarist Eric Schenkman admitted that the Spin Doctors wanted to avoid writing another surefire hit in the tradition of "Two Princes." Fair enough, until you realize the album has been criticized for being a largely hookless, directionless mess, a mishmash of ideas that don't add up to anything substantial.
Nowhere is that more evident than on the carrier single, "Cleopatra's Cat." YouTuber Todd in the Shadows, who featured "Turn It Upside Down" on his aptly-named "Trainwreckords" series, posited that the song wasn't bad, but just "odd," adding that the historical references and Latin lyrics — to say little of Chris Barron's extended scatting — would have likely gone over the heads of most listeners. He also pointed out that the song's lack of hooks and structure had the potential to alienate the Spin Doctors' "fanbase of 12-year-olds" who knew them mainly from "Two Princes." And it wasn't like the group's original fans from their obscure jam band days would have appreciated the tune either, according to Pop Dose.
"Turn It Upside Down" had a couple of songs ("You Let Your Heart Go Too Fast," "Mary Jane") that did have some sweet pop-rock hooks, though one can say that neither of them had the same impact as any of the singles off "Pocket Full of Kryptonite." Furthermore, the latter was an ode to the devil's lettuce (of course) that was utterly lacking in subtlety, as evidenced by lyrics like "I wanna roll you/way down in the fields where you were born."
They never got over the sophomore slump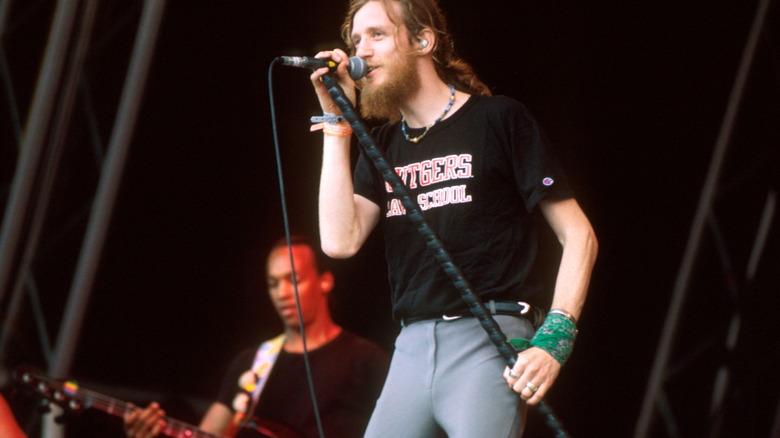 Michael Putland/Getty Images
Few platinum-selling bands have faded faster into obscurity than the Spin Doctors. "Turn It Upside Down" performed solidly on the Billboard 200, peaking at No. 28 in July 1994, but that also happened to be the last time the band ever appeared on the publication's album charts — prior to that, "Pocket Full of Kryptonite" went all the way to No. 3, and the live album "Homebelly Groove…Live" made it to No. 145. So what's next for a band whose sophomore studio album bombed with both of their main fanbases?
Two years after "Turn it Upside Down," the Spin Doctors released their third album, "You've Got to Believe in Something," and we certainly hope that for the group, that "something" wasn't a return to their short-lived glory days. In its 2.5-star review of the record, AllMusic wrote that "You've Got to Believe" has some catchy tunes, but not quite on the same level as "Pocket Full." Furthermore, the publication singled out one track — the one that might have had the most potential to make them relevant again — as the biggest misfire. That song was a cover of KC and the Sunshine Band's "That's the Way (I Like It)," featuring the late Biz Markie. It did make the soundtrack of "Space Jam," but was pretty much an afterthought on an album that included — all recent controversies notwithstanding — R. Kelly's "I Believe I Can Fly."
The Spin Doctors have made multiple 'worst bands' lists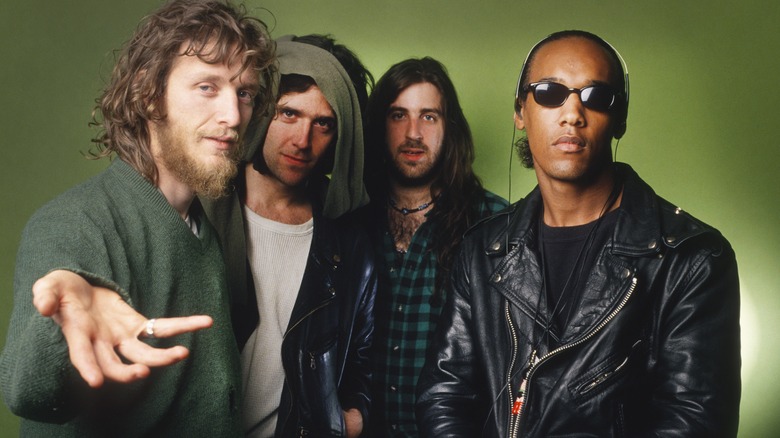 Gie Knaeps/Getty Images
The mileage will always vary when the discussion turns to the best or worst bands of a certain decade. But it's quite telling when a band finds itself a mainstay of such lists. The Spin Doctors, unfortunately, are among those groups that are oftentimes considered among the worst of the '90s; for starters, they ranked eighth on a Rolling Stone reader poll, though the outlet did write that it's understandable that an act that "embodied a brief era" would receive "swift and severe backlash" from fans when that era comes to an unceremonious end. Rolling Stone also opined that the Spin Doctors "really aren't that bad," noting elsewhere that their readers made some even more baffling choices, including Nirvana as the No. 5 worst band of the '90s.
Although it would seem that the Spin Doctors got off easier by ranking No. 20 on LA Weekly's list, it bears mentioning that the list covered their choices for the worst bands of all time and that they were rather unforgiving, referring to "Two Princes" as an "earworm so powerful that you're going to need to see an ENT doctor." Then you've got musicians such as Matt Skiba of Alkaline Trio and Blink-182, who, in one of The A.V. Club's "HateSong" features, derisively called "Two Princes" (yes, that song again) as "'white people without problems' music" and wasn't much kinder to the Spin Doctors' other popular singles.
The band would rather focus on 'authenticity' than commercial success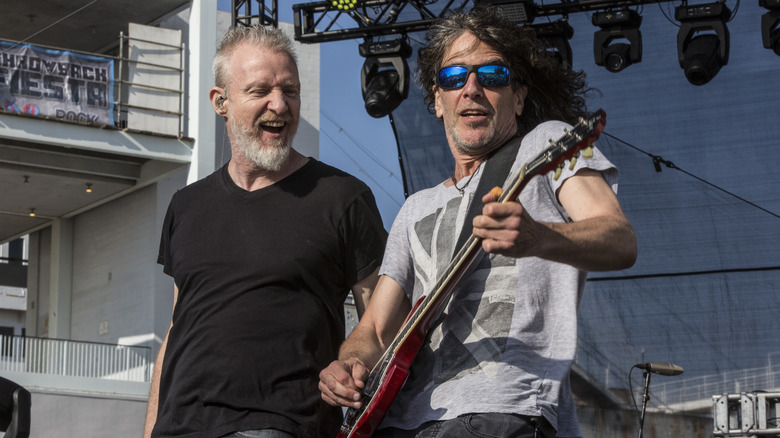 Harmony Gerber/Getty Images
The Spin Doctors have been through a lot since their brief time in the limelight, including various lineup changes. Guitarist Eric Schenkman quit in 1994 after walking offstage during a performance, and bassist Mark White followed suit five years later; there have also been a few other musicians who passed through their ranks, including keyboardist Ivan Neville, who temporarily replaced Chris Barron on lead vocals when the latter suffered a rare form of vocal paralysis (via Pop Dose). But the classic lineup of Barron, Schenkman, White, and drummer Aaron Comess has been back together for some time, and they seem content to do their own thing as a lower-profile act, with their last release, the 2013 blues record "If the River Was Whiskey," once again failing to chart but nonetheless earning positive reviews.
"We've always come at music from a more authenticity perspective, and the older we get, the more we do this," Barron told 48 Hills in 2019. "It's about virtuosity, and virtuosity is … about being so well versed in whatever you do that you can authentically present your personality with your art. When you do that, you're going to make something good, and sometimes it's commercial and sometimes it's not."
That said, Barron admitted that the Spin Doctors still enjoy playing their biggest hits and that he'd "rather have a song like 'Little Miss Can't Be Wrong' go to number two than have to sing 'Achy Breaky Heart' for the rest of [his] career." We can't help but agree with him.