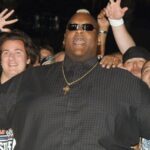 Professional Wrestlers You May Not Know Passed Away
echo get_the_meta(); ?>
Professional wrestling is a job that takes a massive toll on your body and mind. According to Dawn Marie, a former wrestler and the founder of Wrestlers Rescue nonprofit, a main event performer can do up to 275 shows a year. Even if you ignore all the bumps and injuries from actual matches, the constant training, traveling and media responsibilities leave them precious little time to recover. There's also the stress to get everything right so they don't injure themselves or their opponents, the fact that pro wrestling has no off-season whatsoever, and the many unhealthy coping mechanisms such as painkillers and alcohol. It's a grueling way of life, and often a short one.
The media tends to report some of the more famous wrestlers who have passed away, but the barrage of dead wrestlers is unfortunately so constant that it's easy to miss plenty of names you might recognize. Let's fix this and pay homage to some of the men and women who sacrificed their own health to briefly entertain us. After all, the least we can do after that ultimate sacrifice is to find out how they left this world.
Chris Kanyon lost the fight to prejudice and mental illness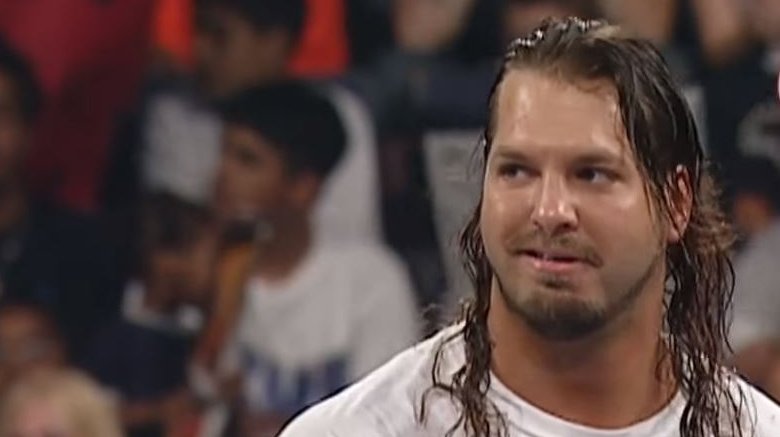 YouTube
The wrestling career of Chris "Kanyon" Klucsaritis was always marred with difficulties. His posthumous autobiography describes his life a closeted gay man in an ultra-macho profession. Kanyon was not ashamed of being homosexual, but he strongly suspected that coming out would not mesh well with his career, so he took extreme measures to protect his secret. He had sex with female groupies to keep up appearances, and once had to escape a gay bar when his coworkers wandered in for drinks after the other watering holes had closed.
When Kanyon finally came out in 2001, his worst fears seemed to come true. After an unfortunate series of injuries, he found out that his comeback was a humiliating, Boy George-themed joke segment that ended with extremely stiff chair shots from The Undertaker. Eventually, the only airtime he received was on Velocity, the least-appreciated WWE show at the time. In 2003, Kanyon's life took an even more tragic turn. He attempted suicide, ended up in the hospital, and was diagnosed with bipolar disorder. Now, he realized that he was wrestling with his opponents, sexuality, and mental illness.
Though Kanyon ended up leaving the WWE, it looks like he never found true peace. CBS News reported Kanyon was found dead in 2010 with "scores of pills" found near his body. He was 40 years old.
If you or anyone you know is having suicidal thoughts, please call the National Suicide Prevention Lifeline at 1-800-273-TALK (8255).
Andrew 'Test' Martin died in a way he wanted to avoid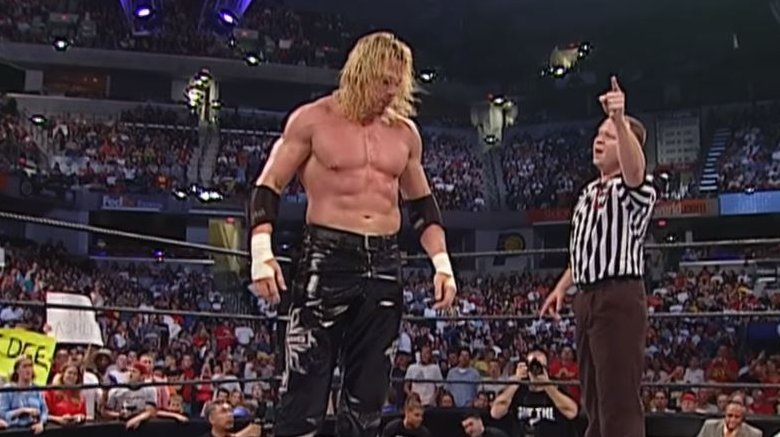 YouTube
During his tenure in the WWF/WWE, Andrew "Test" Martin held the European, Intercontinental, and Tag Team championships. He might have climbed even further up the ladder if he hadn't suffered a neck injury in 2004. As things were, he was released from the company after undergoing spinal fusion surgery.
According to ESPN, Test was aware of the short life span of professional wrestlers and was determined to escape the curse of drugs in particular. He once said: "I just turned 32 years old and went to eight funerals this year. Do I want to join that club?" He did not want to join that club, but unfortunately, he did. In 2009, just 17 months after the interview, the 33-year-old former wrestler was found dead in his Florida condo. He had died of an accidental overdose of painkillers.
Test's fate is particularly tragic because even if he'd managed to escape an overdose, his story was unlikely to end well. A doctor who examined his body found alarming signs of brain damage. In fact, Test's brain resembled that of an Alzheimer's patient two times older than he was. Another wrestler with that kind of severe brain damage was Chris Benoit — a fellow Canadian WWE star who killed his family and himself in 2007, for seemingly no reason.
Matt Cappotelli won Tough Enough III but lost the fight to a brain tumor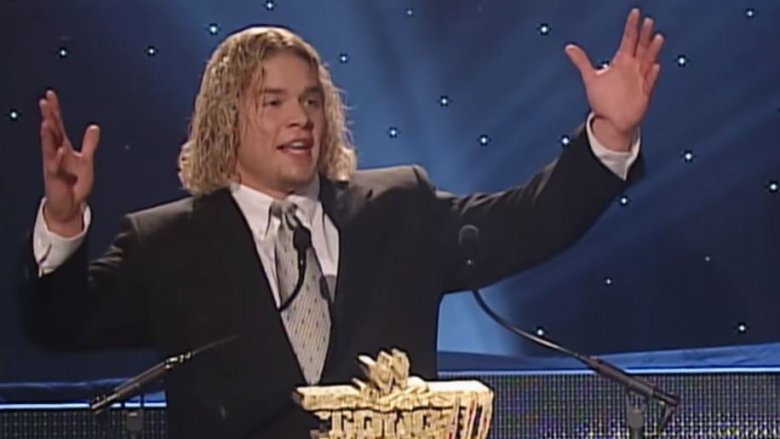 YouTube
In 2003, Matt Cappotelli was doing very well for himself. Together with John Hennigan, he had just won the WWE Tough Enough III competition, and franchise stardom seemed imminent. But why did his co-winner reach main event status with his John Morrison gimmick, while Cappotelli himself never made much of an impact?
It's not because Cappotelli didn't have what it takes. As Variety reports, he just fought his battles on a far more serious stage than the wrestling ring. In 2005, Cappotelli was diagnosed with a brain tumor, which ended his career before he could reach the highest levels. The first tumor was successfully removed, but that was only a temporary respite. Despite yearly screenings, Cappotelli started having headaches and seizures in 2017, and a surgery failed to remove the malignant tumor. After consulting his neuro-oncologist, Cappotelli decided to cease medical interventions. He died in 2018, exactly one year after the surgery. He was only 38 years old.
Viscera's heart gave out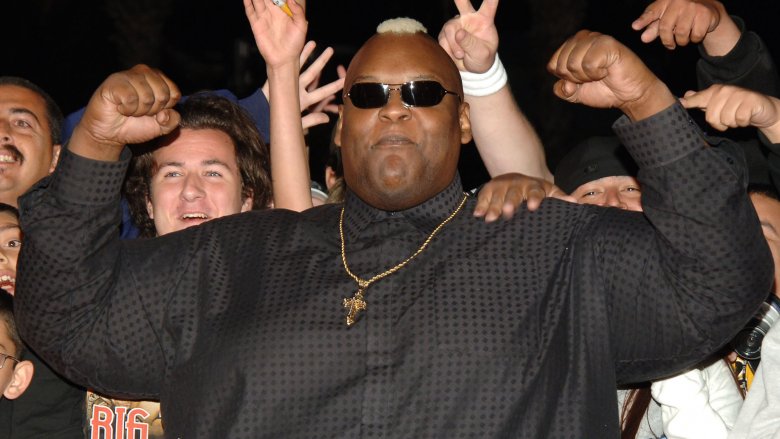 Getty Images
If the lifestyle of a professional wrestler can be difficult for the average superstar, imagine what it must have been like for Nelson Frazier Jr. The 6'9″, 487-pound giant was one of the largest competitors to ever climb in the ring. Even though he was never going to perform many high-flying moves, he was still a threatening presence, and lighter on his feet than you'd expect from a man who was almost as wide as he was tall.
Frazier intimidated his fellow performers under various gimmicks: the successful Mabel, the vicious entity known as Viscera, and finally, a light-hearted "world's largest love machine" persona that morphed into a brand new character called Big Daddy V. Unfortunately, the same girth that made Frazier such a fearsome ring presence eventually took its toll, as the physicality and grueling schedules of the profession finally caught up with him. In 2014, WWE released a statement that Frazier had passed away at the young age of 43. Although the company was tactfully quiet about the actual cause of death, Bleacher Report says Big Vis died of a massive heart attack.
'Superfly' Jimmy Snuka was charged with murder just before his death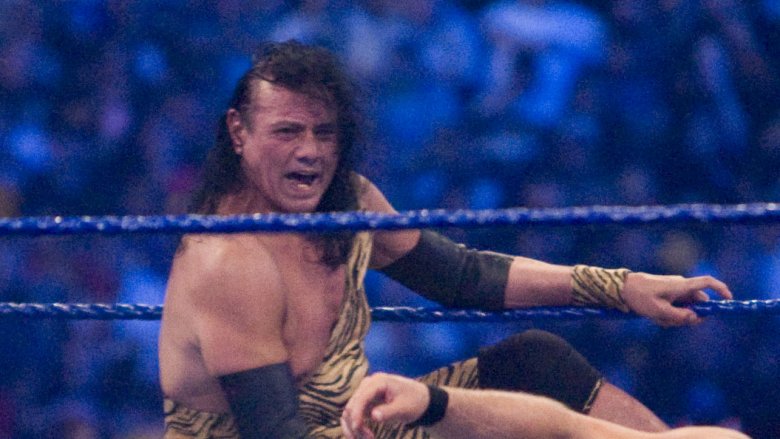 Getty Images
Jimmy Snuka, whose real name was James Reiher, was one of the first men to show America that wrestling could be more than a ground-based game. WWE recounts that his Superfly Splash from the top rope helped him reach superstar status in the 1980s, and that the famous dive from the top of a steel cage in his match against Don Muraco cemented his position as a pro wrestling legend.
Still, Snuka's legacy has another, darker side. As NBC News reports, his mistress died in mysterious circumstances in 1983, and a cloud of suspicion has hung above the WWE Hall of Famer ever since. Snuka has always maintained that the woman died from a fall in their hotel room, but according to CBC News, the prosecutors suspected she had been beaten. The case would almost literally follow the wrestler to the grave. Although the death was initially ruled accidental, the victim's relatives successfully sued Snuka for wrongful death. In 2013, an investigation by the Morning Call newspaper raised some new questions about the case, and in 2015, Snuka was charged with third-degree murder and involuntary manslaughter. However, he was already 73 years old and at the brink of death himself. The court dismissed the murder case because of Snuka's advanced dementia and rapidly failing health. He died just one week later.
Matt 'Rosey' Anoa'i succumbed to mysterious health problems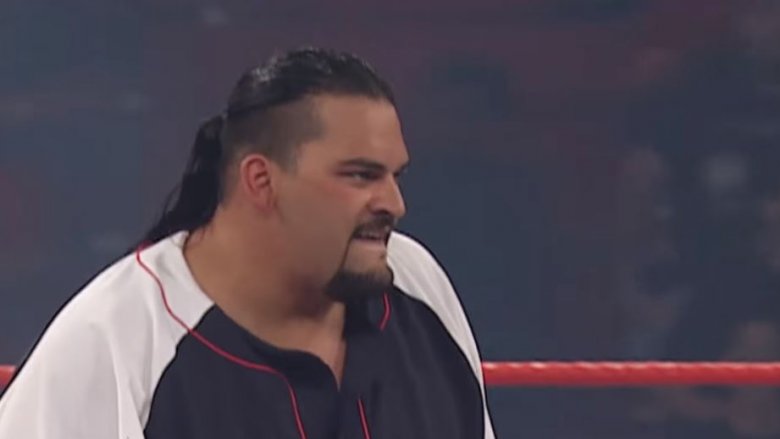 YouTube
People who don't know Matthew "Rosey" Anoa'i's history might think that he was just a random large man with a penchant for throwing people around the wrestling ring. However, the tag team expert was actually a member of the famous Anoa'i wrestling family. As described by the Independent, he was the older brother of Roman Reigns and the cousin of The Rock. Despite his family's notorious charisma, Rosey was never quite able to make it as a singles star. However, he carved a niche for himself in the tag team division. He first partnered with his cousin Jamal, who went on to become the popular wildman character Umaga and also died before his time. Later, he formed a successful team with The Hurricane. Together, they captured the World Tag Team Championship in 2005.
Unfortunately, Rosey was a very, very massive man working a physically demanding job, which did not help his odds of reaching old age. In 2017, at 47 years old, Rosey's death was made public by the family. His actual cause of death has not been publicly released, but he had been diagnosed with congestive heart failure and atrial fibrillation in 2014. According to CBS Sports, he continued to wrestle until his death.
Nicole Bass and the mystery illness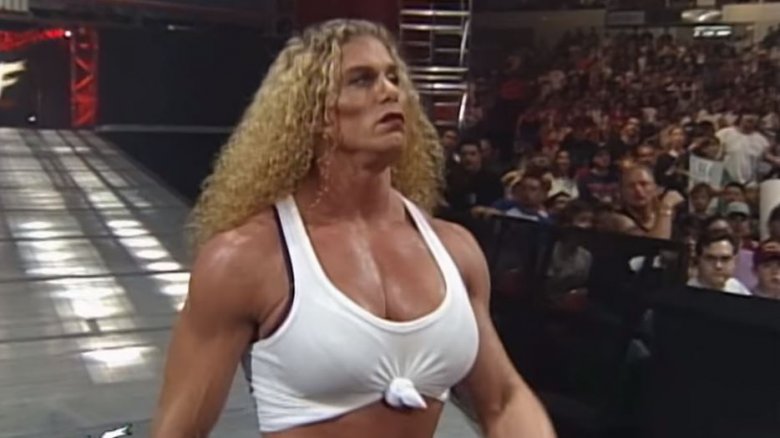 YouTube
Nicole Bass was not your typical wrestling diva. She was a tall, highly muscular lady who towered over the competition, and mostly played a bodyguard-type character instead of an active wrestler. As described by USA Today, her start in the business was equally unorthodox. She was a successful bodybuilder whose large frame and deep voice led to a gig on Howard Stern's radio show, which she in turn negotiated to a budding wrestling career … and another career as an adult film actress. Bass didn't have the longest tenure in wrestling, as she was released just a few months after she was signed. She then sued WWF for no less than $120 million, claiming she had been wrongly terminated, that another performer had sexually assaulted her, and that the company was a discriminatory workplace that paid women less than men. A jury ruled against her.
How the 52-year-old Bass died in 2017 is slightly uncertain. The Independent reported that the cause of death was a stroke, but most of the first-hand information comes from Bass' partner, Kristen Marrone. According to Marrone, Bass just suddenly got very sick, and they took her to a hospital but nothing could be done.
Ludvig Borga shot himself after a strange life in boxing and politics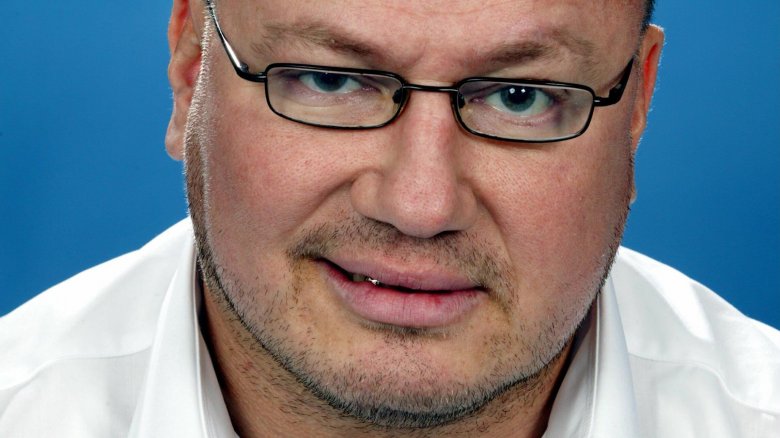 Getty Images
Ludvig Borga was one of the many generic monster heels of the 1990s. Deadspin describes the character as a fairly standard, Ivan Drago-style "bland bad guy from the frozen North." The man behind the character, on the other hand, was far from bland. Tony Halme never became what you'd call a WWF legend, but that was just one stop in his strange career. The Independent gives a pretty good rundown of Halme's experience: Apart from wrestling, he worked as a bodyguard before moving back to his native Finland and becoming a boxer. According to Eurosport, Halme's boxing career was a massive hit. He won the national heavyweight championship and sold out arenas. He also tried to expand to MMA, but opponents such as Randy Couture soon showed him what was up.
Perhaps the strangest and most notorious move in Halme's career came in 2003 when he ran for the Finnish parliament as a member of the True Finn party. He was elected and immediately started championing strange and impossible policies, such as saving Finnish funds by sending drug dealers to Russian prisons. His private life also became increasingly erratic. In 2004, the esteemed Member of Parliament was arrested and given a suspended sentence for firearms and drug violations. At this point, it was clear that Halme wasn't doing well. After several alcohol-related arrests and a stint at a mental institution, the 47-year-old former heel shot himself in 2010.
If you or anyone you know is having suicidal thoughts, please call the National Suicide Prevention Lifeline at 1-800-273-TALK (8255).
Ric Flair found his wrestler son dead in a hotel room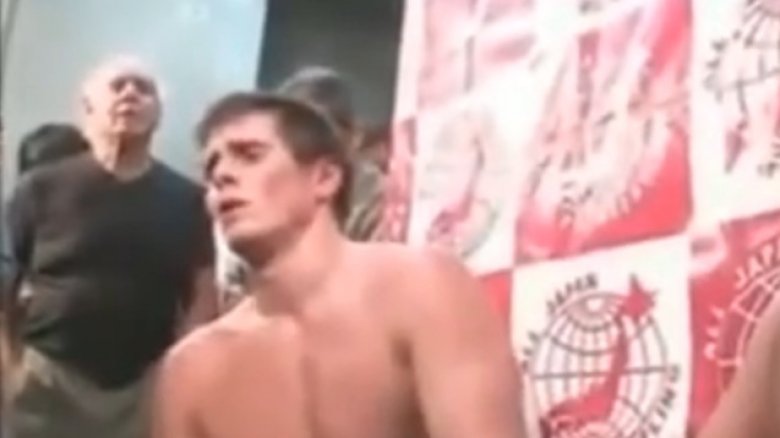 YouTube
Ric Flair might be one of the greatest wrestlers in history and a 16-time world champion, but he's paid for his success with personal tragedy. The worst thing that can happen to a father is finding his own child dead, and that's exactly what happened to Flair.
Like his father, Reid Flair was a wrestler. However, he wasn't in the wrestling business for glory or championships, or even cash. Bleacher Report notes that he was in the game mostly to get the respect of his father. This quest was cut tragically short. According to the Charlotte Observer, Ric Flair found Reid in a hotel room in Charlotte, North Carolina, dead of an apparent overdose from heroin and prescription medication in 2013. The younger Flair was only 25 years old.
In 2015, what must have been the worst day of Ric Flair's life returned to haunt him in a very unexpected way. His daughter Charlotte was the WWE Divas Champion at the time, and he was frequently fighting on her side. CBS Sports describes how one particular TV angle took a dark turn as wrestler Paige, Charlotte's opponent in an upcoming match, started talking about Reid's death in an attempt to provoke Charlotte. This incident left Ric Flair in a strange place: He was deeply hurt by the decision to use his dead son to hype up a match, but was afraid to say anything in case he'd accidentally sabotage Charlotte's career. Way to go, WWE.
Ivan Koloff actually had a pretty good life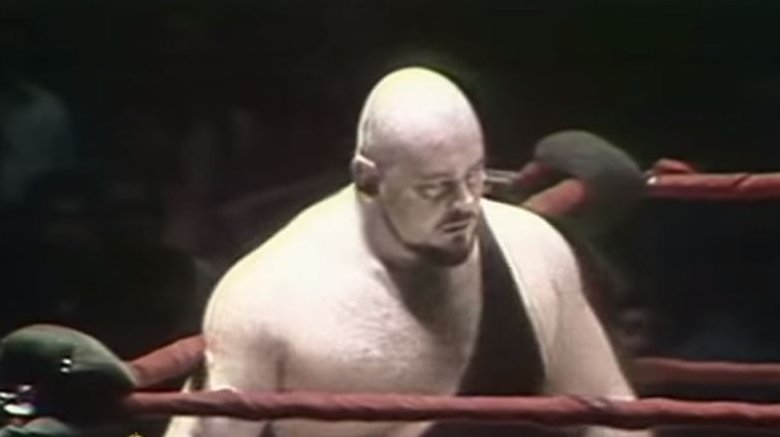 YouTube
Every article about professional wrestlers features more than enough tragedy, so it's nice to find out that people like Ivan Koloff exist. Sometimes, it's just good to know that one of the most ruthless wrestling heels in history was actually a decent guy who retired with no fuss after a 30-year career and lived a long, fulfilling life.
Today, Koloff may seem like a generic "evil foreigner" villain, but in his heyday in the 1970s and 1980s he was a truly formidable presence. The "Russian Bear" was actually Canadian, but this didn't stop him from wearing a hammer-and-sickle singlet and becoming a man everyone loved to hate. Koloff's WWE obituary reminds us he won the company's WWWF World Heavyweight Championship by ruthlessly crushing Bruno Sammartino's throat at Madison Square Garden. This ended Sammartino's legendary seven-year championship reign. Hollywood Reporter describes him as a notorious, fan-favorite villain, and mentions how wrestling legends such as Ric Flair, Hulk Hogan, and the Iron Sheik paid their respects to Koloff after he passed away.
The man behind the character was, of course, very different than the brutal heel who finished his opponents with bear hugs. According to NBC News, the scary-looking Koloff was actually a sweet, gentle person who became an ordained minister after his retirement in the 1990s. In this capacity, he toured the world for over two decades before finally succumbing to liver cancer at the respectable age of 74.