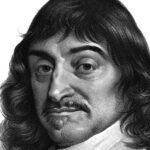 The Surprising Distance Rene Descartes' Corpse Has Traveled
echo get_the_meta(); ?>
For a man who valued numbers all his life, even Rene Descartes might have marveled over the mileage that his body traveled after death. According to CueMath, some refer to the famed French mathematician and philosopher as the "Father of Modern Philosophy." Fittingly, the author of the quote, "I think; therefore I am," did, indeed, enjoy thinking, especially while lying in bed.  He often slumbered until noon, and regularly slept twelve hours each night — but Descartes considered that time well spent since he believed sleep provided "nourishment for the brain." He sometimes even worked from his bedroom. He also believed in the power of dreams; one November night in 1619 while stationed in Germany as part of the Protestant Dutch States Army, he experienced a series of dreams that changed his career trajectory. From that moment onward, he sought to discover new ways of seeking knowledge (from Discover Walks). 
Descartes did just that. He embraced rationalism and believed that reason was essential to not only understanding how the world worked but also to building knowledge, according to Spark Notes. This philosophy helped inform the Enlightenment during the 17th and 18th centuries. Descartes also contributed to the mathematics field by introducing analytic or Cartesian geometry, according to the Story of Mathematics. Further, Descartes also created deductive reasoning, among other things. He spent much of his life traveling, including from 1619 to 1628, studying as he said, "the book of the world," according to Britannica. It was no wonder his corpse would also travel the globe.
The traveling bones of Descartes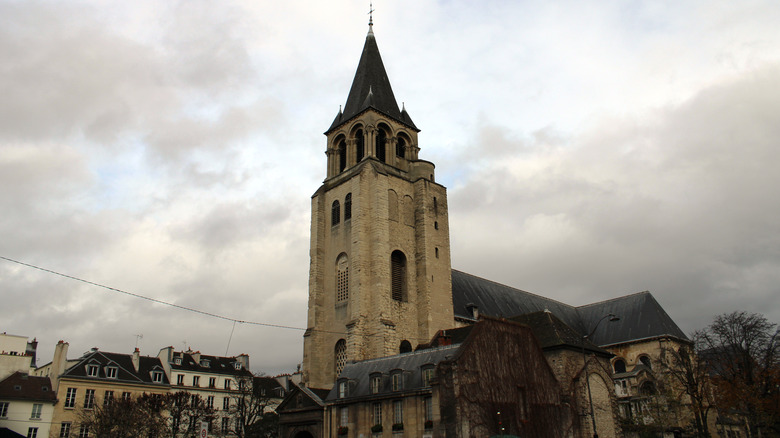 SOMETIS ART/Shutterstock
At the end of his life, Descartes settled in Sweden where he became part of the court of Queen Christina in October 1649. The 22-year-old demanding royal insisted that the 53-year-old Descartes tutor her in philosophy at 5 a.m.—a hard time for a man used to sleeping his mornings away. Descartes allegedly became chilled one February morning while conducting his teaching duties before becoming sick with pneumonia. He worsened quickly and died on February 11, 1650, in Stockholm (via Britannica). His first burial site was a small church, St. Olof's Chapel far from the city's center; it turned out that finding a place to inter the body of a Catholic practitioner in a predominantly Lutheran country proved challenging, according to Atlas Obscura. 
Sixteen years after his first burial, his native country asked for the remains, brought them back to France, and buried Descartes in the Abbey of Saint-Germain-des-Prés (see in above photo). But the story doesn't end there. Descartes' remains continued traveling.
Descartes' final resting place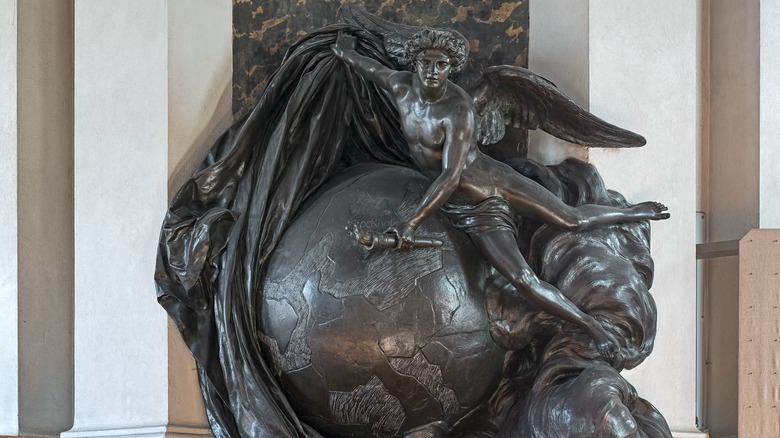 Mikhail Markovskiy/Shutterstock
Despite losing Descartes' remains to France, Sweden wanted to honor the philosopher and mathematician. When Adolf Fredriks kyrka replaced St. Olof's Chapel in 1774, King Gustav III, then a prince, celebrated Descartes with a lead memorial that included a portrait of the thinker (see part of it in the photo above). Despite finding a home at France's Abbey of Saint-Germain-des-Prés, Descartes's remains moved once more: they were hidden in an Egyptian sarcophagus at the Museum of French Monuments during the French Revolution, according to Mental Floss. 
By the time, a reburial was planned — decades later —someone had pilfered Descartes' remains, including his skull. A Swedish scientist saw a newspaper advertisement selling it and today what is believed to be the skull is stored at the Musée de l'Homme in Paris; visitors can see a cast of it, according to The Guardian. Philippe Charlier, a forensic scientist, spoke with the Guardian and purports that there are as many as four other skulls that might turn out to be Descartes — three in private collections and one in Stockholm. Although never authenticated, the skull remains at the Musée de l'Homme in Paris. Descartes' other remains have slumbered in Saint Germain des Prés since 1819.