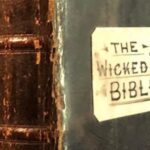 The Surprising Number Of Sinners' Bibles That Exist In The World
echo get_the_meta(); ?>
Three little letters can make a whole world of difference. A Bible publisher discovered in 1631 that omitting the word "not" encouraged the devout to commit adultery. In the "Wicked Bible," the seventh commandment features a typo that changes everything as it instructs observers of the Ten Commandments, "thou shalt commit adultery," said The Vintage News. 
It took about a year before someone noticed, and Robert Barker and Martin Lucas, the Bible's printers, were ordered to appear in court. For printing 1,000 copies of the "Adulterous" or "Sinners' Bible," as it became called, their printing license was revoked, and they received a 300-pound (about $57,000 today) fine. All copies of their Bible were gathered and destroyed. But the pair really got lucky, since King Charles I wanted to have them executed.
Some believe that the error was really sabotage committed by rival Bonham Norton since the ruckus did damage the printers' reputation and business. "In a sense, the jury is still out on why the misprint happened," said Bonhams specialist Simon Roberts to The Guardian. "Originally it was thought that it was just a mistake which didn't get noticed, which to me seems slightly unlikely — if you're going to check 10 things, then you'd think you would check that page."
Not just one mistake
For Barker, the mistake contained dire consequences. From that moment onward, finding work became difficult, and he ended up dying in King's Bench Prison, a debtor's jail, in 1645, according to The Vintage News. Maybe 10 copies of the Sinners' Bible may exist, according to The Guardian. One sold for about 31,000 pounds (a little over $43,000) in 2015 at an auction at Bonhams, reported the business, which noted the number might be as low as nine. Five Sinners' Bibles have hit the auction block in the past 75 years.
One other mistake in the Sinners' Bible appeared in Deuteronomy 5:42. Instead of speaking about God's "greatnesse," the wicked version of the Bible applauded his "great-asse," reported The Washington Post, who said that 11 Sinners' Bibles remain. Some scholars assert that this additional error gives sway to the sabotage theory. "If it had just been one mistake, like leaving off the 'not' in Exodus 20:14, it could have been an accident," said Diana Severance, director of Dunham Bible Museum at Houston Baptist University. "But the mistake in Deuteronomy 5:24 of God's 'great-asse,' instead of greatness, suggests there was something else going on."