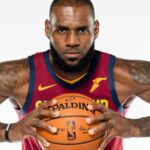 The Tragic Real-Life Story Of LeBron James
echo get_the_meta(); ?>
King James. The Akron Hammer. The L-Train. LeBron James has a great many nicknames, and while some of them aren't particularly nice, they're a testament to the thing we all know him for: His beard game is really, really glorious. Oh, and he also plays basketball pretty well. The 6'9″ small forward/power forward's name is never far away when the best players in history are discussed, and many even think that he is the best player NBA has ever seen, period. 
With a career like that, it's easy to think that James has just about the easiest life one can imagine, and in many ways, that may well be true. Still, even multi-millionaires playing at the absolute top of one of the most popular sports in the world aren't feeling all unicorns and rainbows all the time. Here's the tragic real-life story of LeBron James. 
LeBron James' tragic early years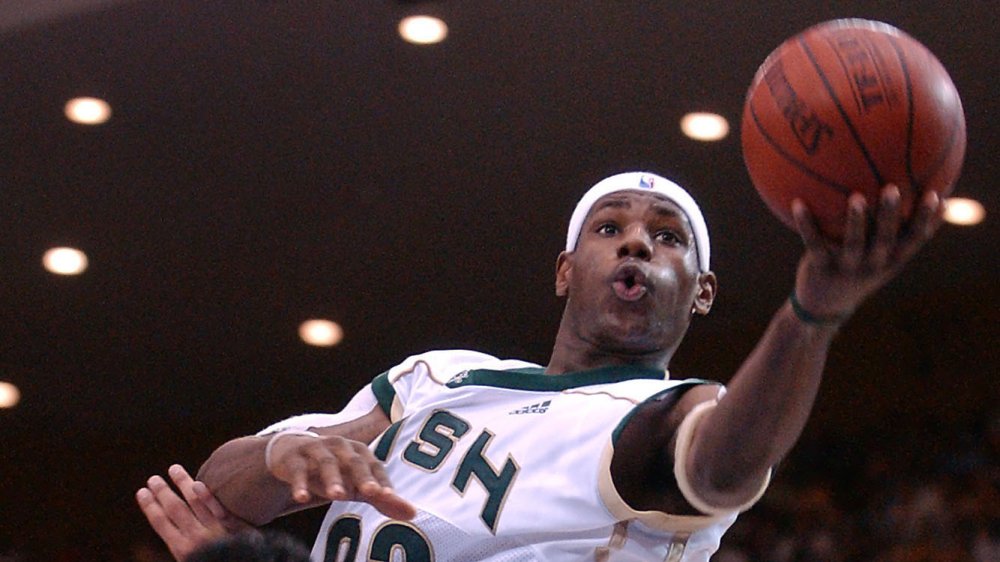 Lucy Nicholson/Getty Images
Today, LeBron James is a superstar and a brand, but as The Guardian explains, the situation was very different back when he was still in school. Though he was already a total prodigy and "the most talked-about basketball player in America," the narrative was still very much a rags-to-riches one. This is because his childhood was, to put it mildly, difficult. To put it more accurately, The Guardian actually uses the word "hellish."
James' father, Anthony McClelland, had a long criminal record and wasn't really present in his child's life. As a result, his mother, Gloria, had to look after James and two other kids in difficult conditions. "I wouldn't wish some of the stuff we went through on anyone," she has said of the period. "Not on my worst enemy." While that's the kind of sentence you just leave hanging ominously in the air without elaborating on, young LeBron's home front certainly seems to have gone through some pretty turbulent times. For instance, he's said that while growing up, he witnessed killings, and he's mentioned that his family once had to move houses no less than six times in just one year, which sounds like an absolute nightmare.
He thought he was 'the Chosen One'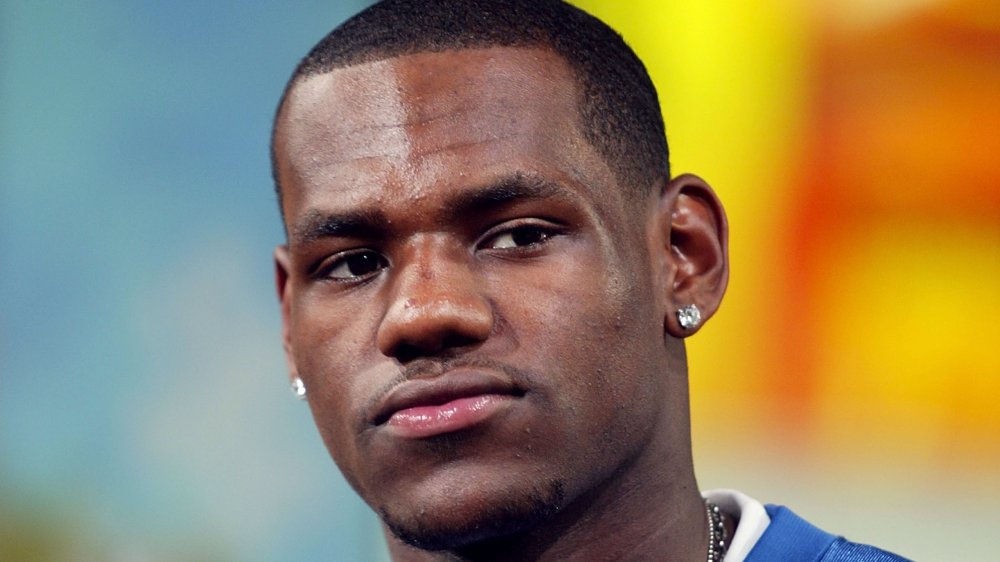 Scott Gries/Getty Images
It's always kind of awkward when your friend tries to come up with a nickname for themselves. It's even worse when the name they pick is so absurdly over the top that no one outside professional wrestling could ever get away with it. But while you may be able to sit down with Steve and tell him that the whole "Stephen the Golden Pirate Ghost" thing isn't exactly taking off, actual superstars in the making tend to have a lot more yes men and a lot less common sense around them. 
Such was the case with LeBron James, who CBS News tells us indeed experimented with a self-imposed nickname in his youth. Back in his high school years, when the hype really started to catch on, he started referring to himself as "the Chosen One." In all fairness, he thinks that's just as awful as you probably do. In 2009, he commented on the moniker in his book, Shooting Stars, while also pointing out that the world was offering him ample opportunities to start getting a little big-headed. "I was arrogant, dubbing myself 'the Chosen One,'" he said. "In hindsight, I should have kept quiet, but I also was what I was, a teenager where every reporter in the world seemed to be rushing toward me at once." Fair point. Besides, these days he has tons of better nicknames. 
His senior year controversies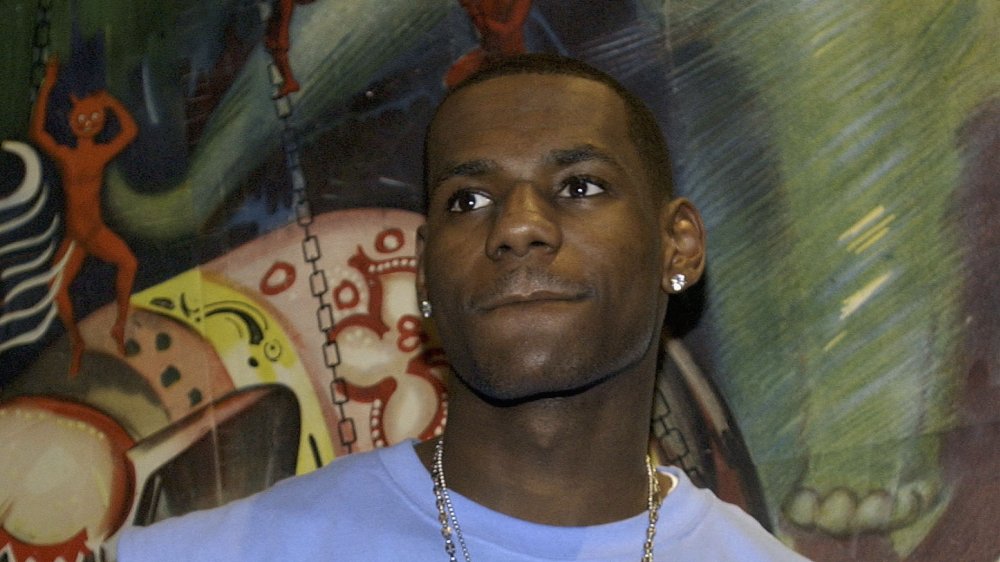 Vince Bucci/Getty Images
LeBron James' star was already shining bright in high school, where ESPN tells us he was considered the "the nation's top high school player." Unfortunately, his senior year, 2003, became a lot more chaotic than anyone could've foreseen, thanks to some unwise decisions regarding gifts. That year saw young LeBron in hot water because he accepted a luxurious Hummer as a present, which some suspected to violate Ohio's state amateur bylaws. However, it turned out that the vehicle was actually a gift from James' mother, Gloria, and a two-week investigation ultimately cleared his name. 
Unfortunately, his season later ended prematurely because mere days after the Hummer investigation finalized, it turned out he'd also accepted some sports jerseys as a gift. As The New York Times writes, the problem with the whole "accepting presents" thing is that it means he capitalized on his athletic ability, and he was therefore technically ineligible as an amateur. As a result, his high school basketball career was shortened by a couple games, and he voluntarily returned the jerseys.  
As CBS News reports, James looks back to these days with some bile. He compares the whole gift jersey situation to a "witch hunt" led by Ohio High School Athletic Association commissioner Clair Muscaro, and he appears to remain quite bitter about the Hummer investigation and the way the media treated his mother because of it. After all, his mom had dared to borrow some money and buy an expensive birthday present to her virtually-guaranteed future superstar son while they were still receiving rental assistance.
LeBron James struggled with his sudden fame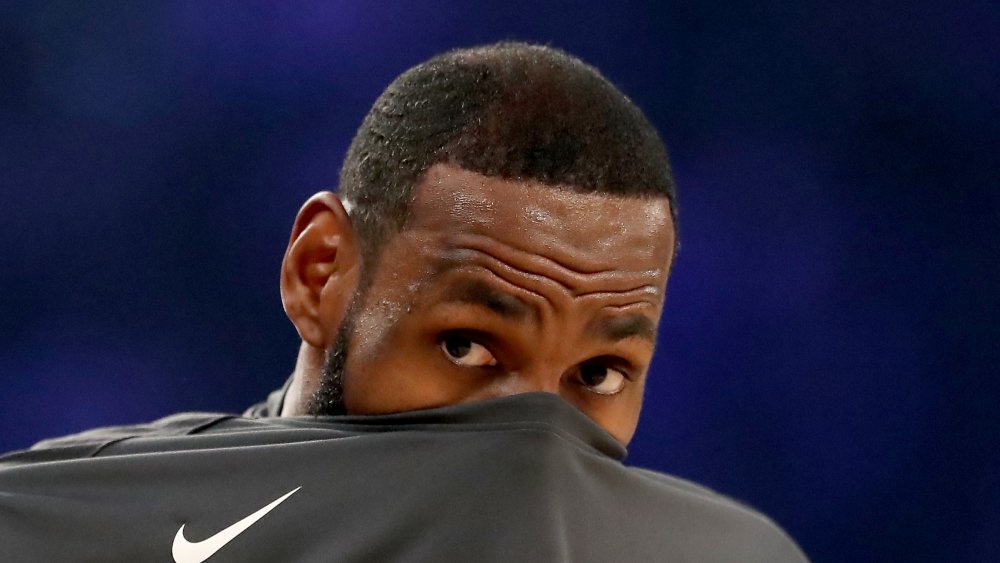 Elsa/Getty Images
Imagine being a teenager who suddenly becomes one of the most famous people in the world. Combine this with future prospects that are filled with even more celebrity, downright ridiculous amounts of money, and constant adulation from the media and public alike. Oh, and you're also 6'8″ and built like a Greek god. Do you think this would go to your head?
As CBS News tells us, LeBron James freely admits that it did. For a while there, the constant hype and attention turned him into a self-admitted jerk. To be fair, he was 17 years old, had just appeared on the cover of Sports Illustrated, and everyone was buzzing around him and his high school teammates, so it makes a lot of sense that he might start becoming an unlikable guy. In his book, Shooting Stars, James paints a grim picture of the era, saying, "We had become big-headed jerks, me in particular, and we are to blame for that, but so are adults who treated us that way and then sat back and smugly watched the self-destruction." The era also saw James (very briefly) experimenting with marijuana, and while we're not going all Reefer Madness here, smoking weed as an up-and-coming athlete back in the early 2000s wasn't a super great look or a super wise decision.
LeBron James and injuries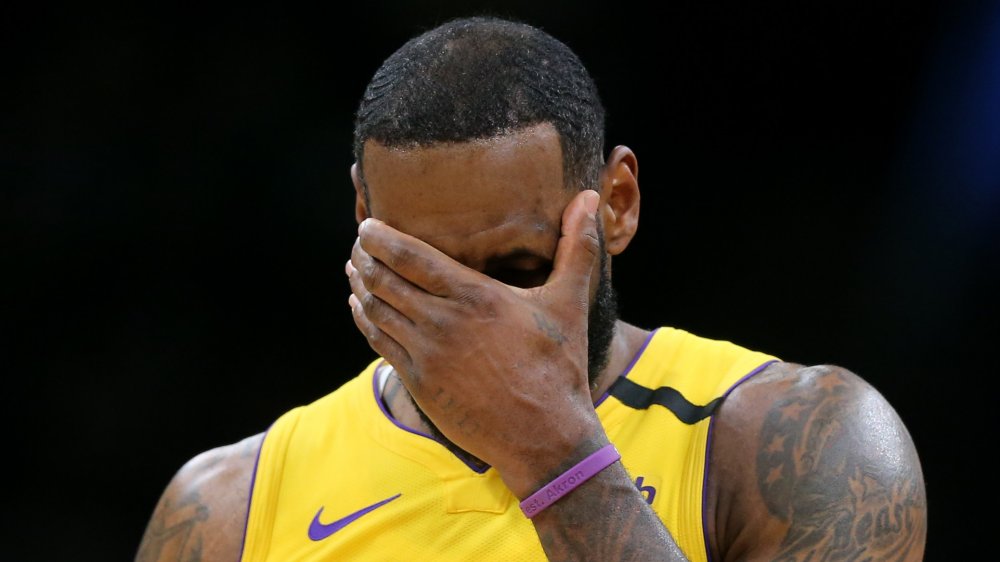 Maddie Meyer/Getty Images
Almost every A-list athlete has to wrestle with the dark wraith of injury at some point of their career, and LeBron James is no exception. As ESPN and USA Today tell us, James is considered one of the more durable players out there, but even his body has been known to call it quits on occasion. A sprained right ankle cost him three games in the 2003-2004 season. He missed another three with a sprained left ankle in 2005-2006. In 2007-2008, a sprained finger sidelined him for five games, and the 2009-2010 season brought yet more ankle sprains and some elbow trouble, costing him a total of six games. Then in 2012-2013, a sprained hamstring caused him to miss five games, and the next year, a host of minor issues (such as a broken nose and back spasms) kept him away from the court for a total of three games.
Perhaps understandably, James has started missing more events as he's grown older. The 2014-2015 season saw him miss no less than ten games, mostly due to back trouble. And on Christmas 2018, he suffered the worst injury of his career in the form of a torn left groin, which Sports Illustrated tells us cost him a whopping 17 games. More recently, he's been struggling with the right side of his groin, so it doesn't look like injuries are about to leave him alone in the future, either. 
The 'Decision' debacle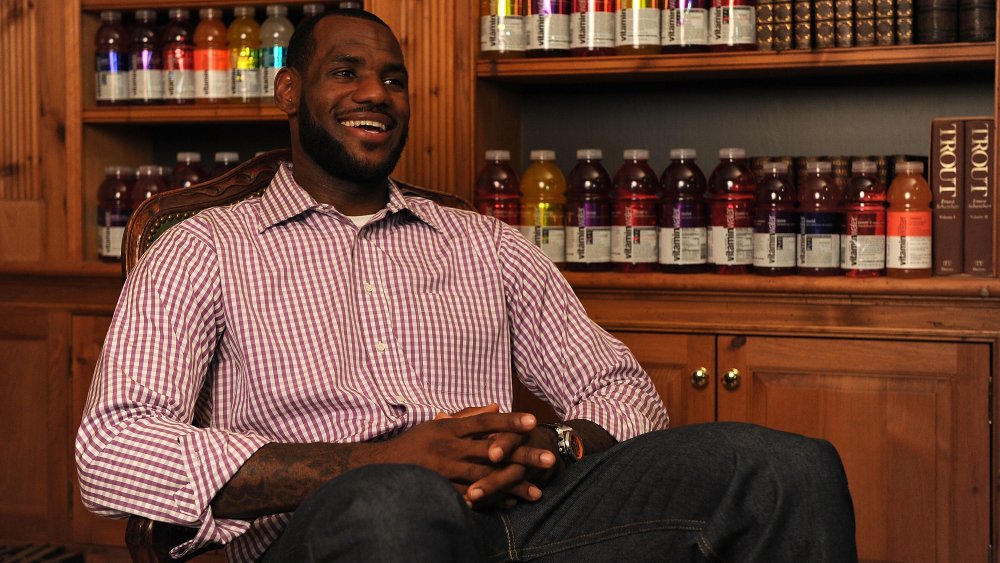 Larry Busacca/Getty Images
In 2010, LeBron James was facing a decision. As NBA.com tells us, the superstar player had decided to leave his hometown Cleveland Cavaliers in favor of the Miami Heat, and he had to figure out how to notify everyone. Unfortunately, he chose to do so with an ESPN special program called The Decision, which Bleacher Report notes backfired immensely, especially because he didn't notify his old team until moments before the show started. Fans thought they were being "toyed around," the Cleveland Cavaliers felt rightly insulted, and tons of people thought The Decision was James' own idea and a sign that his egomania had fallen off the deep end. In fact, even James himself didn't seem to enjoy himself in the special, looking uncomfortable and embarrassed throughout the whole thing.
James' discomfort may be explained by the fact that The Decision wasn't even his idea. The concept was originally pitched by journalist Jim Gray, and James' management approved it because they felt it was a cool way to raise some money for charity. They weren't wrong, as ESPN ended up donating all the advertising revenue from The Decision to charitable causes, and Nike matched the sum for good measure. Unfortunately, this didn't earn too much goodwill for King James, and the whole debacle was an unmitigated PR disaster for him. 
Getting into hot water over Hong Kong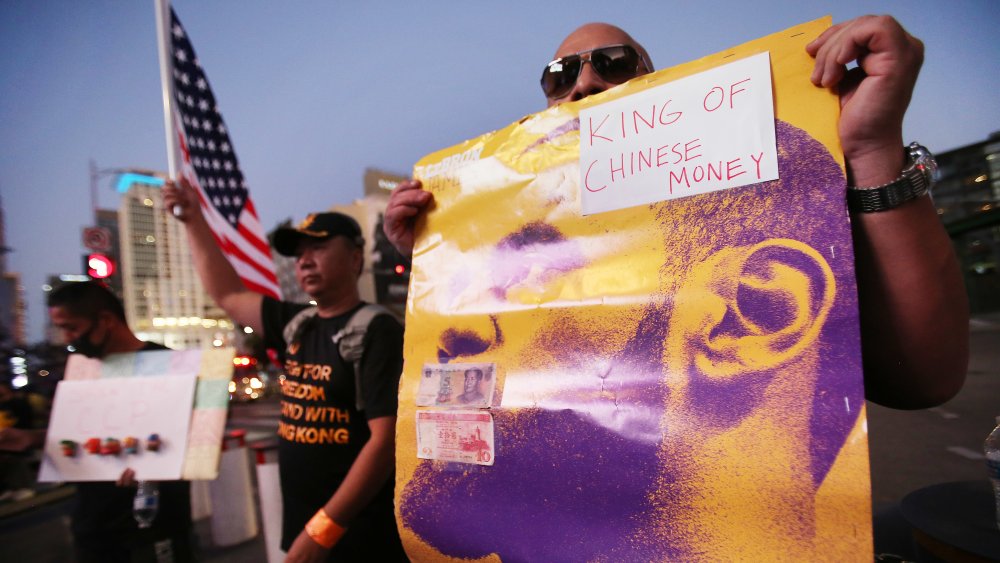 Mario Tama/Getty Images
You might've heard that in 2019, the NBA was in hot water over the Hong Kong protests. As The Daily Beast reports, this started when the Houston Rockets manager Daryl Morey sided with Hong Kong's pro-democracy protesters on Twitter, only for Chinese sponsors to voice their concerns. As a result, Morey deleted his supportive tweet and apologized by stating he didn't intend to "intend to cause any offense to Rockets fans and friends of mine in China."
LeBron James was happy to add fuel in the fire before the NBA shut down the discussion of the issue. When asked whether Morey should be punished over his public show of support, James made it clear he was highly critical of the Rockets manager's show of love to the protesters, saying, "Yes, we do have freedom of speech. But at times, there are ramifications for the negative that can happen when you're not thinking about others, when you only think about yourself." He later doubled down on his view, saying that Morey's comments could've harmed many people "not only financially but physically, emotionally, spiritually." It's not exactly a coincidence that the Hong Kong protesters were soon burning and stomping on James' basketball jerseys on the streets. 
LeBron James has faced racism during his life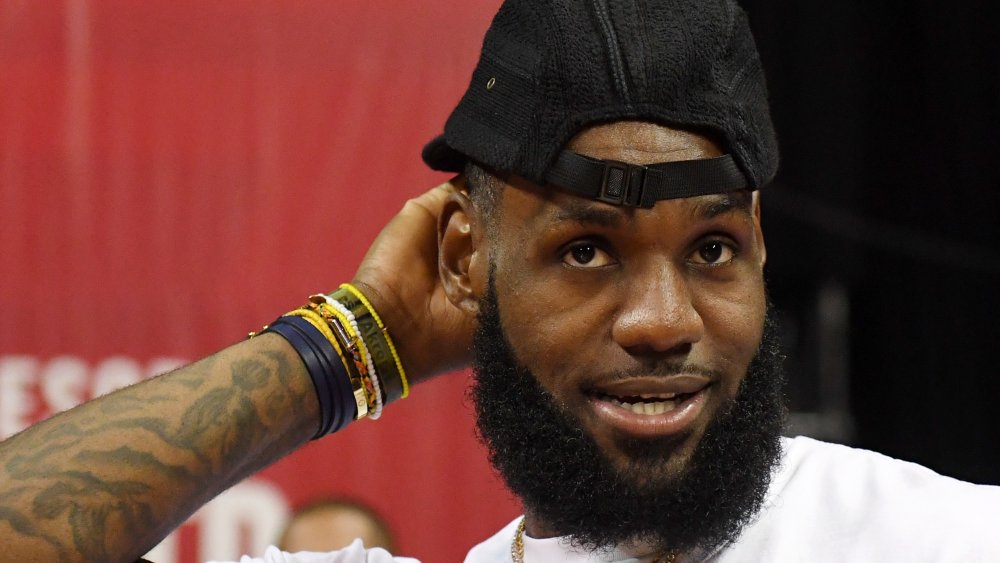 Ethan Miller/Getty Images
Unfortunately, we live in a world where a black athlete may become a target of unsavory, racially-motivated attention, and even LeBron James isn't immune to the occasional racist attack. As CBS Sports tells us, one of the more visible attacks against him happened in 2017, when his home was "vandalized with a racial slur" just ahead of the NBA Finals. James took the racist vandalism incident in stride and turned it into a powerful speech about the everyday hate against African-Americans, but unfortunately, he's also been targeted by significantly more powerful people than random graffiti "artists." 
In 2018, the Los Angeles Times reported that President Donald Trump himself was accused of racist remarks against James. The basketball star had been quite vocal of the President's "racial insensitivity" issues, and when he repeated these views in an interview with Don Lemon, Trump responded by tweeting, "LeBron James was just interviewed by the dumbest man on television, Don Lemon. He made LeBron look smart, which isn't easy to do. I like Mike!" While the "Mike" he referred to may or may not have been Michael Jordan, it's worth noting that both of the men he called stupid are African-American. Ouch. 
LeBron James' mommy troubles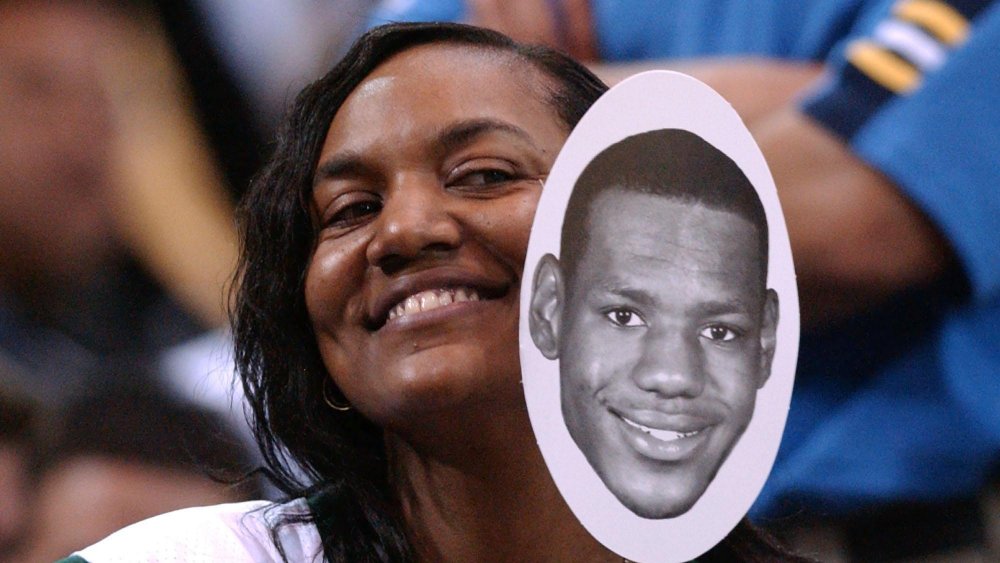 -/Getty Images
LeBron James' mother, Gloria James, has been known to ruffle the occasional law enforcement feather with her behavior. According to the Miami Herald, she's been arrested on two occasions. In 2006, she was picked up in Ohio and had to face charges for driving while intoxicated. In 2011, she had another alcohol-and-automobiles-themed run-in with the law when she allegedly assaulted a Fontainebleau Miami Beach Hotel parking attendant for "taking too long" with her car. She was promptly arrested, and as several witnesses supported the parking attendant's account and Gloria James' breath reportedly smelled of alcohol, she was promptly arrested and charged with "simple battery and disorderly intoxication."
King James' mother was also inadvertently responsible for one of the bigger scandals in his early career. As ESPN tells us, in 2003, she bought her son a neat Hummer H2 for a present … which promptly led to a two-week investigation to find out whether accepting the SUV gift made James "violate state amateur bylaws." As CBS News tells us, James feels that the inquest was quite unfair and humiliating to his mother. 
The title no one wants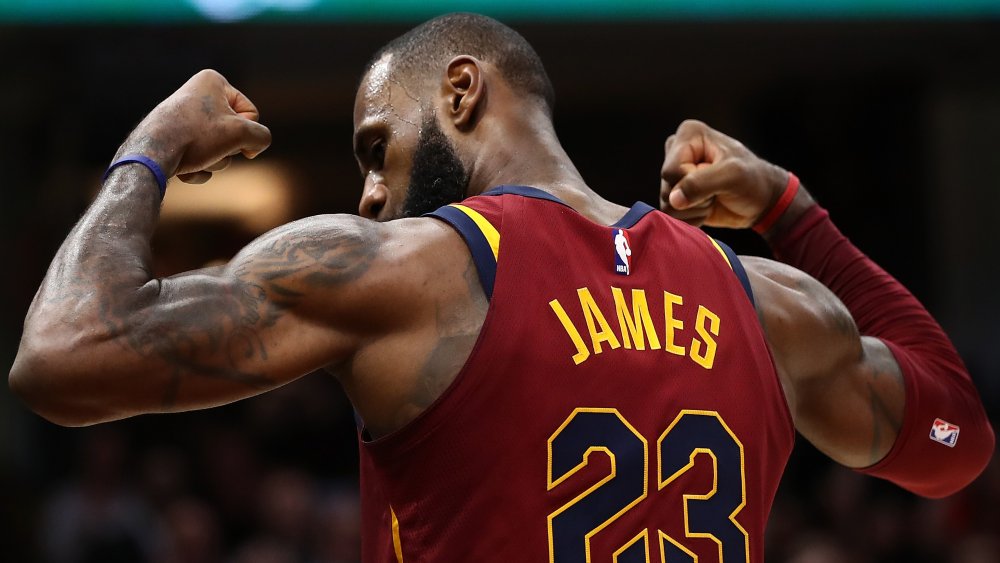 Gregory Shamus/Getty Images
LeBron James' name is often mentioned when the subject of the greatest basketball player of all time is discussed. However, his name is also pretty much guaranteed to be in contention when it comes to another, far less pleasing title: "the most hated man in basketball." This isn't just the opinion of some bitter Facebook group, either. The media has also granted him the moniker at various stages of his career. 
In 2011, ABC News straight-up referred to him as basketball's most hated player. In 2012, it was Bleacher Report's turn to give him the title. His Decision debacle that saw him leave his Cleveland Cavaliers for the Miami Heat is usually the stated reason for the hate, along with his perceived inability to "carry the load" without super talented teammates to rely on. It looks like the hate's not about to die, either. As recently as 2019, Essentially Sports wrote that according to Twitter data, it was extremely clear who the platform's users thought was the most hated man in basketball. Let's just say that the answer won't exactly shock you.
While James has occasionally done things that justify fan hate (see his Miami Heat move shenanigans), most of the time he's merely been doing his thing. So perhaps the reason his reputation seems to be permanently on the red for many people is just a byproduct of his status as arguably the best current player in the game. 
LeBron James and the tragic loss of Kobe Bryant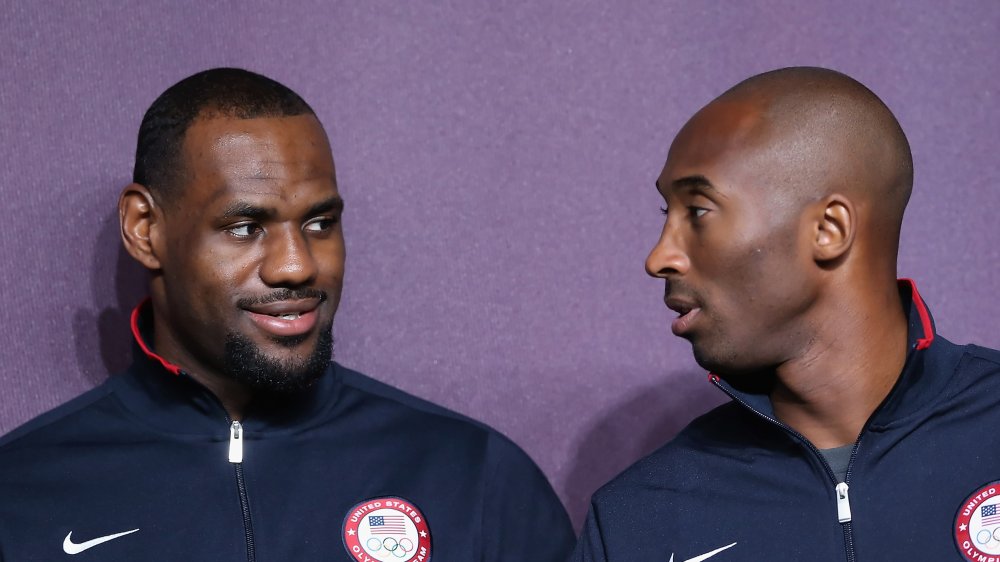 Jeff Gross/Getty Images
On January 26, 2020, basketball lost one if its all-time greats when Kobe Bryant perished in a terrible helicopter accident in Calabasas, California. As Clutch Points tells us, Bryant and LeBron James knew each other quite well, and Bleacher Report notes that they often fought side by side for Olympic glory. Both men were part of the gold medal-winning Team USA for the 2008 and 2012 Olympics. 
James learned of Bryant's untimely demise at a time when the two men's fates were yet again intertwined. Just days before the incident, he'd surpassed Bryant on the NBA all-time scoring list, and the "Black Mamba" had warmly congratulated James with what would turn out to be his final social media post. Eerily, the two men had also talked on phone just hours before the helicopter crash. 
James learned of Bryant's fate while flying to a game, and reports say he was "heartbroken," and several people were seen consoling him after the plane landed. He eventually addressed Bryant's death on Instagram, writing, "I literally just heard your voice Sunday morning before I left Philly to head back to LA. Didn't think for one bit in a million years that would be the last conversation we'd have." He also promised to keep Bryant's legacy alive by pushing both himself and the Lakers to be the very best they can be.