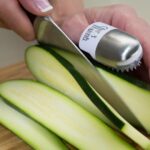 More Ways to Add Technological Flair to Your Kitchen With These New Devices
echo get_the_meta(); ?>
You've seen some "out there" kitchen products. These little devices can really take your culinary skills to new levels, they're also surprisingly available in countless stores near you. Many of them at least,  some you might need to search for in more obscure places or niche kitchen stores.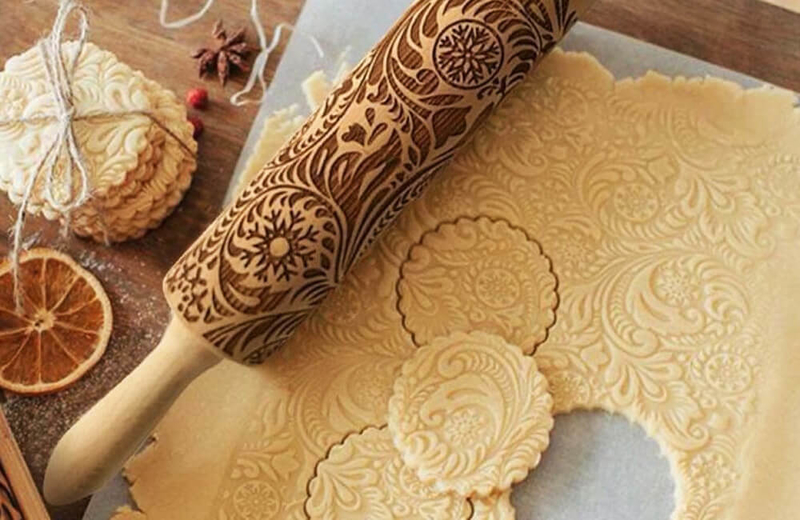 Whether it's a cool gadget like the "Star Wars" kitchen timer or a nifty finger protector that keeps you safe while slicing and dicing, these little products are perfect for people (like you) who are obsessed with adding flair to their food. Still intrigued? Then check out even more ways to spice up cooking time with these new devices.
Can-Do Compact Can Opener by Joseph and Joseph ($21)

Joseph and Joseph excel at chic designs that are still oh-so functional, and the Can-Do Compact Can Opener is another handy item they created for your kitchen. All you have to do to use this item is place it on top of the can you mean to open and twist the top to start opening.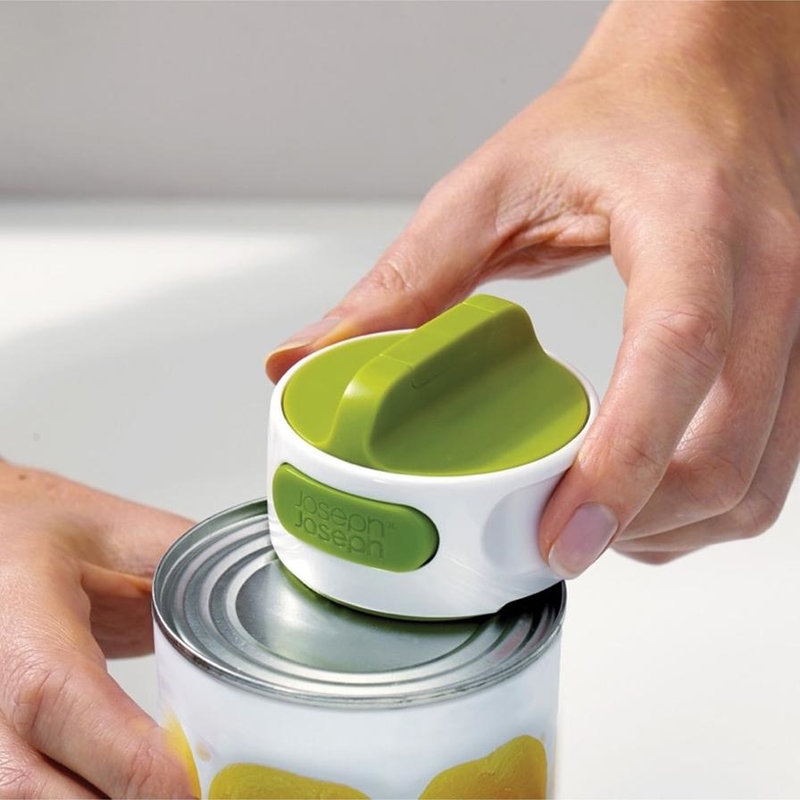 The diameter of the item itself is smaller than a normal aluminum can, so it's easy to store, and you can wipe it clean with ease. The sleek design fits into any kitchen, and the two-year guarantee from Joseph and Joseph means there are no risks involved.
Onion Chopper Pro by Zalik ($21.99)

Start the waterworks – we're chopping onions. Anything that takes the tears out of chopping onions is a device that is going to be popular, and the Onion Chopper Pro from Zalik is no exception. It's a must-have for any fan of onions.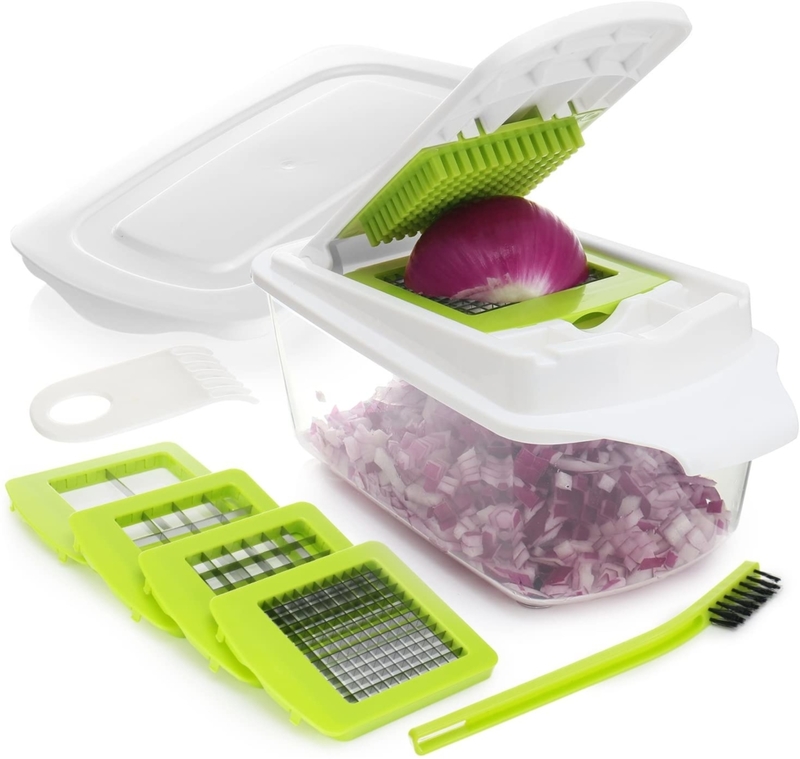 Its four-in-one capabilities include easier and quicker mincing, slicing, chopping, and grating, and fewer tissues required. The blades are made of 420J2 stainless steel, meaning they're always sharp enough to get through your next onion. The parts of the chopper are made of reinforced BPA-free plastic, and this item even comes with no-hassle lifetime insurance.
Coolmade 8-in-1 Kitchen Tool Set by Coolmade ($11.99)

All those tools inside that little bottle? How is it possible? Made of silicon, this bottle includes a squeezer for fresh juice, a can opener, a cheese grater, a spice grater, an egg separator, and an egg masher, all inside one bottle!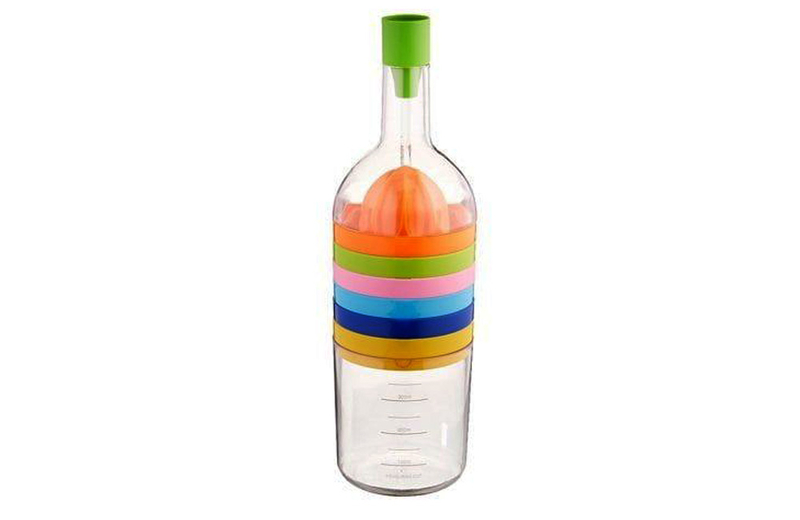 The bottle itself also serves as a measuring cup up to 420 milliliters. If you're after a way to reduce the amount of clutter in your kitchen, this is the perfect item to grab. It's a cool design that fits in any kitchen, and guests might not even realize what it is.
Folding Shopping Basket by EHC ($9.99)

Perfect for camping trips, picnics, or just headed to the store, the Folding Shopping Basket from EHC doesn't take up too much space when it's folded together. Still, it has plenty of carrying capacity when it's open.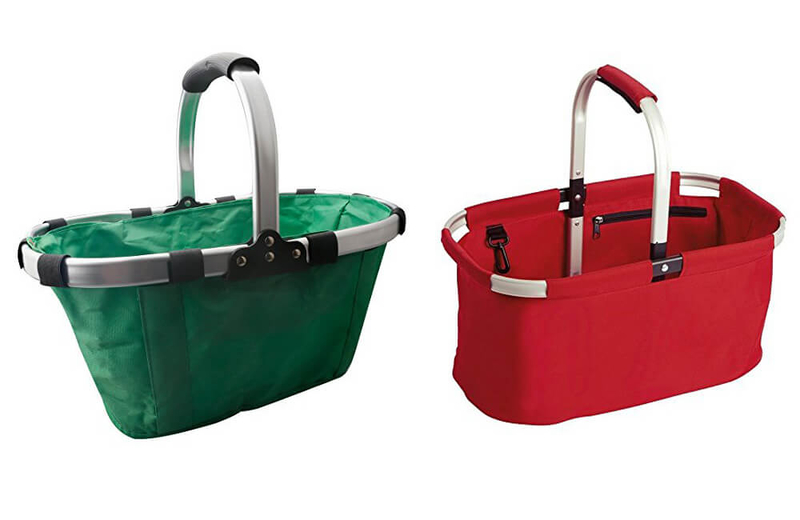 No more wasting plastic or paper bags during your trips to the store. The handles and frame of the basket are made of sturdy, lightweight aluminum. The nylon bag is attached with a zipper, so it can be removed to wash. If you're looking for something you can use over and over no matter where you're going, this item is a steal.
Finger Protector by The Pink Flamingo ($4.50)

How do the pros chop so smoothly and quickly without risking their fingers? It takes a lot of training, but you don't have the time for all that. You just need to get dinner going.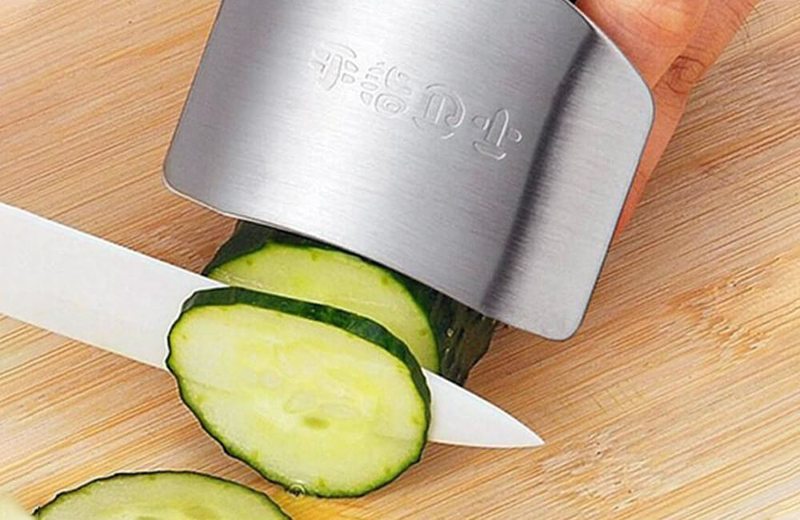 The Finger Protector from The Pink Flamingo is made of stainless steel, which means your fingers will be safe no matter how you're chopping. It even comes with an adjustable ring size, which means you'll always get the right fit. The stainless steel is also easy to clean since it's anti-rust and anti-corrosion.
Spill Stopper by Homepop ($14.99)

A watched pot never boils, they say, but they fail to mention that as soon as you turn your back it will boil and spill water everywhere. Thanks to the Spill Stopper from Homepop, however, you can stop this messy situation before it starts.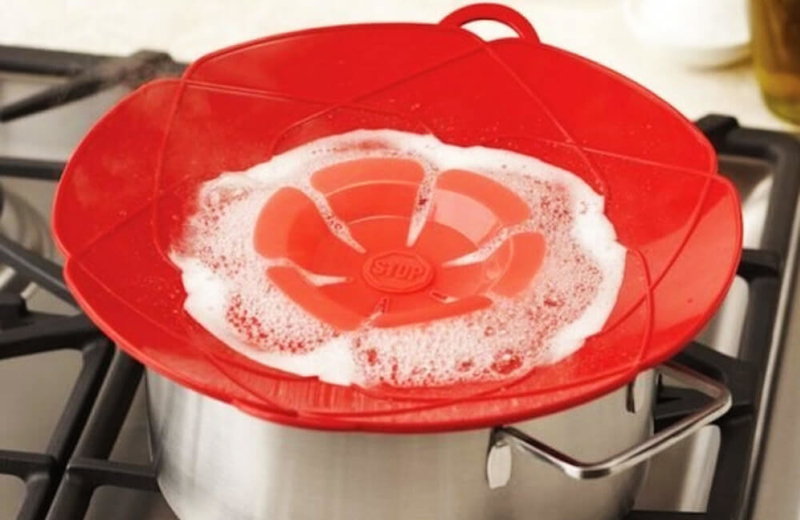 Made of silicone, this item covers the pot just like a lid, but the opening in the middle allows airflow, which stops the dreaded spillover. Thanks to the flexible, durable nature, it works for all kinds of pots. Once you're done you can throw it in the dishwasher. It's resistant up to four hundred degrees, so it's the perfect accessory for any kitchen job.
Egg Cooker by Formemory ($17.99)

Boiling eggs might seem like a simple task, but you'd be surprised how time-intensive it can be if you don't know what you're doing. The Egg Cooker from Formemory only needs a cup of water, and it can boil up to seven eggs without you having to watch over it.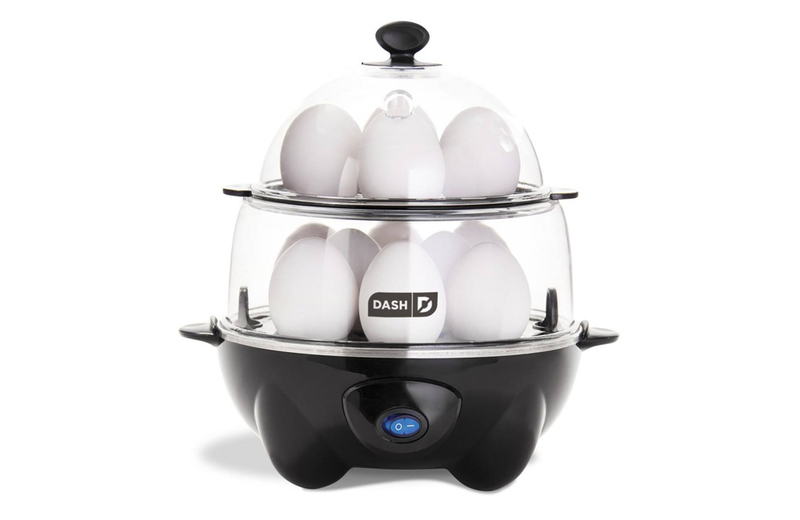 It's small, it's easy to clean, and it can even do more than just eggs. It can heat milk, steam vegetables, and more. It's recommended that you use room-temperature eggs, but other than that small detail, this item is easy to use for everyone. Create a week's worth of breakfast quickly and easily.
Butter Spreader Knife by Simple Preading ($12)

Like a hot knife through butter is a well-known phrase for a reason. The stainless steel, ergonomic design of the Butter Spreader Knife makes it even easier than a hot knife.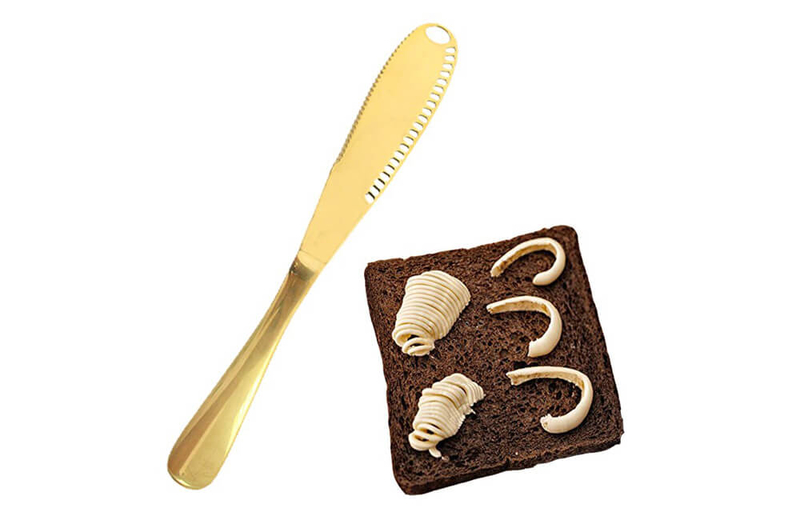 The three-in-one design works for both right- and left-handed people. It features a large hole you can use to create thick butter curls. Along the blade edge, smaller holes create many thin curls, and on the opposite edge is a serration for smooth, seamless cutting. Up your butter game and start adding some designs to your bread or other food with a little bit of help from this simple addition.
Cutting Board with Colander by QBYLYF ($53)

There are lots of fancy wireless gadgets that connect to your smartphone or can be controlled with the touch of a button. This two-in-one item might not have any electronic parts, but it's sure to come in handy. It's a cutting board and colander combo, which means you can save space and save time.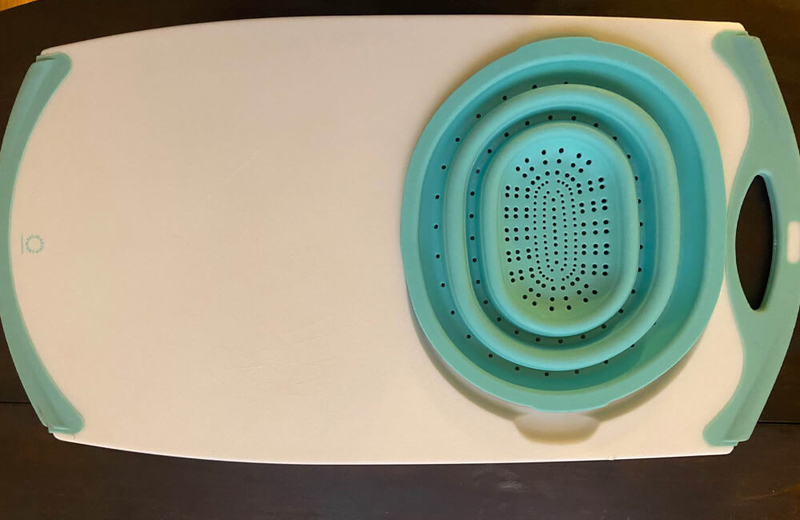 Scoop your chopped veggies or other food items into the colander section and give them a rinse in one smooth motion. It's easy to clean, is antibacterial, and is non-slip. The design was even made to cover the sink, so you can shop and rinse without even turning it over. Finally, the flat design makes storage easy.
Cuisinart Rechargeable Automatic Wine Opener by Cuisinart ($29.95)

Opening a bottle of wine has never been easy, even for those who are experienced. The Cuisinart Rechargeable Automatic Wine Opener is a sleek device that is sure to be a hit at parties.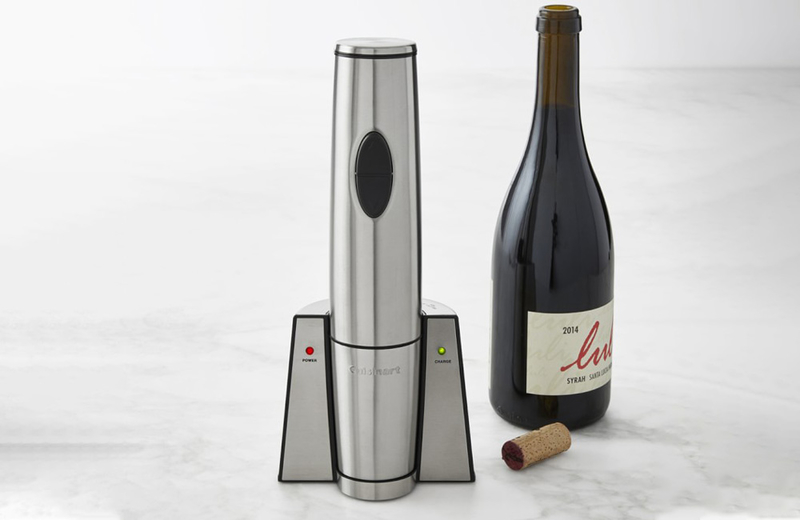 It has an interior foil cutter and a bottle opener that will pop the cork off in no time. It's simple to operate, and it makes a great gift for fans of the vine. It's easy to clean, and a single charge will open more than fifty bottles. It has more than a thousand positive ratings on Amazon, and it's a compact, cordless, lightweight device that will help the good times flow.
Salamander Grill by Nisbets ($130)

While most grills have the heating element below the food, the Salamander Grill flips the script. Since the heating element is forcing the heat down instead of up, grease and other drips won't cause flare-ups or gouts of flame.
The burners heat quickly and are easy to access, so they work wonders for keeping dishes warm, melting cheese, or adding a bit of crisp to a topping. The Salamander Grill accomplishes plenty of different tasks with a small amount of space. You can even use the automatic turner to create wonderful rotisserie dishes. If you've been looking for a new, mess-free way to grill, then this item deserves your attention.
Trivae Lid Holder, Trivet, and Display by Svetlana Zhitnitsky, rSr Creations LLC ($25)

With three different folding positions, the Trivae Lid Holder makes it easier to present your dish and hold the lid without burning yourself or setting it down on your fancy tablecloth.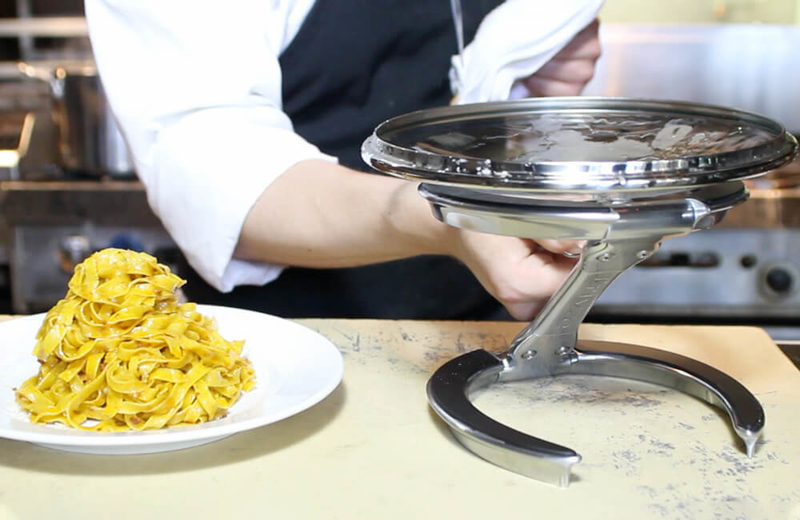 When folded flat, it becomes a classic trivet, both as a single trivet or a double-size trivet for bigger dishes. Pop it up into the Z shape for holding pot lids while cooking. Keeping the pot lid inverted keeps moisture from dropping, and makes handling it easy. It's sure to be more helpful than you think.
Magic Silicone Dishwashing Gloves by Letlar ($9.99)

That sponge that's sitting next to your sink? It's crawling with germs, grime, and maybe even mold. If you're tired of cleaning the old-fashioned way — which results in wrinkled, stinky hands, and might not even get you clean dishes — then you should pick up a pair of the Dishwashing Gloves from Letlar.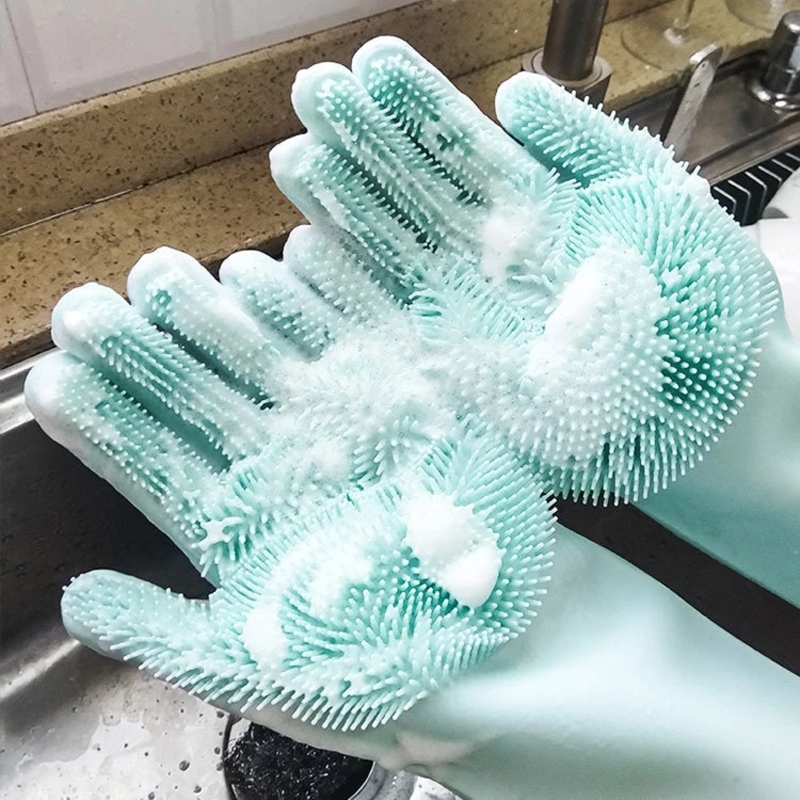 The surface is covered with scrubbing bristles, which lets you clean dishes faster than you thought possible. They come in five different colors, and a pair of them is sure to reduce how much you spend on sponges. Once you're done with the dishes, the gloves are easy to clean – just throw them in the dishwasher.
Snow Globe Salt and Pepper Shakers by Gama Go / Qualay ($24.60)

A few festive pieces of decoration are sometimes all your kitchen or dining room table needs to get a fun style. Gama Go has created a pair of salt and pepper shakers that have a pair of black and white bears inside, to make it obvious which shaker is for which seasoning.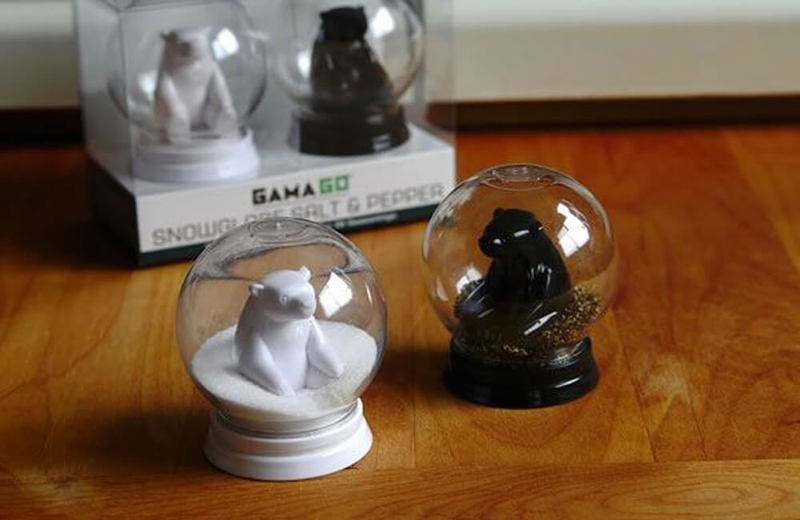 Qualay offers a similar item, but both of them are sure to be conversation starters. Since the shakers are transparent, you can see just how much salt or pepper is left inside, and whether or not you need to refill. They're also made of one hundred percent recyclable materials.
Vegidair by Vegidair ($35)

If you're in the city and don't have much space to grow your own tasty veggies or herbs, the Vegidair is the thing for you. This system comes equipped with a thirty-six-watt LED panel, a hydroponic ebb and flow system, an electronic automated watering system, as well as sixteen substrates and a variety of seeds.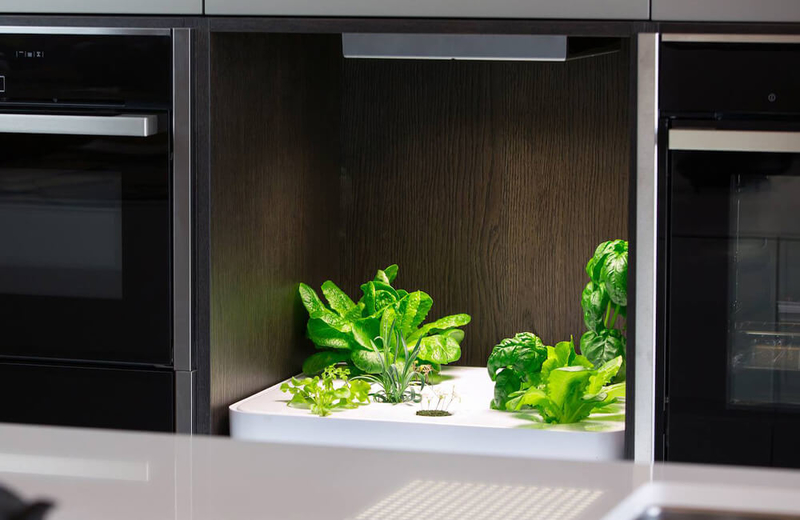 It's designed to fit into a standard cabinet, which means you'll be able to grow fresh basil, coriander, chives, mint, and much more. You'll see growth within four to five weeks of installation, even if you don't have much space. Your food will be seasoned to perfection with fresh herbs and spices from this fun device.
Professional Secrets Thermometer by Professional Secrets ($79)

A professional chef knows that one of the most important tools in the kitchen is the thermometer. If you want to serve perfect meat dishes, you need to know if the meat is done.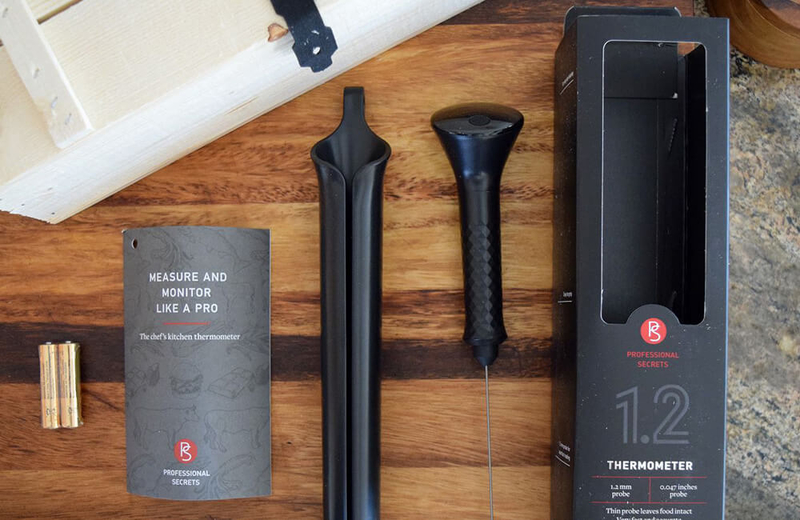 However, this device is often difficult to use, which is why Professional Secrets have made a thermometer with the help of Michelin chef Per Renhed. It took all of the expert advice and turned it into the perfect thermometer. The probe is designed to be thin, accurate, and fast, and it can measure temperature in both Celsius and Fahrenheit. Measure away!
Engraved Rolling Pin by ANRUI ($10)

After enough years of making regular cookies, they start to lose their appeal. Thanks to the ANRUI Engraved Rolling Pin, you'll be able to make cookies that have unique designs and intricate looks.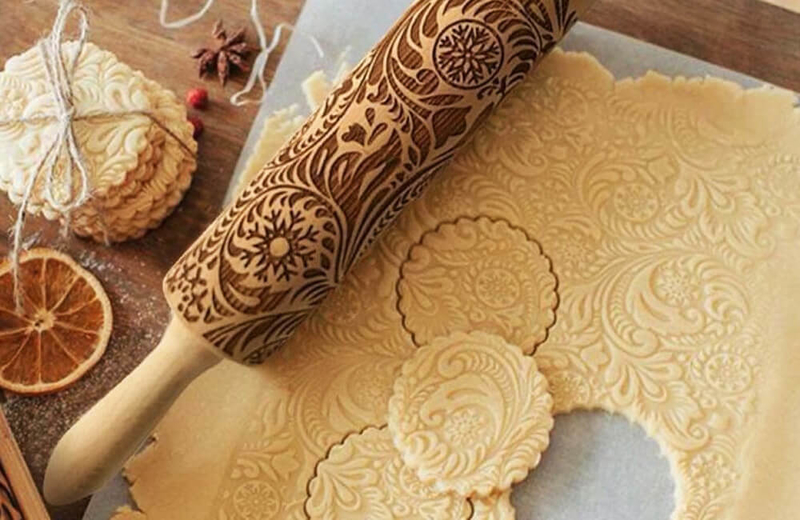 There are plenty of options to choose from, including floral designs for summer treats, Thanksgiving-themed, and even Harry Potter. Kids will love getting their hands dirty and helping to make some delicious cookies that have their own special looks. They can be used to roll out bread and pizzas, and if you're willing to shell out a little more, you can even customize a design of your own.
Ori-Kit Utensil by Ori-Kit ($32)

It might seem like a gimmick to get a big kit of utensils like these in one special package, but a little bit of close inspection tells us that there's more to his kit than at first glance. It's a well-thought-out collection of tools that gives you almost everything you need with minimizing clutter.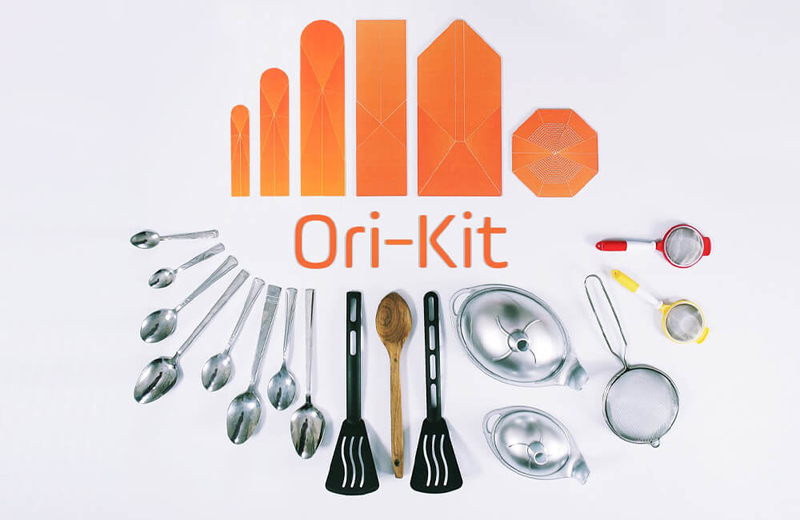 This six-piece kit includes three spoons, a turner, a funnel, and a colander. You can fold the spoons to create six different sizes. All of the options are easily washable whether by hand or in the dishwasher. They're made of Teflon and silicone, so it's safe to use in high temperatures.
Digital Kitchen Food Scale and Measuring Cup by Kitchen Metrics ($15.99)

If you're a big baker or cook, you know that you need a lot of different measuring devices for dry or wet items, small amounts, and bigger loads. Kitchen Metrics are done with all of the extra items and have created a single item that is a scale and measuring cup in one.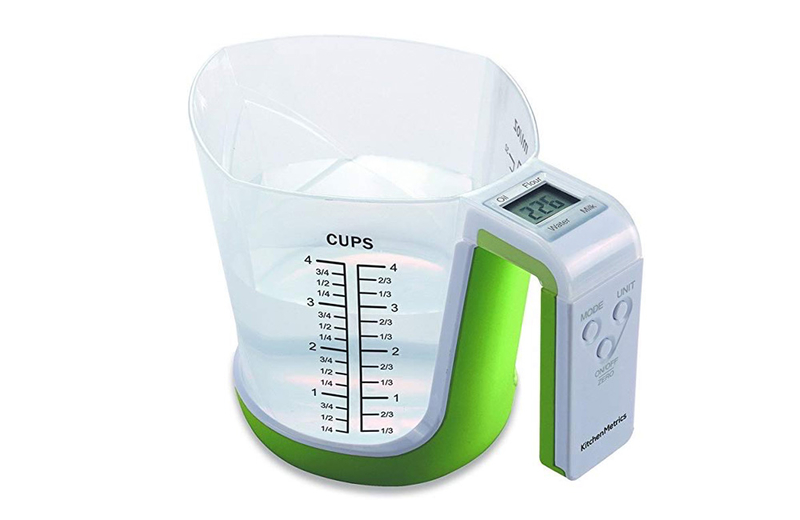 It comes with a digital scale as well as a liquid measuring cup that can take up to thirty-two ounces. It's easy to use, and the readout is easy to read. You might just be able to get down to this single item in your kitchen.
Suvie Kitchen Robot by Suvie ($699)

Not everyone has time to cook, but everyone still needs to eat. The Suvie Kitchen Robot has multiple zones that can cook at different temperatures and in different ways. This means you'll be able to put together a quick meal without much hassle.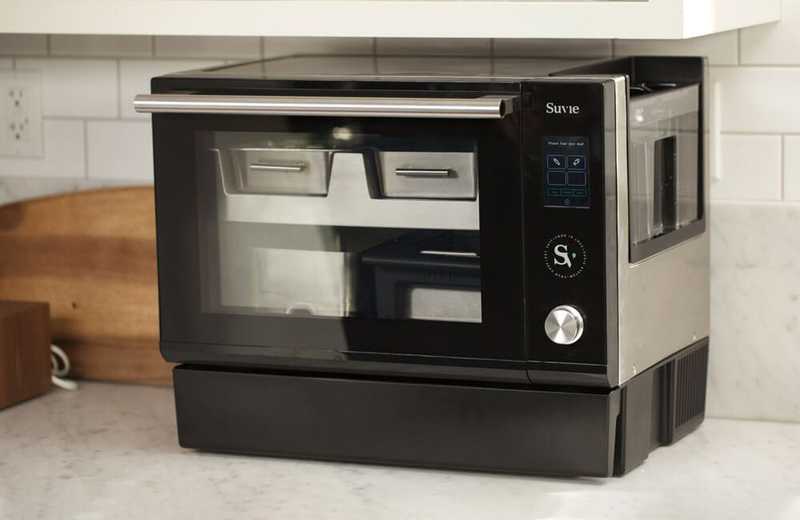 You can even pre-load the ingredients, set a time for all of them to be done, and the Kitchen Robot will start each section at the right time. You can Sous vide, slow cook, broil, steam veggies, and more. The cost is high, but the item also comes with a one-hundred-day risk-free home trial, which means you can try it out and see if it's right for you.
Star Wars Death Star Kitchen Timer by Underground Toy ($12)

Even those who are part of the Galactic Empire need to know when their baking is done. The Force will be with you when you're cooking and when you use this Death Star Kitchen Timer.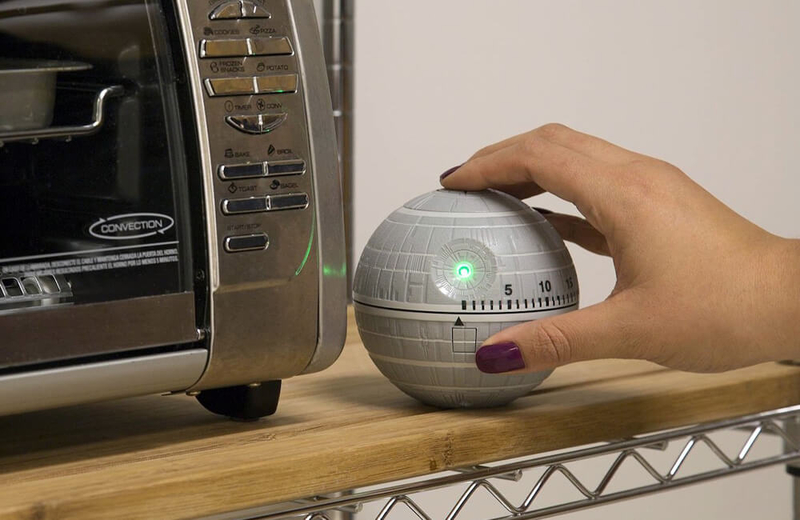 When the timer goes off, a green LED light flashes to warn you that your food is ready. It also plays sound effects from the films, just in case you aren't in the visual range. While this gadget isn't currently available, Star Wars merch never stays gone for long, so keep your eyes open for this helpful little droid.
Cookie Press by Wilton ($39.99)

Parties and holidays call for festive cookies, which means lots of baking work. If you don't have the experience necessary, then you can get some uneven cookies – too thick on one side, and too thin on the other. Not the worst thing in the world, but there is a fix for it.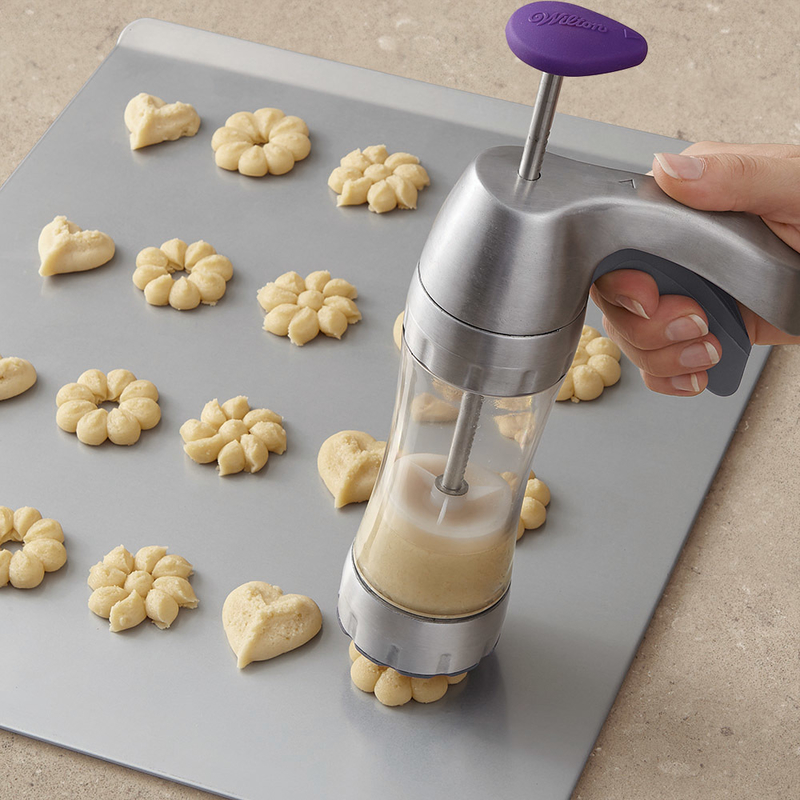 With the help of the Cookie Press from Wilton, you can pour your batter right inside and start pressing out cookies that are perfect in size and shape. It comes with a variety of molds to make different classic cookie shapes. The clear barrel means you'll know exactly how much batter you have left to dispense.
Ninja Air Fryer by Ninja ($99)

The Ninja Air Fryer is a winner right off the bat thanks to the words "75% less fat." If you love fried food but you're trying to cut down on unnecessary calories, then this item should find its place in your kitchen.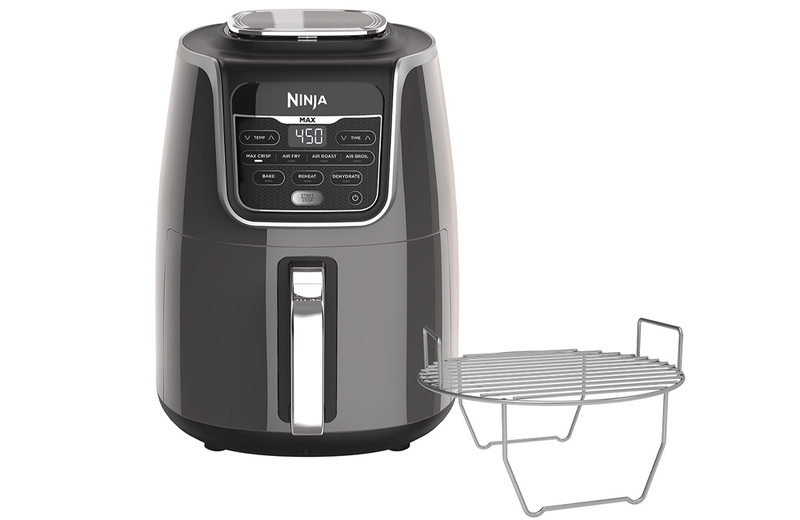 The four-quart ceramic-coated nonstick basket and crisper plate are great for fries, chips, dried jerky, and even fruit. It has a variety of cooking options, which means you can have your choice of treats. The sleek design is highly functional, and it's even dishwasher safe. You can manually control the time and temperature, and the one-touch control panel makes your cooking setup super easy.
Rotimatic by Zimplistic ($970)

Nothing makes a house a home quicker than the smell of baking bread. It's never been easier to spread this lovely scent with the Rotimatic from Zimplistic. This device uses the latest WiFi and AI technology to automatically update you on the temperature, position, and consistency of your flatbread.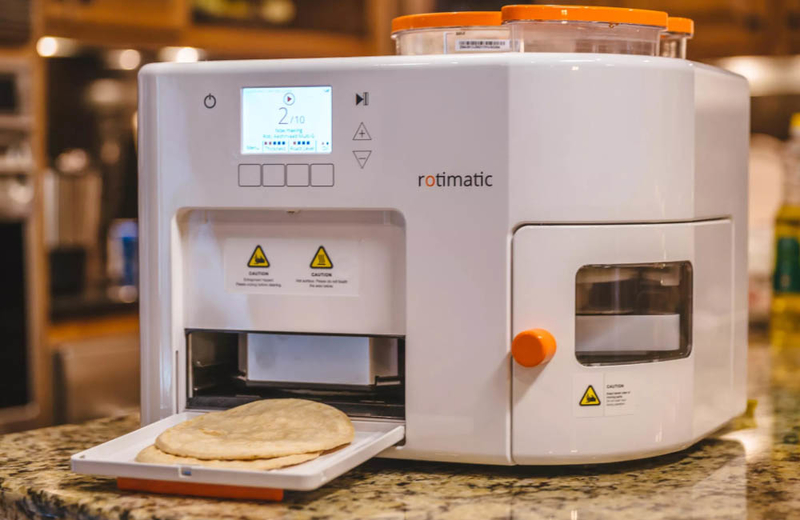 This device is easy enough for your child to use. All that has to be done to create wonderful bread is to add flour, water, and oil. You can make roti, pizza, tacos, wraps, and more. It's expensive, but if you love fresh-baked bread, then this is the kind of item that you need.
Breakfast Sandwich Maker by Kambrook ($49.99)

As far as high-class breakfast goes, nothing beats a home-cooked breakfast sandwich. Kambrook has your back with their quick and easy Breakfast Sandwich Maker. It can help you put together egg, bacon, cheese, hash browns, and any kind of bun or English muffin.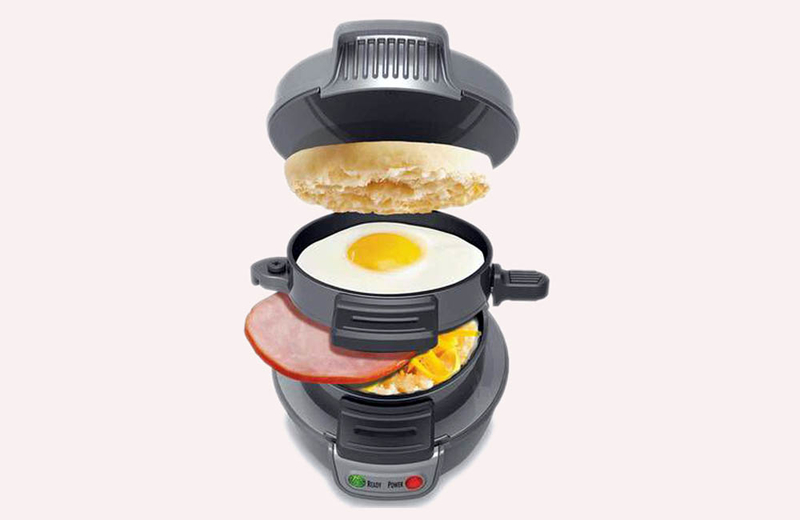 No longer will you have to dirty multiple dishes just to cook the pieces of this sandwich, since the device cooks everything you need in one go. You just pile up your sandwich with everything you want and hit a button. There's less cleanup, thanks to the non-stick, detachable, dishwasher-safe sections of this handy, impressive item.
Kitchen Hub Smart Range Hood by GE Appliances ($1,200)

GE Appliances is one of the experts in first-of-its-kind appliances, and the Kitchen Hub Smart Range Hood is a great way to make that known. This incredible (and incredibly expensive) piece of technology combines a 27-inch smart touchscreen with a ventilator that is made to fit above your stove.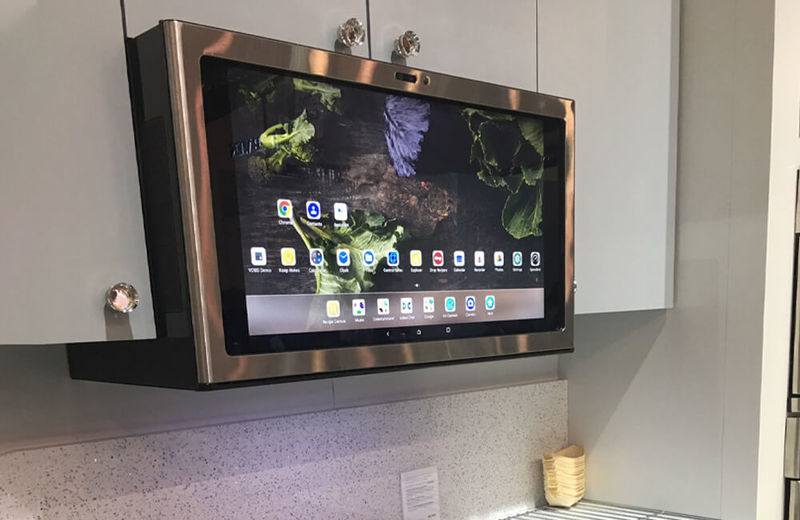 You'll be able to control your entire kitchen from one place, and it even connects to an app on your phone called "Flavorly." You'll have access to over five thousand recipes, and it includes step-by-step instructions for each. It even includes a patent-pending air curtain in front of the touchscreen that protects it from grease, heat, and steam.
Electric Peeler by MIFXIN ($29.99)

Love fruits and veggies but hate peeling? MIFXIN is ready to help with the Electric Peeler. It's a clever gadget that automatically rotates any fruit or vegetable you place inside. It can handle everything from soft foods like tomatoes to tough options like beets – and peels it in one long strand.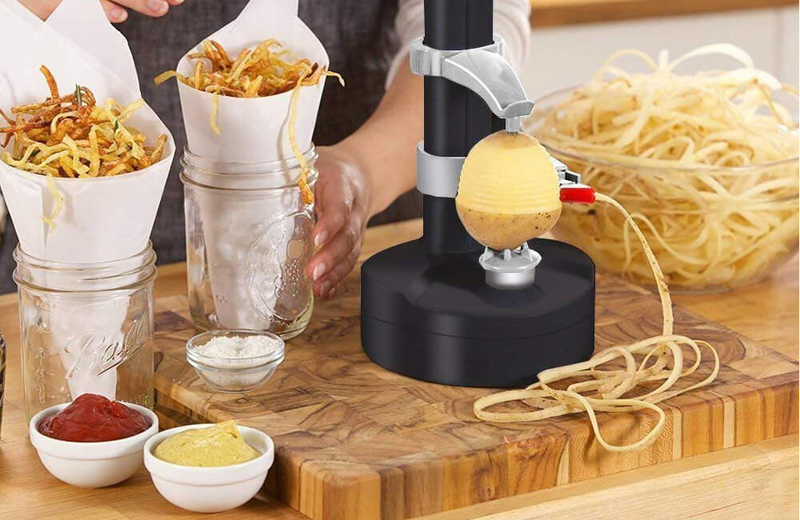 The stainless-steel blade will cut through anything, and the robotic arm is able to adjust to any thickness, texture, or shape that you want. It has a non-slip base that keeps it secure on your countertop, and the non-blade part of the machine is made of durable ABS plastic.
Digital Measuring Spoon by Soehnle ($31.56 to $75.89)

Only the best cooks and chefs can eyeball a measurement. For the rest of us, we need measuring cups and other devices. The Digital Measuring Spoon from Soehnle helps you get the perfect mixture by measuring the ingredients in the spoon and displaying the weight or amount on the digital scale set in the handle.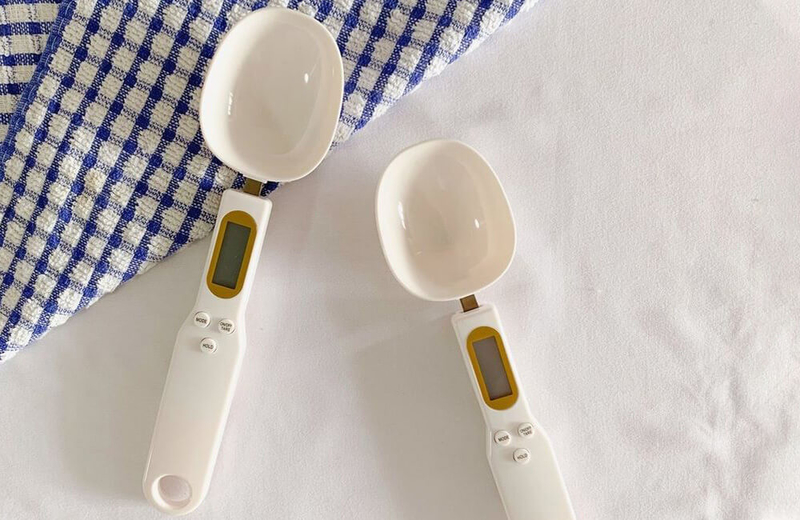 It can measure between point one grams and half a kilogram. The scale works with solids or liquids, and Soehnle also recommends it for herbs, teas, and spices. The standard model is a mere $31, but the deluxe version costs twice as much, and has a larger scale and an overload alarm.
Softshell Ice Cream Ball by YayLabs ($39.15 to $40.62)

It looks like the kind of thing that should be out on the soccer field, but the Softshell Ice Cream Ball is designed to make delicious homemade ice cream. This interesting item made plenty of waves when it first came out on Uncommon Goods on Instagram.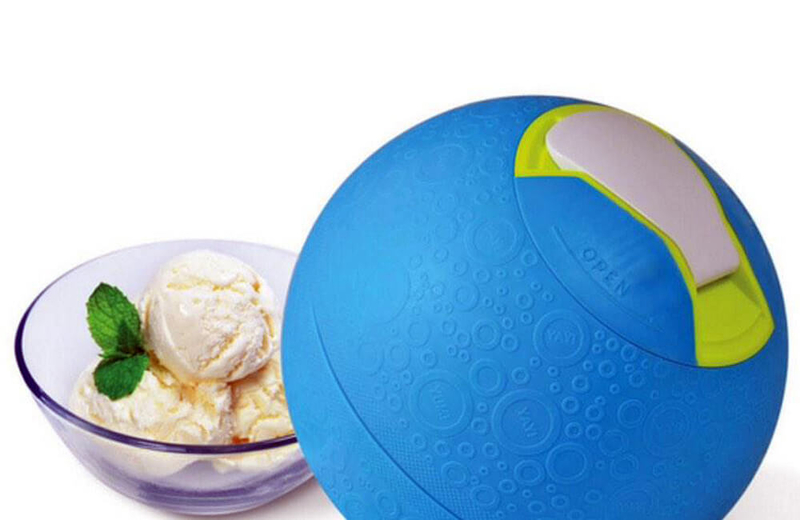 It comes in a variety of exterior colors, and it's easy to use. Add your favorite flavorings, sugar, and cream in one end, and put rock salt and ice in the other. Depending on the version you get, you can make either a pint or a quart of ice cream by playing around with the ball for about twenty-five minutes.
Smart Cutting Board by ChopBox ($199)

We've seen smart microwaves, smart air fryers, and smart ovens, but what about a smart cutting board? It raised over a million dollars from backers on Kickstarter. It's been called the ChopBox, and G for Gadget calls it a "must-have" for any kitchen.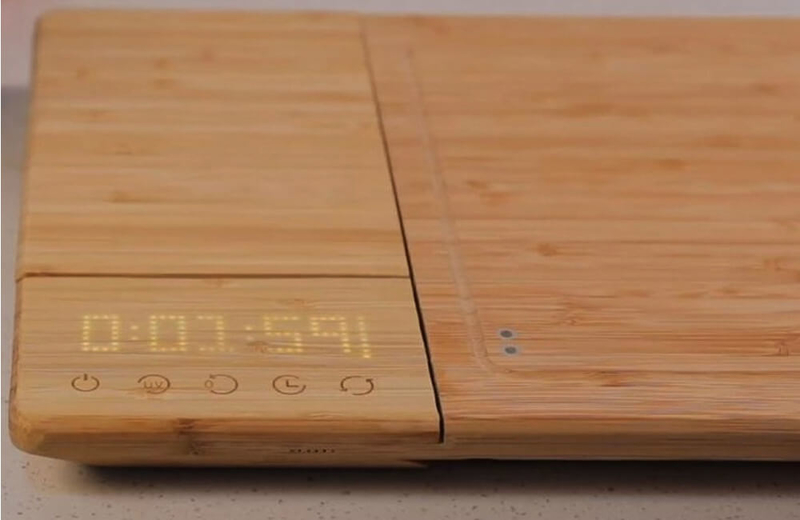 What does a smart cutting board come with? It has a built-in sanitizer that uses UV lights to keep utensils clean and germ-free. An included scale can weigh things in grams, ounces, pounds, and kilograms (up to about 6.6 pounds). It has a timer measuring up to ten hours, and it also has a knife sharpener. You can even choose between a diamond or ceramic sharpener.
Countertop Superheated Steam Oven by Sharp ($398)

The Countertop Superheated Steam Oven is here to help you toast, bake, reheat, broil, grill, and more. All thanks to a 1,750-watt motor that can heat all the way up to 485 degrees Fahrenheit. It even has a special pizza setting that lets you make a delicious pie right in the comfort of your own home.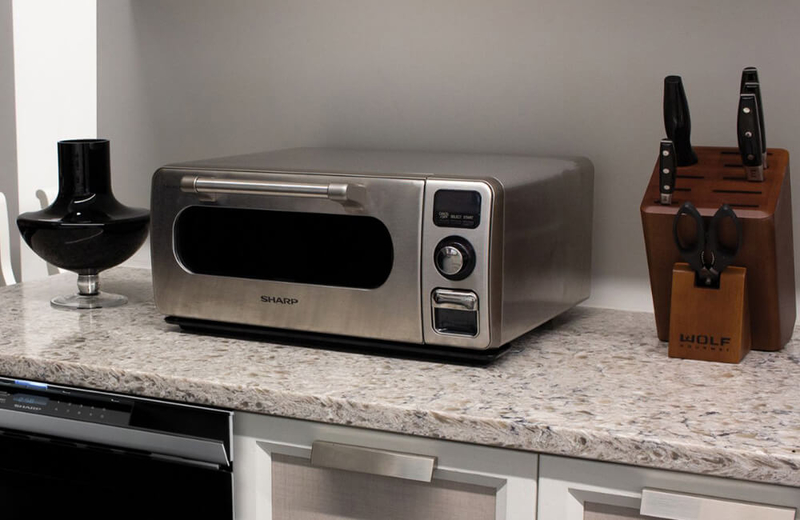 It turns on with the touch of a button – you won't even need to preheat. The minimum temperature is 160 degrees, and the timer has a sixty-minute limit. This handsome silver item is made of stainless steel, so it's easy to clean and looks great in any kitchen.
2-in-1 Clever Cutter by GloBal Pass ($18.99)

We all gotta cut some food sometimes. The 2-in-1 Clever Cutter from GloBal Pass is part scissors, part knife, which is really all you need to cut something (unless you're trying to chop down a tree).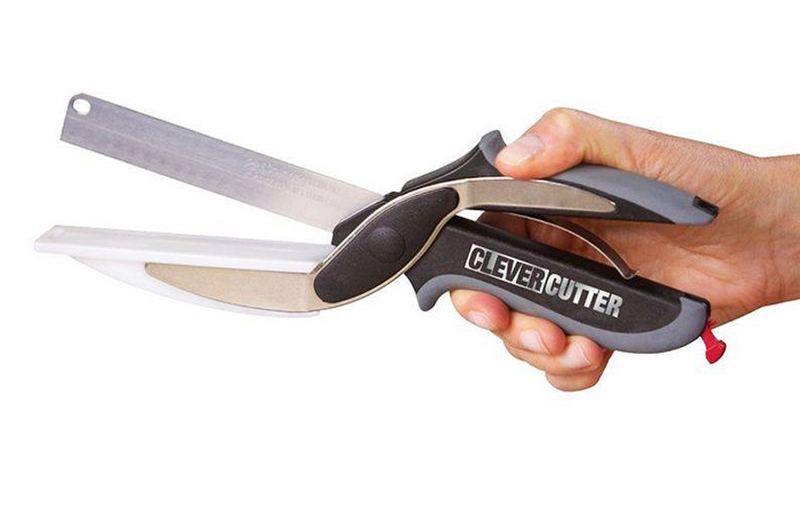 The stainless steel construction means that it can cut through almost anything. The comfortable, ergonomic handle makes it easy to use for long periods of time. It even includes a built-in cutting board that is sturdy enough to take on anything. This kind of tool is also perfect for camping or hunting trips.
Skull Mold for Ice or Chocolate by Lifestyle by OOFLES ($15.99)

If you like some spooky stuff, then Lifestyle by OOFLES has the item for you. Now it's possible to make ice cubes, chocolate treats, or even soap with these skull-shaped molds.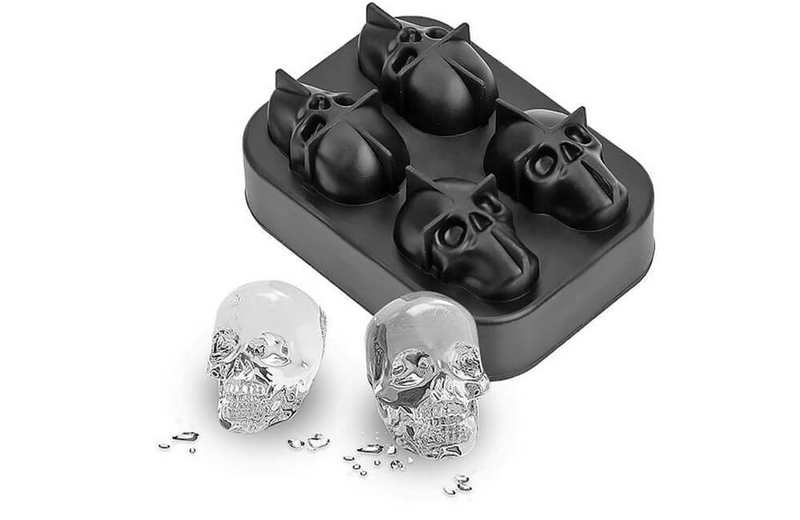 The eight-mold tray is made of silicone, which means you'll be able to reuse it, wash it, stick it in the freezer, or stick it in the oven without fear. We don't know why you'd stick it in the oven, but you have the option. The three-dimensional molds look just like little skulls. It's even possible to make little chocolate truffles that are perfect for a Halloween party.
Blade Brush Cutlery Cleaner by Joseph Joseph ($6.99 to $11.95)

This ingenious item will take the hassle – and the danger – out of cleaning all the knives in your kitchen. The Blade Brush makes cleaning these items easier than ever. It has a wrap-around design that means your fingers won't get near sharp edges, and your sponges won't get torn up by cleaning your knives. Rough bristles clean efficiently without scratching items up.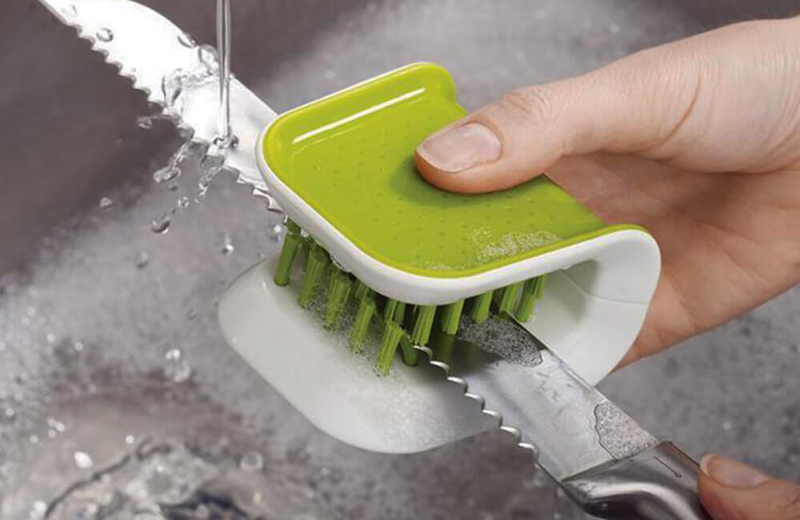 There are even two colors to choose from so you can stick with your kitchen's style. Even dishwashers won't be able to take all the stains off your knives the way this handy washing item will.
Egg Topper Eggshell Cutter by D.RoC ($12)

Egg not included. If you want a zero-mess kitchen even when dealing with the messiest of items, such as eggs, then the Eggshell Cutter should be part of your utensils. The Egg Topper attaches to the top of the egg. You just need to pull the ball of the cutter up, hold it, and let it go – you'll have a neatly-removed eggshell top without the mess.
The Topper is durable yet easy to clean. Made of stainless steel, it can be used to remove the top of any egg, no matter its state of cooking. There are even other ways to use this device, such as making mini cakes.
Rolling Watermelon Slicer by Amazing Melon Cutter ($8)

If you're a melon fan, you should definitely grab the Rolling Watermelon Slicer from Amazing Melon Cutter. It's a stainless-steel watermelon cuber that will roll off multiple cubes with just one slice.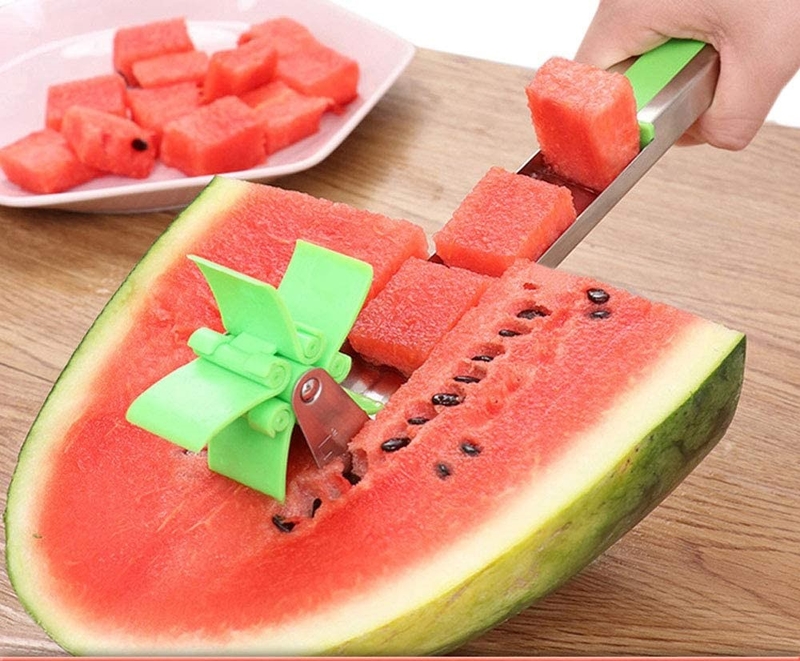 The new and improved slicer is easier to use than it has ever been – just push the tool in the watermelon (or any melon) and the cubes will slide out automatically without putting too much strain on your arm or hand. The slicer creates cubes that are two centimeters on each edge. Once you're done it's easy to clean thanks to the stainless steel construction.
WiFi Sous Vide Precision Cooker by Anova Culinary ($139)

What's this Sous Vide method you keep hearing about? It's simple, sort of — food is vacuum-sealed inside a bag, and then cooked using heated water surrounding the package. It's become in vogue to cook foods like pork, lamb, eggs, veggies, and more with this method.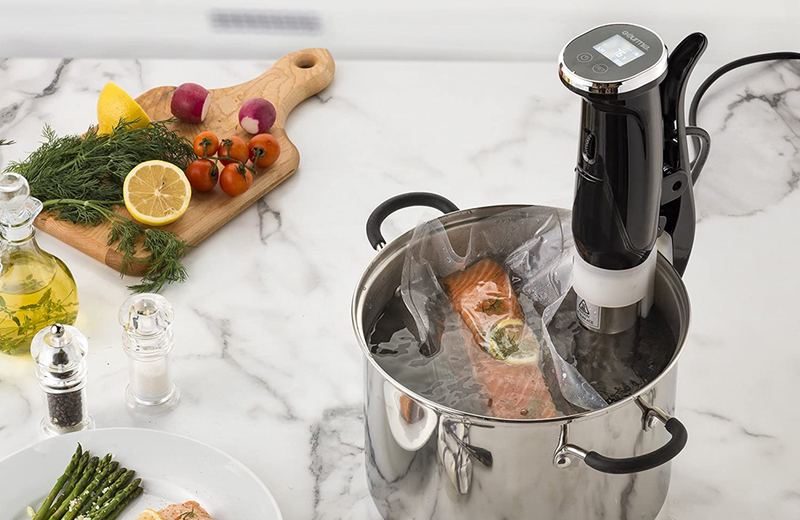 The WiFi Sous Vide Precision Cooker takes the work of stirring the packages in the water out of your kitchen. It circulates the water at the precise speed and temperature you need for perfect meals. With the included app, you can measure the progress of your meal right from the comfort of your smartphone.
Connected Kitchen Scale by DROP ($79.95)

If you're tired of measuring and re-measuring to get the perfect amount of food for your next mix, the Connected Kitchen Scale from DROP belongs in your kitchen. This smart scale connects to your favorite device and helps you measure your ingredients right onto the scale.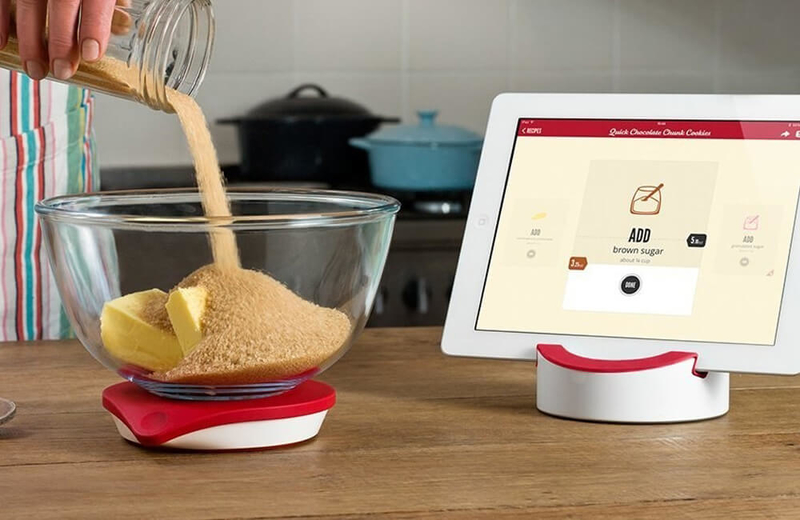 It's able to detect the weight and tell you how much more (or less) you need. It can even recommend substitutions, such as olive oil for butter. You'll be using fewer bowls and utensils, and it will even progress to the next ingredient automatically, so you won't be getting devices messy with dirty fingers. It's the perfect gift for a budding baker.
Smart Countertop Microwave Oven by GE Store ($119)

Jumping onto the bandwagon of kitchen appliances that can be controlled right from your phone, GE has come up with a Smart Countertop Microwave Oven that connects to a smartphone app. It can add voice control thanks to Alexa, and Amazon can even help you find a lower price on this fancy gadget, down from $139.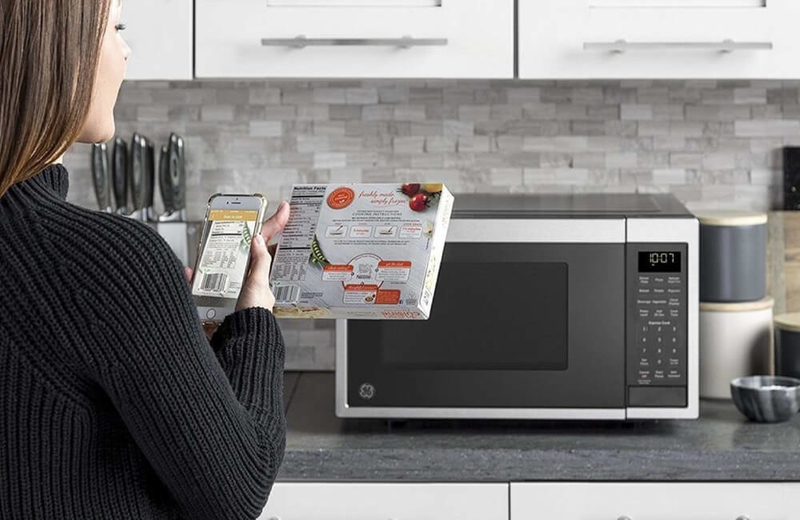 It has all the convenience of your standard microwave. You can even take the guesswork out of cooking items that you aren't sure about — just scan the barcode and let the microwave figure out how long, and at what power, to cook the food.
Watermelon Slicer by FEENM ($13.99)

Slicing a watermelon takes way more work than slicing…well, everything. Except for, like, a car. FEENM wants to change the world of watermelon slicing, and this huge slicer – 15.7 inches in diameter – will take on watermelons, cantaloupes, and any other hard-to-slice fruits or vegetables.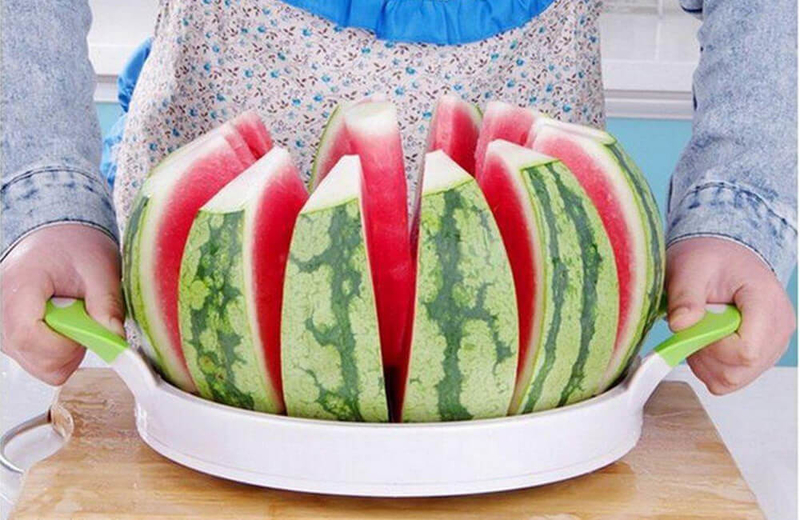 The blades are made of 340 stainless steel, which won't deform the watermelon. It has an ergonomic grip that keeps your hands away from the blades, and it will produce twelve perfect slices every time. You can even use this handy product on pineapple and honeydew. The four-point-five-star rating on Amazon means you're getting something you'll love.
Drink Pro Smart Scale by Perfect Company ($98.10)

Like so many of the items on this list, the Drink Pro Smart Scale connects to an app on your phone – as well as your Amazon Nook or Android tablet. The app includes over four hundred cocktail and mixed drink recipes.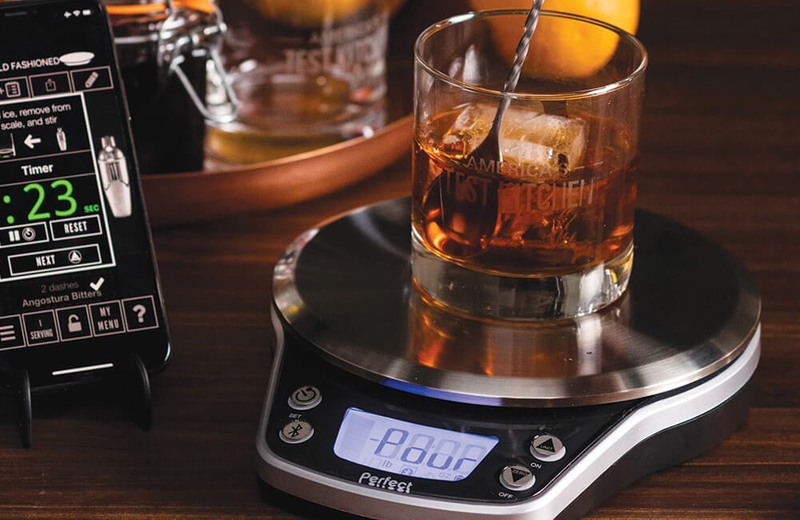 With a scale that is accurate from five grams to five kilograms, you'll find making your next drink easy, down to the perfect mix. Put your shaker or glass on the scale and add ingredients until the sensor dings – you'll know you have the perfect beverage. The scale also comes with a 750-milliliter stainless steel cocktail shaker.
Storage Bag Holder / Opener by MaggieBag ($9.99)

If you like to do constant meal planning or have a bunch of school lunches to make every morning, you know that plastic bags can be difficult sometimes, especially if you're ladling in chili to freeze, or other food items that aren't as easily handled as a sandwich.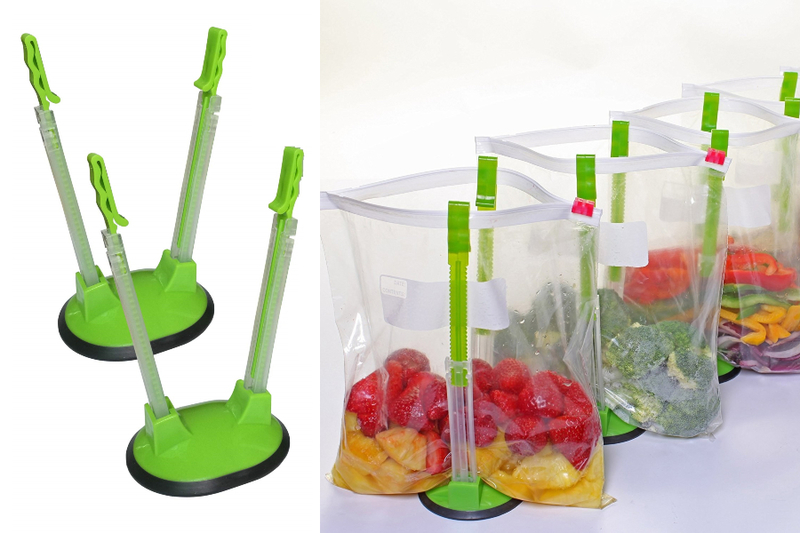 Enter the Storage Bag Holder / Opener from MaggieBag. It has a non-slip rubber base for your countertop, an adjustable frame, and clips that hold your bag in place. Once you're done packing lunches, the MaggieBag Holder folds inward in order to decrease required storage space, so it won't take up too much room.
Automatic Touchless Soap Dispenser by Otto Umbra ($45 to $55)

We're all familiar with touchless soap dispensers by now, but did you know it's possible to use one in your own home? Take the idea from a commercial building to your kitchen or bathroom and increase the cleanliness.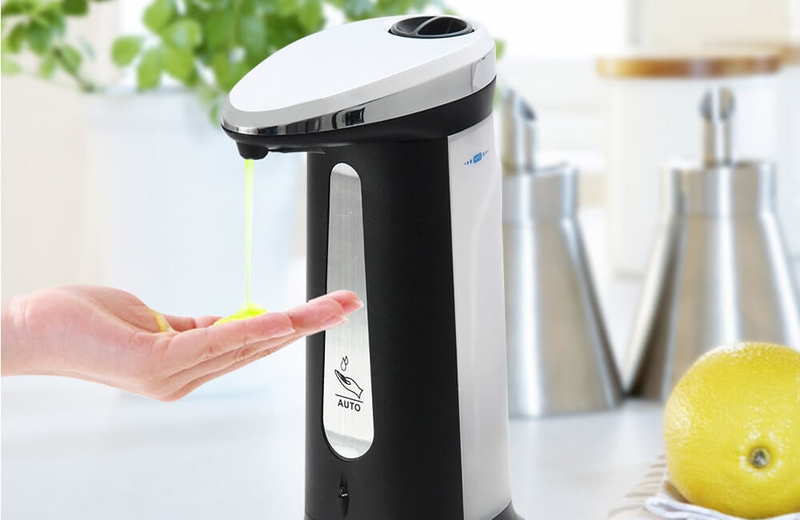 It's never been easier to reduce touching potentially dirty or diseased surfaces, and the affordable nature of this appliance means any germaphobe can get it. This dispenser from Otto Umbra dispenses soap thanks to a sensor.
Banana Holder by Lakeland ($8)

Bananas are a delicious fruit treat, but they are somewhat fragile. This delicate food sometimes needs something to protect it. Lakeland has the answer: a Banana Holder, which is built solely to protect this delicate fruit from the dangers of the world.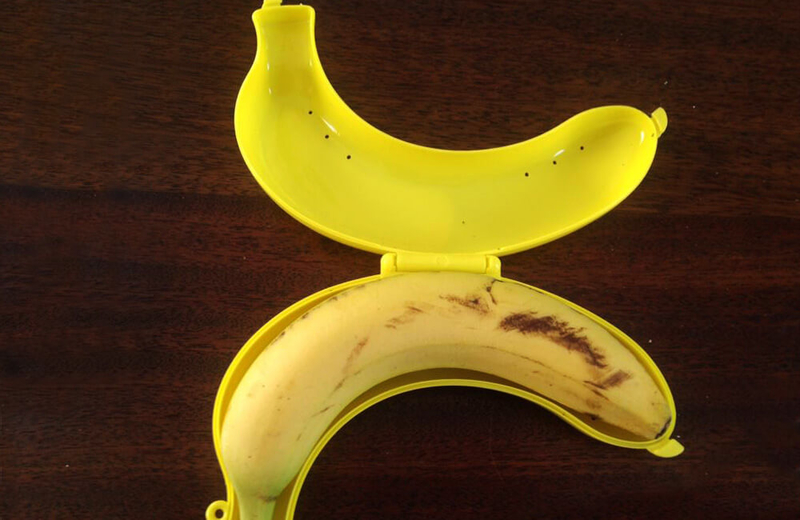 The banana case is built with lots of wiggle room so that bananas of any shape and size can fit inside. Whether you're training for a marathon and need a mile-thirteen snack, or you just want to keep your fruit safe for lunch, this item is sure to help.
One-Touch Food Sealer Vacuum by Toyuugo ($42.99)

For both wet and dry foods, the Vacuum Sealer is a one-touch sealing system that keeps food fresh for longer and doesn't take up very much space in your kitchen. Toyuugo uses a multi-layer heat-sealed material to reduce oxidation and preserve both quality and flavor.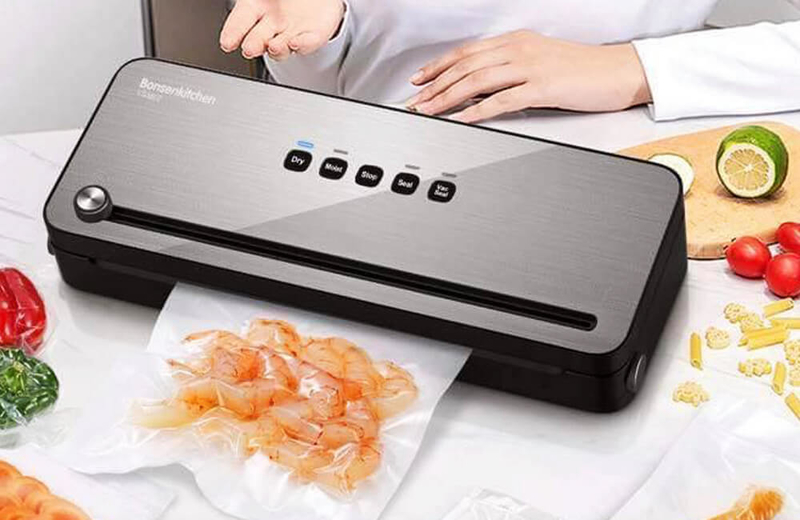 You can customize the bag size with the built-in bag cutter, which can be used in just seconds. It includes a couple of different options for getting the correct seal: dry or moist, as well as automatic or manual. While you will have to hand-wash the device, it's been found to be easy to clean.
Magimix Vision Toaster by Magimix ($190.96)

Even for well-liked products and services, getting a five-star rating is nigh-impossible. It should mean something, then, when we say the Magimix Vision Toaster has a five-star rating on the consumer website Nisbets. While the Amazon rating is four-point-five out of five, it's still being lauded.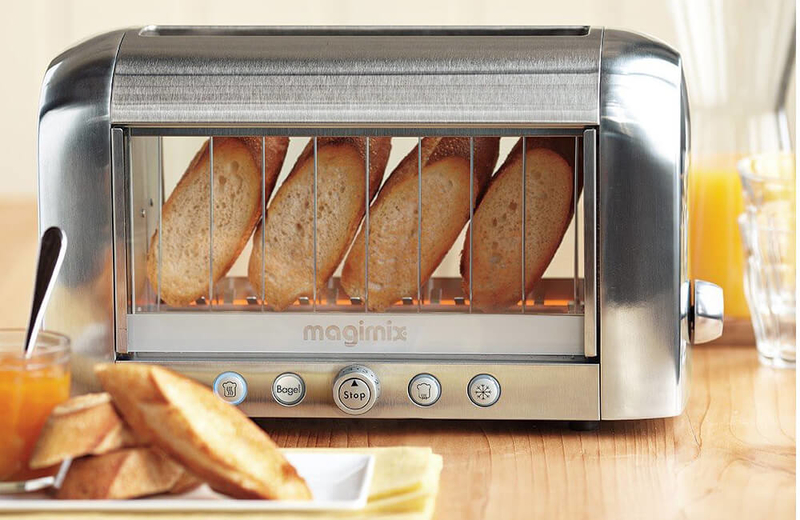 This 1450-watt toaster comes in two different colors — stainless steel and cream. Its simple advantage is a window on either side that lets you see the bread, bagel, pastry, or anything else cook right before your eyes. The construction of this handy item isn't just durable, it's also easy to clean. The slots are thick, so even uneven bagels will fit.
Mini Pretzel Maker by Brentwood ($25 to $40)

There are few things in this fallen world as good as soft, warm, fresh-baked pretzels. You might think making some of these classic treats is out of your reach, but that's not true when you get the Mini Pretzel Maker from Brentwood.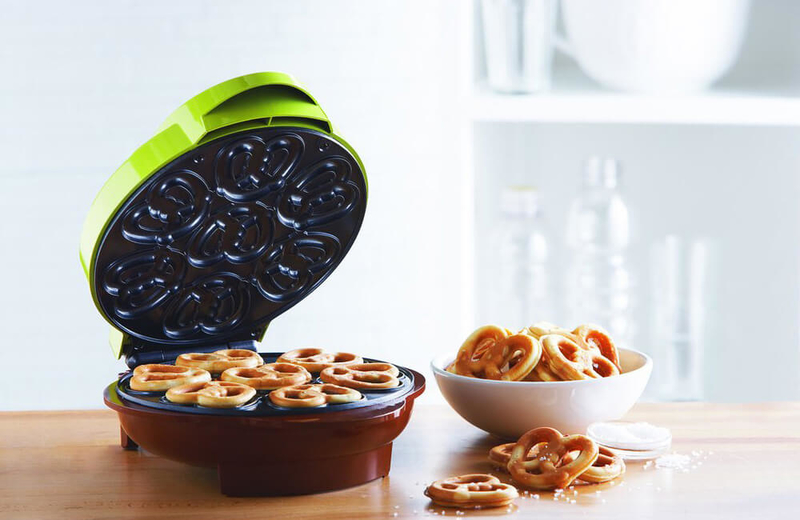 This easy, fun device helps you get your favorite treat easily. Using a 750-watt engine, the non-stick griddle forms pretzels without making a mess. It comes with both a preheat and a power indicator, and there are seven pretzel shapes in the griddle, so you can pump them out for even the hungriest pretzel fans.
2-in-1 Spatula Tongs by Clever Tongs ($12.49)

Clever Tong's 2-in-1 Spatula Tongs are dishwasher-safe, heat-resistant, and non-stick, and that's just the start. The tongs come with a silicone cradle, usable as a guide or as a spatula, which means you won't have to be flipping between utensils as often.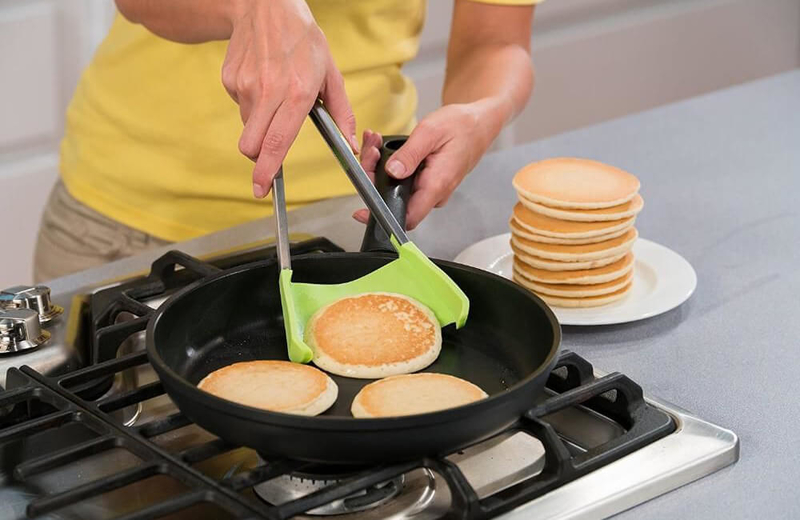 Scoop stirfry straight from the pan onto your plate, or grab ground beef without making a mess. The tongs are resistant up to temperatures of four hundred degrees. The ergonomic handle makes it easy and painless to use, even for long periods of time. Your next meal is going to be even easier thanks to this cool tool.
Heating Hand Mixer by Breville ($66.76)

Baking is always fun, but the mixing part can often be messy and difficult. Thankfully, the Heating Hand Mixer is here from Breville to make things easier. You can even take the butter straight from the fridge and start mixing with it right away, thanks to the unique features of this mixer.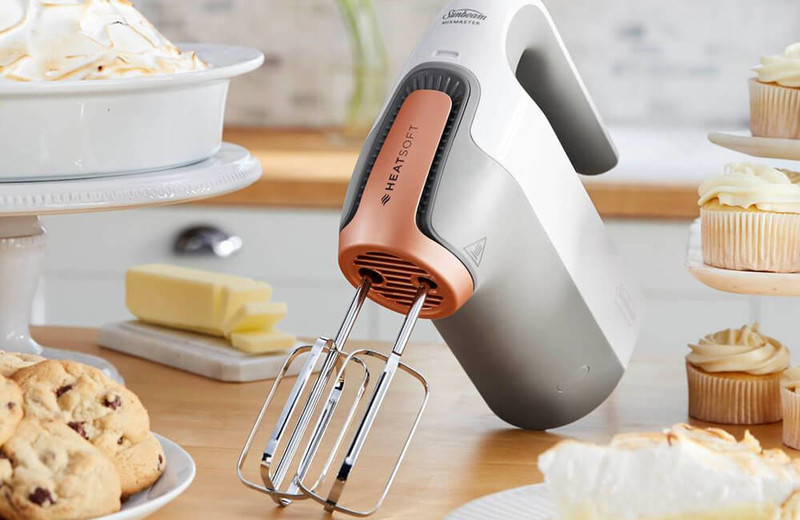 It softens the butter twelve times faster than normal mixers thanks to heating it to room temperature with an interior fan. It comes with a 270-watt motor and allows you to use seven different speeds. It also comes with whisks, dough hooks, and a clear, plastic storage container.
Dinosaur and Unicorn Taco Holders by Funwares ($31.33)

Dino fans will love enjoying their tacos out of the Dinosaur and Unicorn Taco Holders. Each holder costs about fifteen dollars, and the pack of two is a little over thirty-one dollars on Amazon.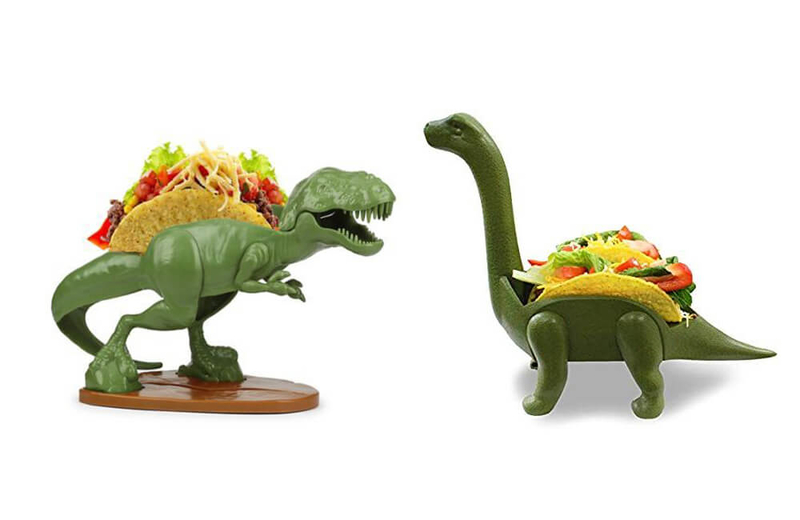 Of course, they also work for sandwiches, nachos, paninis, pizza slices, and more. If you have some picky eaters in your family, then this might just be the way to get them to try some new foods. Of course, the plastic holders are perfectly food-safe. Both holders are highly-rated on Amazon.
Juicero by Juicero ($350 to $1,000)

You might have heard of this device already. The Juicero made a splash on the internet when it first came out. It was the first internet-connected juicer, and it used pre-made packets of fruit and vegetable juice to make its drinks.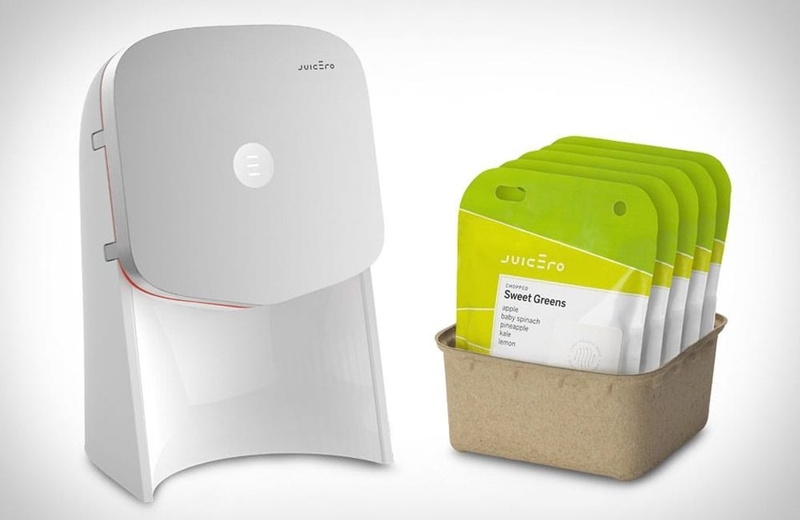 Investors gave over a hundred million dollars to Juicero while it was in development. However, attention dwindled when people found out that you could just tear open the juice packets and drink straight from them. Internet mockery forced the company out of business, and since they tried to sell the juicer for a staggering seven hundred dollars, they deserve it.
GeniCan Scanner by GeniCan ($149.99)

Throw away your grocery list. Get the GeniCan Scanner, attach it to your garbage bin, and every time you toss a container or carton, scan it. It will automatically get added to the list that comes with the included app.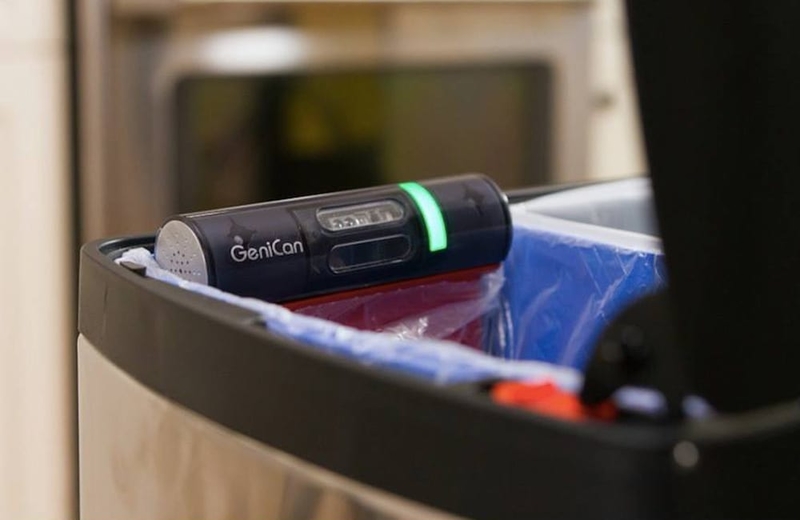 You can also speak right into the device to add to your list – now you finally have a reason to yell into your garbage can. You can even link it to Amazon, so it will automatically order items that you need fast. The GeniCan installs onto almost any garbage can. It comes in black, white, or red options.
Cue Smart Induction Burner and Fry Pan by Hestan ($499.95)

This eleven-inch frying pan comes with a portable induction burner, and the burner connects to the Cue Recipe app. Together, it is a great way to help you create your perfect dinner. This item also comes with a Smart Capsule, which you can insert into the handle of the pan to sync with the app.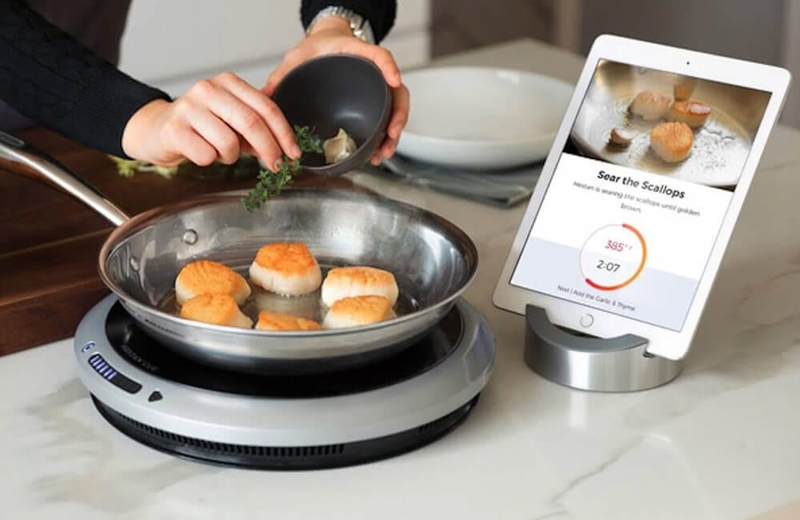 Bluetooth technology and the guided cooking system has embedded temperature sensors to safeguard against overcooked or undercooked food. While this item shouldn't be used on the stove or in the oven, it is dishwasher safe.
The June Oven by June ($599)

The June Smart Oven combines twelve appliances into one, which saves you a ton of kitchen space. It comes with an intuitive touchscreen that lets you customize the food you're cooking to perfection. The regular version of the June Smart Oven costs six hundred dollars, and the premium version costs a thousand.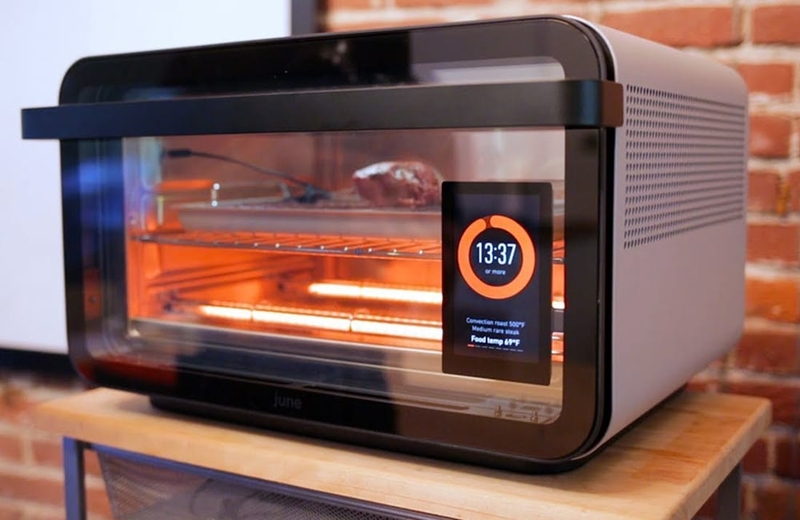 The June Oven Plus costs eight hundred, which is still a lot less than a regular oven, which can get toward two thousand dollars. Of course, the June Oven combines a bunch of appliances in one: a convection oven, a slow cooker, a dehydrator, a toaster, a roaster, a proofer, a pizza oven, a microwave – the list goes on.
GarlicZoom Garlic Chopper by Chef'n ($12.99)

For a one-size-fits-all garlic chopper, the GarlicZoom Garlic Chopper means you can mince garlic without touching it, which means your hands will stay pungent odor-free. Put the garlic clove into the main chamber of the GarlicZoom and roll it along the ground to chop it up.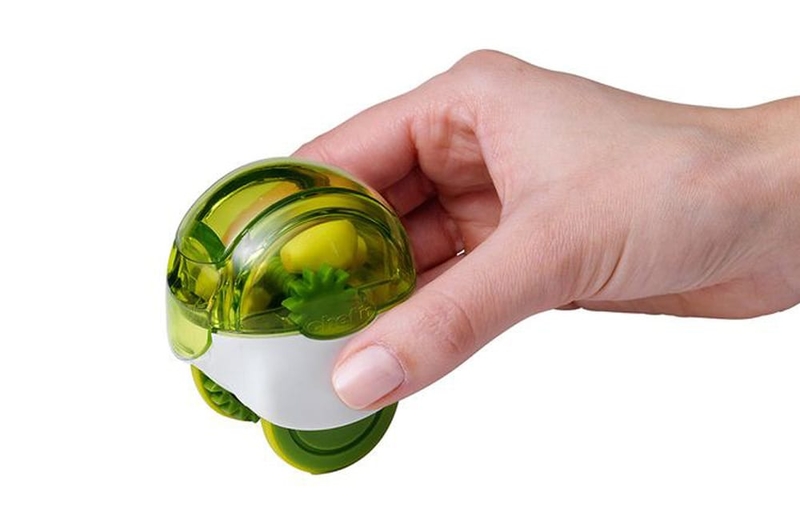 If you want a finer cut, keep rolling it. This new and improved GarlicZoom is sturdier, has more gearing, and the larger finger holds. Cleaning it is easy. Just put the GarlicZoom in the top rack of the dishwasher and watch the fragrant garlic substance not spreading throughout your kitchen.
Fat Magnet by Handy Gourmet ($30)

This magnet doesn't go on your fridge. Nope, this one goes on your food. If you've been making some greasy food like soups, stews, gravies, and chilis, take this Fat Magnet and skim the surface of your food to absorb the extra fat that is floating on the surface.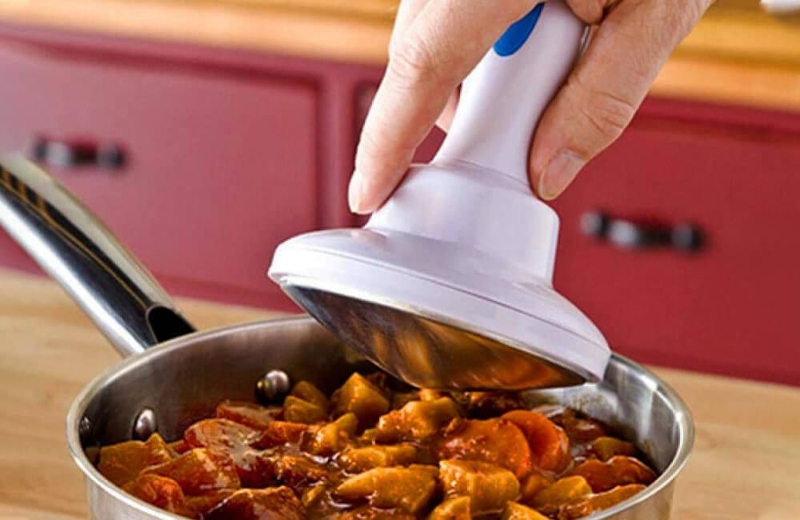 You have to freeze the Fat Magnet first (we're sure there's a good reason for this) but it helps make food healthier and lighter, so if you're trying to keep the pounds off, this item is going to be handy. It works best for foods with moderate amounts of food, as opposed to high-fat foods like adobo or carnitas.
Smart WiFi Instant Pot by Instant Pot ($89.99)

Fans of the Instant Pot brand are sure to appreciate the cost-cutting Amazon has done, bringing the price from one fifty to ninety dollars. This eight-in-one pressure cooker has lots of options for cooking your favorite foods.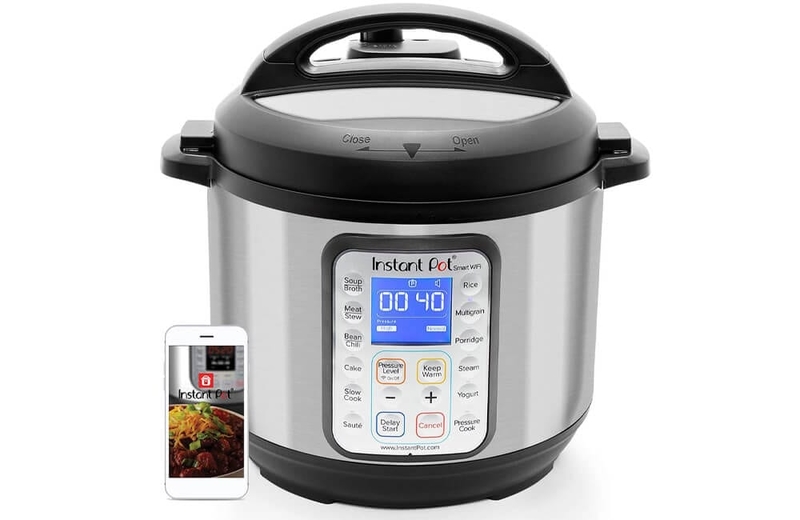 The touchscreen control makes it easier than ever for you to make ribs or pulled pork, beans, soups, rice, yogurt desserts, poultry, and much more. This item connects to your smartphone, and can even connect to Alexa or other home devices. You'll have access to over a thousand pre-programmed recipes, and you can use the smartphone app to check in on your food's progress as well.
The Spiralizer by Spiralizer ($25.97)

Cutting out carbs can help you get healthier, but your palate might not agree with the choice. If you have a craving for pasta, The Spiralizer might just be able to help. Veggie pasta is all the rage nowadays, and with seven blades to slice vegetables, it's now easier than ever to create your own spiral veggie pasta from cucumbers, sweet potatoes, turnips, and more.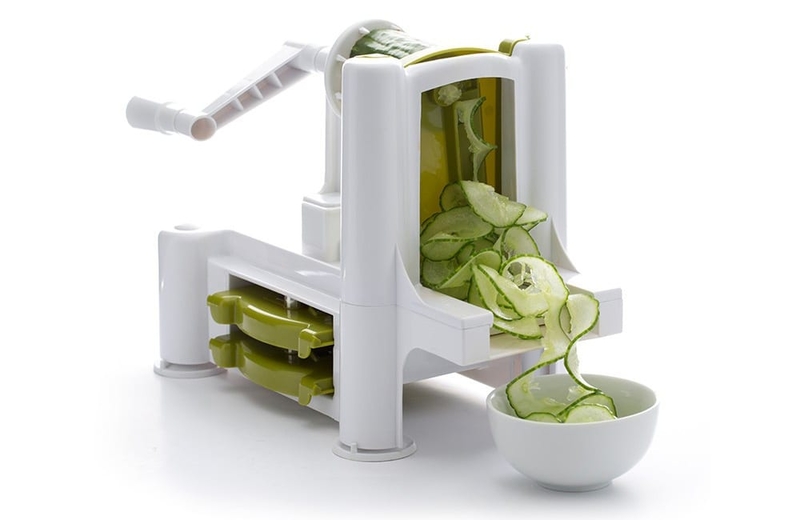 The seven different blades mean you can shape the pasta however you want, and create healthy, tasty, and pretty dishes that have big doses of color. All in your own kitchen!
Sushi Bazooka by Crebri ($9.99)

Sushi is a high-class treat, but it's just become much easier to make and pack your own versions of this famous Asian dish. The Crebri Sushi Bazooka is a roller that comes with a tube machine. And the best part is there are no sharp edges, so even kids can learn the joys of sushi.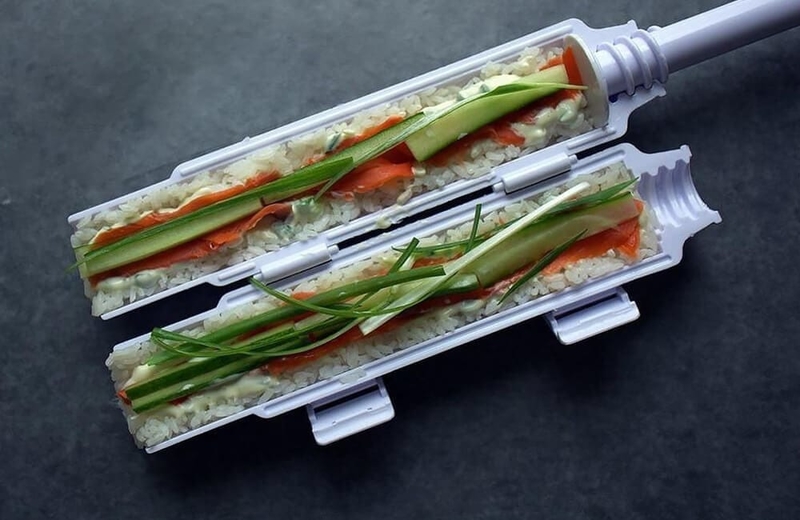 You can pick all of your own ingredients and fill the Sushi Bazooka, then close it up and create the perfect roll of sushi. But that's not all: you can also create cake rolls, fudge rolls, and more. Really, anything in a roll. Finally, the Sushi Bazooka is dishwasher-safe for easy cleanup.
Pancake Pen by Tovolo ($11.04 to $16.99)

With the simple Pancake Pen from Tovolo, you'll be ready to show off your artistic skills and wow friends and family. The contoured batter dispenser lets you squeeze out pancake batter and draw designs with it, so you can get the perfect griddle cakes every time.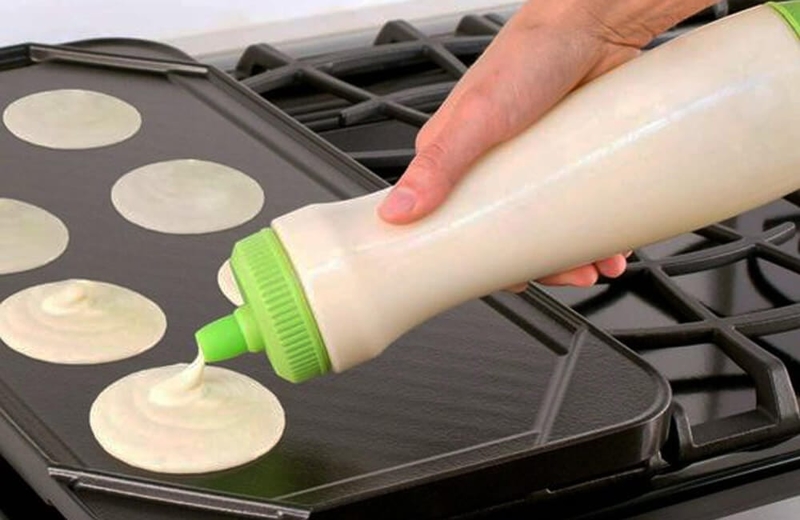 The Pancake Pen comes in three different colors (lime green, blue, and red) so you can customize it to your style. It's drip-proof, so there's less cleanup, and it's even dishwasher safe, which means breakfast (or dinner) will be easier than ever. Draw your favorite characters, or a special note for a pancake-fan loved one.
Draining Sieve Pot Attachment by Color Living ($16.99)

While the Color Living version of this device retails for the above price, there are competing brands on Amazon, so take a look and find a price that suits you. This silicone colander clips onto your pot, which means you can strain liquid without having a potentially-disastrous move to a separate container.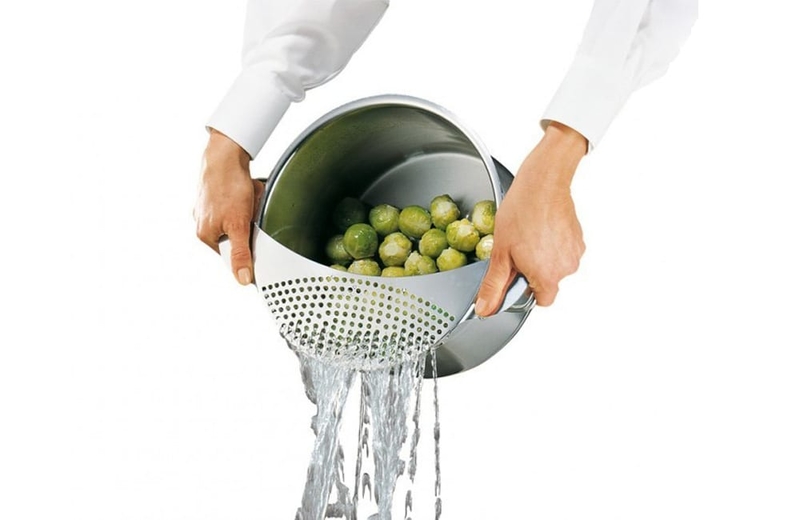 It's great for straining pasta or veggies, and the flexible material means it can fit on plenty of different containers, bowls, and pots. The material is non-toxic and can withstand temperatures up to 450 degrees Fahrenheit. Throw it in the dishwasher to clean it, and move onto the next part of dinner.
Flatev Tortilla Maker by Flatev ($437)

It only took 662 backers on Kickstarter for Flatev to raise the funds they needed to get their tortilla maker into production. There's no oven required when you want hot, fresh tortillas – they can be yours for just the touch of a button.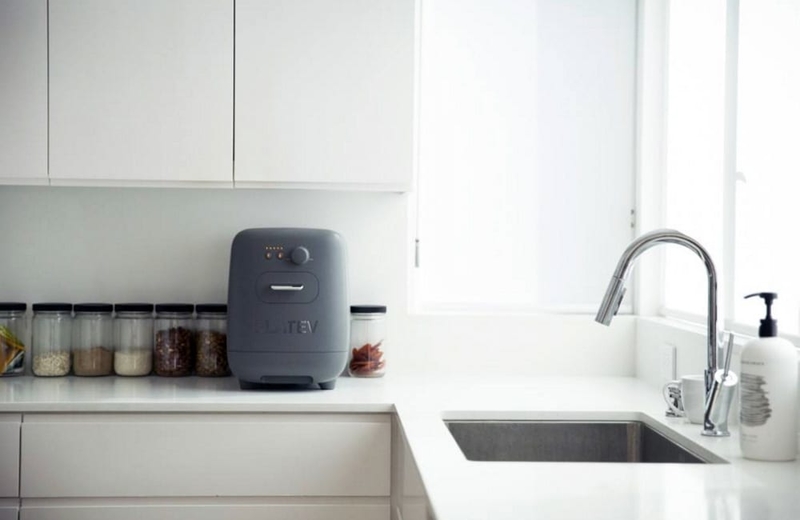 The Flatev Tortilla Maker uses organic dough and the pods are recyclable. Right now it can make either corn or flour tortillas, but there are more flavors and varieties on the way. The Keurig-like use means you only have to insert a dough pod into the Flatev, hit the start button, and watch as your tortilla is made before your eyes.
Marinade-Infusing Meat Tenderizer by Hammacher Schlemmer ($29.95)

Kill two birds with one stone when you get the Marinade-Infusing Meat Tenderizer from Hammacher Schlemmer: As you tenderize your chosen piece of meat with needle-like applicators, you'll also be injecting marinade into the cut at the same time.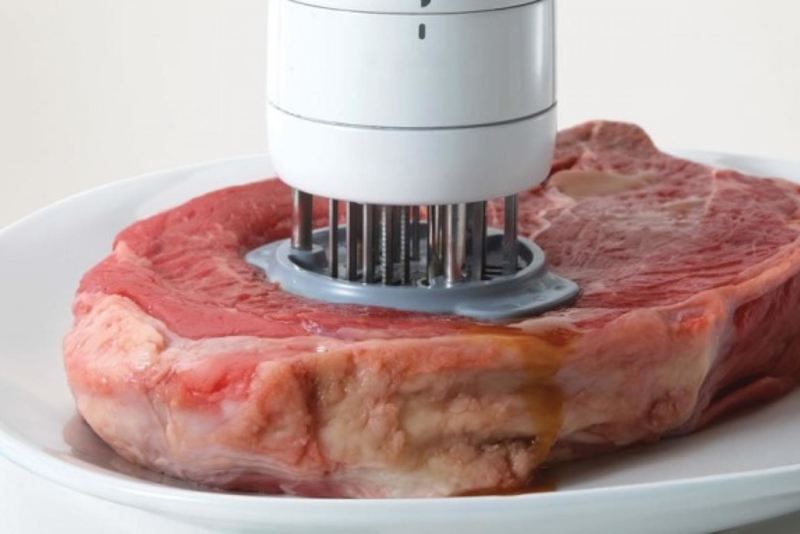 Twenty-seven stainless steel blades sever the meat's connective tissue to soften it, and the plunger holds up to three ounces of the marinade, enough for two pounds of flank steak. Cut down the prep time when you're getting ready to grill. Once you're done, this handy item can be disassembled and cleaned on the top rack of the dishwasher.
Smart WiFi Air Fryer by COSORI ($119.99)

With a 4.5-star rating on Amazon, the Smart WiFi Air Fryer has been impressing everyone. It has a digital touchscreen, eleven presets for air frying, roasting, re-heating, and more. You can even connect it to your in-home devices, making frying easier than ever.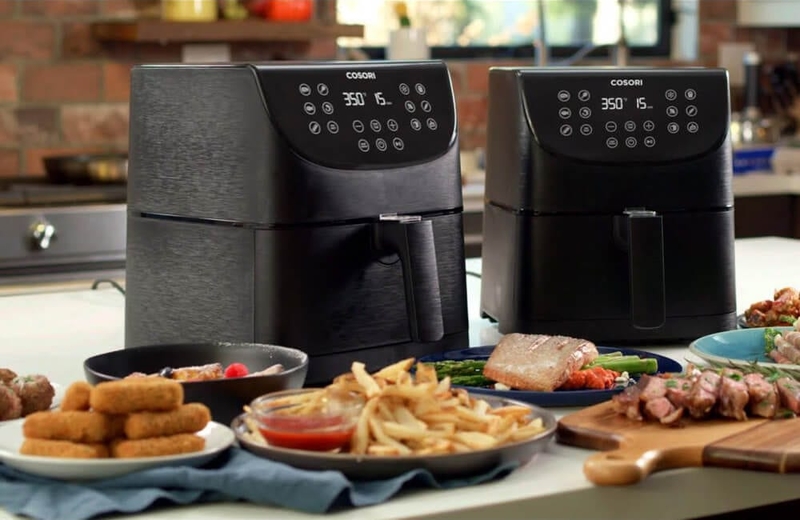 There are more than one hundred recipes pre-programmed in, and the included smartphone app adds more every week. It uses eighty-five percent less oil — making it a healthier option — and doesn't fill your entire cooking area with a heavy deep-fried odor. With almost three liters of cooking space, you'll be enjoying delicious foods in no time.
Smart Garden 3 by Click & Grow ($126.33)

Food technology is always looking for innovation, and the Smart Garden 3 is here to bring it. Grow herbs without the stress that comes from watering, watching, and waiting. It uses "smart soil," a NASA-inspired tech that optimizes growth by giving your plants the perfect amount of nutrients, water, and oxygen all thanks to built-in sensors.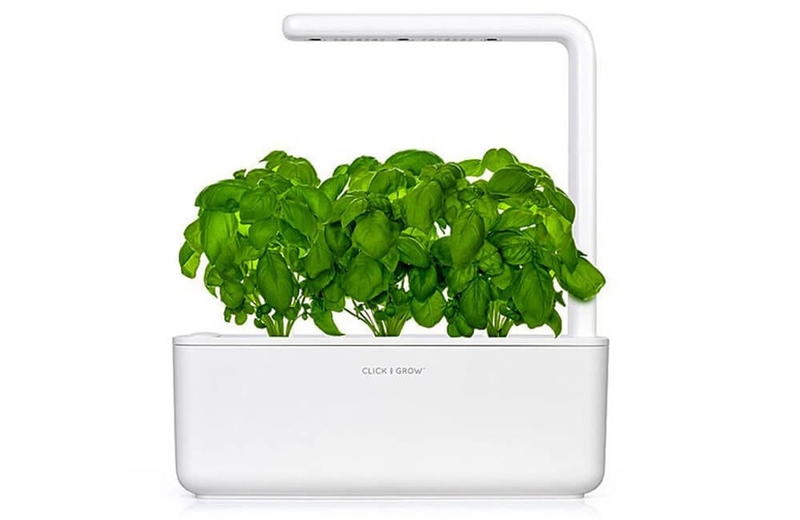 Your herbs will grow quickly and they'll thrive thanks to the advantages of this device. The included Grow Lamp even speeds up the growing process, meaning you'll have fresh, home-grown herbs faster than ever. Space-age tech is here to make your food taste better.
2-Slice High-Speed Smart Toaster by Revolution Cooking ($300 to $400)

Big toast eaters know how important it is to get a good, even toast on both sides. A family that is using their toaster every day might want to invest in this fancy device from Revolution Cooking.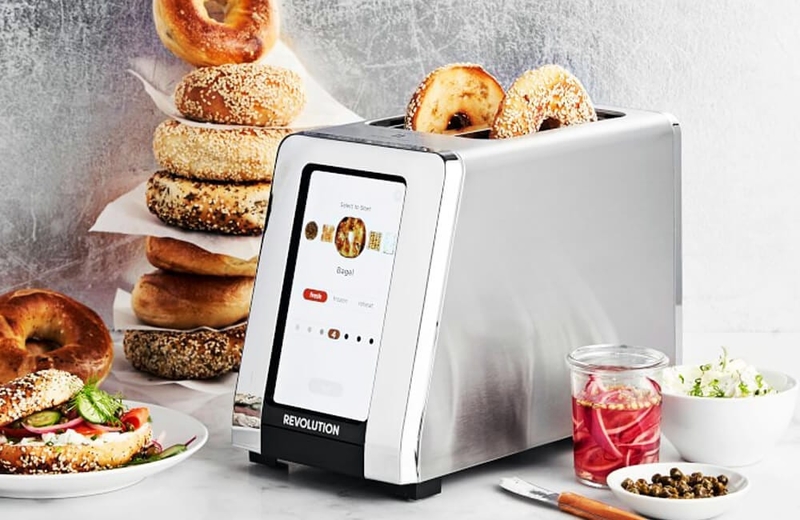 It toasts the bread in a fraction of the time and makes it easier to pick the exact shade and level of toast that you want with a touchscreen. It works on bread, of course, but also bagels, waffles, pastries, and English muffins. It might behoove you to keep your eyes open for sales, however, as this item usually goes for four hundred big ones.
Marivac Food Tumbler by Easton Outdoors ($200)

Just a few minutes of tumbling inside the Marivac Food Tumbler provides better marination than sitting in a pan of sauce for two days. It's an automatic device that spins your food around for a few minutes, so the sauce covers it evenly, but that's not all.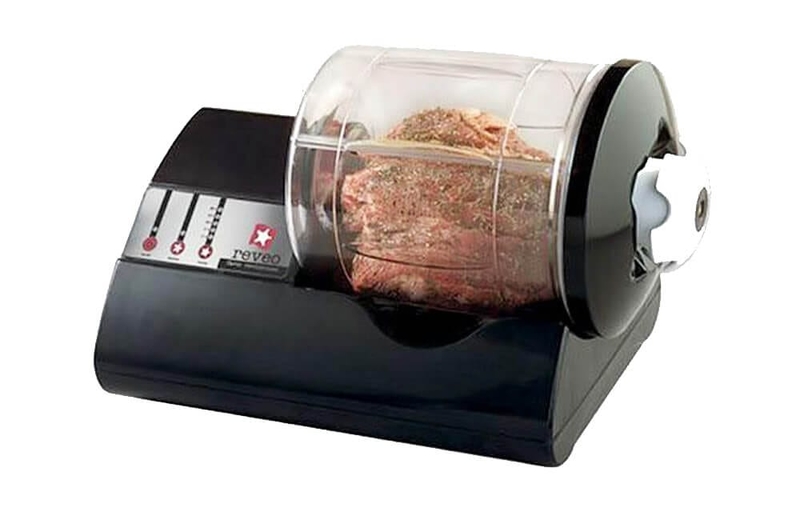 It also has a vacuum that opens the fibers of the food, which allows marination to seep into even the driest cuts of meat. It doesn't require any hand pumping, which means you can let it work while you're preparing the rest of dinner. This fancy unit is even dishwasher-safe and comes with a one-year warranty.
RippleMaker by Ripples ($999 plus a $75 a month subscription)

Now that's a heavy price tag. But, is it really that much when you consider this fancy device will help you create special, customized cocktails, beers, coffees, or even milkshakes? It even includes an app on your phone.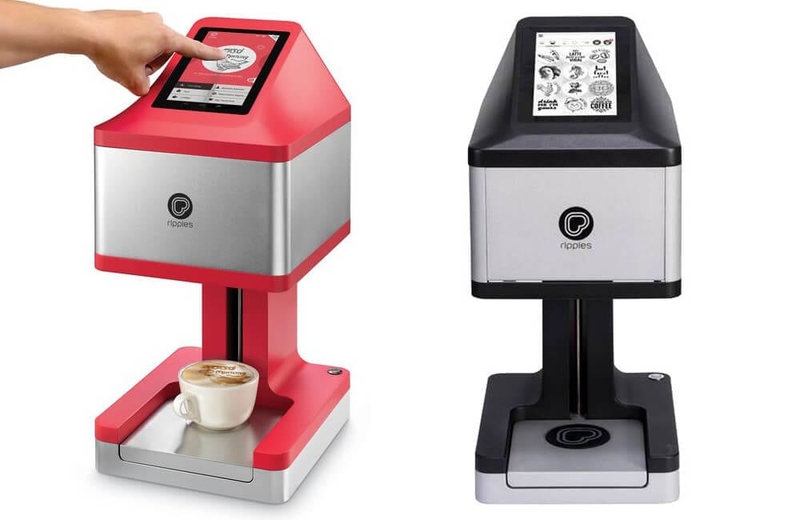 You can then upload a photo to the app, and the RippleMaker printer, with its small countertop footprint, according to the website, will "print" it in seconds on the surface of whatever drink you have waiting. It's a really fun way to serve drinks for the holidays, especially if people aren't expecting to see themselves staring back at them from their eggnog.
RoboStir by Red Ferret ($11)

Cooking is relaxing for a lot of people, but for others, it can be pretty boring. Especially if the job you have is to stand over a hot stove and stir a pot of stew, or a sauce, or something else. Well, now the RoboStir is here to help.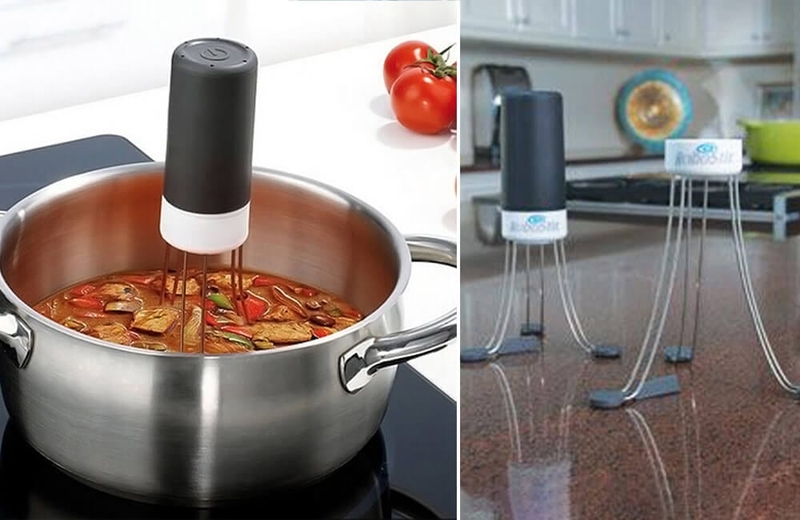 With just four AA batteries and an eleven-dollar price tag, the RoboStir stirs for you. It's completely submersible and has three stirring legs, all with silicone feet, so none of your pans will get scratched. It's designed to cover the entire surface of the pan, so nothing stays still while it's stirring. It's even dishwasher-safe.
Bacon Grilling Rack by Cuisinart ($15)

We're back to bacon, people, and that means a new fancy way to cook everyone's favorite meat treat. There's really no wrong way to cook it, but if you're firing up the grill for burgers and brats anyway, why not let bacon join the fun?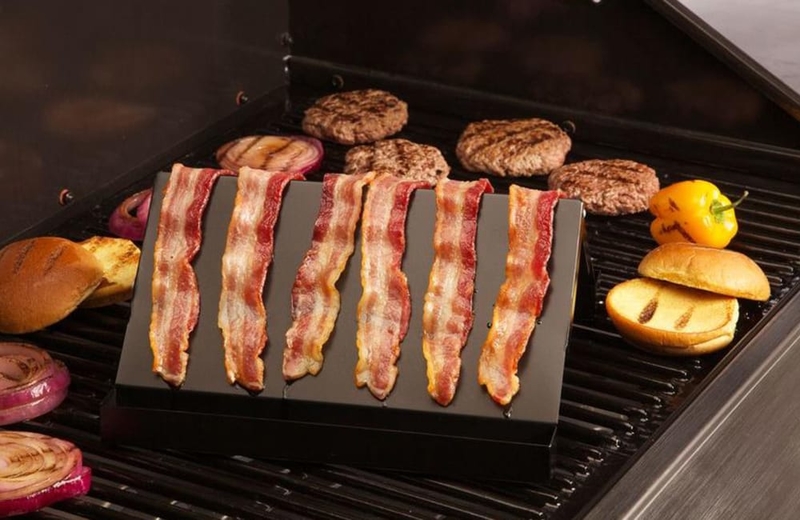 The Bacon Grilling Rack from Cuisinart is a simple folding piece that lets bacon grease drain away, so you can enjoy delicious, healthy(er) bacon without having to worry about the mess. You can even use it in the oven, and it folds up for easy storage. At just fifteen dollars, it's a bacon lover's dream.
Frog Can Crusher by Present Company ($15)

Cans can take up a lot of space in the recycling bag, whether it's cans of soda or beer. If you want a fun way to reduce that space and keep things clean, the Frog Can Crusher is here to help. Most can crushers are about as interesting as a bike pump, which is why Present Company came up with the Frog Can Crusher.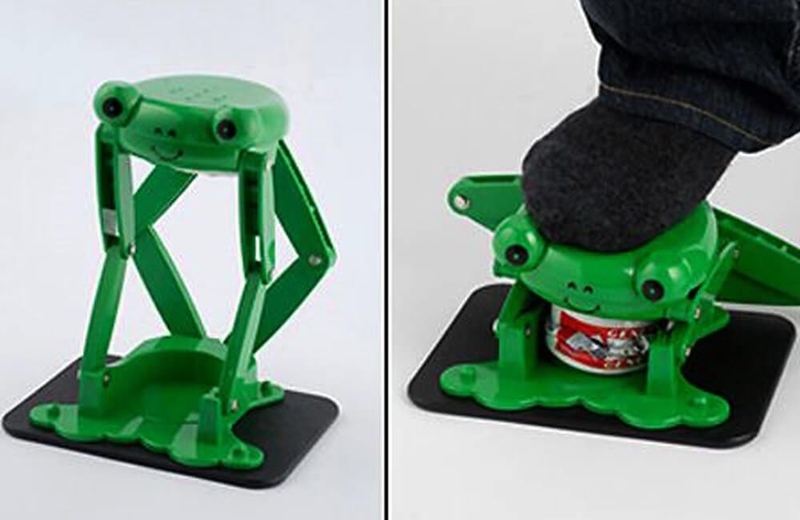 Slide the can between the frog's legs and stomp on his head. It might seem cruel, but it's never been easier to crush cans down without worrying about an even crush. These little guys go for a mere fifteen dollars on Amazon.
Finger Cheese Shakers by Artist Christine Chin ($Unknown)

Ah yes! Nightmares. That's what you want at your dinner table. We all like a little bit of shredded Parmesan cheese on our pasta or pizza. But usually, we like containers that don't look like they're about to grab back.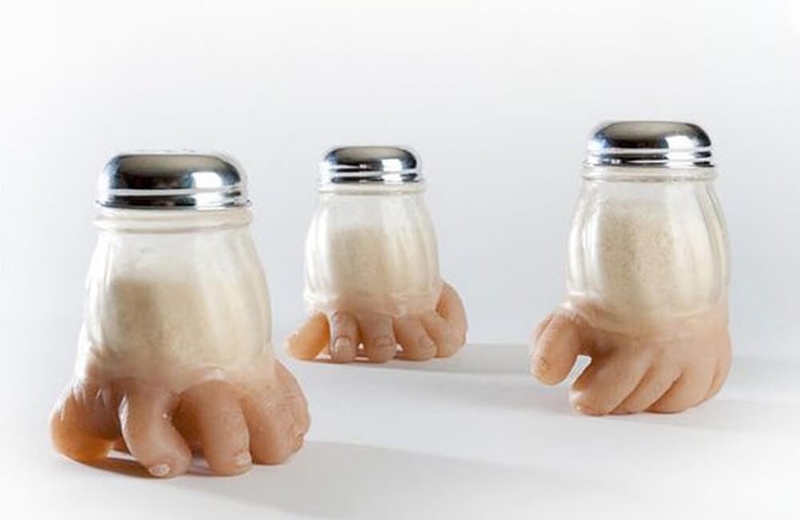 Thankfully, they aren't on the market. They were created by artist Christine Chin as part of a larger piece of work called "Sentient Kitchen" which is a term we never ever want to hear again. It isn't possible for you to buy these items on the market, but don't worry! They're coming for you anyway.
Automatic Paper Towel Dispenser by Towel-Matic ($50)

For the most part, paper towels aren't a big problem when it comes to cleaning up spills. But for those who are really messy (or have kids), something like the Automatic Paper Towel Dispenser might just come in handy.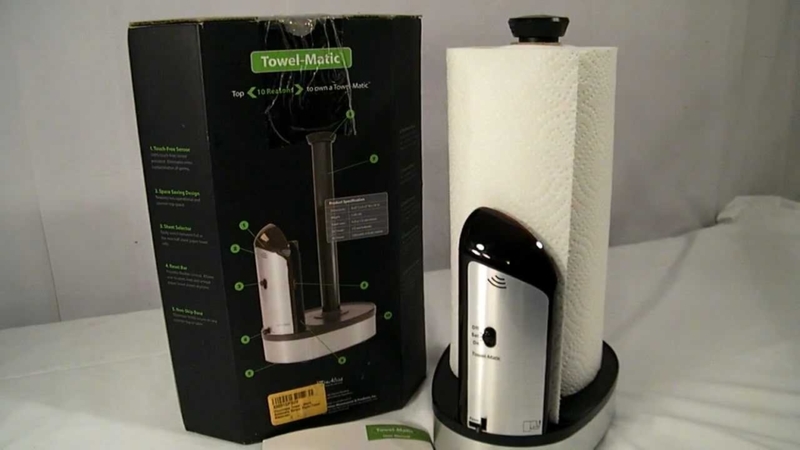 This device has a sensor that automatically dispenses a length of paper towel for you to tear off with one simple motion. There are numerous versions of this product available on the market, which means you can pick and choose the one that works best for you. Some versions even come with a free roll of paper towels. Not bad.
Bluetooth Kitchen Probe by Various Companies ($65)

Grilling with guests over? Don't spend the entire afternoon standing watch over the cooking food – the Bluetooth Kitchen Probe connects to your phone or another device, so you can watch the internal temperatures of four different pieces of food.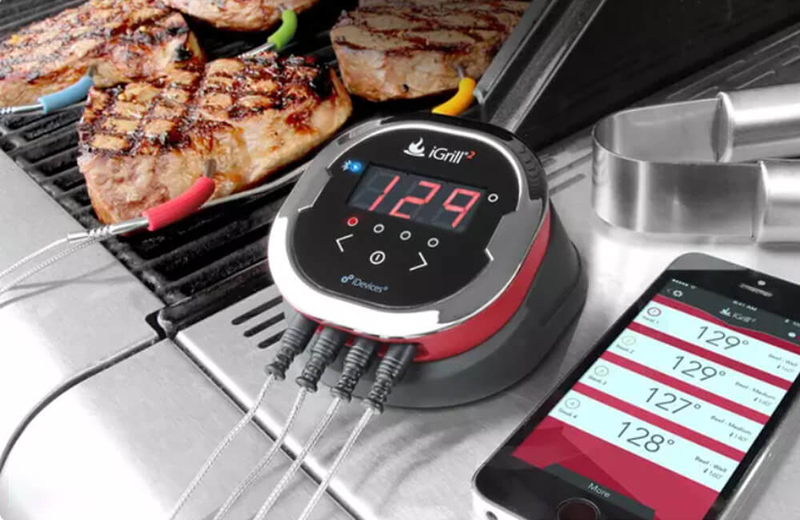 It won't be a mystery whether or not your cuts of meat are cooked through or not thanks to this item. While it comes with a big price tag, grilling fans will find it a great way to keep things simple and easy. Preparing your dinner will become a lot easier because all you have to do is check your phone to see if the meat is done.
Animal-Shaped Pancake Maker by Cucina Pro ($40 to $50)

If you love little critters of all kinds, then this pancake maker is the breakfast item for you. The mold includes plenty of different options, including cats, dogs, reindeer, and even bears and tigers. All you have to do is fill up the molds with your favorite kind of mix and close the lid.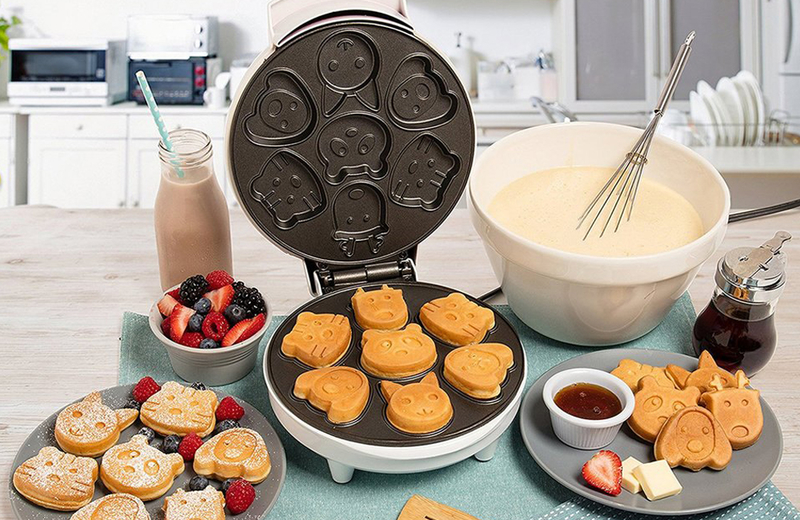 Once it's done cooking, you'll have seven little animal-shaped cakes to enjoy. Top them with fruit, syrup, powdered sugar, or anything else, and enjoy a cute and tasty treat. This item currently has a four-point-five star rating on Amazon.
Diamond-Shaped Ice Cube Molds by SAWNCZ ($5.99)

Add bling to your ice with the Diamond Ice Cold Molds from SAWNCZ. You won't even have to spend rockstar money – at just six bucks, this mold is quite affordable. Make realistic diamond-shaped ice cubes by filling the mold with water and popping it into the freezer.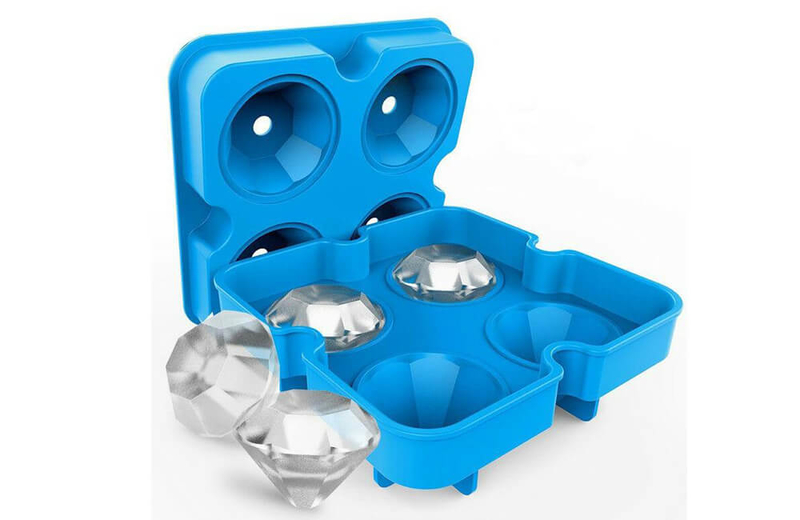 SAWNCZ thinks you should make these diamonds to add to your whiskey, but any drink that is too warm could use a little bit of bling. You can even make diamond-shaped popsicles. The tray is safe for the microwave, dishwasher, and over, and can handle temperatures from negative forty all the way up to four-hundred and twenty Fahrenheit.
Snotty Egg Separator by DZ ($13.99)

There's nothing like a kitchen appliance that has a chance to make you sick to your stomach. If you have trouble separating egg yolks and whites, this Snotty Egg Separator should do the trick. All you have to do is crack an egg into the top of the Separator, and the whites will come pouring out of the jar's nose.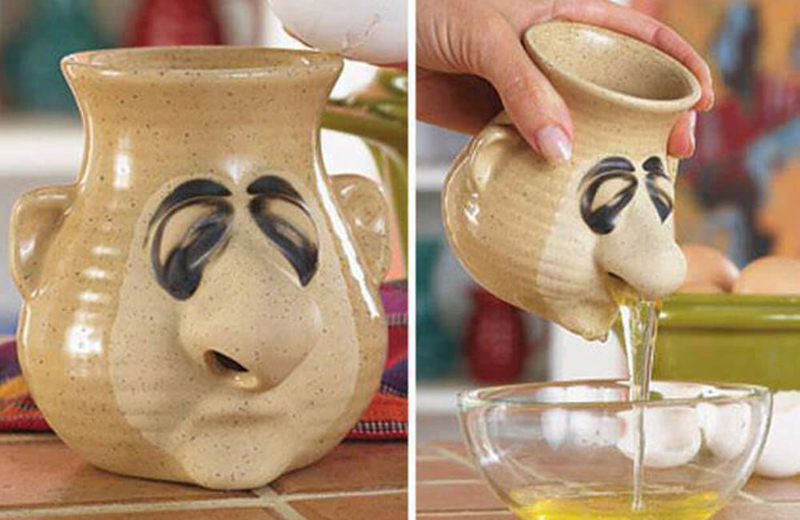 While the ceramic material and oddly-shaped item can't be washed in the dishwasher, it just takes a little bit of soap and water to get it ready for its next use. If you need a little bit of goofy material in your kitchen, pick up this item.
Hot Dog Steamer by Knox Kitchen ($30)

Hot dogs have plenty of cooking options, and now Knox Kitchen offers the Hot Dog Steamer as yet another choice. Place the dogs into a sealed container, and they'll get warmed up and cooked with nothing more than steam.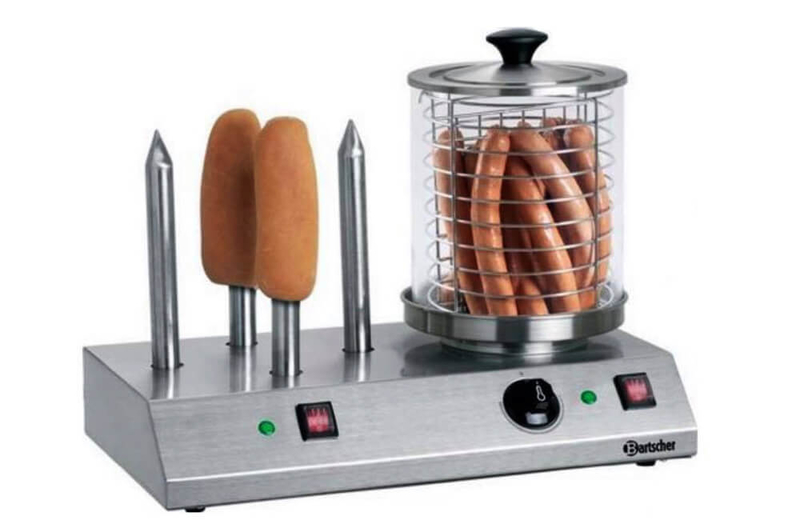 There are also spikes that let you warm up hot dog buns so that no part of your meal is cold. While the device seems simple enough, Amazon isn't convinced it's worth it, as it only has a three-star average from reviewers. It might be useful but remember: buyer beware.
DaysAgo Digital Tracker by DaysAgo ($8)

HGTV is the home of many odd devices and items to purchase for the home, but the DaysAgo Digital Tracker looks to be plenty useful. Attach the small piece of technology to a container of food – with a suction cup – and start the timer.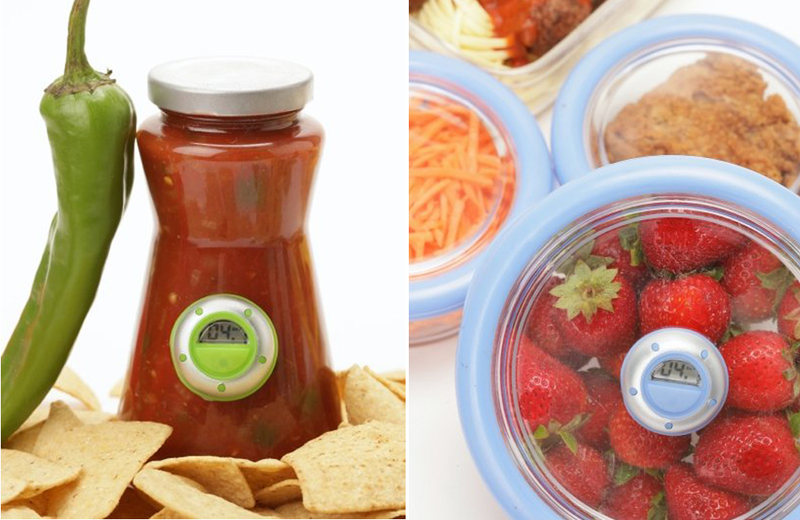 The DaysAgo tracks how many days it's been since the container was opened, which means you won't have to worry about food going bad anymore. It can track up to ninety-nine days, which means even foods that have a three-month shelf life. Rotten, spoiled food will be a thing of the past, and it's easier than ever to keep track.
Hiku Smart Grocery Lists by Hiku Labs ($79)

The Hiku Smart Grocery List has been called the ultimate tool for creating grocery lists. It's a way to prevent you from forgetting about things you need to buy, and also prevents you from buying things you don't need.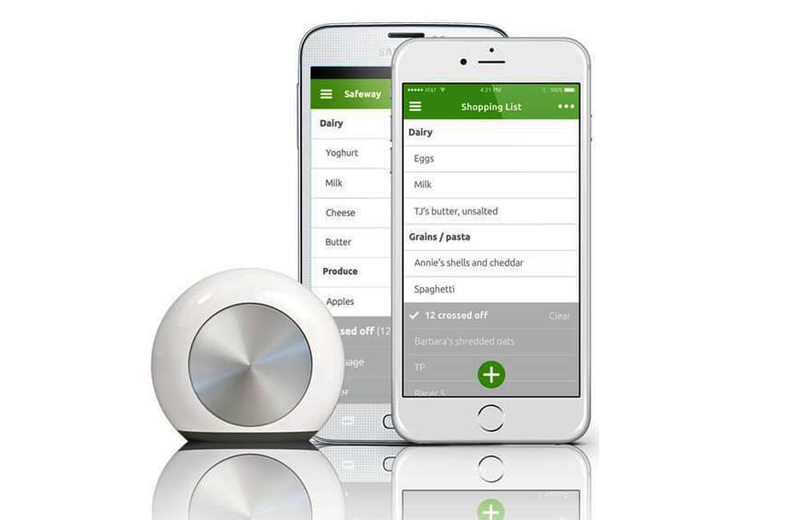 The Hiku Smart Grocery list comes with a camera you can magnetize to your fridge. When you're running low on something in the kitchen, hold the UPC code in front of the camera, and the item will automatically land on your list. The complimentary app updates immediately, which means you don't have to worry about double-checking to make sure you have everything you need.
Fruit Keg Tapper by Final Touch ($24.99)

Watermelon juice is a great summer treat, but the big juicy fruits can be hard to tap. Thankfully, the Final Touch Watermelon Keg Tapper is easy to use. Cut a lid from the top of the melon, scoop it clean, and set the fruit aside. The Tapper's included coring tool helps you make a hole, and then it's easy to insert the shank and faucet.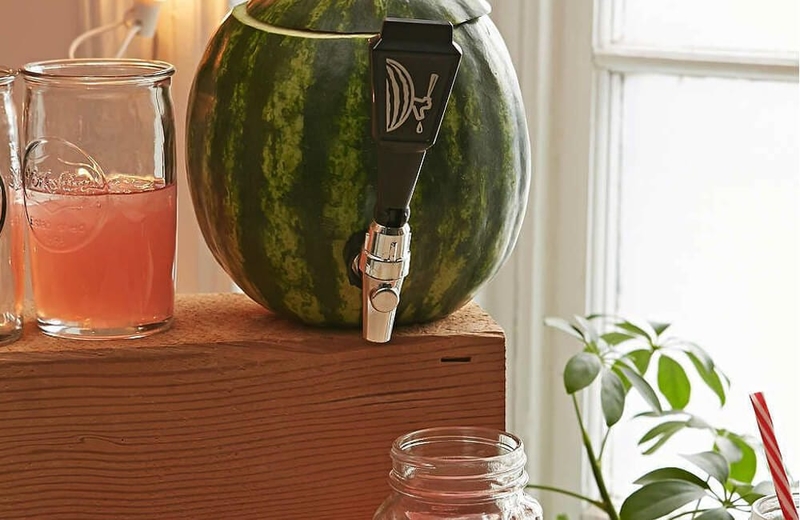 Fill the melon with your beverage of choice, and get ready to enjoy. They even throw in a fun and unique recipe you can try out once you get your watermelon is ready.
CinniBird Spice Pen by CinniBird ($14.99)

Any chef who wants to show off his or her artistic skills should have the Spice Pen from CinniBird. There's nothing like adding a little bit of spice and doing it with flair and style. It acts like a real pen, but instead of ink, you can write messages or draw designs with spices, coffee grounds, cocoa powder, and lots of other things, as long as they're edible.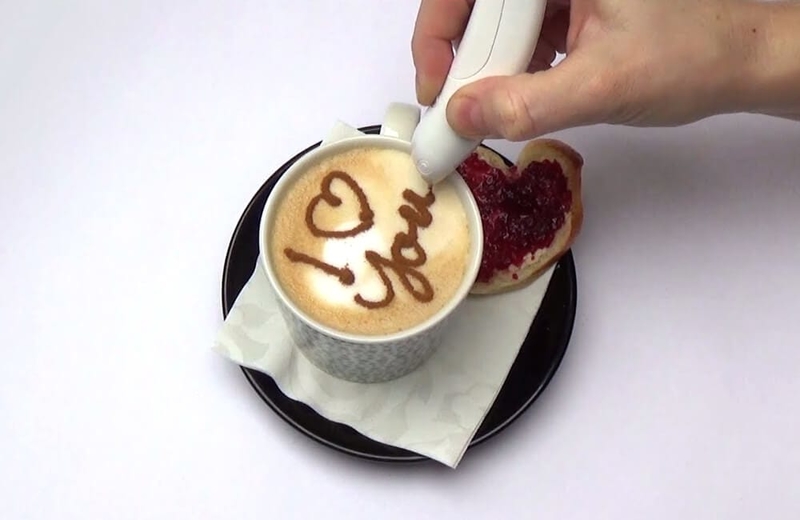 Get Instagram-worthy lattes and make incredible drawings for your dinner guests with this simple and handy item. It's easy to fill the interior of the pen with your writing materials of choice, cap it, and get to drawing.
Cookie Dunking Cup by Dunky Cup ($19.95)

A bit of coffee and a bit of cookies go together like ebony and ivory. The Dunky Cup is a coffee cup that comes with three built-in slots for sandwich cookies. You actually get a package of Oreos with the cup, so you don't have to worry about making an extra purchase to get full use out of this cup.
Like a lot of the handy items on this list, it's made of food-safe ABS plastic and is microwave- and dishwasher-safe, meaning you can use it any way you want. Add a couple of cookies to your afternoon pick-me-up and do it in style.
Corn Stripper by Drizom ($11)

Not everybody loves chomping into corn on the cob. For some people, it's because of dental issues or braces, and others just don't like the mess. The Corn Stripper from Drizom removes kernels from the cob without destroying them in the process, and without losing them.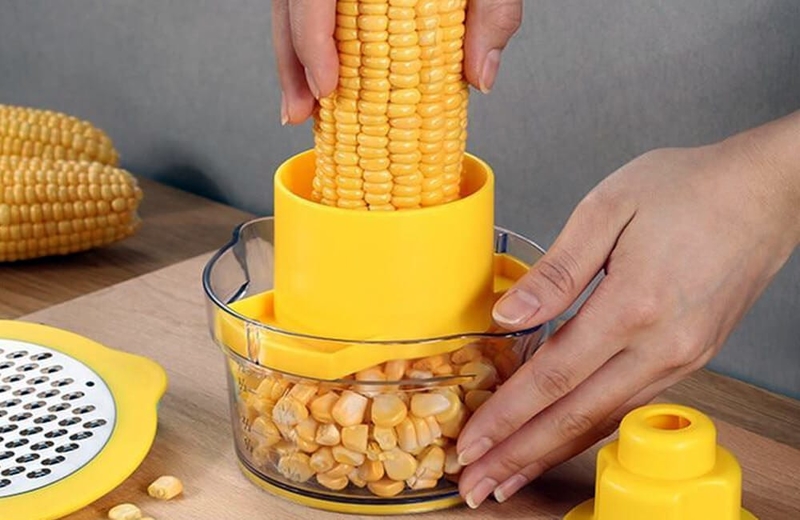 It also reduces the amount of mess that comes when you strip the kernels off the cob. This item can also be used on items like potatoes, garlic, and even cheese. It was once a messy process, but the Corn Stripper makes it much easier. It comes with a built-in grater and a measuring cup.
Fondoodler Cheese Gun by FONDOODLER ($29.99)

This is it, people. We've done it. The eighth or ninth wonder of the modern world is finally upon us, and it is the Fondoodler Cheese Gun. This cheese propulsion system lets you apply the best substance in the world to any food you want. It even makes it easy to make some cheesy art!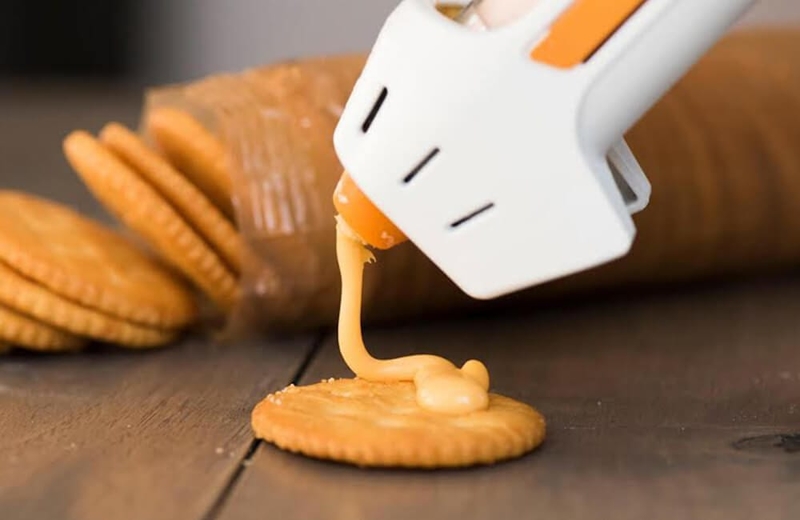 It's fully dishwasher safe and can be taken apart for easier cleaning, and works with any kind of cheese, from pepper jack and brie to classic American. The price might be out of some people's range, but for cheese fans who want to spread their wings, this is the item to get.
Egg Mold by Fred and Friends ($10 to $19.40)

Fred and Friends are back with another fun item for the kitchen. This time, they're taking boring, lumpy fried eggs and molding them into something a little more fun. You can get molds that are shaped like puppies, robots, cats, and frogs (the most expensive at just under twenty dollars).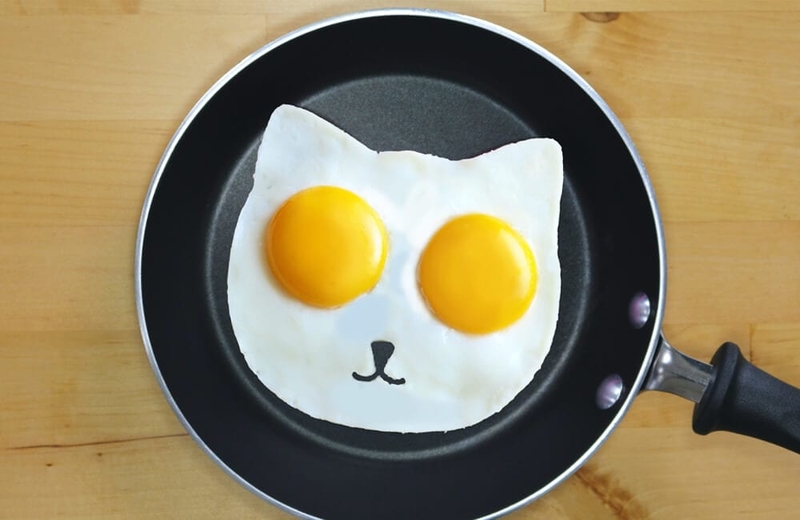 These molds are functional and fun, and the reviews on Amazon have been so good that they've earned the "Amazon's Choice" badge. They're easy to use – all you have to do is crack two eggs into the eye rings, and you have a fun breakfast that kids – and even adults – will love.
Dip Clip Bowl Holder by Guyuyii Store ($9.99)

Kitchen tools are all about convenience. We've been working in kitchens for millennia, and we're still coming up with ways to make things easier. These Dip Clip Bowl Holders are three inches by three inches and easily clip to the side of your plate. You get a perfect place to hold your dipping sauces or anything dippable.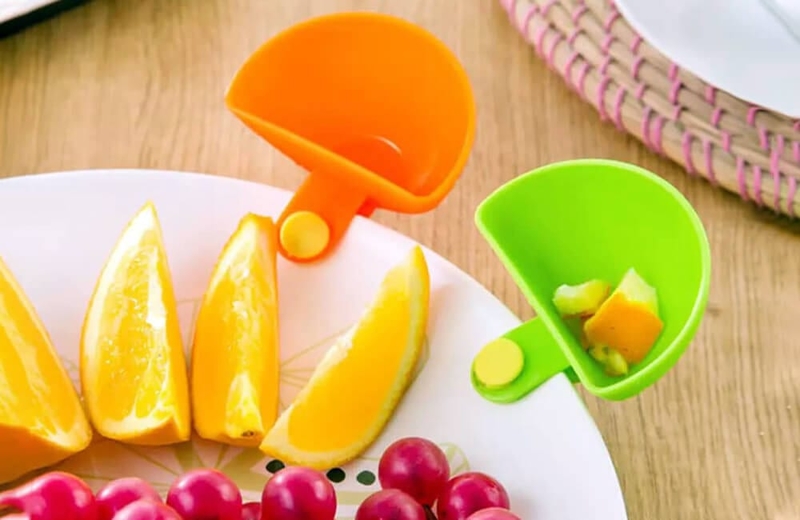 They come in bright colors and are made out of food-safe materials that you can also throw in the dishwasher once you're done. These can even be used to keep your foods separate if you hate it when they touch.
ChefJet 3D Printer by 3D Systems ($5,000 – $10,000)

3D printing is getting pretty serious. People are using printers to make everything from guns to vegan burgers. But what if you want to print something kind of wild? Kind of crazy? 3D Systems is here for you with the ChefJet 3D Printer, which is very expensive. But, you can use it to print 3D creations out of sugar in any shape you want.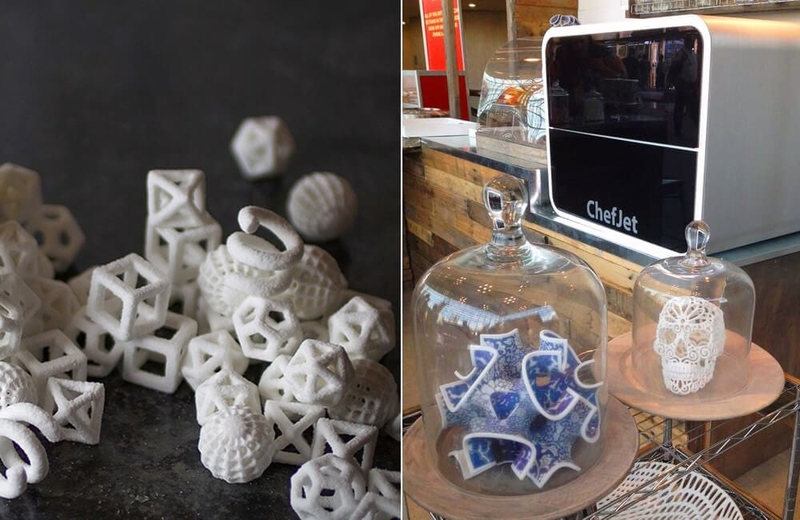 You can even choose from a variety of flavors, such as sour apple, cherry, mint, vanilla, and more. There are two models to choose from: a small countertop model that only does monochrome, and a full-size professional model, which can create sugar creations as big as fourteen by ten by eight inches.
Lemon Lime Citrus Sprayer by Foamily ($10)

A little bit of lemon or lime (or orange, or grapefruit, or any other citrus) is a refreshing taste to add to your food. If you're surrounded by fresh fruits but don't know how to get to the wonderful juice inside, the Lemon Lime Citrus Sprayer from Foamily is here to help.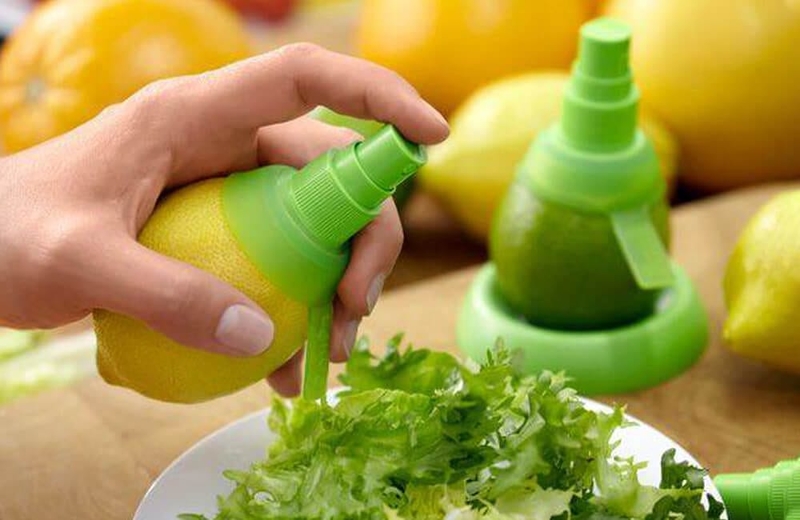 They come in a set of two (for bigger and smaller fruits) and easily screw into your fruit of choice. A straw sucks the juice out, and the pump top makes it easy to direct the spray where you want it. They're made from food-safe materials and are even dishwasher safe, so they don't come with any extra hassle.
Avocado Savers by Uncommon Goods ($8)

Avocados have taken off in recent years, thanks to their great taste, healthy qualities, and attractive color. The problem is, they go ripe pretty quickly – you have a short window of time, even if you stick them in the fridge.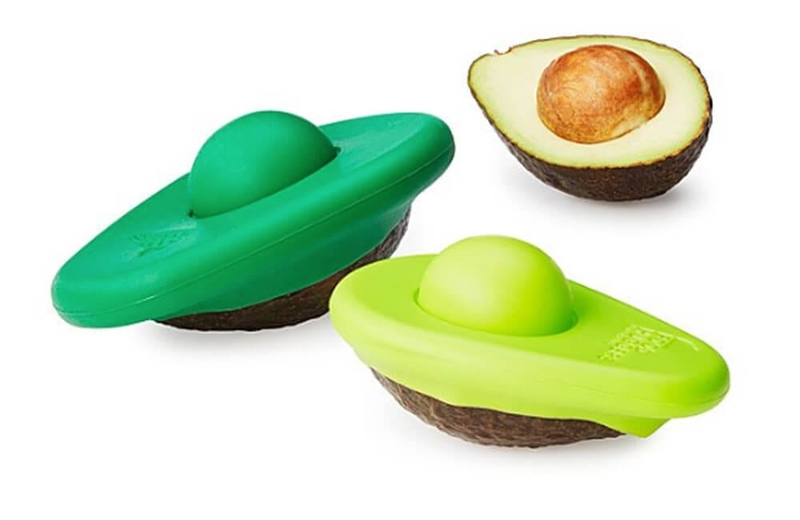 The elements in the air turn this fruit brown in the blink of an eye, which is why Uncommon Goods have come up with the Avocado Savers, a form-fitting silicone cup that is dishwasher safe and covers the open side of the avocado to keep it fresh. There's space for the pit, and the size can be adjusted to fit any avocado you want.
Warming Butter Spreader by That! Inventions ($30.24)

Butter goes bad. I know we might be getting back to basics here, but stick with us. Butter goes bad unless you put it in the fridge, and the fridge is cold. So, when you take the butter out, it's still cold. Cold butter is hard to spread. If only there was some sort of warm utensil you could use to heat it up.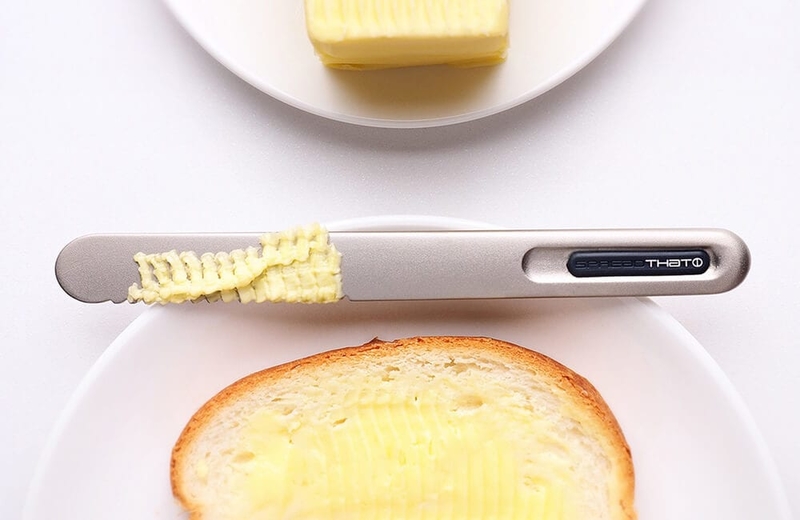 Well, the Warming Butter Spreader is just that, a serrated knife that warms up when you hold it in your hand. Finally, a knife that is actually like a knife through butter. It works on peanut butter, cream cheese, and other spreads, too.
Stuffed Burger Press by PBKay ($9.99)

Nothing says ingenious like cheap, and the Stuffed Burger Press from PBKay is one of the cheapest items on this list. But, if you're a burger fan and like to press your own patties, it's sure to come in handy. It makes it easy to stuff your hand-pressed patties with any fillings you want, and then all you have to do is take the patty to the grill and get cooking.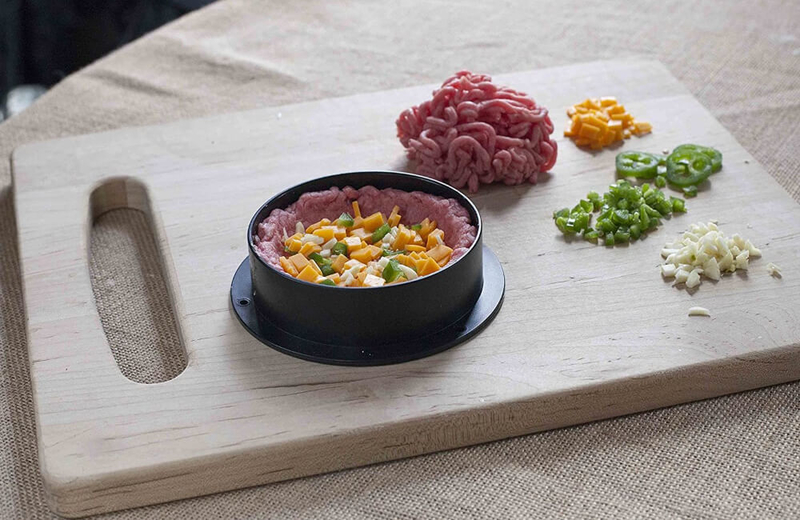 The high-quality, non-stick burger press means it's easy to use and clean once you're done, and it's even dishwasher-safe. Add cheese, vegetables, hot sauce, and anything else you want to your all-American meal with ease.
Connected Coffee Maker by Behmor ($279.99)

It might look like your everyday coffee maker, but the Connected Coffee Maker from Behmor is anything but normal. It has the functionality to link right to your Amazon Alexa device, and there's also an app you can use to control it.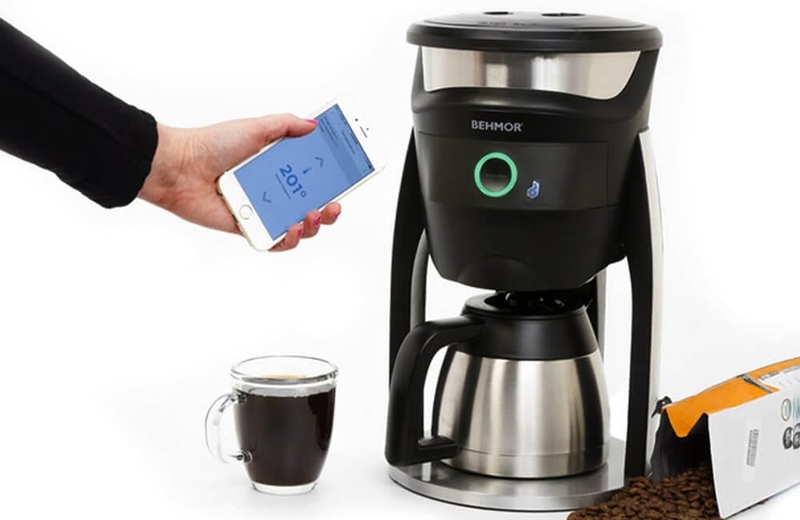 No matter where you are, you can ask this coffee maker to start or stop brewing and even control the temperature. You can also connect it to your Amazon account to use Dash Replenishment, which automatically re-orders coffee grounds or beans when you start to run out, so you aren't ever without your pick-me-up.
Inno Cake 3D Cake Shaper by 3D Innotech (Over $1,000)

Discard everything you know about cake. Yes, that's right. Everything. 3D Innotech is changing what you know about 3D printing cakes, taking them from items that are worth tens of thousands of dollars to those that are only a few thousand. Yeah, it's still pretty expensive, but much less so, at least.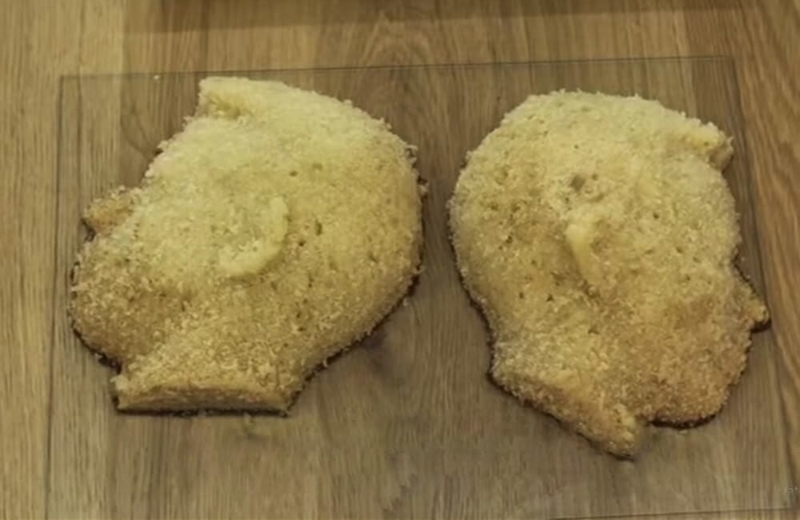 Shai Bar Zev, the founder of Innocake, says that the machine can take anything in a photograph and turn it into a cake, and he even hopes that they'll make it to shopping malls one day.
Noodle Cooling Fan by Yo Sushi ($99)

There is a unique Japanese art known as "Chindogu" – the art of developing useless gadgets and doing it in an appealing way. Could you use a fan that cools down your noodles as you eat? Yeah. Would it be helpful? A little bit. Is it something you need? No, of course not.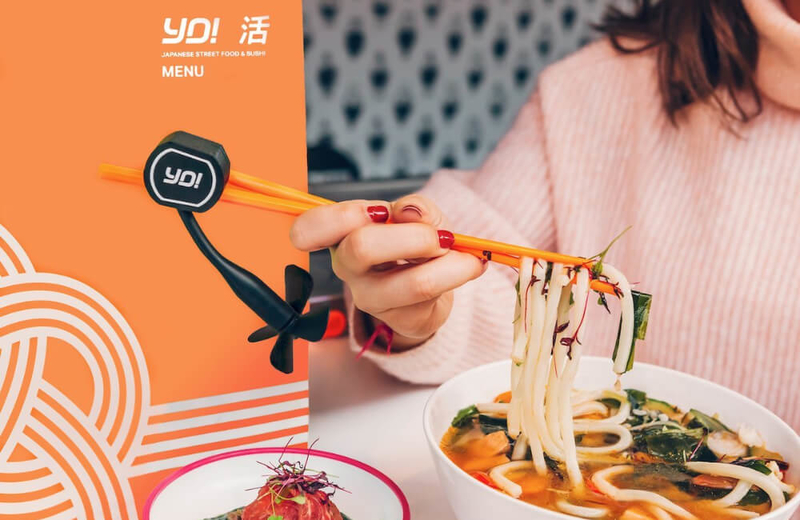 The hot feeling of slurping down some steaming noodles isn't fun for anybody, but just let your food cool for a little bit, and you won't have an issue. Yo Sushi doesn't want to wait, which is why they created this item. At least it's USB-chargeable.
Twirling Spaghetti Fork by Donkey ($30)

Even a veteran of pasta dishes can sometimes have a hard time with the noodles that are part of his or her favorite dish. Kids especially have a hard time keeping everything clean and tidy when it comes to noodles and sauce. This is where the Twirling Spaghetti Fork comes in.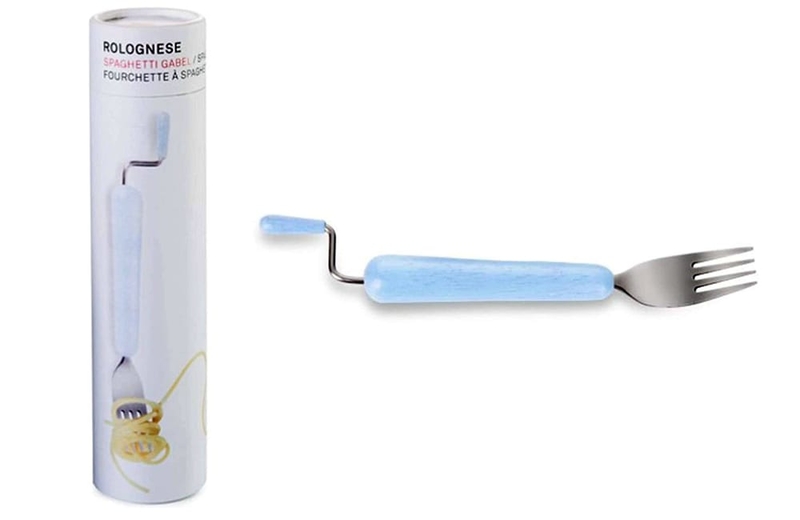 This odd kitchen tool has a handle at the top, which means anyone can turn it to spin the fork and roll up a big ball of noodles with less mess and fuss. This idea may seem simple, but it's complicated enough for Donkey to charge a whopping thirty dollars per fork. Is that really worth it?
Yolk-O-Mizer by New MEtro Design ($13)

Now here's a strange-looking device. For the baker who is having trouble getting the right color on his or her pies or other pastries, an egg wash isn't as easy as it sounds. Before you know it, you've dirtied two bowls, a pastry brush, and might not even have a usable egg wash after all.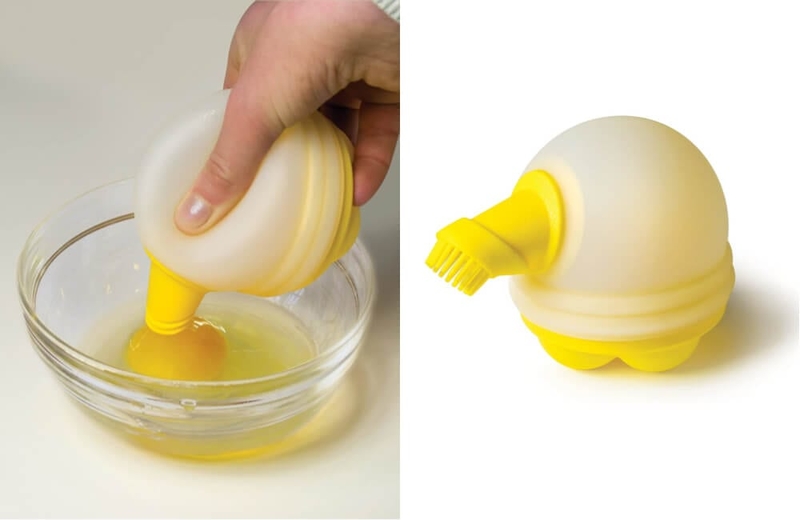 The Yolk-O-Mizer cleans this messy process up with the help of an egg separator and pastry brush. The yolk gets sucked up, and the pastry brush starts to apply the egg wash only when you want it to, which means less mess, less cleanup, and a more even coat.
The 3-Minute Smart Oven by Genie Enterprise ($199)

The future of food is here. Thanks to the Genie Smart Oven, you can take the Keurig idea from coffee to an entire meal. This specialized miniature oven uses pods of food and turns them into dishes like garden spring pea soup or penne pasta.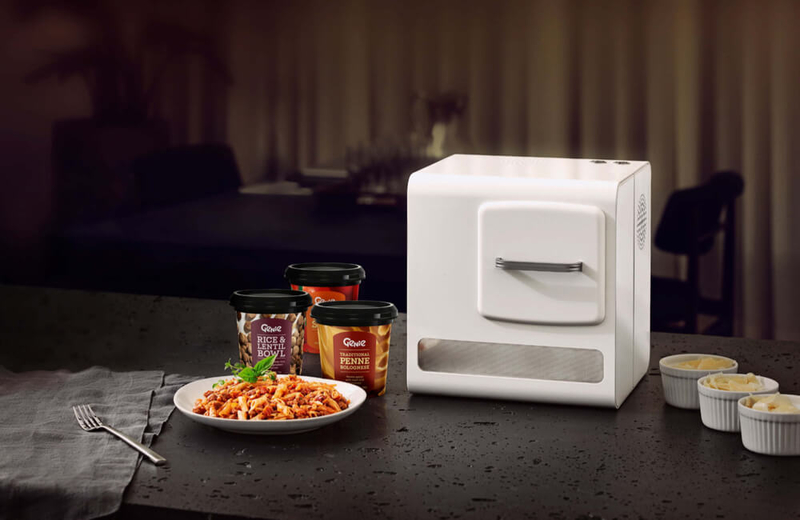 The meals are delicious, nutritious, and free from preservatives. Using touchscreen buttons and other advances in technology, it's never been easier to recreate a chef's greatest creations. This astounding device does it all in about three minutes. While the price tag is hefty, and the meals cost more, it can help you get plenty of time back.
3D Vegan Burger Printer by BBB, Savor Eat (Between $5,000 and $10,000)

Those who enjoy red meat love their burgers, but vegans and vegetarians have been left in the lurch. An Israeli hamburger company called Burgus Burger Bar decided to do something nice, though pricey, and create this 3D Vegan Burger Printer.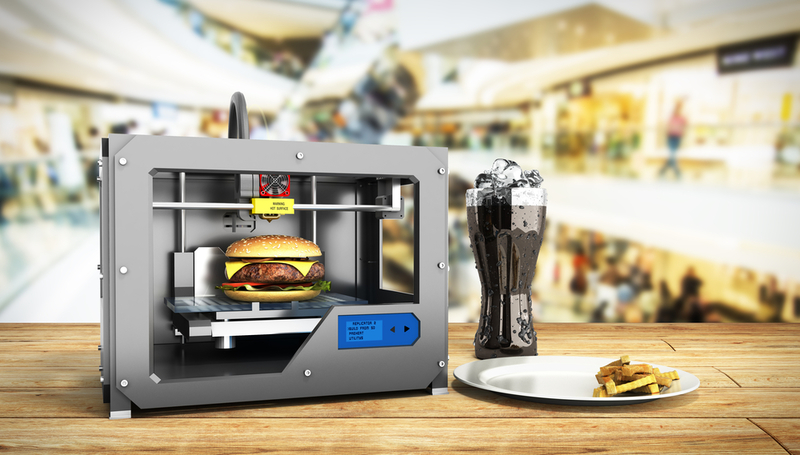 Called "Chef-It," this vegan burger is assembled from a cartridge of plant-based proteins, cellulose, and flavor components. Yum! Cellulose is the important part here, as it can be manipulated into the textures of beef fat and muscle. We're hoping to see the Chef-It make an appearance soon, and hopefully, the price will come down a few thousand notches.
Egg Minder by Quirky ($9.99)

Eggs are delicious and nutritious. Take too long in cracking those bad boys open, however, and it's a whole different story. The worst part is, you won't actually know until you've cracked them into your pan or mixing bowl.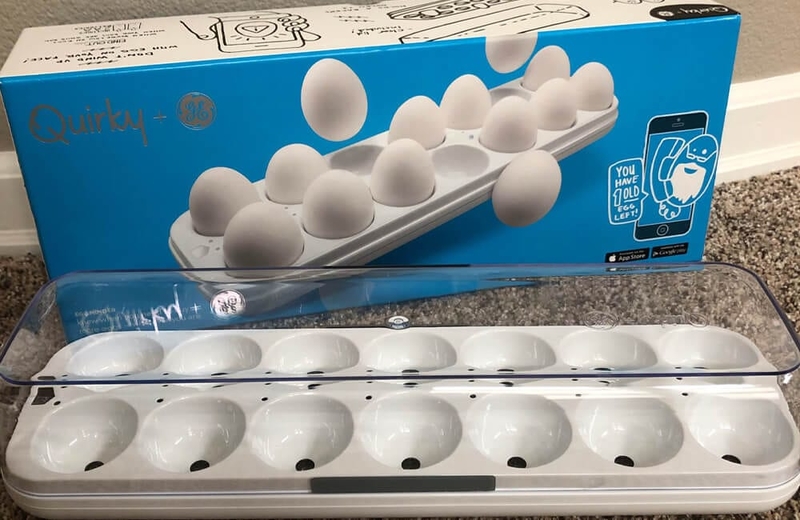 The Egg Minder connects to an app on your smartphone and tracks how many eggs you have (up to fourteen) and whether they're going bad. LED lights indicate old eggs, and you can even activate push notifications to tell you when to buy more eggs. It's a bit involved as far as kitchen gear, but for those who are sick of finding rotten eggs, it's bound to be helpful.
Butter Cutter by Inventions for Market ($14)

The perfect butter pat is a pipe dream, many say, but not with the help of the Butter Cutter. Don't worry about too much or too little anymore — this handy device will punch out a perfectly-proportioned square with just the click of a button.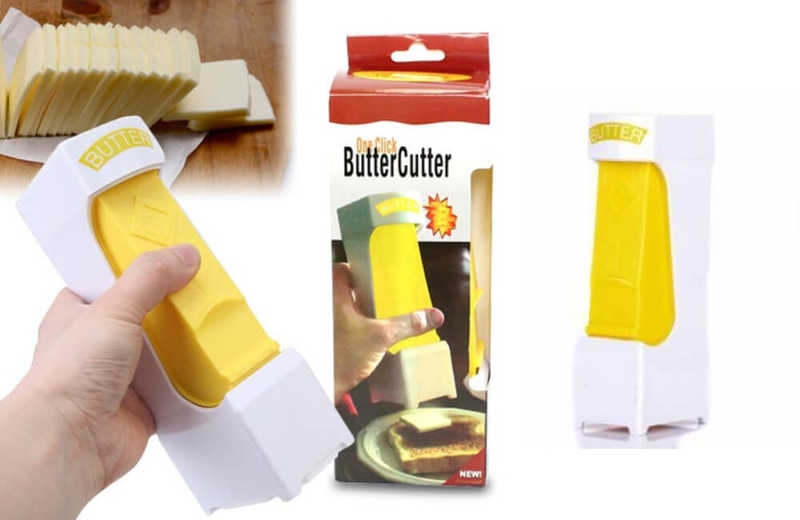 As long as you give it regular cleanings to keep it from clogging or growing mold, this item will see constant use for pieces of toast, mashed potatoes, and adding some butter to a frying pan. You might not think it at first, but this is the kind of item that every kitchen needs.
Hot Dog Holder by Evriholder ($8)

From the same company that brings us the Bacon Genie comes the Hot Dog Holder — a cute and kitschy item that you might find you're using more than you expected. In no time at all, you can slice hot dogs into perfectly-proportioned chunks for young hot dog fans.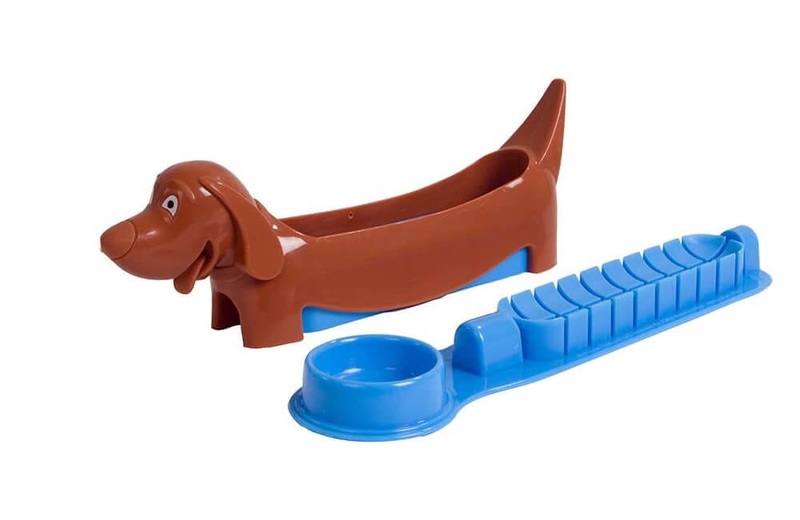 The plastic dog even has its own water bowl, perfect for a bit of ketchup or mustard. The Hot Dog Holder is here to help make mealtimes a little more bearable. Don't be surprised if you're using this item even after the kids have eaten.
Cheese Melting Pan by Cuisinart ($9.99)

Cheese tastes good no matter how it's being offered, with chunks, shredded, melted, or more. The liquid form can be hard to reach, though, but Cuisinart is here to help with their cheese melting pan.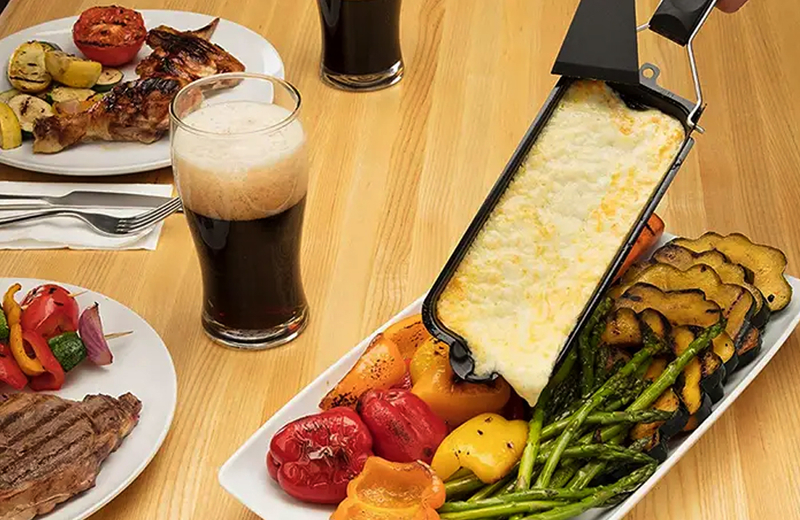 All you have to do to get some piping hot melted cheese is fill this easy item up with shredded cheese, cover it up, and place it on the grill. It even comes with a little spatula, so scraping that delicious melt out of the pan and onto whatever you want is simple. With four and a half stars on Amazon, it's never been easier to make all of your cheese fantasies come true.
Rubber Chicken Bottle Stopper by Fred and Friends ($10)

Most people think of putting a little rubber chicken into the bottle of their wine and turn their noses up. Fred and Friends aren't most people, which is why you can now keep your favorite bit of bubbly fresh with this unique item.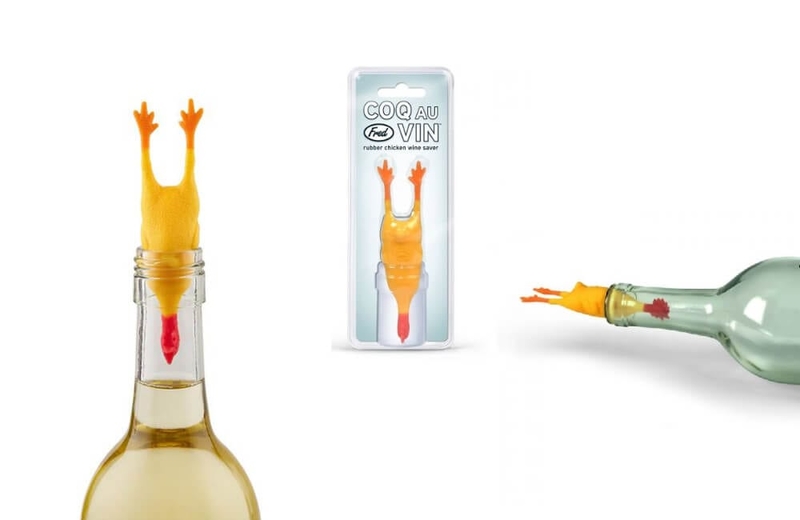 If you're after a last-minute present, Secret Santa gift, or White Elephant option, this item might just be the thing. It's made of food-grade silicone rubber, which means there's no danger of contamination, and for the wine aficionado with a silly sense of humor, it's sure to be a hit.
Roll 'N Pour Drink Cart by Unknown ($Unknown)

For most people, pouring themselves a refreshing drink isn't all that difficult. But, if you're trying to avoid spills from kids, or maybe the older friends in your life need a little bit of help, then the Roll 'N Pour Drink Cart is the right item to get.
Place the carton or bottle into the plastic holder and gently tip the cart forward. While it still needs some care while pouring, it's much easier than wrestling with a full (and sometimes heavy) bottle of your favorite drink. Getting the balance right might take a few tries, but it's bound to keep things cleaner.
Meat Claws by Mountain Grillers ($15)

Whether it's pulled pork or a roast turkey, cutting your main dish into smaller portions isn't a task to be taken lightly. How many of us have slaved over the cutting board with a dull knife or a hard-to-use electric knife? No more. Grab the Meat Claws from Mountain Grillers and start shredding.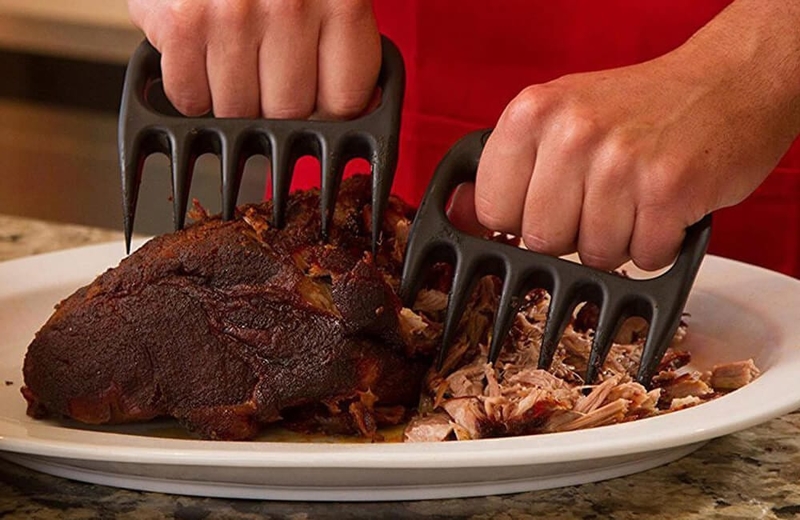 All you have to do is put one in each hand, and dinner will soon be ready to eat. They double as great back scratchers, and triple as items for personal defense. Just make sure to wash them between uses – no matter what you're using them for.
Meat Tenderizer Needle Kitchen Tool by Mierepro ($13.99)

When you think of a meat tenderizer, you probably think of a wooden mallet with spikes on the end. They definitely get the job done, but isn't there a better way? The Meat Tenderizer Needle Kitchen Tool has several needles at the base of the handle. All you have to do to get a perfect consistency is push it down onto the meat.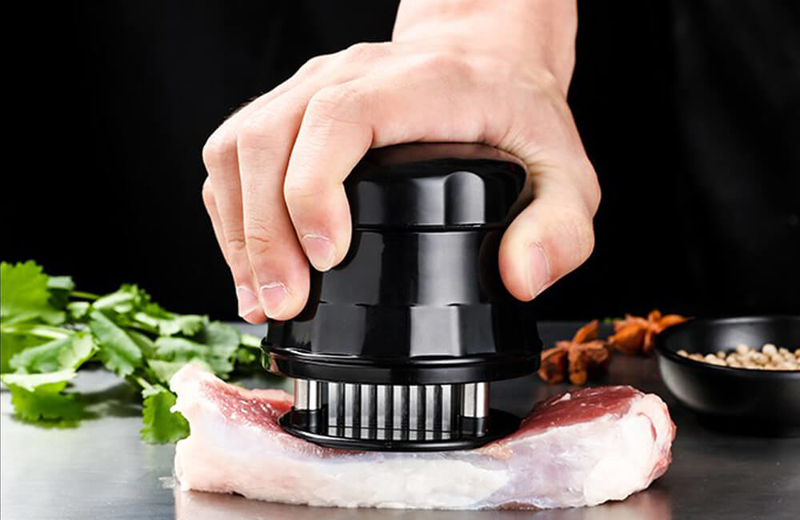 Reviews tell us the truth of the matter, and this item from Mierepro has a four-star average on Amazon. It seems a little slower than just going to town with a wooden mallet, but if you're spending enough time tenderizing meat, you'll enjoy better results with this item.
Bacon Genie by Evri Holder ($9.99)

As one of the most popular foods out there, you can bet there is plenty of bacon technology that has been making the rounds, such as the Bacon Genie. Whether grilling or frying, bacon always comes with grease, but the Bacon Genie acts as a kind of clothesline for your favorite meat treat.
Drape the slices over the round top and stick the entire contraption in the microwave. The grease will collect at the bottom as the bacon cooks to perfection. It's quicker, cleaner, and even a little healthier since you aren't eating all that grease.
Egg Cuber by Eddingtons ($12)

Breakfast is pretty cut-and-dried these days, though there are still a few ways to bump things up a notch. The Egg Cuber helps you build breakfast into something new and exciting. It works like this: Boil your egg and peel it, and then put it into the cuber. Put the top back on, and that's all you have to do to get a square egg.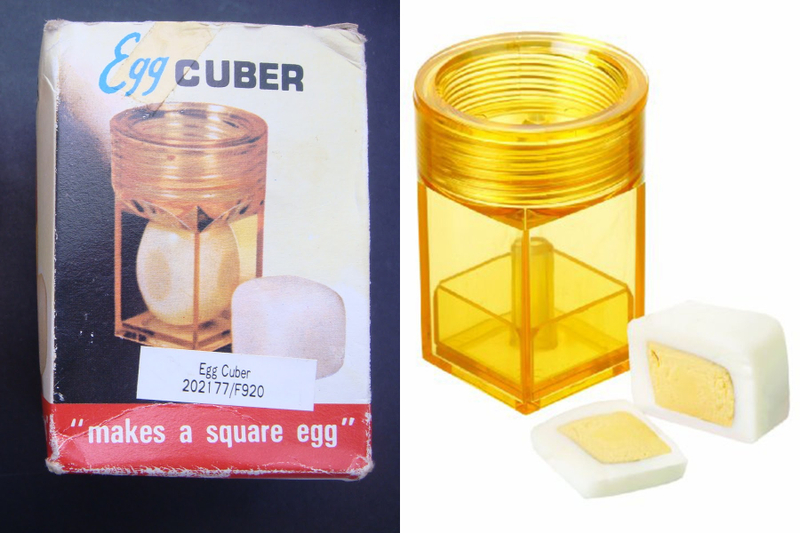 We've finally done it, people. It might not be the most necessary item in your kitchen, but it can help to make your cooking a little easier by giving you building blocks instead of ovals and circles.
Ham Dogger by Kitchen Art ($13)

The two grilling classics – the hamburger and the hot dog – have finally joined forces thanks to the Ham Dogger. It's a fancy sausage shaper that lets you mold hamburger meat into a sausage shape.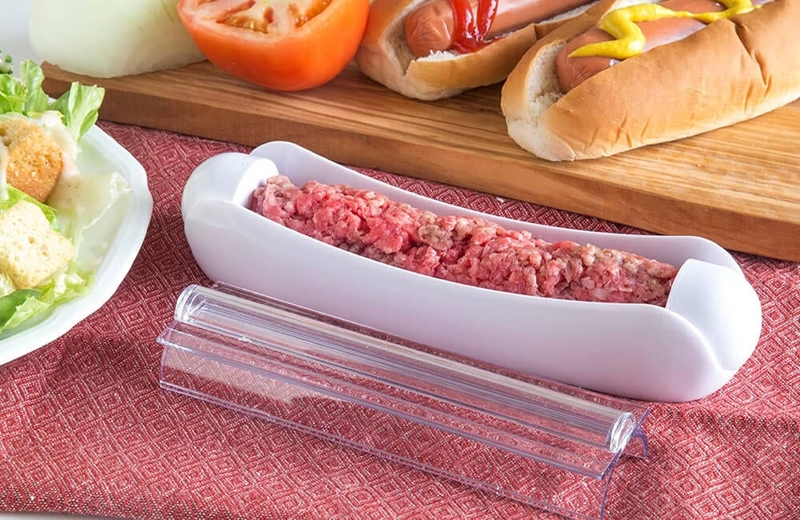 Even if you're someone who has done this with your hands, this item will make things easier, quicker, and cleaner. Make your next fourth of July grill out even more special with your own flavor and mixture – you can make up your own unique brand. It's easy to use, and simple to clean, which means it's nothing but an advantage for you.
Muffin Top Baking Cups by Fred and Friends ($10)

Muffin tops will happen to anyone who is packing on the extra pounds and hasn't yet found a new pair of pants to get the right fit. They're also the best part of muffins, and now these unique baking cups by Fred and Friends combine the meanings for something that's sure to get a laugh.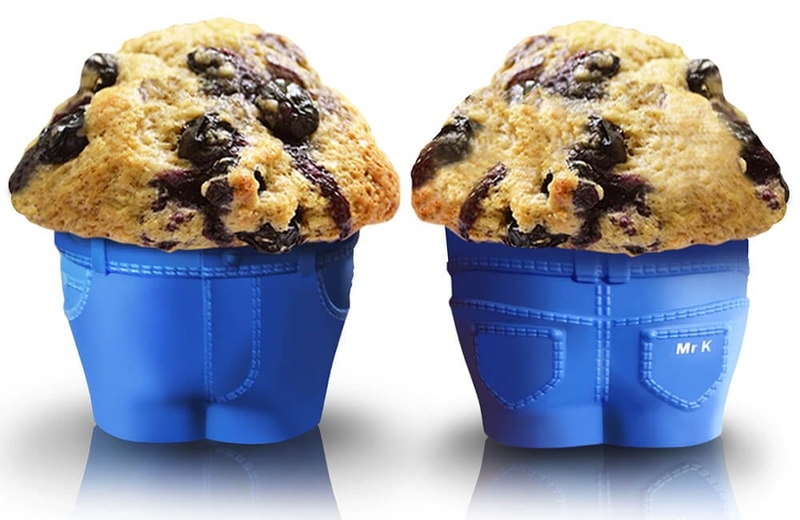 While they aren't the cheapest muffin cups on the market, presenting them to guests with their favorite muffin (or cupcake) flavor is sure to be a hit. As long as your guest knows you aren't saying anything about them as a person.
Microwave S'more Maker by Progressive Prep Solutions ($14.28)

S'mores are one of the classic treats that kids and adults enjoy, but if you don't have a fireplace or a fire pit in the backyard, you're left with stale crackers, dry chocolate, and cold marshmallows. With the help of the Microwave S'more Maker, you can stick the s'more pieces inside this funny-looking robot man, fill the reservoir with water, and watch them cook just the right way.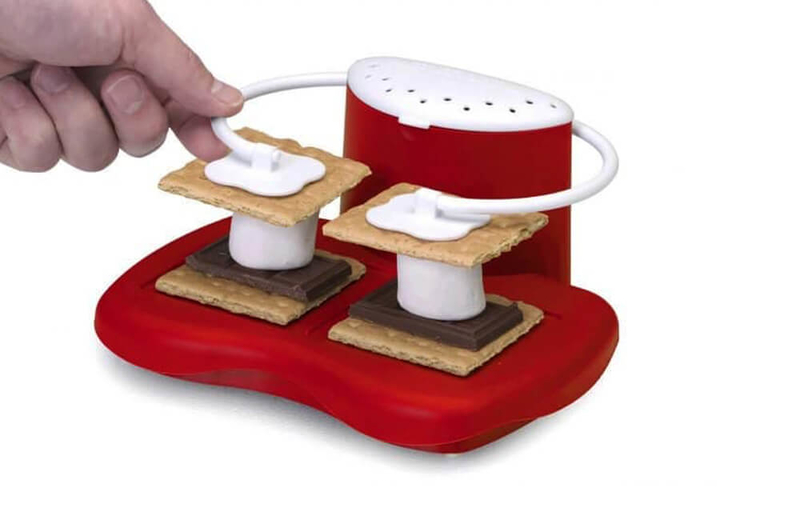 The Maker squishes them down, and the warm water melts the chocolate and heats up the marshmallows for perfect s'mores. Start enjoying these classic treats no matter where you are.
Finger Covers by Shengo ($10)

Ah, Cheetos. The greatest development mankind has ever come up with. When aliens visit us, and they aim their proton-eviscerators at us, it is only Cheetos that will save our civilization. But, the little guys can be messy. Thanks to the Finger Covers by Shengo, you can now enjoy your favorite chips and snacks without the unpleasant feeling of dust and flavoring on your fingers.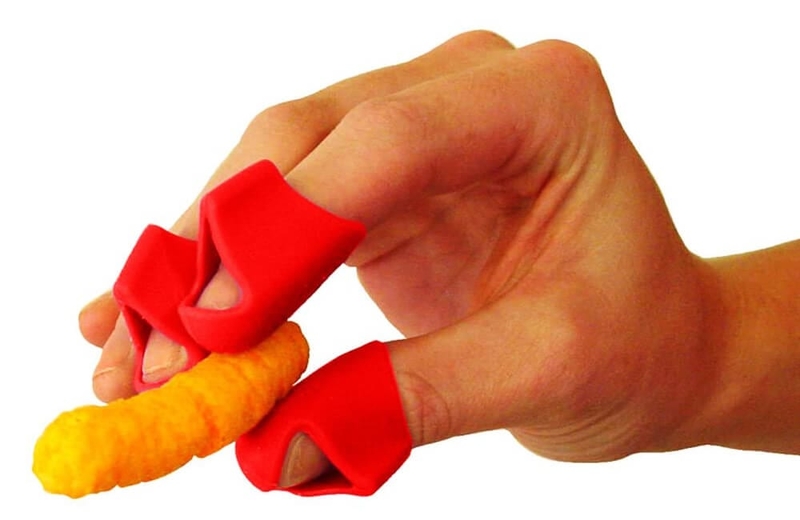 For just ten dollars you can get a pack of fifteen silicone finger protectors. Keep your fingers clean and fresh for working on your computer or doing anything else, and run these protectors under the faucet to clean them off once you're done.
EZ Cracker by PJT ($15)

Once you hit adulthood, cracking an egg should be something you can do. But, there are plenty out there who still have trouble for one good reason or another. However, now the EZ Cracked from PJT means it has never been easier. The device is designed to crack the egg down the middle and drop the contents into your mixing bowl.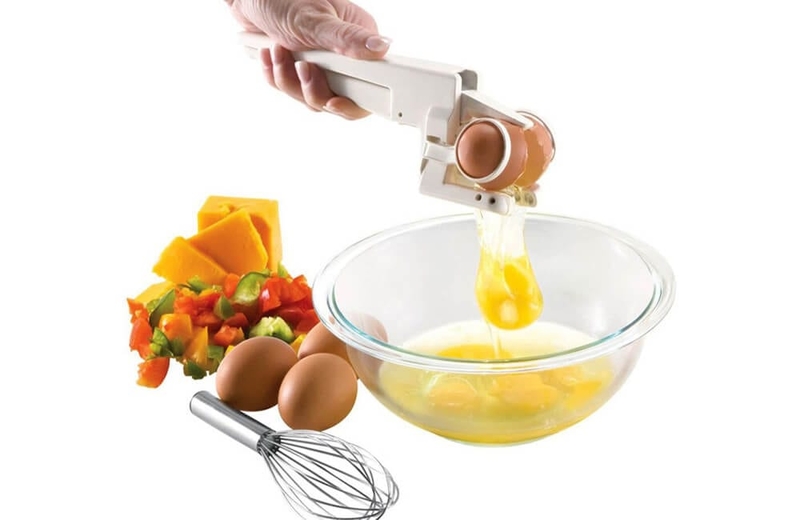 It's designed to do that, but reviews of the device on Amazon haven't been kind with reports of egg bits getting caught in the yolk and whites. One reviewer said the product "toyed with my emotions." It seems even fifteen dollars is too much to shell out for this item.
Electric Meat Slicer by Fotile ($130)

Most people, when they need some freshly-sliced meat, head to the neighborhood butcher or the deli counter at the supermarket. But what if you want it sliced in just the right way, and want to do it in the comfort of your own home? Try out the Electric Meat Slicer.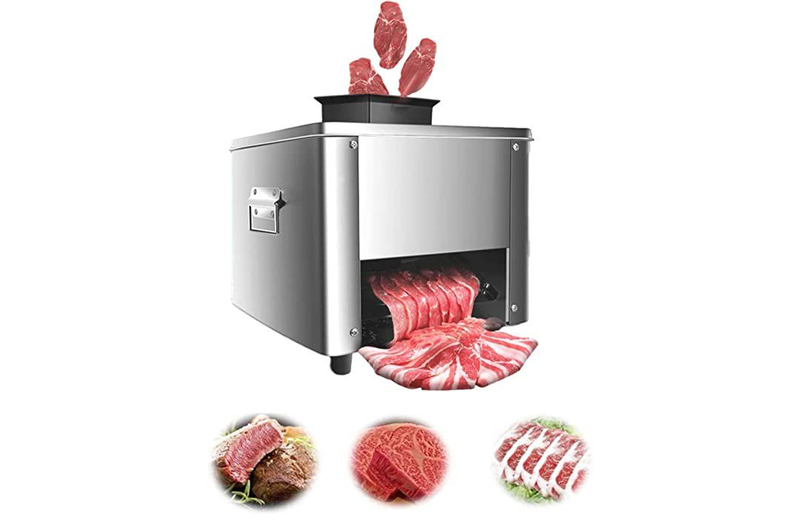 The price tag is nothing to sneeze at, but it has plenty of five-star reviews on Amazon from people raving about its ease of use and functionality. If you're running a catering company, or you have a use for some freshly-sliced meat in your own home, this item is sure to come in handy.
CLOSE SHAVE Veggie Peeler by Fred and Friends ($10)

Nobody likes to peel veggies – it's one of those classic boring tasks that is foisted upon new cooks and children who spend too much time in the kitchen during dinner time. It can even be dangerous, with sharp knives or peelers.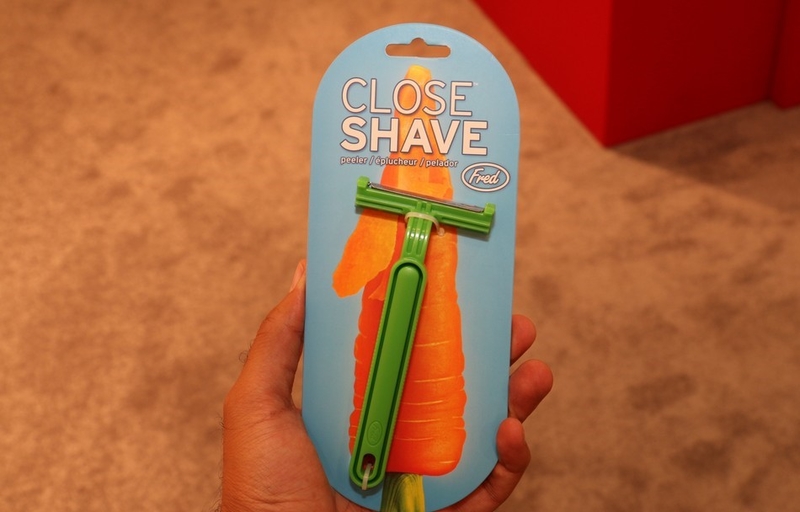 Enter the CLOSE SHAVE Veggie Peeler, which looks like a normal razor, but is designed to give your carrots and other produce the closest shave possible. It's a safe item for kids to use and makes prepping for dinner even easier. Just don't leave it in the bathroom, or someone's skin might get peeled.
Finger Forks by Drink Stuff ($2)

There are some people out there who hate getting their fingers dirty, whether they're playing or eating. The Finger Forks from Drink Stuff fits snugly around your index finger. This durable piece of unconventional cutlery might get you a few strange looks, but it will keep your hands clean no matter what you're eating.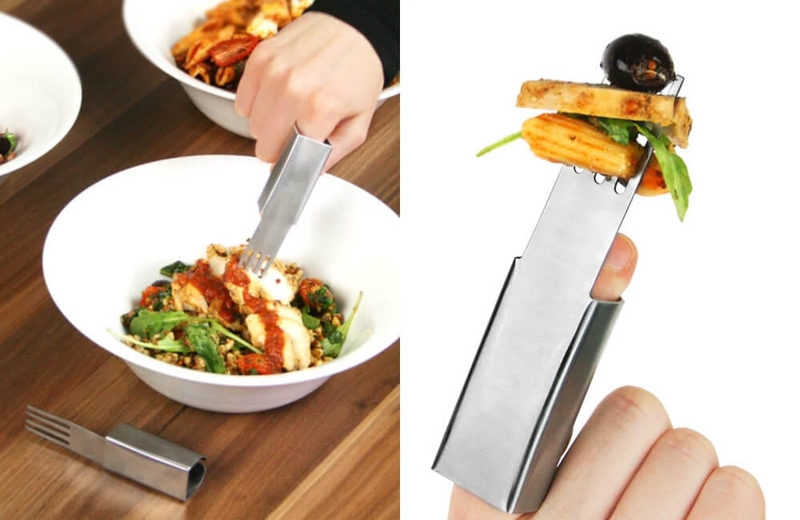 This is the kind of item you might not want to bring to a fancy dinner, and you should avoid going in for a handshake with anyone while you're still wearing it – those tines look sharp.
Can Grip by GoPong ($11.24)

Ah, a can of your favorite brew or soft drink. Delicious. But, what if that can is just a bit too cold, or you want a firmer grip on your favorite drink? Different strokes for different folks we say, and so offer the Can Grip from GoPong.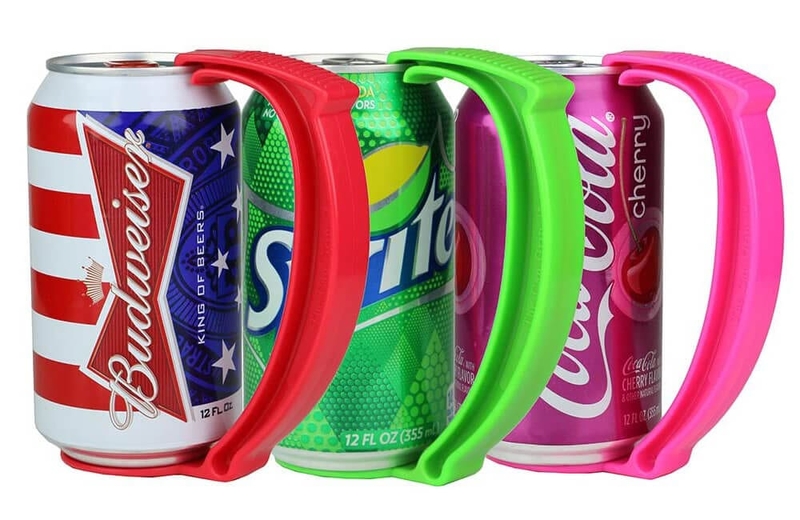 There are plenty of different options for someone who needs a new handle. This reusable, portable handle clips onto the tin to give consumers the impression they're drinking from a mug. Looking for a fun gift, or know someone whose little hands don't have enough real estate to take on cans just yet? This item might just be the ticket.
Chork by The Chork ($30)

People who can properly use chopsticks are magicians and should be shunned – who knows what other magicks they have at their command? For actual humans, it's a difficult skill to master. In the manner of the spork, which combined the spoon and fork, the Chork works as both a fork and a pair of chopsticks.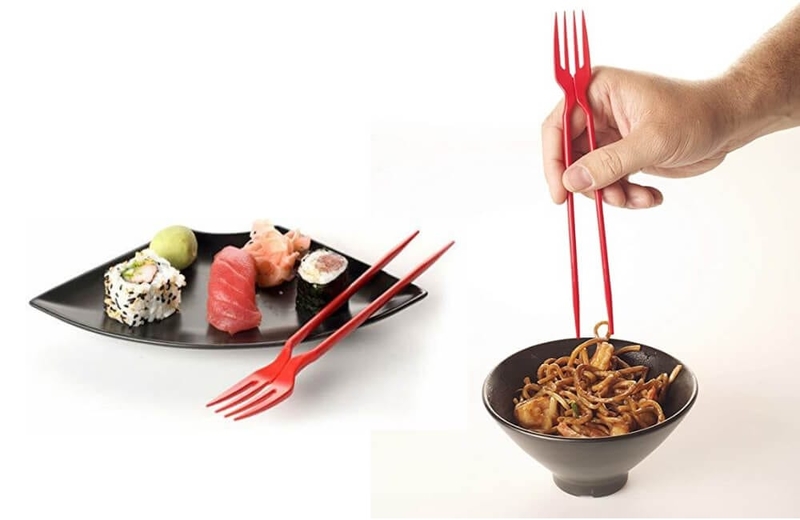 You can keep trying to learn how to use the chopsticks before finally giving in to your hunger and switching for the fork so that you can actually get some food into your mouth. It's a stroke of genius to offer them at Asian restaurants – expect to see the Chork becoming more common.
Condiment Gun by Kikunum ($21)

Regular bottles of ketchup can be messy, annoying, and – let's be real – boring. Enter the Condiment Gun from Kikunum. Fill up the chamber of these unique pieces of kitchen gear with your favorite sauce and pull the trigger on tasty additions.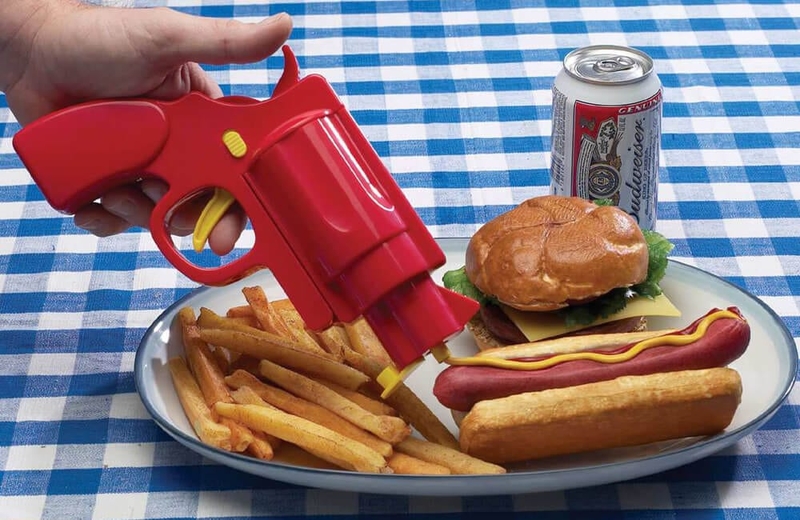 It's sure to get a laugh from kids and friends, and it helps keep things cleaner with a small opening. You may have to hunt down one of these items online, but it's a great way to make mealtime fun. For ketchup, mayonnaise, mustard, and more, one of these firearms is going to bump up your serving in a new, fun way.
The Olive Xpress by Olive Xpress ($299)

The oil aisle at the supermarket is a frightening place. As you're staring down bottles of Extra Virgin, Cold-Pressed, and more, you might start to wonder why you can't just buy some olives and do it yourself.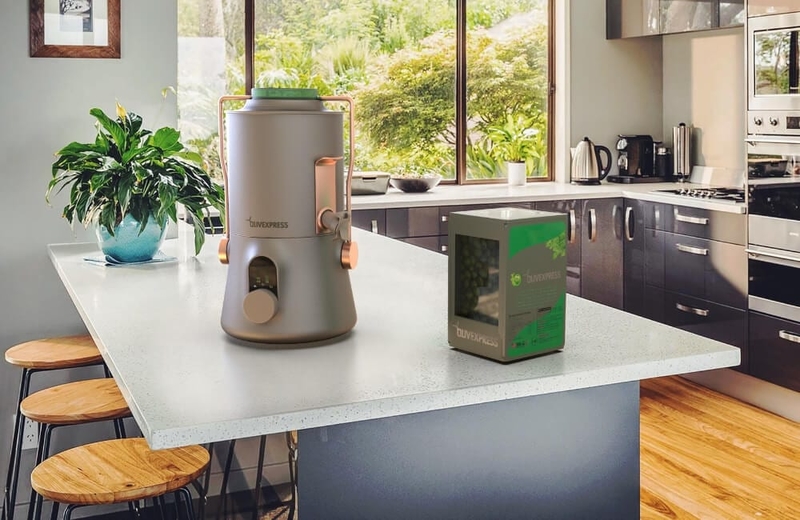 Well, a few years ago a few people got together and decided to make the Olive Xpress, which allows oil fans to make their own with a piece of easy countertop technology. The company has raised two million dollars to produce this item, and while they haven't gotten around to putting them on store shelves just yet, they're estimated to go for three hundred bucks.
Yolk Pig Egg Separator by Toy Zany ($13)

This complicated cooking tactic is no yolk. Some recipes require adding an extra yolk, or some more egg whites, but not the entire egg. It's not the easiest thing to do, but thanks to the Yolk Pig Egg Separator it's never been easier.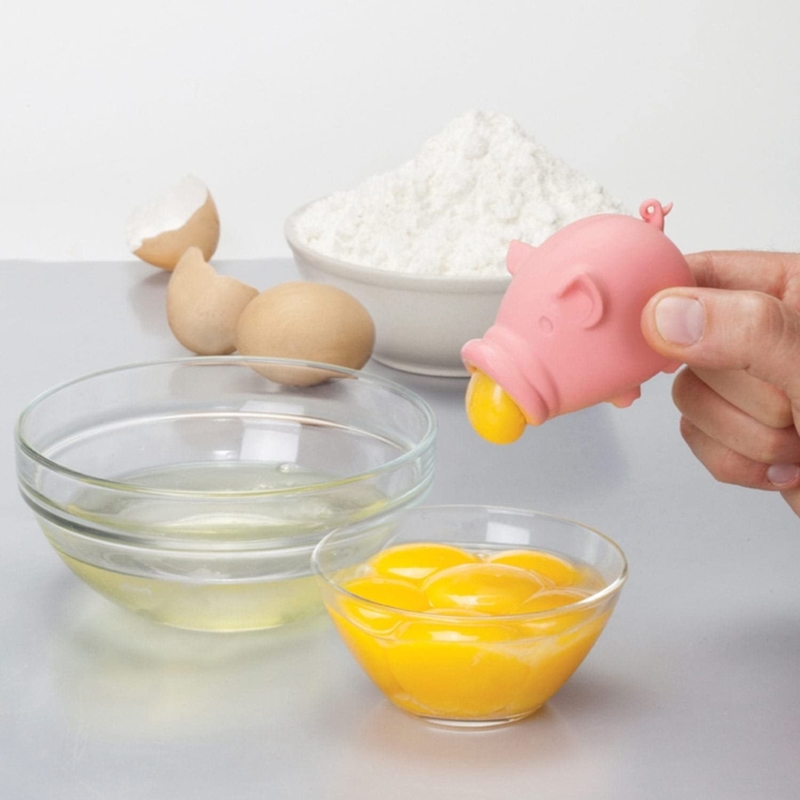 It's goofy looking, but you won't doubt it's useful after you start using it. It sucks the yolk right out of the egg and allows you to either discard it or add it to your next mix. It's shaped like a happy little pig (or other animals), which means it's a great way for kids to join the baking fun.
Chef's Thumb by Chef's Thumb ($20)

Not many of us have spent the necessary time at culinary school to know exactly how to slice veggies or other foods without risking bits of our fingers. Thanks to the Chef's Thumb, you can take the pain out of food prep.
Slip this simple item over your thumb, and keep vegetables and anything else in place thanks to a serrated pad. It protects you from the knife you're handling. This item even comes with some extra goodies, including a knife and a titanium peeler. It might look a little bit like a torture device, but it's designed to keep you safer, and clumsy cooks are sure to enjoy the protection.
Pancake Bot by StoreBound ($299)

Pancakes have been a breakfast favorite for centuries, but in recent years people have turned to them for their artistic endeavors. While many are just discovering the world of pancake art, this device by StoreBound lets you input your own designs and watch them get printed out on a hot griddle right before your eyes.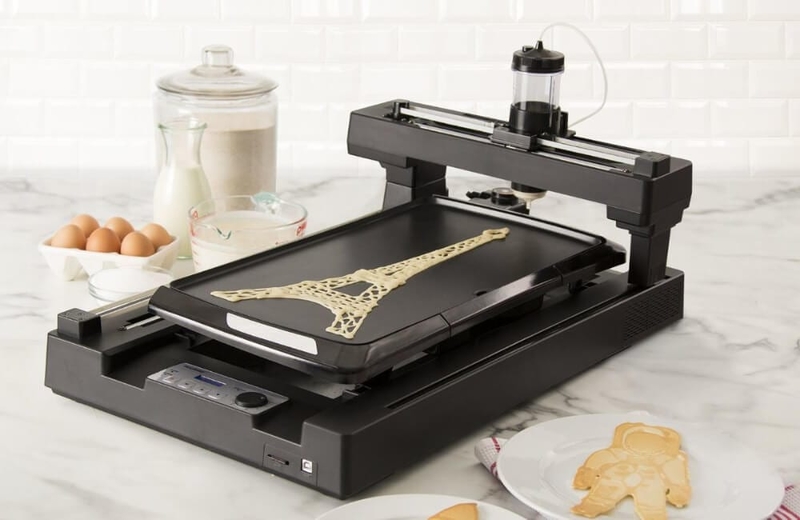 This project earned more than four hundred and sixty thousand dollars on Kickstarter, yet the last update for the project was in July of 2016 – since then, nothing. If this fun device ever gets released, you'll be able to create your own pancake art with ease.